Wondering what to serve with coconut chicken? This easy dinner recipe is a delicious dish on it's own, but it tastes even better with a great side dish. From coconut jasmine rice to roasted potatoes, the options are endless. With one of these sides, you're sure to create a meal the whole family will love!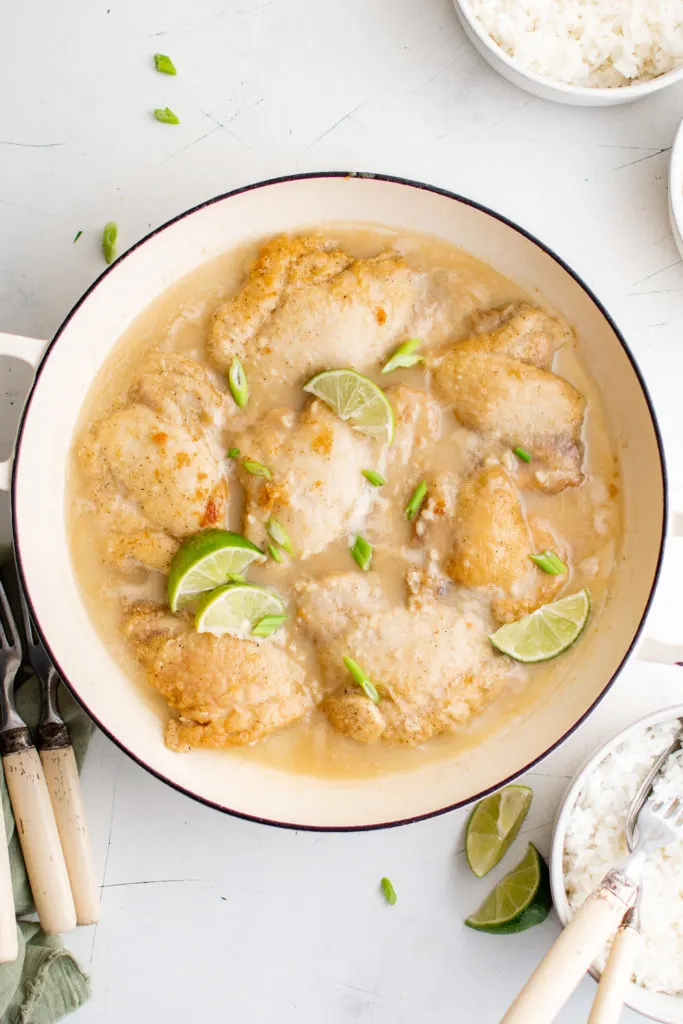 Coconut chicken is a comforting chicken dinner that's loaded with juicy chicken in a rich and creamy coconut milk sauce. It's incredibly tasty and, of course, deserves a couple of incredibly tasty side dishes to round it out.
But what should you serve it with?
Fortunately, you have tons of options! I've put together a list of perfect pairings for coconut chicken so next time you whip up this chicken dinner, you'll know exactly what to serve it with.
What is Coconut Chicken Made Of?
My favorite coconut chicken recipe is my homemade coconut lime chicken, which consists of juicy chicken thighs served in a rich sauce made with full fat coconut milk, lime juice, garlic, and a touch of brown sugar for a little bit of sweetness.
Can You Put Coconut Cream in Chicken?
I definitely recommend full fat coconut milk, not straight coconut cream.
The full-fat coconut milk is plenty thick and creamy, but still thin enough that you get that saucy texture.
What Does Lime Juice Do to Chicken?
Lime juice serves a couple of purposes in a chicken dish like coconut chicken. First and most obviously, it adds a delicious, bright, tangy flavor.
The other purpose of lime juice is to help tenderize the chicken. The acidity in the citrus juice helps break down the meat fibers creating a juicer, more tender texture.
Can You Freeze Coconut Milk Chicken?
You can, although there is a risk that the coconut milk will separate when thawed.
If you do want to freeze your finished coconut chicken, let it cool completely, then store it in a freezer-safe container or bag. It will last for up to 2 months!
When you're ready to serve it, let it thaw overnight in the fridge, then reheat it on the stove.
What to Serve with Coconut Chicken
Every great chicken dinner deserves a delicious side dish or two! Keep reading to find a side dish that sounds great to you. There's something for everyone!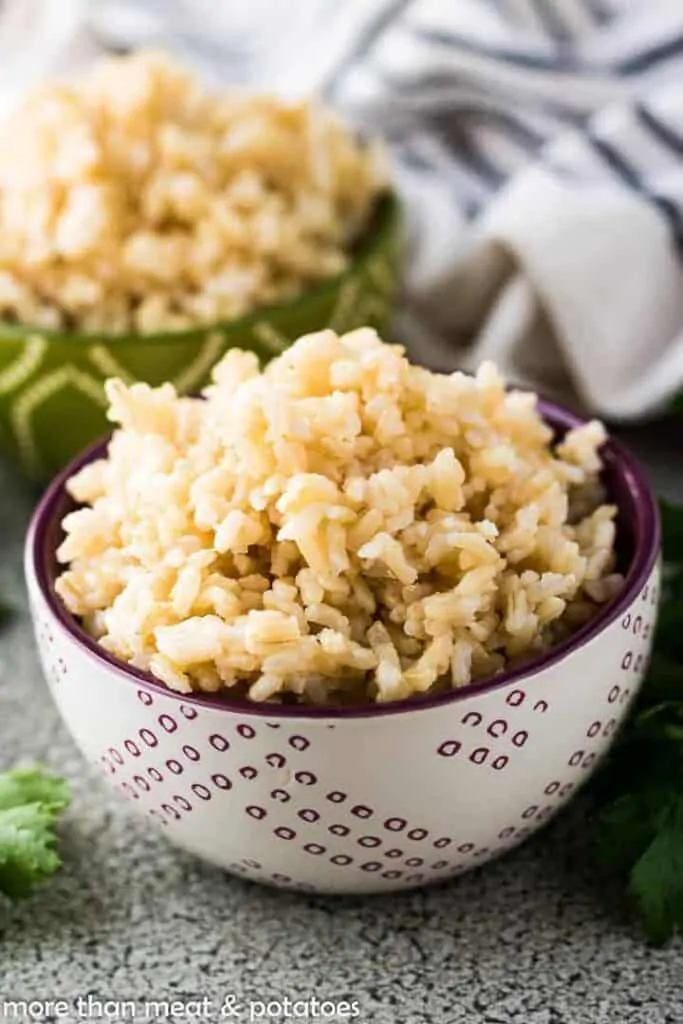 I love to whip up a batch of this brown rice to serve alongside my creamy coconut chicken.
It's perfectly fluffy, a little bit chewy, and soaks up the creamy sauce deliciously.
Serve it with chicken and a veggie for a well-rounded and super tasty dinner.
It requires just water, brown rice, an instant pot, and a couple minutes of prep!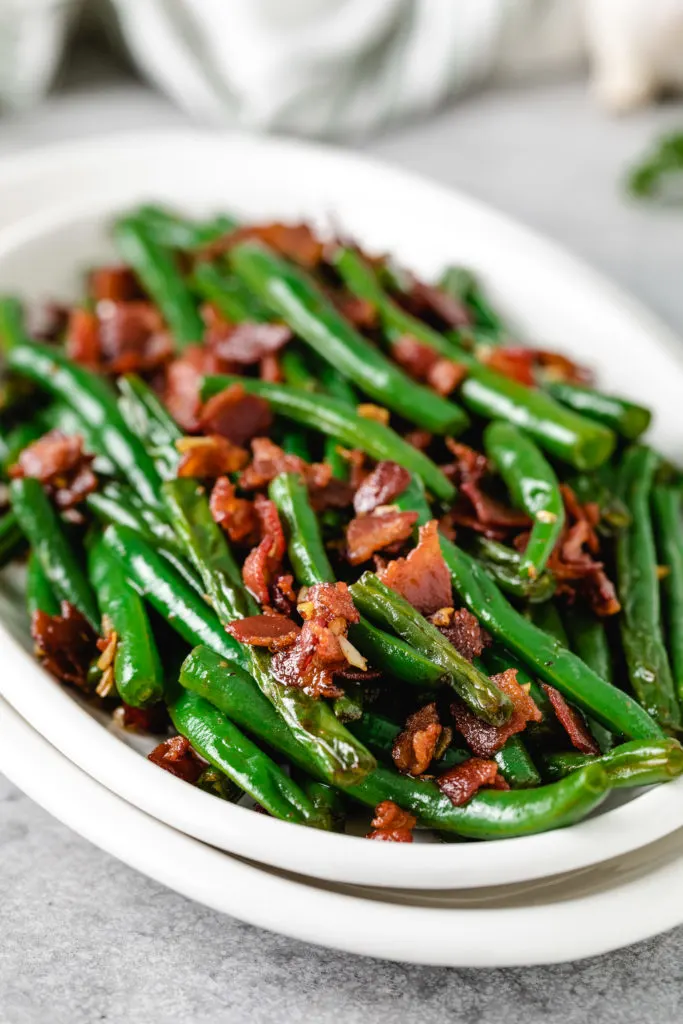 Green beans are one of the simplest and tastiest veggies to sauté!
And this recipe for Sautéed Green Beans is my all time favorite! It's a restaurant-quality side dish made with just 5 ingredients right in your own kitchen.
To make these pan-fried green beans, cook bacon in a large skillet.
Once the bacon is cooked, remove it from the pan, but leave the grease. You'll use that to sauté the green beans for the best flavor!
So, add the beans into the pan, season with a little bit of garlic, salt, and pepper, and enjoy!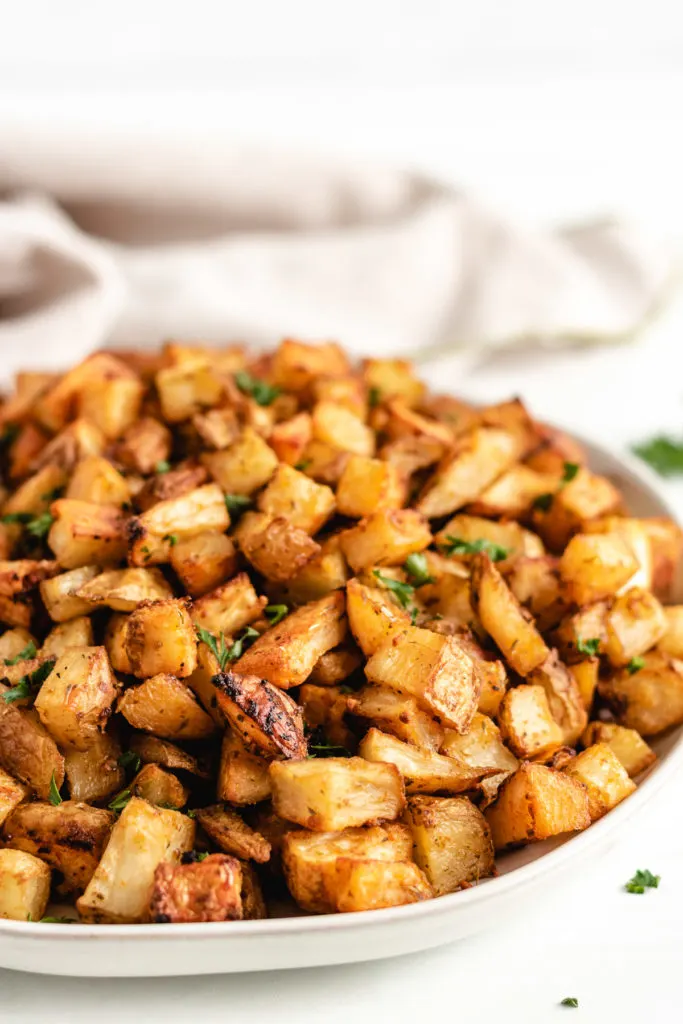 These roasted potatoes are one of my favorite side dishes. They're simple, flavorful, and go with pretty much anything!
To put together these perfect roasted potatoes, simply chop up a couple pounds of Russet potatoes, cover them in oil, dried herbs, and a couple of seasonings.
Then pop them in the oven at high heat until they're soft in the middle and deliciously crispy and golden brown on the outside.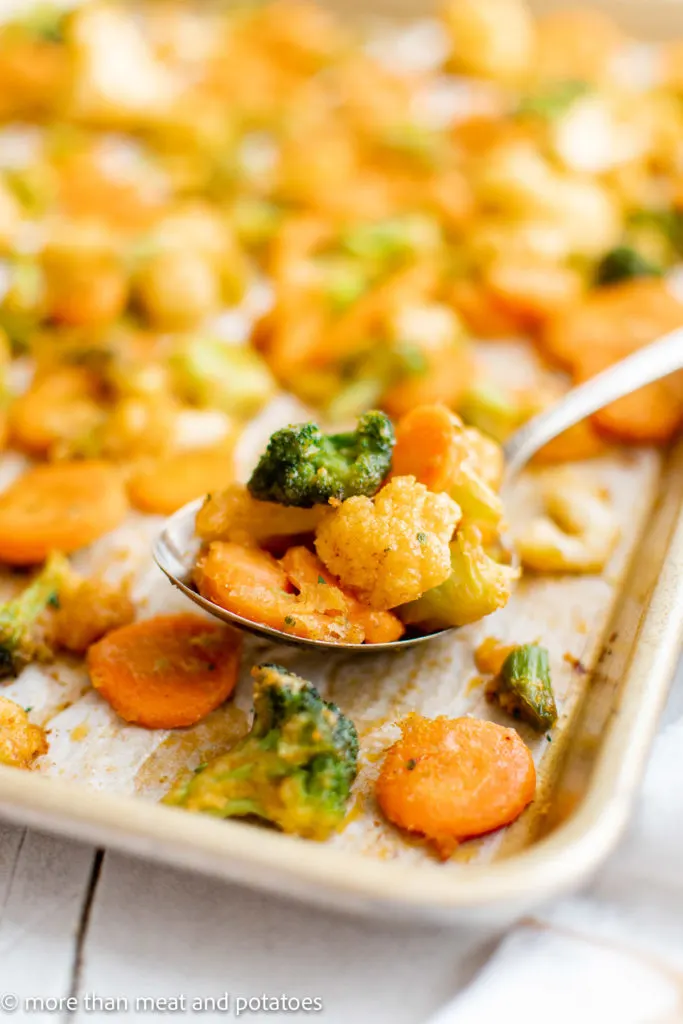 Who knew you could achieve crisp-tender roasted veggies using frozen veggies?
This recipe is a step-by-step guide on roasting frozen veggies perfectly every single time.
This recipe uses thawed California-blend veggies that are covered in oil, parmesan, onion powder, garlic powder, salt, and smoked paprika.
The veggies are thawed and drained, seasoned to perfection, then roasted until soft in the middle and crispy on the edges.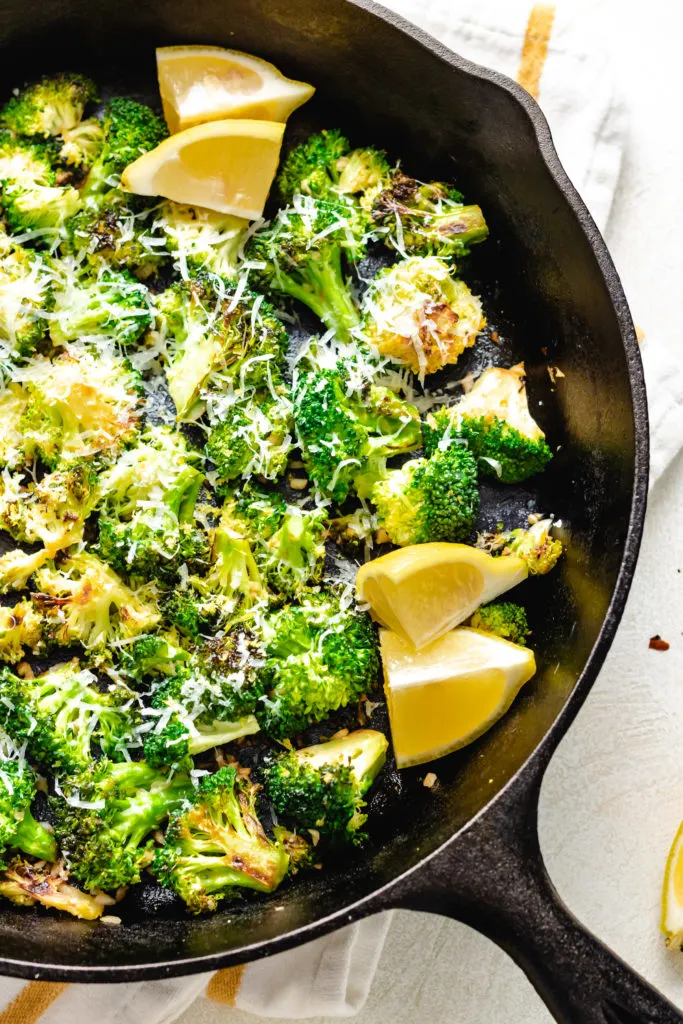 This sautéed broccoli is the perfect side dish for an easy family dinner or for a fancier dinner party!
It's quick to come together and features the best blend of fresh flavors.
To make this sautéed broccoli, chop broccoli into florets, arrange in a single layer in a skillet, then cook until golden-brown and crisp-tender.
Finish with garlic, lemon zest, lemon juice, and red pepper flakes, then serve with your favorite entree!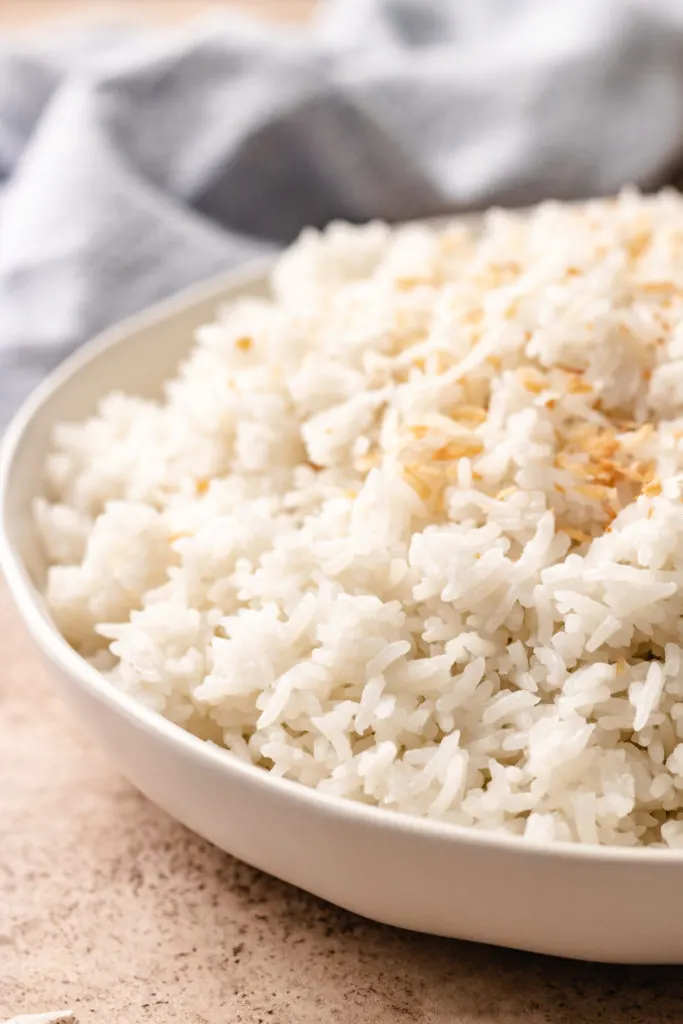 This coconut jasmine rice is the perfect flavor pairing for coconut chicken.
It's light, flavorful, and takes just 5 quick minutes to prep.
This recipe features long-grain jasmine rice cooked in a combination of coconut milk, coconut water, sugar, and salt.
The result is tender and creamy rice infused with the perfect amount of coconut flavor and a touch of sweetness!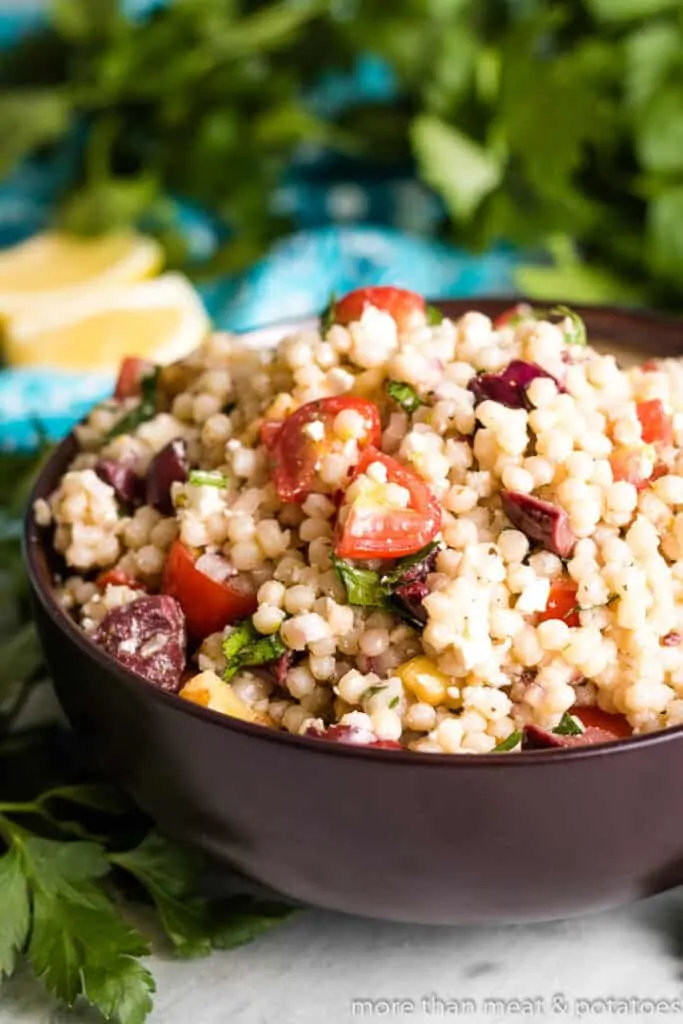 This lemon couscous salad is bursting with colors, fresh flavors, and textures.
It's simple to make, easily customizable, and makes an excellent side dish to an array of entrees.
This couscous salad is made with chewy pearl couscous mixed with chopped walnuts, cherry tomatoes, kalamata olives, parsley, feta, and purple onion all doused in a tangy and bright lemon basil vinaigrette.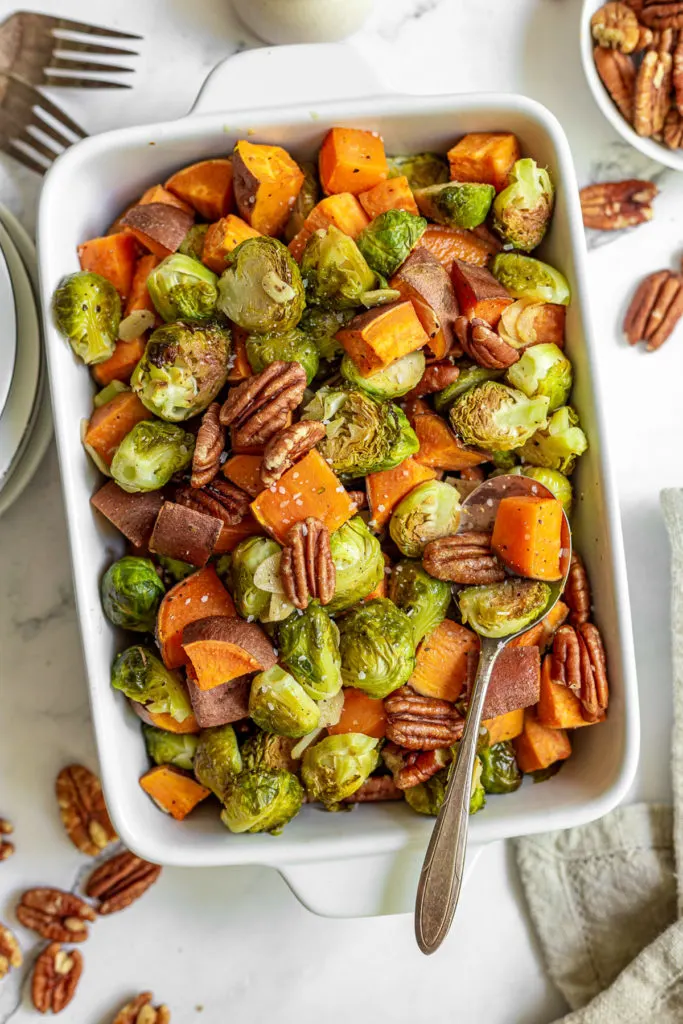 These roasted brussels sprouts and sweet potatoes are the perfect combination.
The two veggies are smothered in avocado oil and maple syrup, seasoned with salt and pepper, then roasted until soft tender and caramelized.
Whip this easy side dish up with 15 minutes of prep, garnish with chopped pecans, and devour!
This recipe is one you'll be making for every meal.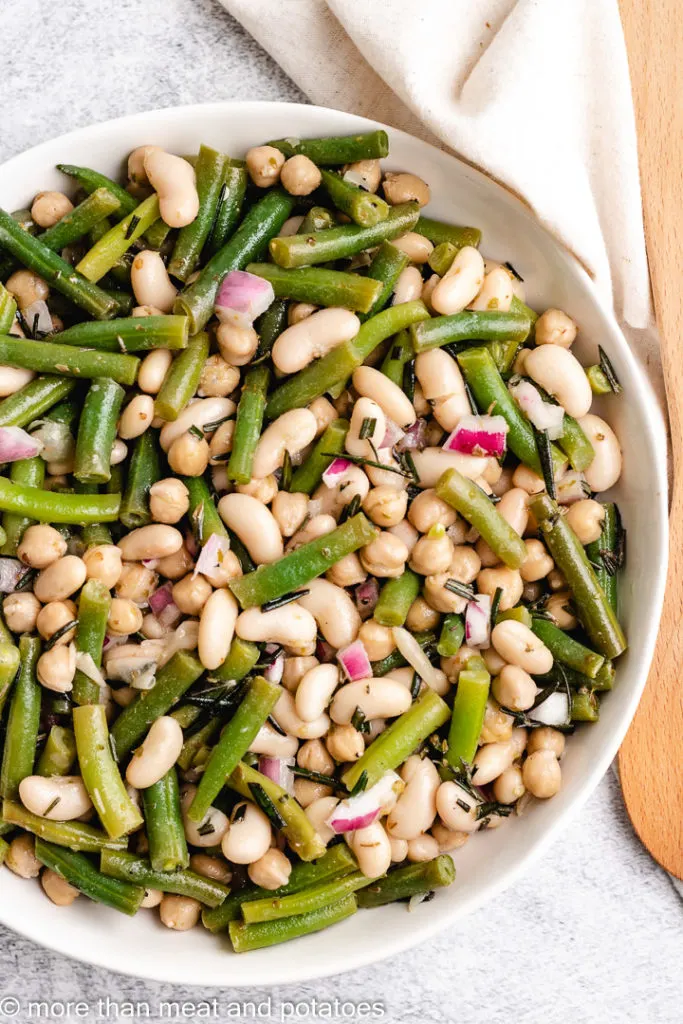 There's nothing better than an old-fashioned three bean salad. It's a simple, fresh, crowd-pleasing side dish that just gets better as it sits!
This bean salad is made with green beans, chickpeas, and cannellini beans tossed together with purple onion, fresh rosemary, and a tangy red wine vinaigrette.
Enjoy this recipe as-is or customize it to suit your tastes. There are so many possibilities!
This farro salad is loaded with classic Mediterranean flavors and makes the perfect side dish for coconut chicken.
It's simple and fresh, but definitely not lacking in flavor. Plus, it takes just 15 minutes to prep!
This salad is made with a fresh arugula base tossed together with cooked farro, salty feta and parmesan cheese, crunchy walnuts, golden raisins, and diced apple.
It's finished with a maple dijon dressing for the perfect balance of sweet and tangy.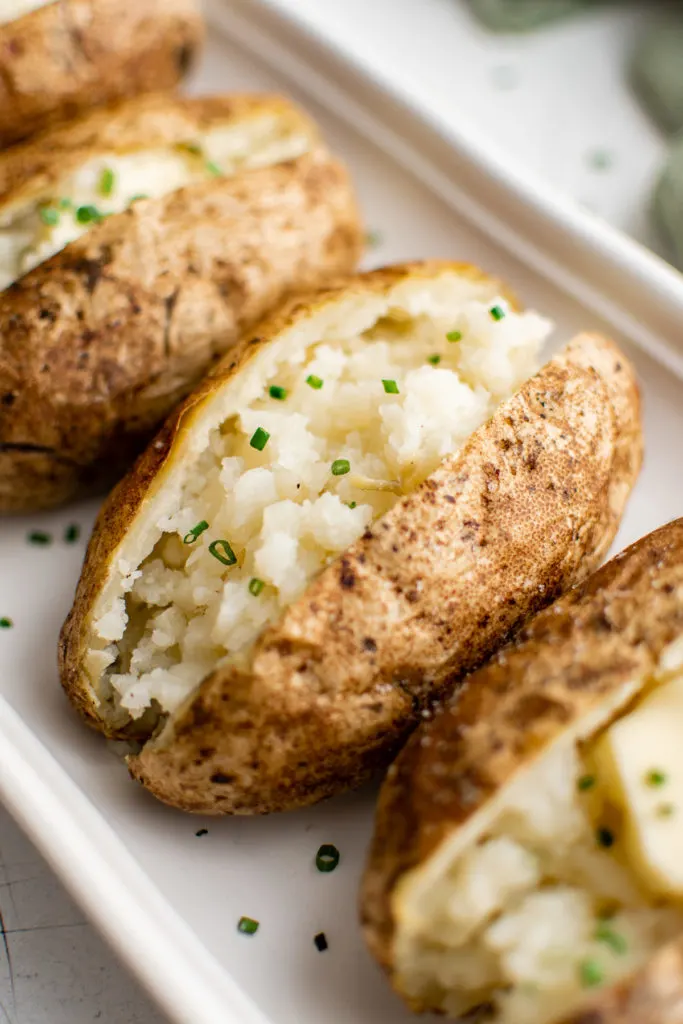 Is there anything better than a perfect, fluffy, buttery baked potato?
I don't think so! It's simple, it's tasty, it's a hit with everyone, and it goes with everything.
This recipe for baked potatoes allows you to create the best baked potatoes every time.
It's made with Russet potatoes covered in oil, salt, and pepper, then baked at high heat until the skin is nice and crispy and the middle is steaming and tender.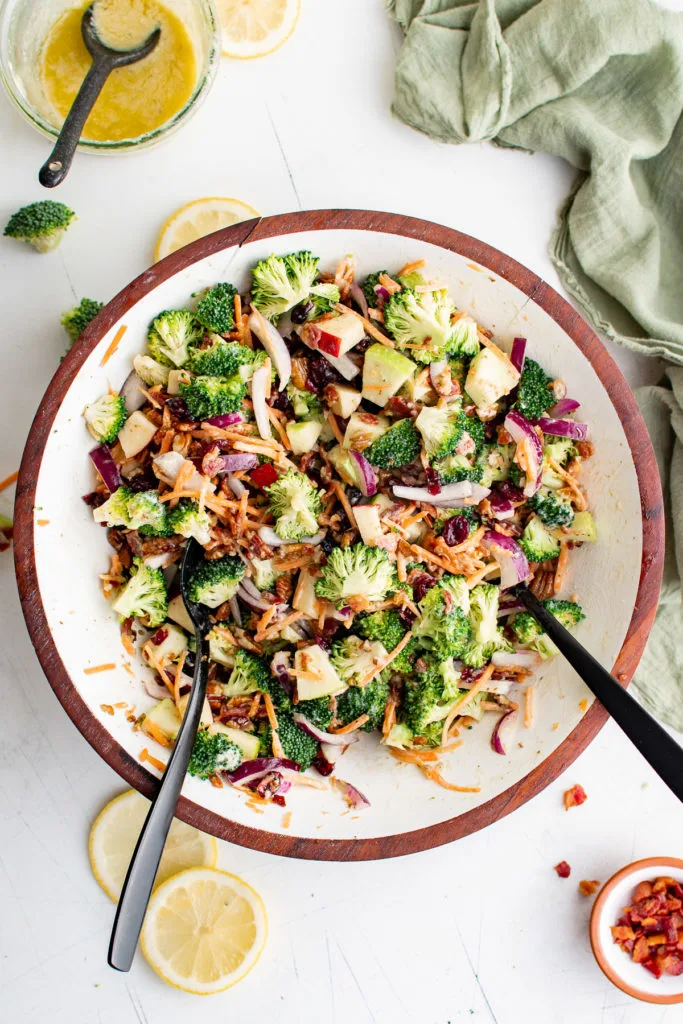 Broccoli salad is one of my favorite side dishes to whip up for the summer, but it can be served all year long with any of your favorite entrees!
This recipe is made using fresh broccoli florets, carrots, pecans, apples, red onion, and bacon.
It has so many flavors and textures that come together perfectly with a creamy, tangy, and slightly sweet mayonnaise dressing.
This recipe is a crowd favorite and is ready to serve in a quick 25 minutes.
Keep your side dish simple and classic with this homemade Italian bread recipe.
It's so much better than store-bought and can be served buttered up with coconut chicken, used for sandwiches, made into croutons, you name it.
This homemade bread is made with a combination of yeast and water, a little bit of sugar, olive oil, salt, and bread flour.
It's perfectly light, tender, soft, and fluffy with a golden crust.
Roasted asparagus and brussels sprouts is the veggie duo you'll be serving with every dinner. It's just that good!
This recipe is made with simple ingredients and requires just 10 minutes of prep.
Simply halve or quarter your brussels, trim your asparagus, then season the veggies with oil, salt, garlic powder, onion powder, and black pepper. Roast at 425ºF until crisp-tender, then dig in!
What's better than a fresh caprese salad?
Creamy mozzarella pears and sweet cherry tomatoes coated in olive oil, garlic powder, Italian seasoning, kosher salt, and black pepper, then garnished with fresh basil and balsamic glaze.
This decadent salad is ready in just 5 minutes and made with accessible ingredients.
It's a restaurant quality side dish that's so much simpler than it tastes!
Looking for Other Side Dish Ideas?
You may find something here:
Don't forget to save these recipes for later!