Baked Potatoes are a classic dinner side dish. Make sure you get the perfect baked potato every time with this simple recipe! A browned, crisp outside coated in salt and pepper gives way to a fluffy inside. Top with butter, sour cream, and freshly chopped chives for a starchy side that is definitely worth the wait!
Serve these tender, flavorful baked potatoes alongside juicy Beef Tenderloin and a side of Broccoli Salad. Or with our tangy Teriyaki Salmon and Honey Garlic Green Beans for a complete meal.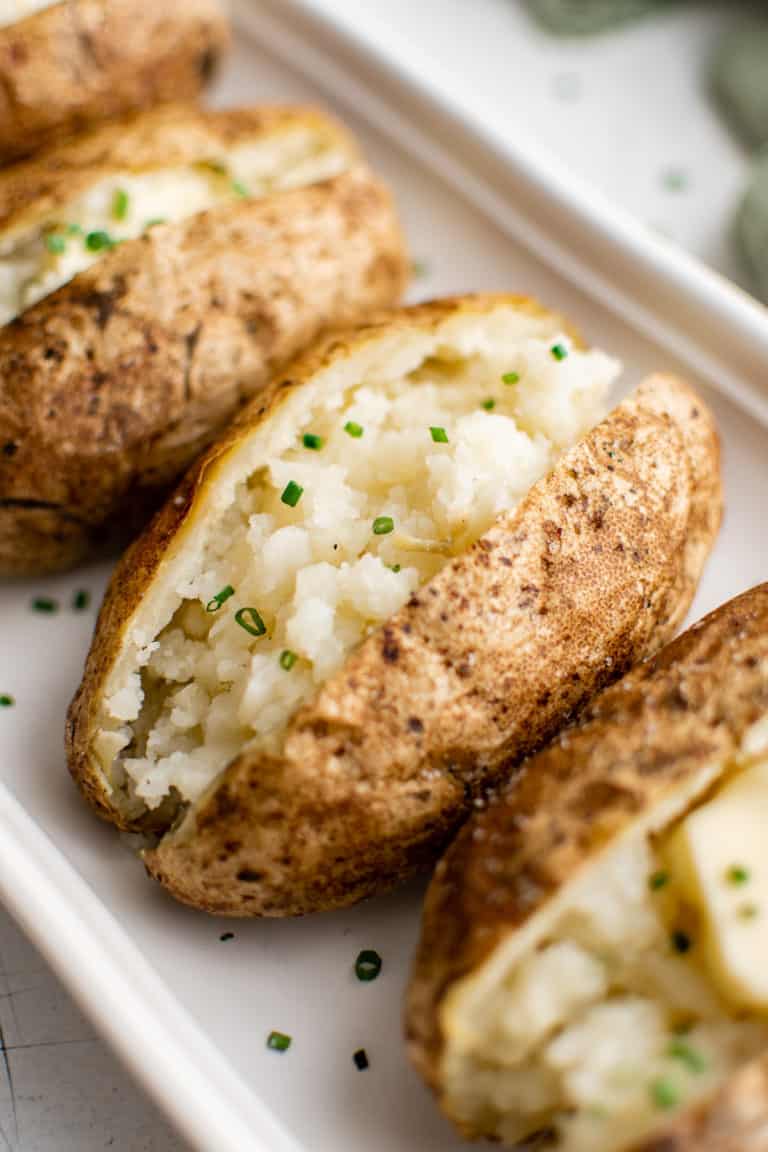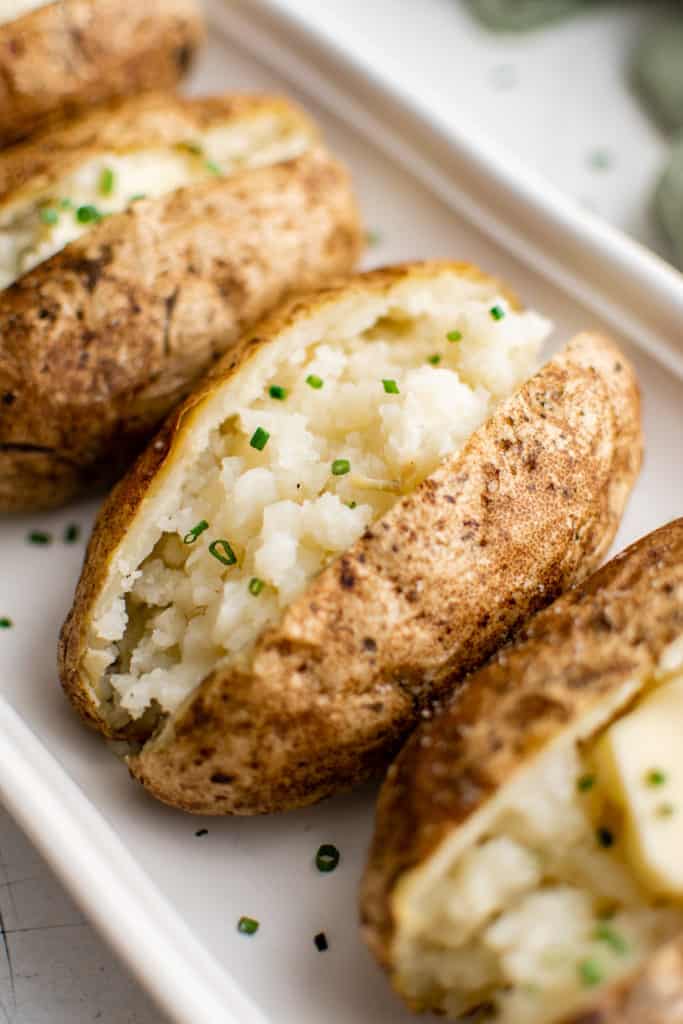 A good baked potato really can't be beat. Salty, crispy, and fluffy - it should check all of those boxes.
It might be the superior potato form… Although with a blog like More than Meat and Potatoes, you know we have a hard time narrowing down that list!
This Baked Potato recipe will give you the perfect potato every time. The long cook time is what really gives you the quality of flavor and texture, and we promise it's well worth the wait.
Get a steakhouse quality baked potato with a recipe that is so insanely easy you won't believe it!
Jump to:
Tips and Variations
Baked potatoes are a great base for many flavor combinations. Here are some other topping suggestions to try:

Melted cheese and broccoli pieces.
Butter, sour cream, bacon bits, green onions, and shredded cheddar cheese.
Blue cheese and crispy onion pieces.
Top with a compound butter like our herb butter or roasted garlic butter.

Or try a blend of dry seasonings. We showcase 3 different blends here: Baked Potato Seasoning or sprinkle with some French fry seasoning.
Storage and Reheating
Storage: Cool the baked potatoes completely then store in an airtight container in the fridge for up to 3 days. Store any toppings separately.
Reheating: The best way to reheat a baked potato to retain the crispy outside is to heat in the oven at 350°F for about 20 minutes.
You can reheat them in the microwave. Place a damp paper towel over the potato and heat for about 3 minutes or until the potato is warmed through.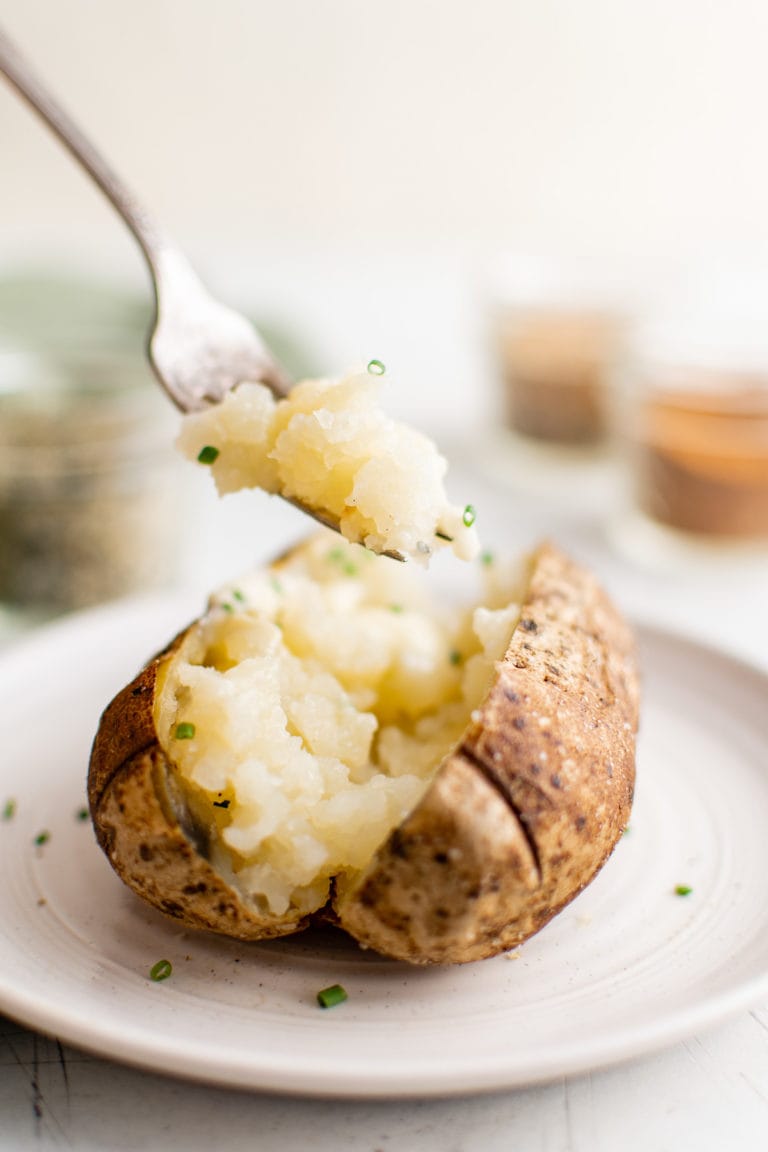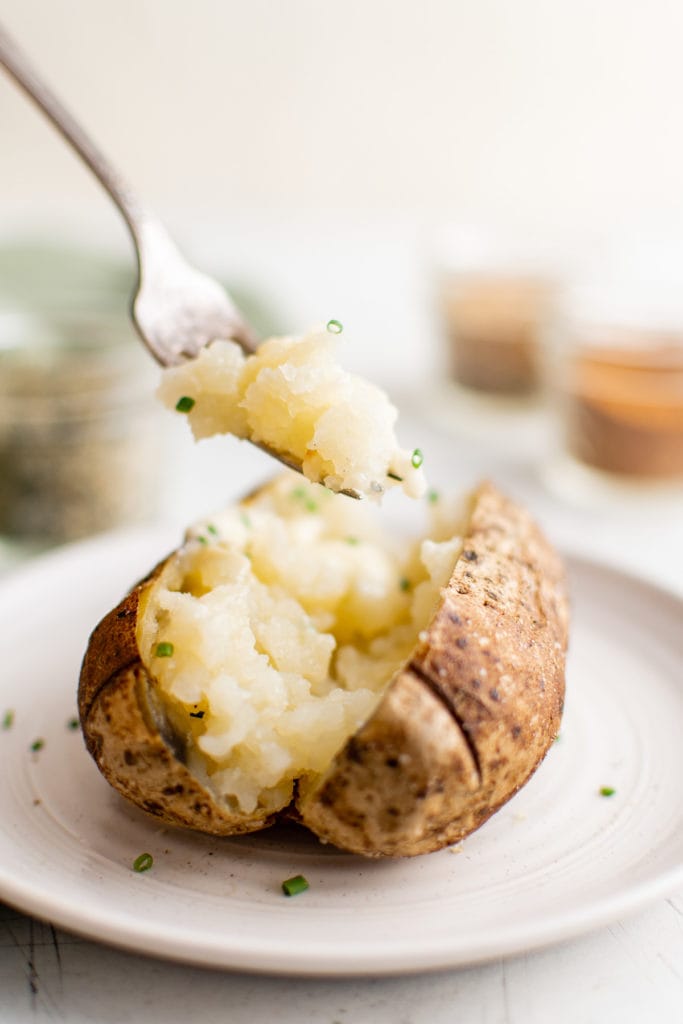 Frequently Asked Questions
Can you make these potatoes in the microwave?
Yes, you can definitely use the microwave to cook these potatoes. It's definitely a faster option if that's what you'd prefer.
Here's a place to start, but you'll want to adjust the times depending on the size of the potatoes.
Cook your potato for 7 minutes. Turn halfway through. If the potato isn't quite done, continue microwaving 1 minute at a time until fork tender.
For 2 potatoes up the initial time to 10 minutes, for 4 cook for 15 minutes. The texture of the potato skin isn't the same as the oven method but will work in a pinch.
Can you use the air fryer for this recipe?
Yes, you can "bake" these potatoes in the air fryer!
Prepare the potatoes as above and place in the air fryer at 400°F. "Bake" for 30 minutes. Flip and cook for an additional 5-10 minutes or until the potatoes are tender.
This method is much more similar in taste and texture to the oven baked potatoes as opposed to the microwave method.
Is it better to bake potatoes with or without foil?
Using foil to bake potatoes is really a matter of preference.
Wrapping potatoes in foil locks in moisture and gives the skins a softer texture. Any salt or pepper that you've added will likely dissolve.
Leaving foil off the potatoes will help crisp up the skins and dry out any added salt. It depends on how you like your potatoes.
Other Oven Baked Favorites
Recipe Card with Ingredient Amounts and Instructions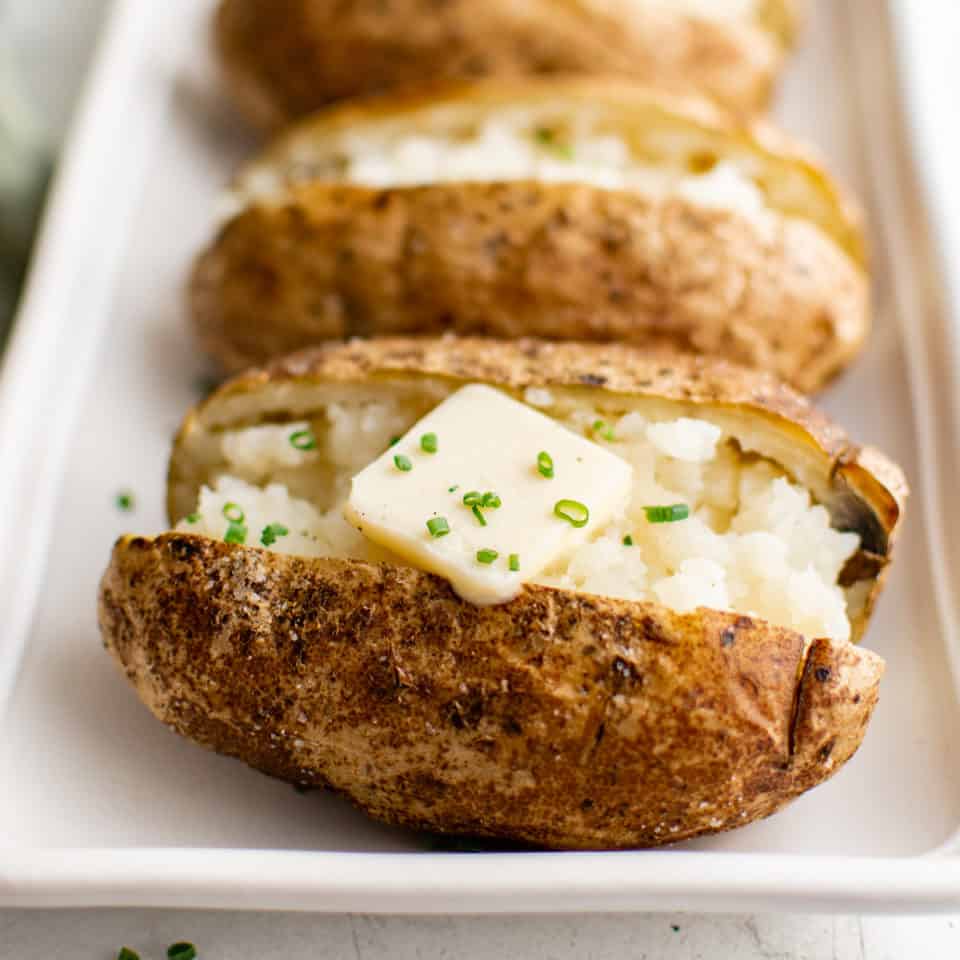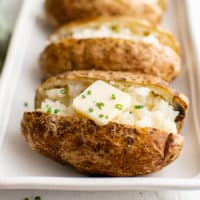 Ingredients
4

russet potatoes

,

large in size, washed and dried

2

tablespoons

olive oil

1

teaspoon

salt

1

teaspoon

ground black pepper
Instructions
Preheat the oven to 400°F, and line a medium-size baking pan with aluminum foil.

Poke the potatoes with a fork, and rub each of them with olive oil, salt and pepper.

4 russet potatoes

2 tablespoons olive oil

1 teaspoon salt

1 teaspoon ground black pepper

Arrange the potatoes on the prepared pan. Bake for 1 hour or until a knife comes out easily when poked into the centers.

Allow the potatoes to cool for 15 minutes before slicing them open and fluffing Serve with a pat of butter, salt and pepper, freshly minced chives and sour cream if desired.
Notes
*The calories listed are an approximation based on the ingredients in the recipe card and a serving size of 1 baked potato. Actual calories will vary.
*For more information, tips, and answers to frequently asked questions, please refer to the post.
Nutrition
Serving:
1
potato
Calories:
484
kcal
Carbohydrates:
97
g
Protein:
11
g
Fat:
7
g
Saturated Fat:
1
g
Polyunsaturated Fat:
1
g
Monounsaturated Fat:
5
g
Sodium:
608
mg
Potassium:
2227
mg
Fiber:
7
g
Sugar:
3
g
Vitamin A:
8
IU
Vitamin C:
30
mg
Calcium:
72
mg
Iron:
5
mg