We love to bake, and Italian bread is one of favorites! But you need a great main dish to go with that freshly baked loaf. When you're wondering what to serve with Italian bread, look no further! We have a list of 19 tasty recipes ranging from pasta all the way to bread dipping oil. You can't go wrong with any of these options!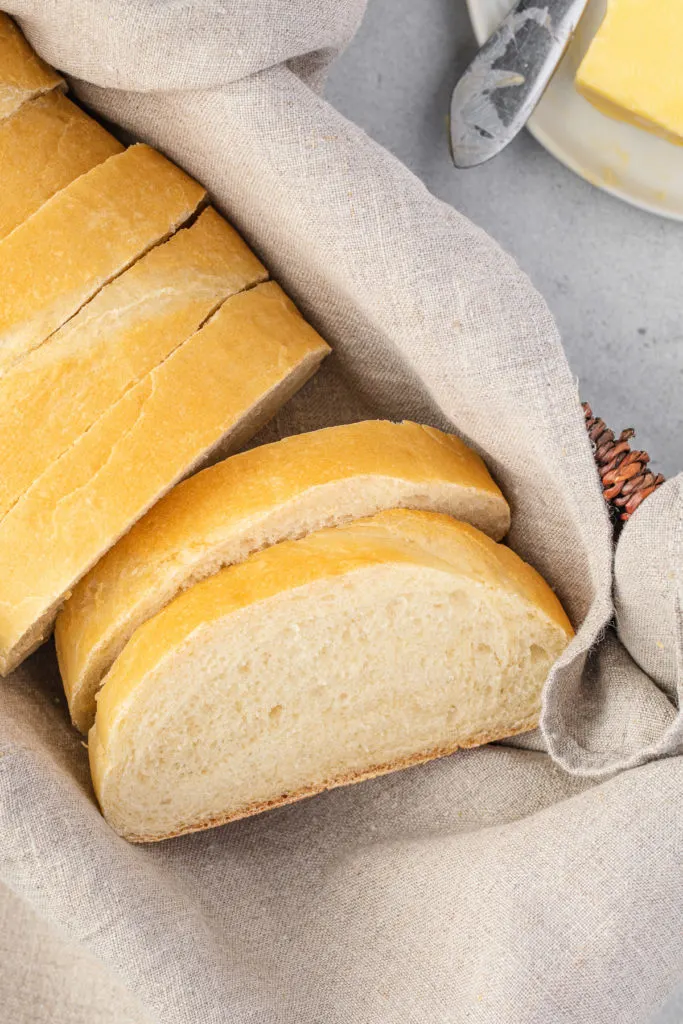 My homemade Italian bread recipe is one of my very favorites. And I get to make it quickly and easily right at home.
It's soft, it's fluffy, and it's so very versatile. One of my favorite things to do when I have a fresh loaf of Italian bread sitting around is brainstorm all of the delicious things I can serve it with.
So, rather than keeping that to myself, I thought I should share it with you!
What Makes Italian Bread Different?
Oftentimes, what sets Italian bread apart from other breads is the addition of ingredients such as oil, herbs, and sometimes milk.
In my homemade Italian bread recipe, I use egg white for fluffiness and oil for moisture—along with all the classic bread ingredients such as flour, yeast, and sugar.
The result is a fluffy, tender, incredibly soft loaf of perfect bread.
What Is Italian Bread Served With?
Whatever you want! There are so very many amazing ways you can enjoy a homemade loaf of Italian bread.
Here are some of my favorites!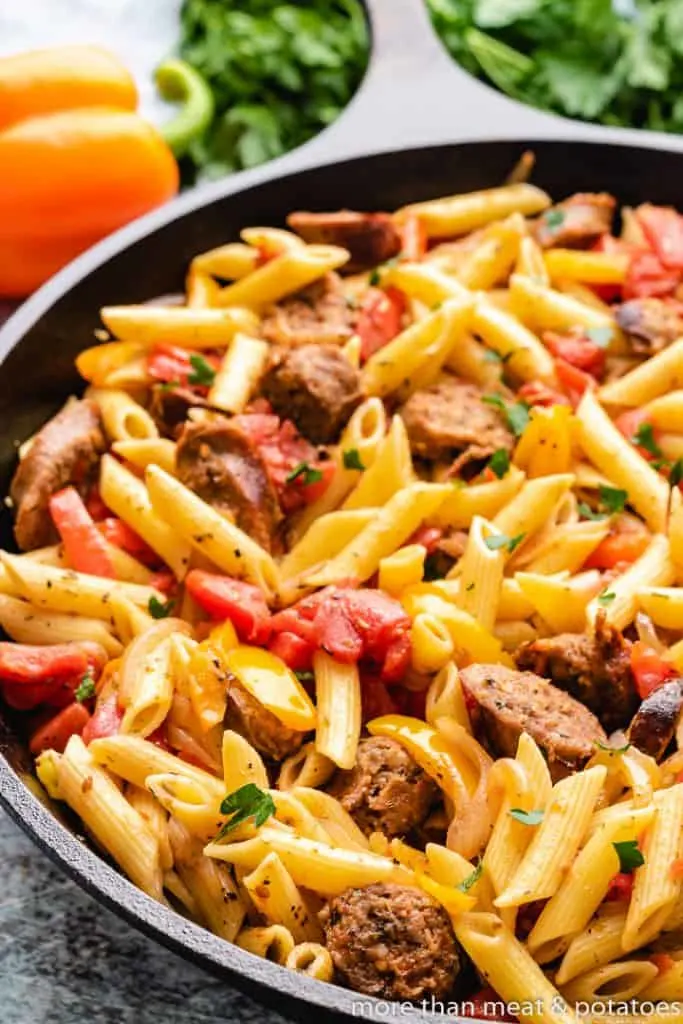 This sausage and peppers pasta is a hearty, savory, easy dinner that's loved by everyone.
It's made with the short pasta noodle of your choice, Italian sausage, and bell pepper tossed in a savory tomato sauce.
This pasta recipe is a complete meal all on its own, but is excellent served with a slice of buttery Italian bread. It will go quick—you'll be lucky if you have leftovers!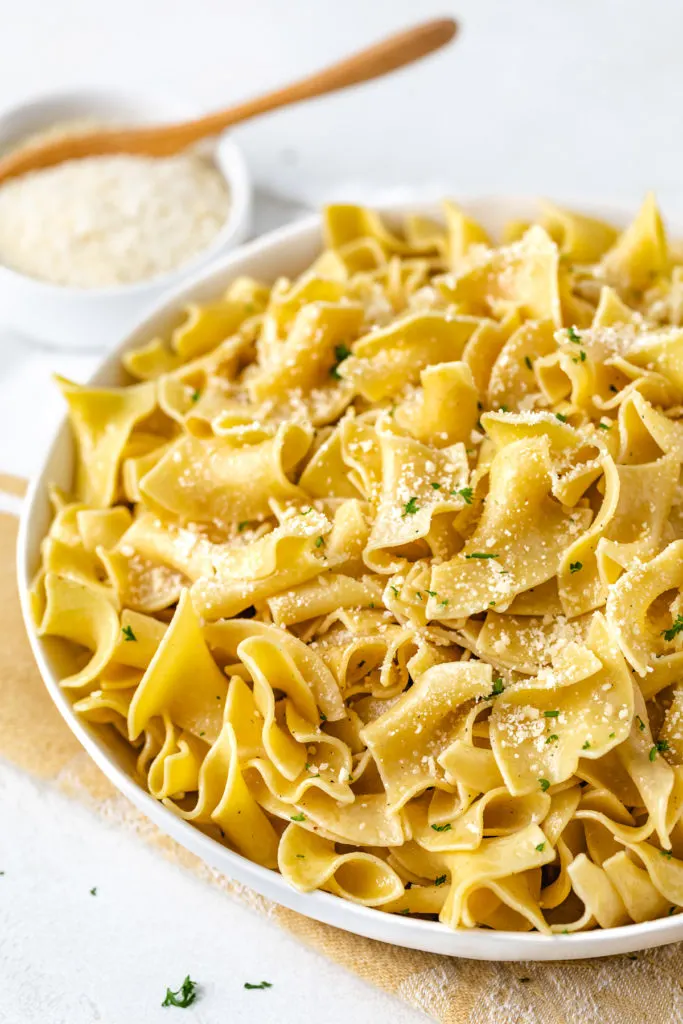 These butter parmesan noodles are an even tastier take on classic butter noodles.
They're made with perfectly cooked egg noodles tossed in a delicate sauce made with butter, fresh parmesan, salt, and pepper.
Keep this recipe simple as-is or add in your favorite protein or veggies to make it more of a complete meal.
The possibilities are endless and it's so tasty no matter what!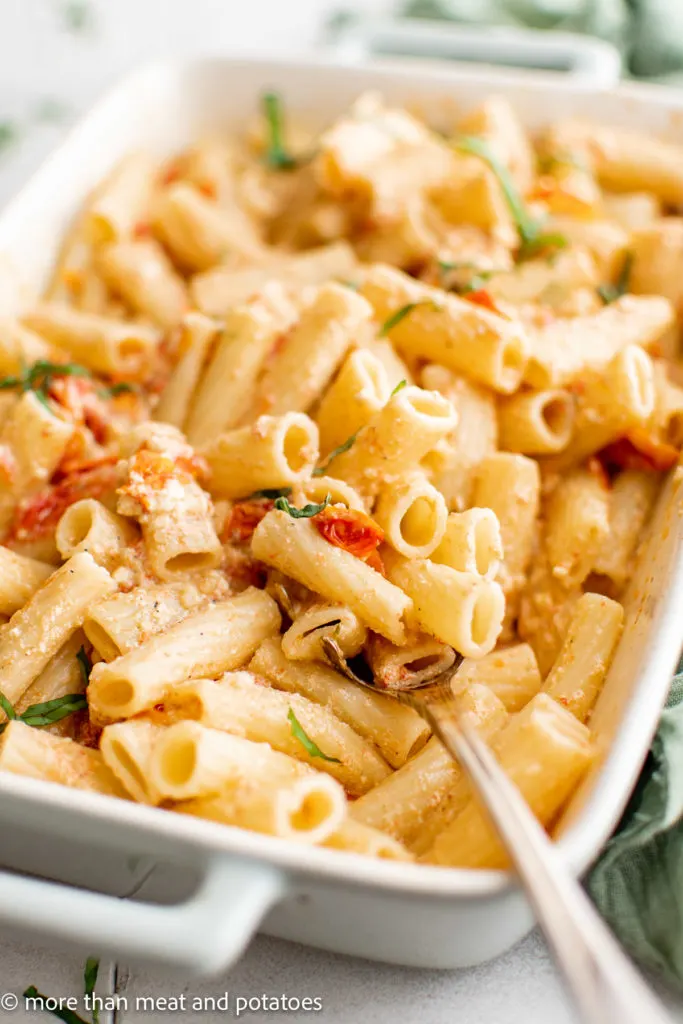 This feta pasta is my version of a viral Tiktok recipe.
And you'll understand just why it went viral as soon as you try it! It really is so good!
This recipe is made with a whole block of feta cheese that's drizzled with oil, garlic, and herbs, then roasted with fresh cherry tomatoes to form a creamy, tomato-y sauce.
Serve this pasta fresh and hot, topped with extra feta and basil, and with a slice of homemade Italian bread.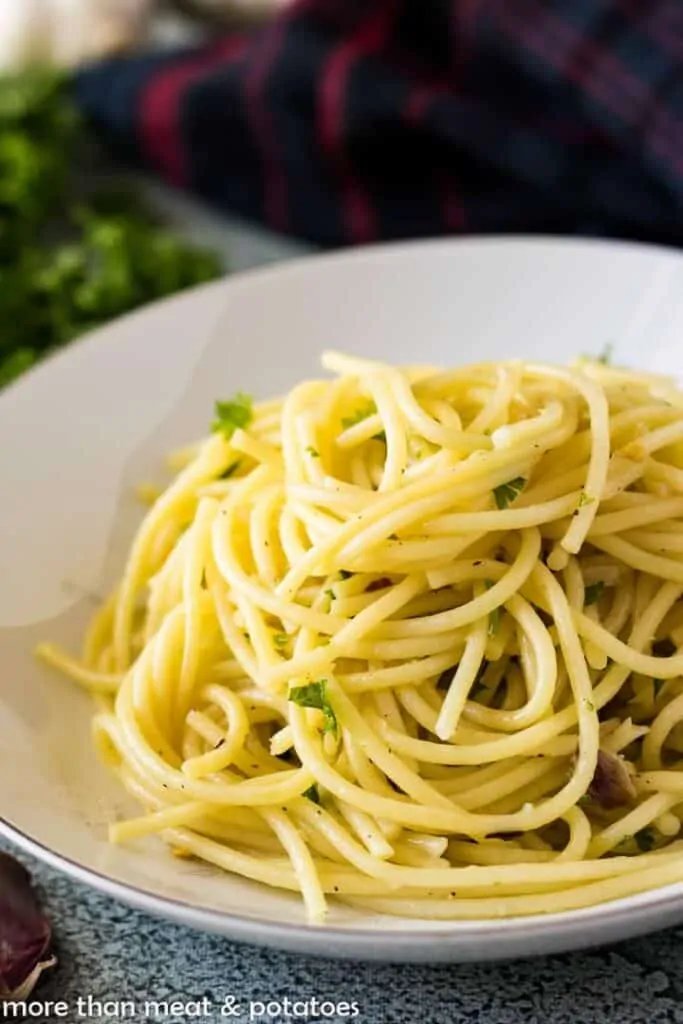 This roasted garlic and olive oil pasta is an all time favorite.
It tastes like you got it at the best, most authentic Italian restaurant, except instead of breaking the bank you whipped it up in 10 minutes using just 7 basic ingredients.
This recipe is made with tender spaghetti noodles that are smothered in olive oil, creamy roasted garlic, then finished with a sprinkle of red pepper flakes, salt, and pepper.
It's so quick to prep and mouth wateringly good.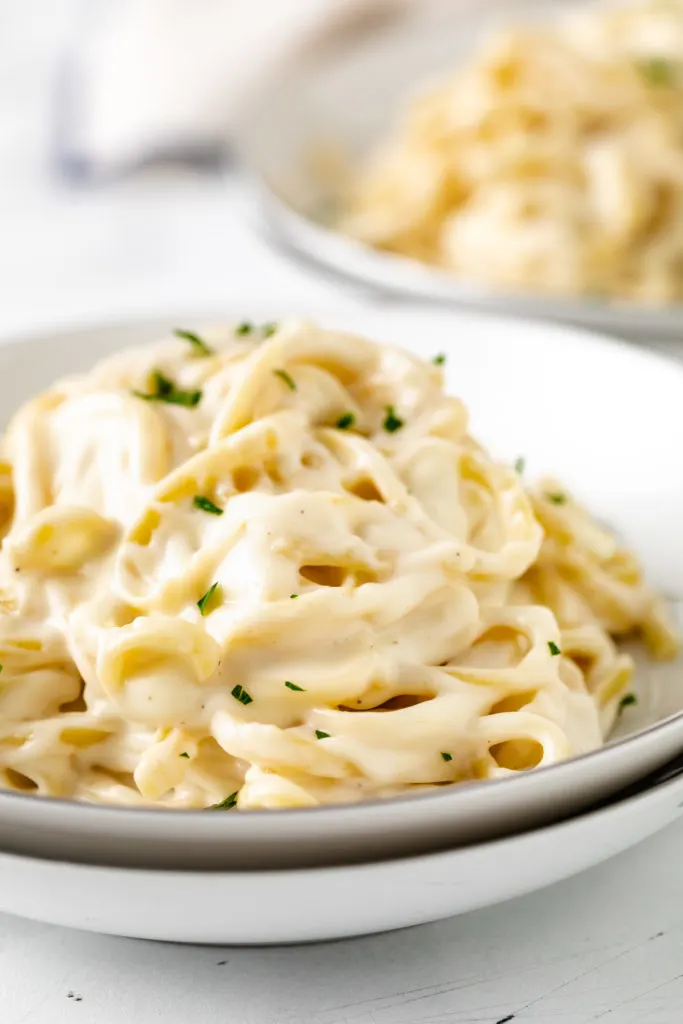 There is no combination quite as delicious as that of fresh garlic and parmesan.
And this garlic parmesan pasta is one of my favorite ways to enjoy the two flavors.
It's a 20-minute meal that's made with your favorite long pasta shape coated in a buttery, creamy, garlicky parmesan cream sauce.
Enjoy as-is as a simple vegetarian entree or bulk your pasta up with a protein, veggies, you name it.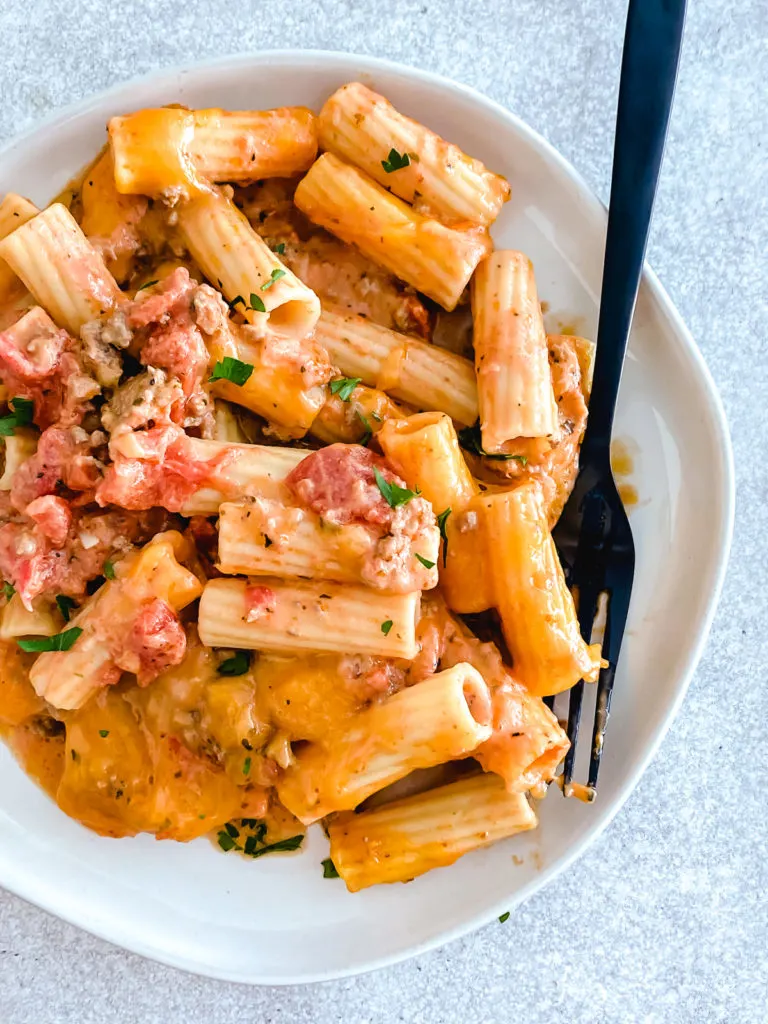 This beef and tomato casserole is a hearty and comforting dinner you'll be making over and over.
It's so easy to make and is packed with flavor and protein.
I love to use ziti in this recipe, but feel free to use any short pasta shape you like.
It's cooked al dente, then smothered in a savory, slightly spicy, and cheesy tomato sauce.
The pasta is layered into a baking dish, topped with even more cheese, then baked until ooey-gooey and melty. It's comfort food at its best!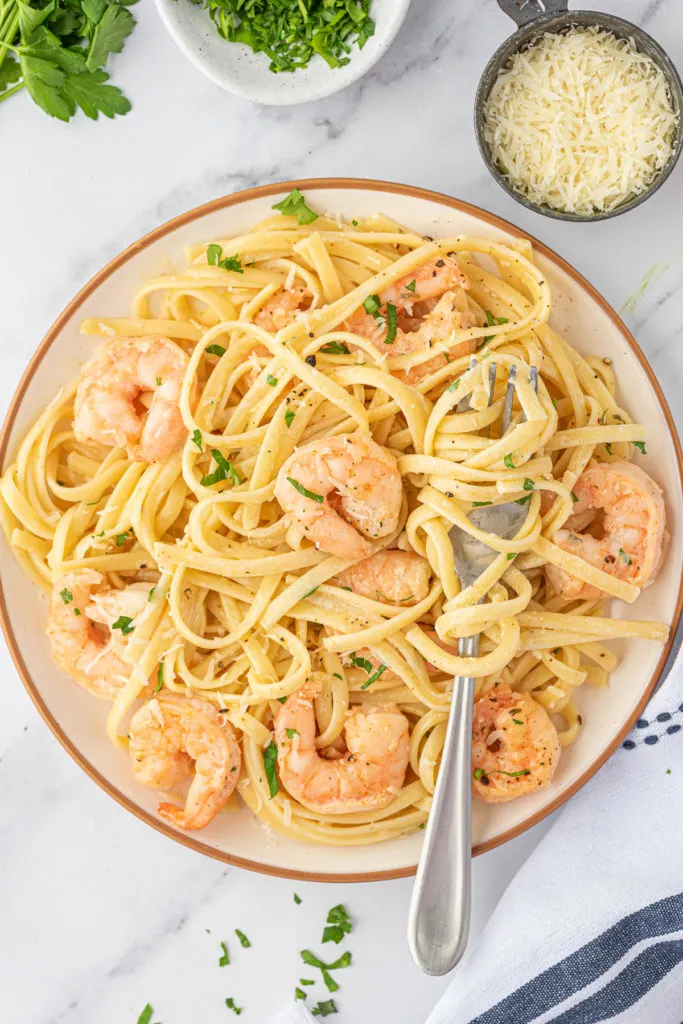 If there's one thing that takes shrimp to the absolute highest level, it's garlic.
The flavor of juicy shrimp paired with the bite of fresh garlic is a match made in heaven!
And this garlic shrimp pasta is the perfect way to enjoy garlicky shrimp.
This recipe is made with linguine noodles and pan-seared shrimp tossed together in a deliciously seasoned garlic cream sauce.
It's so decadent and comes together in no more than 20 minutes.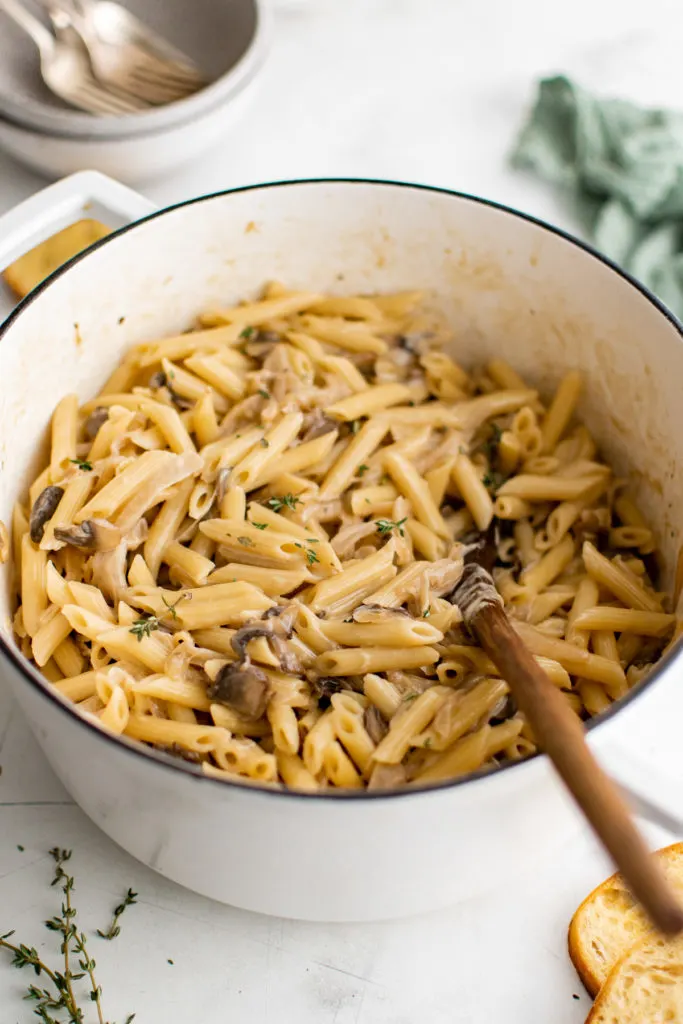 This French onion pasta is everyone's favorite soup made into a delicious, hearty meal.
This pasta dinner features mini penne, onion, and portabella mushroom simmered in a savory parmesan cream sauce.
This recipe takes just 15 minutes to prepare and is loved by everyone that tries it.
Enjoy on its own, with a slice of toasted Italian bread, or with your favorite roasted veggie.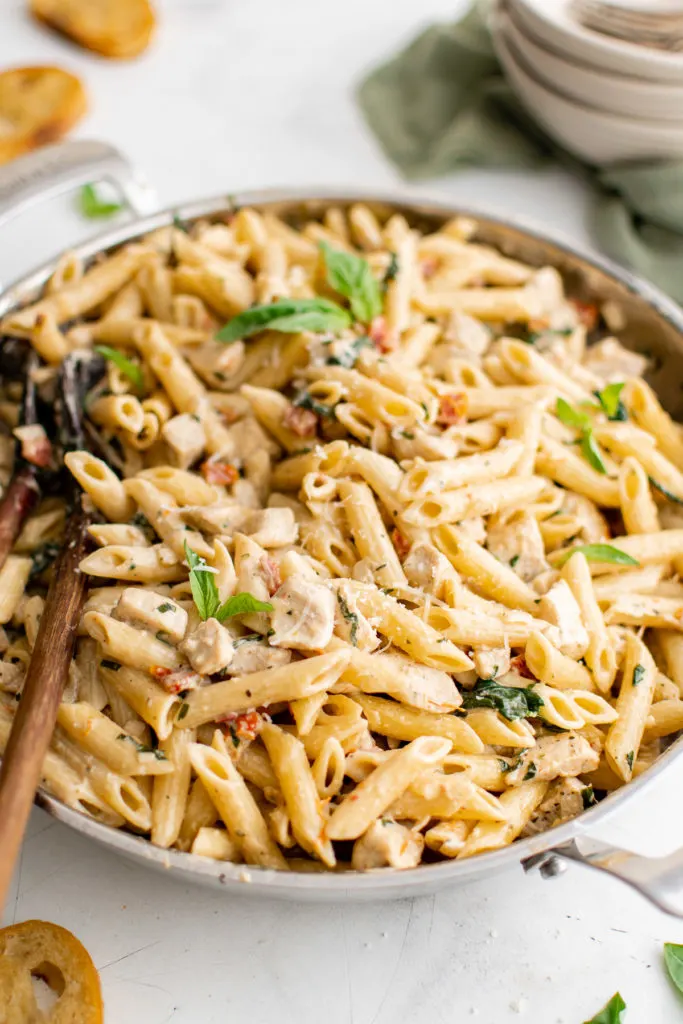 This Tuscan chicken pasta is the best fresh and delightful summertime meal.
It combines all of your favorite Italian ingredients in one hearty pasta dinner.
This recipe features penne pasta, pan-seared chicken, sun-dried tomatoes, fresh basil, parmesan, and more. It's quick and easy to make and packed with so much flavor.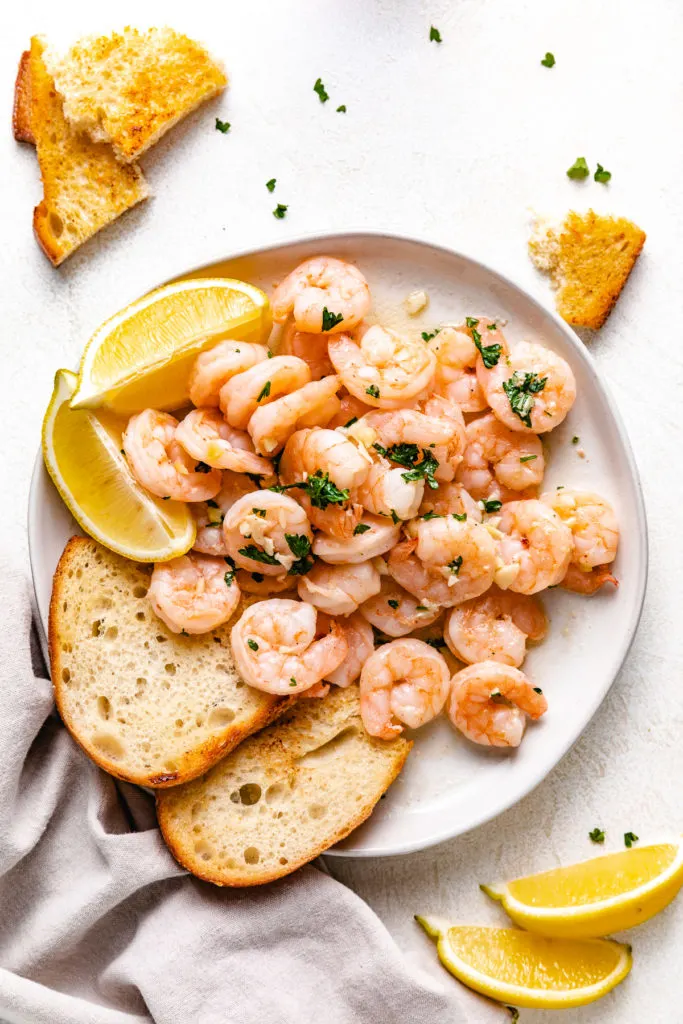 Shrimp scampi is a decadent dish that sounds so much fancier than it is.
It's really a big old plate of delicious shrimp! It can be enjoyed as an appetizer with bread or as a meal with your favorite pasta.
This recipe for shrimp scampi is made with juicy shrimp simmered on the stove in a tasty mixture of dry white wine, garlic, salt, pepper, and lemon.
It's garnished with fresh parsley for the perfect finish!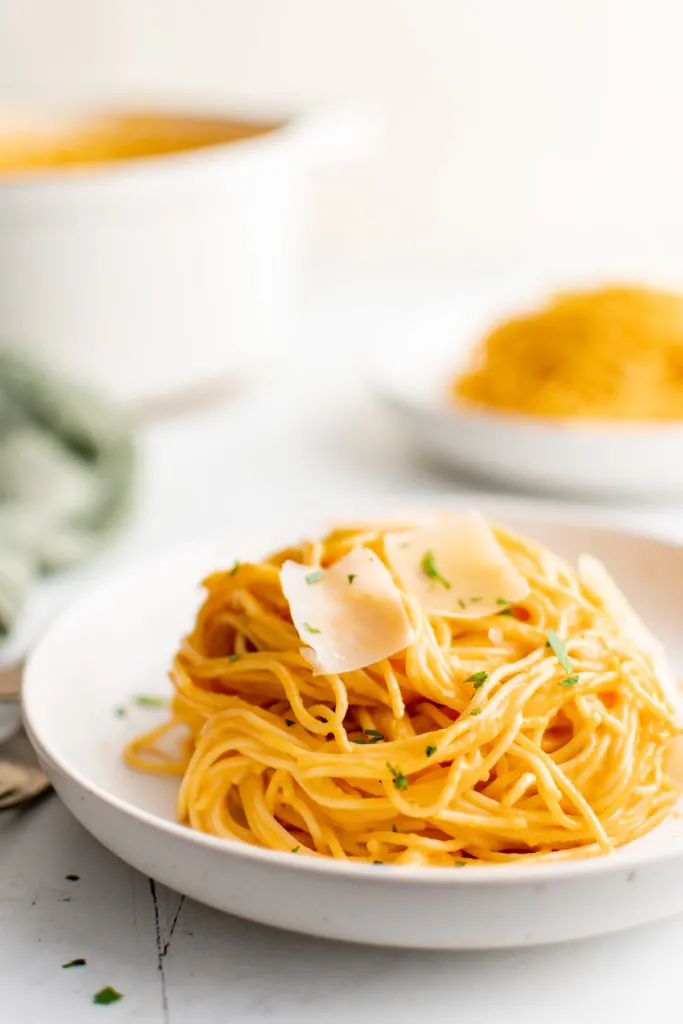 This roasted red pepper pasta is quick, easy, and loaded with flavor.
It uses fresh bell pepper, onion, garlic, heavy cream, parmesan, and a little bit of pasta water and tender spaghetti, linguine, or angel hair pasta.
The veggies are roasted until perfectly charred, then blended together to form a velvety, creamy sauce.
And if that didn't sound good enough, this recipe requires a quick 15 minutes of prep!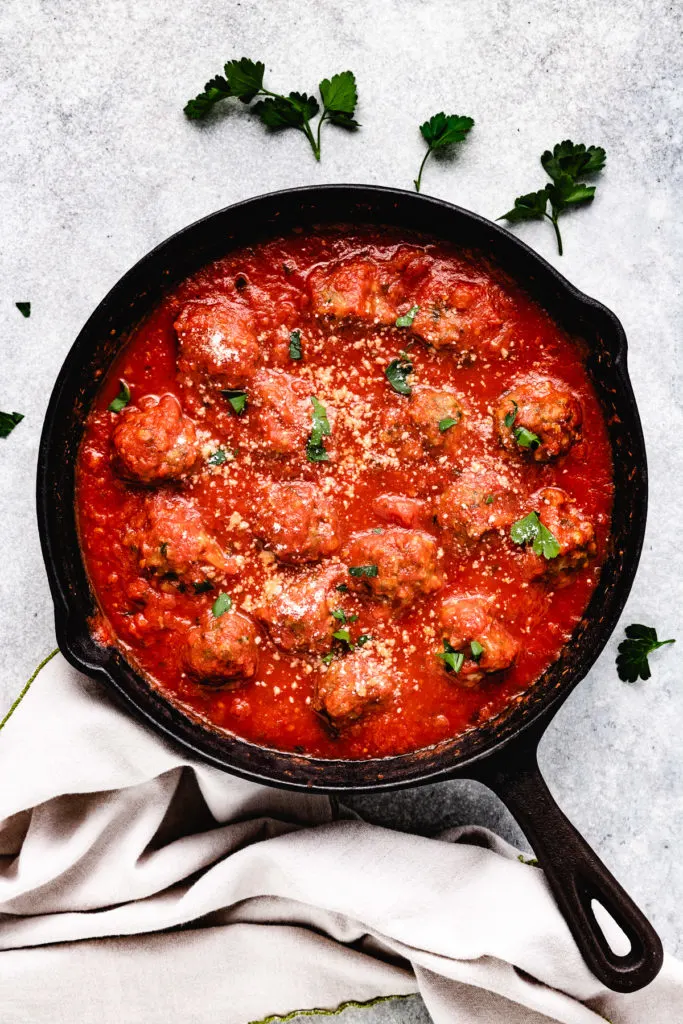 These baked meatballs are my favorite meatball recipe.
They're cooked perfectly every, single time and packed full of flavors.
This recipe is made with a combination of ground beef and Italian sausage that's seasoned perfectly, formed into balls, then baked until juicy and crisped.
Sprinkle with parmesan cheese or shredded mozzarella cheese for the ultimate gooey meal.
Enjoy smothered in marinara sauce and with a thick slice of Italian bread to sop up the sauce. You'll be going back for seconds…and probably thirds too!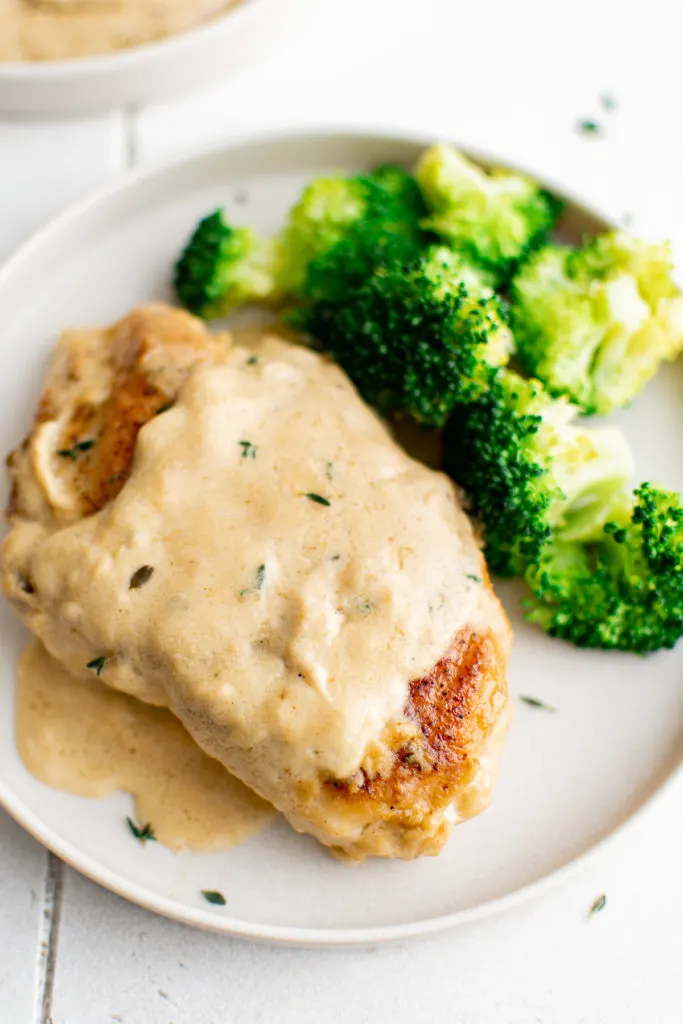 This creamy lemon chicken is a restaurant-quality meal that's impressive to serve, but incredibly simple to make.
It features tender chicken drizzled with a velvety lemon sauce made with chicken broth, heavy cream, fresh lemon juice, and the perfect blend of spices.
This recipe takes a mere 15 minutes to prepare and is perfect served over pasta, veggies, or with a side of bread to soak up the creamy sauce.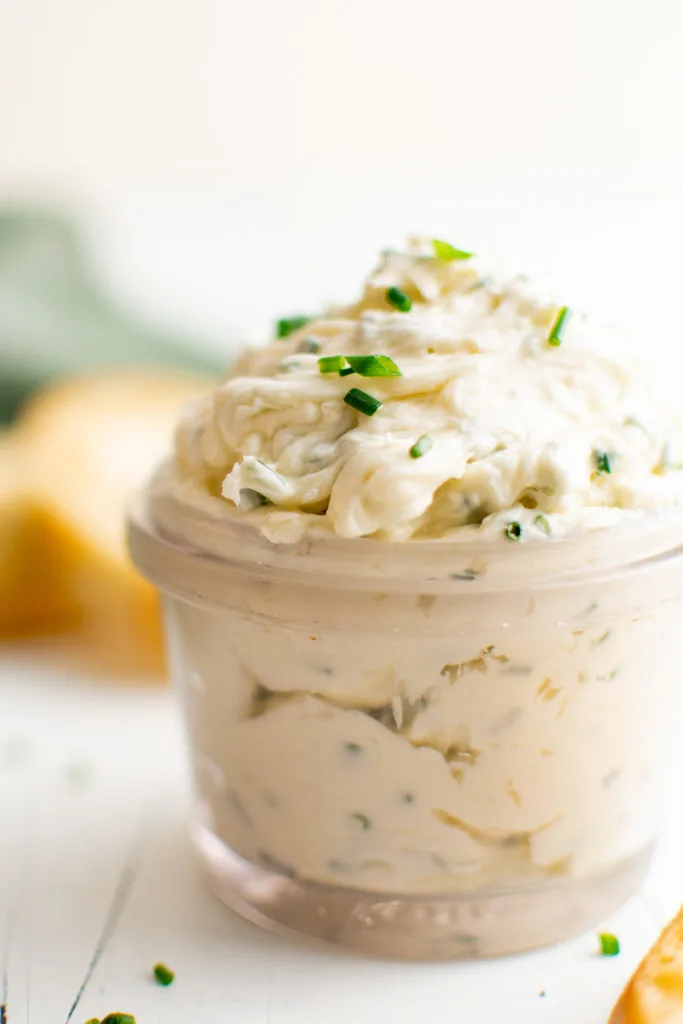 Skip a trip to the grocery store and create your own easy garlic bread recipe!
Slather some of this roasted garlic butter onto a loaf of Italian bread and toast until golden brown for the most amazing homemade garlic bread.
Take it a step further and sprinkle the bread with mozzarella cheese, wrap it in aluminum foil, and heat it in the oven for ooey, gooey garlic cheese bread.
​Add a side of marinara sauce and you practically have a main course!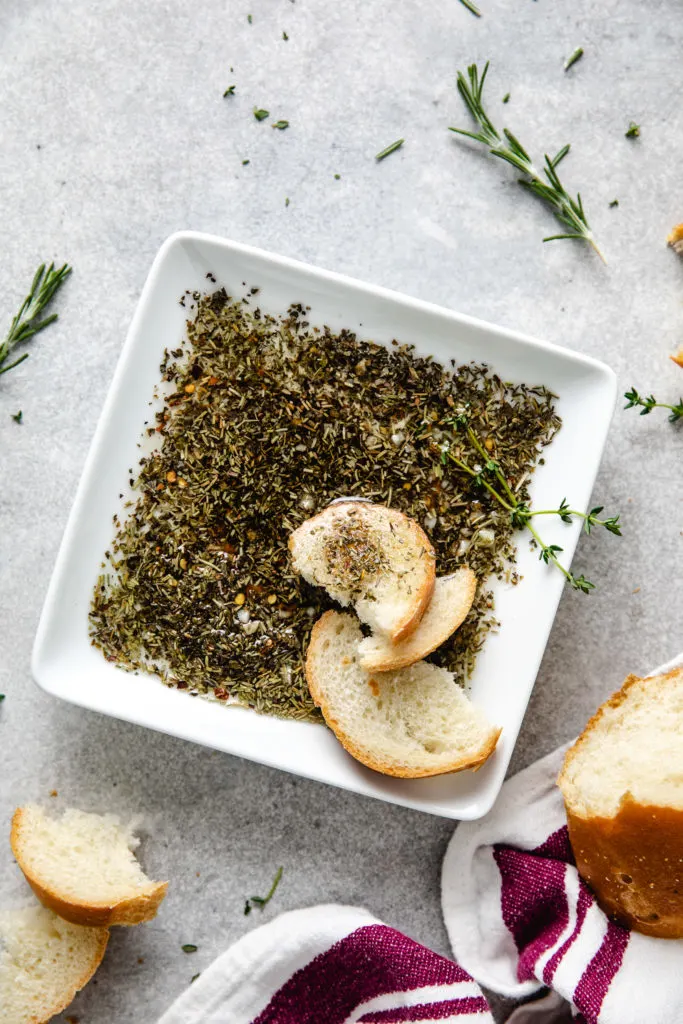 Don't care for crispy garlic bread? How about homemade bread dipping oil instead?
Extra-virgin olive oil gets mixed with balsamic vinegar and Italian seasoning in a small bowl perfect for dipping.
Bread dipping oil is served as an appetizer or side dish in many Italian-style restaurants, and it's sure to be a family favorite! It pairs perfectly with a loaf of warm bread.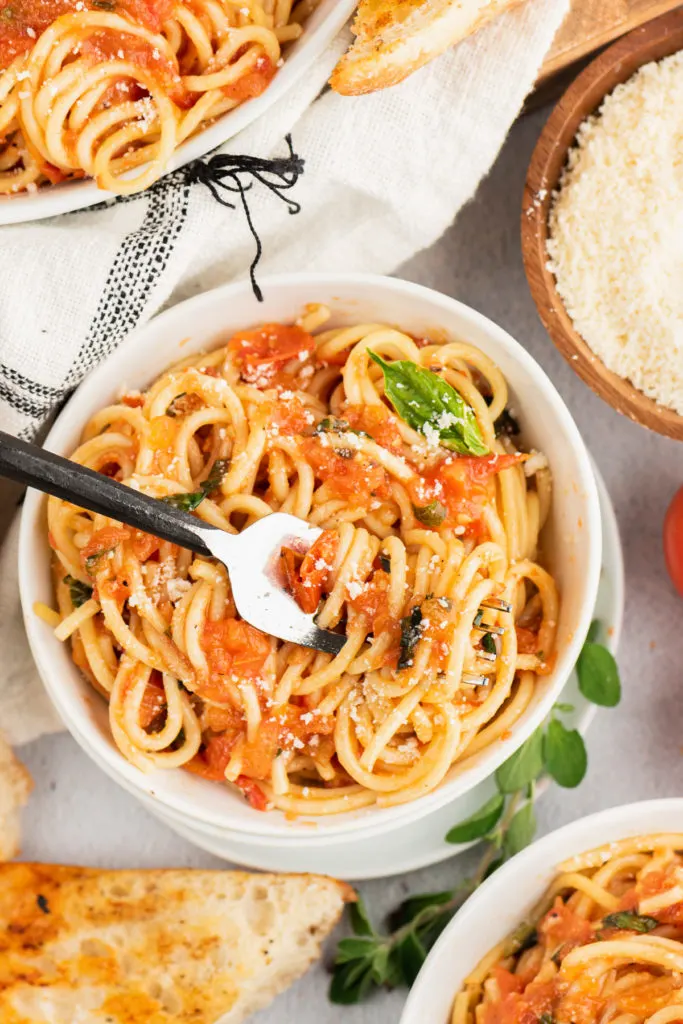 This tomato basil pasta is a rich and delicious dish that requires very little effort.
It's made with spaghetti noodles tossed in a homemade tomato sauce and topped with fresh herbs and parmesan.
Enjoy this pasta as-is or add some cooked ground beef to bulk it up. It's practically perfect in every way!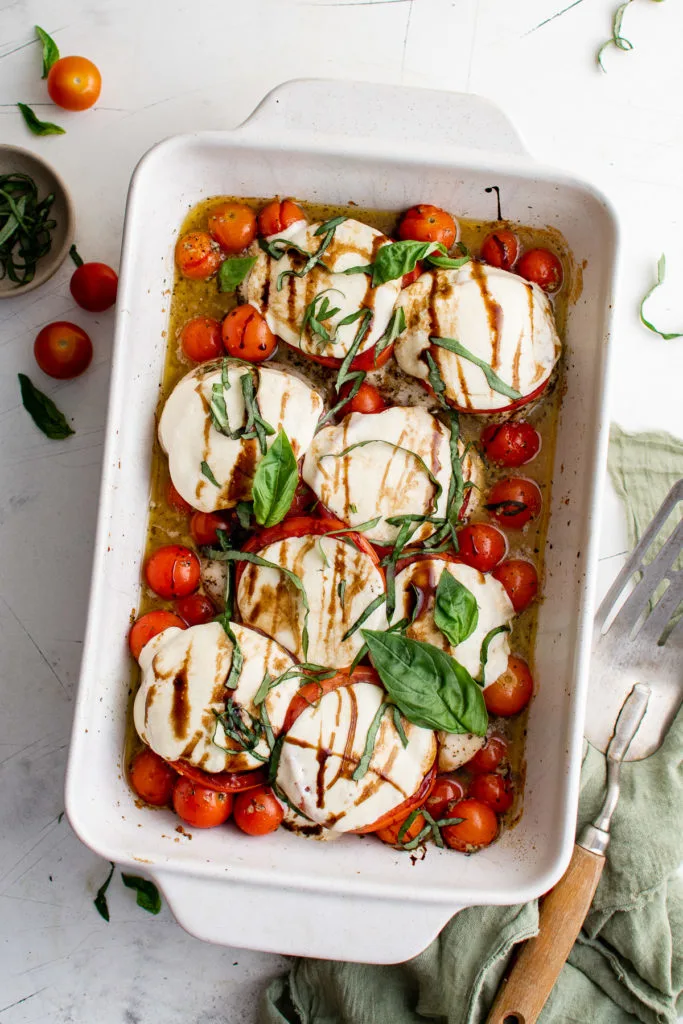 This chicken caprese is my version of a classic Italian dish.
It's kept traditional with chicken breast topped with juicy tomato, gooey mozzarella, and a tangy balsamic glaze—along with a few extra ingredients for the best flavor.
This recipe is hearty and tasty on its own, but is excellent next to a simple pasta dish, a slice of Italian bread, and/or a roasted veggie.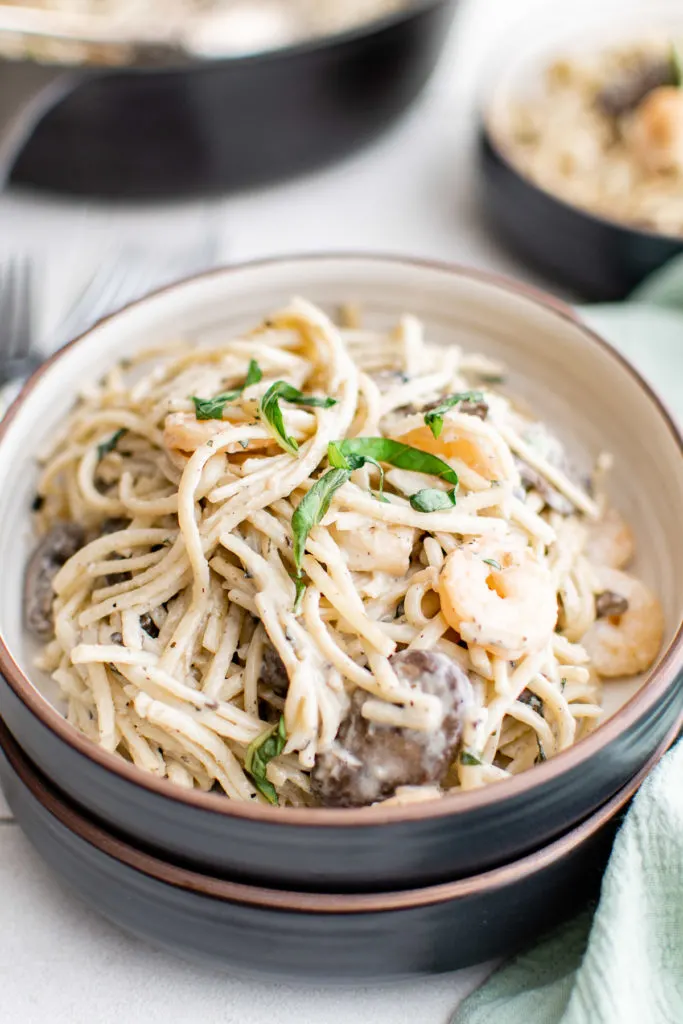 Mushroom shrimp pasta is a luxurious balance of all the flavors and textures you could want in a pasta dish.
Umami mushrooms, juicy shrimp, sweet white wine, rich cream, salty parmesan, fresh basil…and the list goes on.
This recipe is made with simple ingredients and takes a quick 15 minutes to prepare. It's an easy dinner you'll be making at least once a week!
Tomato basil soup is a classic…and a favorite! It's creamy, cozy, comforting, rich, savory…basically everything good.
This recipe for tomato basil soup couldn't be simpler. It's made with roasted tomatoes and caramelized onions blended together with a few seasonings and fresh basil.
The flavor is perfect and the texture is divine. Enjoy with your favorite grilled cheese or a slice of buttery Italian bread.
Looking for Other Side Dish Ideas?
You may find something here:
Don't forget to save these recipes for later!