Fragrant roasted garlic takes center stage in this roasted garlic and olive oil spaghetti recipe. Who says delicious pasta has to be complicated?
When Kim and I first met, we went out to eat a lot. In fact, we made it our goal to try every Italian restaurant in Northwest Arkansas.
Which, back then, wasn't very challenging because there were only about 8 in the whole region.
After we moved to Miami, Fl. we found a small pasta shop in North Miami Beach that made the best roasted garlic and olive oil pasta.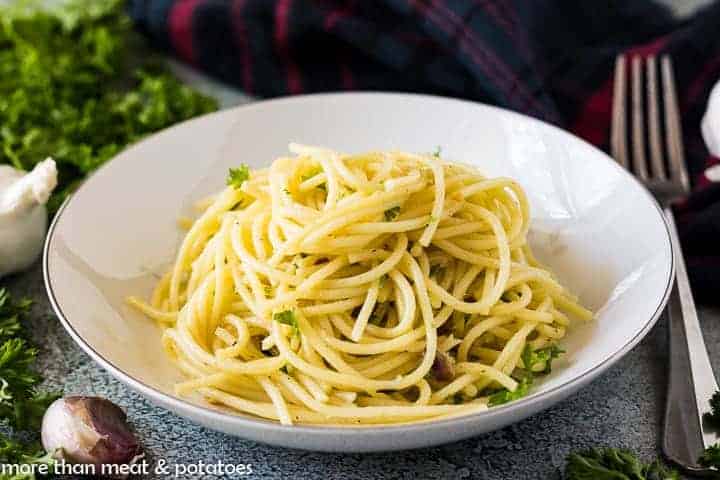 Today's recipe pays homage to that restaurant. Now, I doubt our version will ever be as good as there's, but it's close enough to keep us happy.
Especially, since we live about 1,000 miles away. It's not like Kim and I can just jump in the car and drove over on a Friday evening.
So, all you need to create this simple, delicious roasted garlic pasta recipe is a few ingredients and about 50 minutes of free-time.
Love garlic dishes? Then try our sauteed green beans with bacon and garlic! If you're looking for another pasta dish, mushroom broccoli pasta may be right up your alley.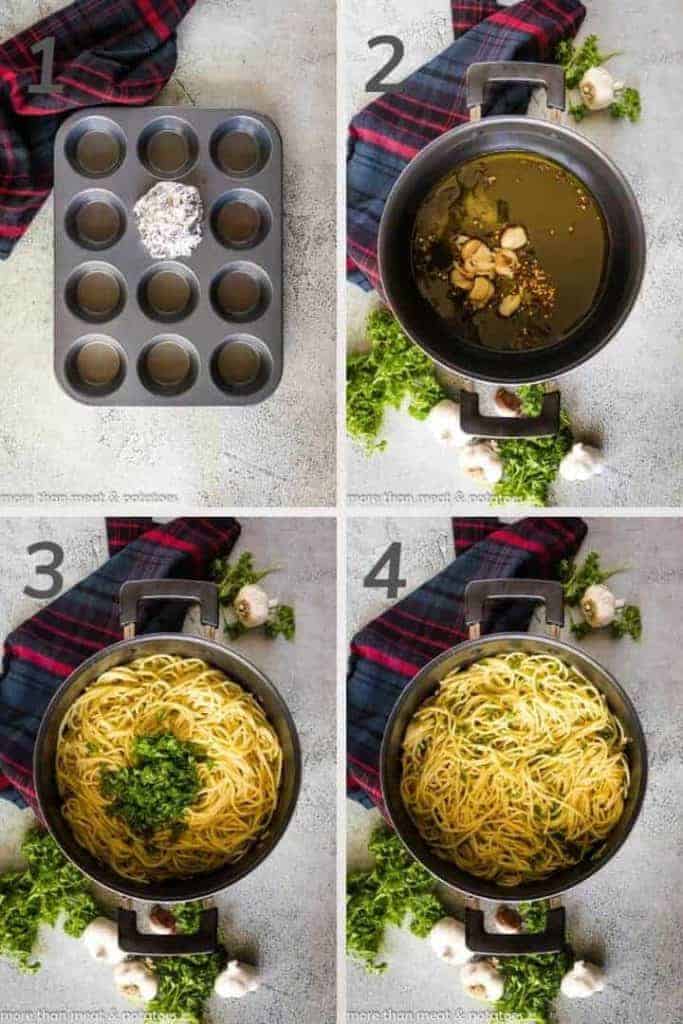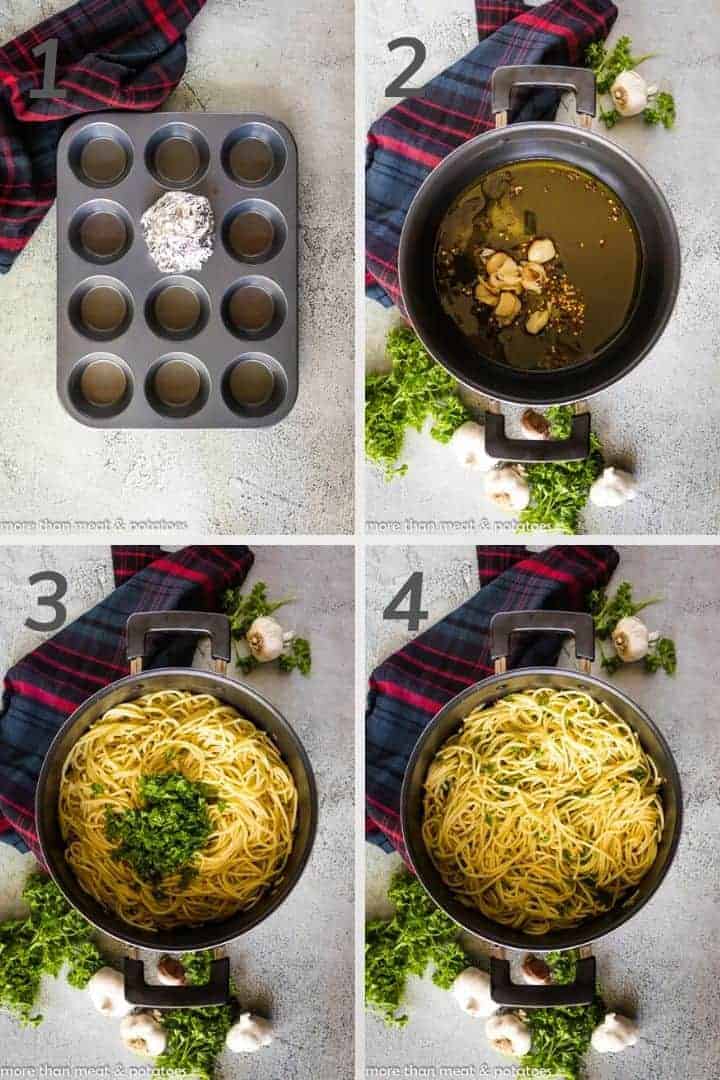 How to make roasted garlic?
In order to make this recipe, you need to know how to make roasted garlic at home. So, we're going to start there.
First, preheat your oven to 425 degrees F. and grab a large head (or bulb) of garlic. Next, use a sharp knife to remove top of the head.
Use the photo below as a reference.
Love roasted garlic? Then check out our roasted garlic cream cheese crostini!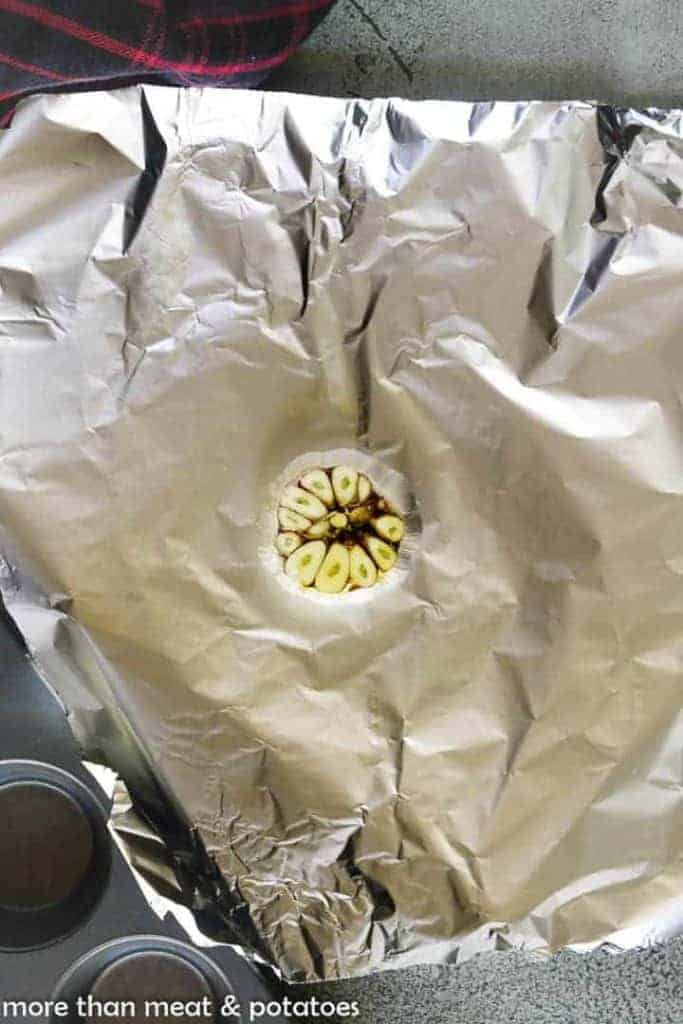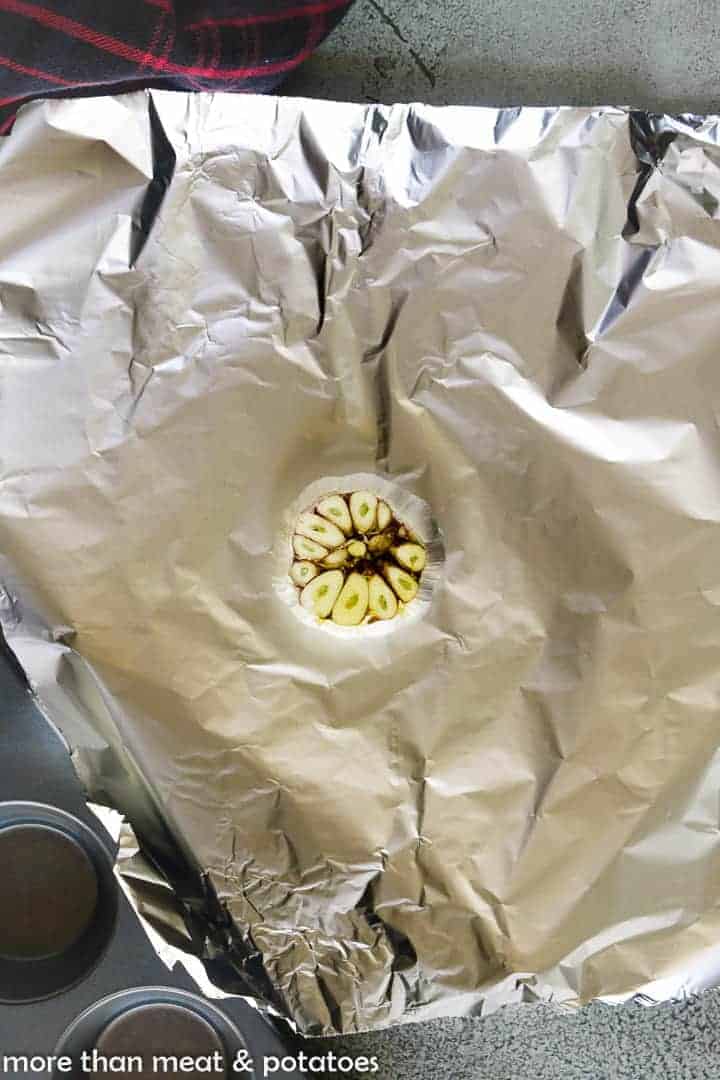 Only remove about 1-inch of the garlic bulb to expose all those cloves. After that, drizzle the bulb with olive oil and wrap it in foil.
Last, place the wrapped garlic into your oven to roast for about 30 minutes. Your whole kitchen is going be filled with scent of roasted garlic!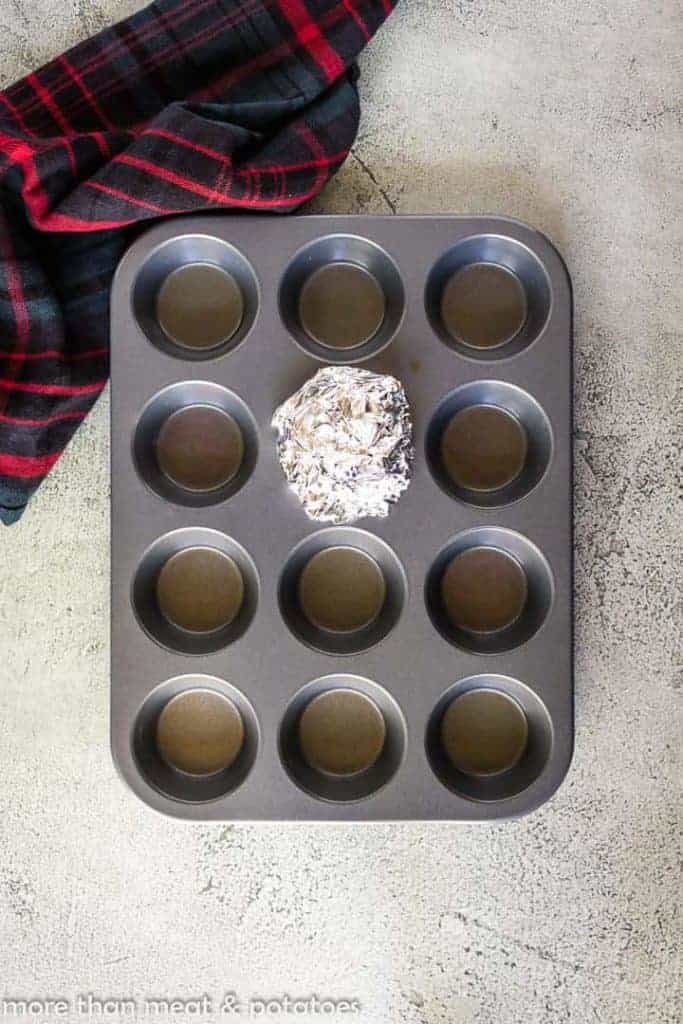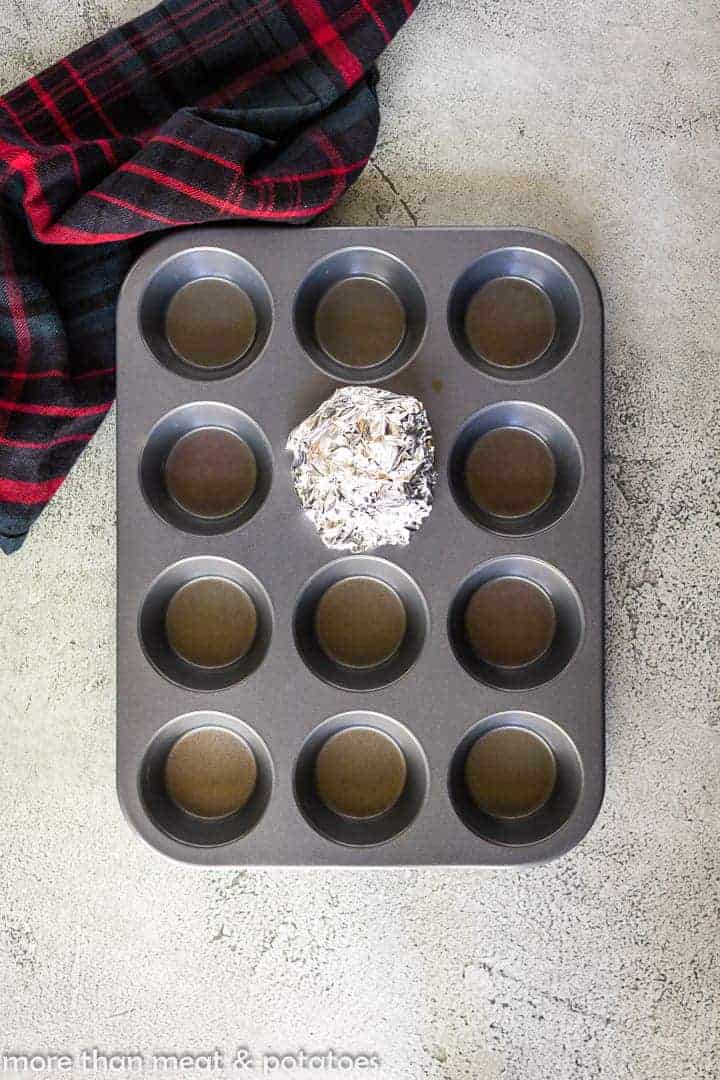 How to make olive oil pasta?
Now, while the garlic cooks, we're going to go ahead and prepare the olive oil spaghetti.
First, fill a large stock pot about 2/3 full with water. Add about a tablespoon or so of salt to flavor the water.
Place the pot over high-heat and bring it too a boil. Carefully, add the spaghetti noodles and let them cook until they're al dente (almost done).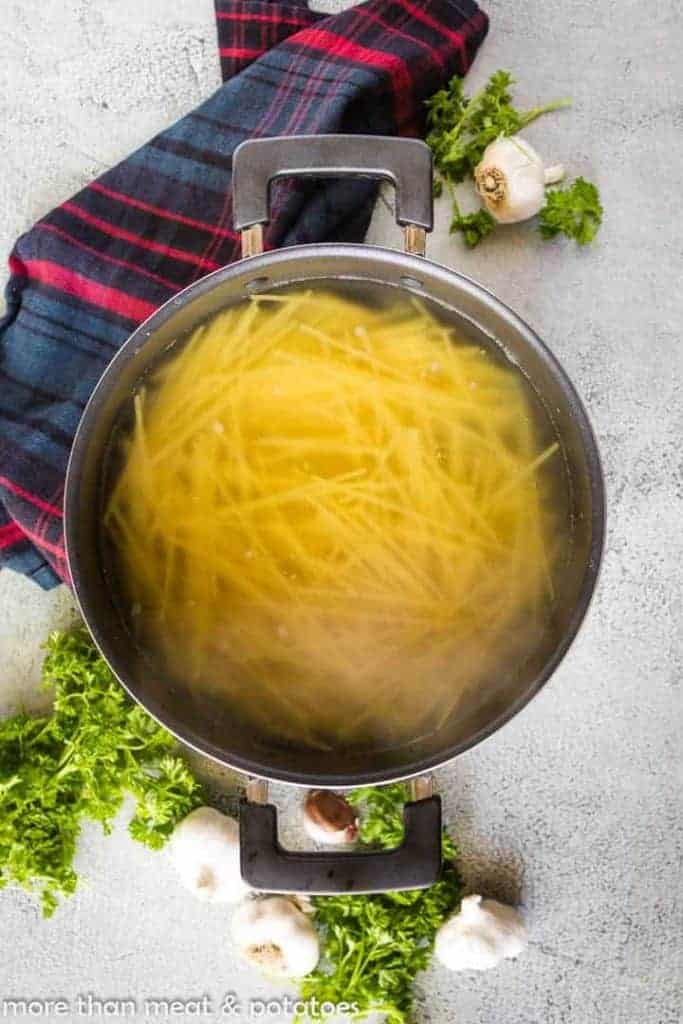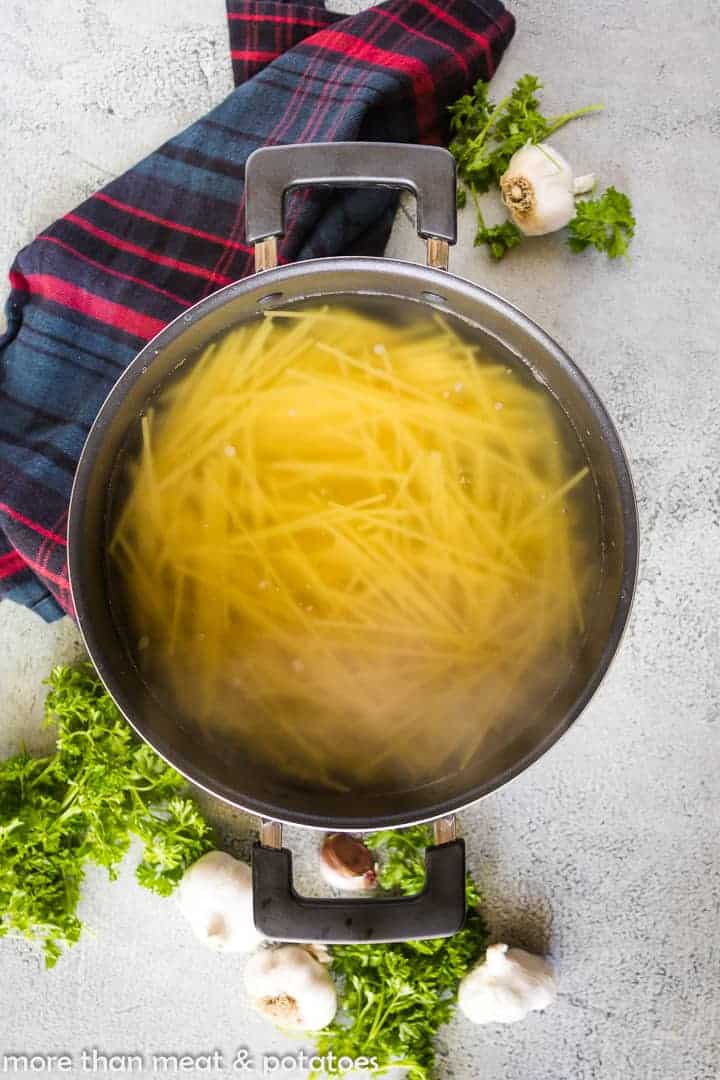 Once done, drain the noodles, but save 1/2 a cup of the pasta water just in case you need it when comes time to toss the pasta. Set everything aside.
Next, when garlic is done, remove it from the oven and carefully squeeze the roasted cloves into a separate bowl.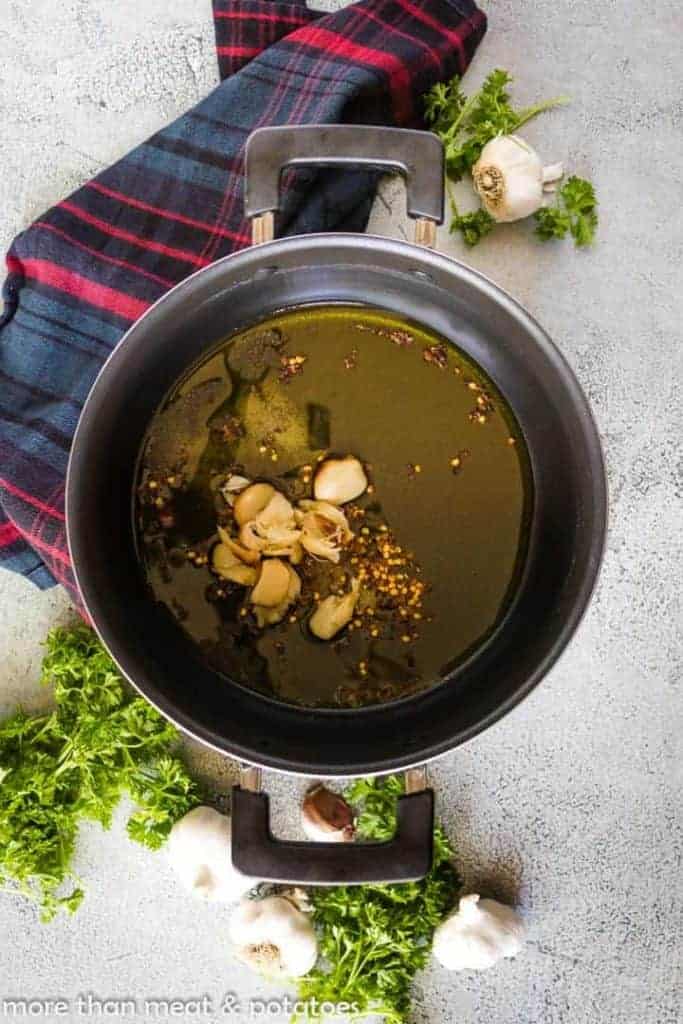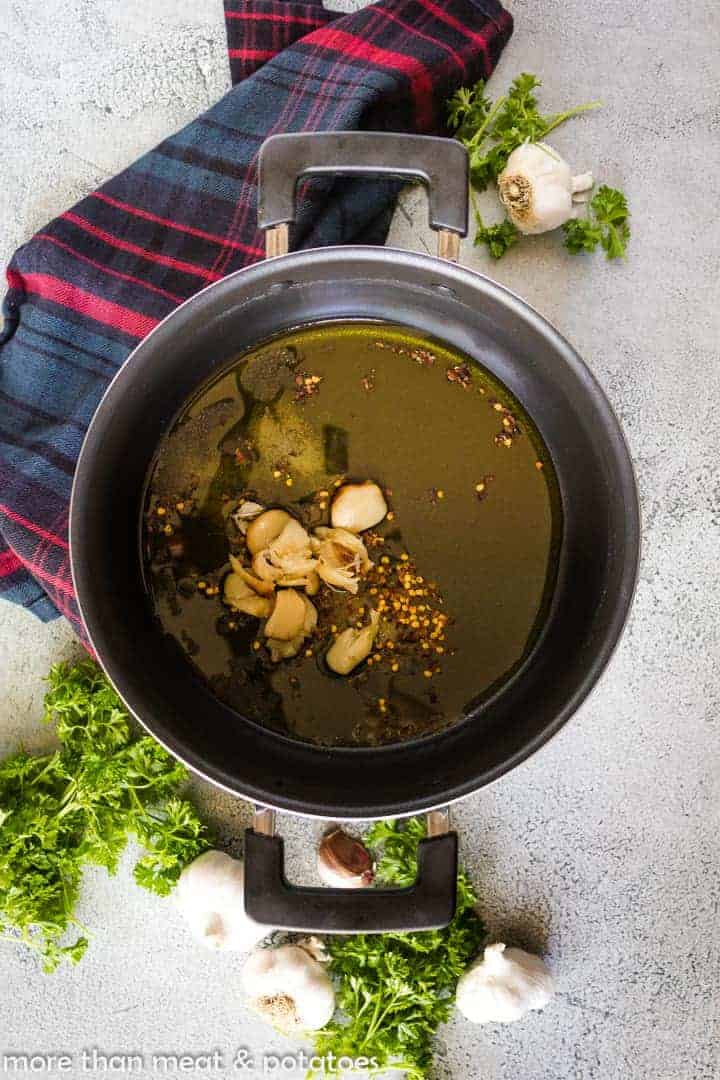 Then, rinse out and dry the stock pot from earlier. Put it over low heat and add in the olive oil, roasted garlic, red pepper flakes, and salt and pepper.
After that, as it cooks for 3-4 minutes, use a wooden spoon to mash the garlic.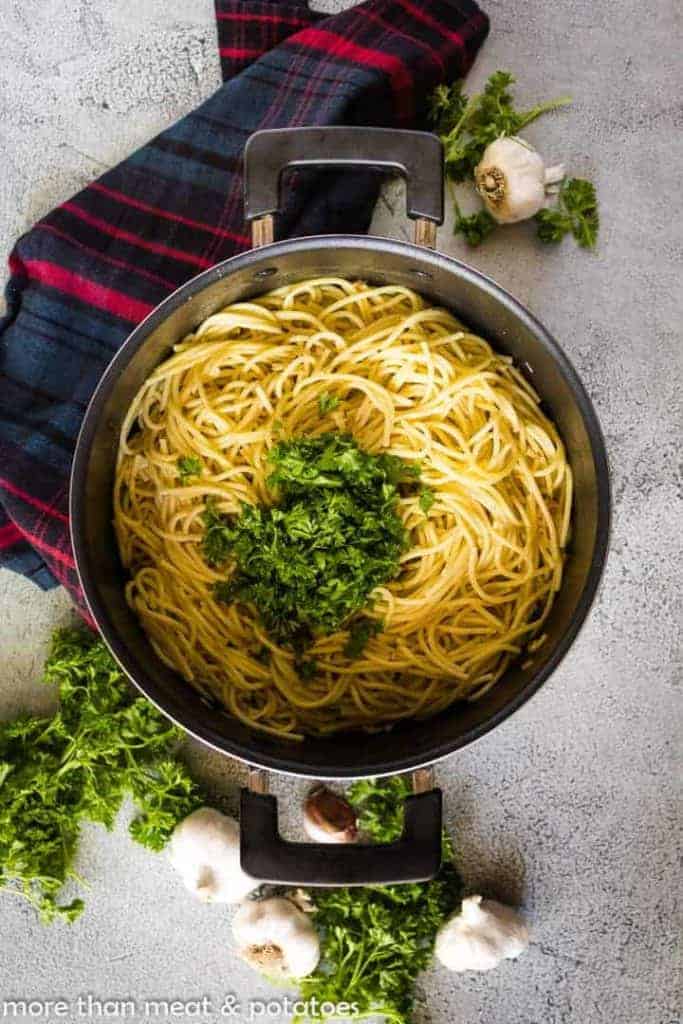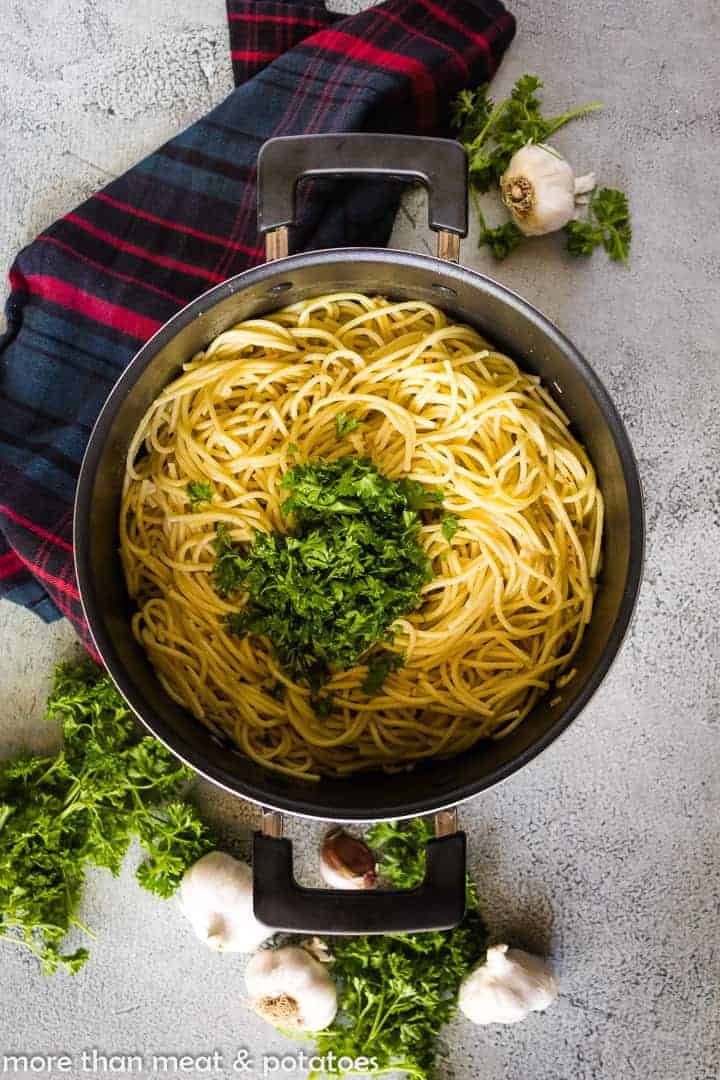 Last, turn off the heat and toss the pasta with the roasted garlic and olive oil sauce.
You can top it with chopped fresh parsley, like we did, or fresh basil or dried Italian seasonings. Italian marinated grilled chicken breast makes a great topping too.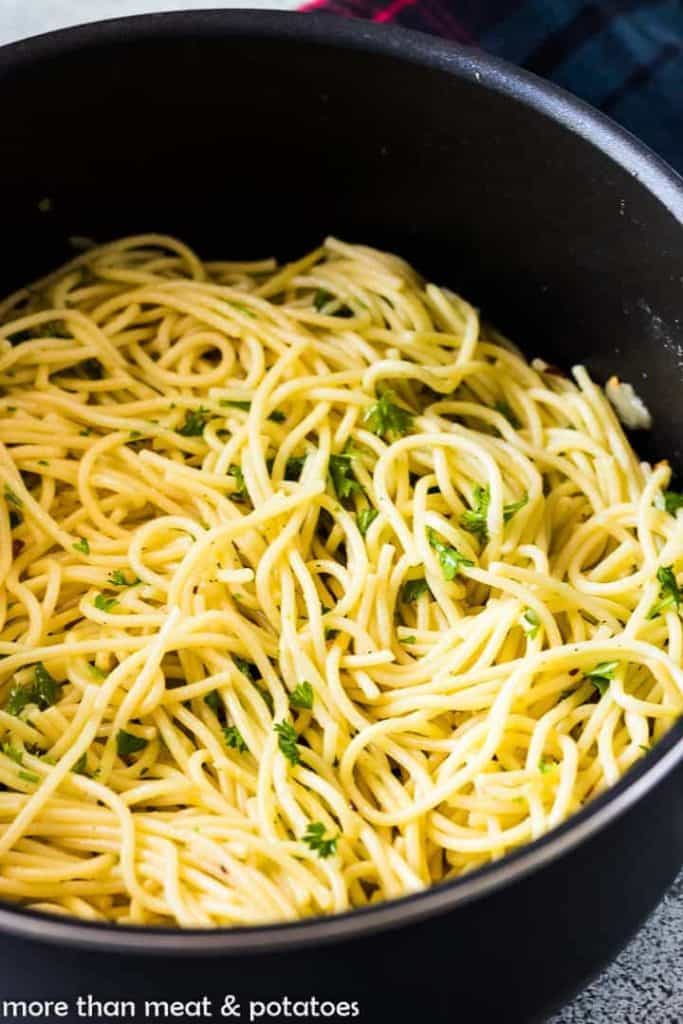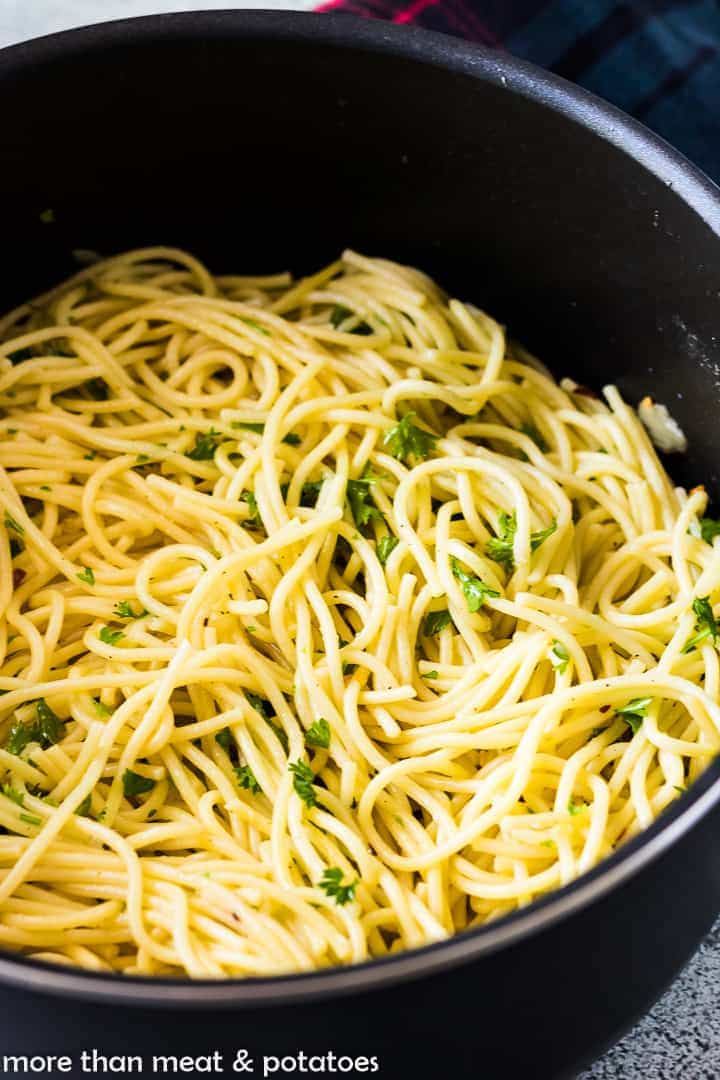 That's it, your roasted garlic and olive oil spaghetti recipe is done! Kim and I hope you enjoy the pasta as much as we do.
Like this recipe? Then try our oven baked French fries!
Tips for Roasted Garlic and Olive Oil Spaghetti:
Remember that left over pasta water you had? Well, if your spaghetti dish is too dry, then add in a little of the pasta water to moisten the noodles.
You can also roast bell peppers along with the garlic and toss them into the pasta dish for an added kick of flavor.
I would not recommend adding any seasoning powders (ex: garlic or onion powder) because it will cause your olive oil pasta sauce to have a grainy texture and these spices will overwhelm the other flavors in the dish.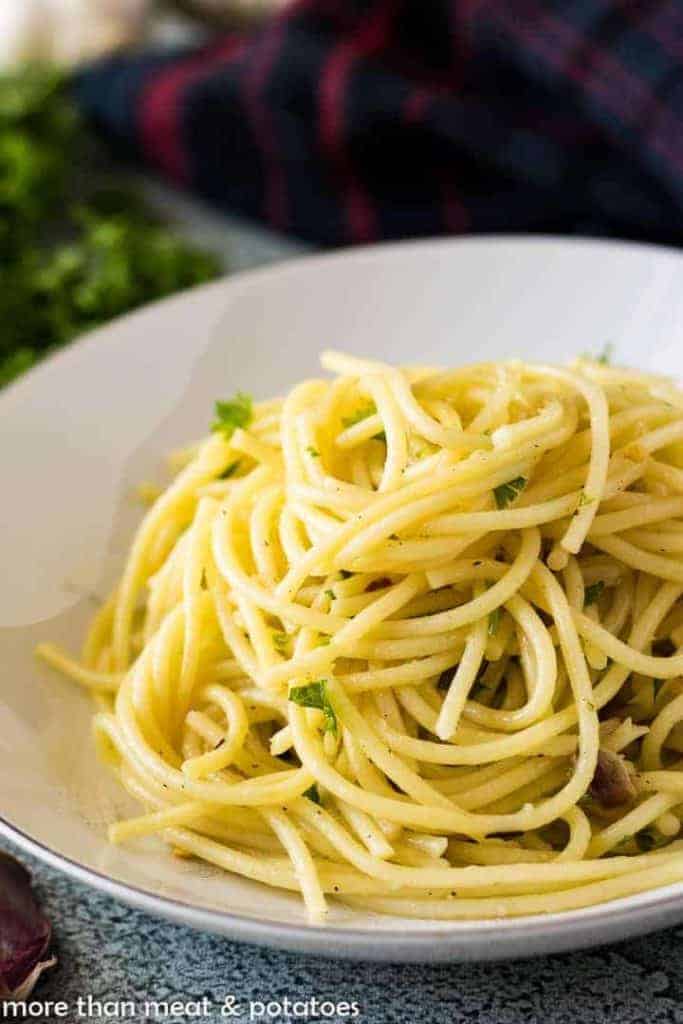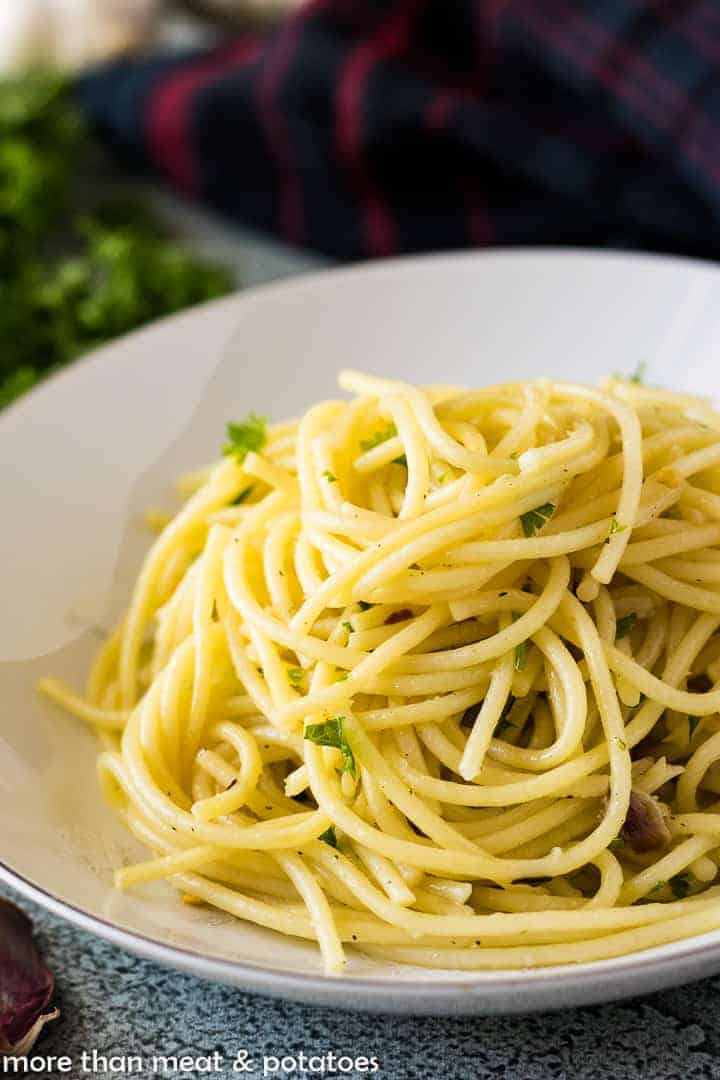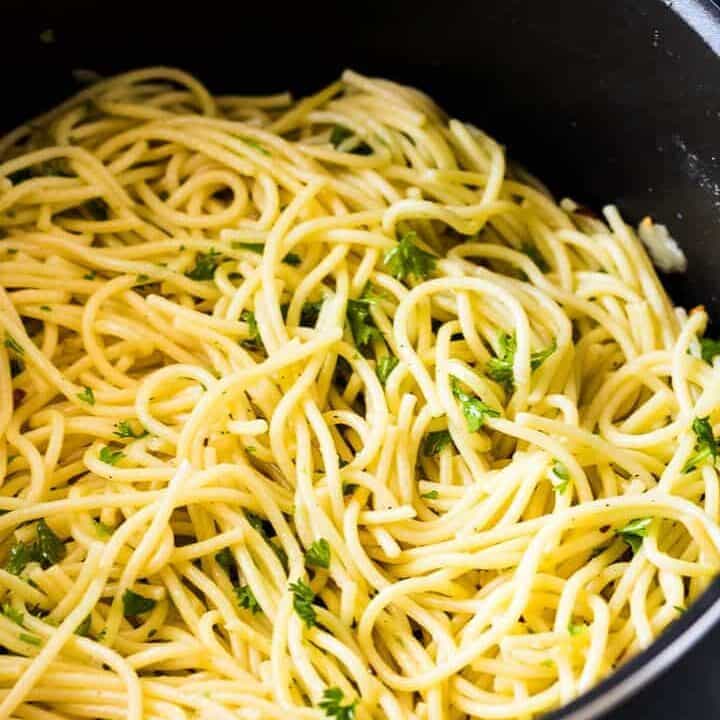 Roasted Garlic and Olive Oil Spaghetti Recipe
Additional Time:
5 minutes
Fragrant roasted garlic takes center stage in this roasted garlic and olive oil spaghetti recipe. Who says delicious pasta has to be complicated?
Ingredients
1 Head Garlic
½ Cup Olive Oil plus 1 Tablespoon, divided
1 Pound Spaghetti, or other long pasta
1 Teaspoon Red Pepper Flakes
Salt and Pepper, to taste
½ Cup Fresh Parsley, chopped
Instructions
Preheat the oven to 425°.
Leave the head of garlic intact and use a sharp knife to make one cut across the top to expose the cloves. Pour 1 tablespoon of olive oil over the exposed cloves, so it soaks into the head of garlic. Wrap the garlic tightly with foil and roast in a preheated oven for 30 minutes. While the garlic roasts, cook the pasta.
Bring a large pot of salted water to a boil then add the noodles. Cook the noodles until they are al dente, then drain. Set aside.
After 30 minutes, remove the garlic from the oven and squeeze out the softened cloves. Set aside.
Heat a large pot over low heat and add the olive oil, roasted garlic, red pepper flakes, salt, and pepper. Use a wooden spoon to smash the garlic. Saute for 3 to 4 minutes then add the cooked pasta noodles and fresh parsley. Toss to combine.
Serve hot with Parmesan cheese if desired.
Notes
Save 1/2-cup of the salted pasta water to add to the finished dish if the noodles seem too dry for you.
Recommended Products
As an Amazon Associate and member of other affiliate programs, we may earn a commission from qualifying purchases.
Nutrition Information:
Yield:

4
Serving Size:

1
Amount Per Serving:
Calories:

474
Total Fat:

28g
Saturated Fat:

4g
Trans Fat:

0g
Unsaturated Fat:

23g
Cholesterol:

0mg
Sodium:

86mg
Carbohydrates:

47g
Fiber:

3g
Sugar:

2g
Protein:

9g
The calories listed are an approximation based on the ingredients and a serving size of 4 ounces of the roasted garlic and olive oil spaghetti. Actual calories will vary.