Our Olive Oil Bread Dip makes the best appetizer! It features a blend of herbs, spices, fresh garlic, balsamic vinegar, and flavorful olive oil that everyone will love. All you need is a loaf of crusty bread for dipping!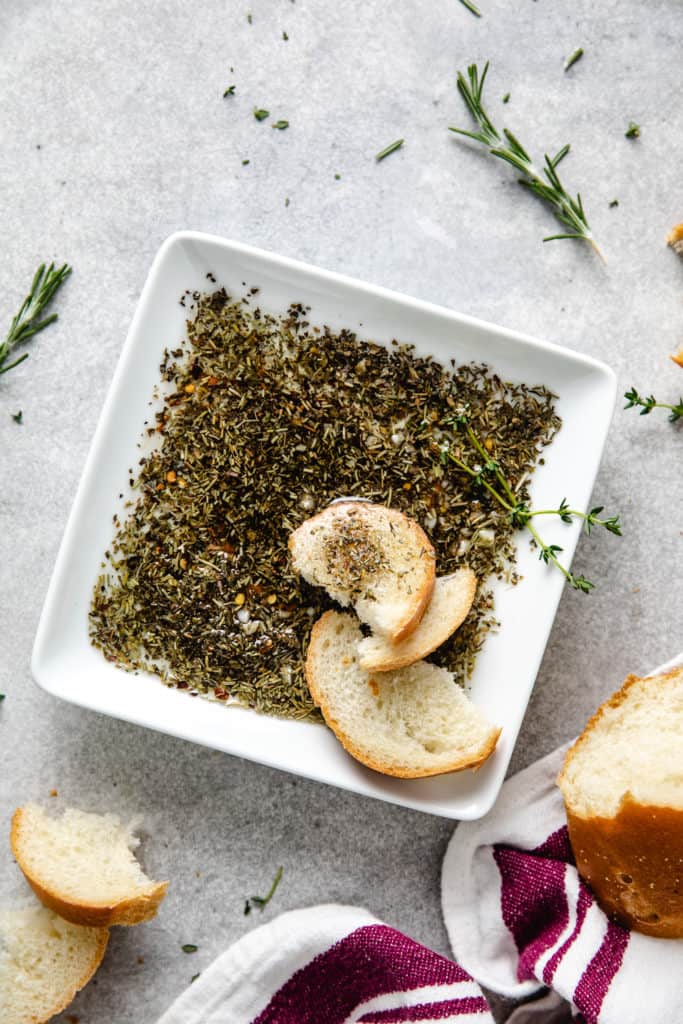 Best Bread Dip
Have you ever gone to an Italian restaurant and been served a warm loaf of bread with a bowl of olive oil for dipping? The bread dipping oil is the undisputed star of the meal, and you can't tear yourself away from it!
Well, my friends, you are in luck! Our restaurant-style bread dipping oil only takes about 10 minutes to make and you probably have all the ingredients in the pantry.
Make a loaf of freshly baked Italian bread, French bread, rustic sourdough, rosemary parmesan bread, or focaccia to serve alongside this bread oil. For a full meal, try some French onion pasta, roasted red pepper pasta, or Tuscan chicken pasta as the main dish!
How to Make Olive Oil Bread Dip:
This entire recipe comes together in about 10 minutes, 15 minutes tops. Tip: Prep the herbs and spices while the garlic and olive oil heat on the stovetop!
See the recipe card below for the ingredient amounts and full instructions.
Place the garlic and olive oil into a small pan or skillet. Heat it over low heat for 5 to 6 minutes, just long enough for the garlic to become fragrant.
Measure out the spices into a serving dish, and pour some of the warm garlic and oil over the spices.
Add 3 to 4 tablespoons of balsamic vinegar or more to taste.
Serve with several pieces of bread. Pour more garlic and oil into the spice mixture as needed.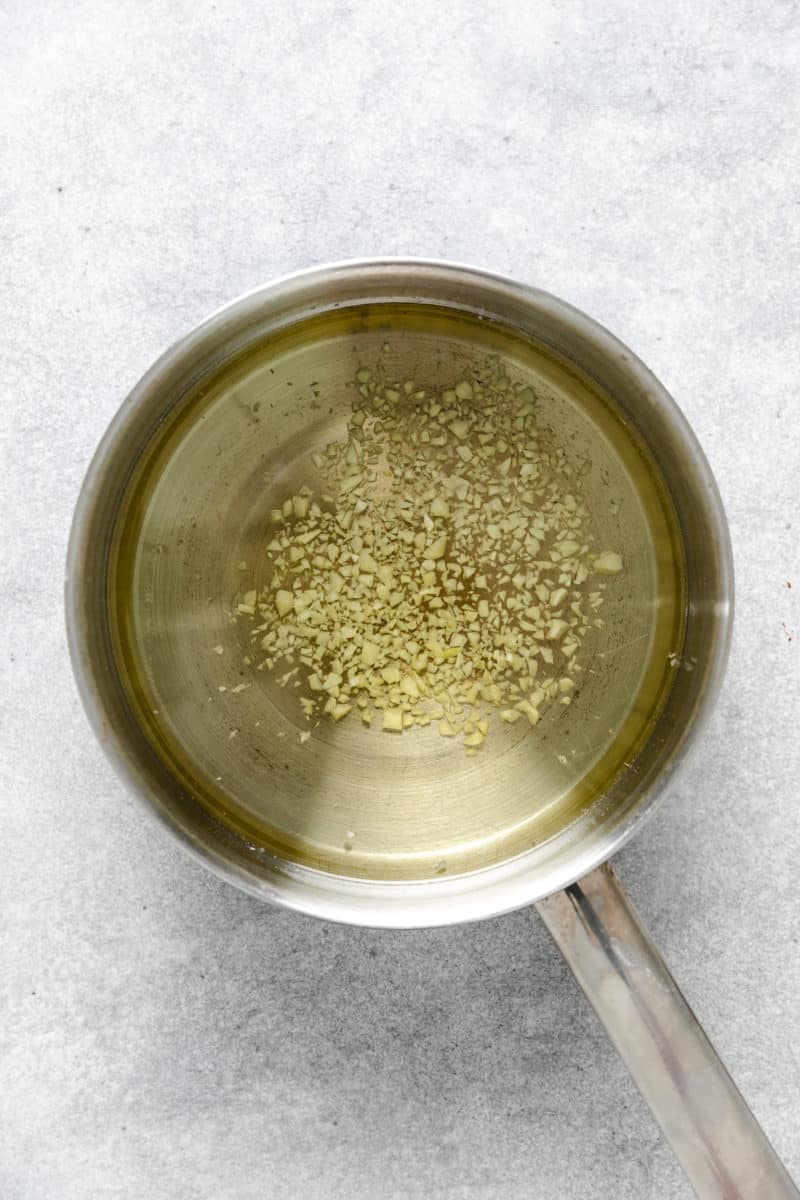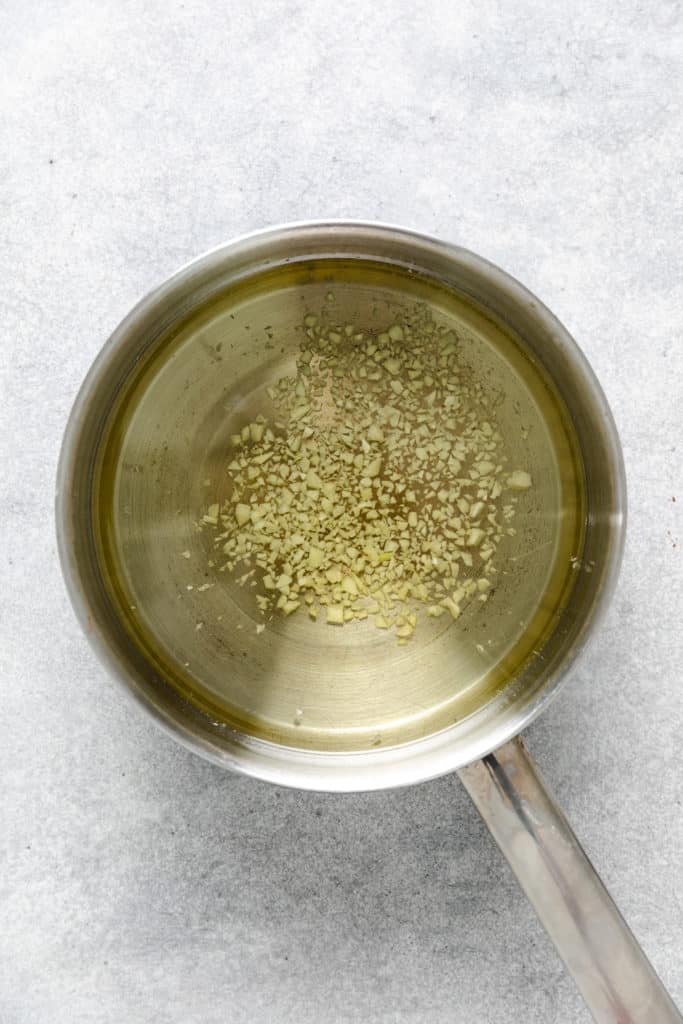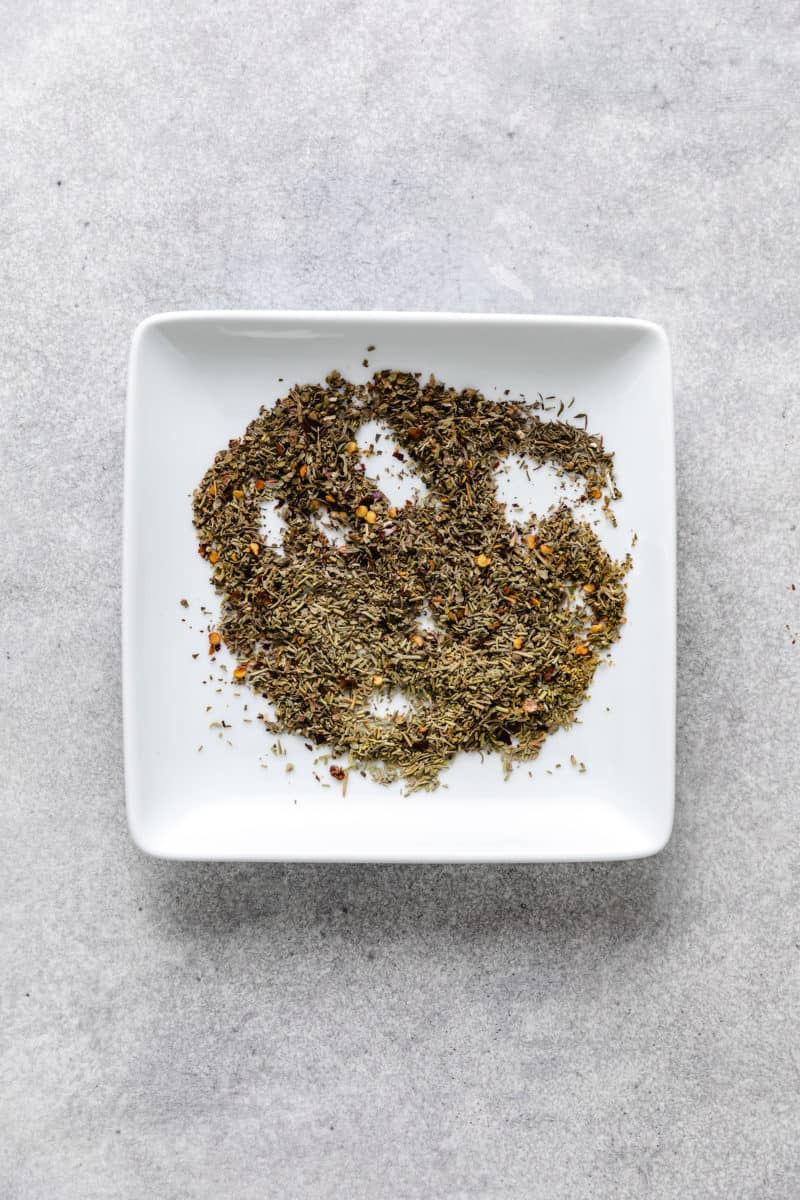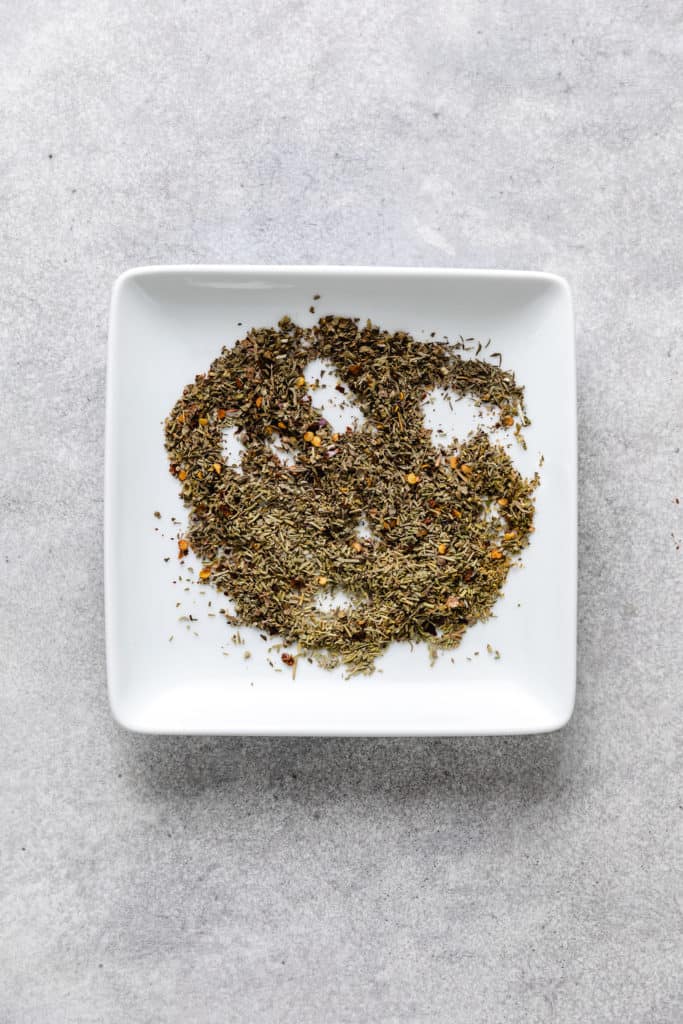 How to Store Bread Dipping Oil:
Room Temperature: Pour leftover bread oil into a jar and seal it with a lid. It will stay good for about 1 week.
Is it necessary to heat the olive oil?
No, it's not. However, heating the garlic and olive oil together infuses the olive oil with a garlic flavor and takes the raw "bite" out of the garlic. Furthermore, adding warm olive oil to the spices helps to enhance their flavor.
Which olive oil is best for bread dipping?
It depends on your preference, but a good quality extra virgin olive oil is the best choice. Look for one with a smooth and nutty flavor that compliments the herbs and spices used in the recipe.
You may also want to try using an infused olive oil such as garlic, rosemary, lemon, or chili-infused oils for added flavor. Olive oils vary greatly in taste and texture so sample out several to find one you like best!
Can you make bread dipping oil ahead of time?
Yes, this dipping oil can be made 1 to 2 days in advance.
What else can you add to this recipe?
We love to add fresh herbs like basil, parsley, thyme, and rosemary. A spritz of lemon juice adds an acidic touch.
If you plan on serving the entire batch at once, add Parmesan cheese shredded off the block or finely chopped Kalamata or green olives.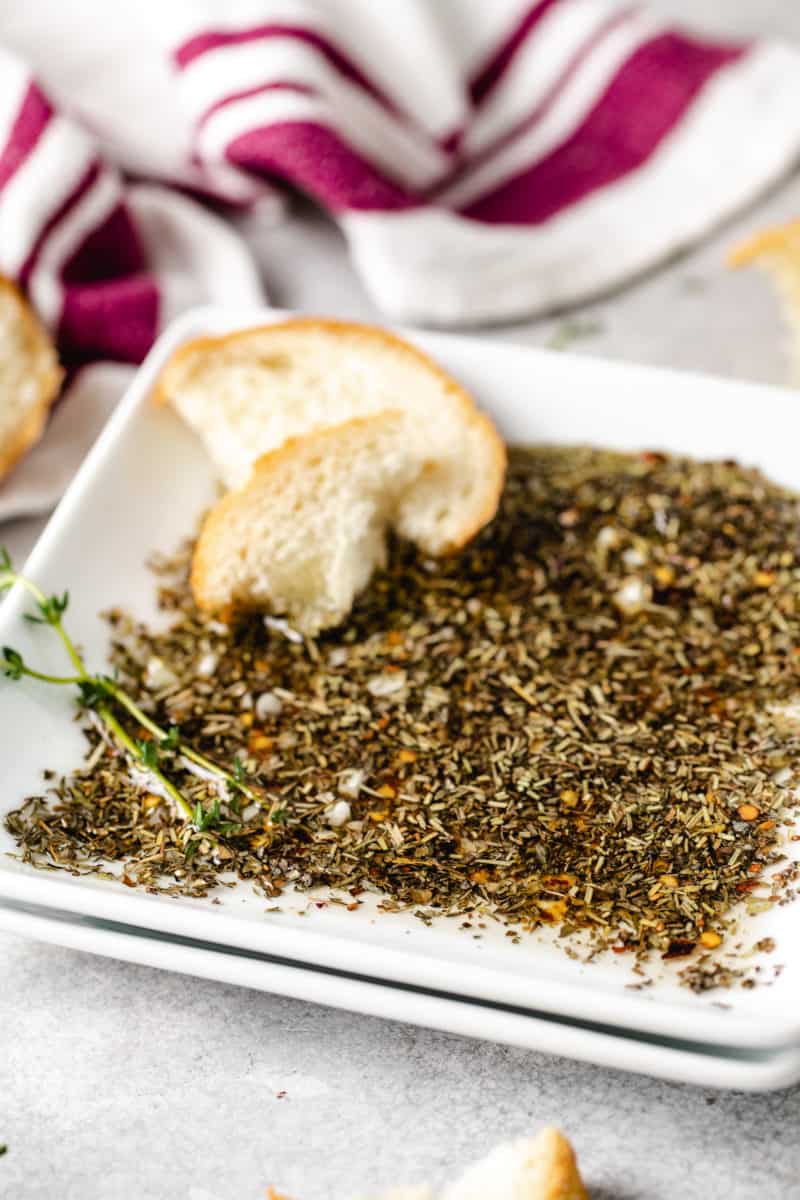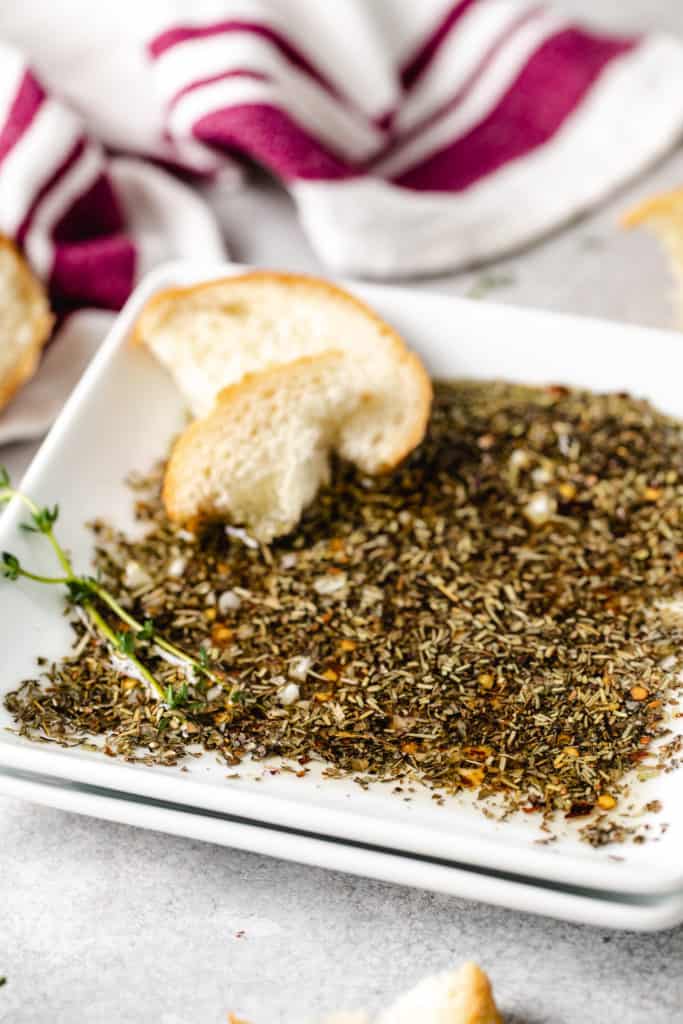 What if I don't have balsamic vinegar?
If you don't have balsamic vinegar, you can also use good-quality apple cider vinegar or white wine vinegar to get the same tangy and slightly sweet flavor. However, using balsamic is more traditional and will provide a richer flavor.
Depending on what herbs you are using in the recipe, you can also experiment with other flavored vinegar such as red wine or sherry vinegar.
What is the best bread for dipping in oil?
The best bread for dipping in oil is a crusty loaf such as Italian or French bread. Sourdough, hard rolls, and baguettes also work nicely. Homemade bread, such as garlic rosemary or olive bread, works well as long as the flavors compliment the bread dipping oil.
Other Appetizer Recipes You May Enjoy:
Recipe Card with Ingredient Amounts and Instructions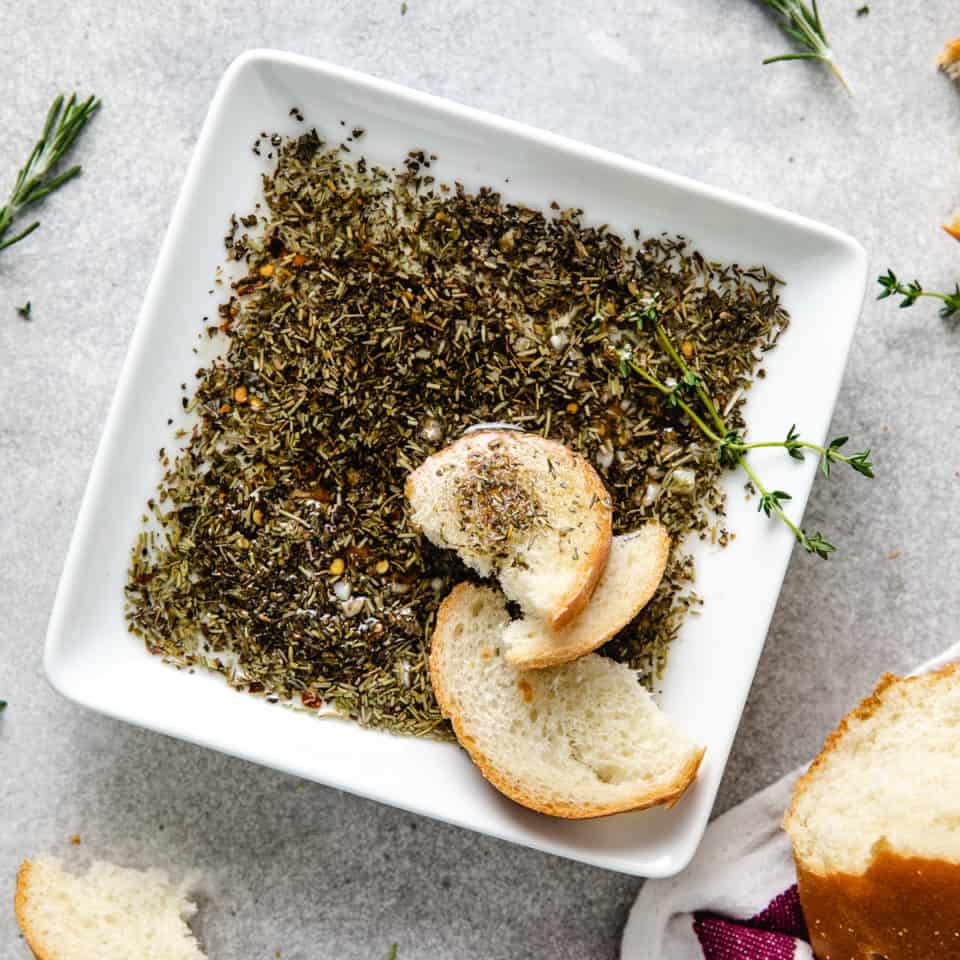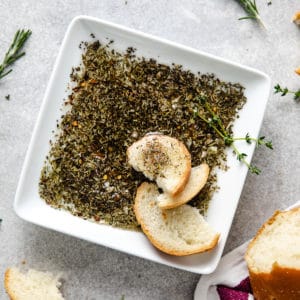 Ingredients
1

cup

extra virgin olive oil

3 to 4

garlic cloves

,

minced

1

tablespoon(s)

dried basil

½

tsp.

dried thyme

½

tsp.

dried oregano

½

tsp.

kosher salt

,

or to taste

¼

tsp.

dried rosemary

¼

tsp.

marjoram

¼

tsp.

red pepper flakes

,

optional

3 to 4

tablespoon(s)

balsamic vinegar
Instructions
Heat the olive oil and garlic in a small pan over low heat just until the garlic becomes fragrant. Remove from heat.

1 cup extra virgin olive oil

3 to 4 garlic cloves

In a small bowl, combine the basil, thyme, oregano, salt, rosemary, marjoram, and red pepper flakes. Pour the warm olive oil and garlic over the spices.

1 tablespoon(s) dried basil

½ tsp. dried thyme

½ tsp. dried oregano

½ tsp. kosher salt

¼ tsp. dried rosemary

¼ tsp. red pepper flakes

¼ tsp. marjoram

Add the balsamic vinegar, and serve with your favorite bread.

3 to 4 tablespoon(s) balsamic vinegar

Scroll up and see the post for storage information and FAQs.
Notes
*The calories listed are an approximation based on the ingredients in the recipe card and a serving size of 2 tablespoons of dipping oil. Actual calories will vary.
*For more information, tips, and answers to frequently asked questions, please refer to the post.
*Add as much or as little olive oil at a time as you like. We usually start out with ¼ a cup and add more as needed.
*Adjust or omit any of the seasonings to your liking.
The original (printable) version of this recipe is located on our Retired Recipes page.
Nutrition
Serving:
2
tablespoons
Calories:
247
kcal
Carbohydrates:
2
g
Protein:
0.2
g
Fat:
27
g
Saturated Fat:
4
g
Polyunsaturated Fat:
3
g
Monounsaturated Fat:
20
g
Sodium:
149
mg
Potassium:
28
mg
Fiber:
0.3
g
Sugar:
1
g
Vitamin A:
27
IU
Vitamin C:
0.4
mg
Calcium:
19
mg
Iron:
1
mg