Chipotle Ranch Dressing is a creamy, smoky, homemade ranch dressing with a touch of heat. It's perfect on salads or as a dipping sauce for your favorite foods.
We kind of have a thing for making homemade salad dressings. So far we have lemon basil vinaigrette, apple cider vinegar dressing, ranch with no mayo, and lemon honey vinaigrette.
This easy recipe is a play off of our spicy ranch dressing from our sister site. We played around with the ingredients a bit, amped up the chipotle powder, and it turned out perfectly.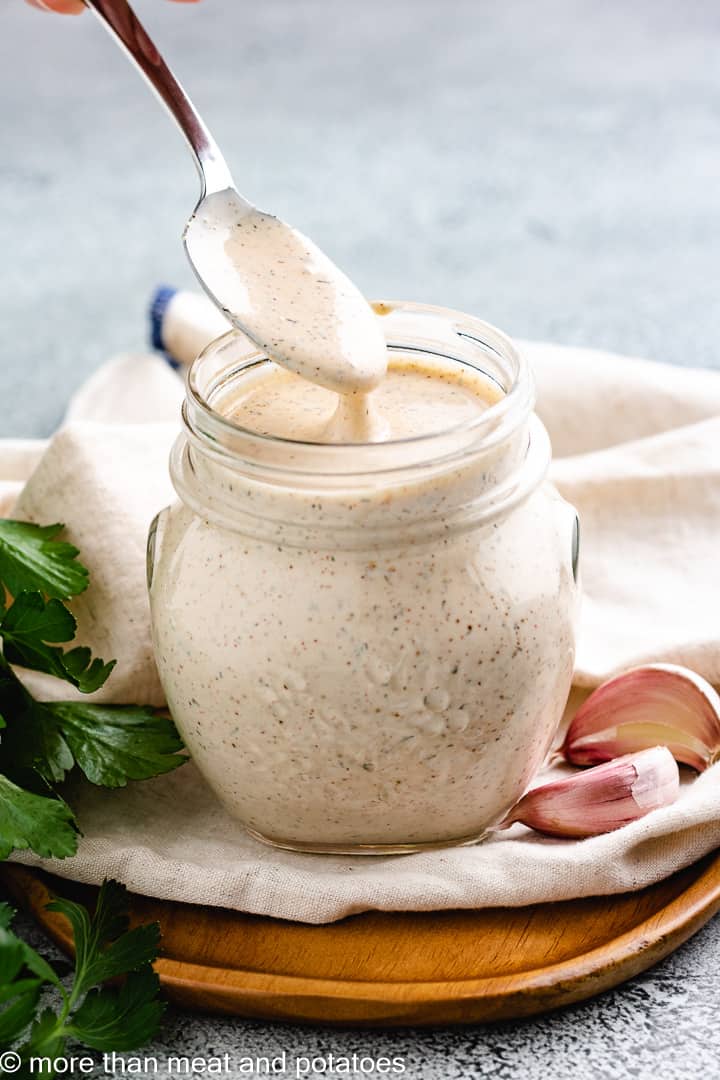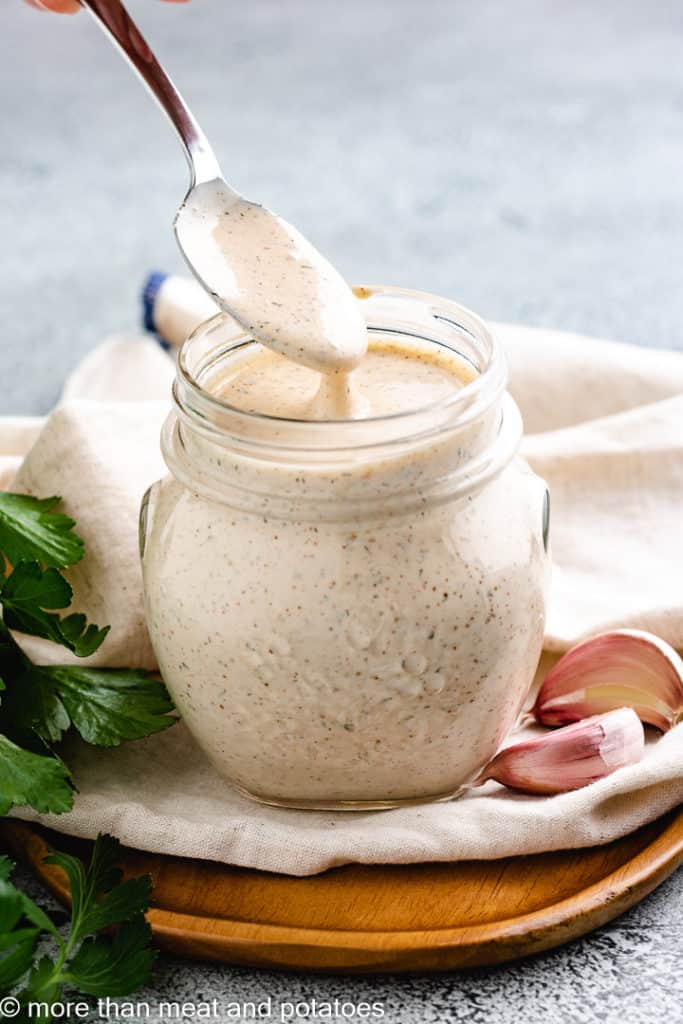 What is Chipotle Ranch Dressing?
Chipotle Ranch Dressing is a salad dressing that blends the creaminess of ranch dressing with the smoky, spiciness of chipotle.
It uses simple ingredients like mayonnaise, buttermilk, milk, and a blend of spices for a tangy, smoky, and spicy flavor.
It's great as a salad dressing, a dip for your favorite snacks, or a drizzle over cooked meats.
How to Make Chipotle Ranch Dressing:
Scroll to the recipe card below for the ingredient amounts and full instructions.
Add all the ingredients to a medium bowl, and whisk to combine.
The dressing will appear thin, but it will thicken as it has time to set. The flavor will also intensify over time as the ingredients meld together.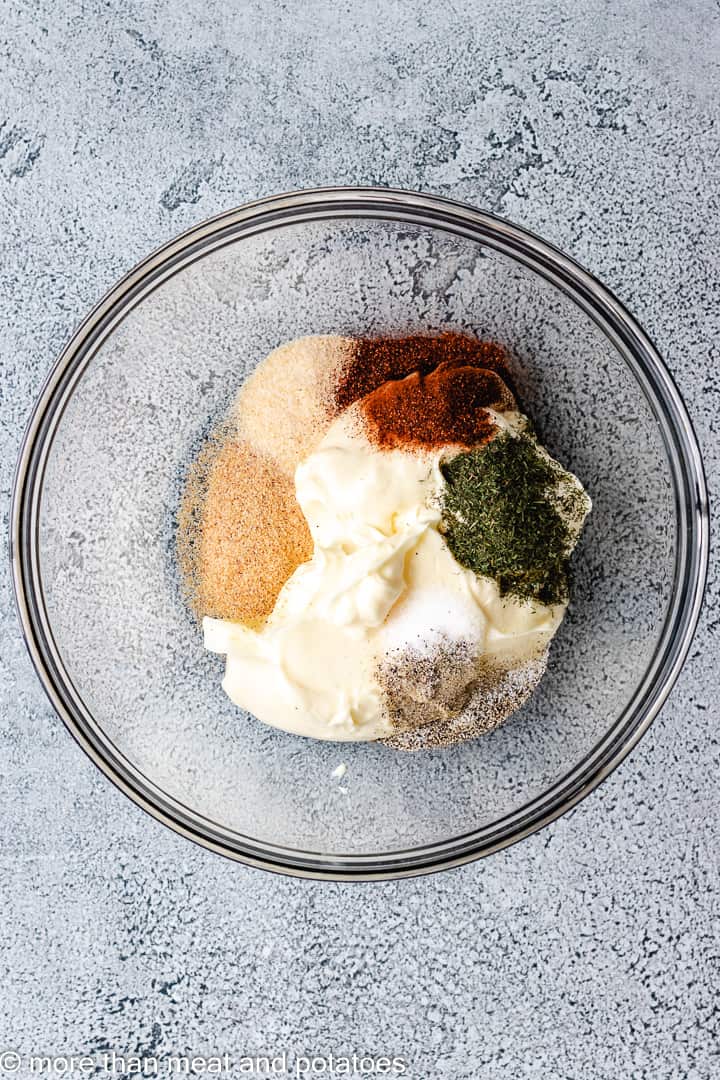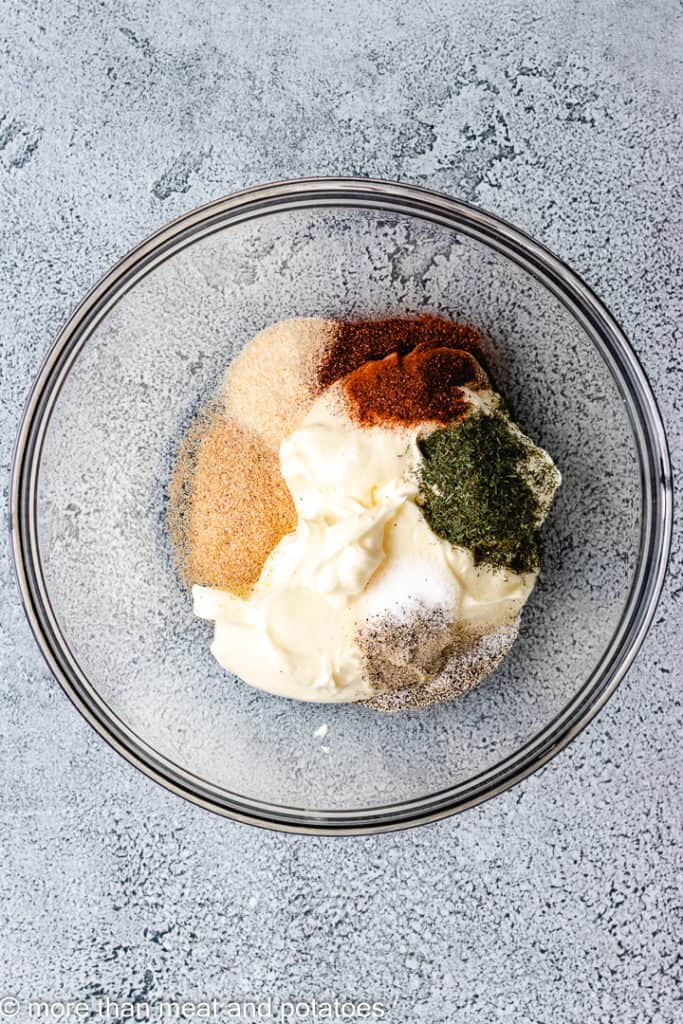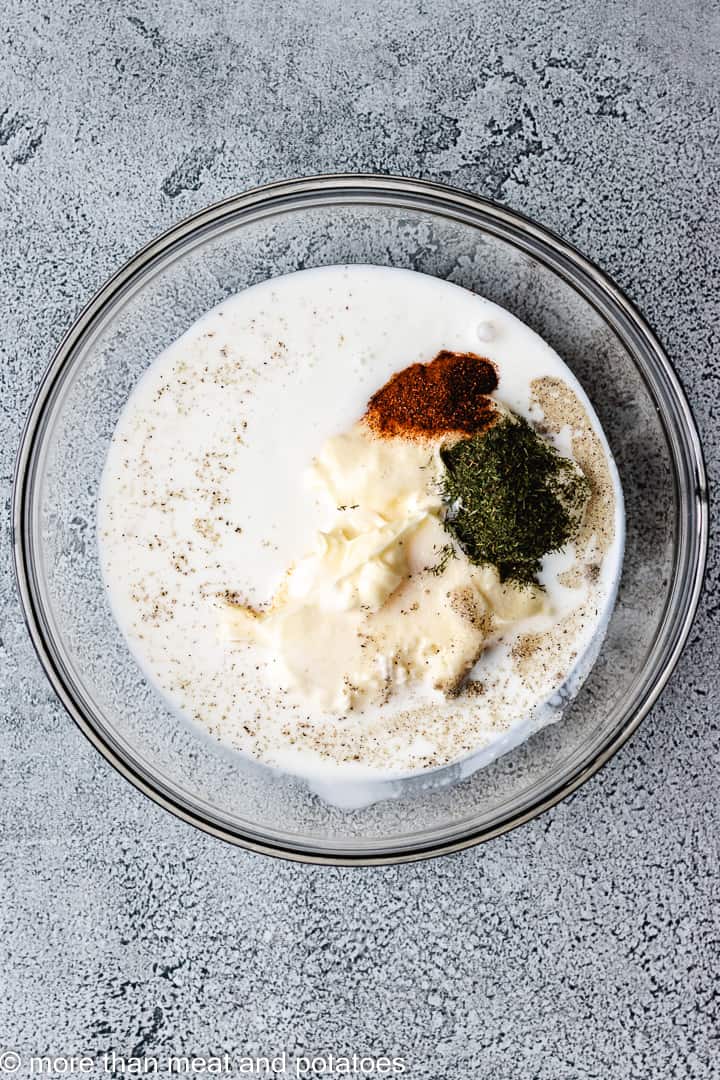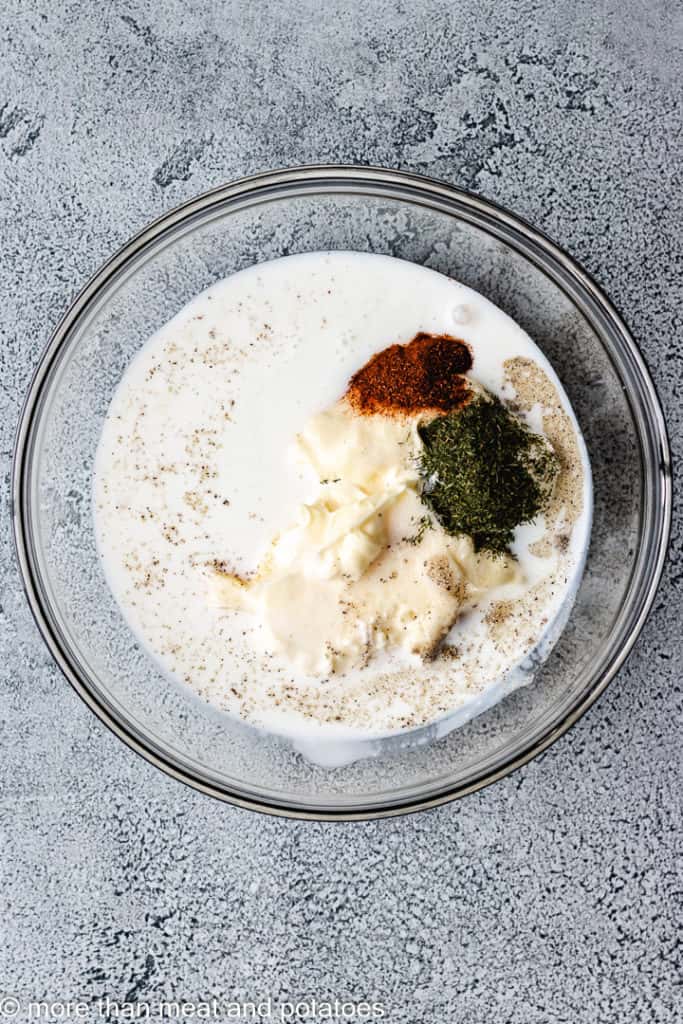 How long does homemade chipotle ranch dressing last?
Homemade chipotle ranch lasts about 1 week in the refrigerator when stored in an airtight container.
Can I freeze this dressing?
It's not recommended to freeze the dressing as it may alter the texture and flavor. It's best when it's fresh!
What other flavors can I add to this dressing?
There are numerous ways to enhance the flavor profile of this ranch dressing. Consider adding a squeeze of fresh lime juice; it cuts through the creaminess of the dressing.
Incorporating chipotle chiles can intensify the heat, while fresh cilantro brightens the overall flavor.
Don't forget to try mincing some fresh garlic into the mix.
Can you make chipotle ranch with bottled ranch dressing?
Yes, you absolutely can make chipotle ranch with bottled ranch dressing! If you're short on time or just prefer the convenience, it's a quick way to make this spicy dressing.
Start with your favorite brand of ranch dressing, then add a touch of chipotle powder or chopped chipotle peppers with adobo sauce to taste. Give it a good stir to ensure the flavors blend well.
Just remember, the heat level intensifies with time, so it's best to start with a little and gradually add more chipotle if you prefer a spicier kick.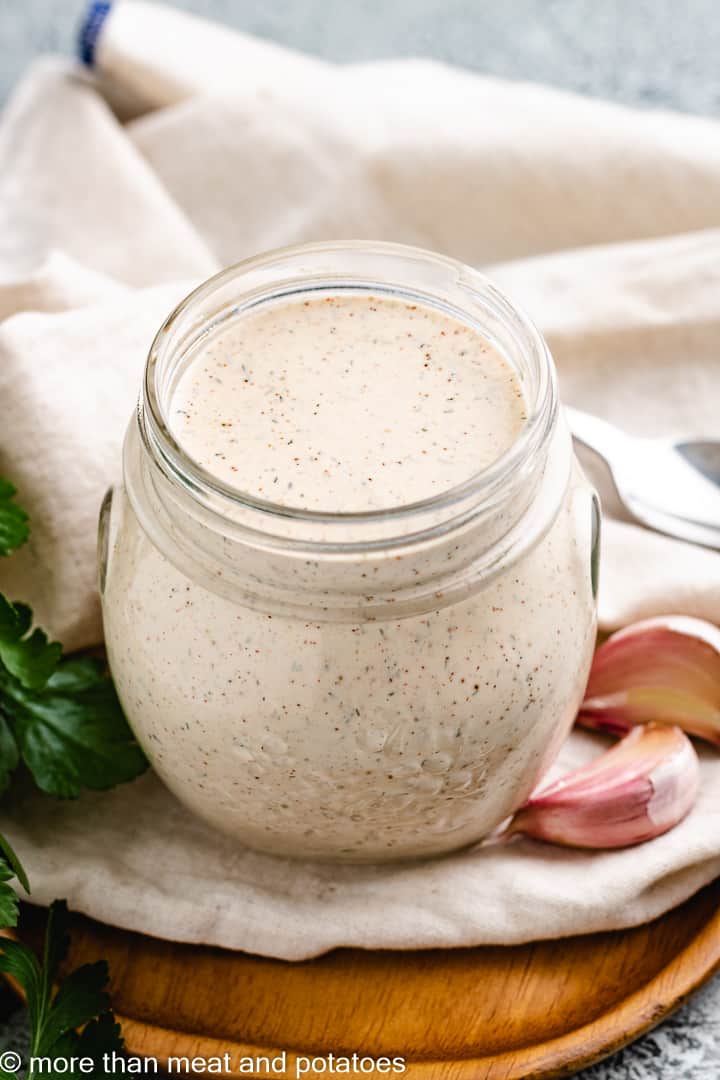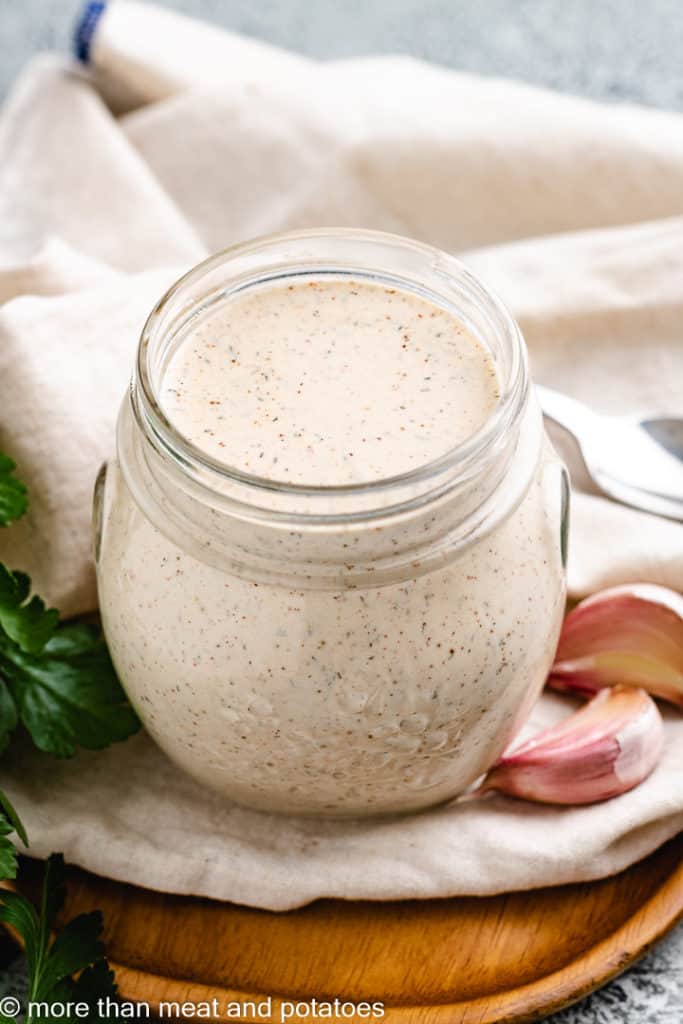 What can I do if my dressing is too spicy?
If your dressing turned out too spicy, you can add more mayonnaise, yogurt, or milk to balance out the heat from the chipotle.
Can you use Greek yogurt in place of the mayonnaise?
Absolutely, you can substitute plain Greek yogurt for mayonnaise in your chipotle ranch dressing recipe. Just remember, the consistency will be slightly thicker with Greek yogurt, so you may need to add a splash of milk or buttermilk to thin out the dressing.
Plain yogurt is another great option that won't be quite as tart or as thick as Greek yogurt.
Can I make a vegan version of the chipotle ranch dressing?
Yes, you can make a vegan version of the dressing by substituting the mayonnaise and milk with vegan alternatives.
If you substitute the buttermilk with a non-dairy alternative, add a little bit at a time. Buttermilk is thick, so it may not take as much of the non-dairy alternative.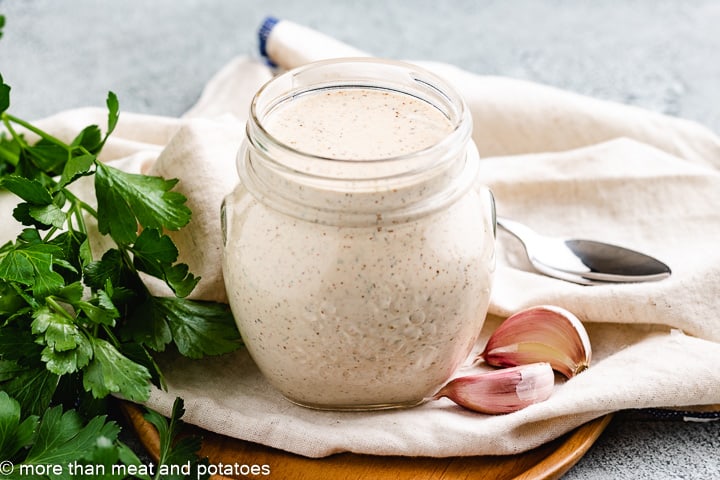 Is chipotle ranch dressing gluten-free?
Yes, our dressing recipe is gluten-free. However, always make sure to check the labels on your ingredients to ensure they are gluten-free.
How can I thicken my chipotle dressing?
To make a thicker dressing, you can either reduce the amount of milk or add more mayonnaise or Greek yogurt.
Other Salad Dressing Recipes You May Enjoy:
Recipe Card with Ingredient Amounts and Instructions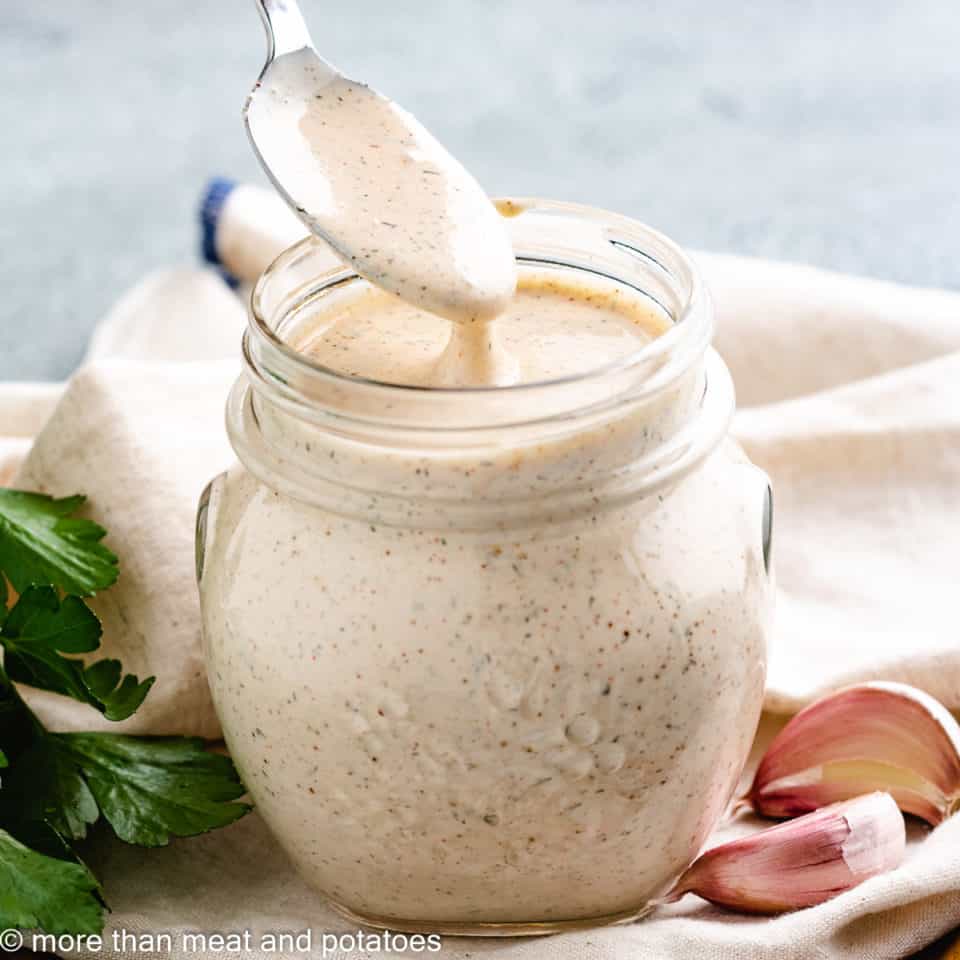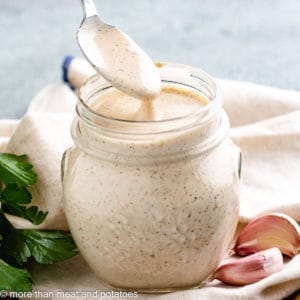 Ingredients
1

cup

mayonnaise

½

cup

buttermilk

¼

cup

whole milk

1

teaspoon

garlic powder

1

teaspoon

onion powder

¾

teaspoon

chipotle powder

¾

teaspoon

salt

½

teaspoon

dried dill

¼

teaspoon

ground black pepper
Instructions
Place all the ingredients in a medium bowl. Whisk to combine.

1 cup mayonnaise

½ cup buttermilk

¼ cup whole milk

1 teaspoon garlic powder

1 teaspoon onion powder

¾ teaspoon chipotle powder

¾ teaspoon salt

½ teaspoon dried dill

¼ teaspoon ground black pepper

Store the dressing in a sealed container in the refrigerator until ready to use.

Scroll up and see the post for storage information, variations, and FAQs.
Notes
*The calories listed are an approximation based on the ingredients in the recipe card and a serving size of 2 tablespoons of dressing. Actual calories will vary.
*For more information, tips, and answers to frequently asked questions, please refer to the post.
Nutrition
Serving:
2
tablespoons
Calories:
138
kcal
Carbohydrates:
1
g
Protein:
1
g
Fat:
14
g
Saturated Fat:
2
g
Polyunsaturated Fat:
8
g
Monounsaturated Fat:
3
g
Trans Fat:
0.03
g
Cholesterol:
10
mg
Sodium:
279
mg
Potassium:
34
mg
Fiber:
0.1
g
Sugar:
1
g
Vitamin A:
77
IU
Vitamin C:
0.1
mg
Calcium:
22
mg
Iron:
0.1
mg