This lemon basil vinaigrette is a light, crisp salad dressing that combines the flavors of lemon, basil, and white wine vinegar.
So, yesterday I shared our lemon couscous salad recipe; however, I didn't share the vinaigrette we used on the dish.
Today, I'm correcting that little issue. I present to you, our lemon basil vinaigrette.
It's a tangy, flavor-filled salad dressing that works on just about any salad. The lemon add a fresh burst of citrus flavor to every bite.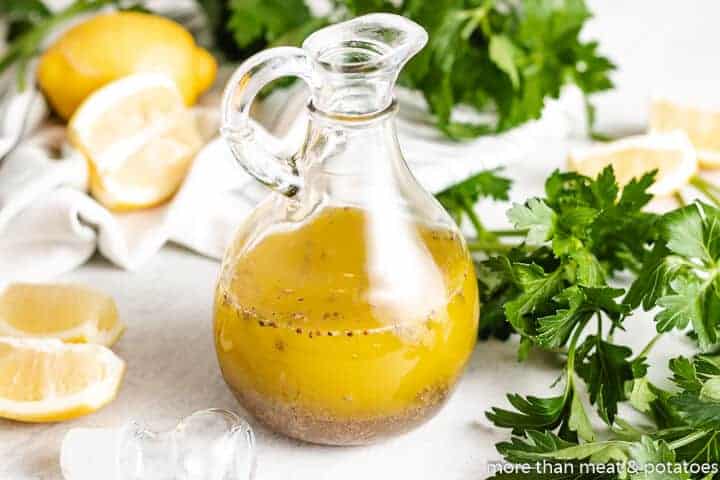 Also, keep in mind that is can be used on greens, pasta salads, and as a marinade for chicken and pork.
Oh, if you're looking for a creamier salad dressing, then take a look at our ranch dressing no mayo recipe.
How to make our lemon basil vinaigrette?
First, zest a fresh lemon. After that, add the zest, lemon juice, basil, salt and pepper to the bowl.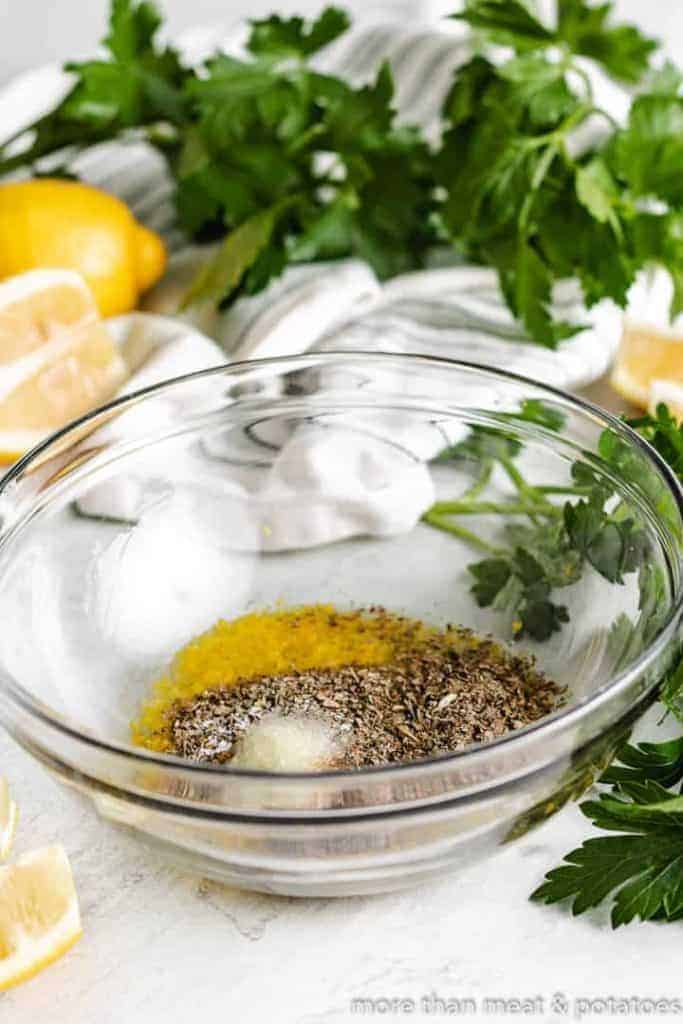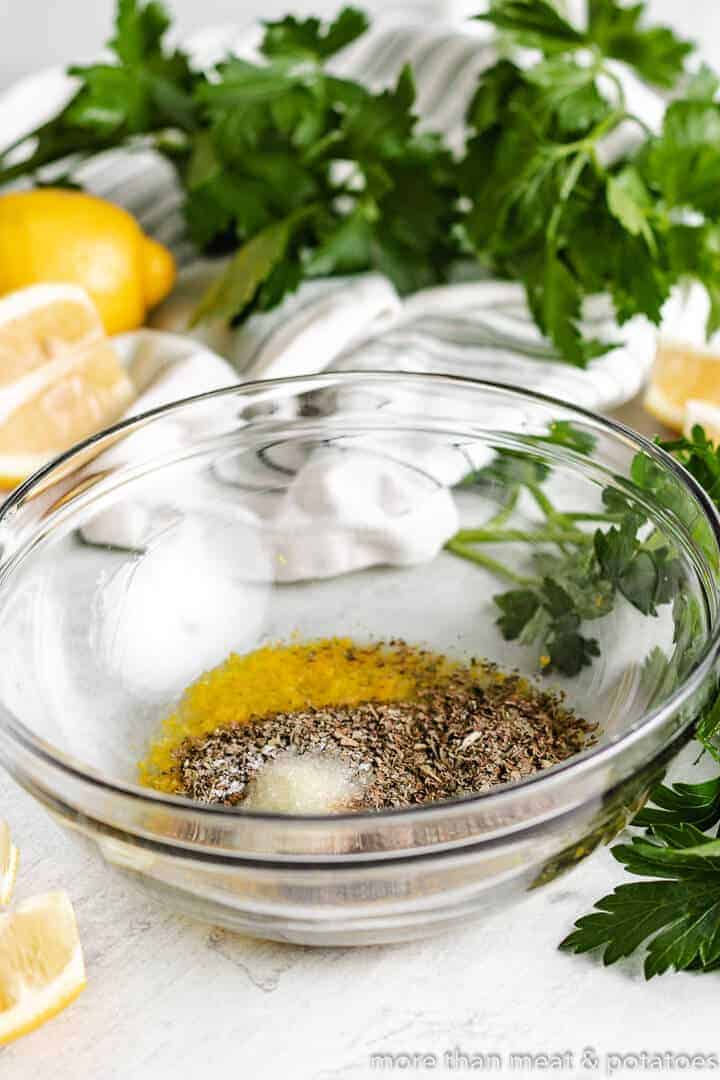 Next, once you have the ingredients prepped, go ahead and pour in the white wine vinegar.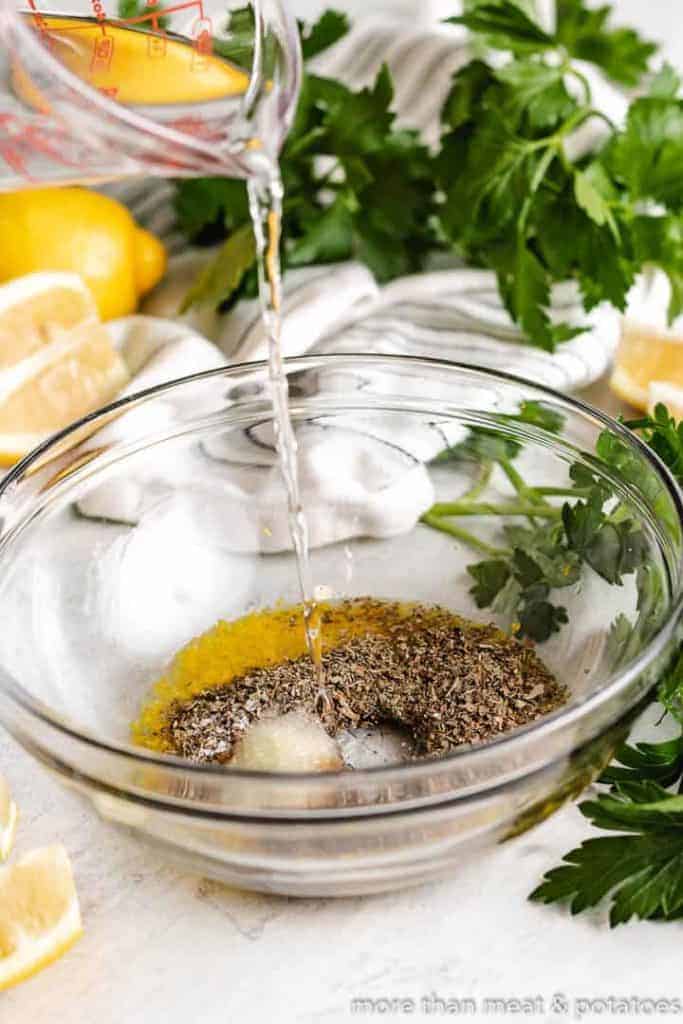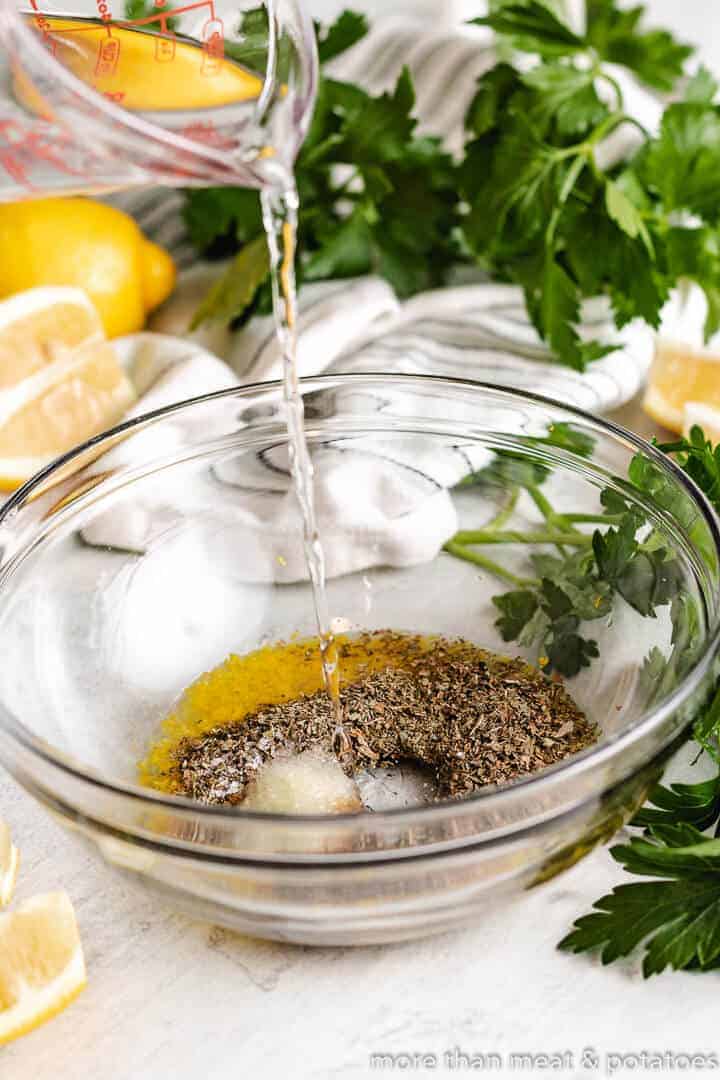 Then, pour in the olive oil. Use a whisk to combine the ingredients into a smooth vinaigrette.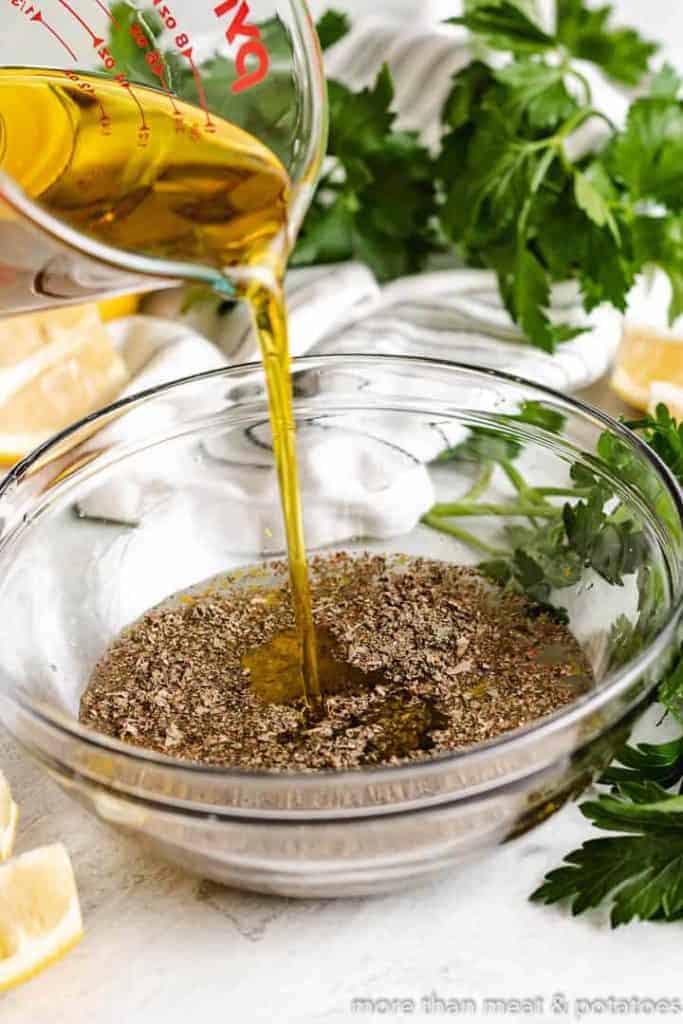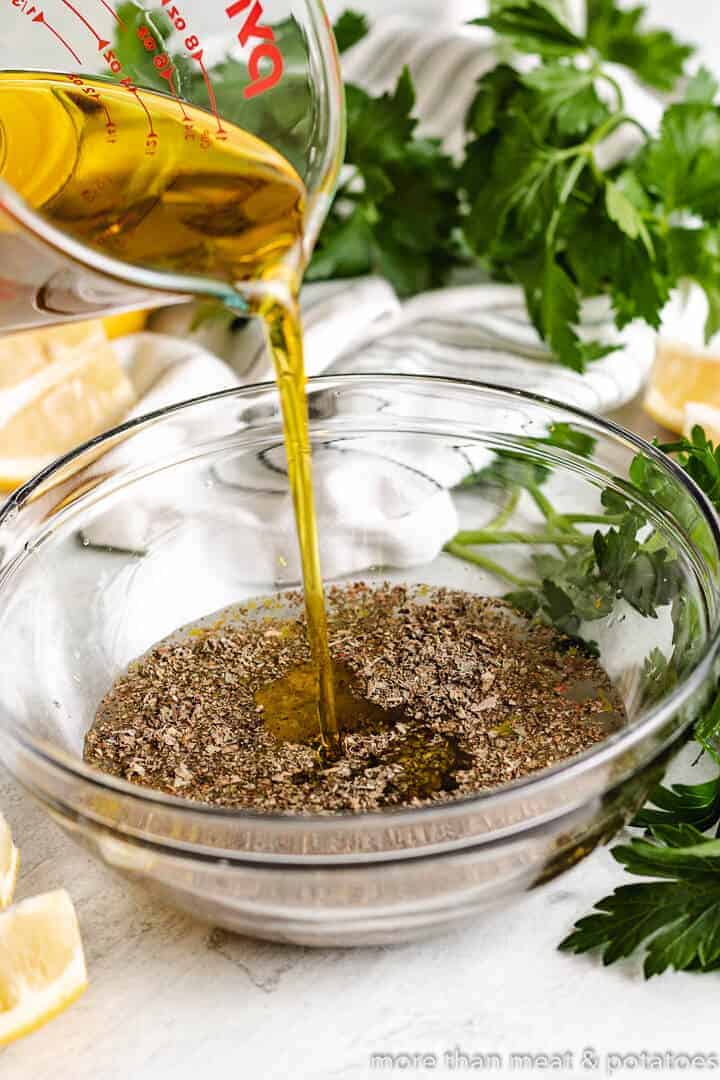 Last, transfer the lemon basil vinaigrette into a salad cruet or dressing bottle.
If you don't have either of those containers, then store it anything with a lid. Personally, I recommend a mason jar.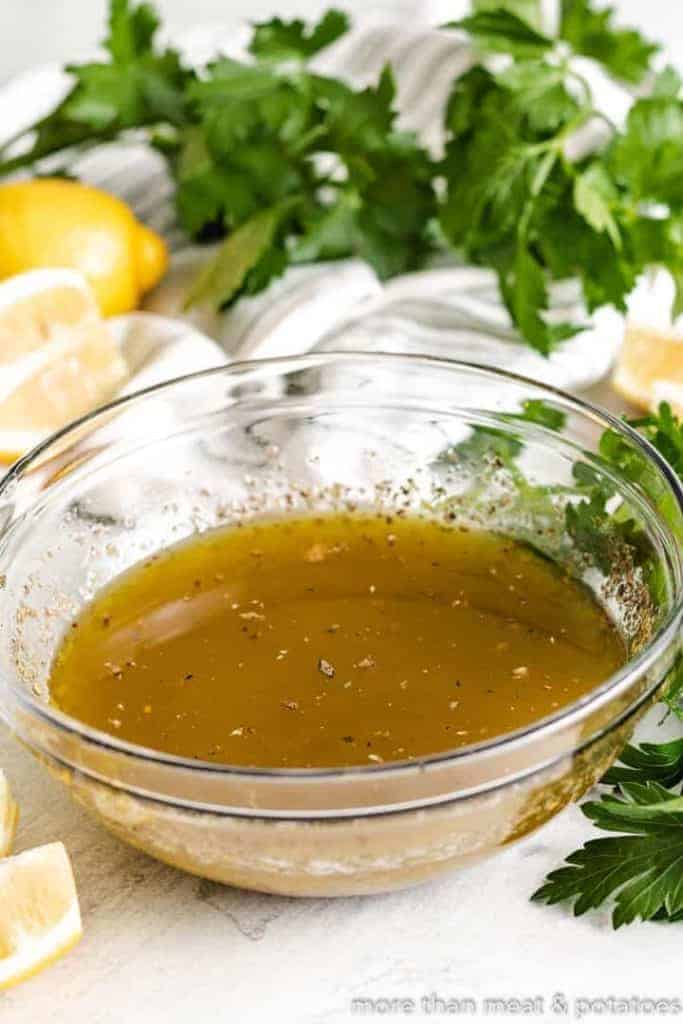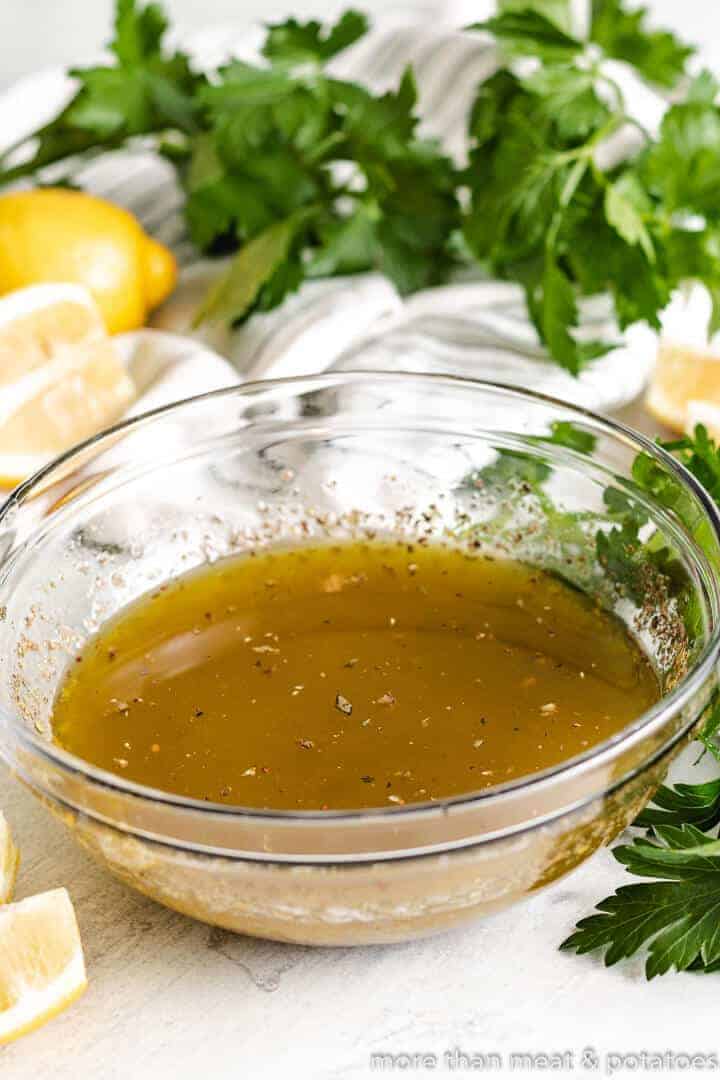 You can both mix a store the dressing in a mason jar, making it really versatile.
The salad dressing will hold at room temperature for up to 5-days. That's it, the recipe is done!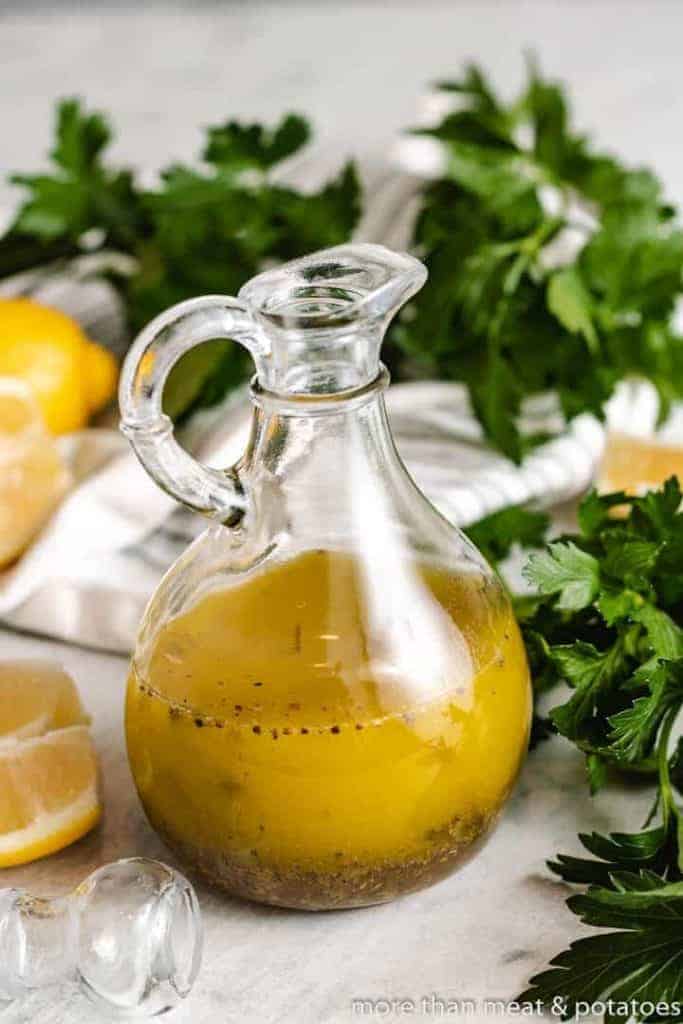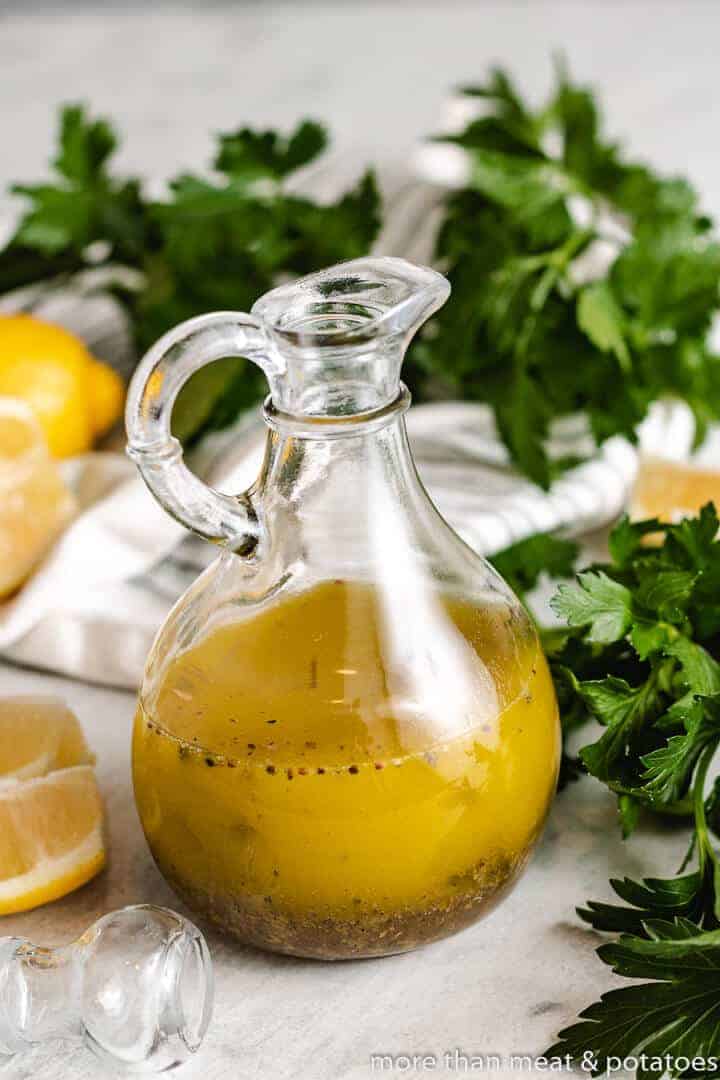 Kim and I hope you enjoy the lemon basil salad dressing and we wish you all the best 🙂
Don't forget to follow us on FACEBOOK and PINTEREST to see our newest recipes! You can also find us on Facebook, Pinterest, and Instagram searching for More Than Meat and Potatoes!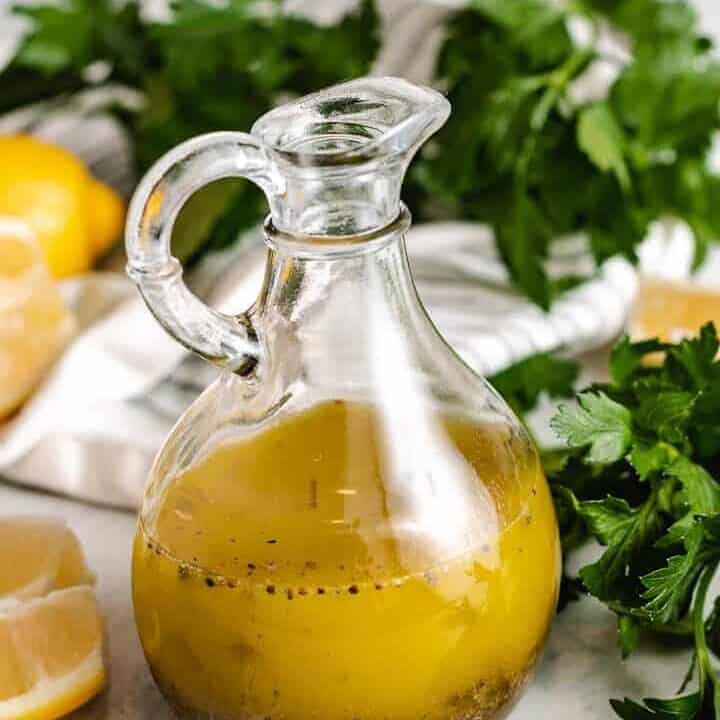 Lemon Basil Vinaigrette Recipe
This lemon basil vinaigrette is a light, crisp salad dressing that combines the flavors of lemon, basil, and white wine vinegar.
Ingredients
⅔ Cup Extra Virgin Olive Oil
⅓ Cup White Wine Vinegar or Red Wine Vinegar
2 Tablespoons Lemon Juice
1 Tablespoons Lemon Zest
2 Teaspoon Dried Basil
1 Teaspoon Salt
¼ Teaspoon Black Pepper
Instructions
In a small bowl, or jar with a lid, mix all the ingredients until they're well incorporated.
Use immediately on a salad or store for up to 5 days in a sealed container.
Notes
If you have a mason jar, you can pour the ingredients into the jar, properly secure the lid, and shake the lemon basil vinaigrette until it's mixed.
Nutrition Information:
Yield:

8
Serving Size:

1
Amount Per Serving:
Calories:

163
Total Fat:

18g
Saturated Fat:

3g
Trans Fat:

0g
Unsaturated Fat:

15g
Cholesterol:

0mg
Sodium:

266mg
Carbohydrates:

1g
Fiber:

0g
Sugar:

0g
Protein:

0g
The calories listed are an approximation based on the ingredients listed and a serving size of 2-tablespoons of the lemon basil vinaigrette.