Add a burst of flavor to your next salad with this Honey Lemon Vinaigrette! This easy-to-make dressing requires only six ingredients and adds an incredible zing to any dish.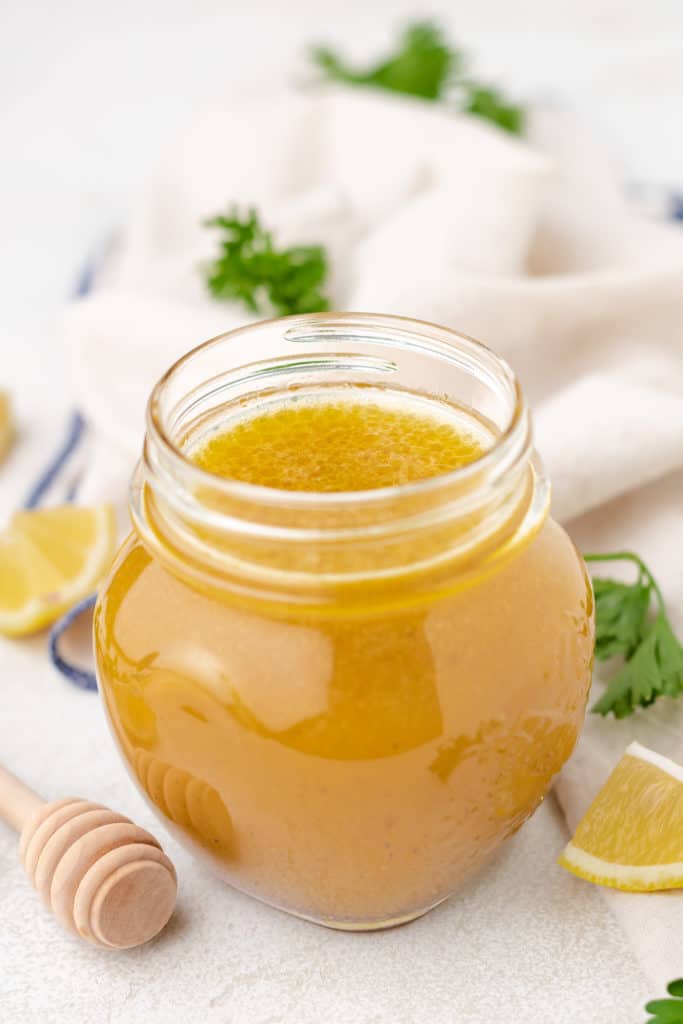 Lemon Vinaigrette with Honey
Eating salads day in and out can become dull, which is why we love to experiment with different flavors to create our amazing salad dressings.
The great thing about making homemade dressings is you don't have to purchase new ingredients for each recipe.
By simply changing the ingredient amounts, you can create brand-new flavors. That's exactly what we did with this honey vinaigrette salad dressing!
Ingredients You'll Need:
Olive Oil: We use extra virgin olive oil. Make sure it's a light-tasting variety that won't overpower the taste of the dressing. Dark-colored oils tend to change the color of the vinaigrette.
Apple Cider Vinegar (ACV): Use good quality apple cider vinegar to cut through the olive oil. Substitute apple cider vinegar with white wine vinegar, champagne vinegar, or citrus champagne vinegar.
Honey: We love local honey that includes the flavor of regional plants. Some of the varieties we use are darker than others which changes the color of the dressing. Try to purchase honey that's good quality and 100% honey without fillers.
Lemon Juice: Freshly squeezed lemon juice is the way to go. Please skip bottled lemon juice for this recipe.
Salt and Pepper: Add to taste. If needed, leave these until the end and add only as much as you'd like.
How to Make Honey Lemon Vinaigrette
This vinaigrette recipe takes less than 10 minutes to make. It's just like making any other vinaigrette salad dressing. If you've ever made a balsamic vinaigrette recipe, then you can make this lemon honey dressing.
Scroll to the recipe card below for ingredient amounts and full instructions!
You'll need a medium-sized bowl or a jar with a sealable lid. (I used a jar for the photos.)
Place the olive oil, apple cider vinegar, lemon juice, salt, and pepper into the jar.
Seal the jar, and shake vigorously to combine the ingredients.
Use on your favorite salad.
Tips for Success:
Use freshly squeezed lemon juice instead of bottled for the best flavor.
Add extra lemon juice or honey as desired.
For best results, allow the vinaigrette to sit at room temperature for 10 to 15 minutes before serving - this allows the flavors to blend nicely and develop more depth of flavor.
Taste test the dressing and adjust any of the ingredients to your tastes.
If the oil begins to separate from the other ingredients, simply shake again before using.
For added creaminess add a teaspoon or two of Dijon mustard.
Use good quality ingredients to achieve the best-tasting lemon dressing.
How to Store Lemon and Honey Dressing
Room Temperature: Leftover vinaigrette stores best at room temperature in a sealed container for up to 1 week.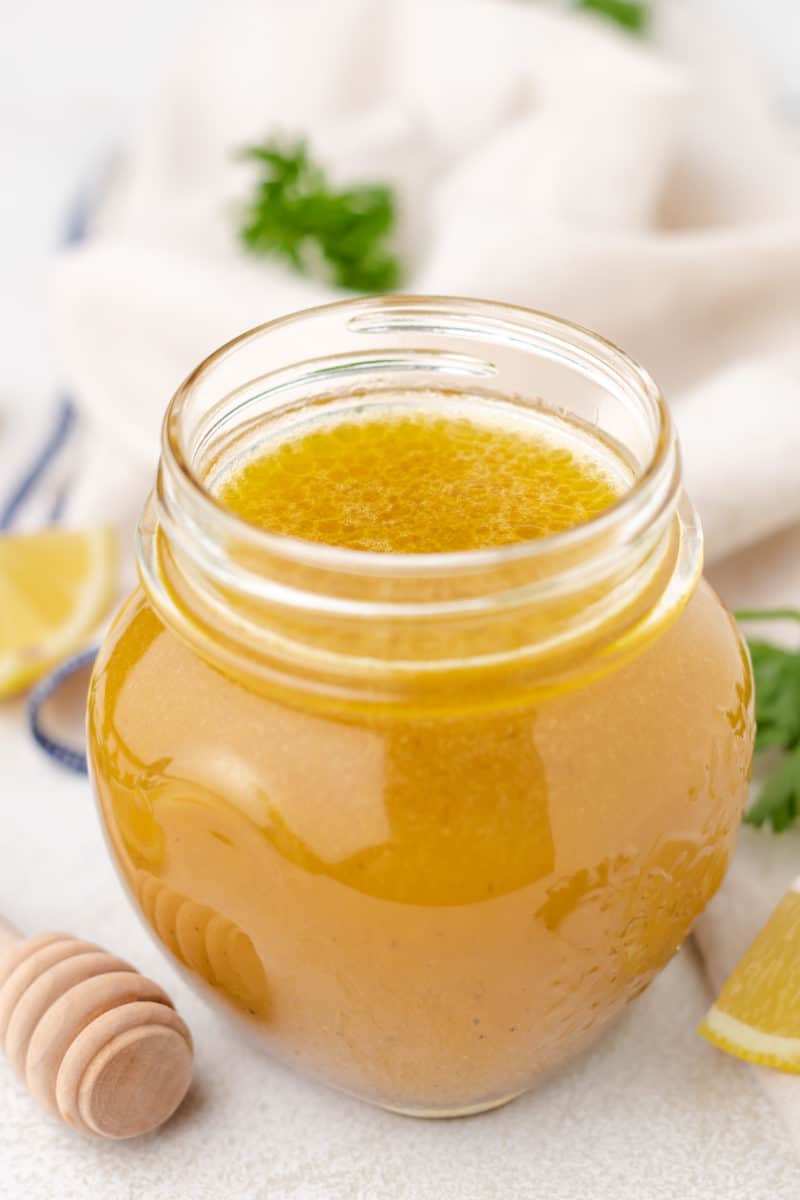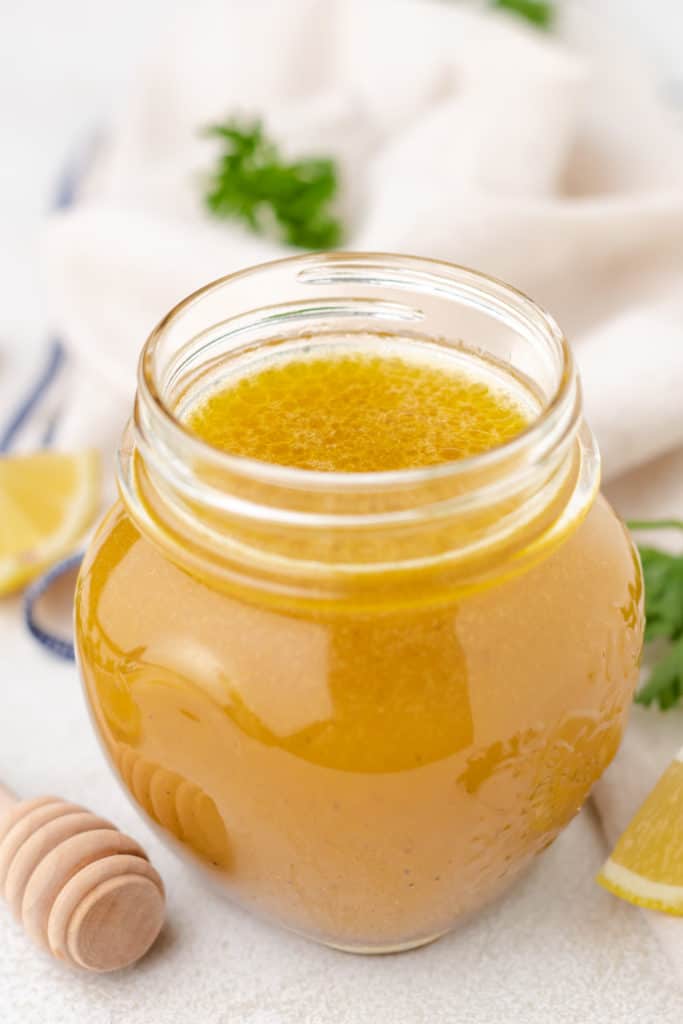 Can You Use Another Vinegar Besides Apple Cider Vinegar?
Yes, you can use another vinegar besides apple cider vinegar. You can also use white wine vinegar or champagne vinegar in this recipe. Just make sure to adjust the amount of honey and salt as needed to balance out the new flavor profiles.
What Other Seasonings Can You Add to This Salad Dressing?
You can add other seasonings like garlic, shallots, thyme, basil, mustard, ginger, or turmeric. You can also add fresh grated Parmesan cheese for a creamy version of the dressing.
How Do You Mix a Vinaigrette?
It's important to remember that a whisk is not the only way to mix up a vinaigrette. Transform any oil and vinegar-based dressing into a delicious vinaigrette with the help of food processors, blenders, mason jars with lids, or even hand-sized emulsifiers.
Get creative and consider all the potential options: raspberry balsamic vinaigrette, honey lime vinaigrette, and blueberry lemon vinaigrette - just to name a few!
The possibilities are practically limitless! Get creative and explore a variety of fruit and vinegar combinations. Transform everyday ingredients into a delicious, unique salad dressing every day of the week!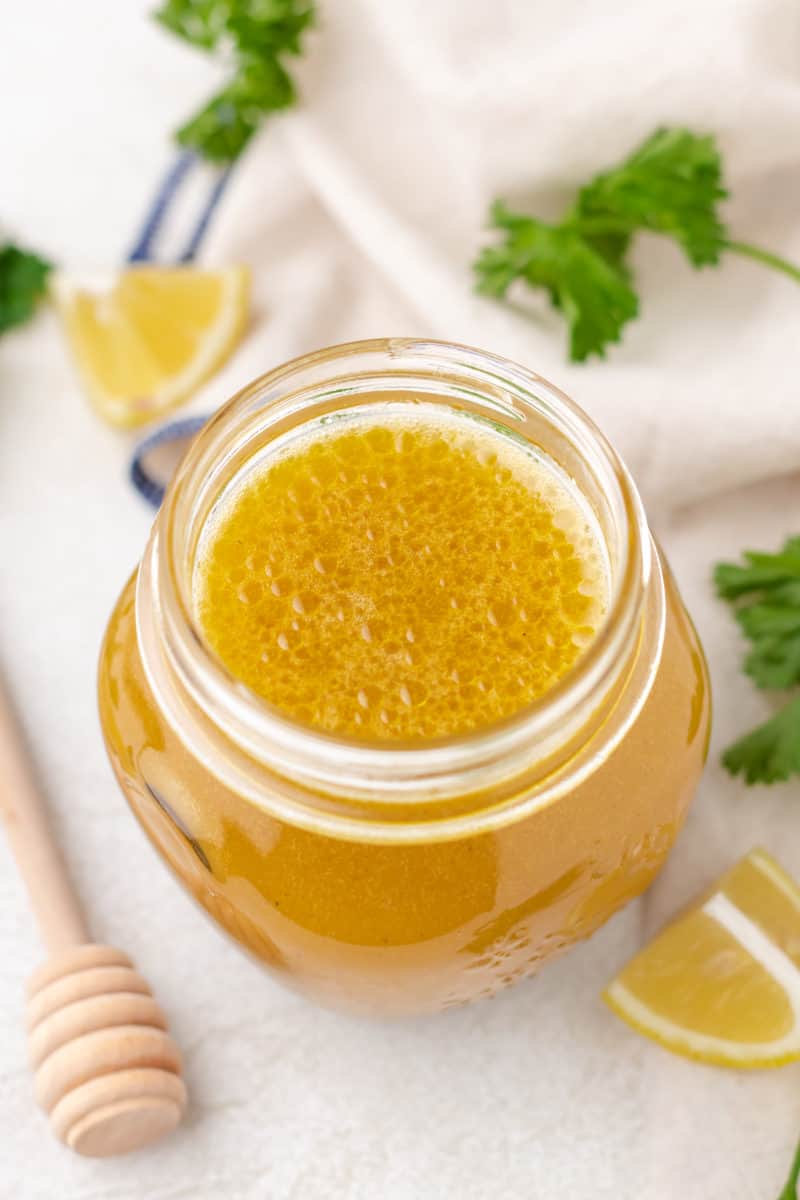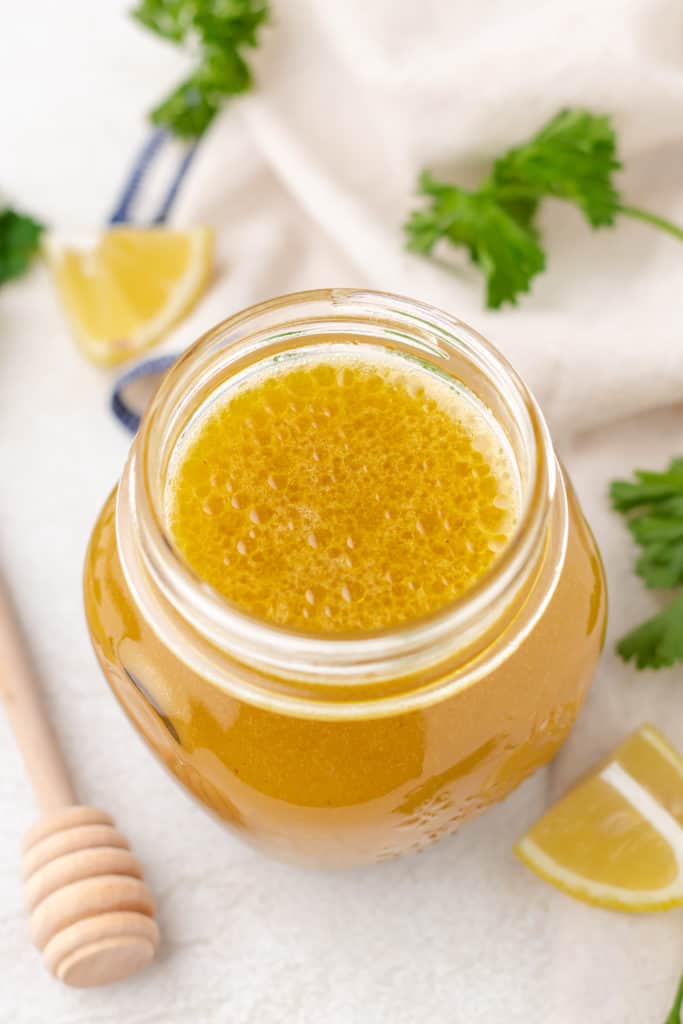 What Goes Good With a Honey Lemon Salad Dressing?
Use it as a sauce in the slow cooker.
Blueberry Chicken Salad.
Blood Orange Salad.
Use it as a dipping sauce for grilled chicken.
Use it as a marinade with chicken breasts or thighs.
Other Salad Dressing Recipe You May Love:
Recipe Card with Ingredient Amounts and Instructions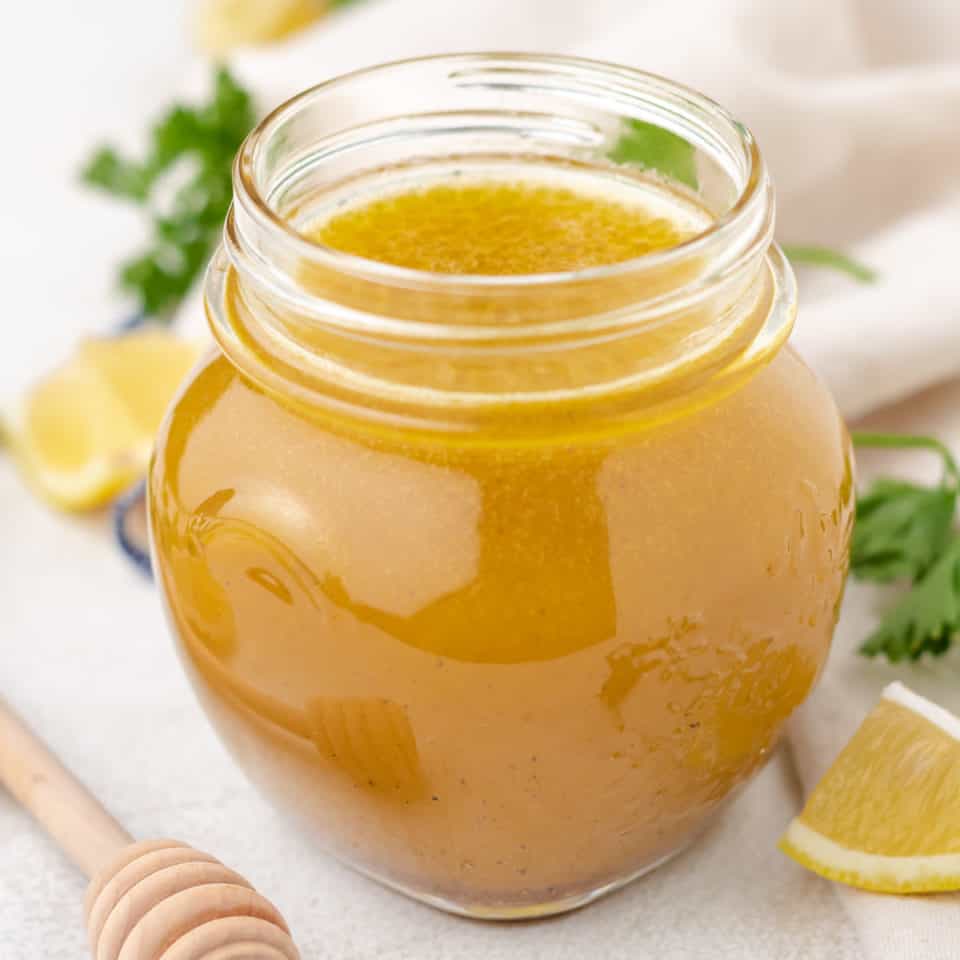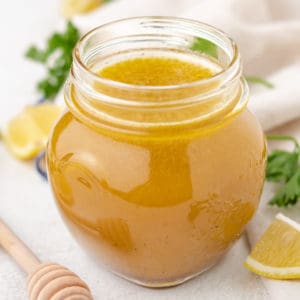 Ingredients
¾

cup(s)

olive oil

⅓

cup(s)

honey

⅓

cup(s)

apple cider vinegar

2

tablespoon(s)

freshly squeezed lemon juice

,

freshly squeezed

1

teaspoon(s)

kosher salt

¼

teaspoon(s)

ground black pepper
Instructions
Place all the ingredients into a jar or large measuring cup. Either shake the jar or use to whisk to mix.

¾ cup(s) olive oil

⅓ cup(s) honey

⅓ cup(s) apple cider vinegar

2 tablespoon(s) freshly squeezed lemon juice

1 teaspoon(s) kosher salt

¼ teaspoon(s) ground black pepper

Store in an airtight container at room temperature for up to 5 days.
Notes
*The calories listed are an approximation based on the ingredients in the recipe card and a serving size of 2 tablespoons. Actual calories will vary.
*Makes about 1 ½ cups total.
*For more information, tips, and answers to frequently asked questions, please refer to the post.
Nutrition
Serving:
2
tablespoons
Calories:
150
kcal
Carbohydrates:
8
g
Protein:
0.04
g
Fat:
14
g
Saturated Fat:
2
g
Polyunsaturated Fat:
1
g
Monounsaturated Fat:
10
g
Sodium:
195
mg
Potassium:
13
mg
Fiber:
0.04
g
Sugar:
8
g
Vitamin A:
0.4
IU
Vitamin C:
1
mg
Calcium:
2
mg
Iron:
0.1
mg