*This post may contain affiliate links. As Amazon Associates we earn from qualifying purchases.
A homemade lemon honey vinaigrette that only uses six ingredients. Add a ton of flavor to your next salad with this honey and vinegar based dressing!
If you eat a lot of salads then you know meals can get boring. That's why we experiment with different flavors to come up with our salad dressings.
Now, it's not enough to try different ingredients. By simply changing the ingredient amounts, you can create brand new flavors.
That's exactly what we did with this honey vinaigrette salad dressing! Kim tried varying amounts of each ingredient to create a balanced flavor.
How to make a lemon honey vinaigrette recipe?
So, the process is really easy. It's just like making any other vinaigrette salad dressing. If you've ever made a balsamic vinaigrette recipe, then you can make this lemon honey dressing.
First, grab a large measuring cup or mixing bowl and add the olive oil. Just a head's up, you'll want to use a whisk to combine the salad dressing ingredients.
Kim and I can usually find it at our local farmer's market or at Whole Foods during the Winter. Then, once the honey is in the cup, add the vinegar. Now, the kind of vinegar you choose is important.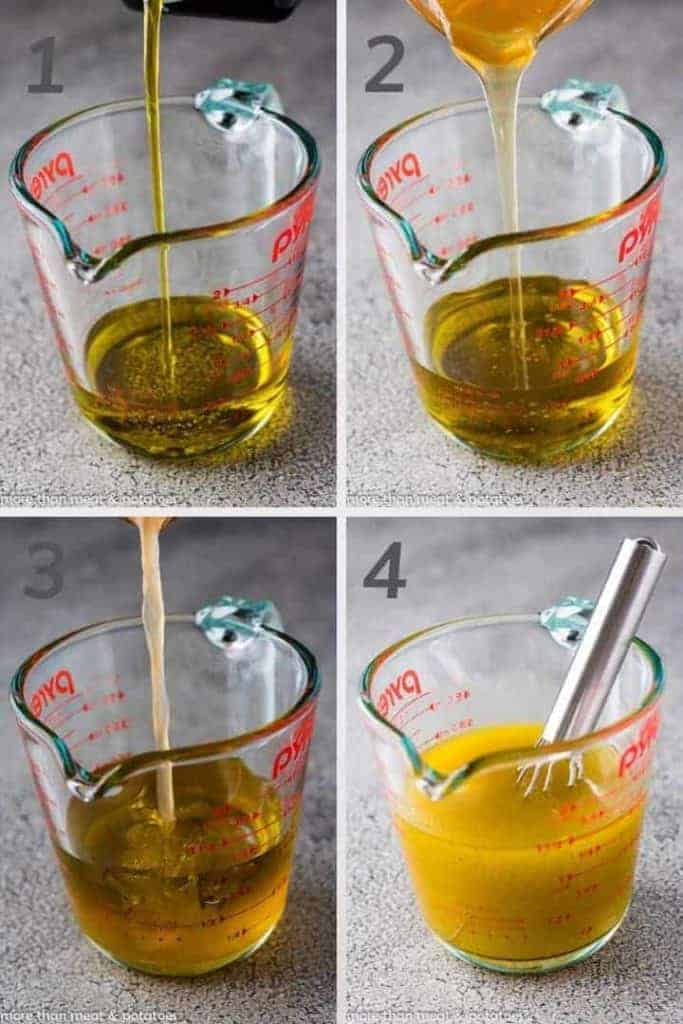 For example, we used apple cider vinegar for our honey vinaigrette. Because, the hints of apple add nice contrast to the lemon juice and pair well with the honey.
Speaking of lemon juice, it's time to add the final ingredient; the fresh squeezed lemon juice! That's right, I recommend using fresh squeezed whenever possible. I find concentrates tend to overpower the other flavors in the honey vinaigrette dressing.
Last, all that's left to do is combine the ingredients with a whisk. Be sure to mix everything until the oil and vinegar emulsify. Meaning, in layman's terms, they've combined to a point in which they're no longer separate. Use the photo below as a reference.
Alright, your lemon and honey salad dressing is finished. We hope you enjoy it and wish you all a lovely day 🙂
How do I mix a vinaigrette?
While we touched on this in the recipe, it's important to note using a whisk is only one method to mix a vinaigrette. You can use food processors, blenders, mason jars with lids, and hand sized emulsifiers to combine any sort of oil and vinegar based dressing.
So, get creative, think of all the possible combinations: raspberry balsamic vinaigrette, honey lime vinaigrette, blueberry lemon vinaigrette, etc. Experiment with different fruit and vinegar flavors. There's a world out there full of vinegars. Put them to work to create a flavorful salad dressing any day of the week!
What goes good with a honey lemon salad dressing?
Strawberry Spinach Salad
Blueberry Chicken Salad
Blood Orange Salad
Use it as dipping sauce for grilled chicken
Use it a marinade with chicken breasts or thighs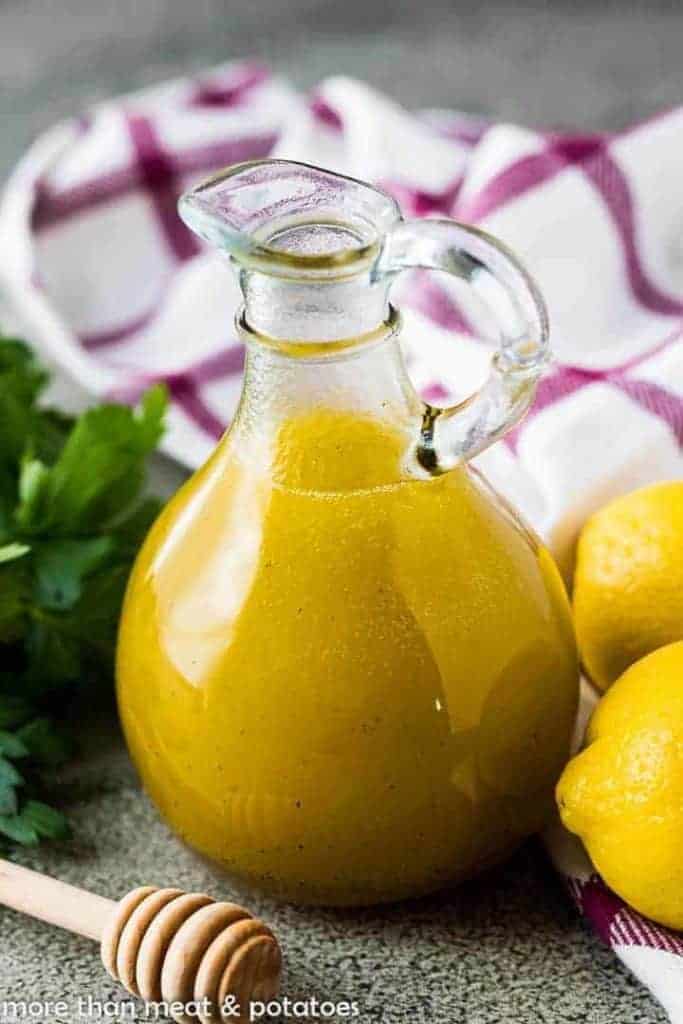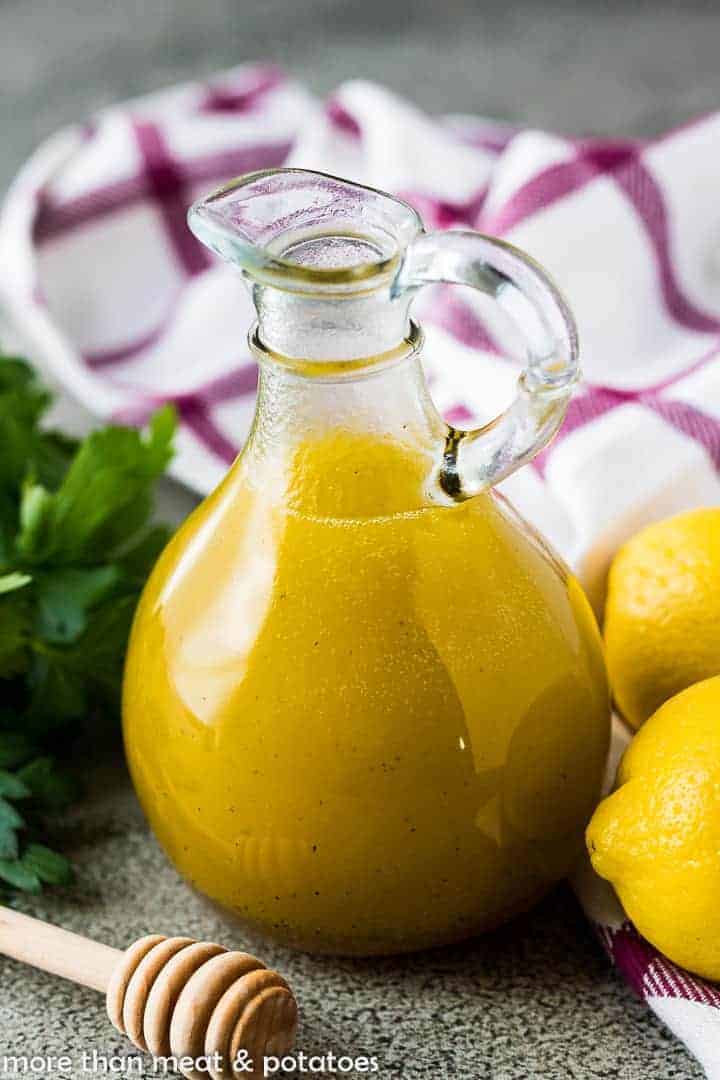 Other salad dressing recipes you may love:
Don't forget to check out our Lemon Honey Vinaigrette web story!
If you like our recipe, please leave us a comment and rate the recipe card. You can also find us on Facebook, Pinterest, Twitter and Instagram searching for More Than Meat and Potatoes!
Join our Facebook group for more recipes from Meat and Potatoes and our sister site, Berly's Kitchen.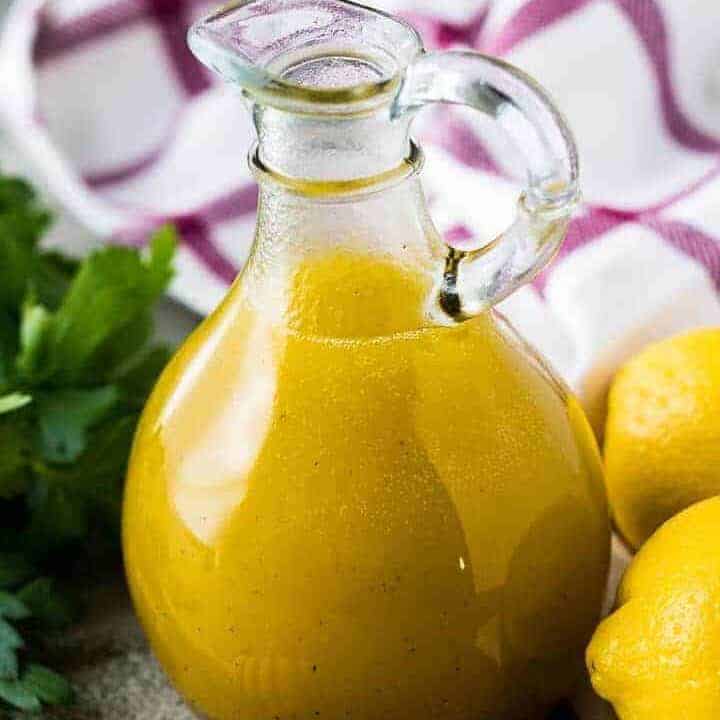 Lemon Honey Vinaigrette Dressing
A homemade lemon honey vinaigrette that only uses six ingredients. Add a ton of flavor to your next salad with this honey and vinegar based dressing!
Ingredients
⅓ Cup Honey
2 Tablespoons Lemon Juice
1 Teaspoon Salt
¼ Teaspoon Pepper
Instructions
Place all the ingredients into a jar or large measuring cup. Either shake the jar or use to whisk to mix.
Store in an airtight container at room temperature for up to 5 days.
Notes
*The calories listed are an approximation based on the ingredients in the recipe card and a serving size of 2 tablespoons. Actual calories will vary.
*For more information, tips, and answers to frequently asked questions, please refer to the post.
Recommended Products
As an Amazon Associate and member of other affiliate programs, we may earn a commission from qualifying purchases.
Nutrition Information:
Yield:

10
Serving Size:

2 Tablespoons
Amount Per Serving:
Calories:

180
Total Fat:

16g
Saturated Fat:

2g
Trans Fat:

0g
Unsaturated Fat:

14g
Cholesterol:

0mg
Sodium:

213mg
Carbohydrates:

9g
Fiber:

0g
Sugar:

9g
Protein:

0g
The calories listed are an approximation based on the ingredients and a serving size of two (2) tablespoons of the honey vinaigrette. Actual calories will vary.