Looking for a ranch dressing without mayonnaise? Then try our ranch dressing no mayo recipe. All the flavor of ranch dip or dressing without the mayo!
Kim and I love ranch dressing! Not only on salads and sandwiches, but also as a dipping sauce for all sorts of other foods.
In fact, one of my favorite guilty pleasures is pepperoni pizza dipped in ranch dressing. It's not the best thing for your figure, but every once in a while, it's worth it.
Unfortunately, not everyone gets to enjoy this tasty condiment. Mayonnaise doesn't agree with some people's tummies.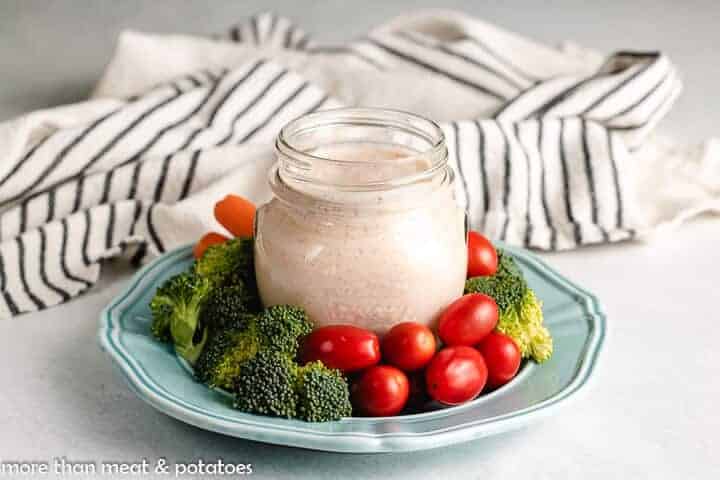 So, Kim and I decided to share a ranch dressing no mayo recipe. It's a delicious adaptation that uses sour cream in place of mayonnaise.
Now, you should be aware that this recipe was adapted from our spicy ranch dressing on our sister site Berly's Kitchen.com.
It only took a few changes to the original dressing to create one without using mayo. Additionally, if you prefer ranch dressing without dill, then you could leave it out.
Because, the sour cream in the recipe adds plenty of tartness to the dressing.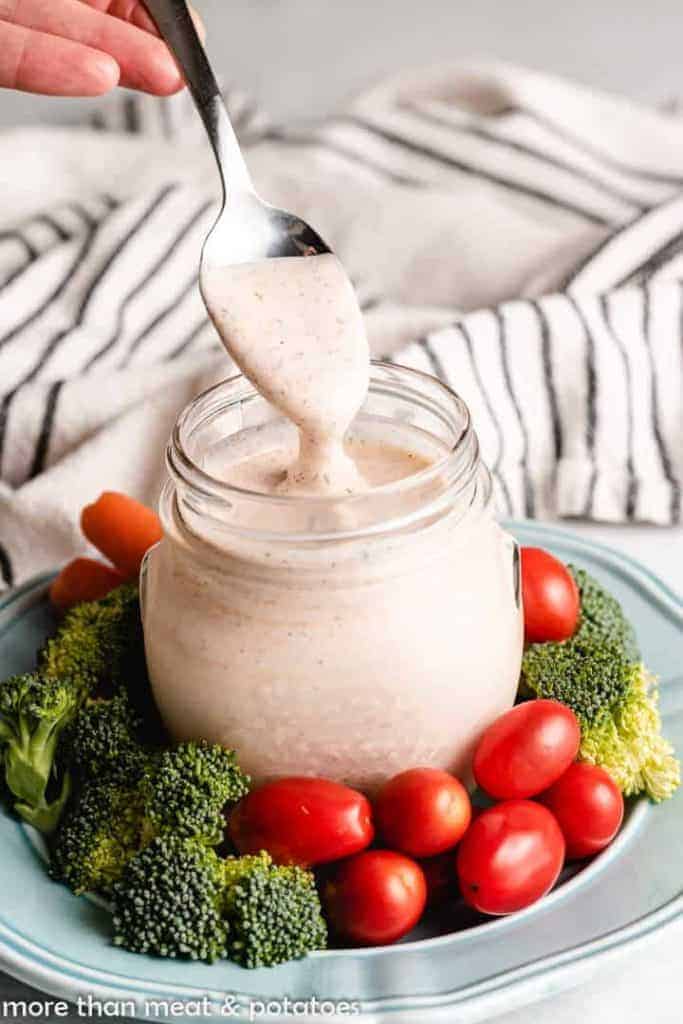 How to make ranch dressing without mayo?
First, grab a small mixing bowl and a whisk. Next, add the sour cream or Greek yogurt.
After that, toss in the buttermilk, garlic powder, onion powder, salt, dill, black pepper, and paprika (if using).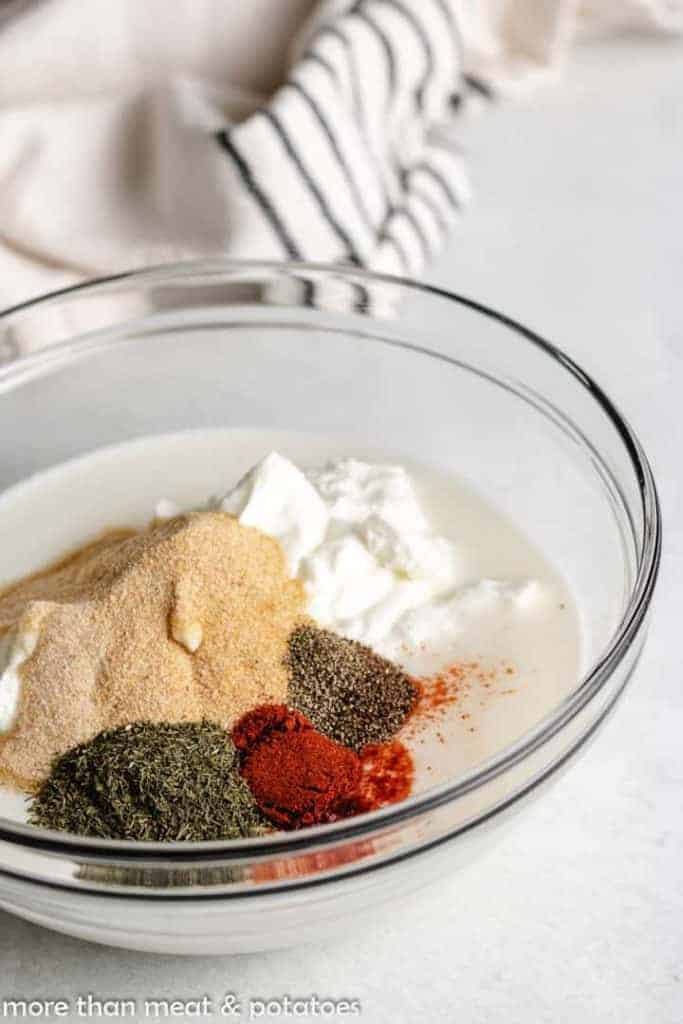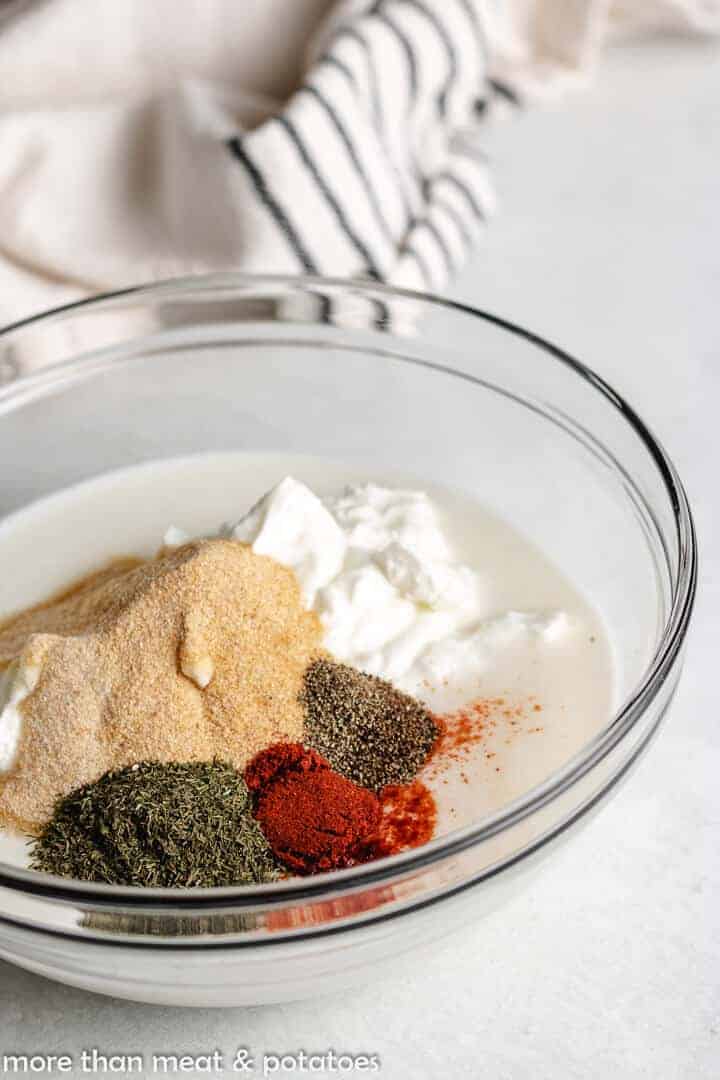 Last, use a whisk to combine all the ingredients into a smooth and creamy salad dressing.
You can store this condiment in your fridge, in a sealed container for up to 7 days.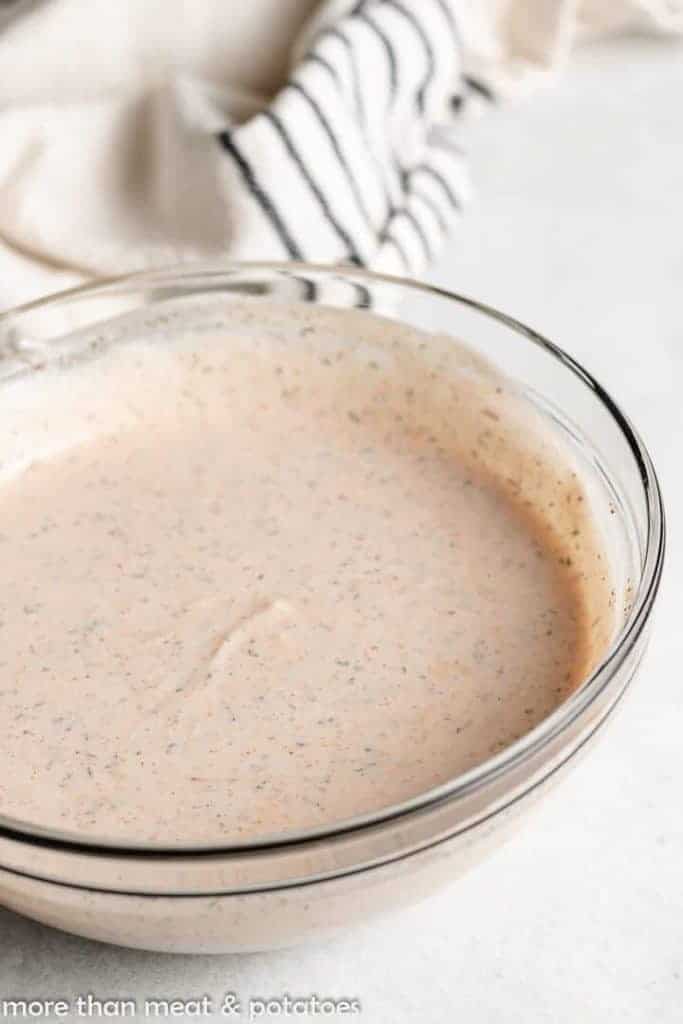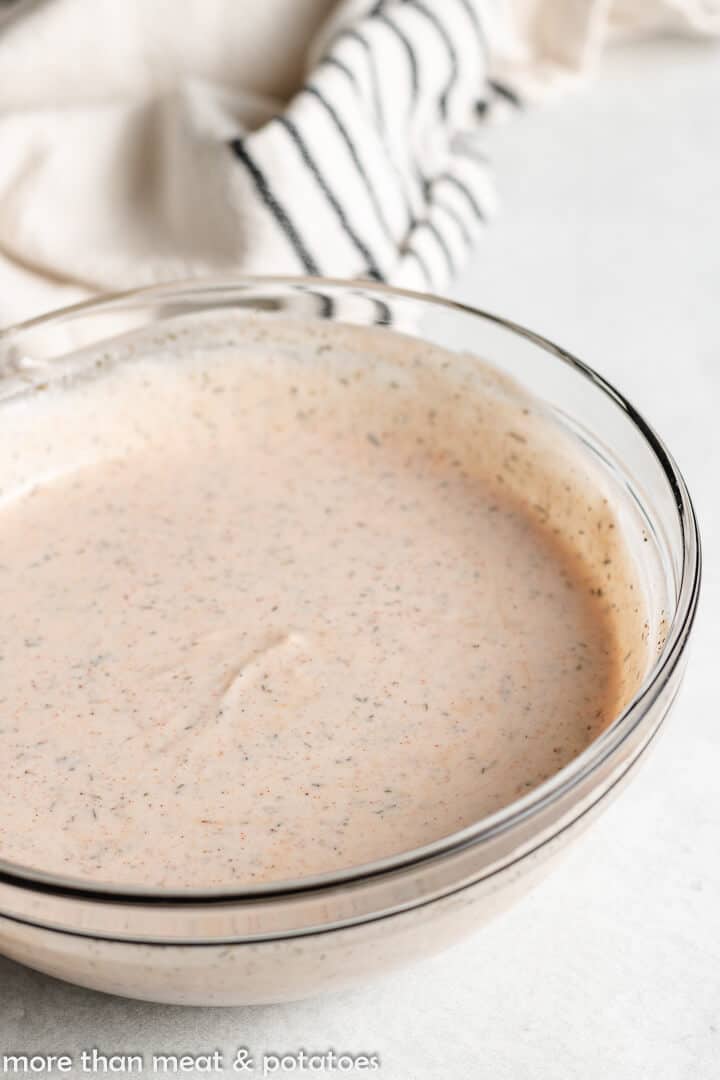 That's it, your creamy ranch dressing no mayo recipe is done! Kim and I hope you enjoy it and wish you all the best 🙂
Oh, if you're looking to top your taco salad with something new, try our fire-roasted Hatch green chile sauce!
Does ranch dressing have eggs?
Technically, yes some ranch dressings do contain eggs. Because, a lot recipes use mayonnaise as a base.
Mayonnaise, traditionally, is made using eggs as a base ingredient. So, if you have issues with eggs, then keep that in mind.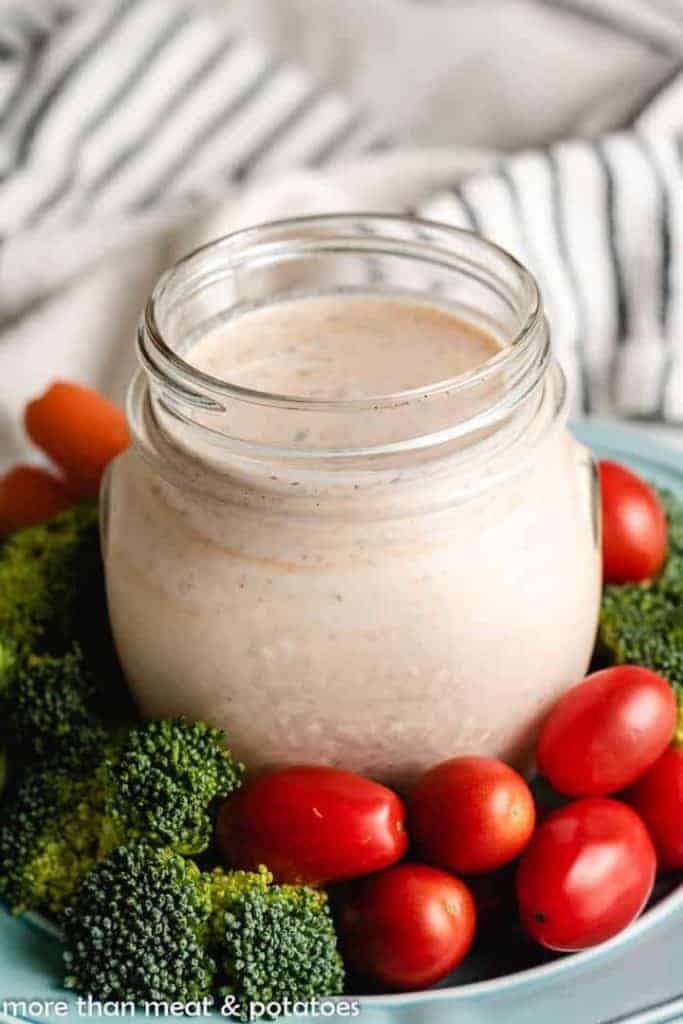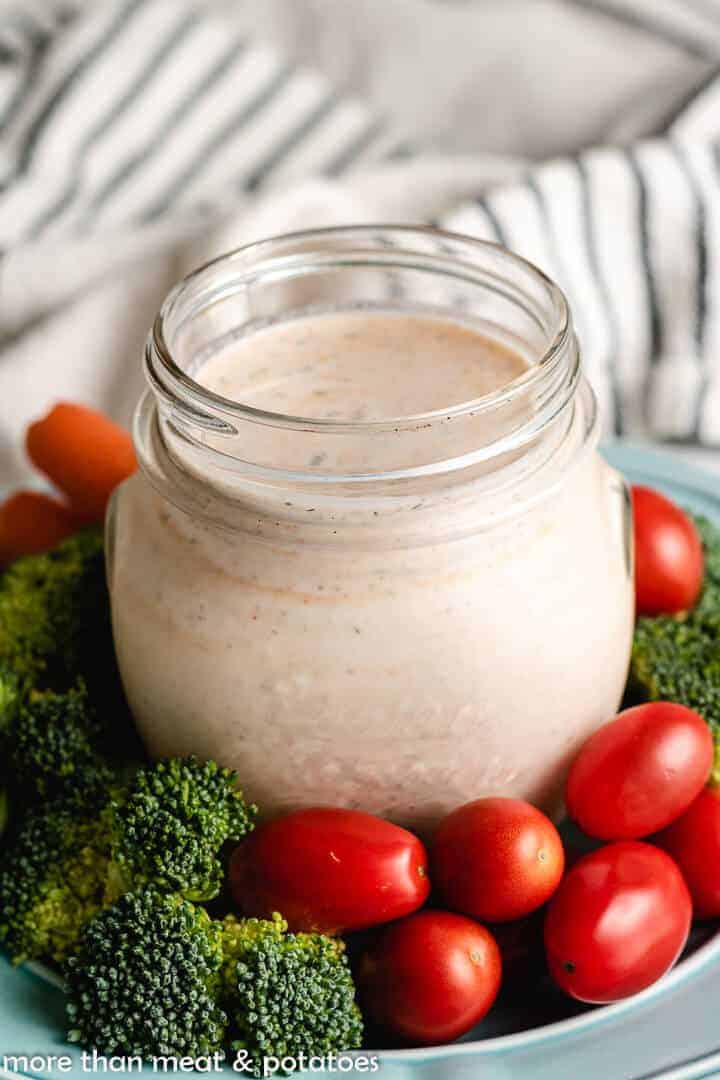 Recipe Tips:
Mason jars make preparing any dressing or vinaigrette a breeze. Simply place all the ingredients into the jar. Seal the lid and shake to mix all the ingredients together.
To make a spicy ranch dressing, then consider adding a little chili powder and cumin to the mixture. It adds a ton of smoky flavor and a little kick to the condiment.
If you don't have buttermilk, then combine a teaspoon of lemon juice with a half of cup of milk to create a homemade buttermilk substitute.
Try this dressing instead of a spicy ranch on our Mexican grilled chicken salad.
Other dressing recipes you may enjoy:
Don't forget to check out our Ranch Dressing Without Mayo web story!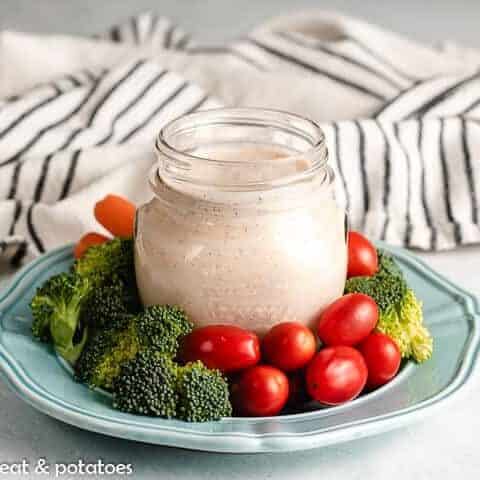 Homemade Ranch Dressing No Mayo
Looking for a ranch dressing without mayonnaise? Then try our ranch dressing no mayo recipe. All the flavor of ranch dip or dressing without the mayo!
Ingredients
1 Cup Sour Cream or Non-Fat Greek Yogurt
½ Cup Buttermilk
1 Teaspoon Garlic Powder
1 Teaspoon Onion Powder
¾ Teaspoon Salt
½ Teaspoon Dried Dill Weed
¼ Teaspoon Black Pepper
¼ Teaspoon Paprika (optional)
Instructions
Pour all ingredients into a small bowl. Whisk to combine.
Transfer to a glass jar with a lid, and store in the refrigerator for up to 7 days.
Notes
Please see the post for extra information and tips.
Nutrition Information:
Yield:

8
Serving Size:

1
Amount Per Serving:
Calories:

78
Total Fat:

6g
Saturated Fat:

3g
Trans Fat:

0g
Unsaturated Fat:

2g
Cholesterol:

19mg
Sodium:

245mg
Carbohydrates:

3g
Fiber:

0g
Sugar:

2g
Protein:

4g
The calories listed are an approximation based on the ingredients in the recipe card. Actual calories will vary.