Try our vegetarian burrito bowls for your next Meatless Monday meal. Yellow rice, black beans, and other Tex-Mex favorites topped with a Chipotle cream sauce!
Tomorrow is Meatless Monday for some people. That means a lot of salads and side dishes are going to be eaten as main courses.
However, we decided to share a vegetarian burrito bowl for those who wanted something other than raw, crunchy vegetables.
We even spiced things up a bit by adding our own unique topping to this Tex-Mex inspired dish.
You can top the vegetarian burrito bowl with chipotle ranch dressing or chipotle cream sauce from our sister site Berly's Kitchen.com.
Another option to use for a topping is our Hatch green chile sauce.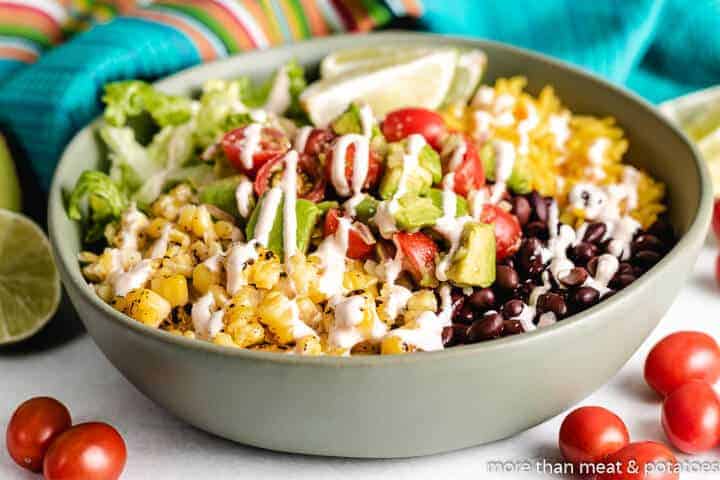 Burrito Bowl meal Prep:
If you're looking for the perfect meal prep dish, then this is it! All you have to do is prepare the recipe as instructed.
After that, let it cool for about 10-minutes and simply separate it out into six, 1 1/2-cup servings.
Store the burrito bowls into individual air-tight containers with lids. They can be placed into your fridge for up to 3-days.
Be sure to store the dressing or sauce in a smaller separate container, as well.
Otherwise, if you dress the bowl before storage, the lettuce may turn soggy.
The only other recommendation I would make is to spritz the diced avocado with extra lime juice to keep it green and fresh during storage.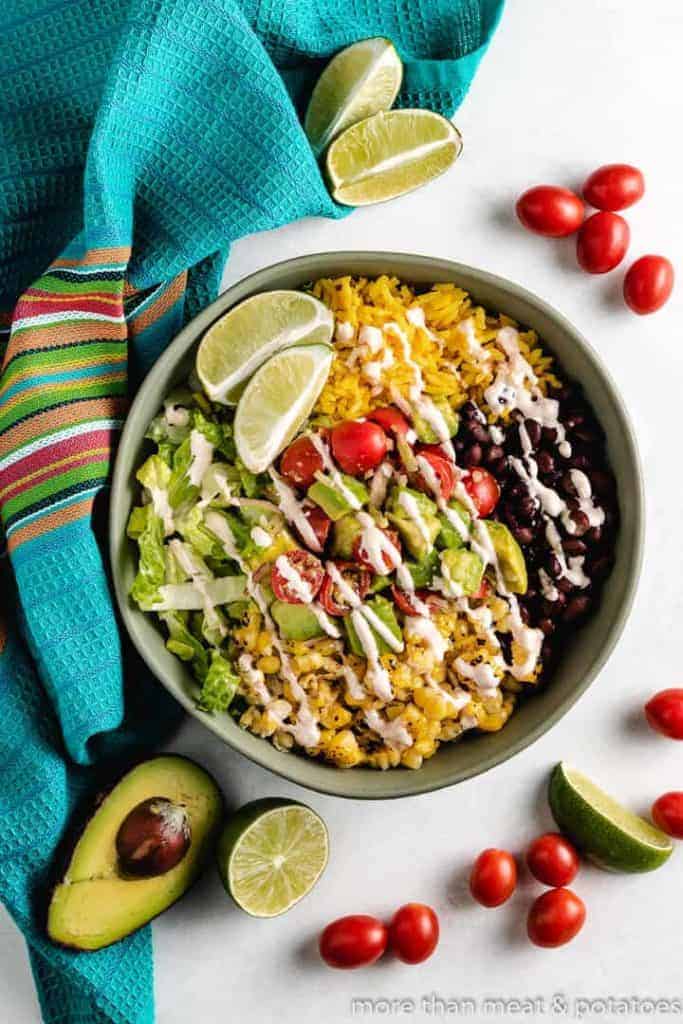 How do you eat burrito bowls?
Any way you want. Personally, I use a fork but sometimes our son dips tortilla chips into the bowl.
Flour or corn tortillas are also useful for picking up bite-sized portions of the meal.
You could even serve this dish in edible taco salad bowls. Basically, it all comes down to personal preference and taste.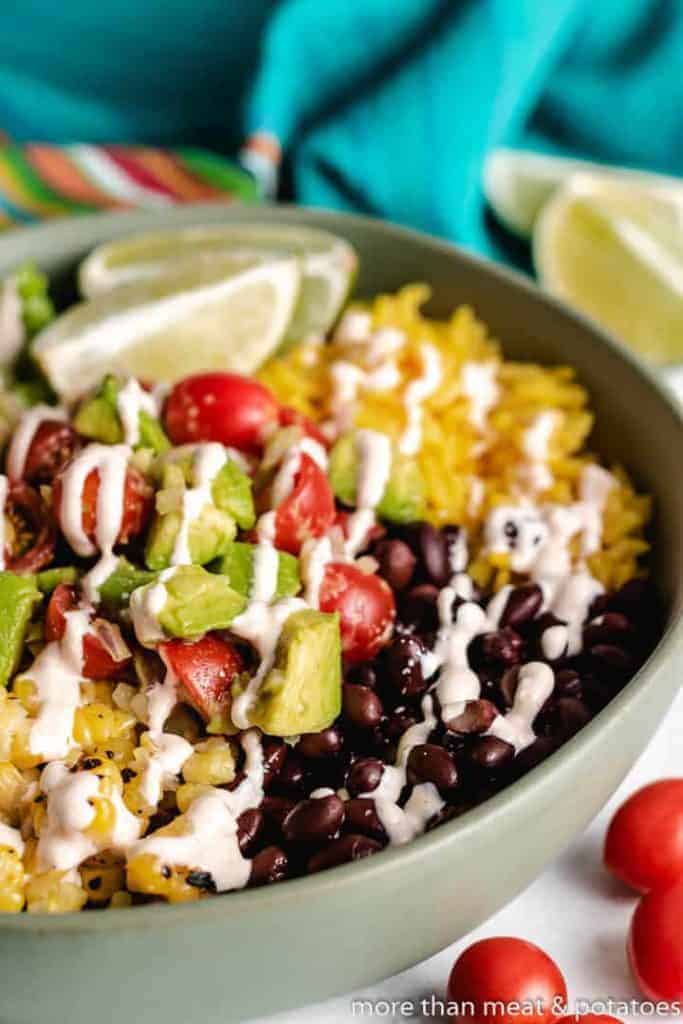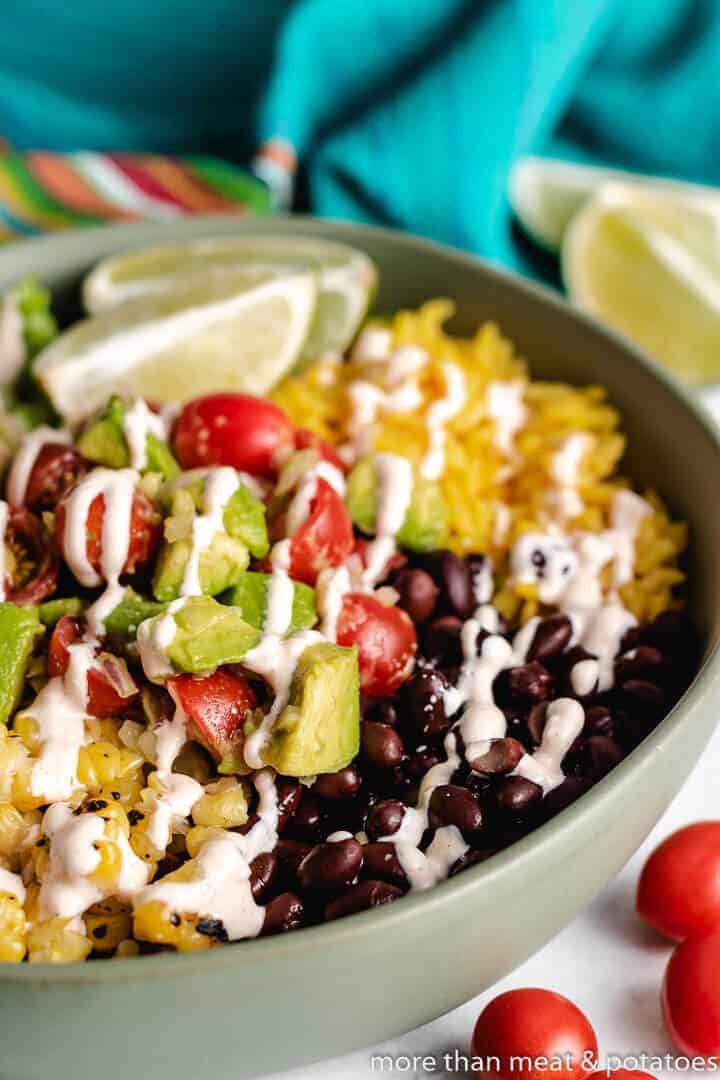 How to make vegetarian burrito bowls?
First, start by cooking the yellow or Spanish rice per the package instructions.
If you prefer brown rice and you have a pressure cooker, check out our Instant Pot brown rice recipe or make our yellow rice from scratch.
Also, go ahead and heat or grill the corn. I recommend seasoning it with spices like cumin, sea salt, and chili powder. Just for extra flavor.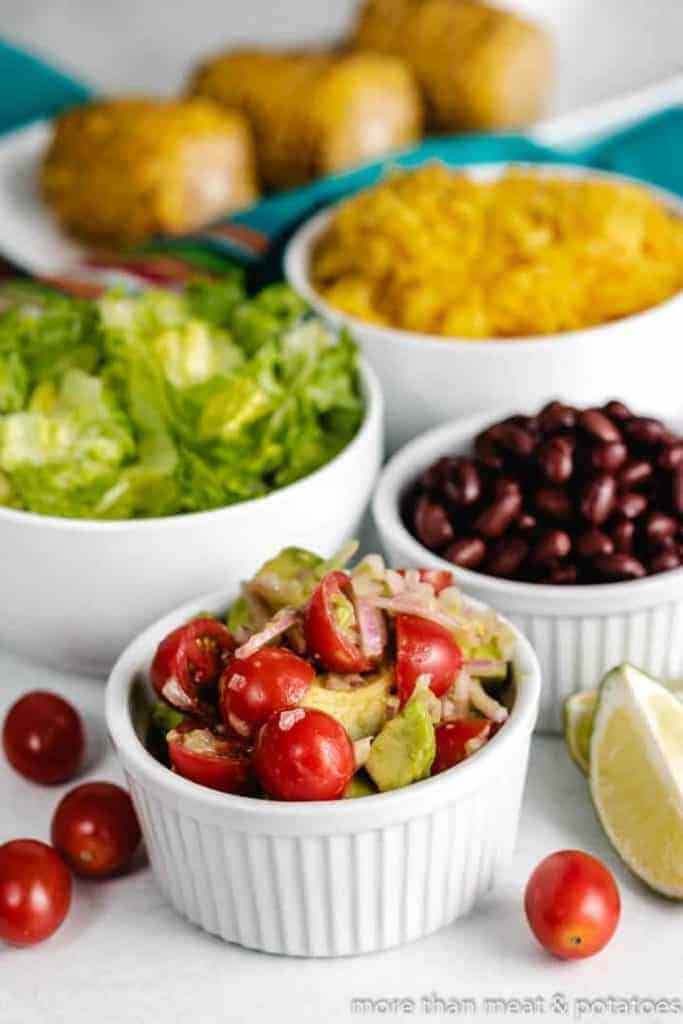 Next, if you're using canned black beans, open the can and drain the beans. Go ahead and rinse them and drain them again.
After that, shred or chop the lettuce, tomatoes, avocados, and onions. As well as, remove the corn from the cob (if grilled).
Then, grab your bowl(s) and add the rice, lettuce, corn, black beans, tomatoes, diced avocados, and onions.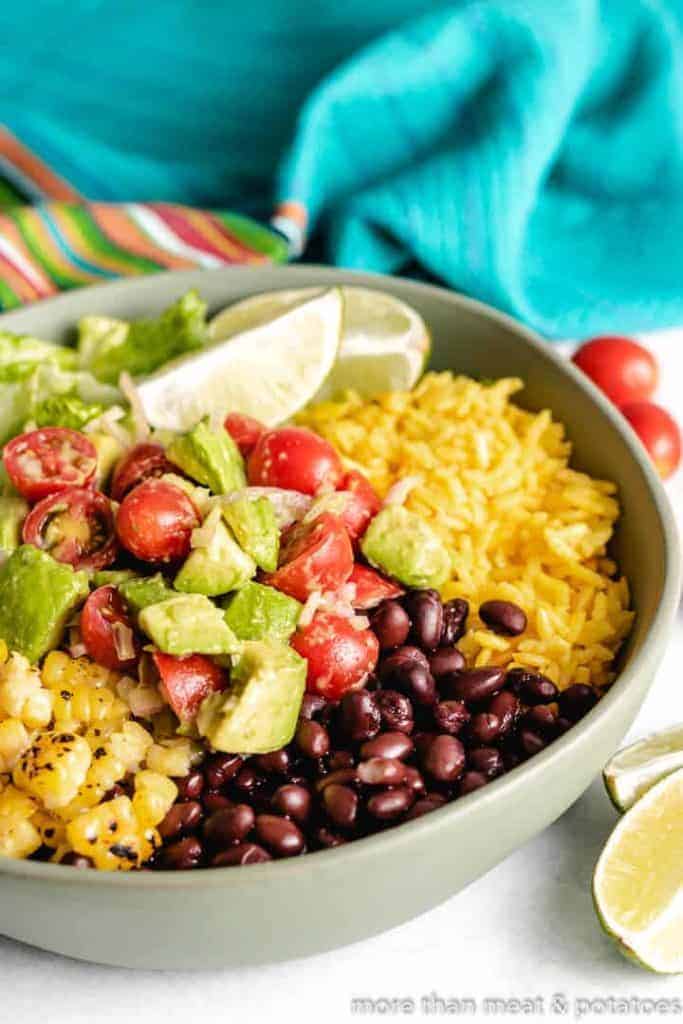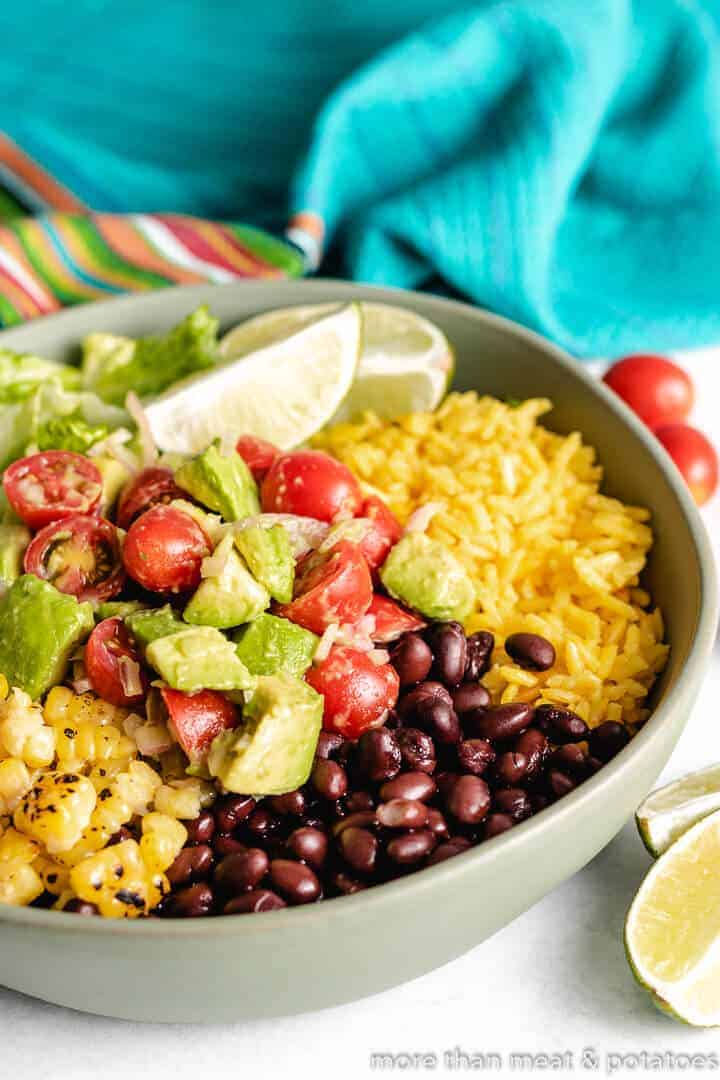 Last, sprinkle the meatless burrito bowls with fresh lime juice and drizzle them with the chipotle cream sauce (or dressing).
That's it, serve them right away for use them for meal prep. Kim and I hope you enjoy these vegetarian burrito bowls and wish you all the best 🙂
Other easy lunch recipes you may enjoy:
Don't forget to check out our Vegetarian Burrito Bowl web story!
Don't forget to follow us on FACEBOOK and PINTEREST to see our newest recipes! You can also find us on Facebook, Pinterest, and Instagram searching for More Than Meat and Potatoes!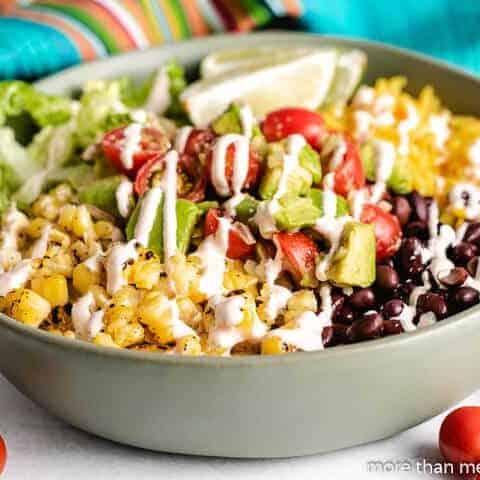 Vegetarian Burrito Bowls
Try our vegetarian burrito bowls for your next Meatless Monday meal. Yellow rice, black beans, and other Tex-Mex favorites topped with a Chipotle cream sauce!
Ingredients
½ Cup Yellow Rice (homemade or store bought)
1 Cup Romaine Lettuce
½ Cup Grilled Corn, cut off the cob
½ Cup Black Beans
¼ Cup Cherry Tomatoes, halved
¼ Cup Avocados, diced
1 Tablespoon Purple or White Onions, diced
Freshly Squeezed Lime Juice, if desired
Instructions
Arrange the rice, lettuce, corn, black beans, tomatoes, avocados, and onions in a large bowl. Toss if desired.
Sprinkle with freshly squeezed lime juice, then drizzle with chipotle cream sauce or your favorite chipotle flavored salad dressing.
Serve immediately. Store any meal prep or leftovers in the refrigerator for up to 3 days.
Notes
Please see post for additional information or tips.
Nutrition Information:
Yield:

6
Serving Size:

1
Amount Per Serving:
Calories:

184
Total Fat:

3g
Saturated Fat:

1g
Trans Fat:

0g
Unsaturated Fat:

2g
Cholesterol:

4mg
Sodium:

64mg
Carbohydrates:

12g
Fiber:

2g
Sugar:

1g
Protein:

3g
The calories listed are an approximation based on the ingredients in the recipe card and a serving size of about 1.5 cups of the burrito bowls. Actual calories will vary.