Our delicious Raspberry Smoothie recipe is packed with the vibrant flavors of frozen raspberries, bananas, and Greek yogurt then blended to creamy perfection. This easy-to-make smoothie is the perfect quick breakfast or a tasty afternoon snack! It uses just 6 simple ingredients and is ready in about 10 minutes.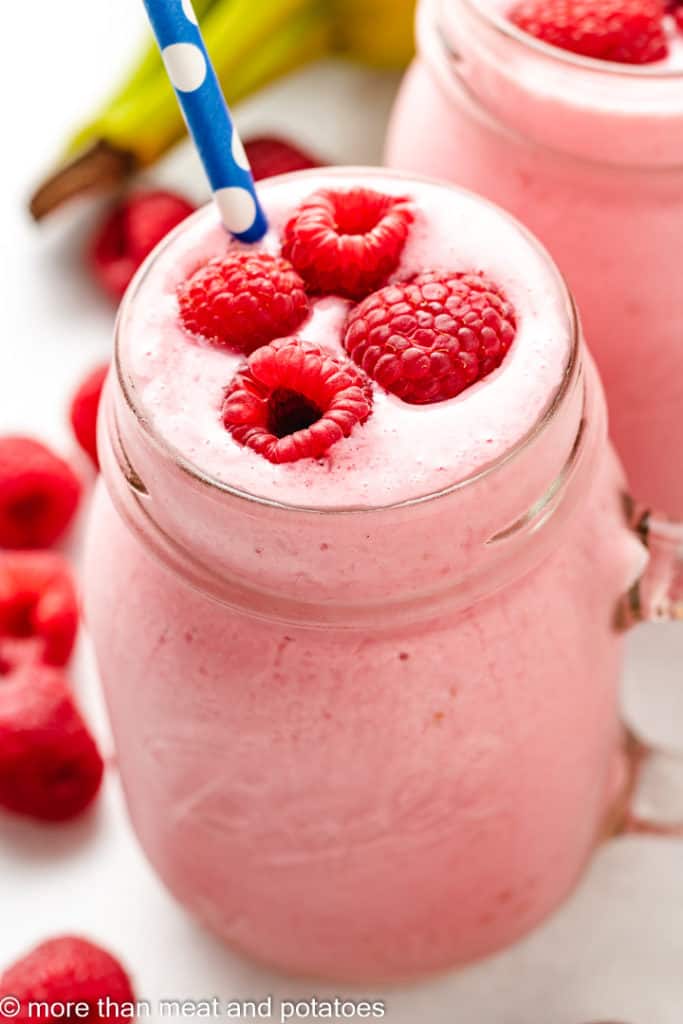 ​Easy Raspberry Breakfast Smoothie
John and I love to make smoothies. In fact, half our freezer is filled with bags of frozen fruit just for easy smoothies recipes.
A breakfast smoothie is a great way to pack in a good helping of fruits and veggies at the beginning of the day.
A couple of our favorites are mango banana and strawberry Greek yogurt flavors.
Ingredients You'll Need:
One of the best things about this smoothie recipe is the short ingredient list. There are 6 ingredients total, but technically 2 of those are optional.
You'll find the exact measurements and full instructions in the recipe card near the bottom of the page.
Ice: You'll need some ice to help thicken this easy raspberry smoothie.
Fruit: We use frozen raspberries and a fresh banana as the fruit base. If you'd prefer to omit the ice, you'll want to use all frozen fruit and possibly increase it if the amount of milk and yogurt remain the same.
Milk: We like unsweetened almond milk in this smoothie, but whole milk, oat milk, cashew milk, or coconut milk all work as substitutes.
Yogurt: To give this smoothie its creamy texture, we opted for Greek yogurt. You can use plain or vanilla Greek yogurt or even regular vanilla yogurt works.
Honey: Honey is an optional ingredient but necessary if you want to sweeten the smoothie. Maple syrup, agave nectar, or coconut sugar make good substitutes.
How to Make a Raspberry Smoothie:
For this raspberry banana smoothie, we use a full-sized blender since the recipe makes quite a bit.
I like to add the ingredients all at once blend away. However, I've added some tips below to help you get the best texture from your raspberry smoothie.
Scroll to the recipe card below for full instructions and ingredient amounts!
Place all the ingredients into a high-powered blender, and process until smooth.
Pour into individual glasses and garnish with fresh raspberries. Serve immediately!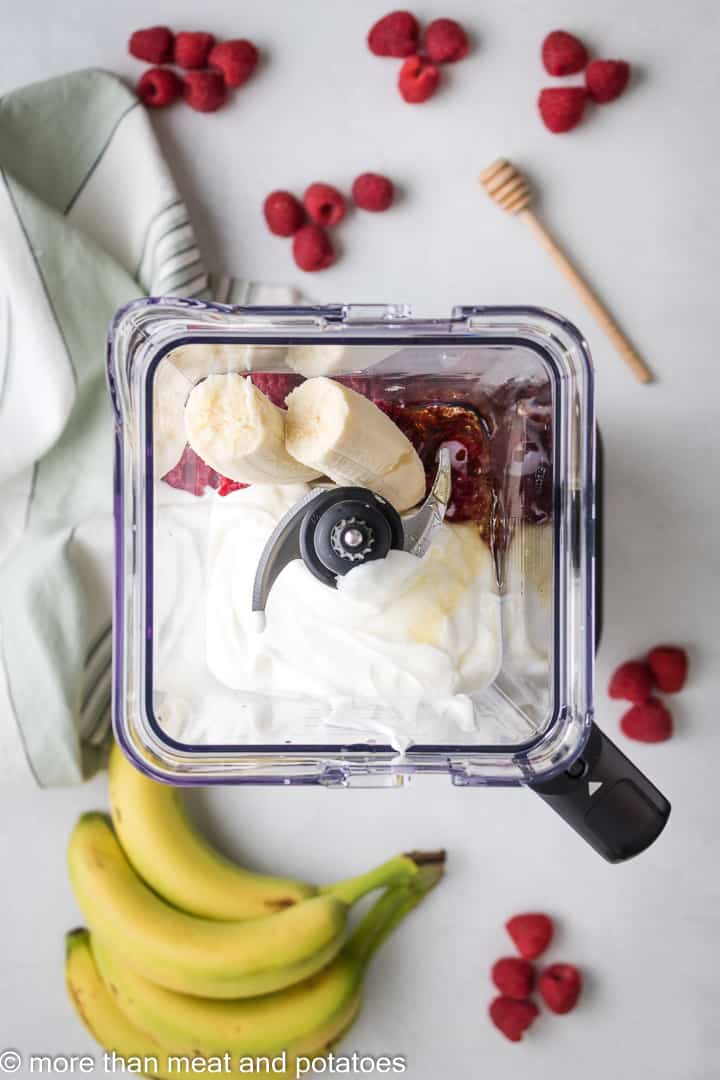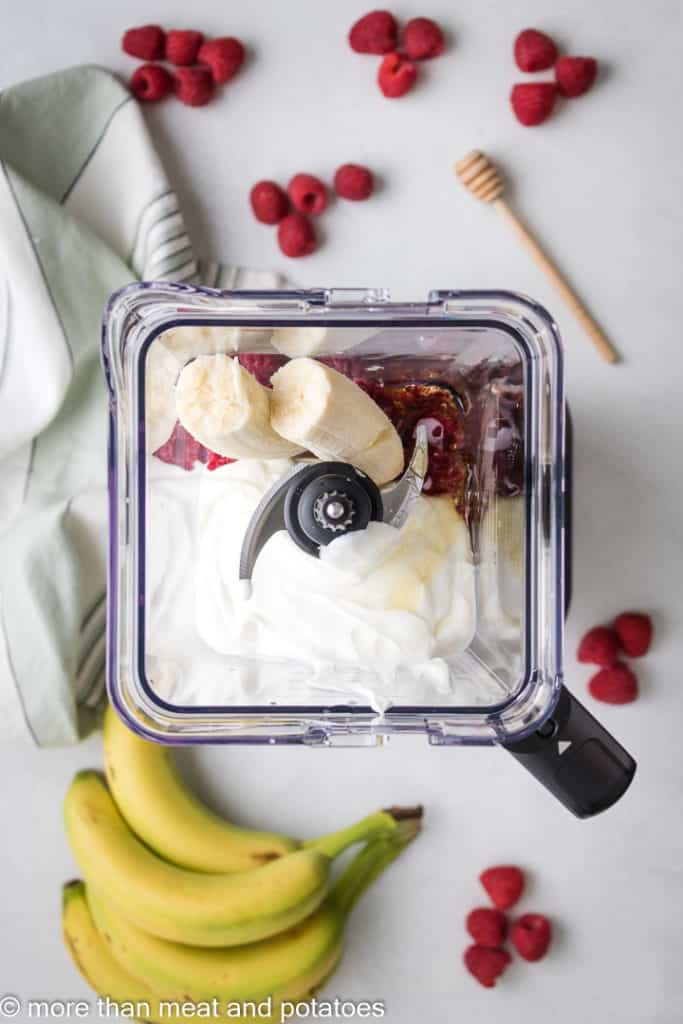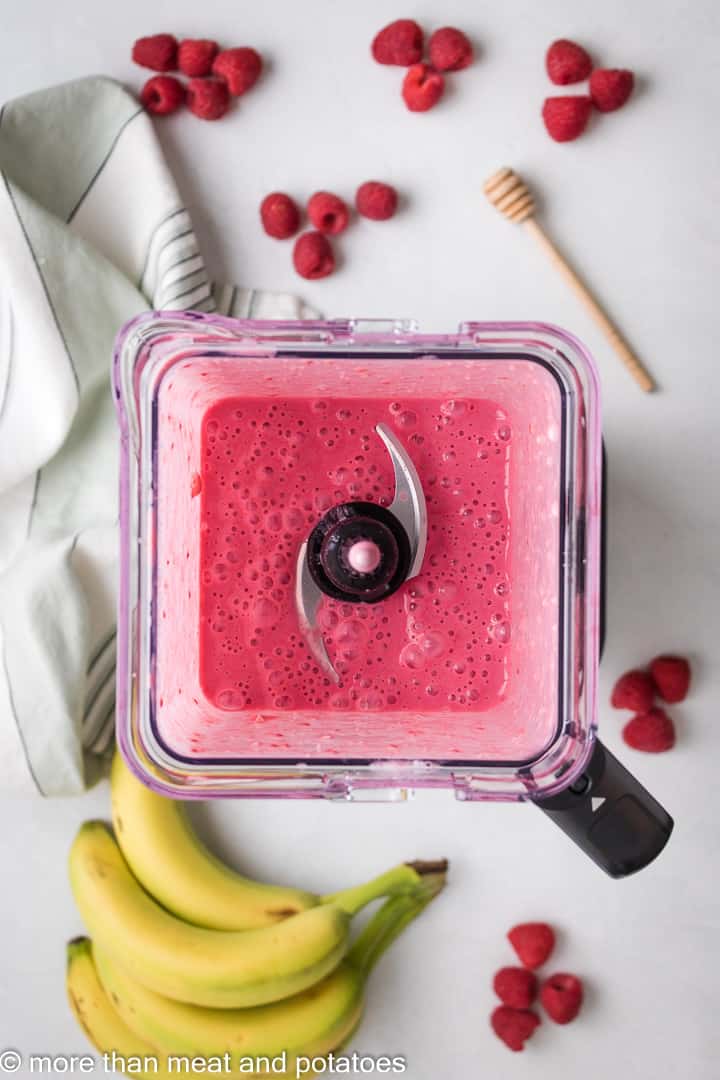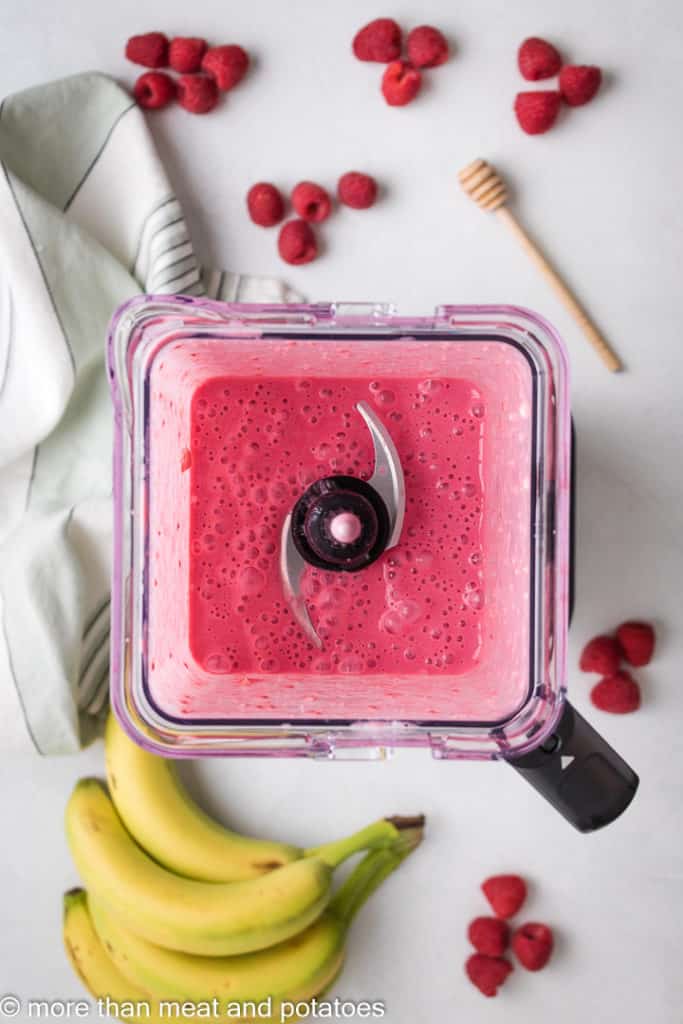 Raspberry Smoothie Tips:
Sweetness Balance: Raspberries can sometimes be quite tart, so balance out this flavor with a sweetener if needed. Natural sweeteners like honey, agave syrup, or an additional ripe banana can be a healthier choice than refined sugar.
Thickening Your Smoothie: For a thicker smoothie, use ingredients like banana, Greek yogurt, or even a scoop of protein powder. Chia seeds also can thicken your smoothie and offer added health benefits.
Blend Properly: Start by blending the liquid with the any added greens first until they're completely broken down, then add the rest of your ingredients and blend again. This will give your smoothie a smoother texture.
Ice Cubes Last: If you decide to use ice cubes in your smoothie, add them last. This will prevent the blender from working harder than it needs to.
Smoothie Variations:
Dairy or Non-Dairy: Depending on dietary preferences, choose your base liquid wisely. You could use dairy milk, almond milk, coconut milk, oat milk, or even yogurt. Each will offer a unique taste and texture to your smoothie.
Add Some Greens: If you want to boost the nutritional value, consider adding some greens like spinach or kale. They blend well and won't overpower the raspberry flavor.
Include Healthy Fats: For a balanced smoothie, consider adding a source of healthy fats. Flax seeds, chia seeds, or a spoonful of nut butter can all be good options.
Protein Boost: If you want your smoothie to keep you fuller for longer, consider adding a scoop of protein powder. Opt for a flavor that compliments raspberries like vanilla or chocolate.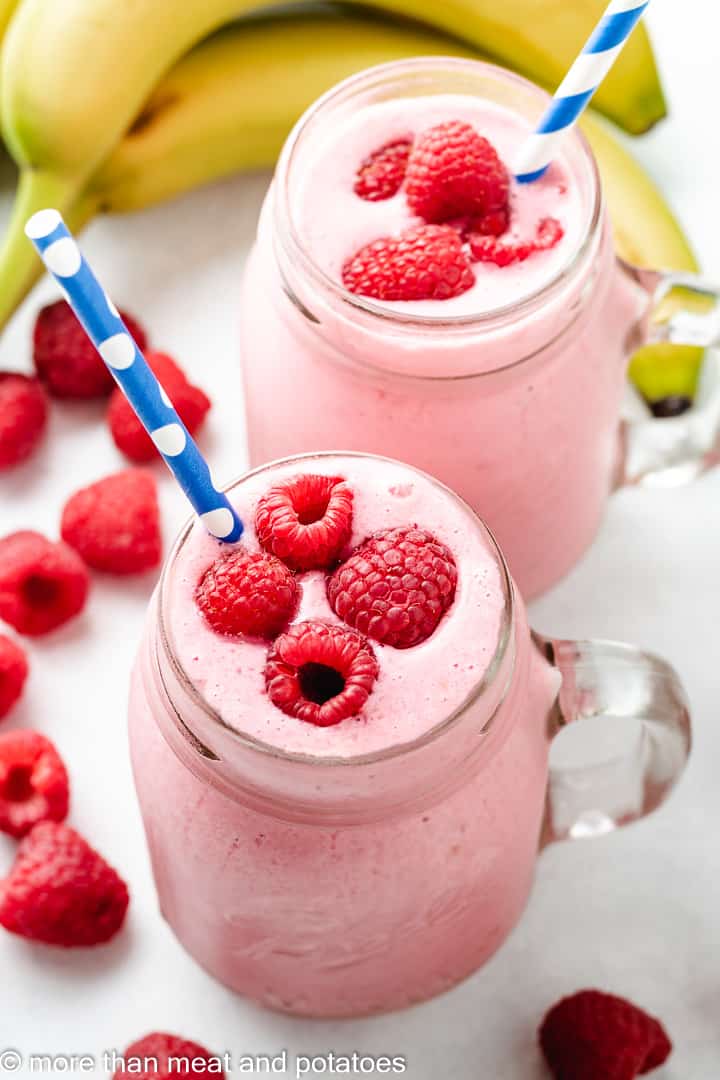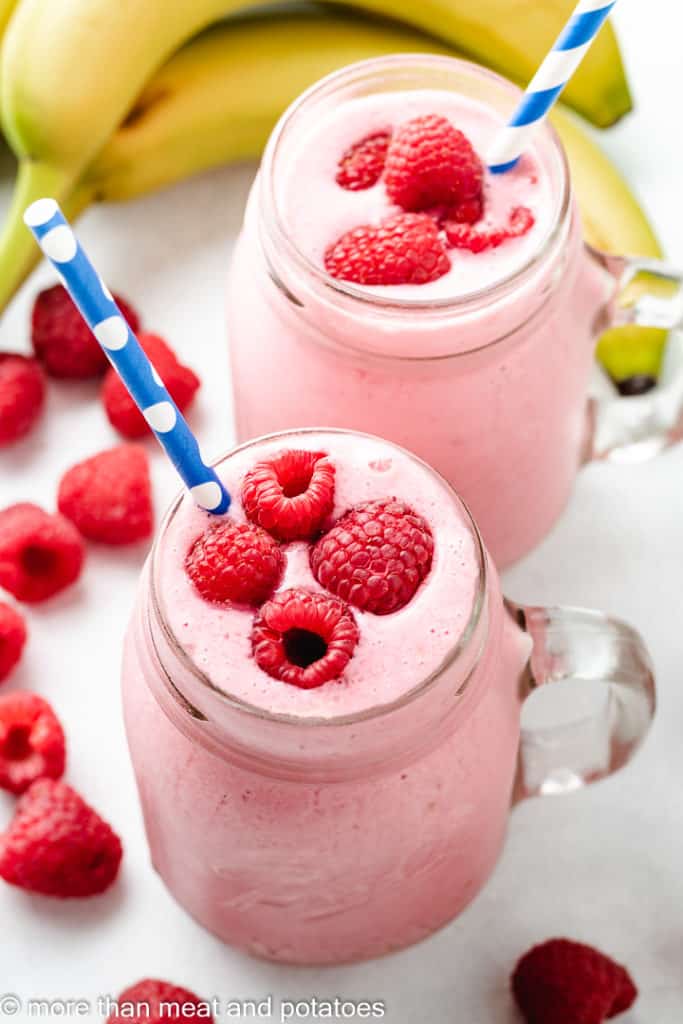 Storage Options:
Fresh is always best when it comes to smoothies. It's best to enjoy them immediately, but if you happen to have leftovers there are options.
Refrigerator: Pour the leftover smoothie into an airtight container or jar, and immediately place it in the refrigerator. Try to drink it within a few hours.
Freezer: If you're not going to drink the smoothie within a day, you might consider freezing it. Pour the smoothie into ice cube trays and freeze.
Later, you can blend these smoothie cubes with a little liquid for a quick and easy frozen smoothie or a smoothie bowl.
Can you use ice cream in place of Greek yogurt in a smoothie?
Yes, you certainly can use ice cream in place of yogurt. Many chain, quick-service smoothie bars use ice cream as a base in smoothies.
However, if you are nutrition conscience or trying to watch your calories, ice cream is going to add additional calories and sugar that may not be present otherwise.
Can you use fresh raspberries instead of frozen?
Yes, fresh raspberries will work, but you'll want to be sure to add ice and/or reduce the almond milk.
Fresh raspberries have a considerable amount of moisture and can water down the smoothie when blended. Ice helps thicken it up. Adding a frozen banana or two in place of fresh will also help!
Can you use flavored Greek yogurt?
Sure! That's totally up to you and your tastes. We use 0% fat, plain Greek yogurt.
It's a blank slate of sorts in terms of flavor and doesn't break the bank by adding a ton of added sugar to the smoothie. Feel free to add any type of flavored yogurt you'd like.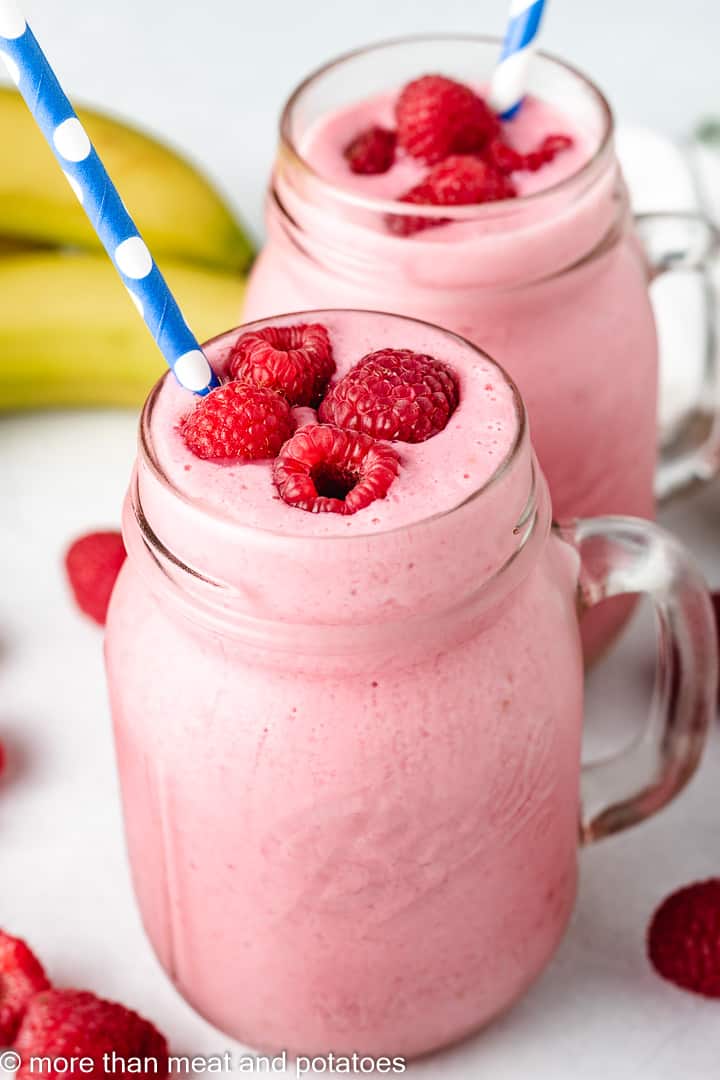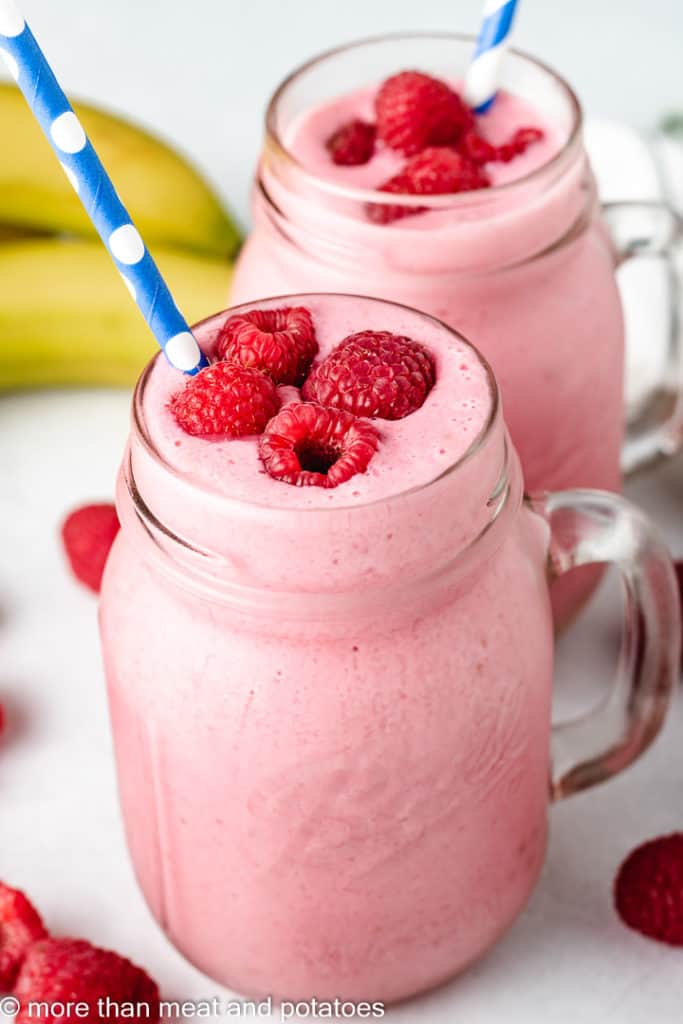 What are some other add-ins that would be good for a simple smoothie?
There are tons of great add-ins. Keep in mind that any additions may change the taste or texture of the smoothie. Here are some add-ins that come to mind:
Protein Powder.
Bee Pollen.
Wheatgrass.
Spirulina.
Other Berries.
Leafy Greens.
Can I make a vegan raspberry smoothie?
Yes, you can make a vegan smoothie by using non-dairy milk or water as the liquid, and by avoiding ingredients like honey or yogurt made from animal milk.
Other Smoothie Recipes You May Love:
Recipe Card with Ingredient Amounts and Instructions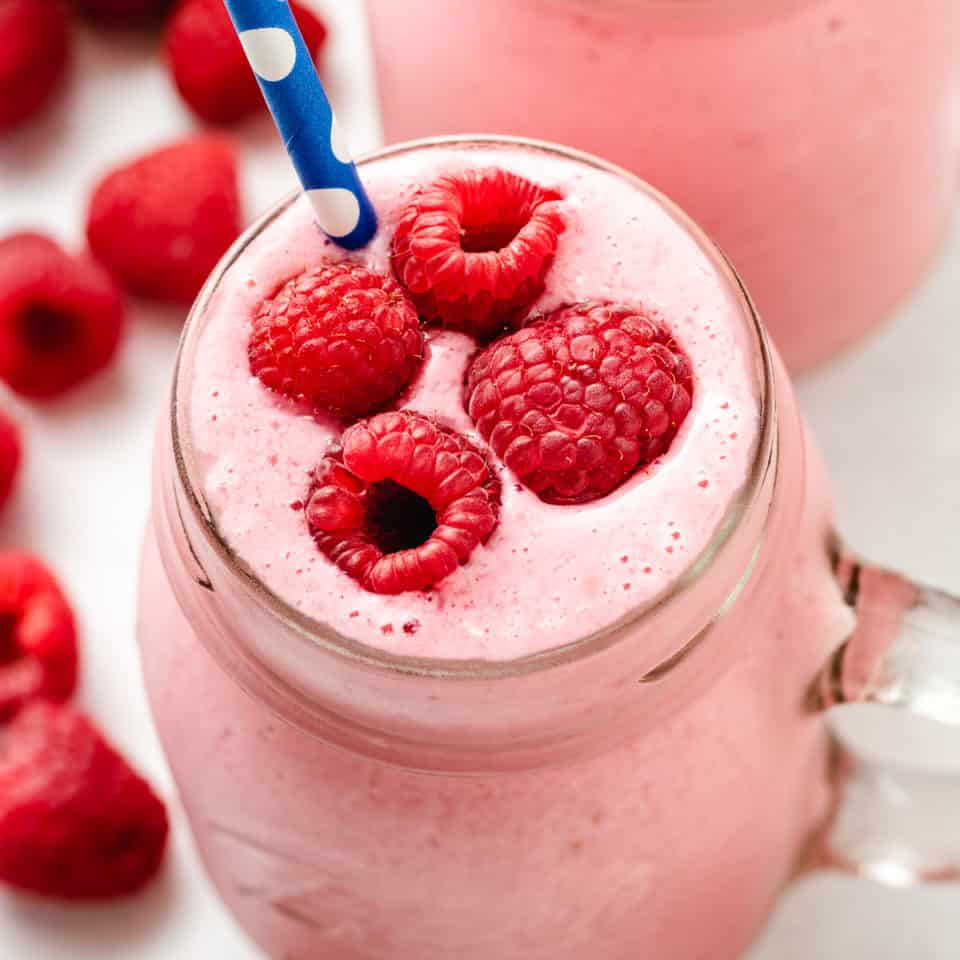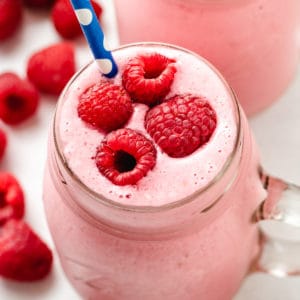 Ingredients
2 to 3

cup(s)

ice

,

optional *See Note

1 ½

cup(s)

raspberries

,

frozen

1 ½

cup(s)

almond milk

¾

cup(s)

Greek yogurt

2

tablespoon(s)

honey

,

optional

1

banana

,

large in size
Instructions
Place ice, frozen raspberries, almond milk, Greek yogurt, honey, and banana into a blender. Blend until smooth.

2 to 3 cup(s) ice

1 ½ cup(s) raspberries

1 ½ cup(s) almond milk

¾ cup(s) Greek yogurt

2 tablespoon(s) honey

1 banana

Pour into glasses, and top with fresh raspberries. Enjoy immediately!
Notes
*The calories listed are an approximation based on the ingredients in the recipe card and a serving size of 8 ounces. Actual calories will vary.
*For more information, tips, and answers to frequently asked questions, please refer to the post.
*Use the ice to thicken the smoothie. It's very thin without any ice. However, 2-3 cups of ice thickens it nicely. The in-process photos up (in the post) show the smoothie without ice.
*The honey is optional, and can be adjusted based on how sweet you like your smoothies.
*Use 1 large banana or 2 small bananas.
Nutrition
Serving:
8
ounces
Calories:
78
kcal
Carbohydrates:
15
g
Protein:
3
g
Fat:
1
g
Saturated Fat:
0.1
g
Polyunsaturated Fat:
1
g
Monounsaturated Fat:
0.4
g
Trans Fat:
0.002
g
Cholesterol:
1
mg
Sodium:
95
mg
Potassium:
155
mg
Fiber:
3
g
Sugar:
10
g
Vitamin A:
23
IU
Vitamin C:
10
mg
Calcium:
114
mg
Iron:
0.3
mg