Our Strawberry Pineapple Smoothie is a delicious and easy breakfast that requires just 3 ingredients and 5 minutes to prepare. Enjoy sweet pineapple, frozen strawberries, and your favorite milk for an amazing start to your day!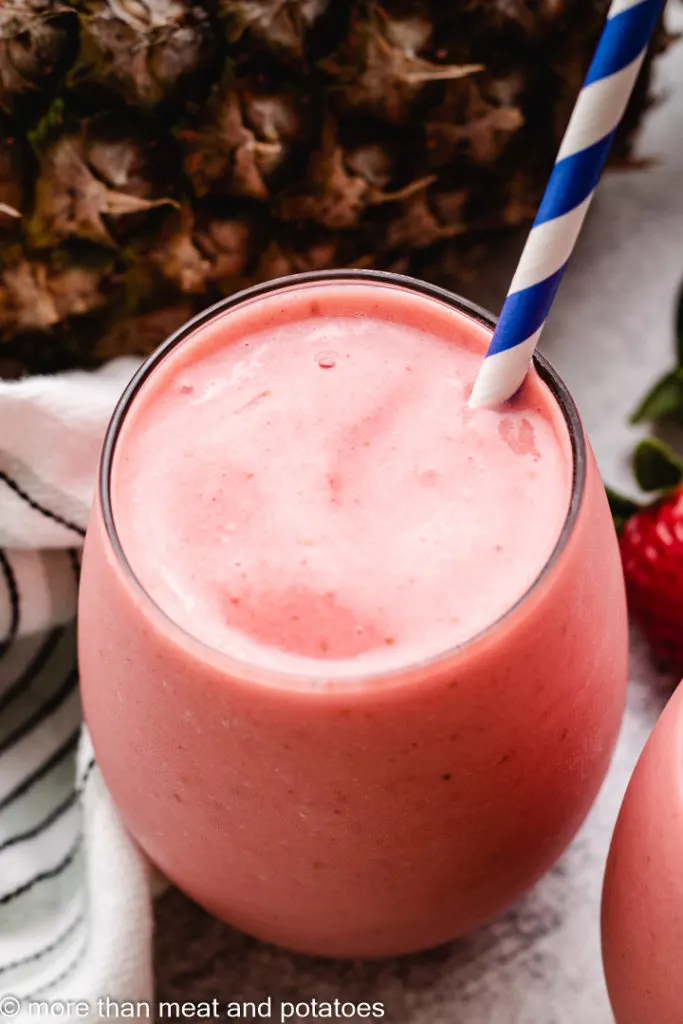 A breakfast smoothie is one of the easiest ways to pack in plenty of fruit and vegetables on busy mornings. Most only require a few ingredients, a blender, and you're all set.
Our strawberry pineapple smoothie combines the sweet taste of summer strawberries with the tropical flavor of pineapple for the ultimate fruit smoothie recipe.
This recipe requires only 3 ingredients and has a dairy-free option; plus, it doesn't contain yogurt or ice cream as the base.
Ingredients You'll Need:
The best smoothie recipe uses only a handful of simple ingredients. Then you can add more from there if desired.
Our easy strawberry pineapple smoothie is no different. Here's what you'll need.
Strawberries: You'll need about 2 ½ cups of frozen strawberries to make this a creamy and thick smoothie. We like to freeze fresh, whole strawberries for the best flavor.
Pineapples: Frozen pineapple chunks work best to create a creamy texture. You can cut fresh pineapple and freeze it if you like. You'll need 1 ½ cups.
Milk: Use your favorite variety of cow's milk or plant-based milk. Cashew milk, soy milk, coconut milk, and unsweetened almond milk all make great options. You'll need 1 to 1 ½ cups.
Honey: If you'd like to sweeten your smoothie, 1 tablespoon of honey does the trick. This is optional, so skip it if desired.
How to Make a Strawberry Pineapple Smoothie:
See the recipe card below for the ingredient amounts and full instructions.
​If you aren't a smoothie person, this recipe may just change your mind. It's customizable and so easy to make!
Start by placing the frozen fruit in a high-speed blender.
Add milk or use juice or almond milk for a vegan smoothie. (For an extra touch of sweetness, add some honey or agave nectar.)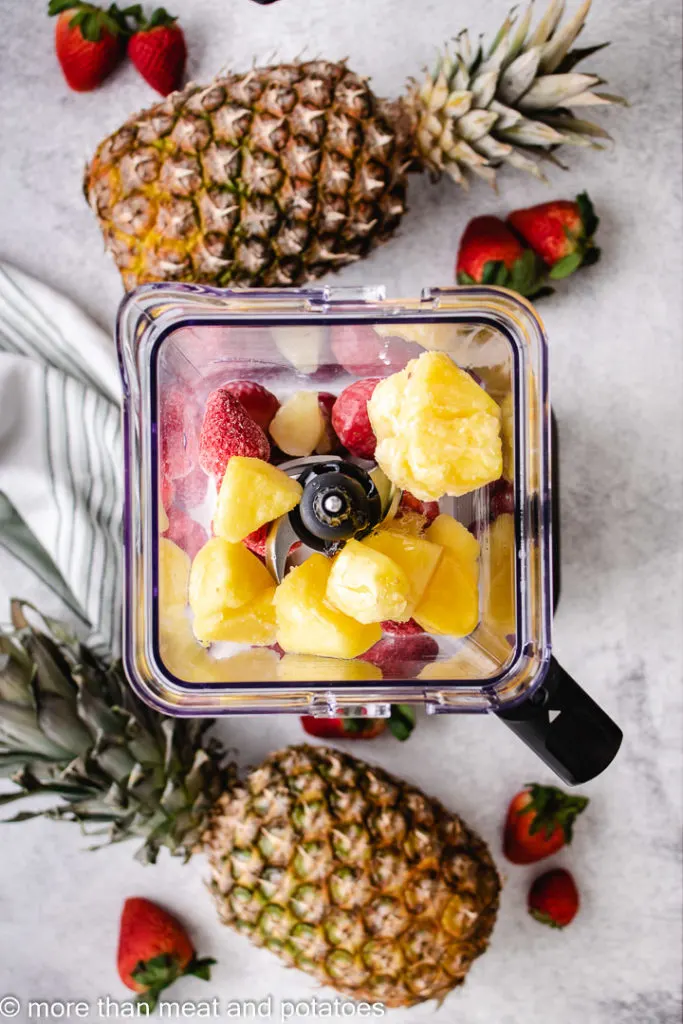 Blend until smooth and creamy, and add more liquid if necessary.
Pour into glasses and serve immediately.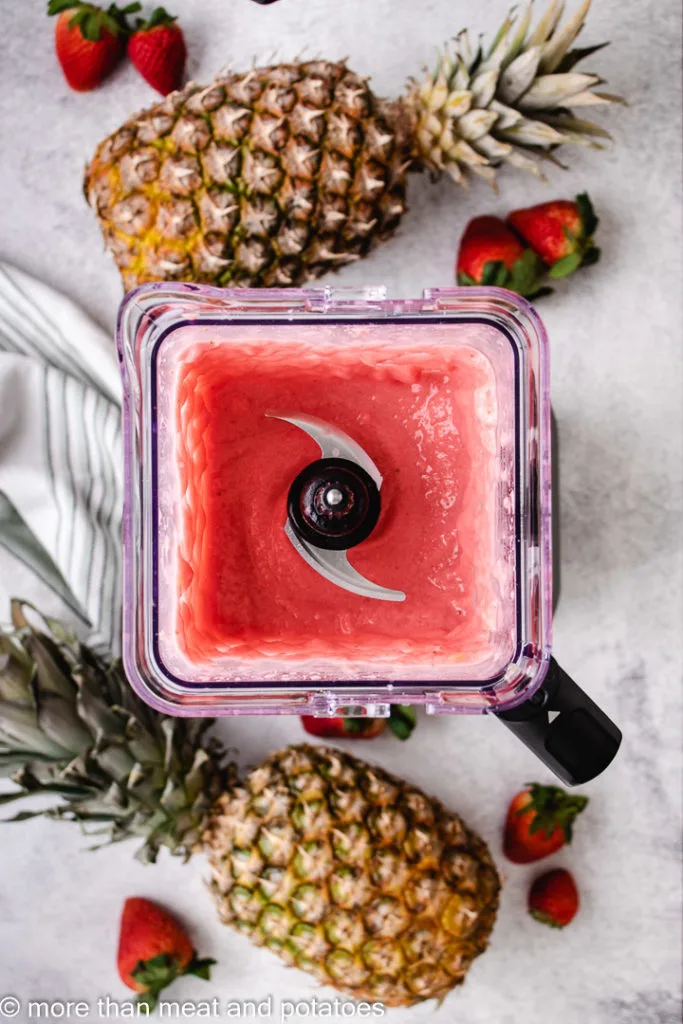 Smoothie Tips:
Use frozen fruits: Frozen fruits add a creamy and thick texture to smoothies, making them a great substitute for yogurt.
Choose ripe fruits: Opt for ripe, fresh strawberries and pineapple for maximum flavor.
Sweeten naturally: If you prefer a sweeter smoothie, you can add natural sweeteners such as honey, maple syrup, agave nectar, or Medjool dates. Adjust the amount to suit your taste.
Blend in stages: Start by blending the liquid base and creamy ingredients first, then add the frozen fruits gradually. This will ensure a smooth and well-mixed consistency.
Storage:
Refrigerator: Any leftover smoothie mixture may be stored in the fridge briefly to keep it cold. However, it will begin to melt and separate quickly.
Freezer: Pour the smoothie into an ice cube tray and freeze. Blend again later with a little milk or juice and enjoy or use in a smoothie bowl!
Can you use coconut milk in this smoothie?
Yes, you absolutely can use coconut milk. The carton/refrigerated variety works better than the canned variety, but both will work.
If you use the canned variety, you may need to add some other thin liquid like juice or milk to help process the ingredients.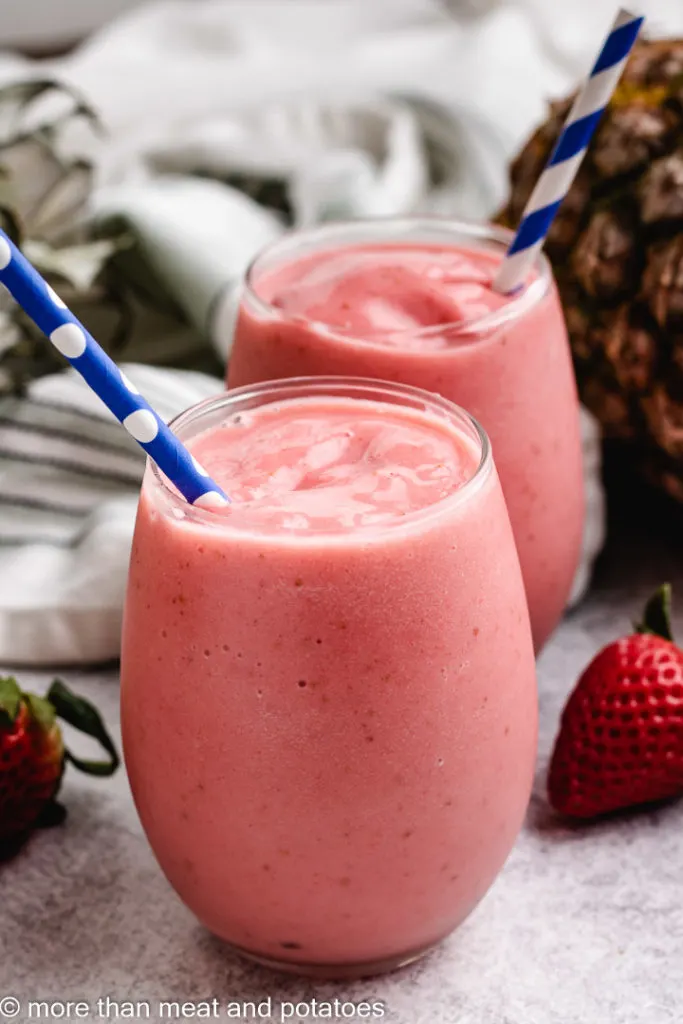 Can you add other fruits to the smoothie?
Absolutely! Mango or banana are a couple of options that come to mind.
Either reduce the amount of strawberries and pineapple in the recipe and replace them with another fruit or add more liquid to compensate for the extra fruit.
What kind of juice is used in the smoothie?
Use whatever kind you like or have on hand. Pineapple juice is a great choice, as is orange juice. Coconut water would work in a pinch if you don't mind a little coconut flavor added to the smoothie.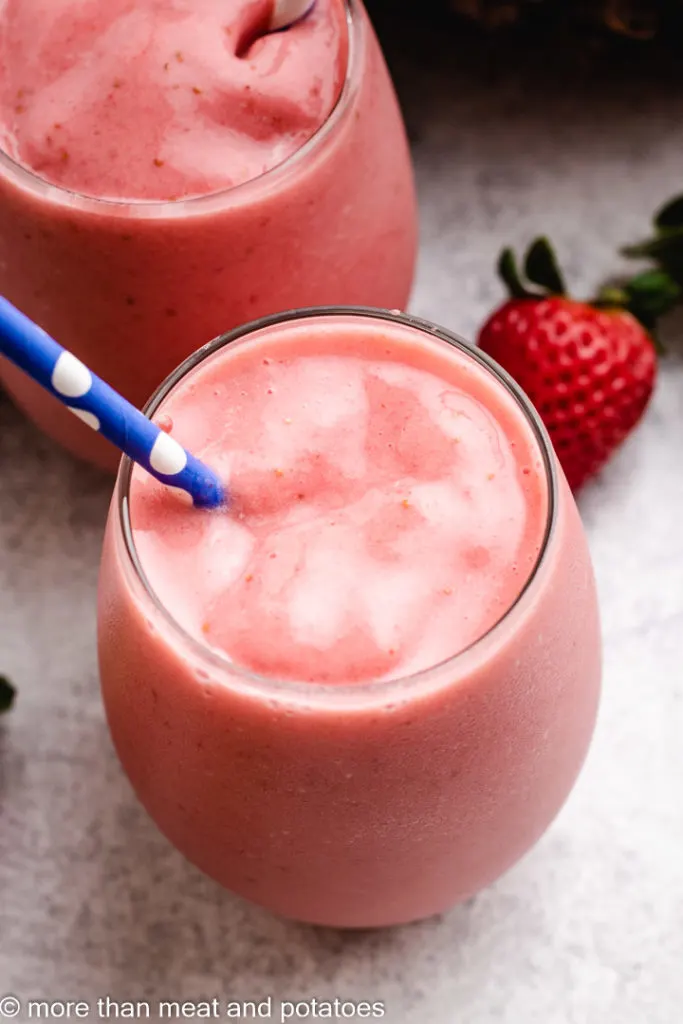 Can you add yogurt to this pineapple strawberry smoothie?
Sure! Yogurt is a great way to make this smoothie creamy while adding protein. Greek yogurt adds a ton of protein but has a strong flavor.
Plain yogurt makes a good choice but has less protein than Greek yogurt. Vanilla yogurt is good but may have an "off" flavor in the smoothie. Use your favorite!
What can you do with any leftover smoothie?
You can freeze it and blend up it later to use in a delicious strawberry pineapple smoothie bowl. Customize your smoothie bowl by adding extras like chia seeds, flaxseeds, hemp seeds, or protein powder to boost the nutritional content.
Or, add ingredients like a ripe banana, fresh berries, or a spoonful of nut butter (such as almond butter or peanut butter) to the top for extra flavor and texture.
Other smoothie recipes you may enjoy: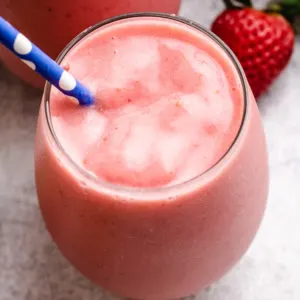 Best Strawberry Pineapple Smoothie Recipe (without Yogurt)
Print
Pin
I earn a commission from Amazon and Instacart from qualifying purchases.
Ingredients
2 ½

cups

strawberries

,

frozen

1 ½

cups

pineapple

,

frozen

1 to 1 ½

cups

milk

,

or juice

1

tablespoon(s)

honey

,

optional
Instructions
Place all ingredients in the blender. Process until smooth.

2 ½ cups strawberries

1 ½ cups pineapple

1 to 1 ½ cups milk

1 tablespoon(s) honey

Pour into glasses and serve immediately.
Notes
*The calories listed are an approximation based on the ingredients in the recipe card and a serving size of one 12-ounce smoothie. Actual calories will vary.
*For more information, tips, and answers to frequently asked questions, please refer to the post.
Nutrition
Serving:
12
Ounces
|
Calories:
293
kcal
|
Carbohydrates:
54
g
|
Protein:
8
g
|
Fat:
7
g
|
Saturated Fat:
3
g
|
Polyunsaturated Fat:
1
g
|
Monounsaturated Fat:
1
g
|
Cholesterol:
22
mg
|
Sodium:
75
mg
|
Potassium:
785
mg
|
Fiber:
4
g
|
Sugar:
44
g
|
Vitamin A:
327
IU
|
Vitamin C:
124
mg
|
Calcium:
278
mg
|
Iron:
1
mg