Italian Marinated Grilled Chicken is tender, juicy grilled chicken breasts marinated in a homemade Italian herb and red pepper vinaigrette. It's perfect for your next grilling session.
Grilling season will soon be upon us and we can't wait! Warmer temperatures and meals enjoyed outdoors in the sunshine.
Of course, if you just can't wait, then break out a flat iron grill or griddle and try this recipe as soon as you get the chance.
I've been making this Italian Marinated Grilled Chicken for years alongside my Greek yogurt marinated chicken and Greek chicken pasta salad. This one's still my favorite recipe for grilled chicken served with a side of our roasted brussel sprouts.
Best of all, it's a homemade marinade. Which means, I don't get stuck using a store-bought marinade loaded with additives and sugar.
So, if you're looking to step up your grilling game and cut back on the sucrose, then this recipe is for you!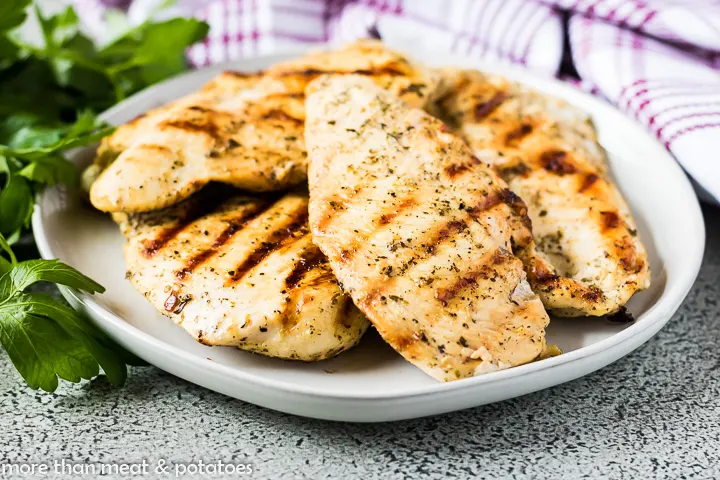 How to make the Italian marinade:
First things first, grab a large mixing bowl or large measuring cup and a whisk.
Next, use a whisk to blend the following ingredients: extra virgin olive oil, white wine vinegar, dried oregano, dried basil, garlic powder, freshly squeezed lemon juice, onion powder, salt, pepper, and red pepper flakes.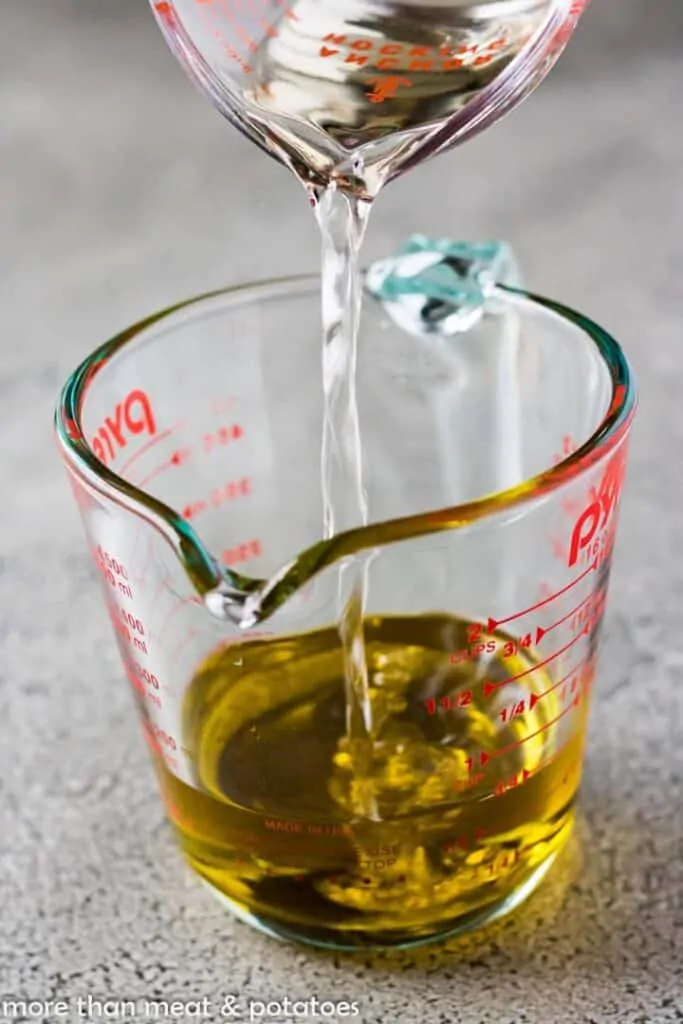 If that flavor combination sounds familiar to you, then you probably already realized that you're making a modified Italian dressing.
That's right, we're going to marinate the chicken in this dressing before we grill it. The combination of ingredients will flavor the meat nicely.
Once the marinade is done, it's time to prep the chicken breast. If you'd like to try a sweeter homemade marinade, then give our honey vinaigrette a try!
For another great Italian inspired marinade, check out this balsamic marinade.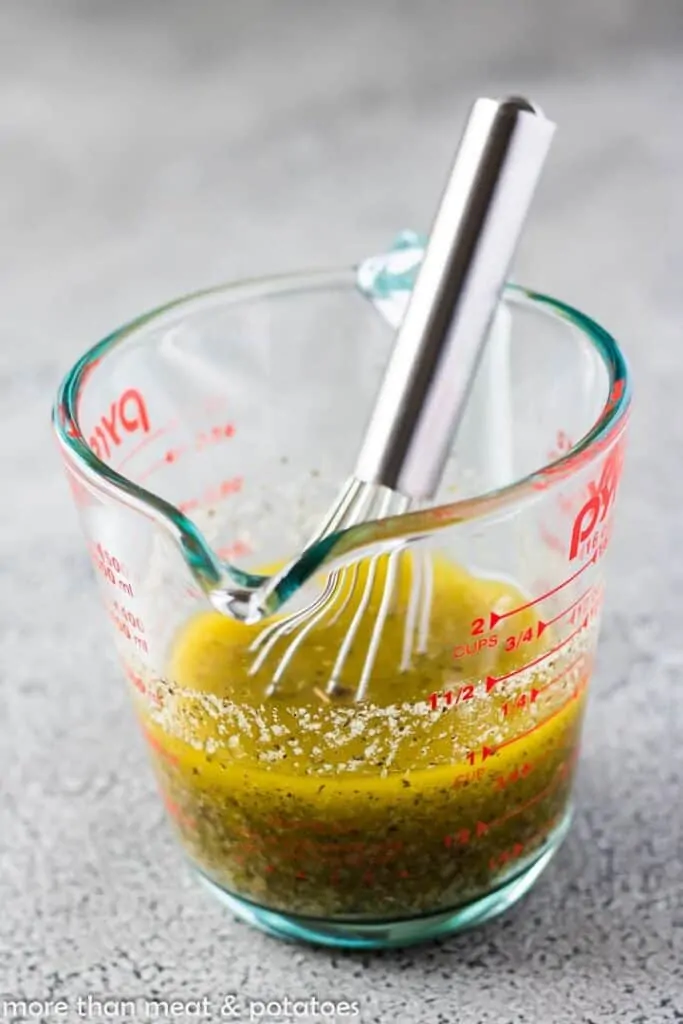 How to marinate the chicken:
I recommend using a zip-top freezer bag or container (with lid) deep enough to submerge the chicken in the Italian dressing marinade.
But, first things first, you need to trim away any fat from the chicken breasts. After that, pound them out with a meat mallet or slice them into thin cutlets.
This will help the chicken cook faster on the grill. Nothing is worse than an overcooked, dry chicken breast.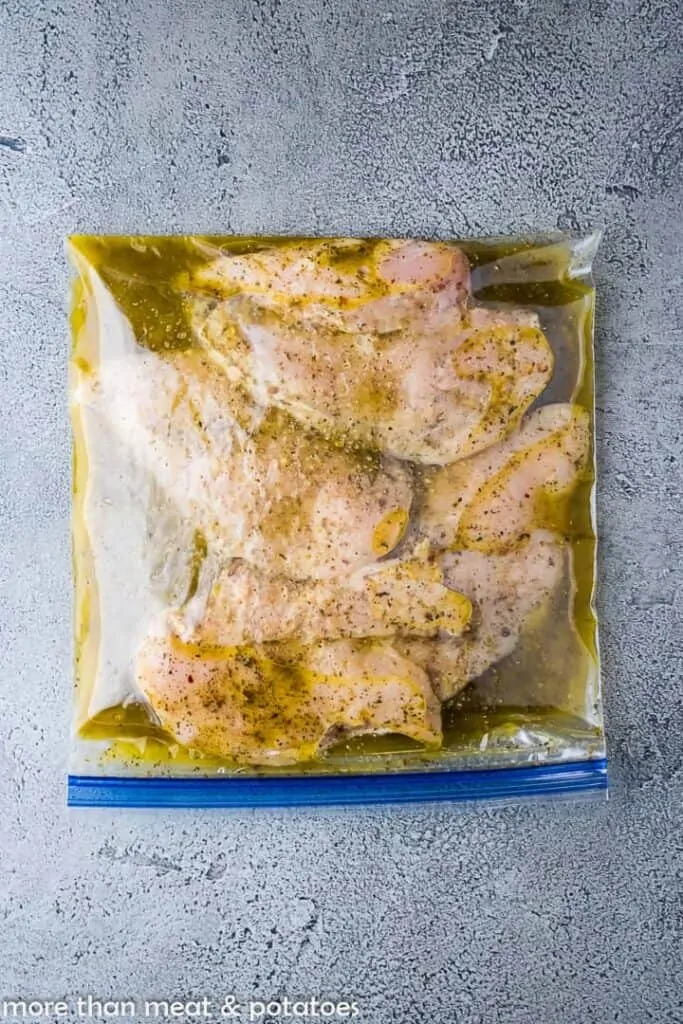 Okay, moving on, once the chicken is prepared, place it into the bag or bowl and pour the marinade over the meat.
Make sure to cover the breasts with as much marinade as possible. You can even seal the bag and massage the meat with your fingers to push the dressing into all the crevices.
Now, place the chicken into your fridge for at least thirty minutes. Personally, I don't marinate chicken for more than an hour. Otherwise, I feel, it changes the texture of the meat.
How to make Italian marinated grilled chicken:
About ten minutes before you pull the chicken from the fridge, preheat your grill or griddle over low to medium-low heat. Brush it lightly with oil.
Once the grill is nice and hot, you can remove the meat from your fridge and transfer the chicken to the grill.
Go ahead and drain away any excess marinade before placing the meat onto the hot griddle. Also, discard the leftover dressing, it's not safe to consume.
Last, let the chicken grill for about six to eight minutes on each side depending upon the thickness of the breasts. Meaning the thinner they are, the less they need to cook.
Remove the chicken from the grill and let it rest for few minutes before serving. If you're looking for a possible side dish, then check our oven roasted carrots, roasted potatoes or coconut rice.
Tips for Italian Marinated Grilled Chicken:
Whisking can be troublesome, especially when comes to combining oil and vinegar. So, for this recipe, use a blender to combine the marinade.
If you decide to use a store-bought Italian dressing, try to purchase a brand with a low-sugar content. Because when sugar is cooked at high temperatures, it caramelizes and can burn easily! Not the best flavor to pair with chicken.
Some people prefer baked boneless skinless chicken breast. You can use this marinade on baked chicken as well.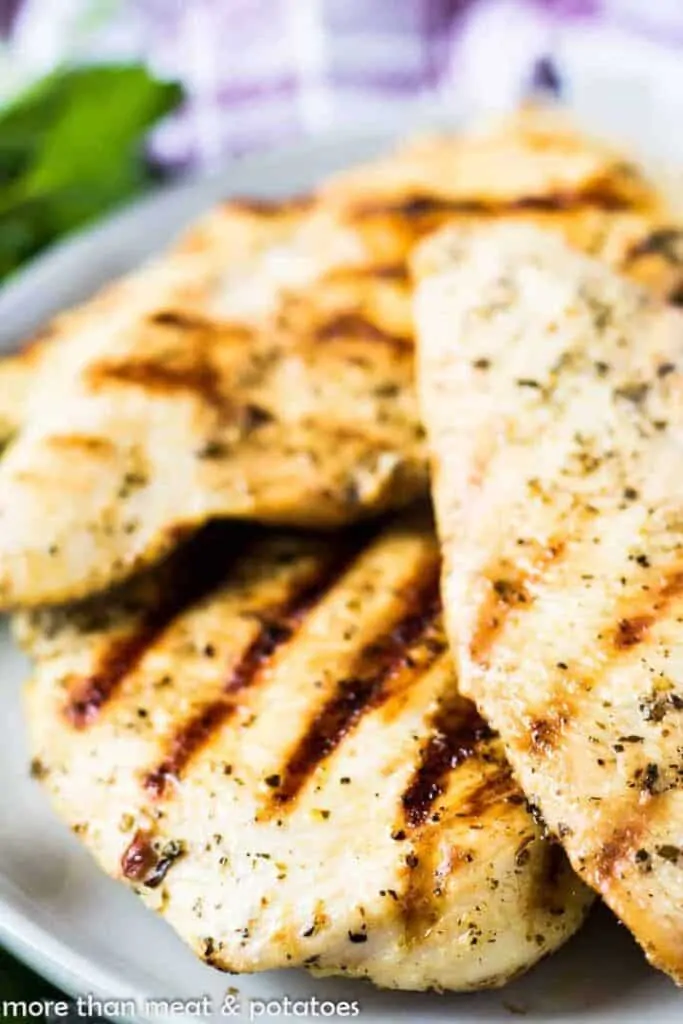 Why does my chicken dry out?
Chicken can dry out quickly while cooking. Many people are justifiably concerned when it comes poultry and over cook it.
However, all you need is a meat thermometer and a little knowledge to avoid this issue.
Typically, to keep cuts of meat juicy, you want to sear the surface of the meat.
For example, a lot roast recipes say to cook the roast, on all sides, in hot pan before you place it into the oven. This done to keep the juices in the meat.
In layman's terms, you create a thin seal of cooked meat around the whole cut.
Thus, keeping all those tasty juices inside the cut of beef, pork, or whatever you're cooking.
How long do you cook chicken breast?
That question can have many answers because of all the variables like size, thickness, fat content, etc.
With that being said, as long as the internal temperature (at the thickest point) is 165°F., it is considered done. That's why I say you should buy a meat thermometer.
The FDA has posted the minimum safe cooking temperatures and guidelines for cooking meat.
They even have a downloadable chart that you can print and keep on your fridge.
Why should I preheat my grill?
You want the grilling surface to be hot when the cold chicken comes into contact with it.
If not, a number of things can happen. One, the meat will not properly sear and can dry out during the cooking process.
Two, cold meat will cool a cooking surface faster than you think and you don't want that to happen.
Again, because the meat won't properly cook.
Other Chicken Recipes to Try: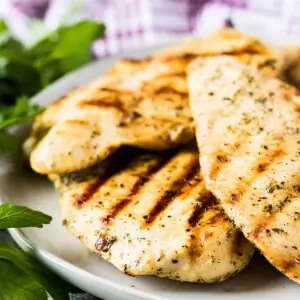 Italian Marinated Grilled Chicken
Print
Pin
I earn a commission from Amazon and Instacart from qualifying purchases.
Ingredients
For the Dressing
¾

cup(s)

olive oil

¼

cup(s)

white wine vinegar

1

teaspoon(s)

oregano

,

dried

1

teaspoon(s)

basil

,

dried

1

teaspoon(s)

garlic powder

1

teaspoon(s)

lemon juice

,

freshly squeezed

½

teaspoon(s)

onion powder

½

teaspoon(s)

kosher salt

¼

teaspoon(s)

ground black pepper

¼

teaspoon(s)

red pepper flakes
For the Chicken
1

pound(s)

chicken breasts

,

boneless skinless, thinly sliced
Instructions
In a bowl, large measuring cup, or jar combine the ingredients for the dressing until well mixed. Set aside.

¾ cup(s) olive oil

¼ cup(s) white wine vinegar

1 teaspoon(s) oregano

1 teaspoon(s) basil

1 teaspoon(s) garlic powder

1 teaspoon(s) lemon juice

½ teaspoon(s) onion powder

½ teaspoon(s) kosher salt

¼ teaspoon(s) ground black pepper

¼ teaspoon(s) red pepper flakes

Place the chicken breasts into a gallon-sized, plastic zip bag then pour in the Italian dressing. Press out as much of the air as possible and zip the bag closed.

1 pound(s) chicken breasts

Transfer the bag to the refrigerator and allow the chicken to marinate for 1 hour. When the chicken is almost finished marinating, preheat a griddle or cast-iron pan over low-medium heat and grease it very lightly with cooking oil.

Use tongs to remove the chicken from the bag and place the it on the hot pan, then discard the dressing. Cook the chicken for 7 to 8 minutes on each side or until the juices run clear.

Transfer the cooked chicken to a waiting plate to rest for 5 to 10 minutes before serving.
Notes
*The calories listed are an approximation based on the ingredients in the recipe card and a serving size of 1 chicken breast. Actual calories will vary.
*Note: the calorie count is high because you will be discarding the bulk of the marinade.
*For more information, tips, and answers to frequently asked questions, please refer to the post.
Nutrition
Serving:
1
chicken breast
|
Calories:
496
kcal
|
Carbohydrates:
1
g
|
Protein:
24
g
|
Fat:
43
g
|
Saturated Fat:
6
g
|
Polyunsaturated Fat:
5
g
|
Monounsaturated Fat:
30
g
|
Trans Fat:
0.01
g
|
Cholesterol:
73
mg
|
Sodium:
427
mg
|
Potassium:
449
mg
|
Fiber:
0.4
g
|
Sugar:
0.1
g
|
Vitamin A:
82
IU
|
Vitamin C:
2
mg
|
Calcium:
18
mg
|
Iron:
1
mg