*This post may contain affiliate links. As Amazon Associates we earn from qualifying purchases.
Homemade vegetable soup is one of the best comfort foods around! It's full of potatoes, carrots, celery, onions, tomatoes, and your choice of frozen veggies. This soup is pure comfort in a bowl.
Cold winter days call for warm, hearty meals like chili, beef stew, and this easy to make homemade vegetable soup. They fill you up, and keep you warm from the inside out for hours.
The great thing about vegetable soup is that it's versatile, so you can add your favorite veggies and leave out the ones you don't like. It doesn't take any time at all to cook either, so you can go from prep to table in about 30 to 45 minutes.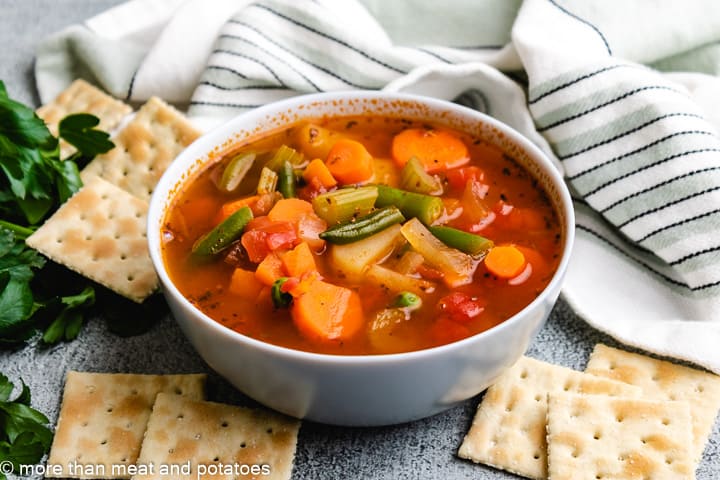 How to make homemade vegetable soup:
Start by prepping all the ingredients, but leave the frozen vegetables in the freezer until the very end. Heat a large pan or soup pot over medium heat.
Add the oil, carrots, and celery. Cook for 3 to 4 minutes until the onion begins to soften.
(You can add the garlic, salt, pepper, and Italian seasonings next, and cook them for 30 seconds to a minute. Normally, that's what I would do, but I got distracted while taking the photos and shooting the videos, so they didn't go in until later. That's how I wrote the recipe, too, so everything matched.)
Next, add the potatoes, tomatoes, Italian seasonings, salt, and pepper. Then, add the broth.
Stir the ingredients to combine, and bring the soup to a boil. After the soup begins to boil, reduce it to a simmer.
Continue to cook the vegetable soup at a simmer for about 20 to 30 minutes or until the potatoes are tender and cooked to the desired doneness.
After the potatoes become fork tender, pour in the frozen vegetables. This will bring down the temperature of the soup considerably.
Stir to combine, and allow the soup to come to a simmer again. Cook for 3 to 4 minutes until the frozen vegetables are warmed through.
Serve hot with crackers, buttered bread, or cornbread.
If you like our recipe, please leave us a comment and rate the recipe card. You can also find us on Facebook, Pinterest, Twitter and Instagram searching for More Than Meat and Potatoes!
Join our Facebook group for more recipes from Meat and Potatoes and our sister site, Berly's Kitchen.