A stove-top beef stew with tomato sauce recipe using whole ingredients and tomato sauce to create a hearty and filling Winter meal.
It's snowing today! I realize you probably didn't need to know that, but hear me out.
What's the best dish to serve on a cold, snowy day? Beef stew, of course! Or maybe a nice bowl of easy tomato basil soup, beef and tomato casserole, hamburger potato casserole, or stovetop chili.
Today we're not talking about soup, though. We're talking about this awesome beef stew!
Now, if all you've ever had are canned varieties, then you might disagree. However, my stove-top beef stew is something special.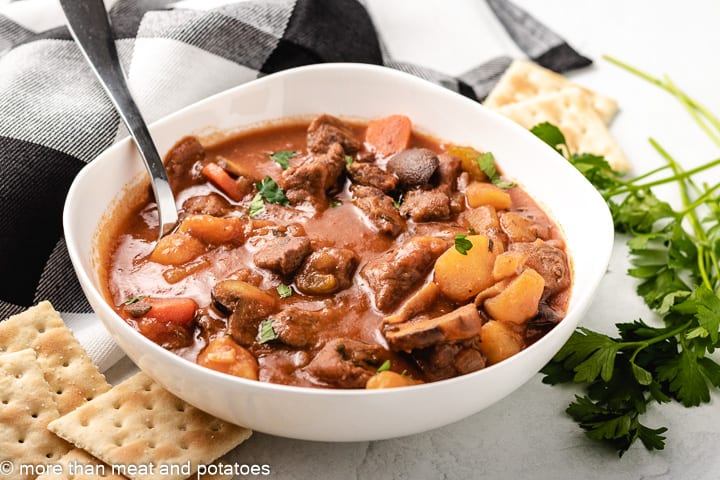 This recipe uses seasoned beef, carrots, celery, and onions for the base. Also, I added fresh herbs to highlight all those mouthwatering flavors.
Then, the stew is slow simmered with tomato sauce to create a delicious broth.
Oh, did I mention it's done in just over an hour? That's not a long cook time.
So, the next time your weather forecaster calls for a snowy day, I encourage you prepare this tasty Winter dish. (Consider pairing this stew with our cheddar chive scones.)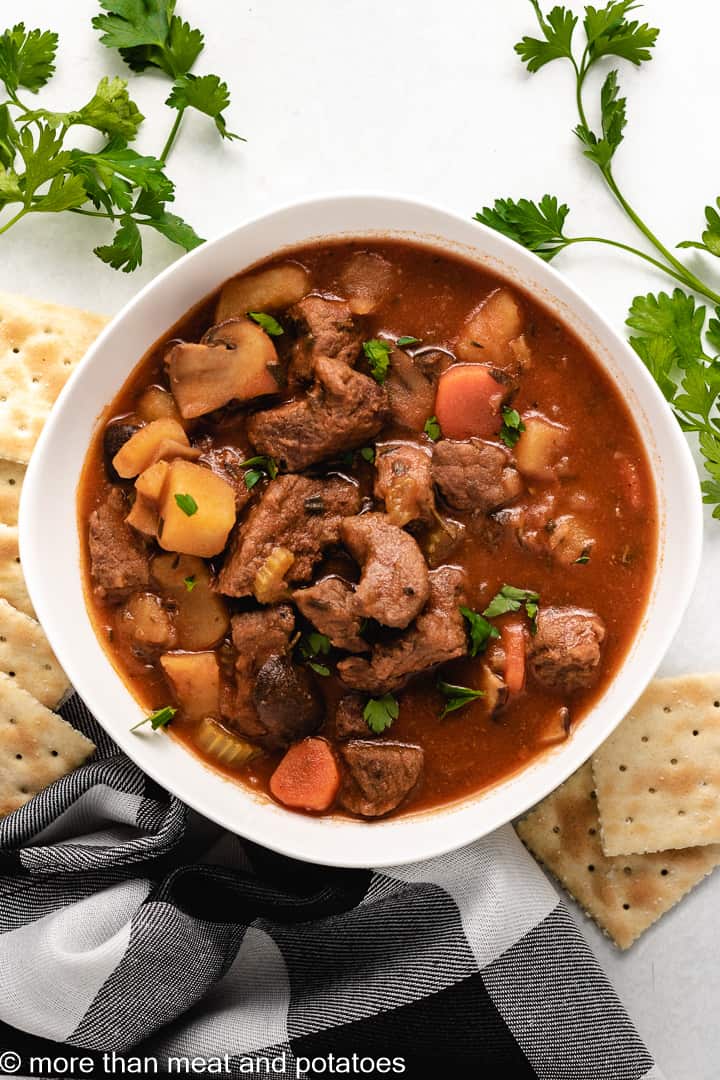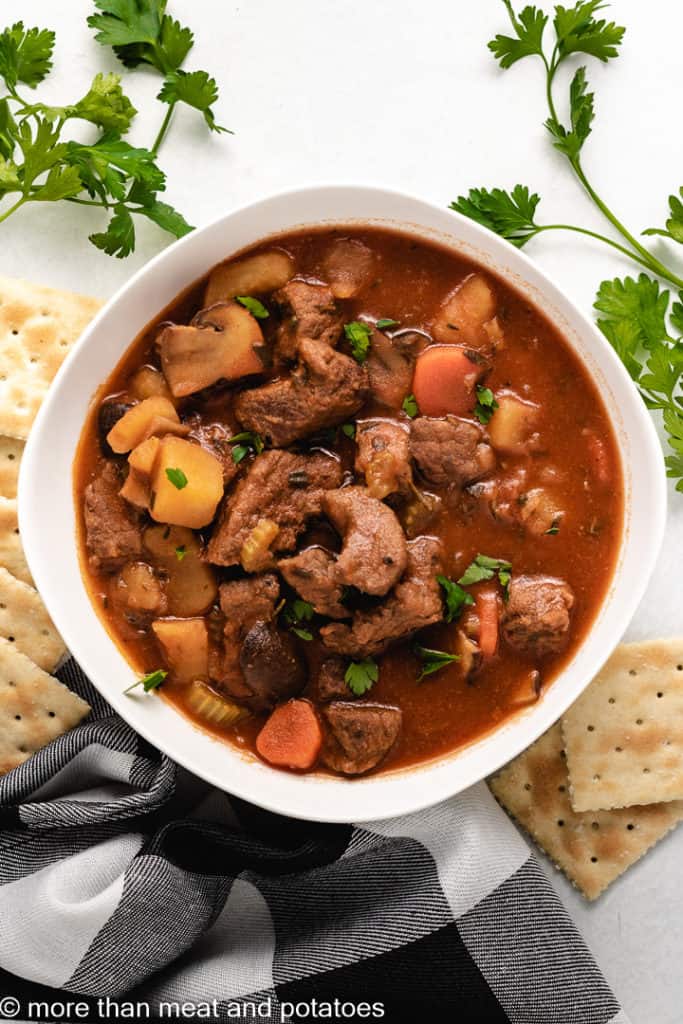 How to make beef stew with tomato sauce?
First, start by placing a large saucepan or stock pot over medium heat and pour in the oil.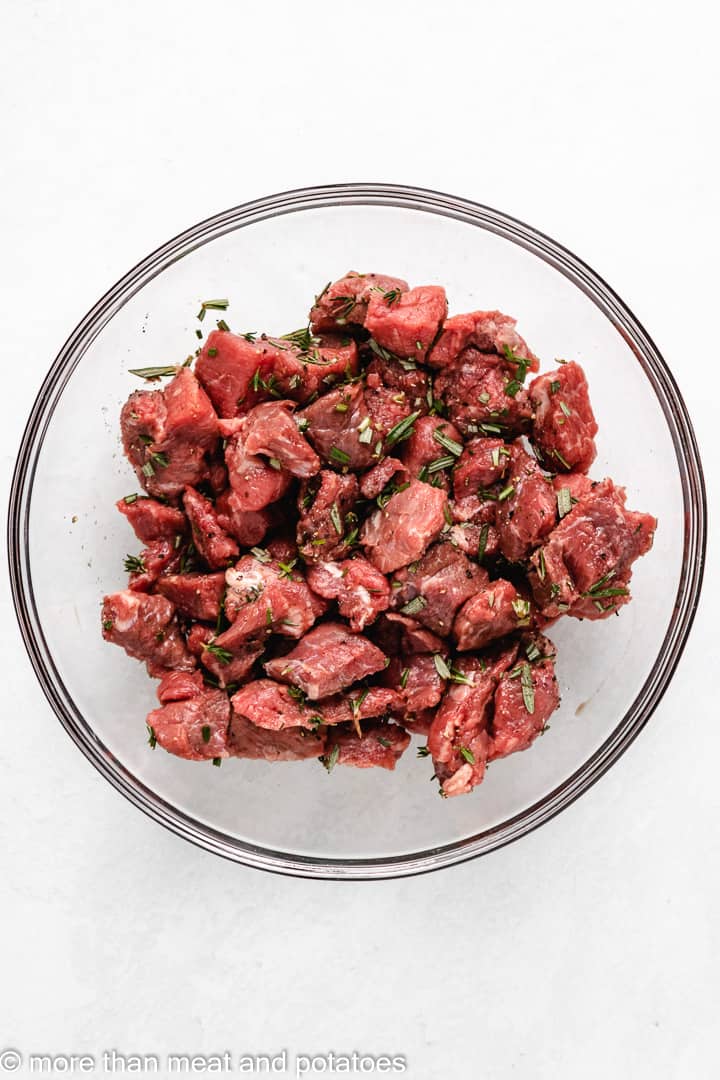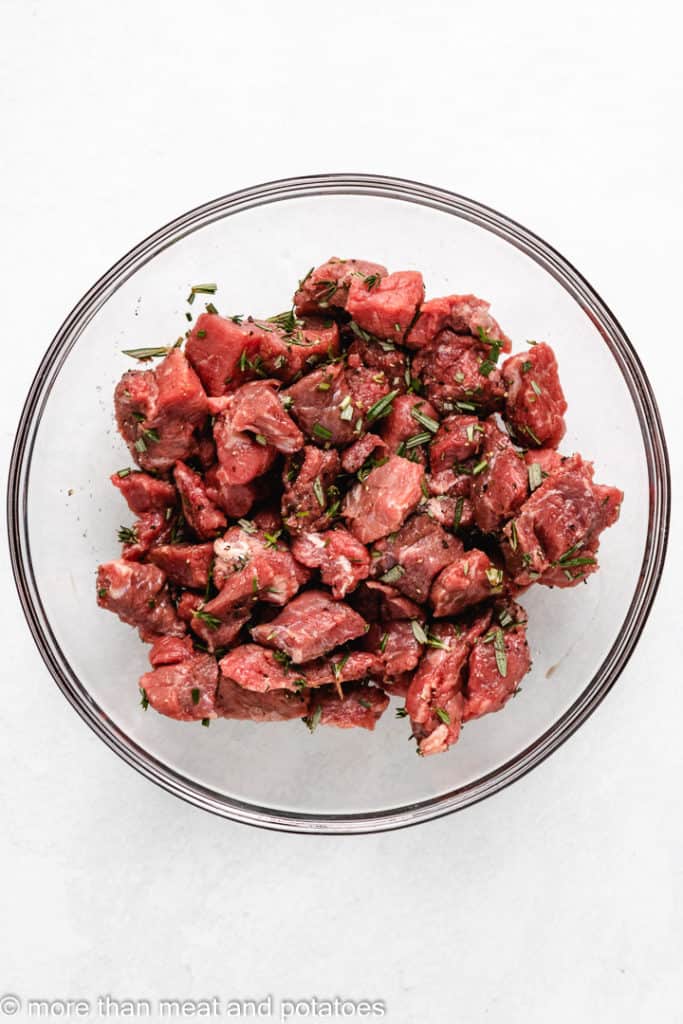 While the oil heats, toss the cubed beef with salt, fresh rosemary, fresh, thyme, and pepper.
Afterward, add the seasoned meat to the pot. Let it sear for 1-2 minutes on each side.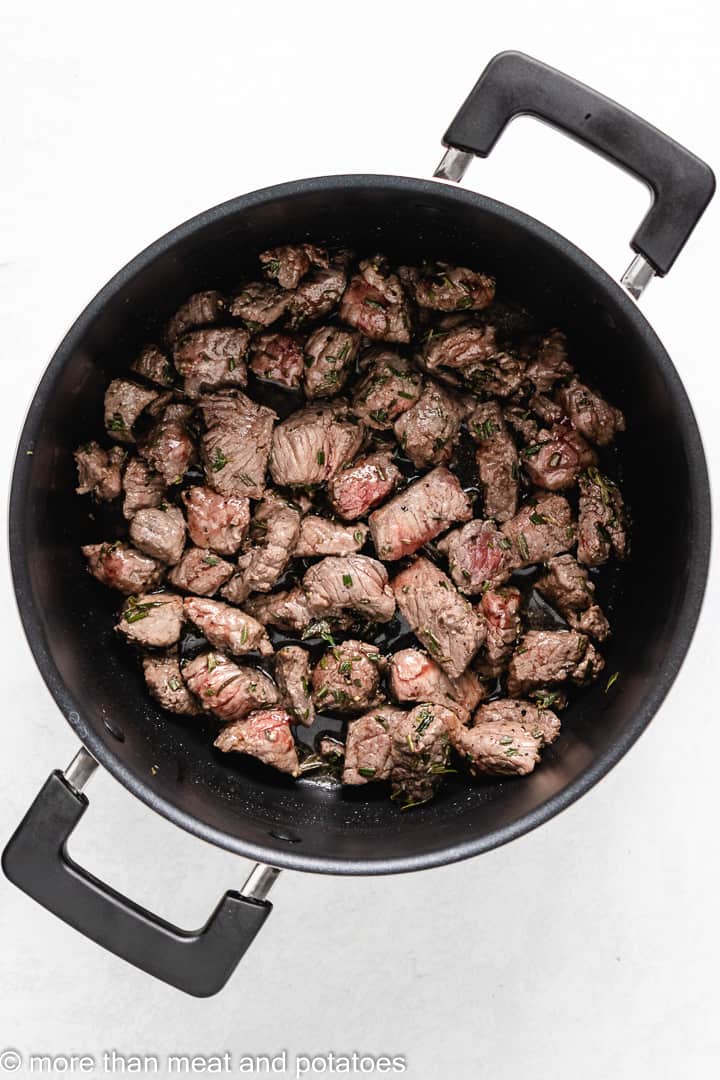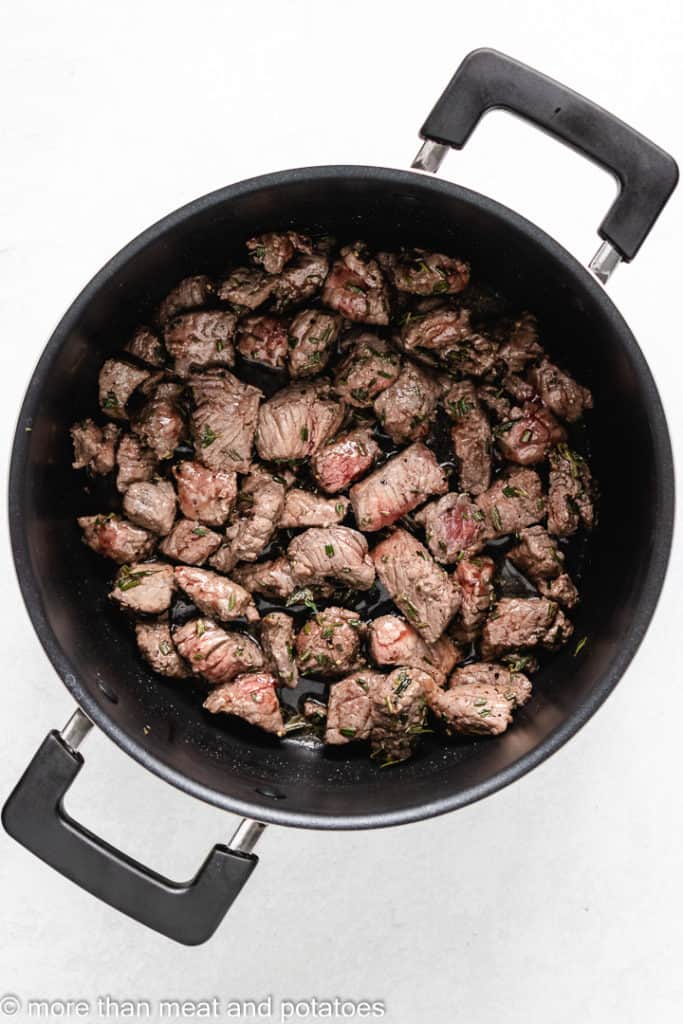 Doing so, will lock in the natural juices and keep the beef moist and tender.
Next, sprinkle the meat with all-purpose flour and stir the mixture to coat the beef.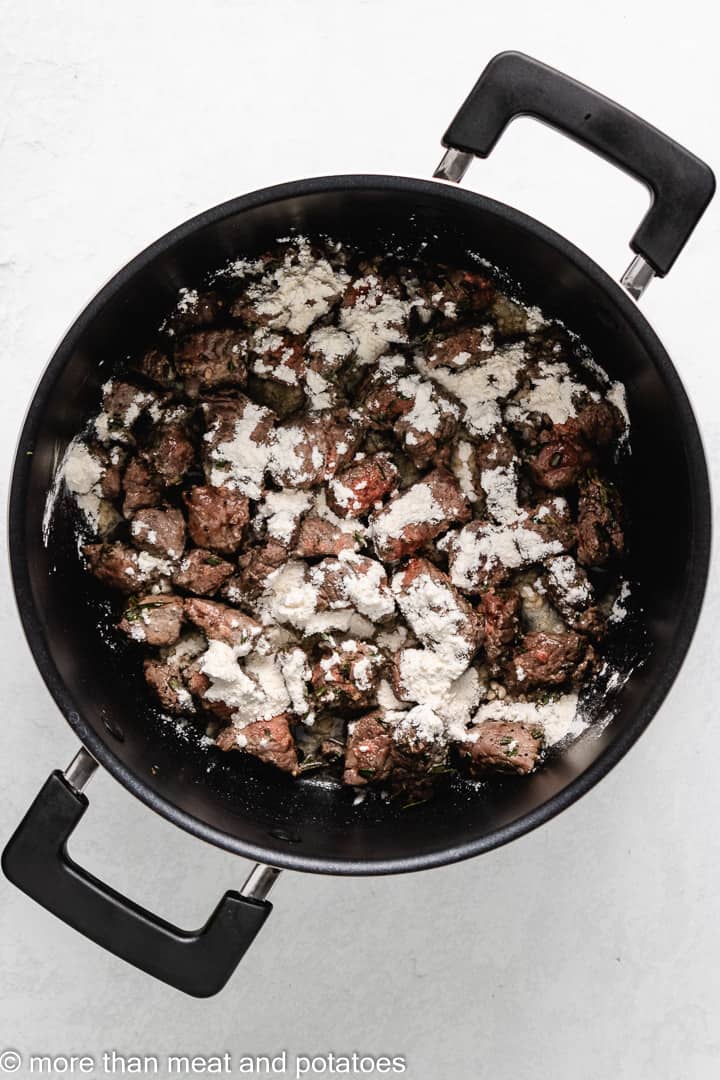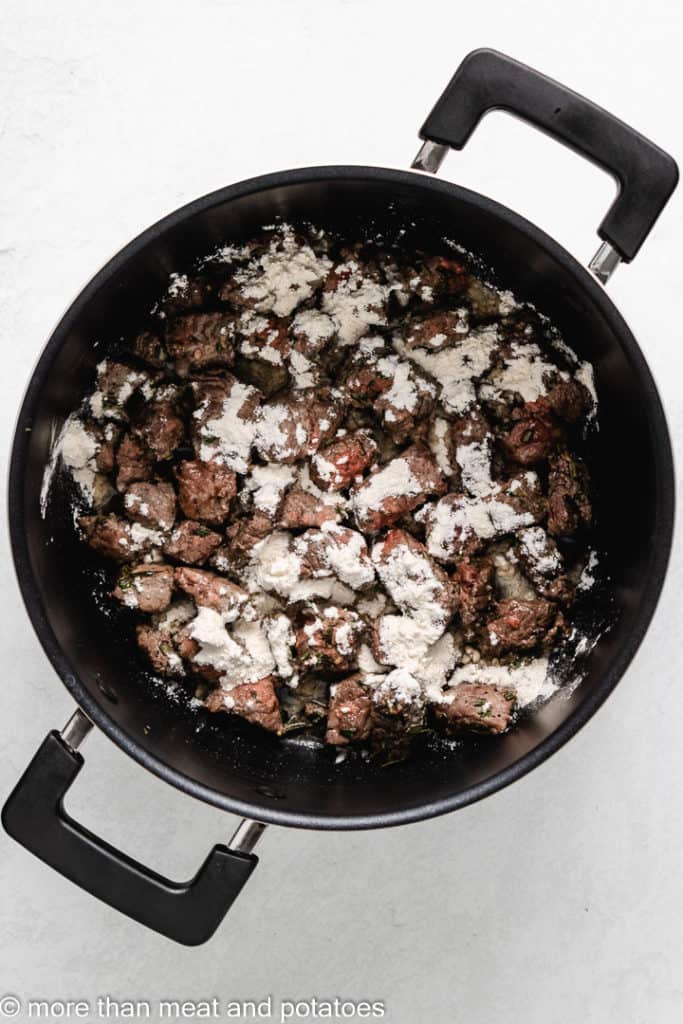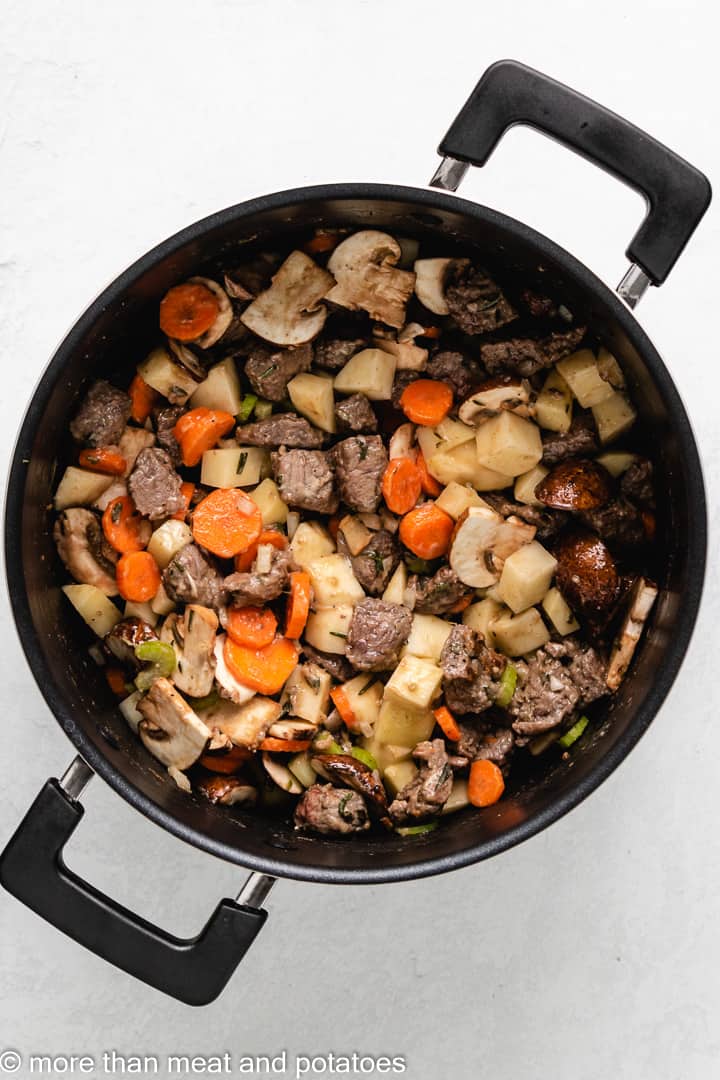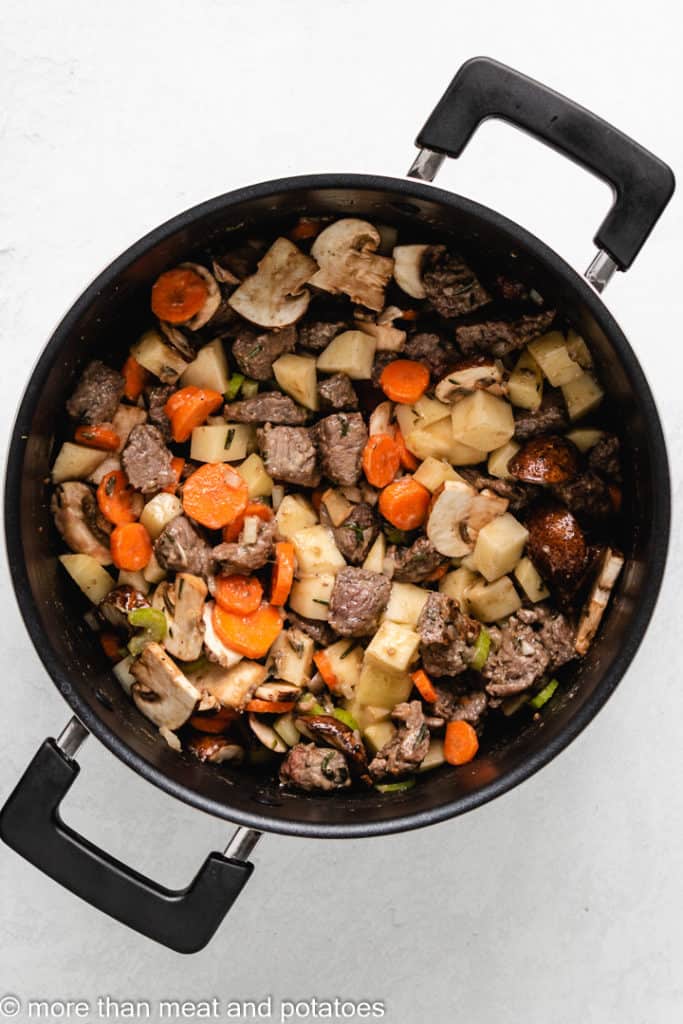 After that, stir the mixture and bring it to a simmer. Reduce the heat if needed and let the it simmer for 30-35 minutes.
Once the potatoes are tender and broth has reached your desired consistency, turn off the heat.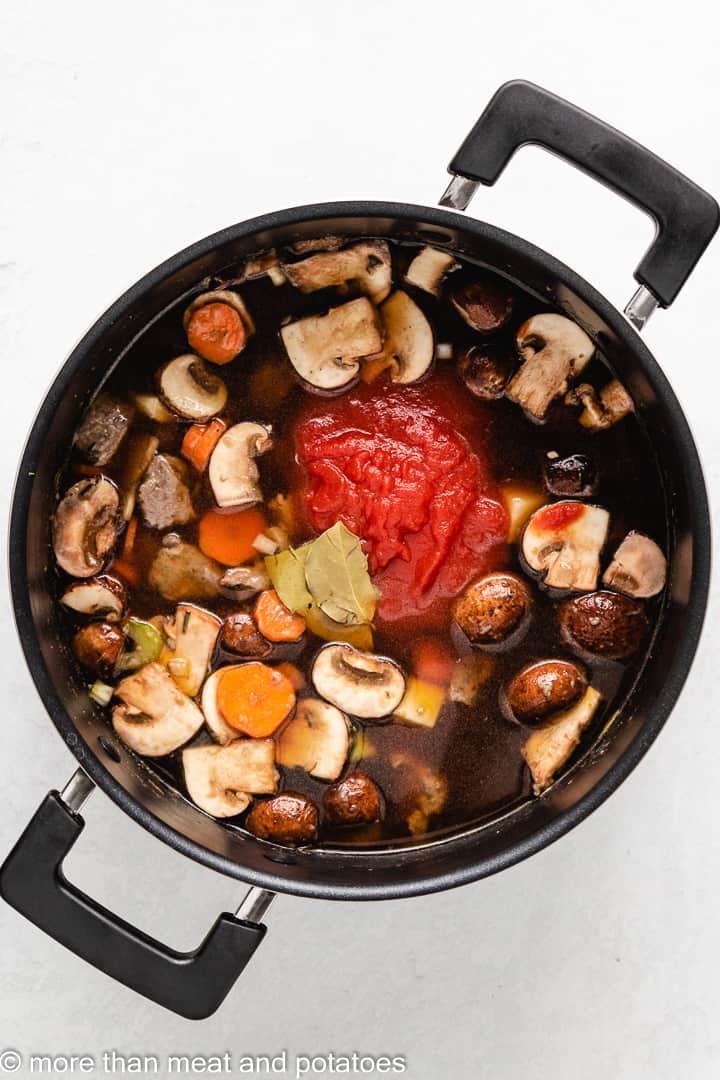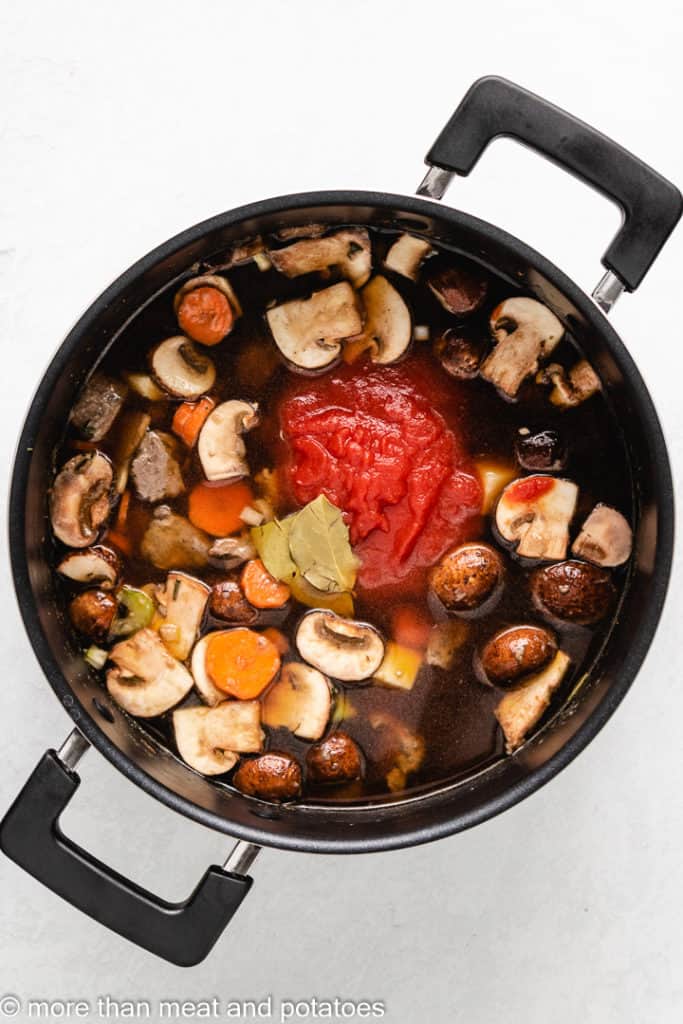 Last, remove the bay leaves, complete a taste test, and add salt and pepper if needed.
Serve the stew while it hot's and store any leftovers in a sealed container, in your fridge (for up to 3 days).
That's it, your homemade beef stew with tomato sauce is done! Kim and I hope you enjoy it and wish you all the best 🙂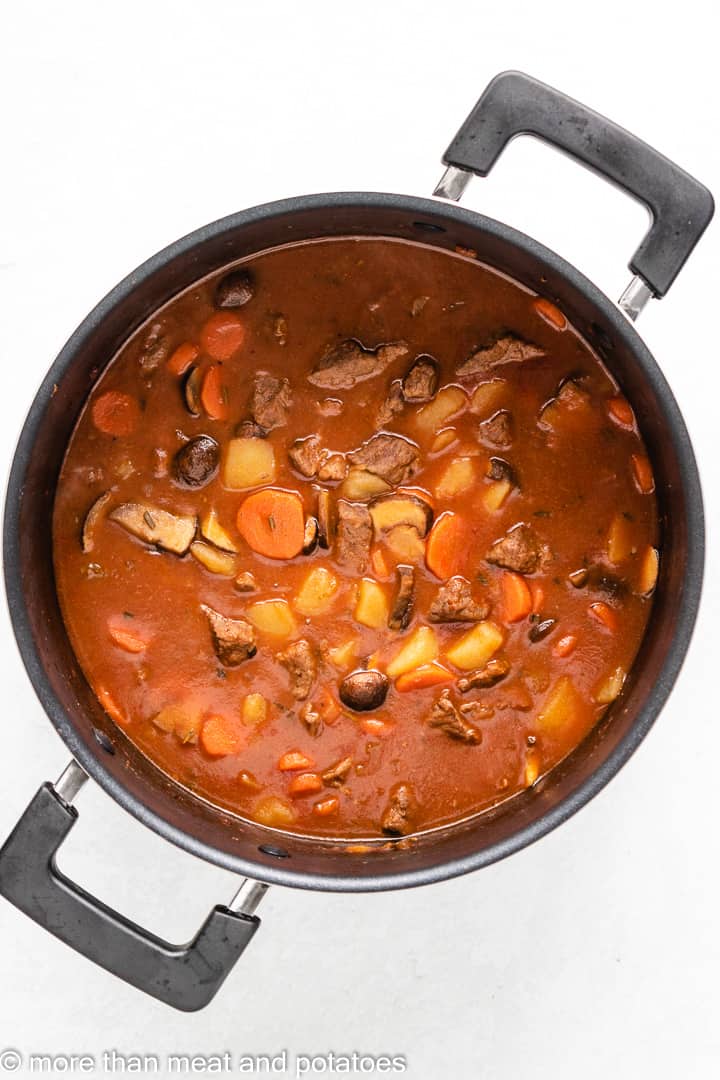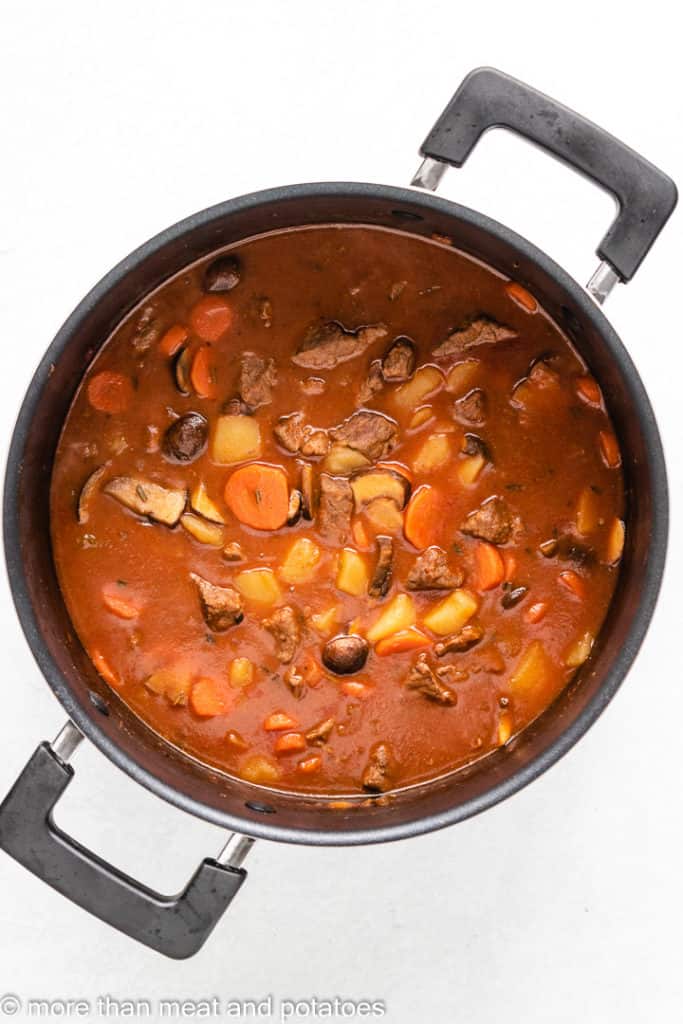 Recipe Tips
Personally, I like to use sirloin for this recipe. That particular cut provides a good flavor for it's price.
If too much liquid evaporates during the simmering stage, feel free to add more beef broth. The liquid level needs to remain above the meat and veggies.
You can always use red wine to deglaze the pot after the meat has seared. Doing so, will add a ton of flavor.
Two tablespoons of tomato paste can be substituted in place of the tomato sauce. Just be sure to add a little extra beef broth.
How do you stop tomato taste in stew?
Easy, don't use tomato paste or tomato sauce. Simply omit the tomato based ingredient(s) from the recipe.
What can I add to my beef stew for flavor?
If you're making homemade beef stew, then red wine works beautifully when it's used to de-glaze the stock pot or saucepan.
However, if you're eating processed (store-bought) stew, then consider adding a few spices like thyme, oregano, and/or white pepper to the stew as it's heating.
Does beef stew need tomato paste?
Technically, no. Tomato based products can be omitted from your beef stew recipe. Just keep in mind that tomatoes add an acidic flavor to the dish.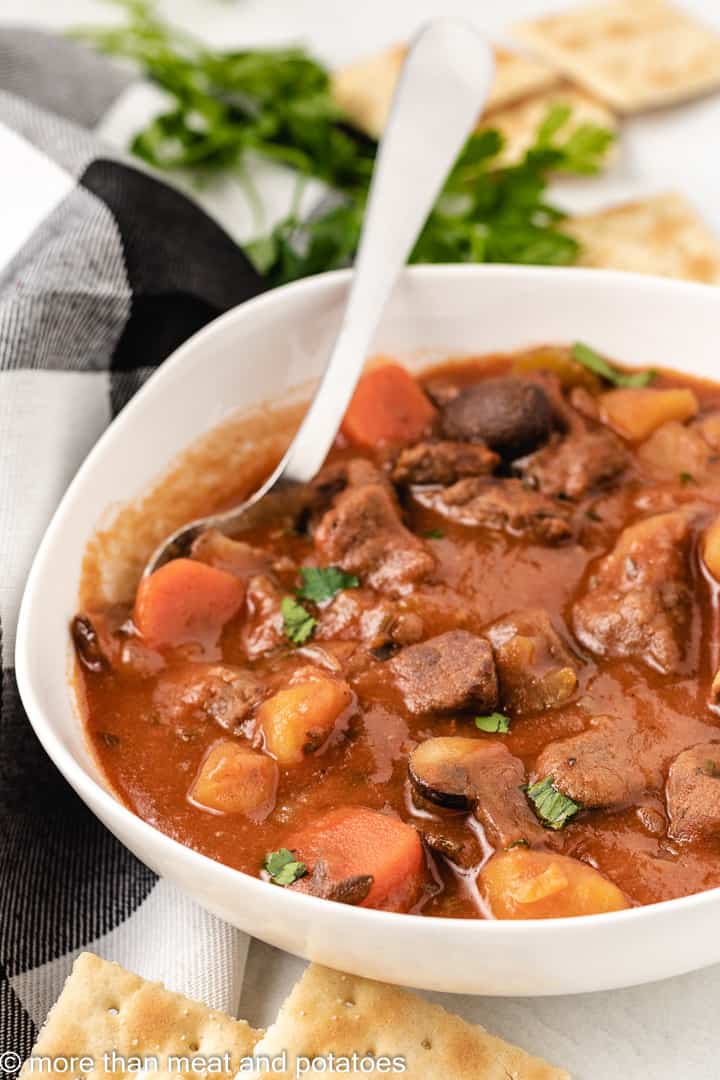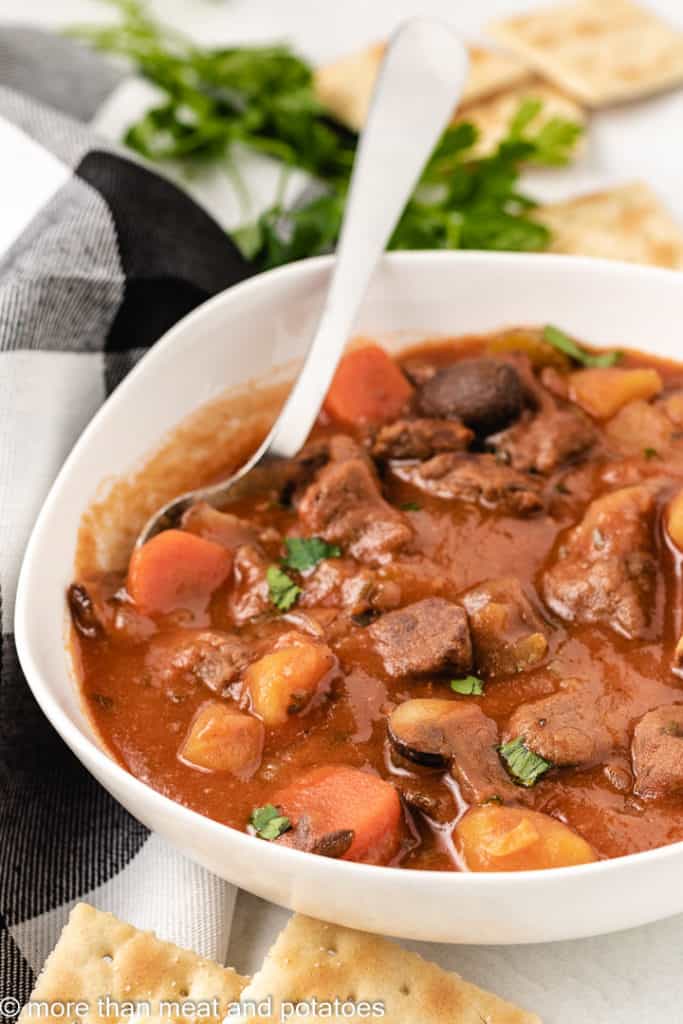 Other soups you may enjoy:
Recipe Card with Ingredient Amounts and Instructions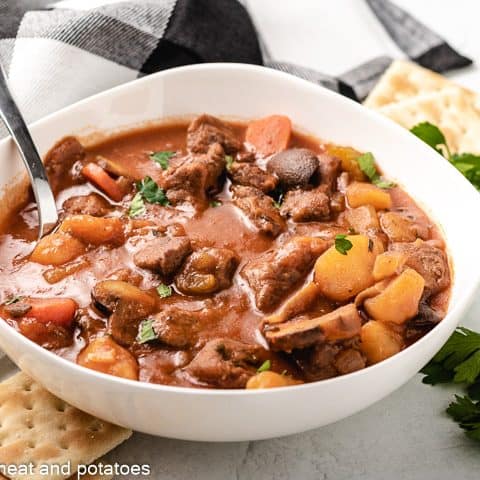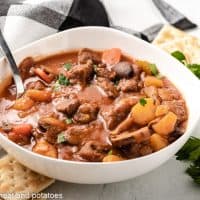 Ingredients
1

tablespoon

avocado oil

1

pound

stew meat

,

or sirloin, cut into bite sized pieces

2

teaspoon(s)

thyme

,

fresh, may substitute with 1 teaspoon dried thyme

2

teaspoon(s)

rosemary

,

fresh, may substitute with 1 teaspoon dried rosemary

1

teaspoon(s)

kosher salt

½

teaspoon(s)

ground black pepper

2

tablespoons

all-purpose flour

1

pound

russet potatoes

,

peeled and diced into ½ - 1 inch cubes

1

cup

carrots

,

cut into ½ inch thick circles

½

cup

white onion

,

diced

1

rib of celery

,

cut into ½ inch thick pieces

4

ounces

mushrooms

,

sliced

1

teaspoon(s)

kosher salt

3

cups

beef broth

,

plus more as needed

8

ounces

tomato sauce

2

bay leaves
Instructions
Place a large stockpot over medium heat, and add the oil. Allow the oil to heat for about 30 to 45 seconds. In the meantime, toss the stew meat with thyme, rosemary, salt, and pepper. Add the stew meat to the pot.

1 tablespoon avocado oil

1 pound stew meat

2 teaspoon(s) thyme

2 teaspoon(s) rosemary

1 teaspoon(s) kosher salt

½ teaspoon(s) ground black pepper

Brown the meat for 1 to 2 minutes on each side. Sprinkle with flour, then stir. Reduce the heat to low, then add the potatoes, carrots, onion, celery, mushrooms, and salt. Cook the ingredients for 3 to 4 minutes while stirring.

2 tablespoons all-purpose flour

1 pound russet potatoes

1 cup carrots

½ cup white onion

1 rib of celery

4 ounces mushrooms

1 teaspoon(s) kosher salt

Add the beef broth, tomato sauce, and bay leaves. Stir to combine, and bring the liquid to a simmer. Allow the stew to simmer for 30 to 35 minutes or until the potatoes are tender. Taste, and season with additional salt and pepper if needed.

3 cups beef broth

8 ounces tomato sauce

2 bay leaves
Notes
*The calories listed are an approximation based on the ingredients in the recipe card and a serving size of 2 cups of the homemade beef stew. Actual calories will vary.
*For more information and tips, please refer to the post.
Nutrition
Serving:
2
cups
Calories:
349
kcal
Carbohydrates:
33
g
Protein:
32
g
Fat:
10
g
Saturated Fat:
3
g
Polyunsaturated Fat:
1
g
Monounsaturated Fat:
5
g
Cholesterol:
70
mg
Sodium:
2196
mg
Potassium:
1364
mg
Fiber:
4
g
Sugar:
6
g
Vitamin A:
5651
IU
Vitamin C:
16
mg
Calcium:
79
mg
Iron:
5
mg