Roasted Cabbage Wedges are easy and delicious! They're brushed with a little olive oil, sprinkled with seasonings, then topped with crunchy bacon and a balsamic glaze.
Cabbage may be one of the most versatile vegetables out there. It can be shredded and turned into coleslaw, added to salad, used as an ingredient in ham and cabbage soup, or fermented and made into sauerkraut.
We enjoy cabbage pretty much any way we can get it, so it's not surprising that roasted cabbage wedges would be one of our favorite side dishes.
They start out as a standard head of green cabbage that gets cut into 8 wedges. Each wedge is brushed with olive oil, then sprinkled with salt, pepper, and seasonings, and roasted until the edges are beautifully browned.
After the cabbage is nice and tender, it's drizzled with a sweet balsamic glaze and topped with crunchy, crumbled bacon. Roasted cabbage wedges could be a meal all on their own, but they are meant to be enjoyed as a side dish.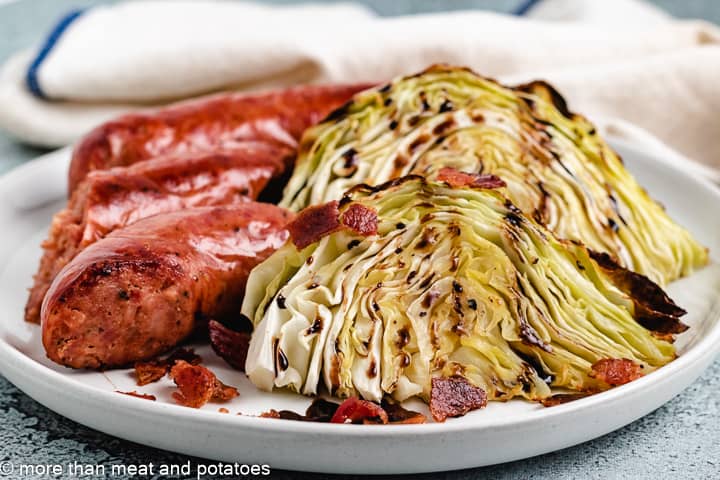 How to Make Roasted Cabbage Wedges:
If you read our posts on a consistent basis, you may be sensing a theme. I say a lot of recipes are super easy.
That's not a stretch. We seek out easy to prepare recipes, with minimal cleanup, using whole ingredients.
These roasted cabbage wedges are no different. They are prepped and cooked in about 25-30 minutes and only use one pan!
To start, preheat the oven to 450°F, and line a large baking sheet with aluminum foil. Peel away any loose leaves off the outside of the cabbage.
Give it a good wash and dry. Use a sharp knife to cut through the bottom core and divide it into 8 equal sections.
If desired, remove the core off of each wedge. Arrange the wedges on the pan in an even layer taking care not to let the layers separate.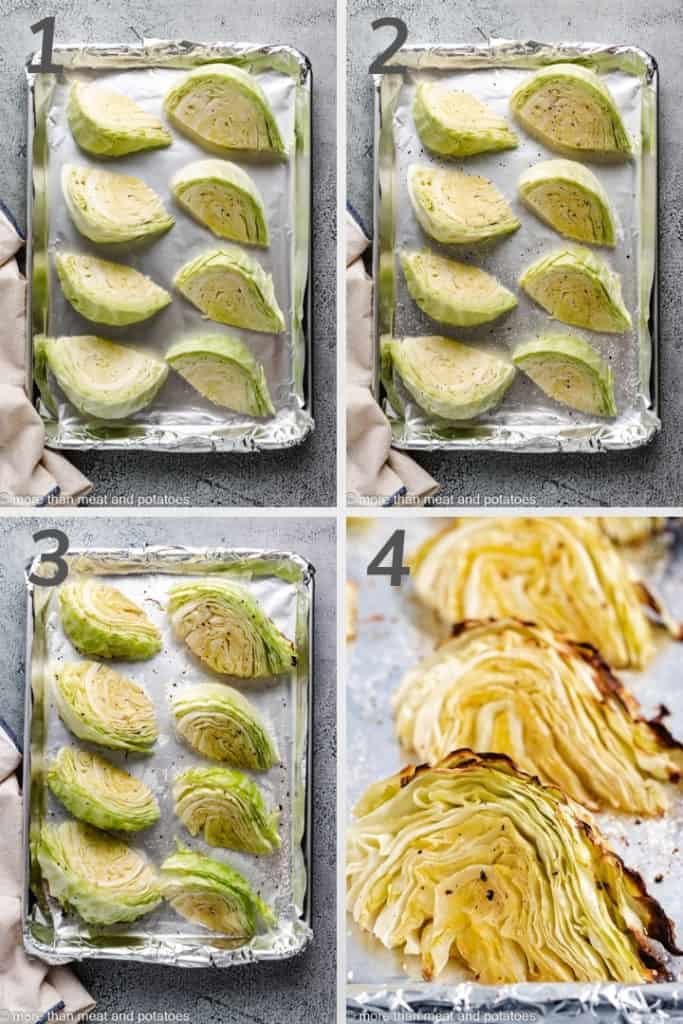 Use a pastry brush to lightly brush the tops and sides of the wedges with olive oil, then sprinkle with salt, pepper, garlic powder, and onion powder.
Gently flip the cabbage wedges over to brush oil on the opposite side and sprinkle with salt, pepper, and seasonings. Roast the cabbage for 10 minutes, then use a spatula to very carefully flip the cabbage in order to roast the other side.
Return to the oven to roast for another 10 to 15 minutes. The edges should be golden to dark brown and the texture should be chewy.
After the cabbage wedges cook, remove from the oven, drizzle with balsamic glaze, and top with crumbled bacon or bacon bits.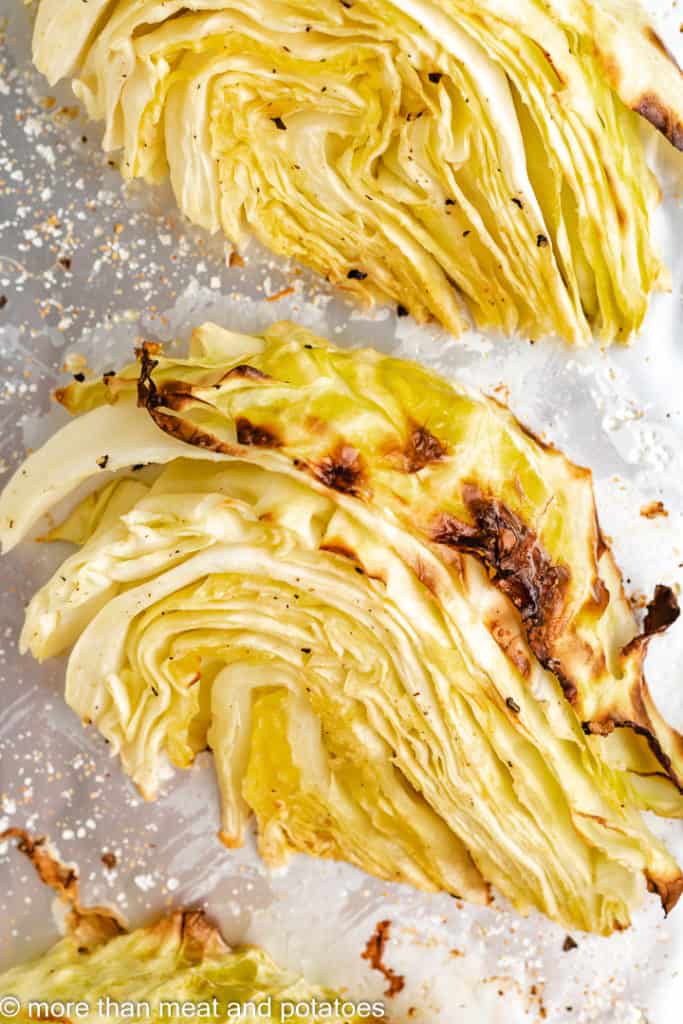 What other flavors taste good on roasted cabbage?
If balsamic or bacon isn't your thing, cabbage is pretty versatile when it comes to flavors. Try adding just the olive oil, salt, pepper, garlic powder, and onion powder.

Other options are grated Parmesan cheese, lemon juice, lemon zest, chopped walnuts, red wine vinegar, or feta cheese.
Can you make this recipe into roasted cabbage steaks?
Yes, simply cut the cabbage into 1/2-inch thick , circular "steaks" instead of wedges, season, and cook as directed.
Here's a recipe for
Crispy Roasted Cabbage Steaks
that uses different seasonings and shows how to properly cook the cabbage in steak form.
What do you serve with roasted cabbage?
Can you reheat roasted cabbage?
Roasted cabbage is best enjoyed immediately after being cooked. However, it can be stored in the refrigerator for up to 3 days. To reheat, place in a toaster oven or conventional oven on a lower heat 250°-300°F for 7-10 minutes or until the desired temperature is reached.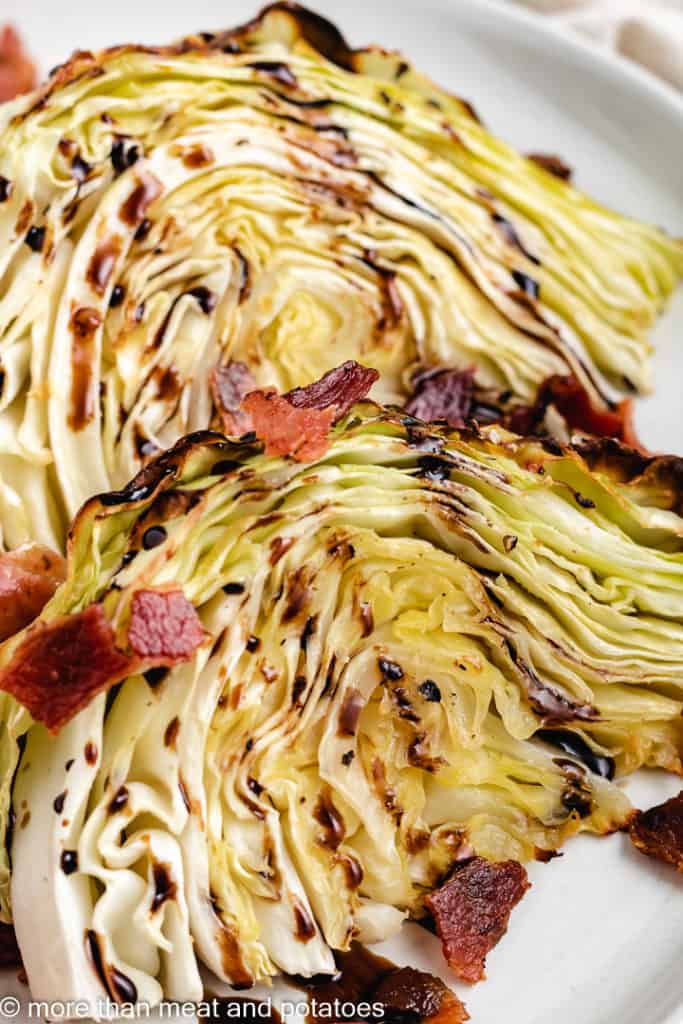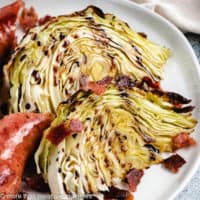 Easy Roasted Cabbage Wedges
Print
Pin
Save
Saved!
I earn a commission from Amazon and Instacart from qualifying purchases.
Ingredients
For Cabbage:
1

Head Green Cabbage

2

Tablespoons

Olive Oil

Sea salt and Freshly Cracked Pepper

to taste

¼

Teaspoon

Garlic Powder

⅛

Teaspoon

Onion Powder
For Garnish:
¼

Cup

Bacon

crumbled

2

Tablespoons

Balsamic Glaze
Instructions
Preheat the oven to 450°F, and line a baking sheet with aluminum foil. Set aside.

Cut a head of cabbage into 8 equal wedges. If desired, trim the core and stem.

Arrange the wedges in an even layer on the baking sheet, then use a pastry brush to apply half the olive oil to the wedges. Sprinkle with half the salt, pepper, garlic powder, and onion powder.

Carefully, flip the wedges to the opposite side, brush with the remaining oil, and sprinkle with the remaining seasoning.

Roast the cabbage for 10 minutes until the edges and bottom are brown, then very carefully flip the wedges. Return to the oven to roast for an additional 10 to 15 minutes.

Serve immediately with crumbled bacon and a drizzle of balsamic glaze.
Notes
*The calories listed are an approximation based on the ingredients in the recipe card and a serving size of ⅛ of a head of cabbage (1 cabbage wedge). Actual calories will vary.
*For more information, tips, and answers to frequently asked questions, please refer to the post.
Nutrition
Serving:
1
Wedge
|
Calories:
89
kcal
|
Carbohydrates:
11
g
|
Protein:
3
g
|
Fat:
4
g
|
Saturated Fat:
1
g
|
Polyunsaturated Fat:
3
g
|
Cholesterol:
2
mg
|
Sodium:
129
mg
|
Fiber:
3
g
|
Sugar:
7
g