A simple raw sauerkraut recipe that only uses three ingredients to create perfect homemade sauerkraut the old fashioned way.
A long time ago we shared an Instant Pot kielbasa and sauerkraut recipe on Berly's Kitchen. I mentioned homemade sauerkraut in that post and asked our audience if they wanted me to share my recipe for raw sauerkraut.
Time went by and nobody really showed much interest...until recently. So, after discussing it with Kim, we decided to share it on this site instead of Berly's Kitchen.
Now, why would we do that? Because, raw sauerkraut takes time and care and it's a better fit for this site. Looking for more homemade condiments? Then check out this pico de gallo recipe.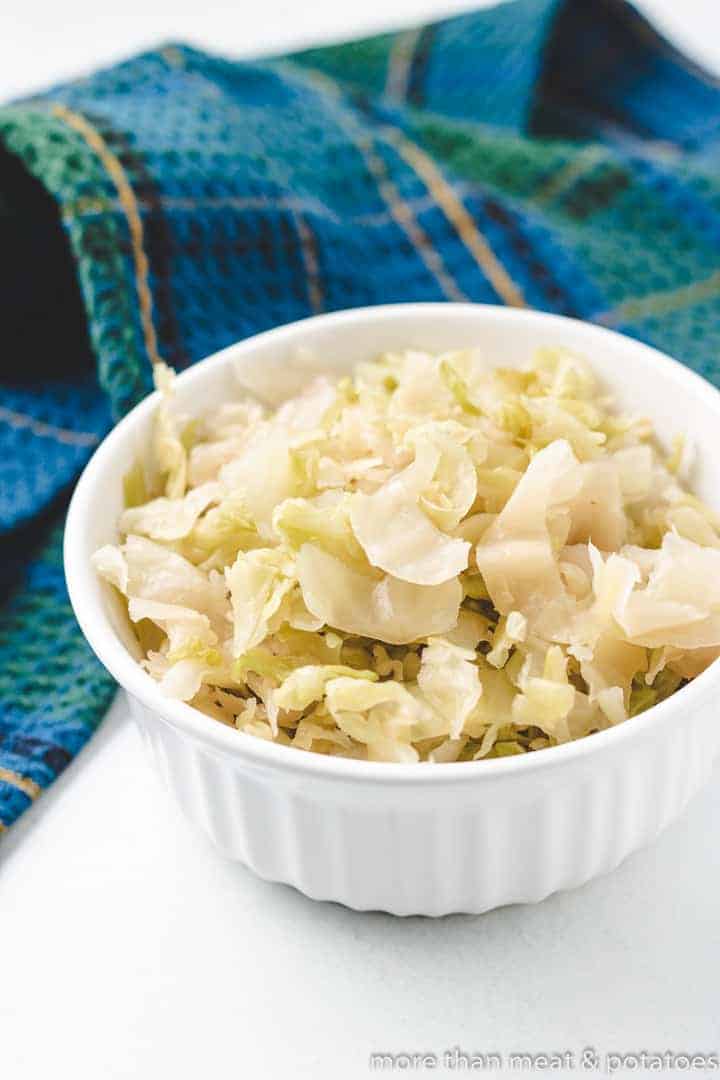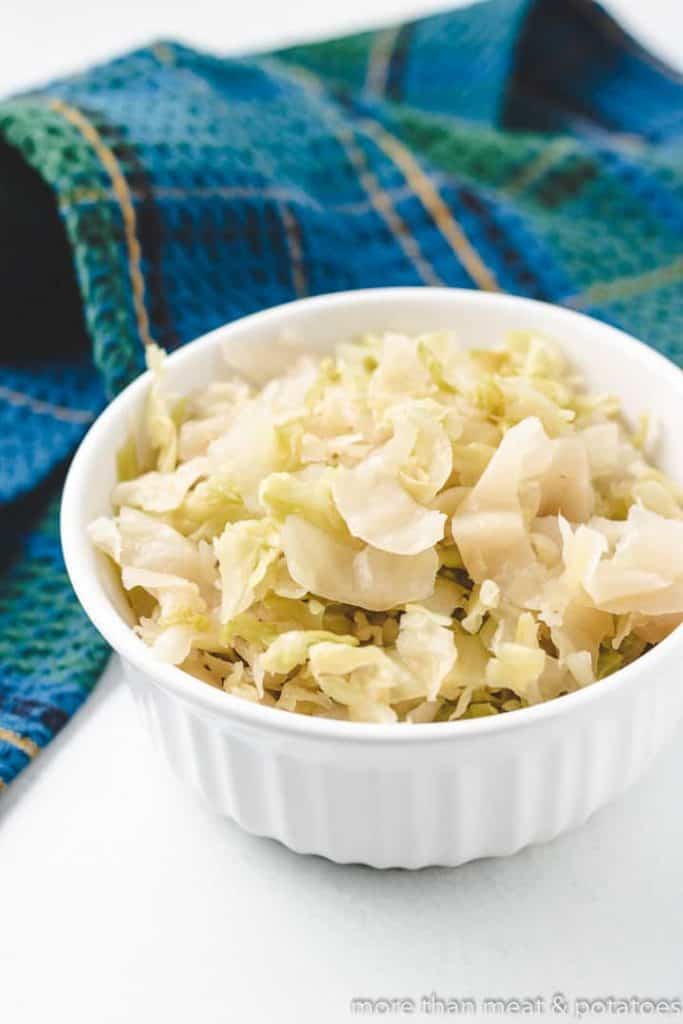 Recipe Tips:
Before we get started, let's go over some frequently asked questions.
Does raw sauerkraut need to be cooked?
Our recipe does not need to be cooked because, if done properly the fermentation process makes the cabbage safe to eat without being cooked.
How do you eat sauerkraut?
That's up to you. Personally, I can eat it with a fork. But, I enjoy tart flavors and grew up eating it. Traditionally, it's served with a smoked sausage (like Kielbasa), boiled or roasted potatoes, or you can go all out and make schnitzel. Also, my grandmother used it in her homemade bean soup recipe. Which I may share at some point…
How long can you keep homemade sauerkraut?
The most common answer I've seen is up to 6 months. With that being said, I only store mine for 30 days or less. Typically, because we've eaten all of it by then.
Can you buy raw sauerkraut?
Honestly, I'm not sure. What I will say is that when I do buy sauerkraut at the store, I always check the labels. If I see more than 3 ingredients (cabbage, water, and salt), then I don't buy it. Why should I eat extra additives and filler when I know what goes into making fermented cabbage?
How to make sauerkraut at home?
First, you'll need a head raw, uncooked cabbage. Rinse it with mineral water and discard any parts of the vegetable that are discolored.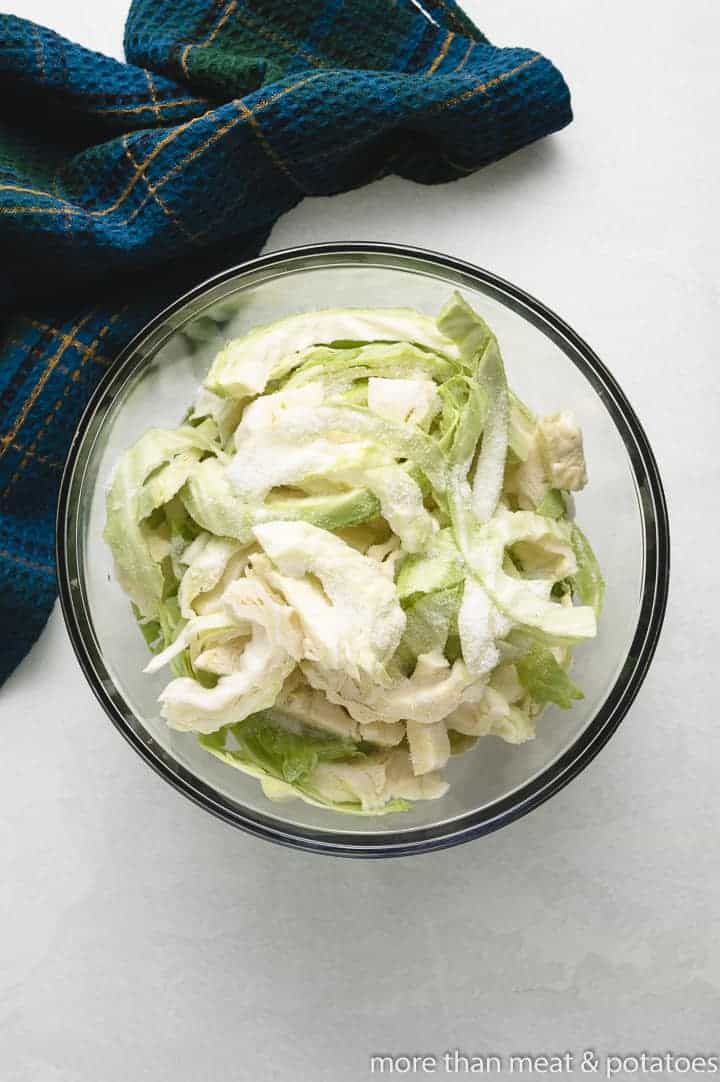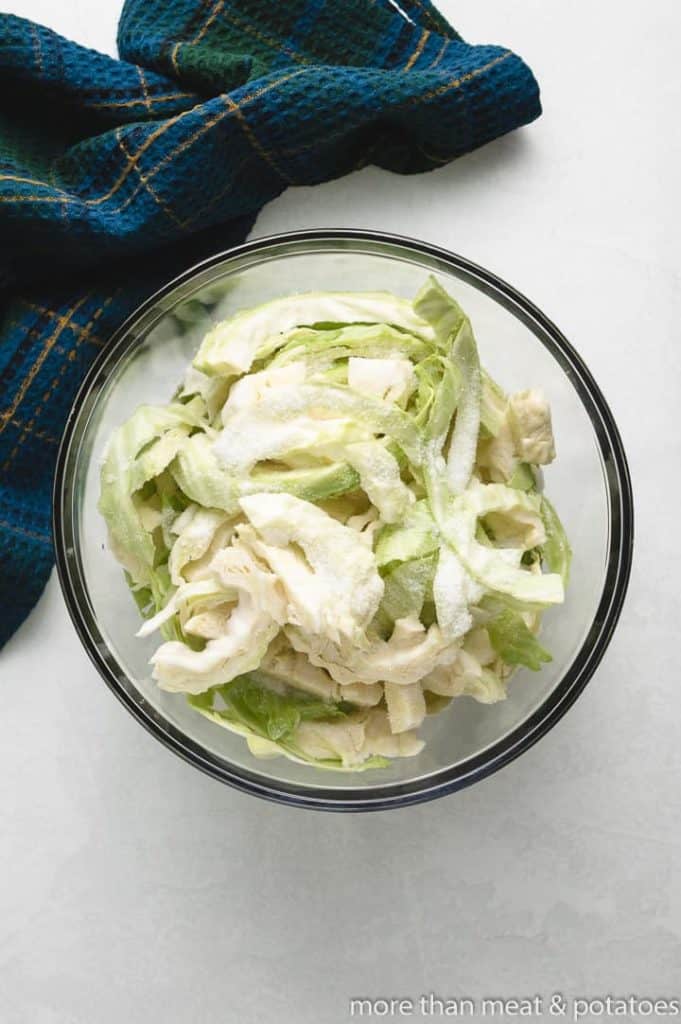 Next, use a kitchen knife to cut the vegetable into strips. It doesn't have to be perfectly shredded.
Place the chopped veggie into a clean mixing bowl and sprinkle it with the sea salt.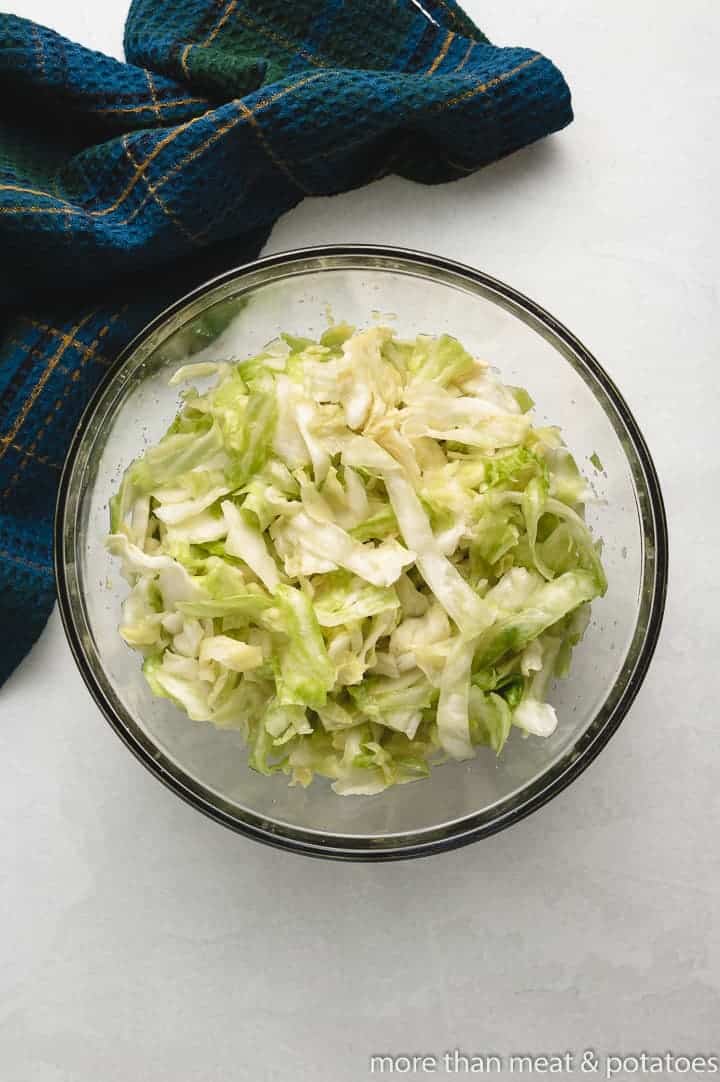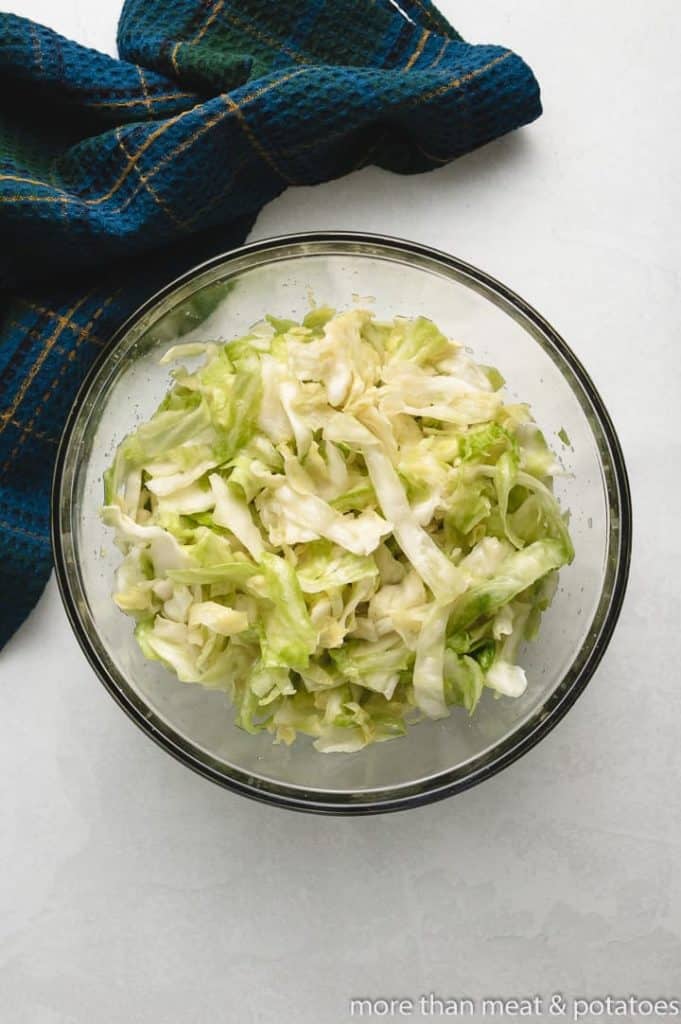 Afterward, put on some clean kitchen gloves and start massaging the cabbage.
That's right, dig in with your hands squeeze the veggie. The massaging process breaks down the cabbage.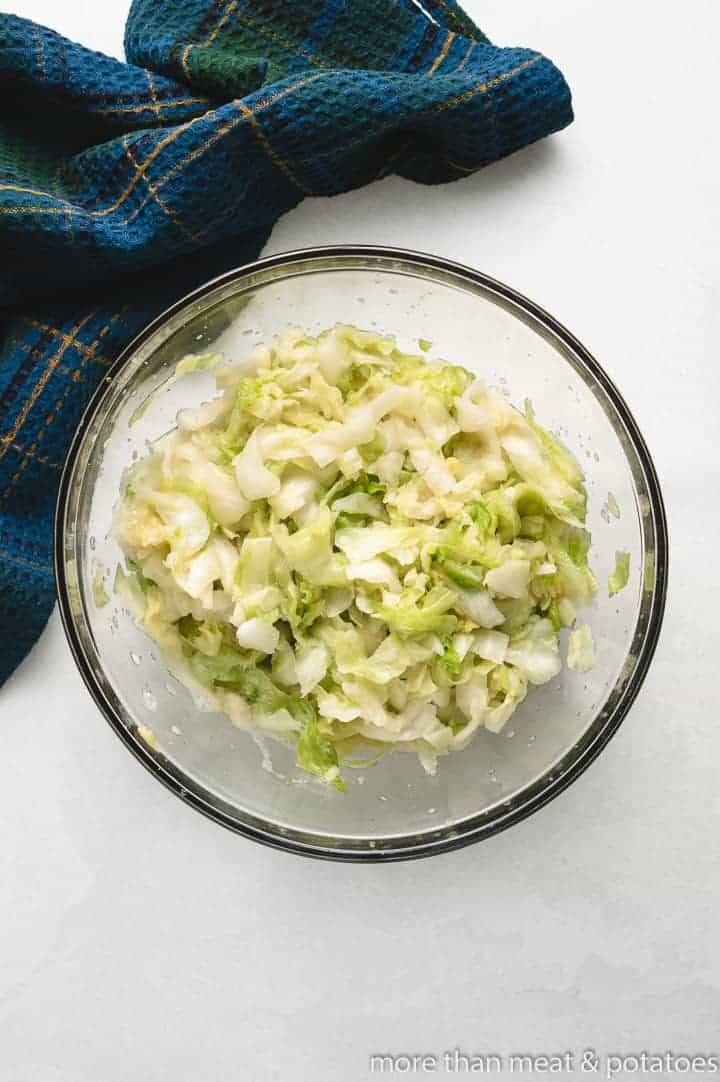 Now, you'll probably start to notice liquid pooling in the bottom of the bowl.
The juices from the vegetable have all the vital ingredients needed to ferment the cabbage.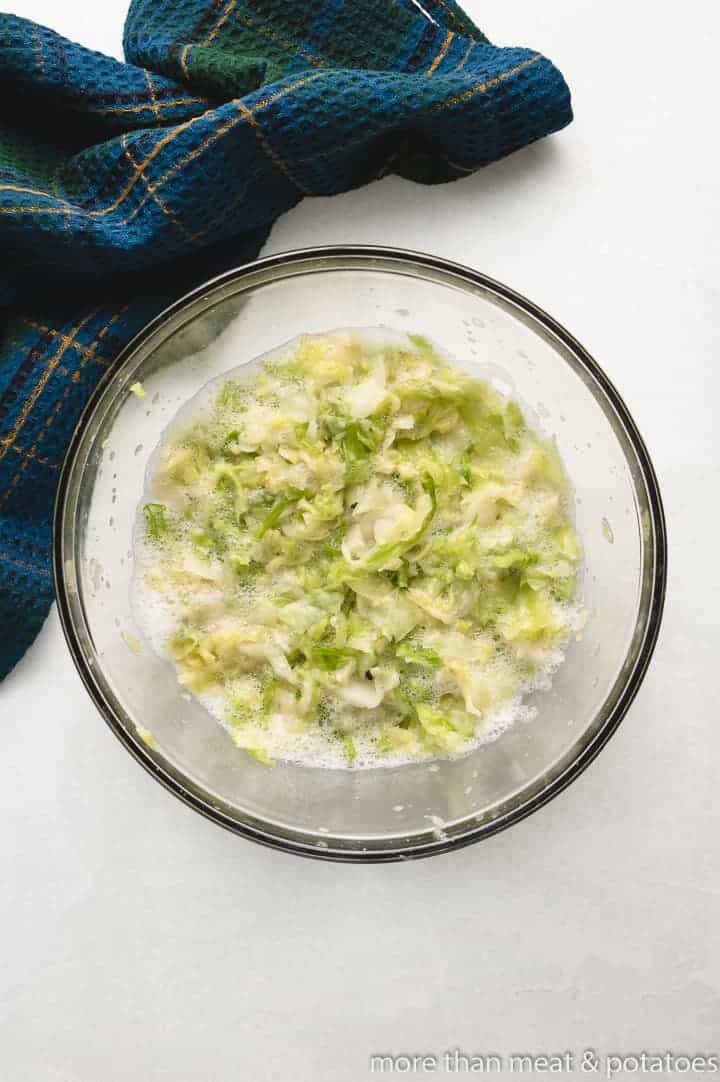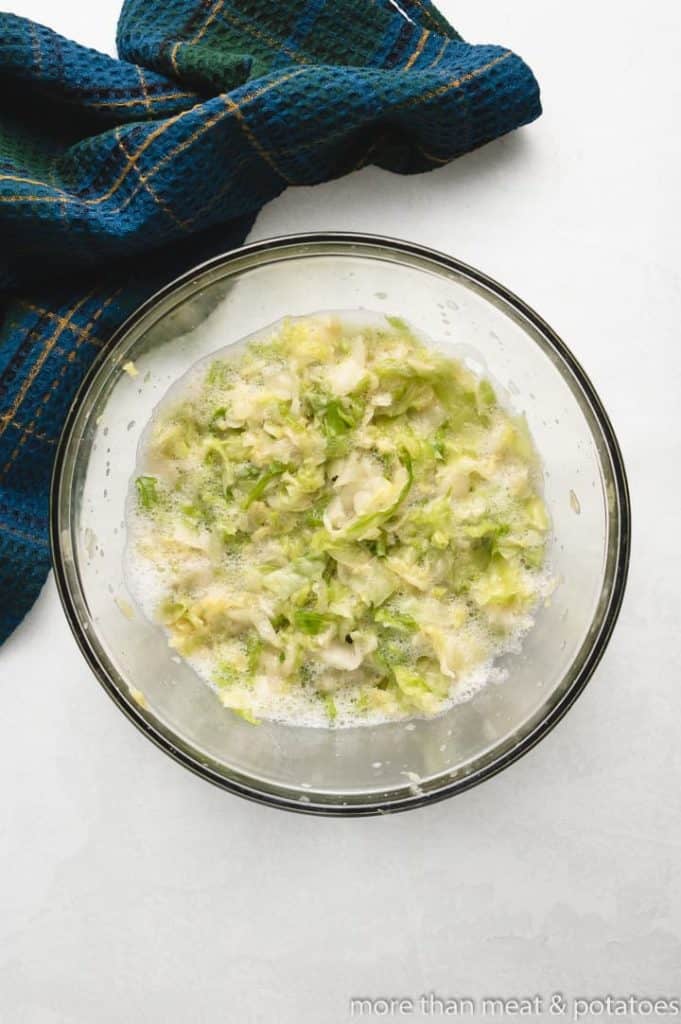 When the cabbage can be completely submerged in natural liquids, it's time to jar it.
Last, transfer the unfermented sauerkraut to a mason jar or jars. Pour the liquid from the bowl into the jar(s). Place weights directly onto the cabbage to keep it submerged beneath the liquid.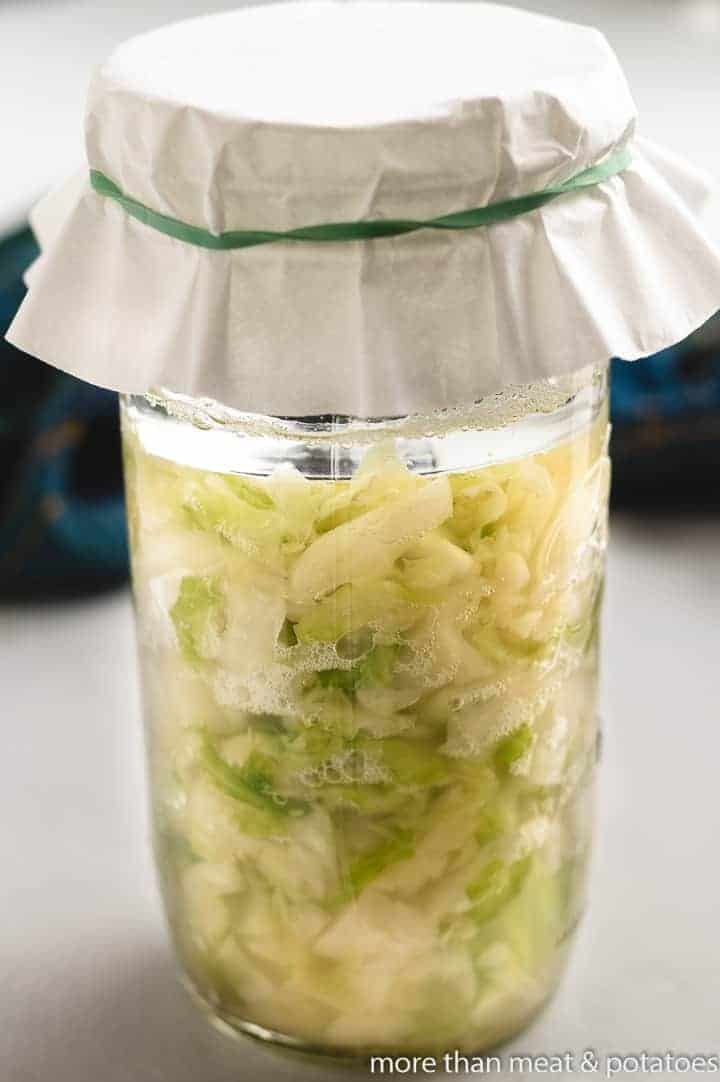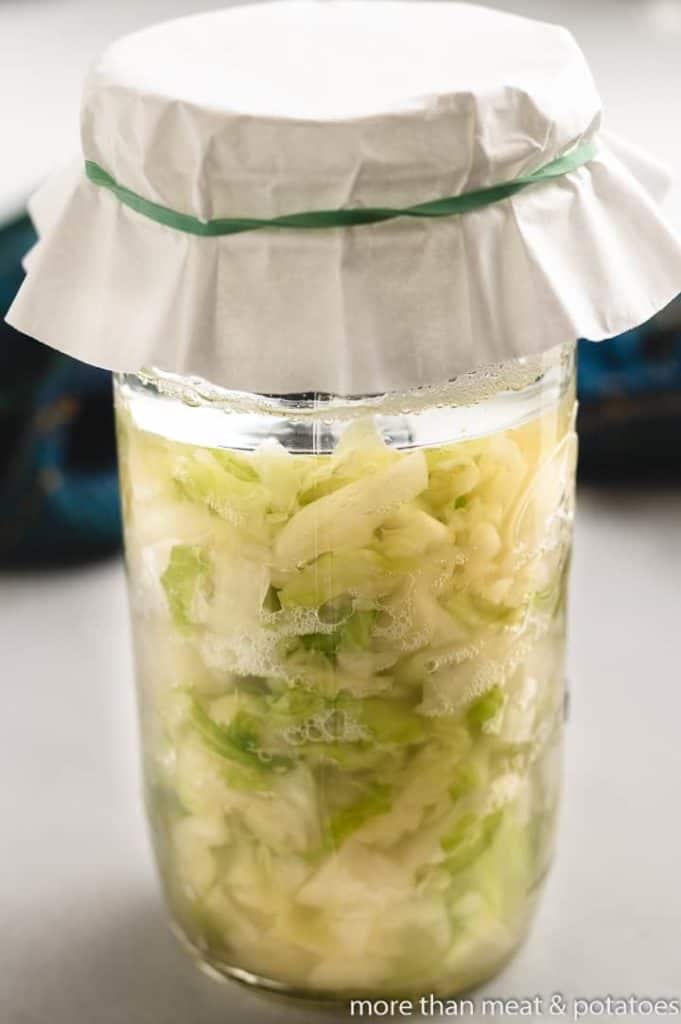 Any sauerkraut that ferments above the liquid line is considered unsafe to eat!
If needed, top off the jars with a little mineral water to ensure the vegetable is fully covered in fermenting liquids.
How to ferment cabbage?
Now, cover the mason jars with lids. You have two options, you can use the air tight lid or a coffee filter secured with a rubber band.
Using a coffee filter and rubber band is a little tricky, if you use that method please refer to the tips section of the post.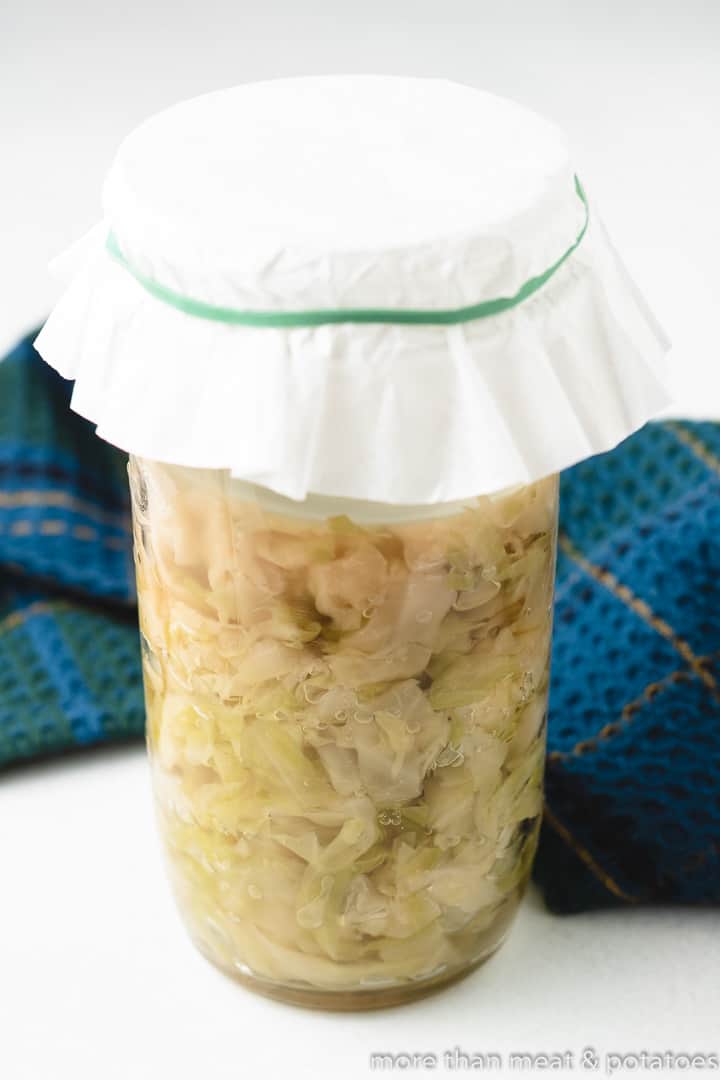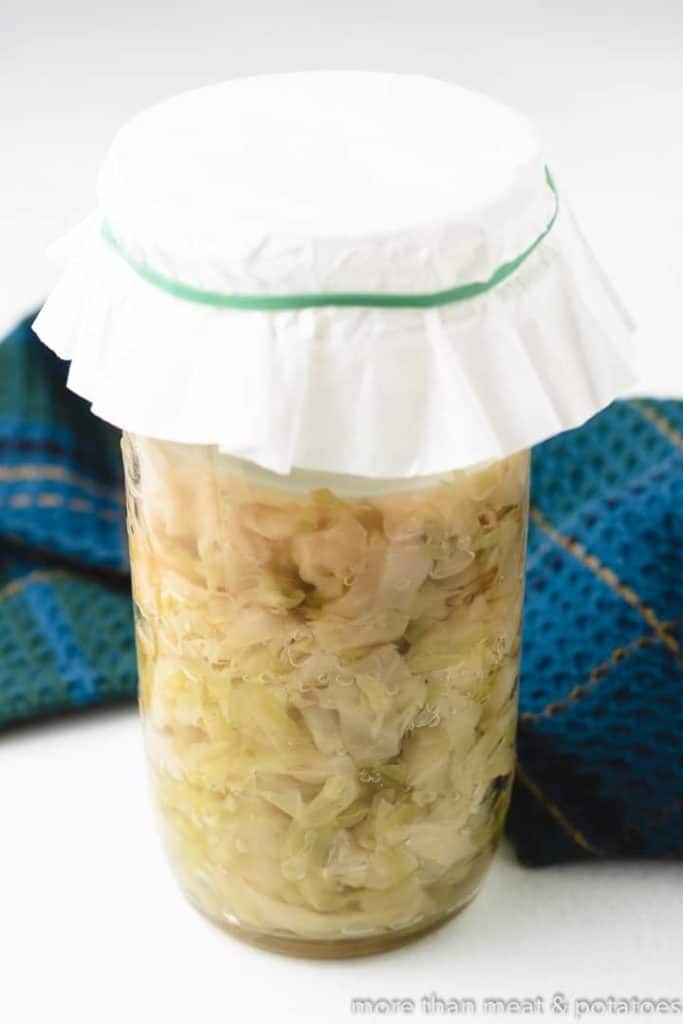 At this point, all that's left to do is wait. It will take up to 2 weeks for the raw sauerkraut to ferment. The 2 week waiting period creates a tart condiment that still has a firm texture. Any sooner and it will have sweet taste, similar to sweet relish.
Regardless of the flavor, I would not eat the cabbage until it's fermented for at least a week. Once it's reaches your desired tartness. Transfer it to the fridge to chill. Chilling the condiment stops the fermentation process.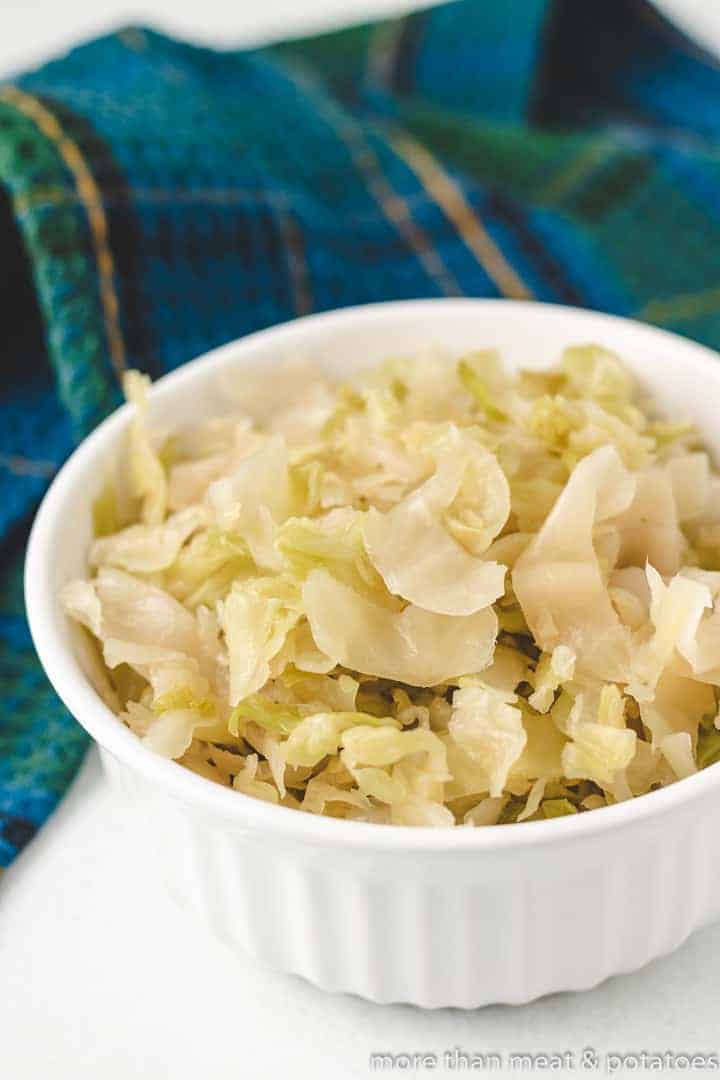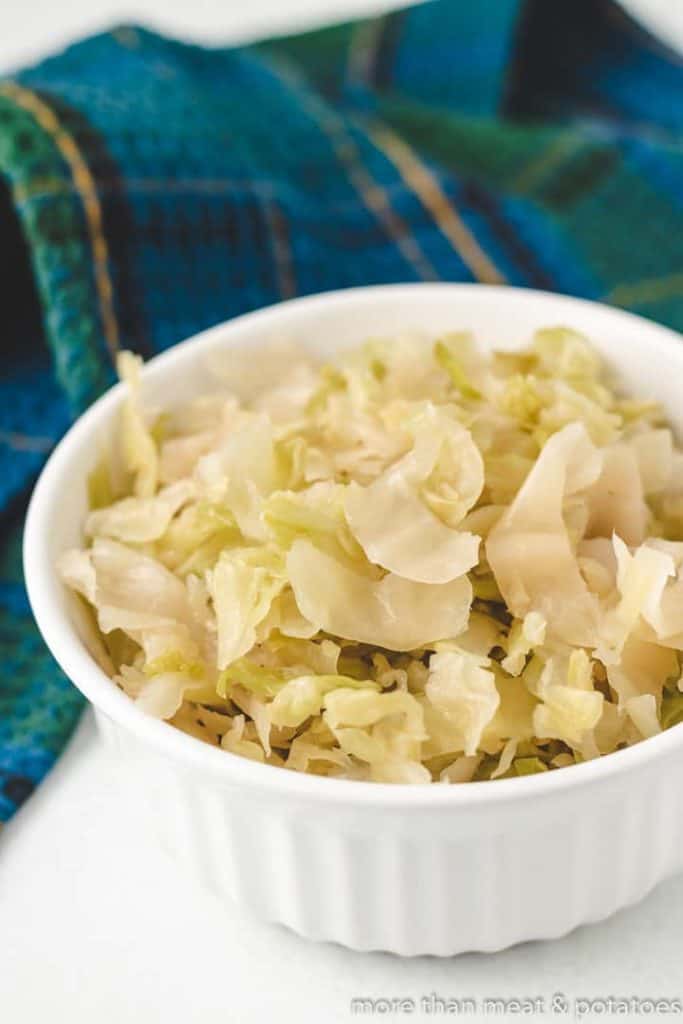 Recipe Tips:
Do not use tap water! Filtered tap water still has additives like fluoride that can disrupt the fermentation process.
If you use an air tight lid, then sauerkraut will need to be, "burped," daily by slightly opening the lid and resealing it. Burping the condiment allows the gasses to escape the jar.
On the other hand, the coffee filter and rubber band method does not need to be burped. But, you'll have to keep and eye on the liquid levels because the coffee filter does not prevent evaporation. You may need to add mineral water to the jar from time to time.
Personally, I prefer using an air tight container because it seems to create a more tart sauerkraut. That's just my opinion.
I cannot emphasize this enough, DO NOT eat cabbage above the liquid line! Mainly, because it's rotten and not fermented.
As always, if you have any questions, reach out to us. I've been making sauerkraut off and on for years now and I'm happy to help.
Recipe Card with Ingredient Amounts and Instructions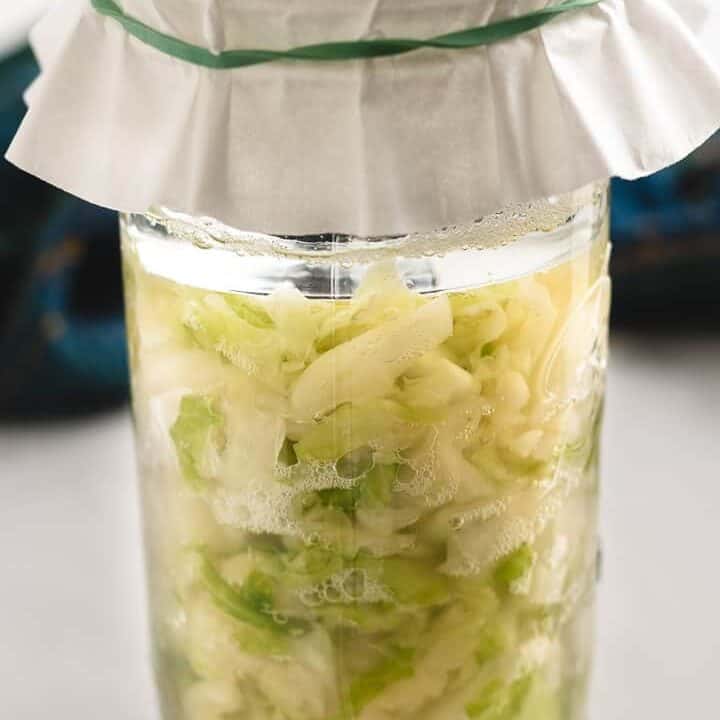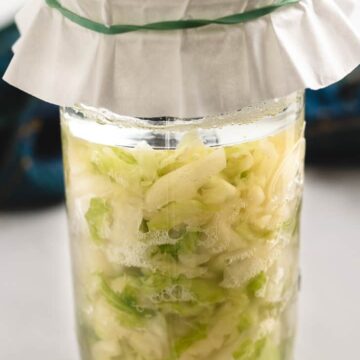 Ingredients
1

head of cabbage

,

about 2.5 to 3 pounds

1 to 2

tablespoon(s)

kosher salt

¼

cup(s)

mineral water

,

approximately, plus more for rinsing the cabbage
Instructions
Remove the core from the head of cabbage, then cut into small pieces. They don't need to be uniform in size or shape.

Place the cabbage in a large bowl, sprinkle with salt, and put on a pair of clean kitchen gloves. Begin to work the salt into the cabbage with your hands. Continue to massage the cabbage for several minutes. The cabbage will start to break down and soften, forming a liquid that will settle in the bottom of the bowl. This process could take from 15 to 20 minutes. Continue to work the cabbage until the liquid in the bowl comes over the top of the cabbage when the vegetable is pressed down.

1 to 2 tablespoon(s) kosher salt

Transfer the cabbage and its liquid to glass jars or a fermentation crock. It's helpful to have weights to place on the cabbage to weigh it down below the liquid. If necessary, add a touch of mineral water to ensure the cabbage is completely submerged in liquid.

If using a jar with a lid, the cabbage needs to be "burped" every few days by opening the jar to allow the excess gasses out of the top. Another option is to place coffee filters secured with a rubber band around the top of the jar, so the gasses escape naturally.

The cabbage takes about 2 weeks to ferment into tart sauerkraut. Check the jars periodically to make sure the vegetable stays submerged under the liquid. Add mineral water if the liquid begins to evaporate.If using coffee filters as a lid, it may take up to 3 weeks to achieve the desired sour flavor. Additionally, due to evaporation, you'll need to closely monitor the liquid amount to ensure the cabbage stays below the liquid line. Otherwise, Any cabbage that ferments above the liquid line will be spoiled and need to be discarded (i.e. it may not be safe to consume).

After the cabbage ferments to your desired sourness. Refrigeration stops the fermentation process. So, store the condiment in the fridge, in a sealed container. The common consensus is that homemade sauerkraut can be stored in your fridge for months. However, we do not recommend storing it for more than 30 days.
Notes
The calories listed are an approximation based on the ingredients in the recipe card and a serving size of about 24 ounces of the raw sauerkraut. Actual calories will vary.
Nutrition
Serving:
1
g
Calories:
12
kcal
Carbohydrates:
3
g
Protein:
1
g
Sodium:
533
mg
Fiber:
1
g
Sugar:
1
g