Decadent and savory mashed sweet potatoes lightly seasoned and flavored with butter, garlic, and heavy cream.
I've met far too many people who believe creating home-cooked meals takes too much time and effort.
However, Kim and I feel that's not truly the case. Sure, artisan and gourmet dishes can be difficult to master.
For the majority of us, making a delicious lunch or dinner doesn't have to be complicated.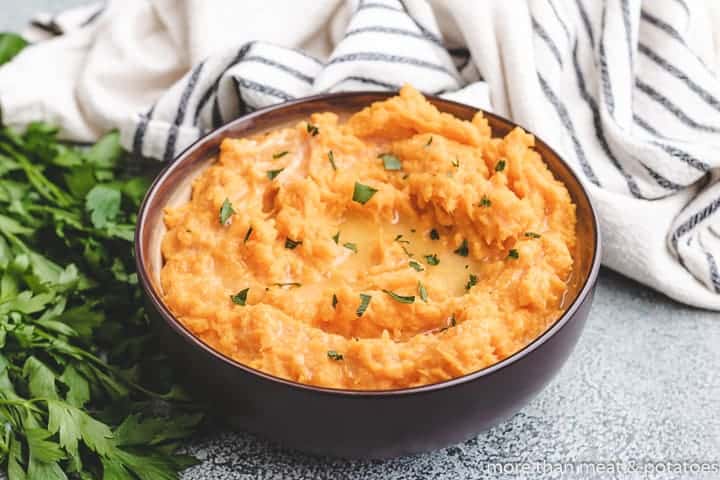 In fact, human beings did this for thousands of years. Do you know what we've learned?
The easiest dishes are usually the tastiest. Take for example, these mashed sweet potatoes.
Not only are they scrumptious, they're easy to prepare. Similar to our cast iron pork chops, all it takes is a few ingredients and a few minutes.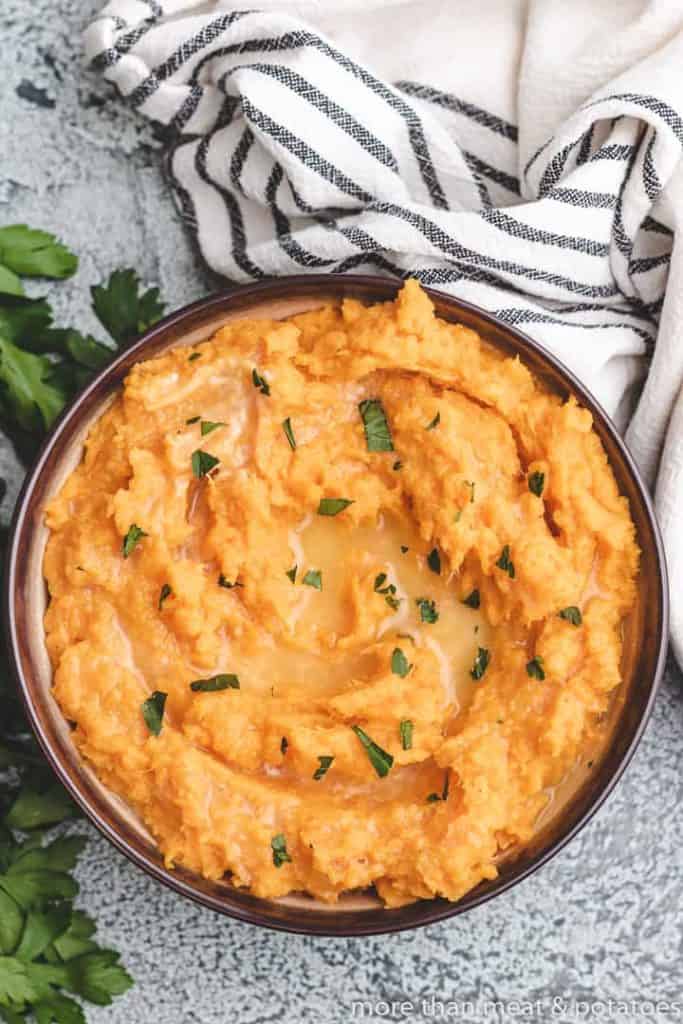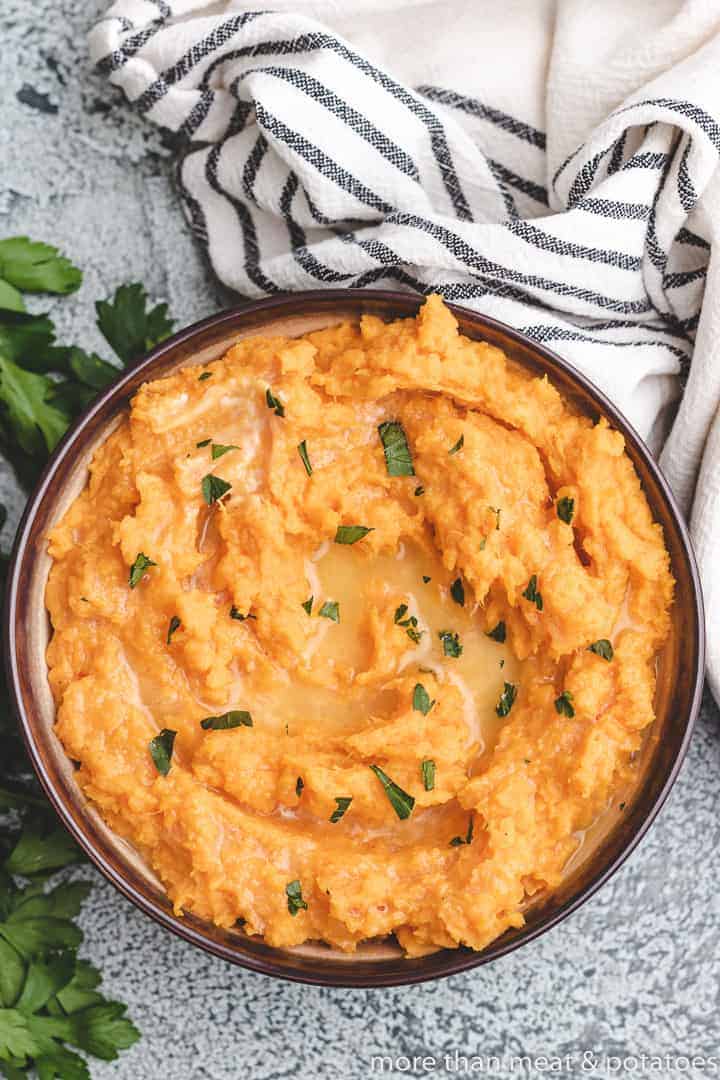 How to make mashed sweet potatoes from scratch?
First, start by washing and drying the sweet potatoes. Peeling them is optional.
Personally, I like potato skins. So, most the time, they remain unpeeled.
After that, cut the potatoes into similar-sized cubes and place them into a large stock pot.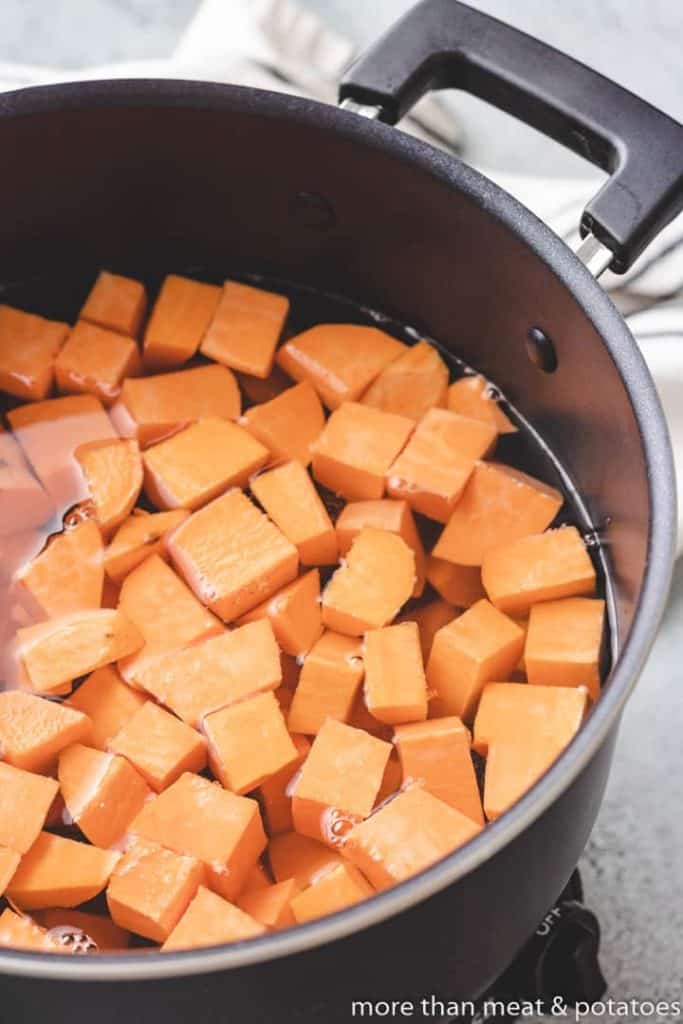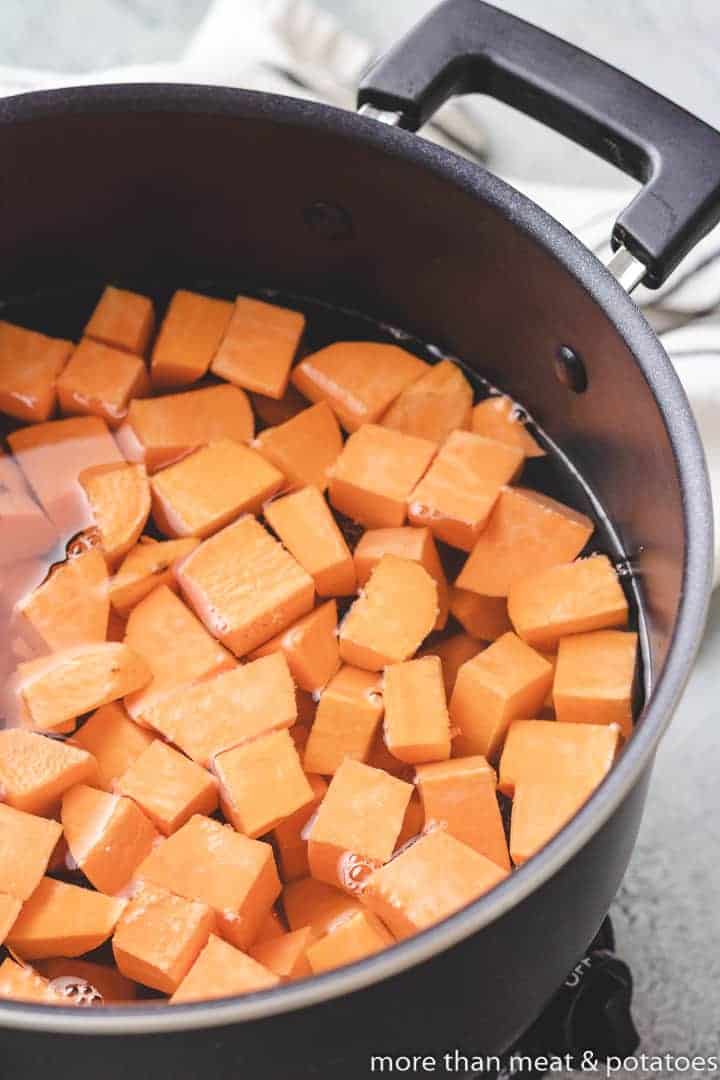 Next, add enough water until it's about an inch above the diced potatoes. Toss in a teaspoon of salt and place the pot over high heat.
Afterward, bring the water to a boil and let the sweet potatoes cook until they're fork tender (about 12-minutes).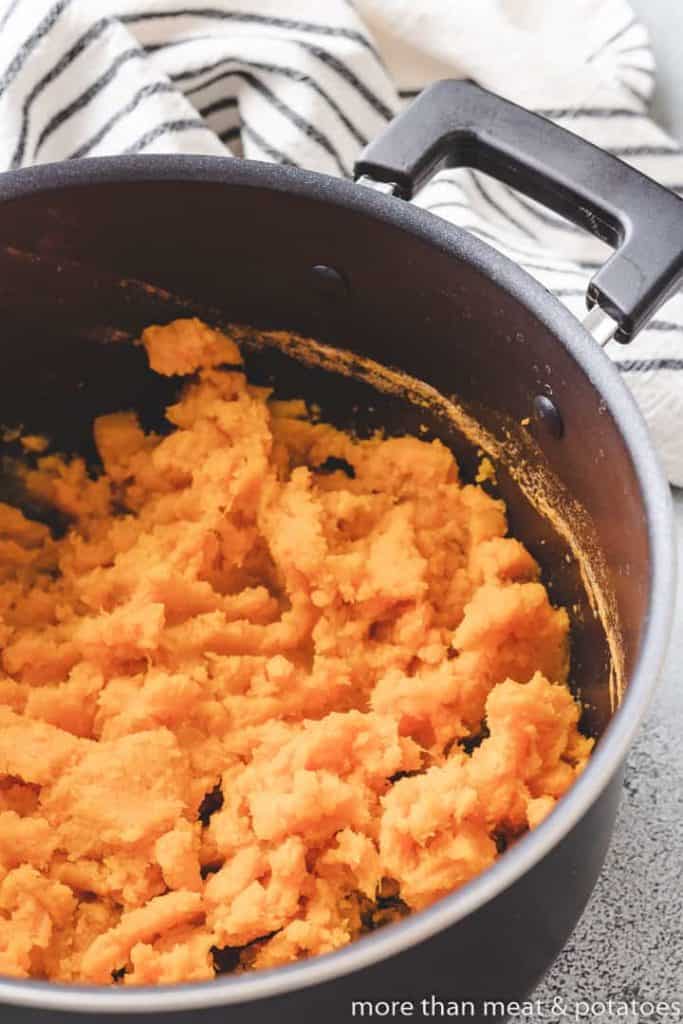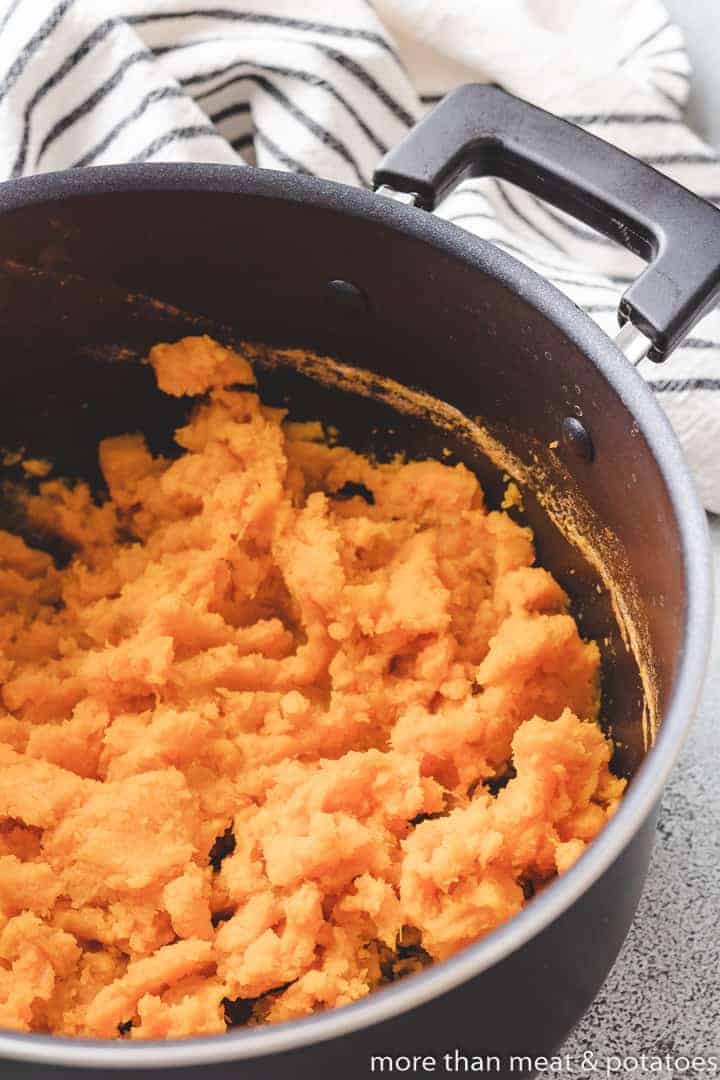 Now, drain the water and use a potato masher to smash the potatoes.
Then, once they've reached your desired consistency, stir in the heavy cream, butter, and garlic.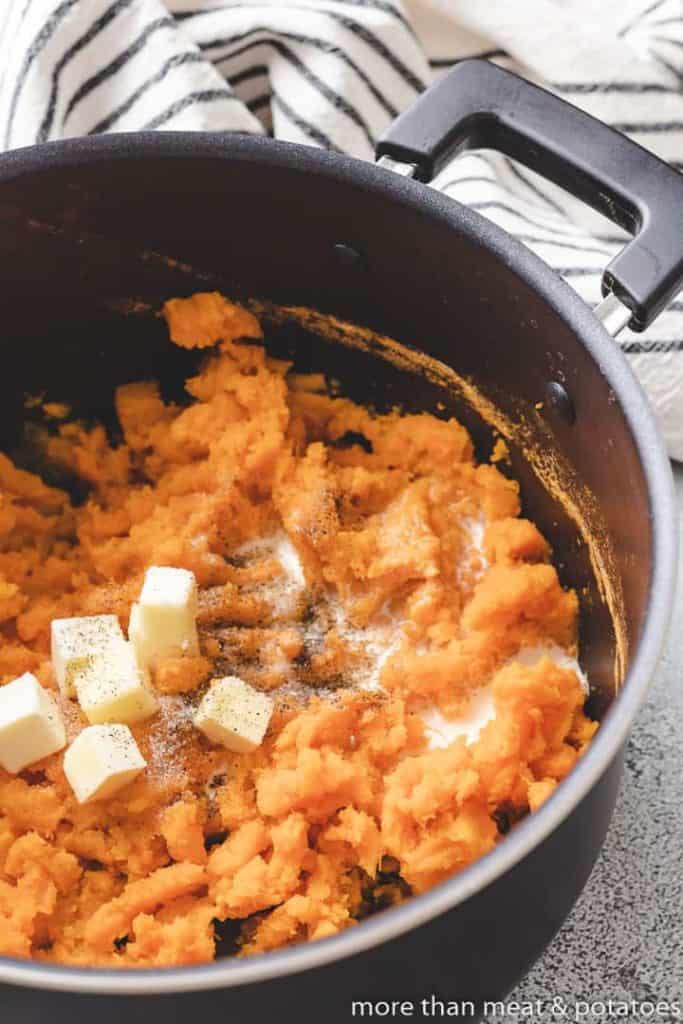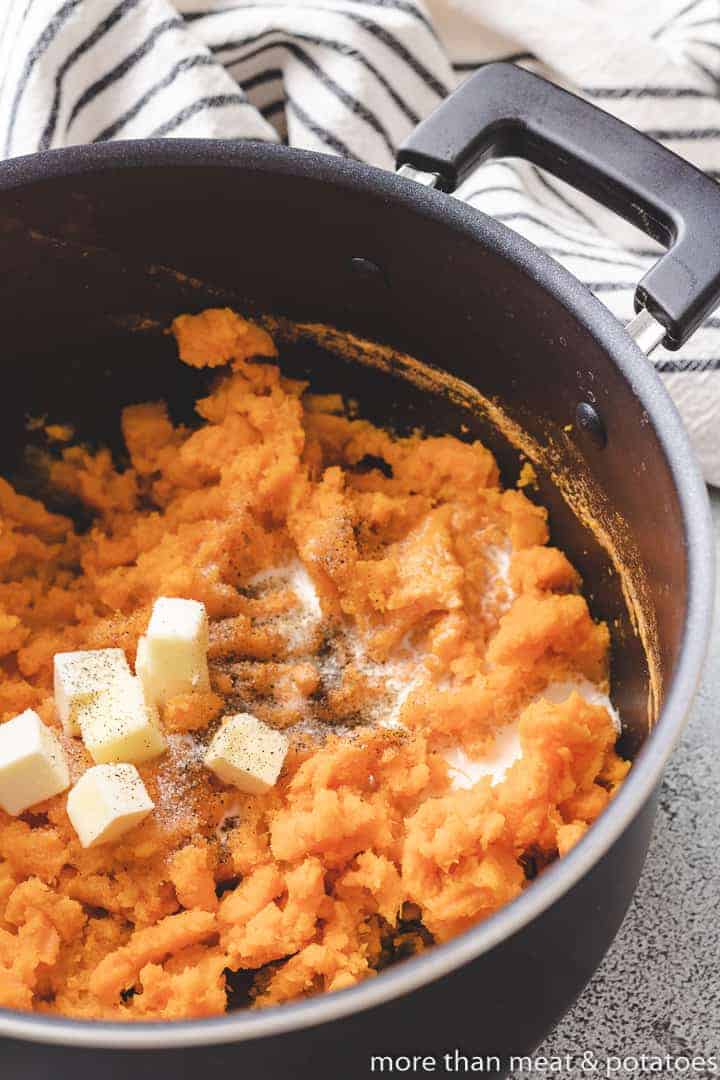 Last, do a quick taste test and add salt and pepper to taste. That's it, your mashed sweet potatoes are done.
See how easy that recipe was? Kim and I hope you enjoy it and wish you all the best 🙂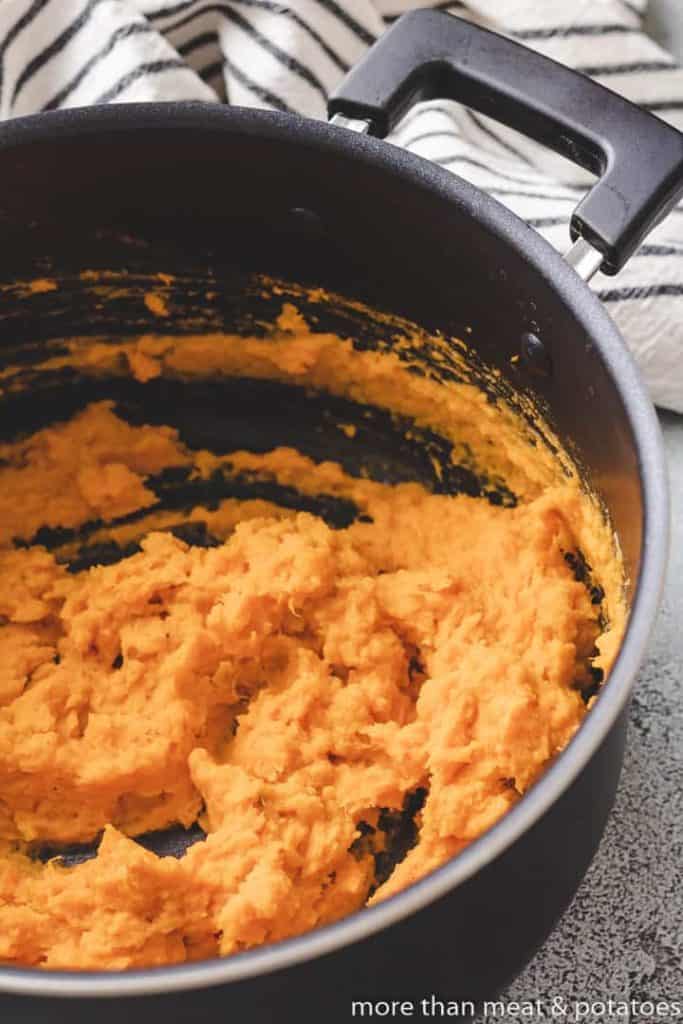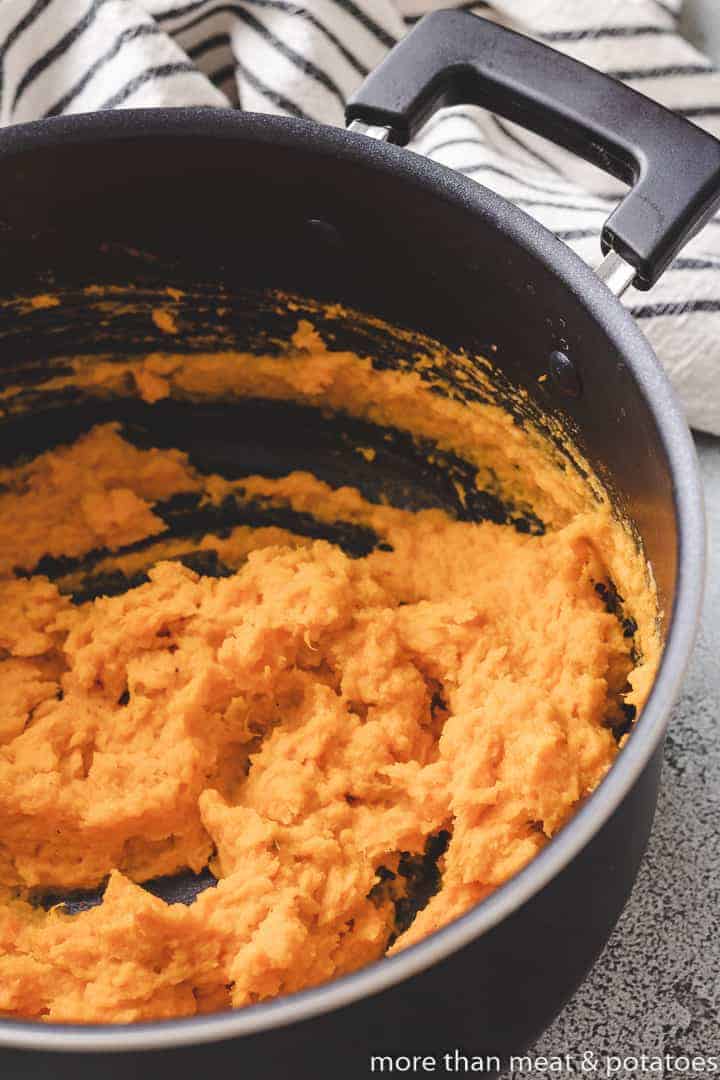 Recipe Tips:
To reduce the fat in the dish, consider using milk or half and half in place of the heavy cream.
Top these sweet potatoes with fresh chopped parsley or even sauteed onions.
This side dish pairs wonderfully with our balsamic roasted chicken breasts. If that's not your thing, then consider serving it with grilled or baked pork chops.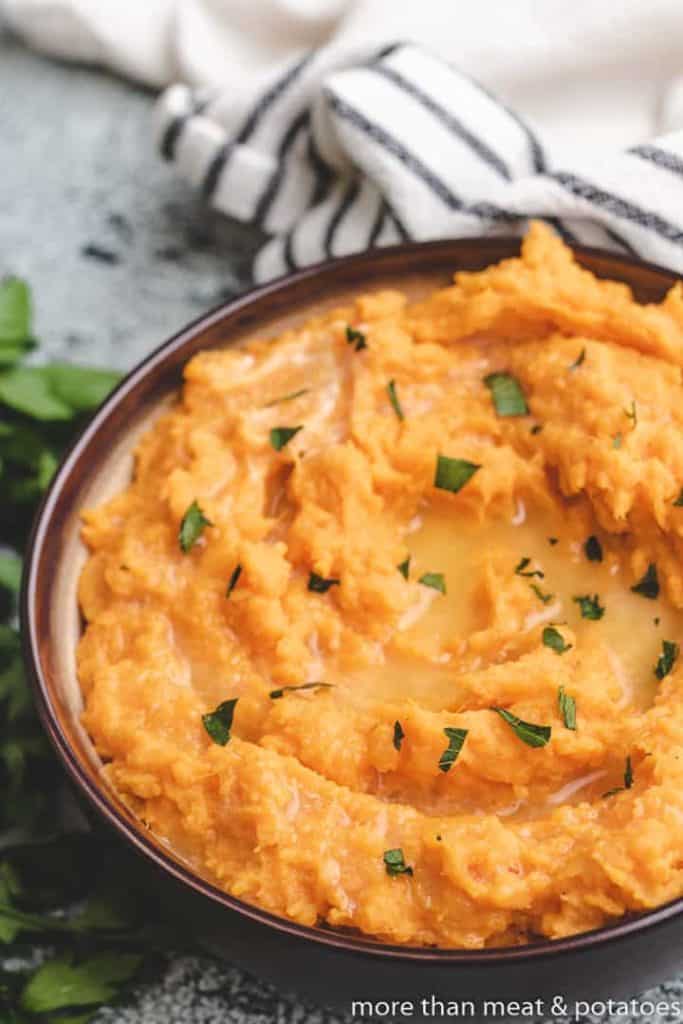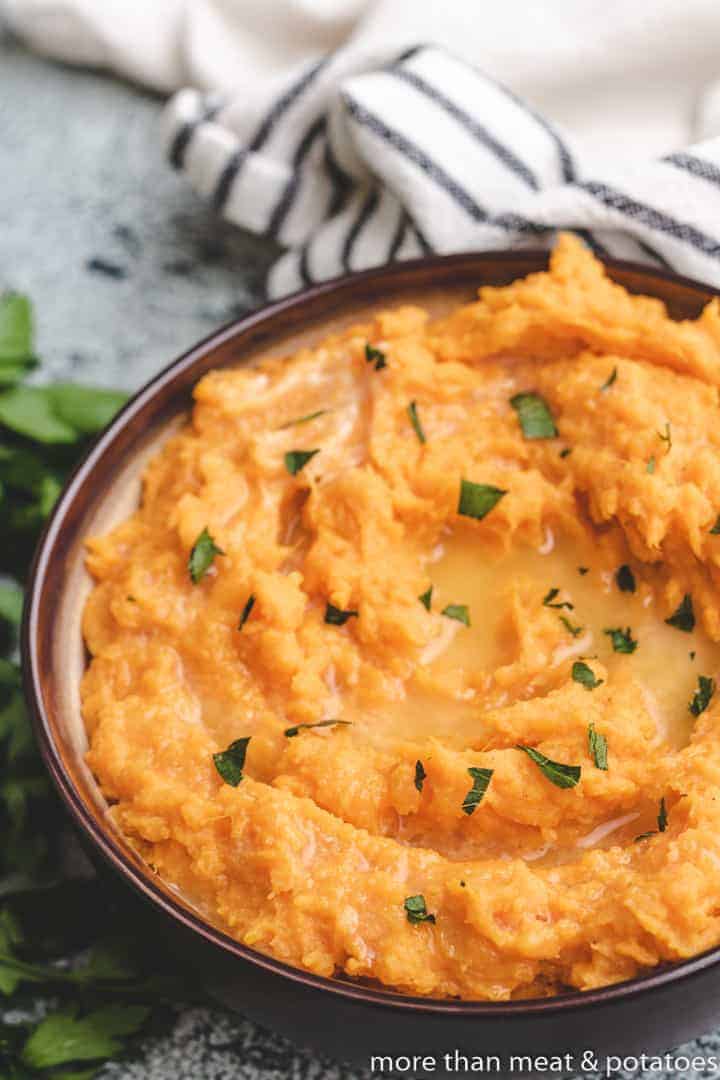 Don't forget to follow us on FACEBOOK and PINTEREST to see our newest recipes! You can also find us on Facebook, Pinterest, and Instagram searching for More Than Meat and Potatoes!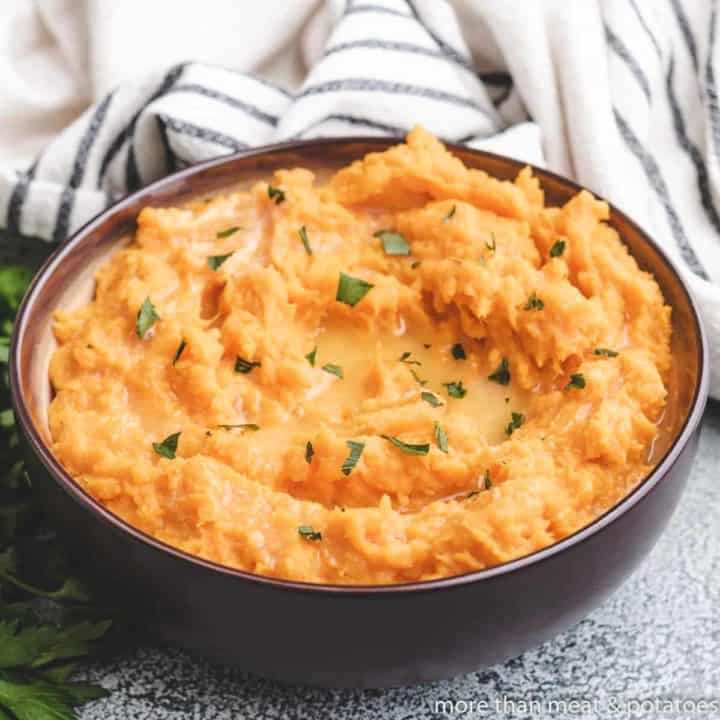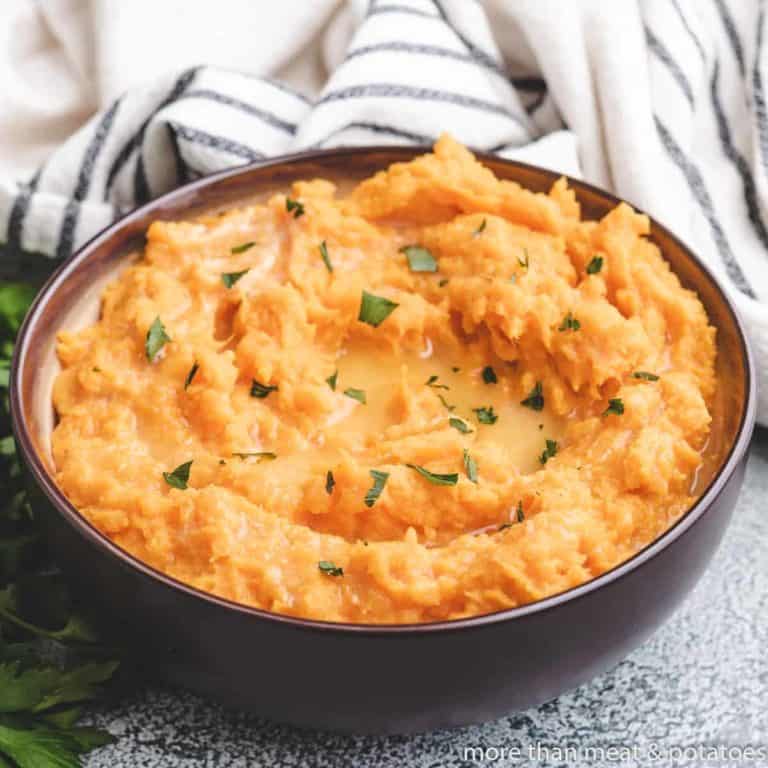 Mashed Sweet Potatoes
Additional Time:
5 minutes
Decadent and savory mashed sweet potatoes lightly seasoned and flavored with butter, garlic, and heavy cream.
Ingredients
1 ½ Teaspoons Salt, divided
2 Pounds Sweet Potatoes, peeled and cut into 1-inch cubes
2 Tablespoons Heavy Cream
2 Tablespoons Unsalted Butter
1 Teaspoon Garlic, minced or pressed (about 1 small clove)
¼ Teaspoon Pepper
Instructions
Rinse, dry, peel (optional), and dice the sweet potatoes.
Place the sweet potatoes in a large pot, and cover them with water by about 1 inch. Add 1 teaspoon of salt, and bring the water to a boil. Reduce the heat to a simmer, and cook until the potatoes are fork tender, about 10 to 12 minutes.
Drain off the water, and return the potatoes to the pot. Use a potato masher to mash the potatoes to the desired consistency. Add the heavy cream, butter, garlic, remaining salt, and pepper. Stir to combine.
Garnish with fresh parsley if desired. Serve hot, and store any leftovers in the refrigerator for up to 3 days.
Notes
The calories listed are an approximation based on the ingredients in the recipe card and a serving size of about 1/2-cup of the mashed sweet potatoes. Actual calories will vary. For more information and tips, please refer to the post.
Recommended Products
As an Amazon Associate and member of other affiliate programs, we may earn a commission from qualifying purchases.
Nutrition Information:
Yield:

12
Serving Size:

1
Amount Per Serving:
Calories:

94
Total Fat:

3g
Saturated Fat:

2g
Trans Fat:

0g
Unsaturated Fat:

1g
Cholesterol:

8mg
Sodium:

293mg
Carbohydrates:

16g
Fiber:

3g
Sugar:

5g
Protein:

2g
*The calories are an estimate and are based on the ingredients and serving size listed. The calories can vary depending on the brand of product purchased.