A flavorful caramelized onion and goat cheese tart that combines sweet caramelized onions with sharp goat cheese and fresh thyme.
Kim and I love appetizers featuring savory cheeses like goat cheese and Gouda. Recently, we shared a cranberry brie crostini that combined tart berries with a soft, salty cheese.
Today, we're sharing Kim's caramelized onion and goat cheese tart. While it may look complicated, it's actually quite simple.
All you need are a few kitchen staples and some fresh herbs to create this delicious appetizer.
So, let's get into the kitchen and start cooking.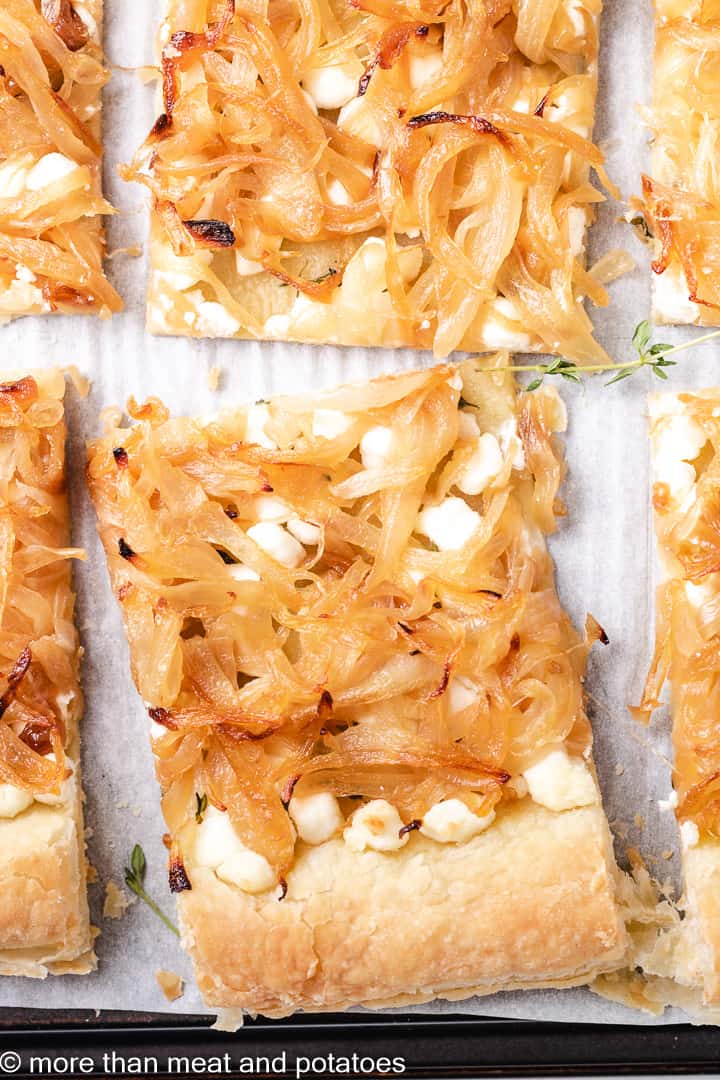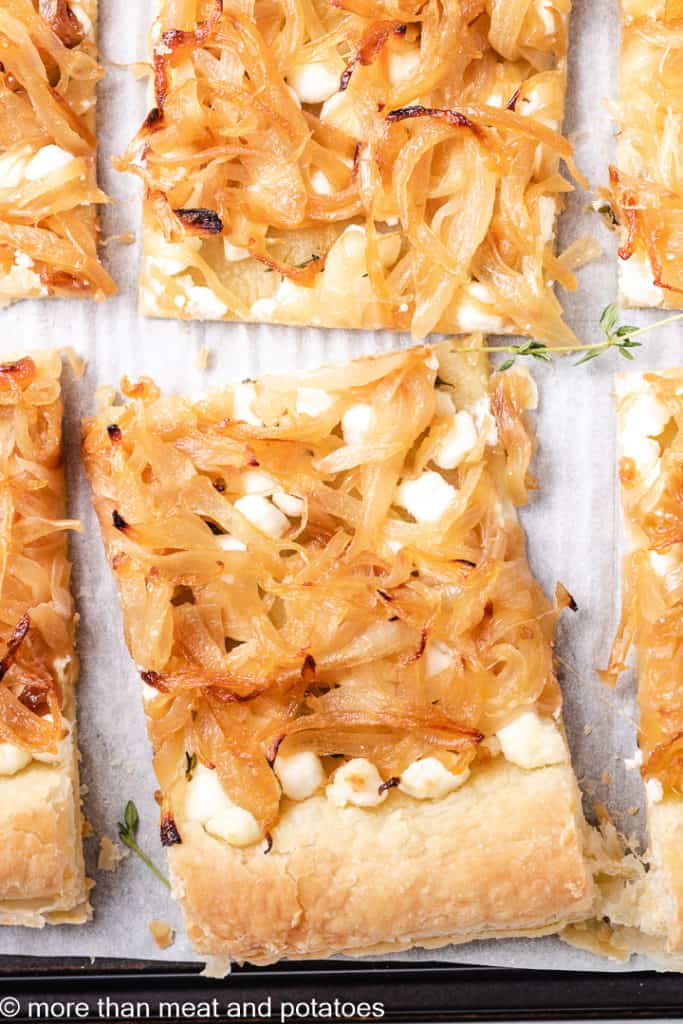 How to make a caramelized onion and goat cheese tart?
First, line a large baking sheet with parchment paper and set it aside for later.
After that, slice your onions into ¼-1/2 inch slices and place them into a large sauté pan.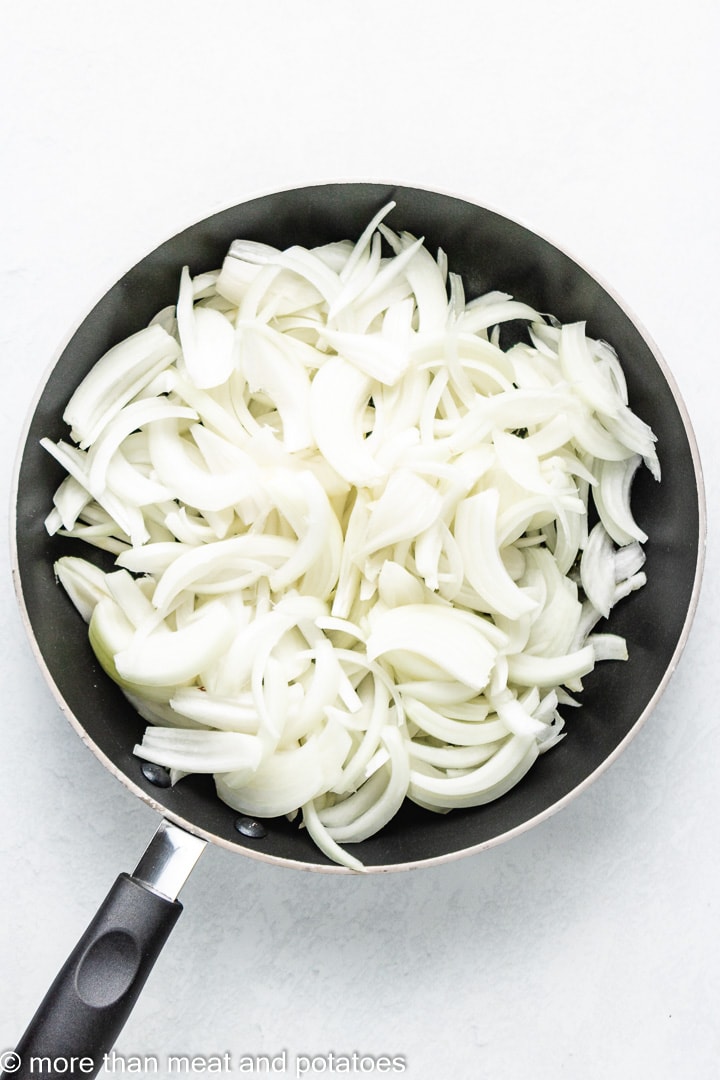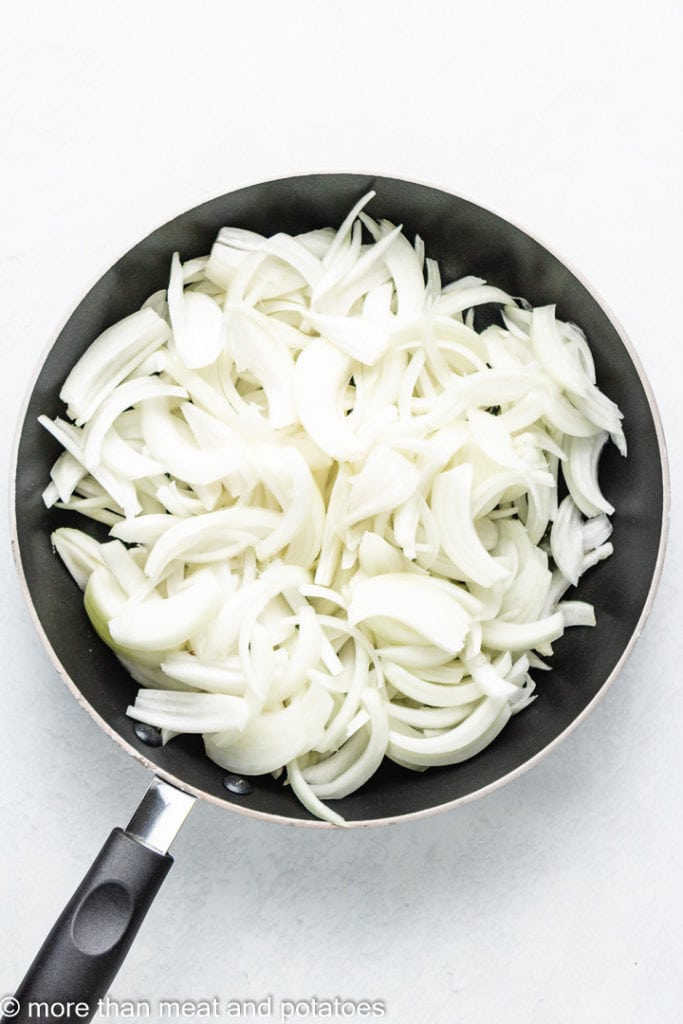 Next, place the pan over medium low heat and add the olive oil. Use tongs or a spoon to coat the onions in the oil.
Now, let the mixture cook down for about 30-minutes or until the onions have properly caramelized (limp and golden brown in color).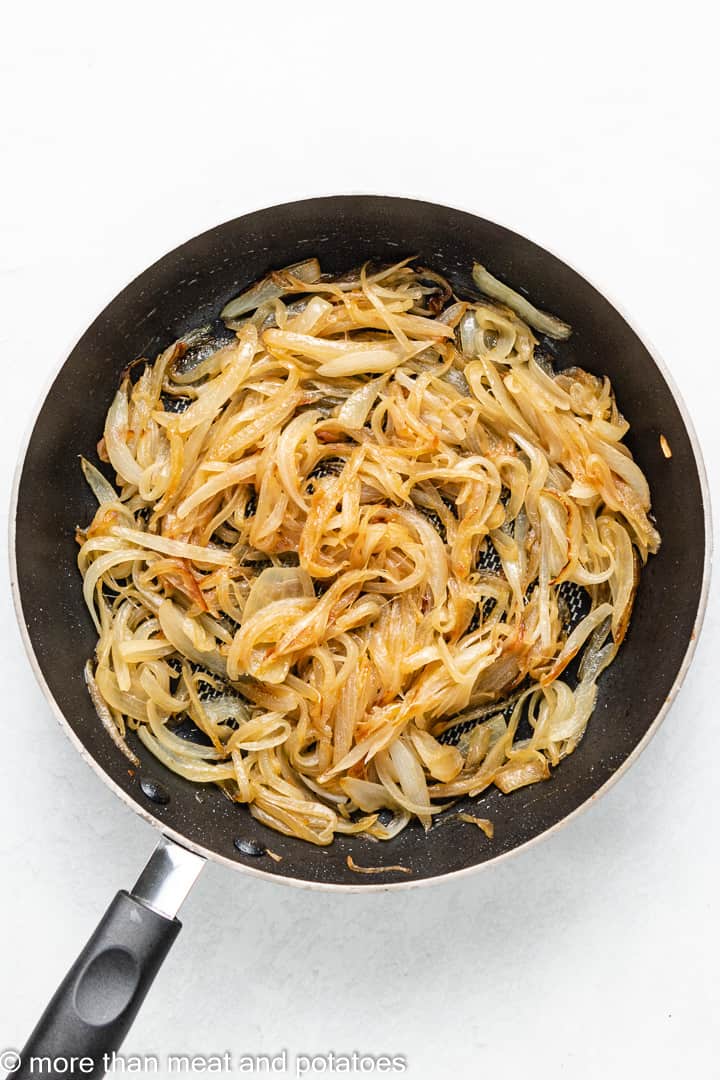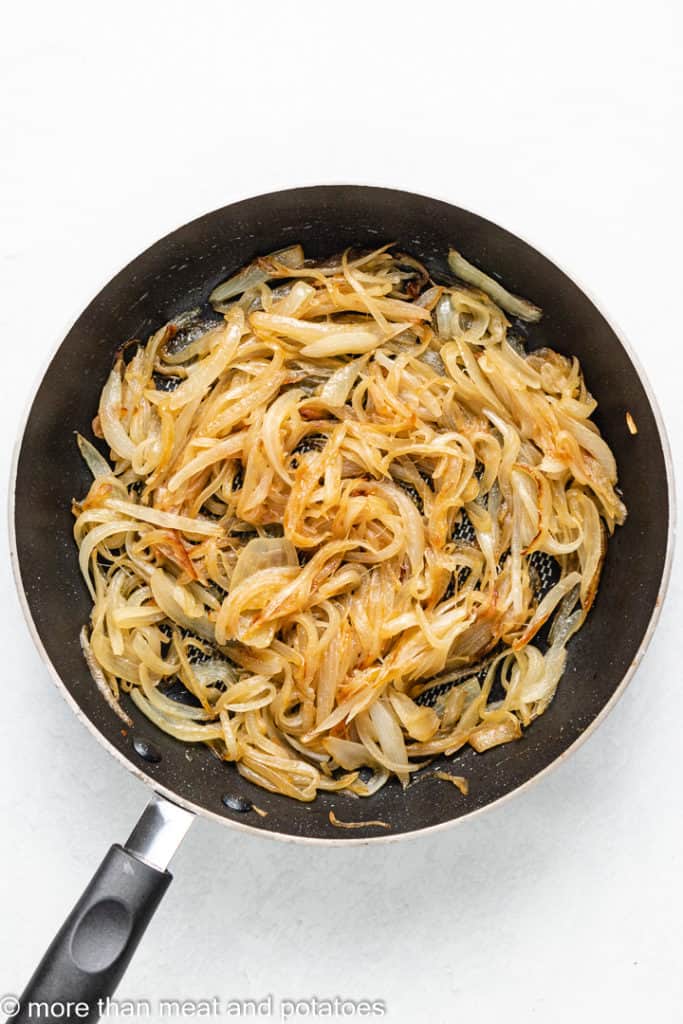 Once the onions are ready, preheat your oven to 400 degrees F. and remove the puff pastry from your freezer.
Then, when the pastry has softened enough to roll out, transfer it to a floured surface.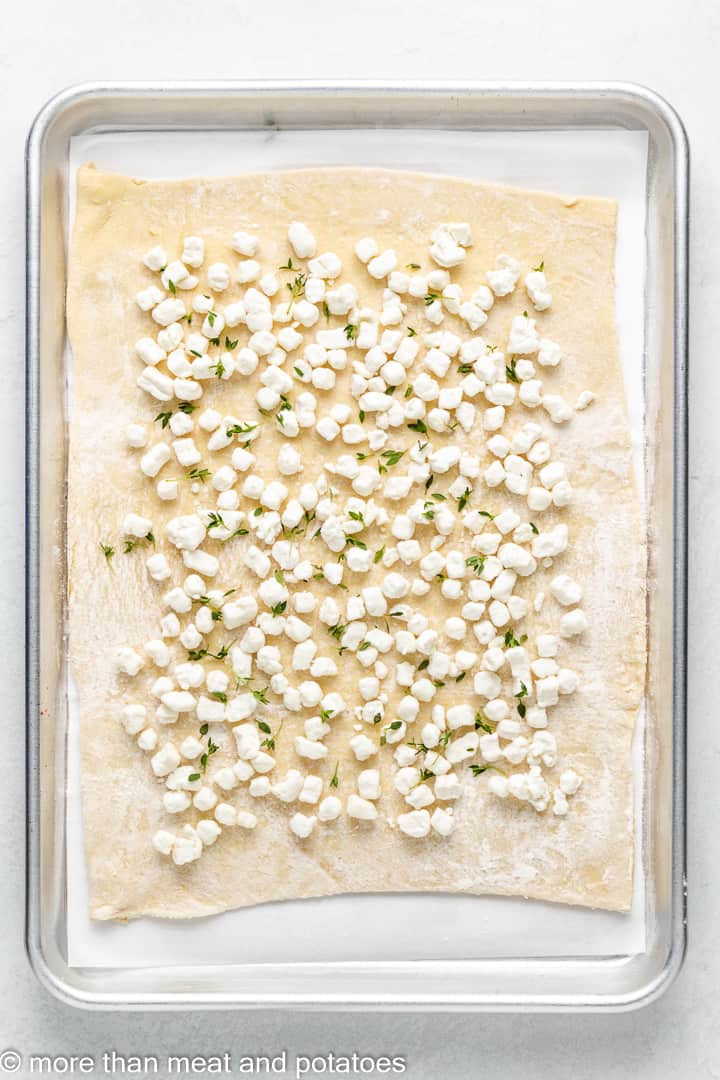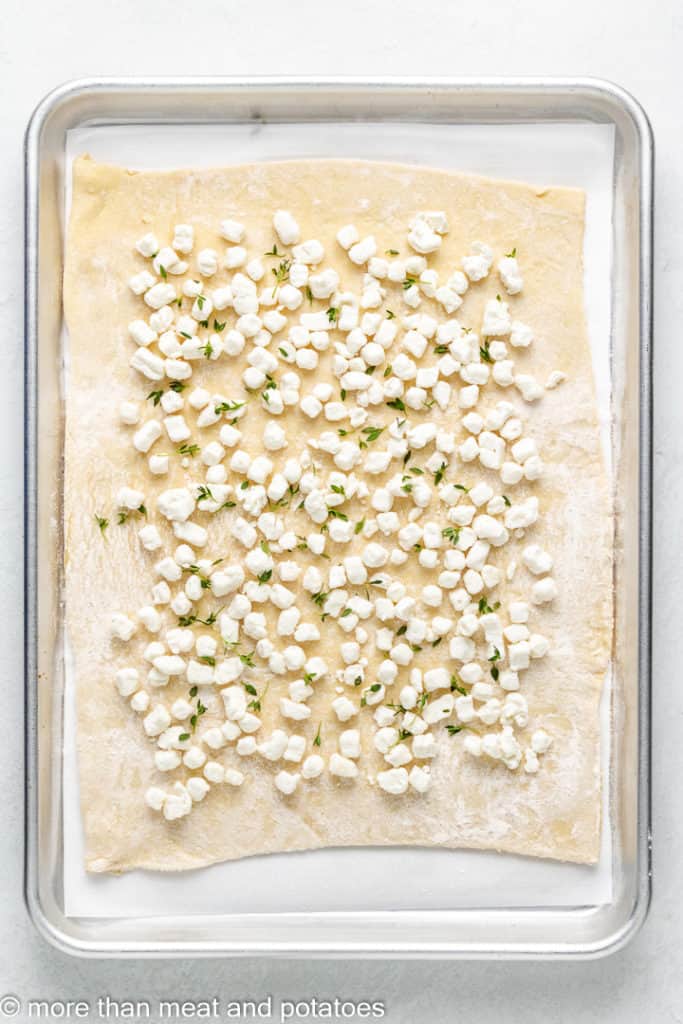 Afterward, use a rolling pin to roll it out into a 9x12-inch rectangle. Transfer the dough to your lined baking sheet.
Sprinkle the goat cheese and fresh thyme over the dough. Just be sure not to go to the edges of the rectangle.
Layer the caramelized onions over the goat cheese and thyme and fold the edges of the dough towards the center to create a crust.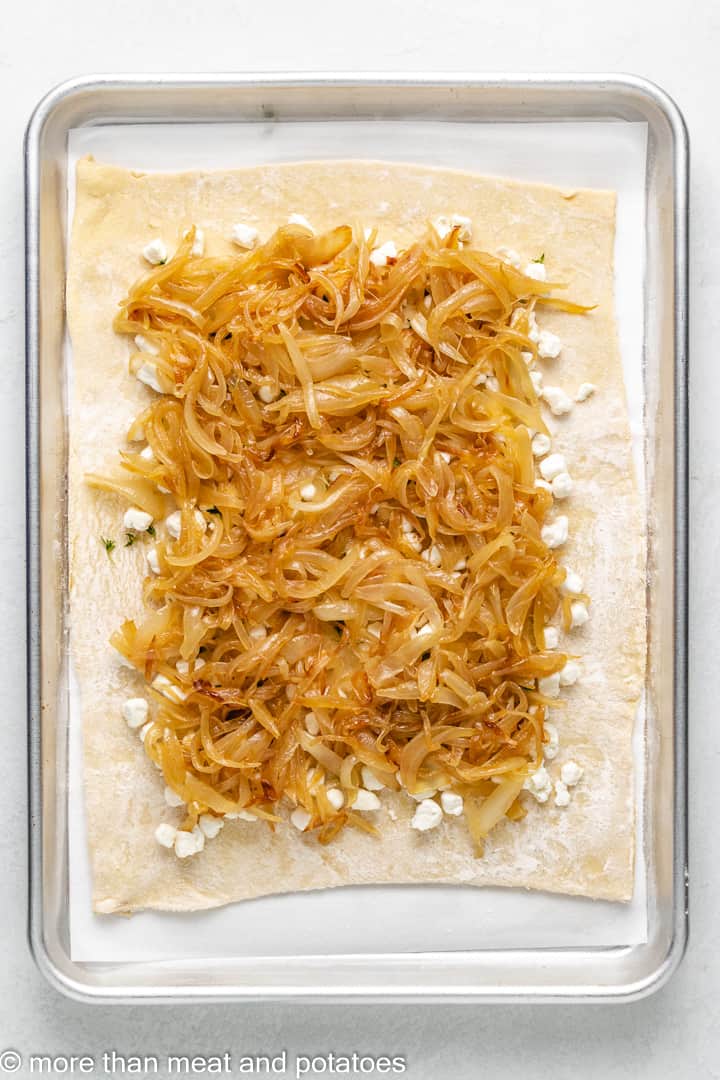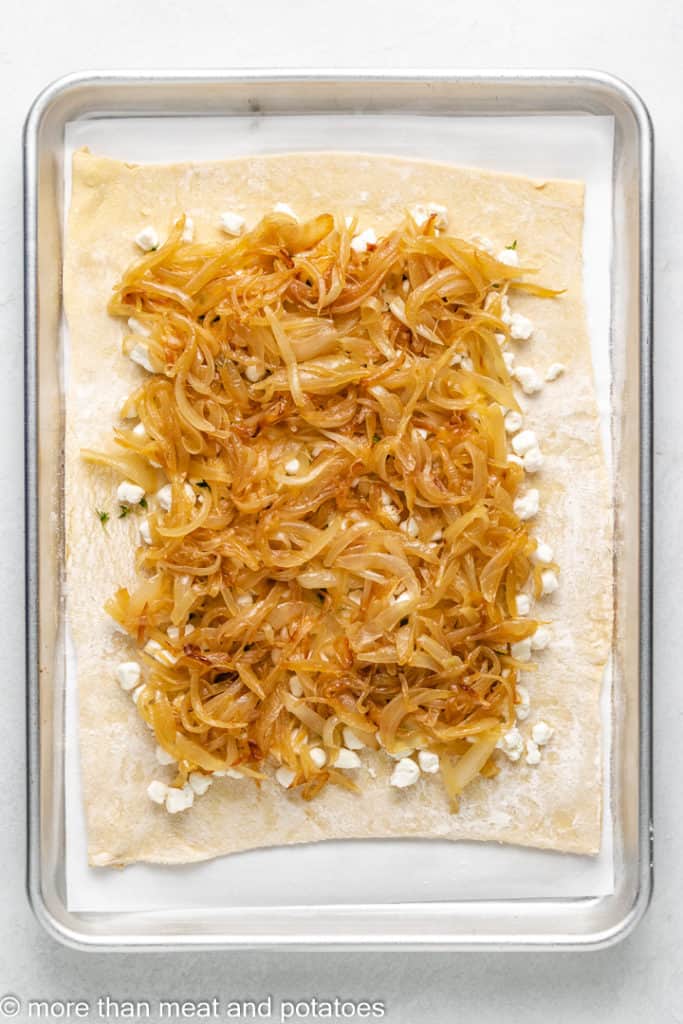 Last, place the tart into the oven to bake for 15-20 minutes or until the pastry dough is fully cooked and golden brown.
Remove the pan from the oven and serve. That's it, your caramelized onion and goat cheese tart is done!
Kim and I hope you enjoy the appetizer recipe and wish you all the best 🙂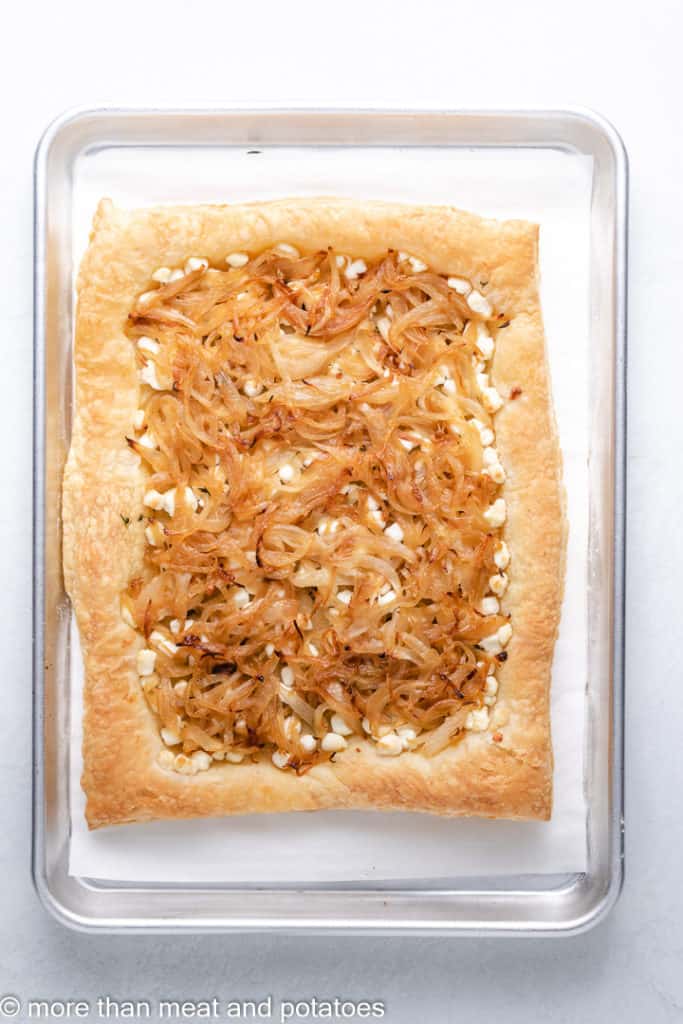 Recipe Tips
Taste test your goat cheese beforehand. Depending on how intense its flavor is, you may need to add more or cut back on the amount used in the recipe.
We didn't use an egg wash on our puff pastry. However, you can use one on the folded edges of the pastry dough to create a glossy, golden brown crust.
I recommend dusting your rolling pin with a little extra flour. It will keep the dough from sticking to the pin.
Can I freeze an onion tart?
Of course, you can freeze this tart after it has been cooked and cooled. When properly stored in your freezer, it should hold for up to 2-months.
Why aren't my onions caramelizing?
In my experience, certain varieties of onions will either lack the sugar content or moisture to properly caramelize. If this happens, simply add a little extra oil (or butter) and a pinch of granulated sugar.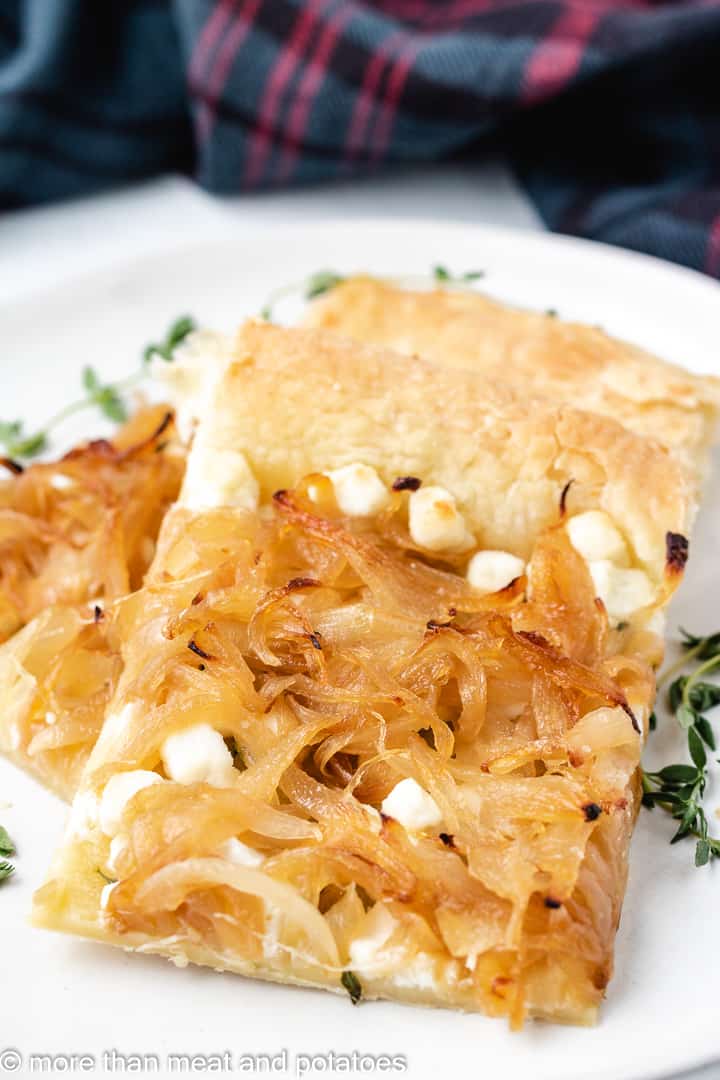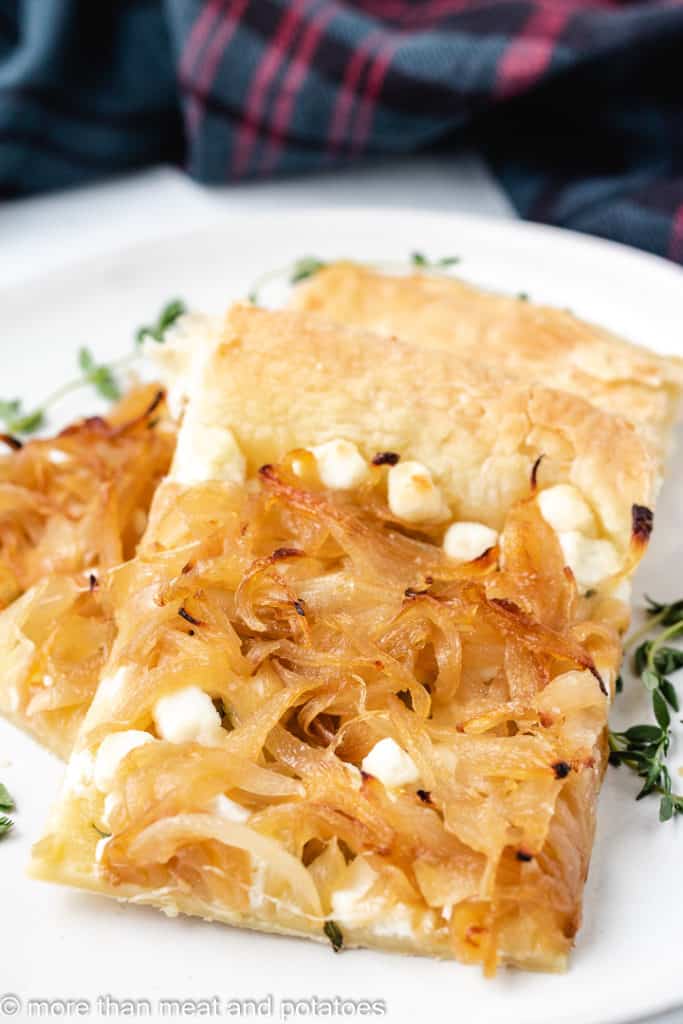 Recipe Card with Ingredient Amounts and Instructions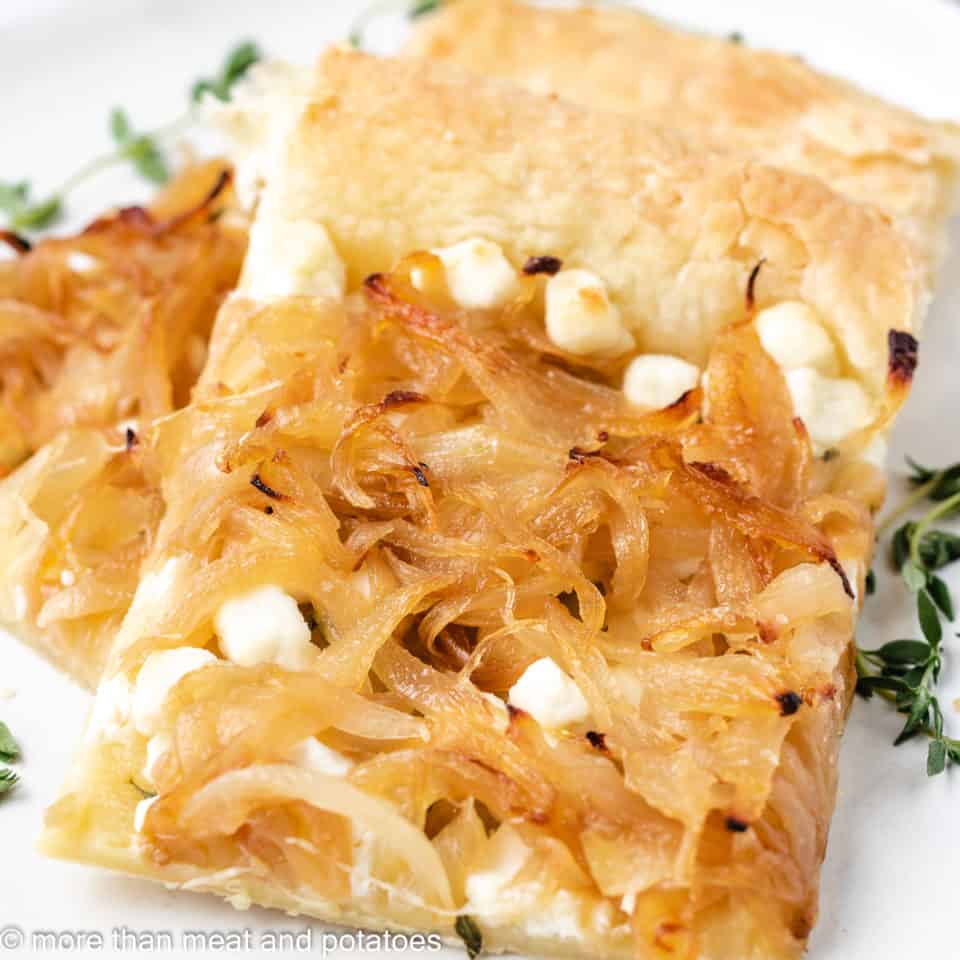 Ingredients
2

tablespoons

olive oil

6

cups

white onion

,

thinly sliced (about 3 medium onions)

1

puff pastry sheet

4

ounces

goat cheese

,

crumbles

2

teaspoon(s)

thyme

,

leaves; not sprigs
Instructions
Line a large baking sheet with parchment, and set aside.

Heat a medium skillet over low heat. Add the olive oil and sliced onions. Stir the onions to coat with oil, then allow them to cook for 30 to 40 minutes. Stir occasionally until the onions begin to soften and caramelize. They'll turn amber in color and sweeten in flavor. Remove from heat, and set aside.

2 tablespoons olive oil

6 cups white onion

While the onions cook, preheat the oven to 400°F, and remove the puff pastry from the freezer to thaw. Once the puff pastry has thawed according to the package directions, transfer it to a lightly floured surface. Roll it out to a rectangle about 9 x 12 inches in size. Transfer it to the prepared baking sheet.

Sprinkle the goat cheese crumbles over the puff pastry leaving about 1 inch around the edges. If using a softened goat cheese, spread it with a spatula. Top the goat cheese with fresh thyme, then add the caramelized onions.

4 ounces goat cheese

2 teaspoon(s) thyme

Bake for 15 to 20 minutes or until the puff pastry is golden brown. Remove from the oven, slice into squares, and serve warm.

Store leftovers in the refrigerator for up to 3 days.

Notes
*The nutrition and caloric information provided are to be used as a guideline, and are an estimate only.
*Please see the post for answers to frequently asked questions.
Nutrition
Serving:
1
Slice
Calories:
228
kcal
Carbohydrates:
20
g
Protein:
5
g
Fat:
15
g
Saturated Fat:
4
g
Polyunsaturated Fat:
2
g
Monounsaturated Fat:
8
g
Cholesterol:
5
mg
Sodium:
107
mg
Potassium:
161
mg
Fiber:
2
g
Sugar:
4
g
Vitamin A:
138
IU
Vitamin C:
8
mg
Calcium:
42
mg
Iron:
1
mg