Fire roasted peppers combined with tomatoes, onions, lime juice and other Southwest ingredients to create a savory red pepper salsa.
I first introduced Kim to authentic Tex-Mex about 16 years ago while traveling through Texas. Ever since then she's been hooked. We adore homemade salsa, hatch green chile sauce, tacos, burritos, pico de gallo, and all the flavors of the Southwest.
For today, we're sharing our roasted red pepper salsa made with fire roasted peppers. Kim roasted fresh jalapenos and red bell peppers over an open flame. Then, she combined them with sweet onions, garlic, lime juice, salt, and pepper to create a salsa everyone will love.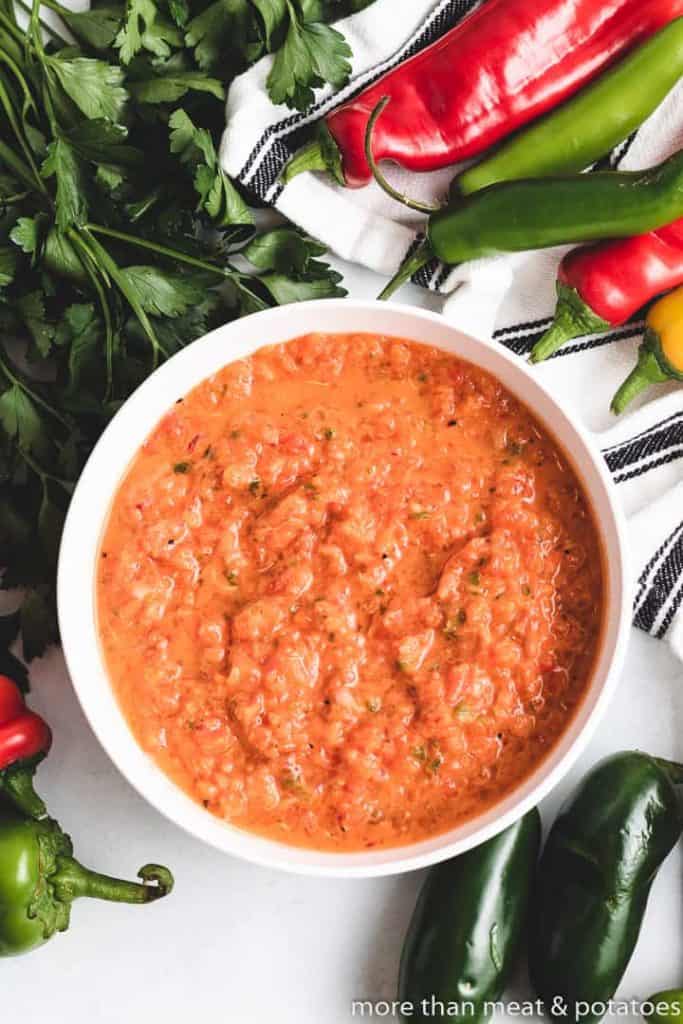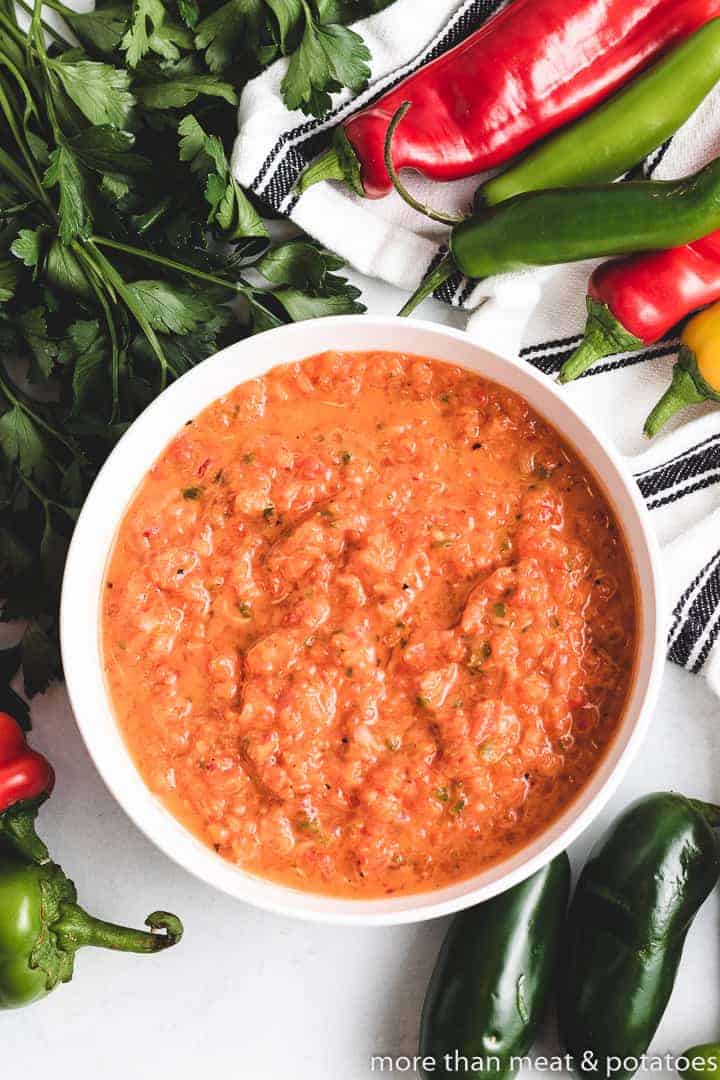 How to make red pepper salsa?
First, you need to roast the peppers. So, preheat a propane grill or gas stove-top. Using tongs, place the fresh peppers over the open flame, turning them frequently.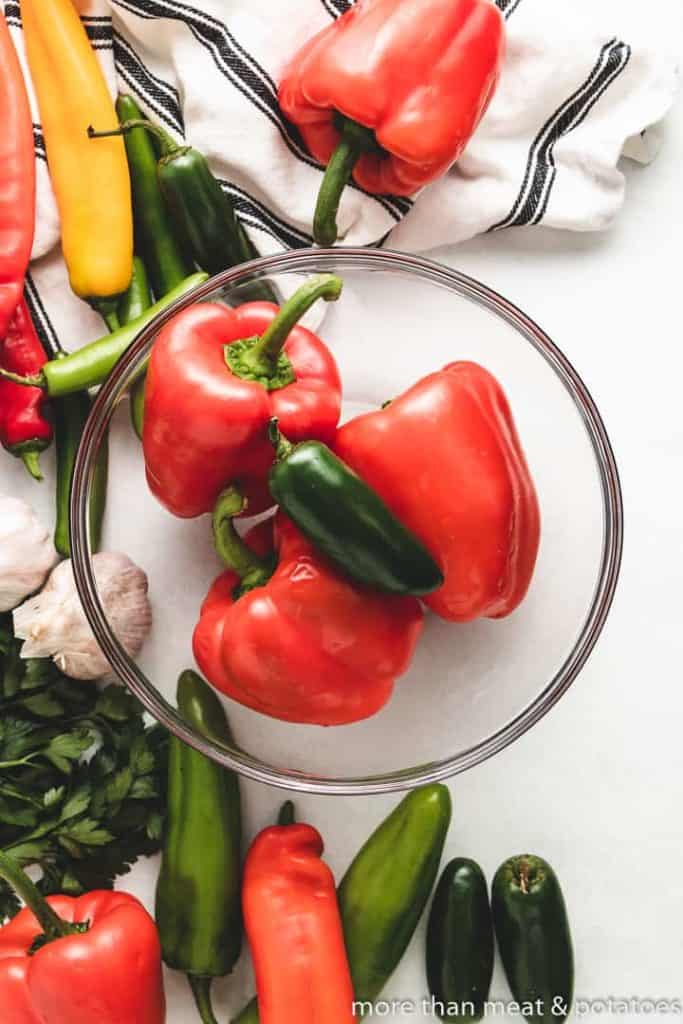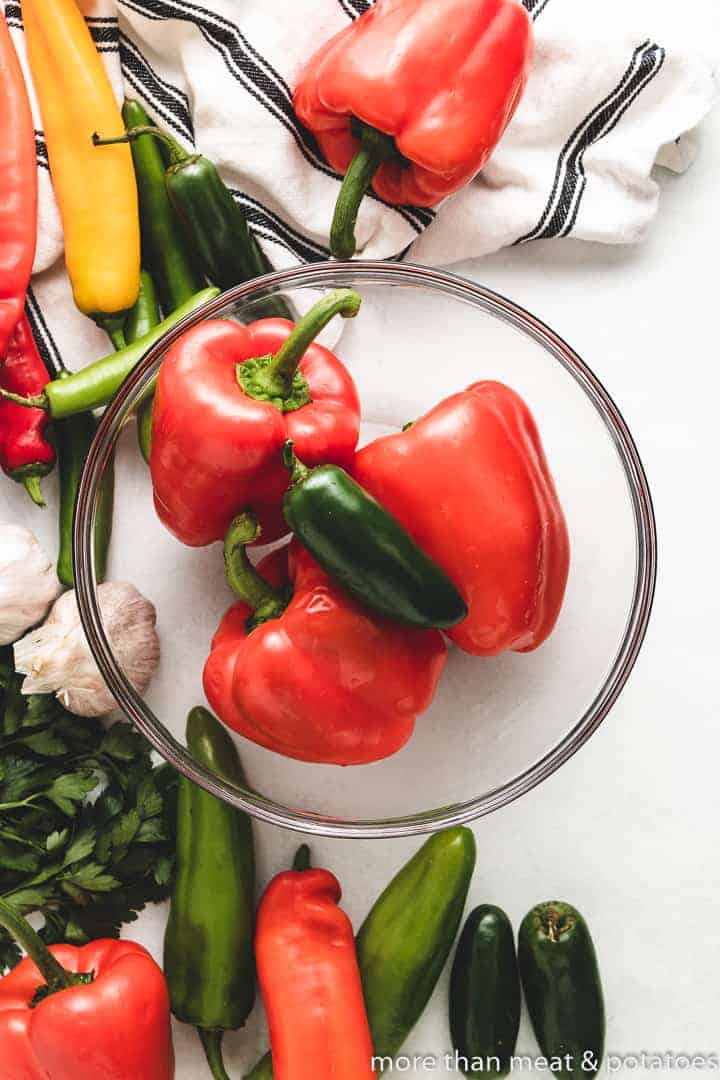 Next, once the skins have blistered and charred on all sides, turn off the flame.
After that, place the roasted peppers in a bowl or on a sheet pan to cool until they can be easily handled.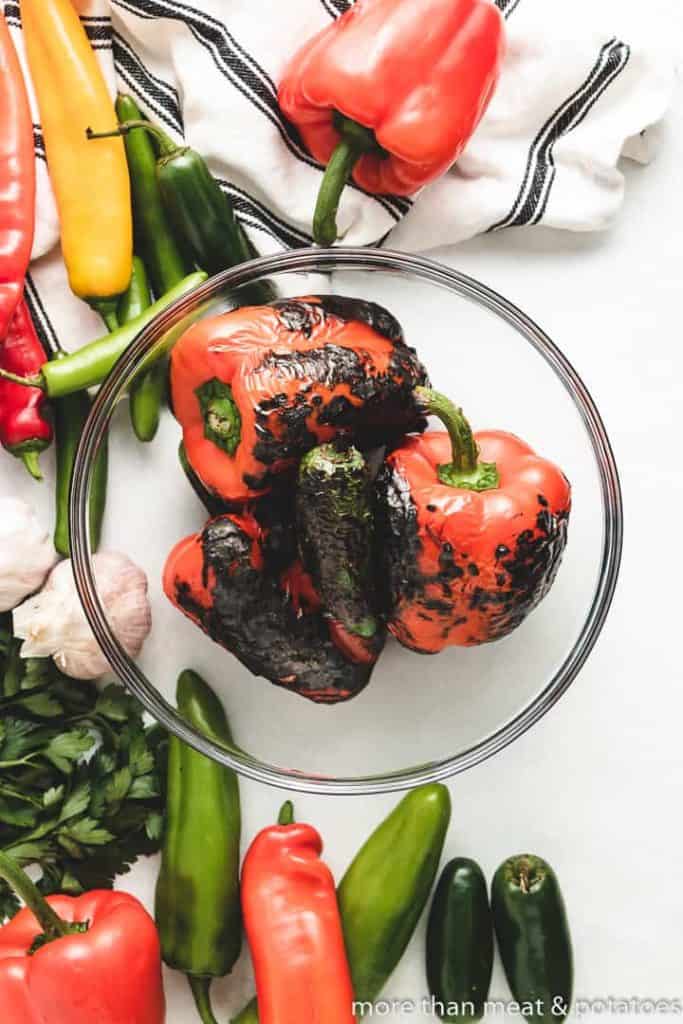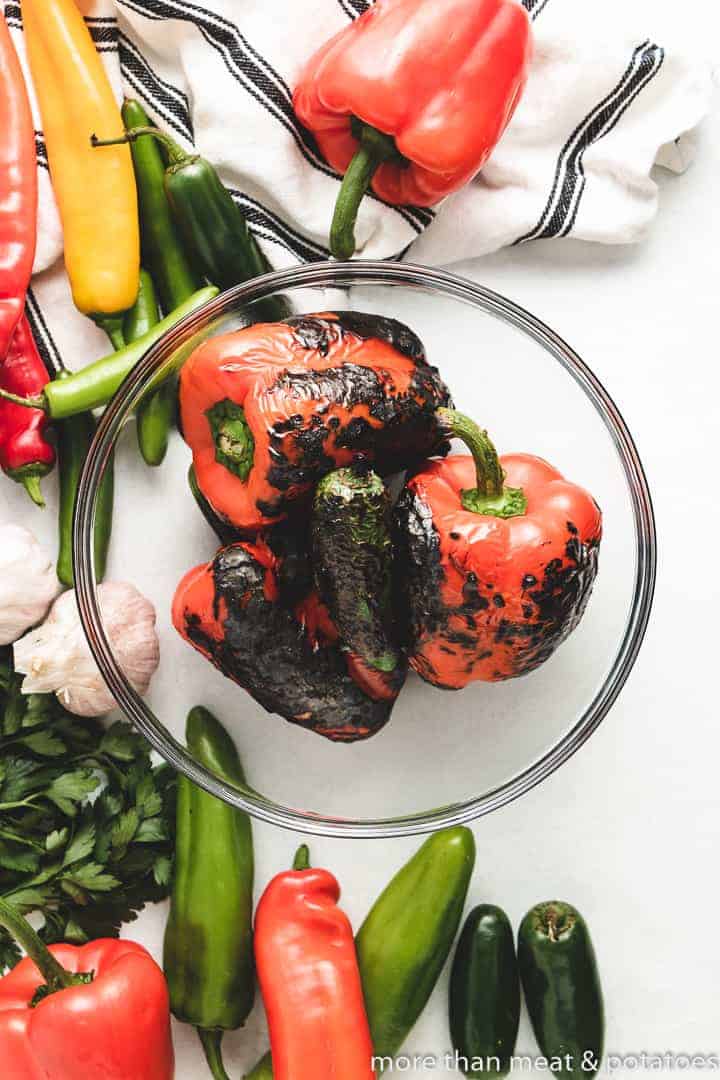 Now, once you can handle them, the peppers need to be peeled. Remove all those charred skins.
Also, cut off the stems and scrape out all the seeds. Afterward, cut the peppers into chunks.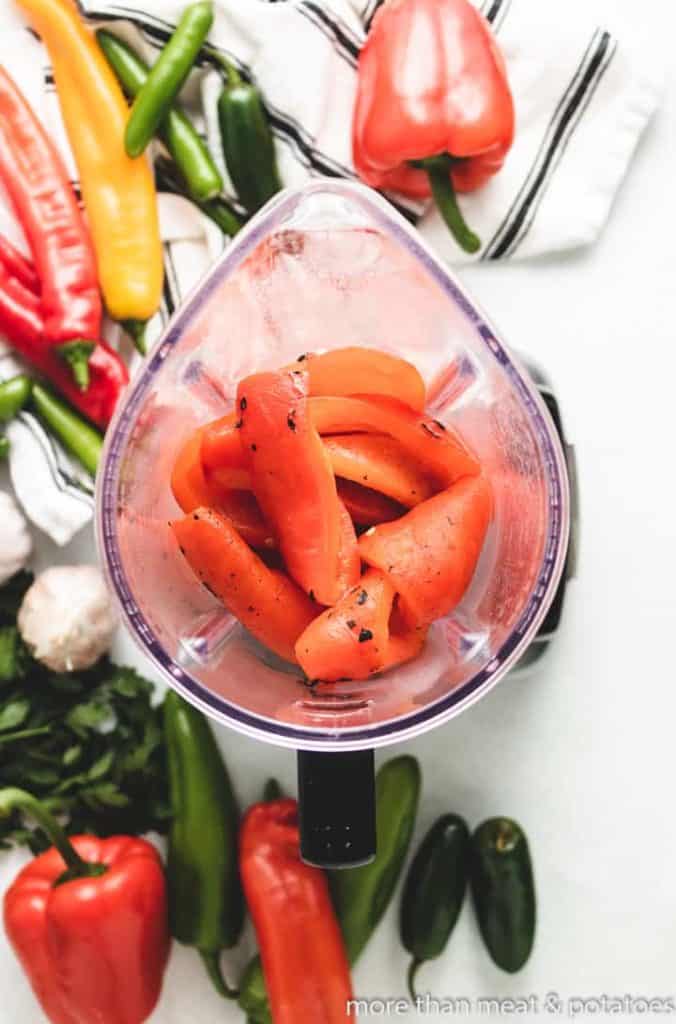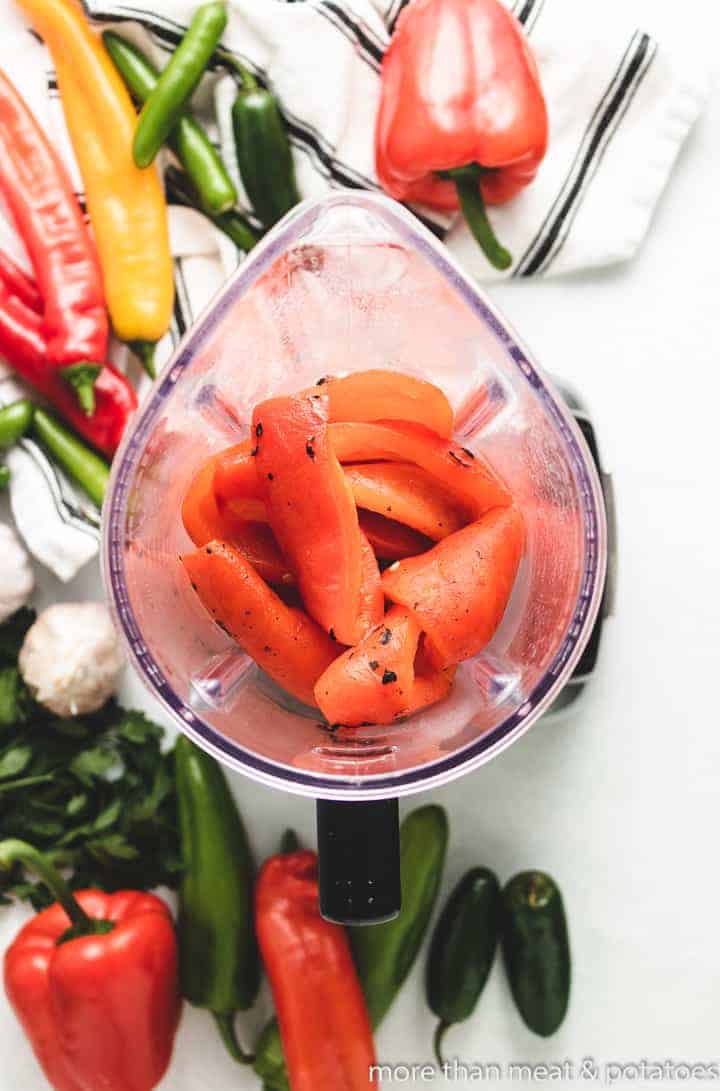 At this point, you can also peel the garlic and chop the tomatoes and onions. Oh, you'll need to juice a lime as well.
Then, place all the ingredients into a blender and pulse the salsa until it reaches your desired consistency.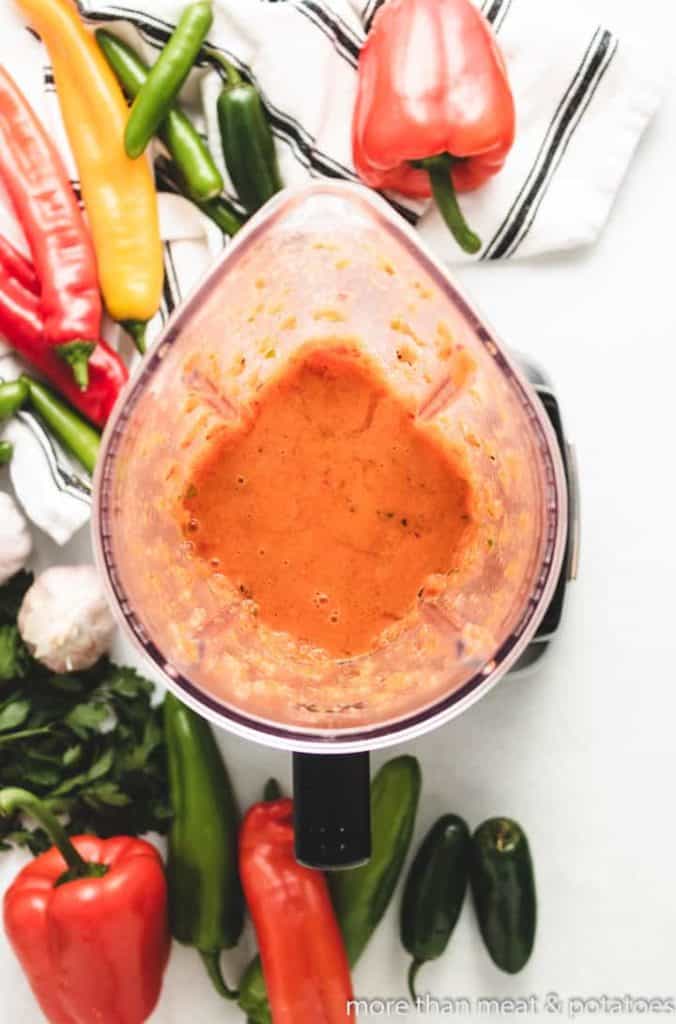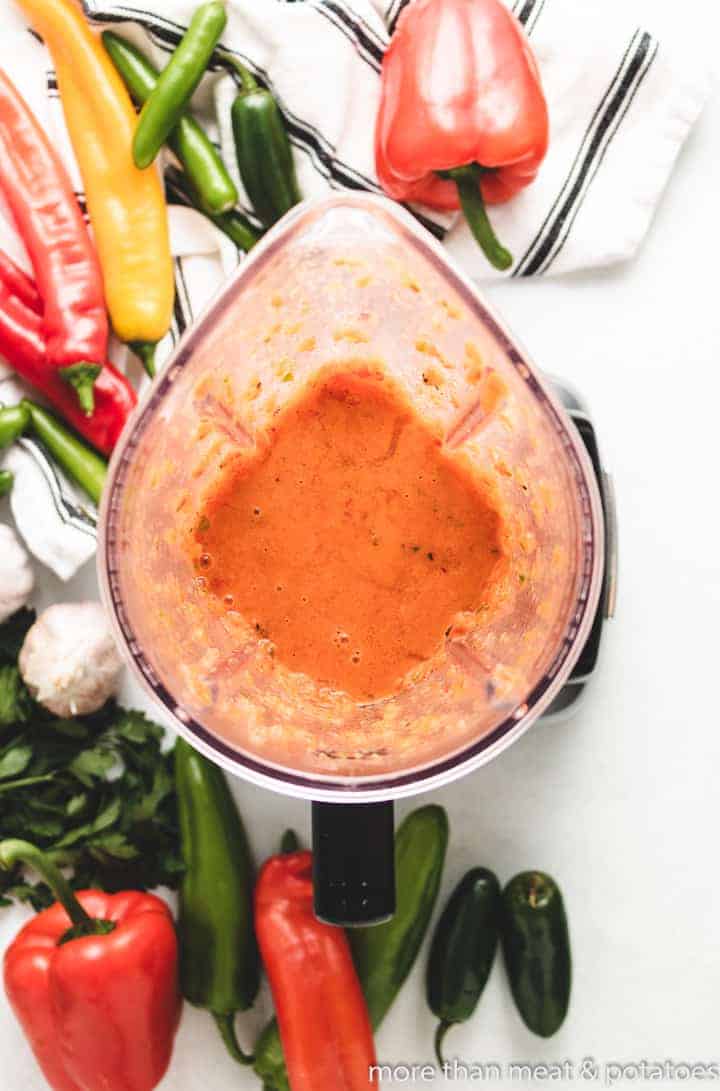 Last, place the salsa into a jar for storage or serve with fresh tortilla chips. That's it, the roasted red pepper salsa is done! Kim and I hope you enjoy it and wish you all the best 🙂
Can't get enough roasted veggies? Then take a look at our roasted brussel sprouts and sweet potatoes recipe!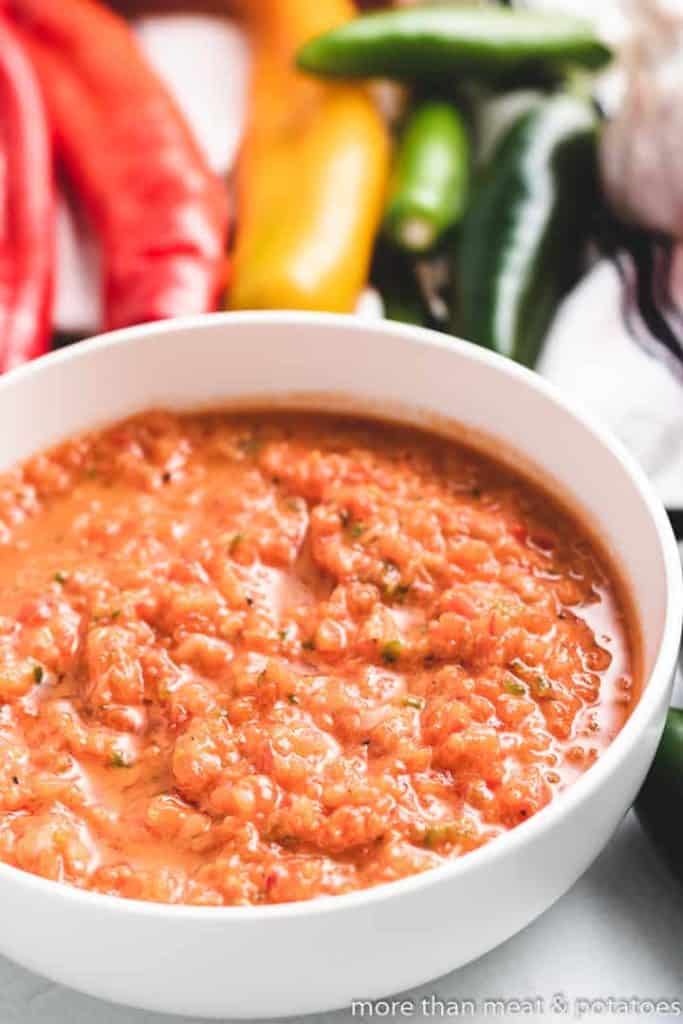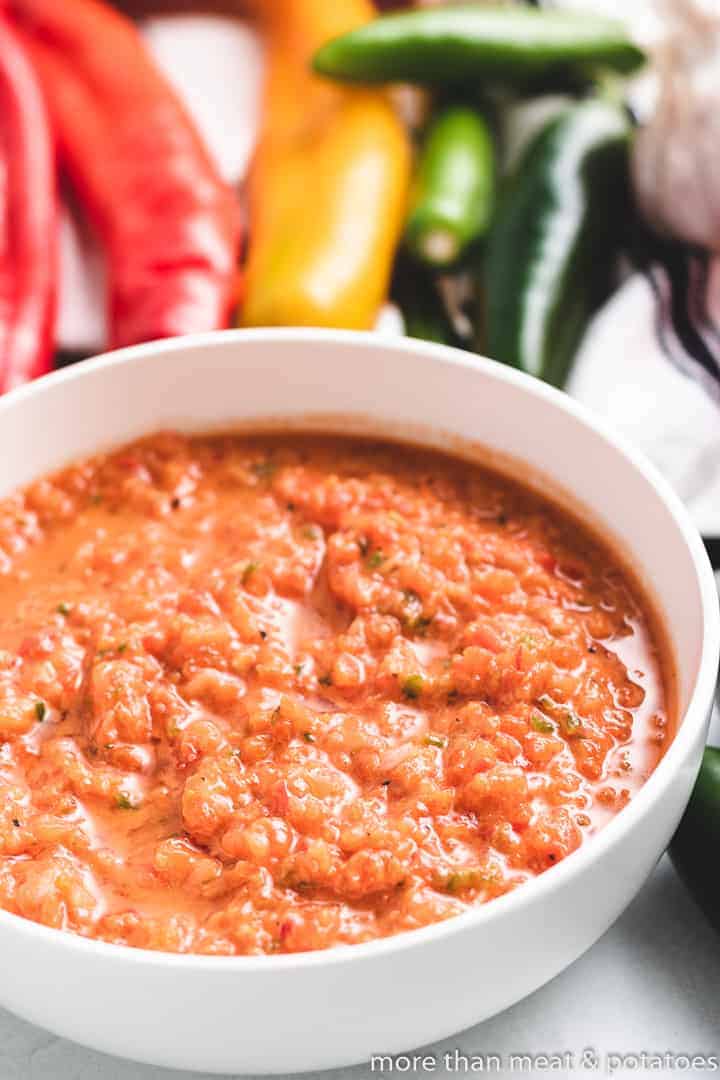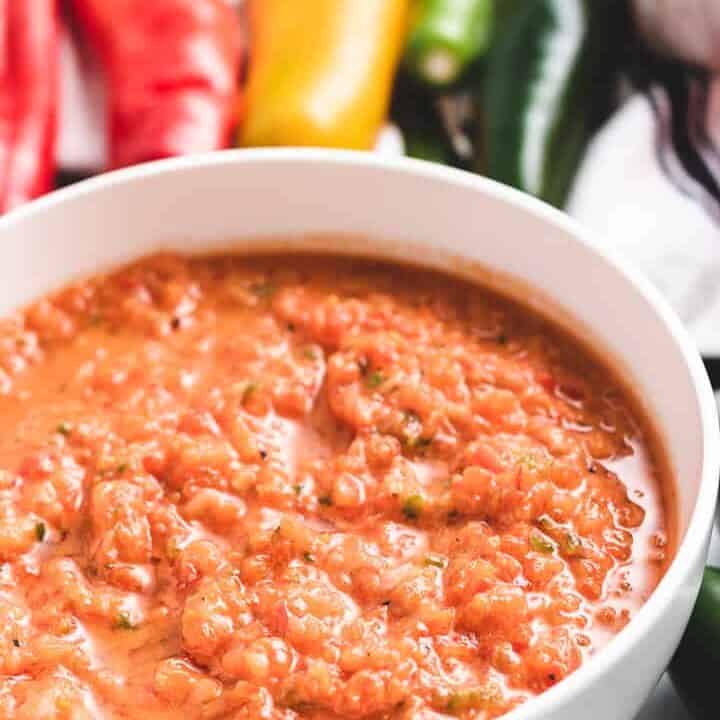 Roasted Red Pepper Salsa
Additional Time:
10 minutes
Fire roasted peppers combined with tomatoes, onions, lime juice and other Southwest ingredients to create a savory red pepper salsa.
Ingredients
3 Large Red Bell Peppers
2 Roma Tomatoes
1 Jalapeno
1 Clove Garlic
¼ Large Red Onion
2 Tablespoons Lime Juice
2 Tablespoons of Avocado Oil (optional)
Salt to Taste
Instructions
Roast the red peppers and jalapeno by carefully placing them over an open flame of a grill or gas stove, using a pair of long, metal tongs. Turn the peppers frequently until the skins blacken and blister on all sides. Remove to a waiting plate or sheet pan to cool until they're easy to handle.
Once the peppers have cooled, carefully remove the blackened skins, the tops, seeds, and membranes. Cut the bell peppers into large pieces and set aside.
Place all the ingredients in a blender, and pulse until the desired consistency is reached.
Serve immediately or store in the refrigerator for up to 3 days.
Notes
The calories listed are an approximation based on the ingredients listed in the recipe card and a serving size of about 1/4-cup of red pepper salsa. Actual calories will vary.
*Depending on how much liquid is in the peppers and tomatoes, this salsa can be thin. To reduce the amount of liquid try one of these. Pour the salsa through a mesh strainer, scoop out the centers of the tomatoes before blending, reduce the amount of lime juice (may change the flavor slightly), or don't blend to small pieces.
*The jalapeno can add a significant amount of heat. If you're sensitive to spicy foods, consider reducing the amount of the jalapeno used, omitting the jalapeno, or substituting it with a milder pepper.
Nutrition Information:
Yield:

8
Serving Size:

1
Amount Per Serving:
Calories:

49
Total Fat:

4g
Saturated Fat:

0g
Trans Fat:

0g
Unsaturated Fat:

3g
Cholesterol:

0mg
Sodium:

75mg
Carbohydrates:

4g
Fiber:

1g
Sugar:

3g
Protein:

1g
*The calories are an estimate and are based on the ingredients and serving size listed. The calories can vary depending on the brand of product purchased.