Don't know what to do with leftover turkey? Try this turkey pot pie with puff pastry recipe. It's a semi-homemade meal using leftovers!
Let's face it, most of us are not going to eat a whole turkey on Thanksgiving. That means tons of leftovers. Now, you have a lot options, from salads, to sandwiches, and even sliders. Today, we're giving you another option. It's our turkey pot pie with puff pastry recipe.
Now, I call this one semi-homemade because you're going to be using store-bought puff pastry. You can make it yourself, but we figured you could use the break. This simple recipe is no-fail. So, this year, cut yourself a little slack and use the leftover turkey to create this hearty pot pie.
If you happen to have leftover chicken on hand, give our Chicken Pot Pie a try. We used our homemade Butter Pie Crust for that recipe, but you could easily use this recipe with the puff pastry and swap out the filing with the chicken pot pie filling instead.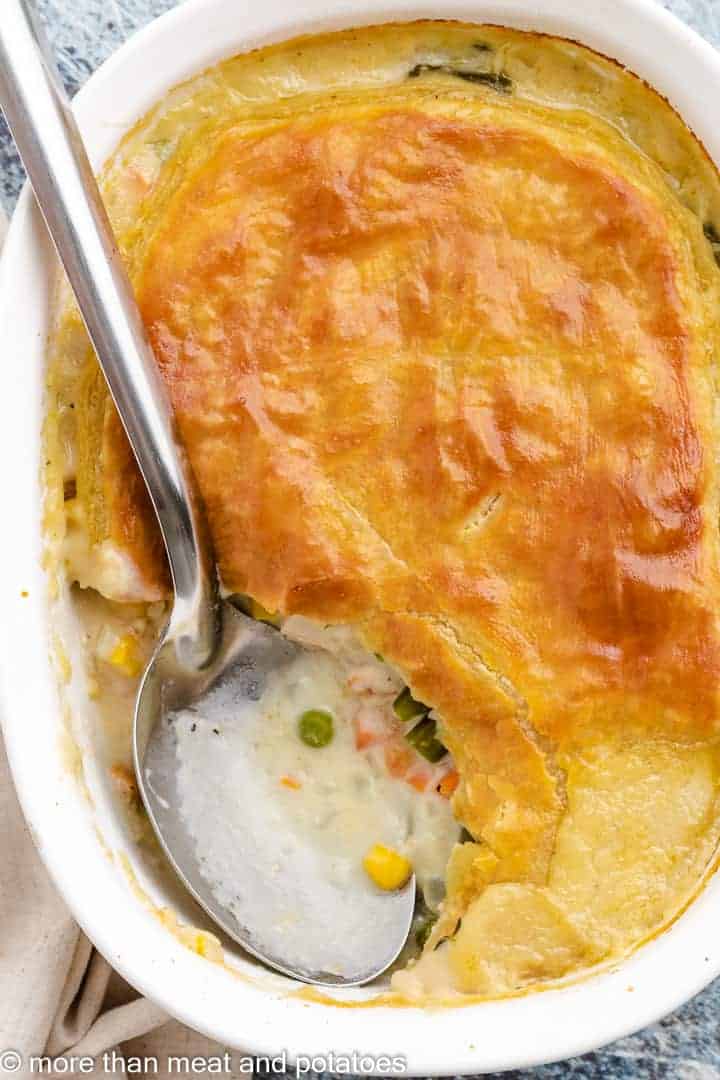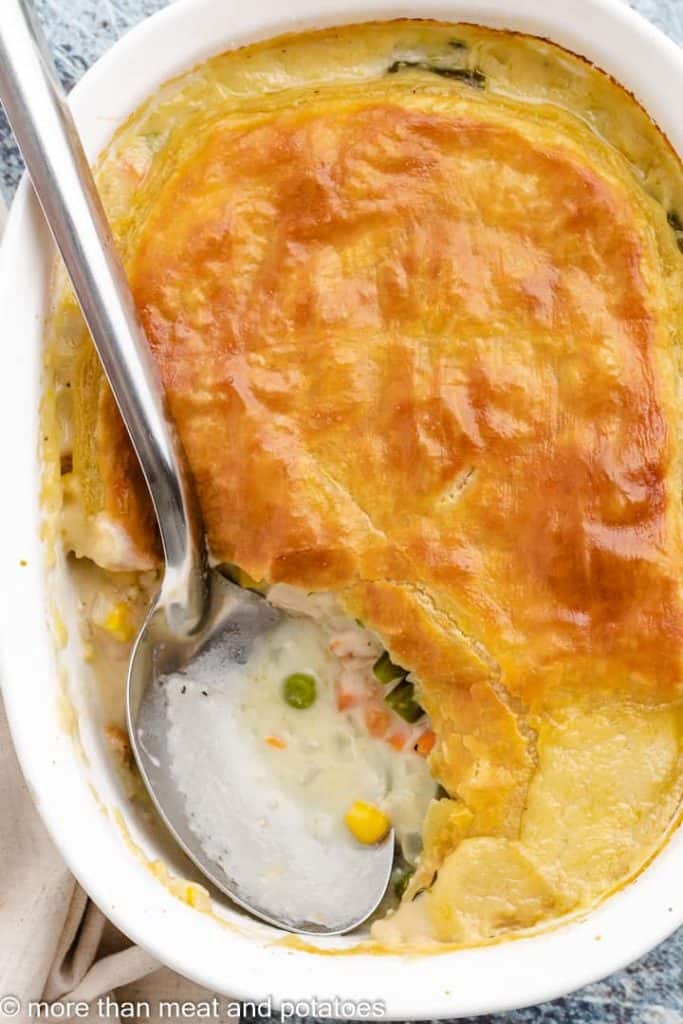 How to make turkey pot pie with puff pastry?
First, preheat your oven to 375°F, and grease a 2-quart casserole dish with non-stick cooking spray. Additionally, go ahead and remove the puff pastry from your freezer. It needs to thaw a little.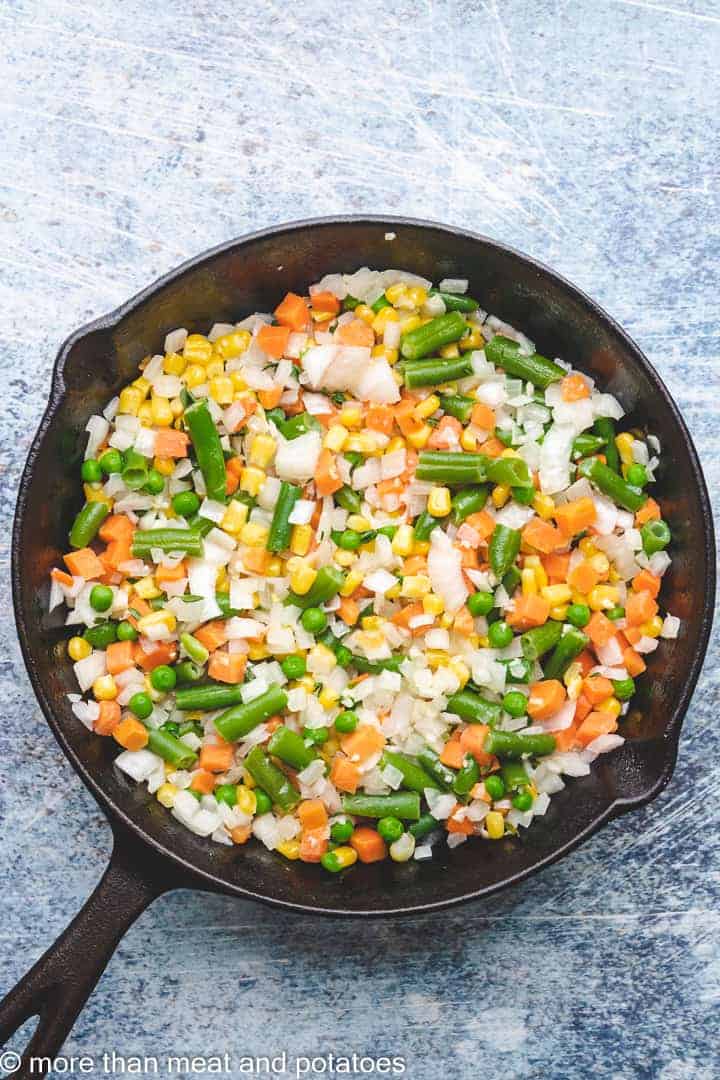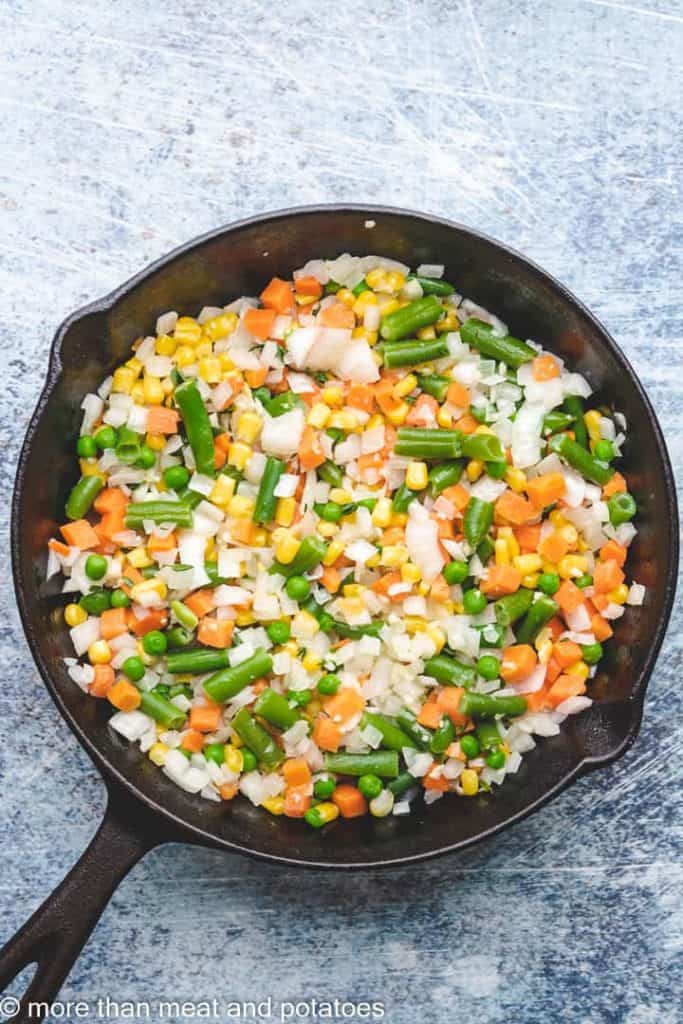 Next, place a large skillet over medium heat. Melt the butter in the pan and then add diced onion.
Also, add the mixed vegetables. Let everything cook for 4-5 minutes. Now, add the garlic and thyme.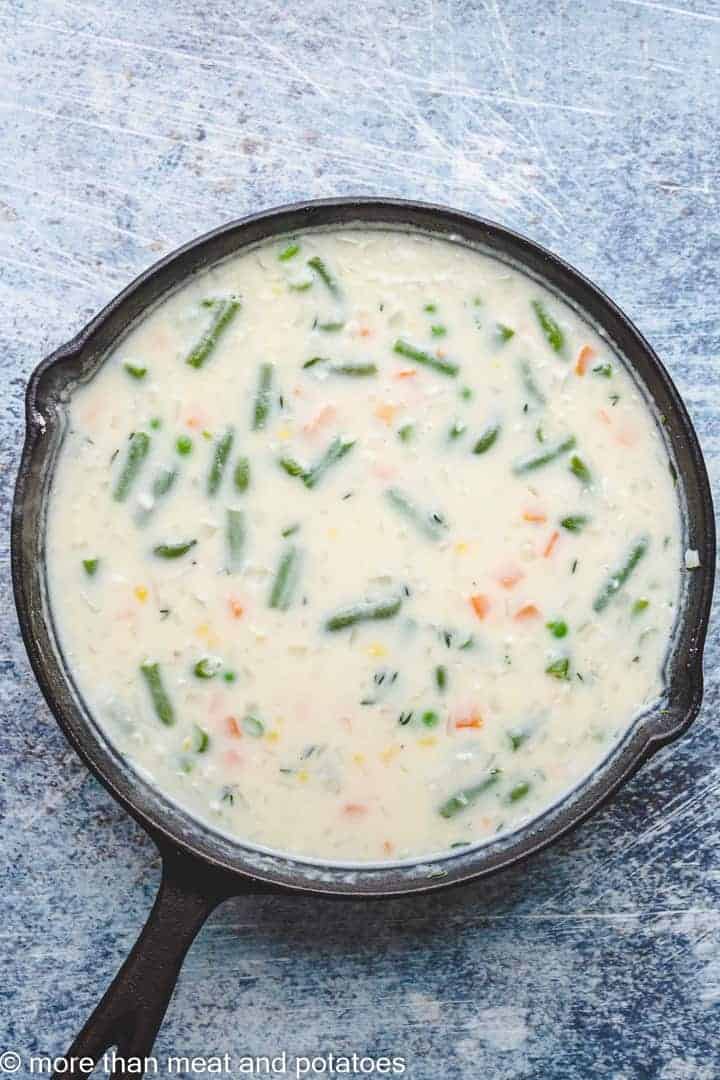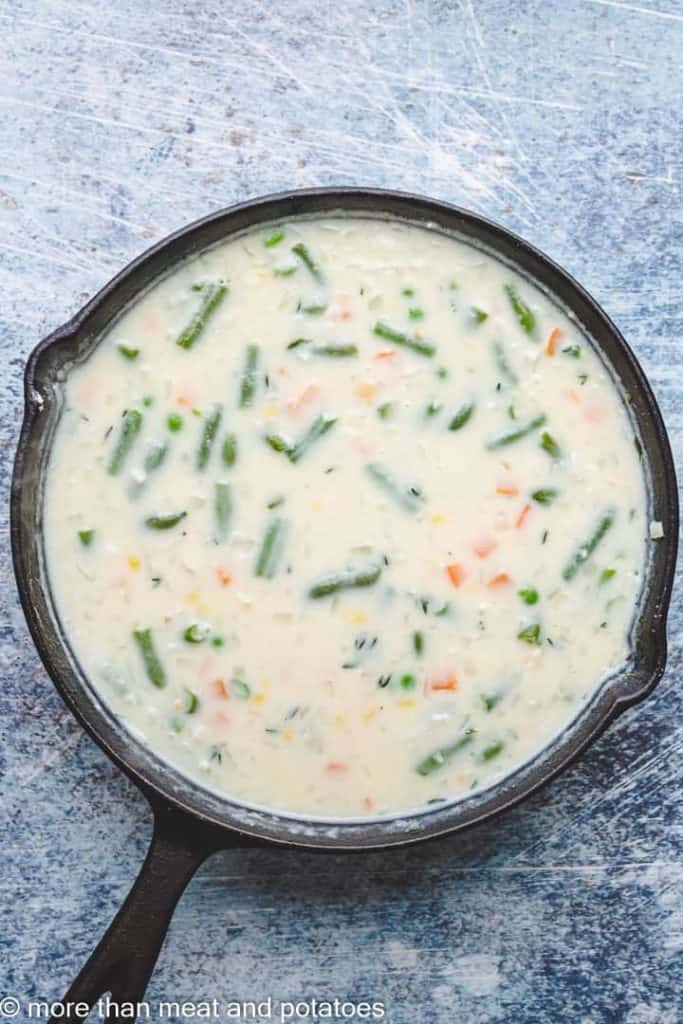 Continue cooking the mixture for another 30-seconds before sprinkling in the flour.
Once the flour cooks for 3-4 minutes, whisk in the chicken broth and milk. Do a taste test and add salt and pepper if needed.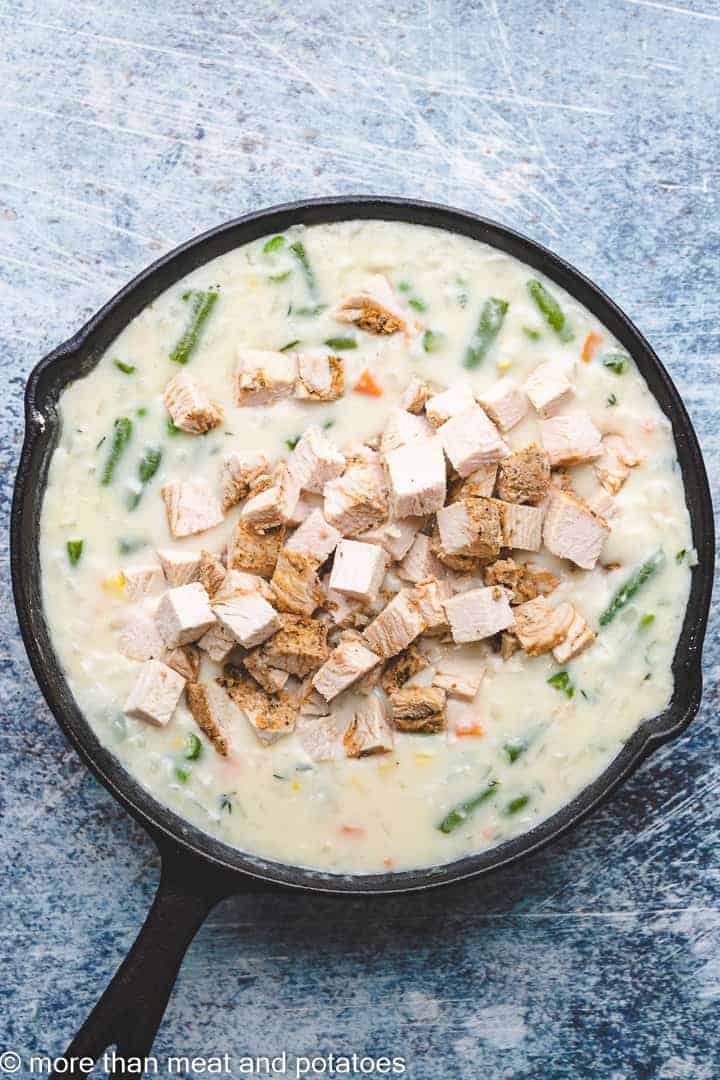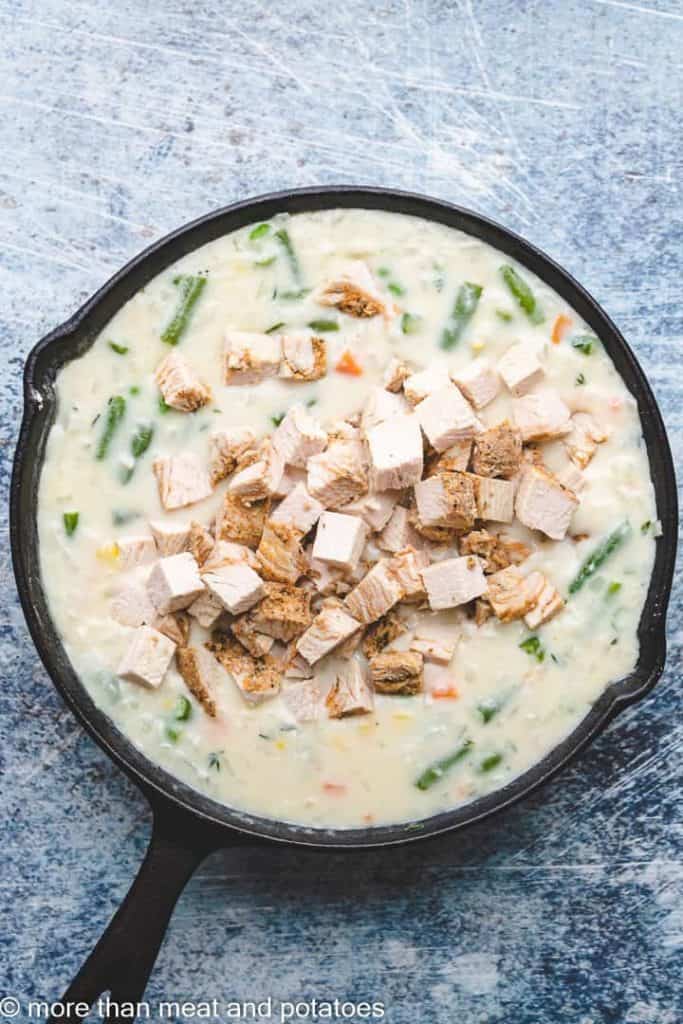 Then, continue stirring the filling as it thickens. When it reaches your desired consistency, turn off the heat and add the chopped turkey.
Stir everything together and then transfer the filling to your prepared casserole dish. Afterward, roll out the puff pastry on a lightly floured surface. Place it over the meat pie.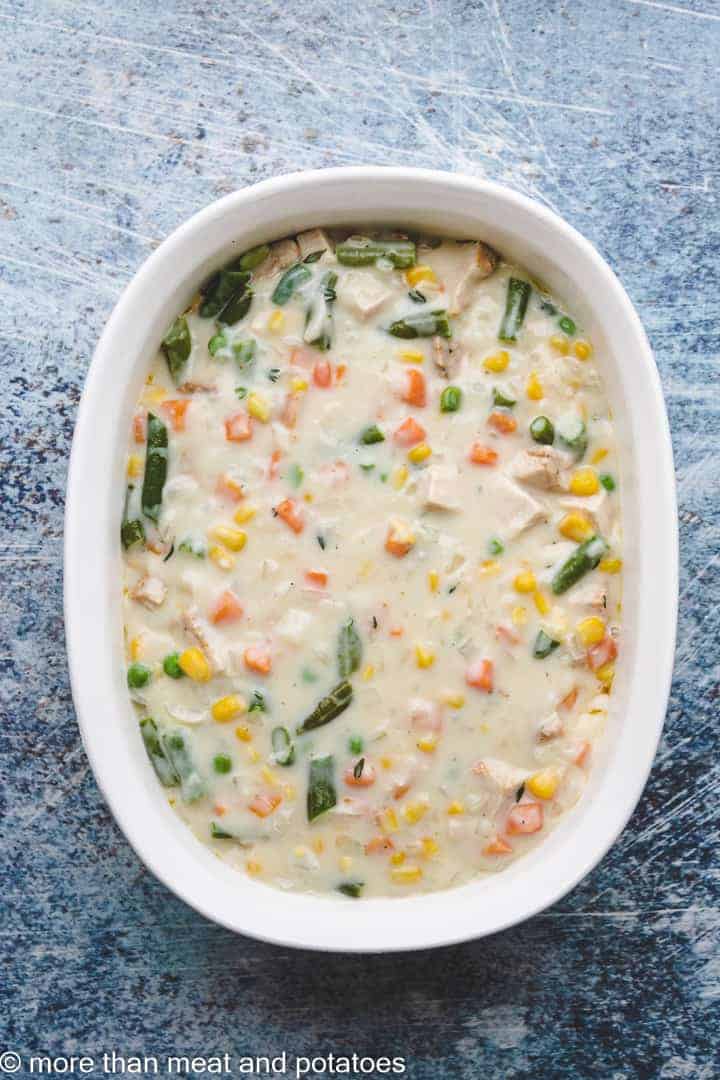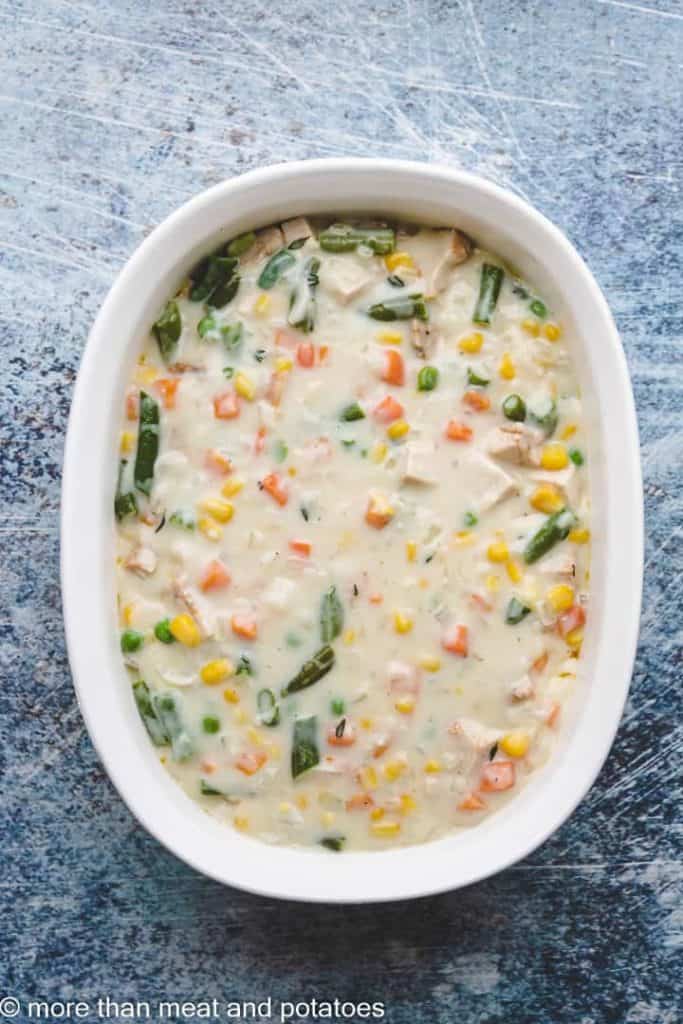 At this point, you may notice that the pastry hangs over the side a little. I recommend trimming away the excess pastry, or tucking it into the filling.
It's also important to cut a few slits into the top of the dough so the pie can breath as it bakes. Whisk together the egg and water to make the egg wash. Brush the pastry with the egg wash.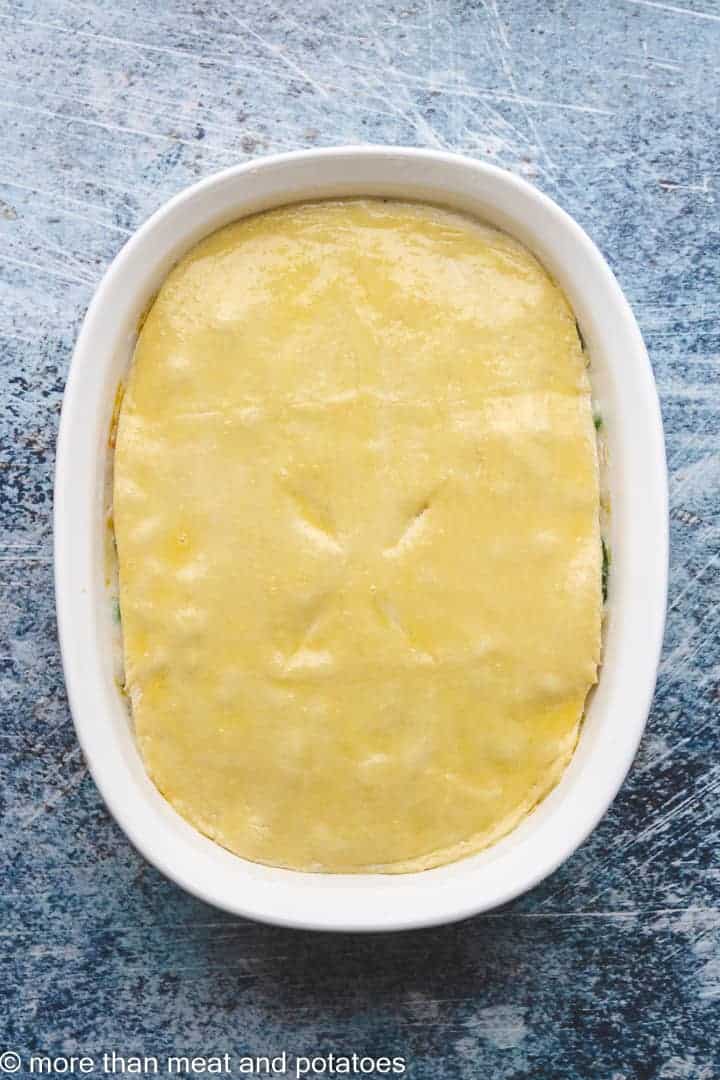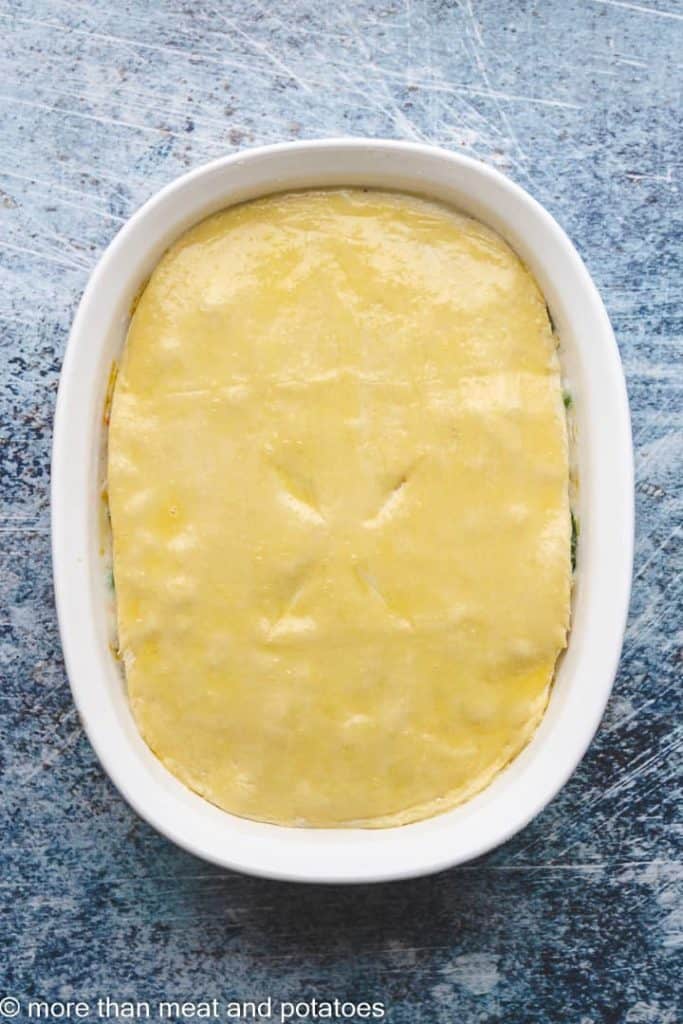 Last, place the pie into the oven to bake for 30-35 minutes or until the top is golden brown. Remove it from the oven and let it cool for about 10-minutes before serving.
That's it your turkey pot pie with puff pastry is done! Kim and I hope you enjoy it and wish you all the best 🙂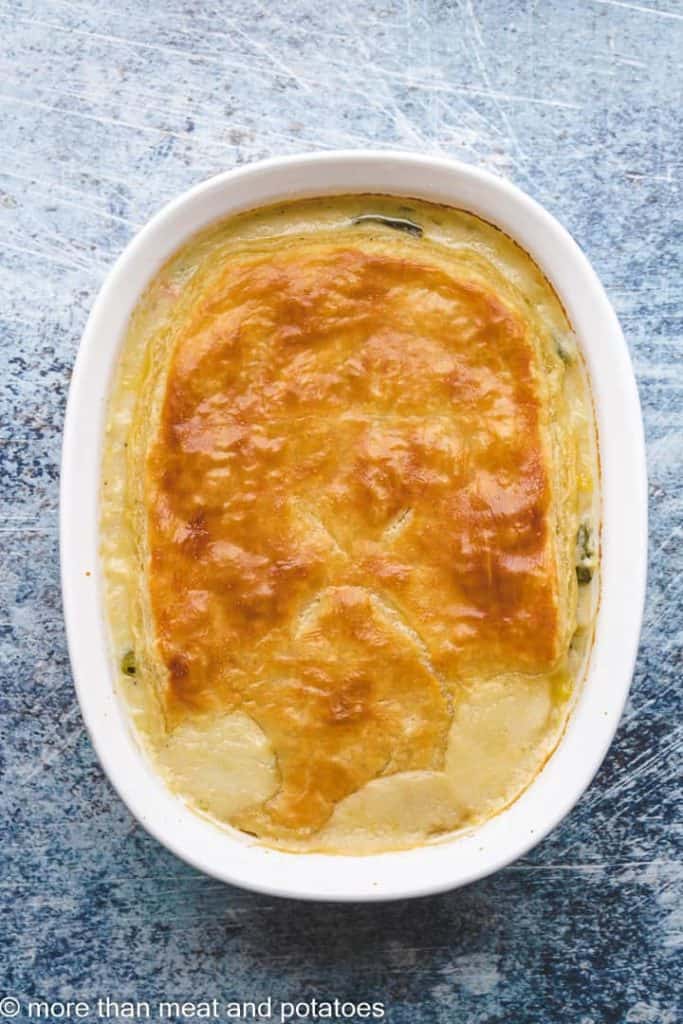 Recipe Tips
You don't have to use puff pastry. A regular pie crust (store-bought or homemade) will work just fine.
Also, it should be noted that you don't have to use flour and chicken broth for the filling. Cream of chicken soup could be used instead.
To make a crustless turkey pot pie, simply substitute leftover mashed potatoes in place of the puff pastry.
Serve this pot pie with roasted baby potatoes or roasted asparagus for a full meal.
Can you use puff pastry as a pie crust?
I don't recommend using puff pastry as a pie crust (on the bottom) for dessert pies. The liquid will soak into the crust and create a soggy mess. However, it can be used as top crust for both dessert and pot pies. But, I would keep my expectations low. In other words, don't expect a bakery style experience.
How do you make a pot pie crust from scratch?
Personally, I use the same recipe I use for dessert pies. A mixture of flour, cold water, butter, and salt. Cut the butter into the flour and salt. After that, stir in enough cold water to create a pie dough. Chill it in your fridge for at least 30-minutes before rolling it out. An alternative method is use a food processor to combine the ingredients into a dough and then follow the same steps.
Can I freeze turkey pot pie?
Absolutely, once the recipe has baked, let it cool and then store it in your freezer.
When properly stored, it should last for up to 2 months. Just be sure to thaw it in your fridge before reheating in a preheated oven (350 degrees F.).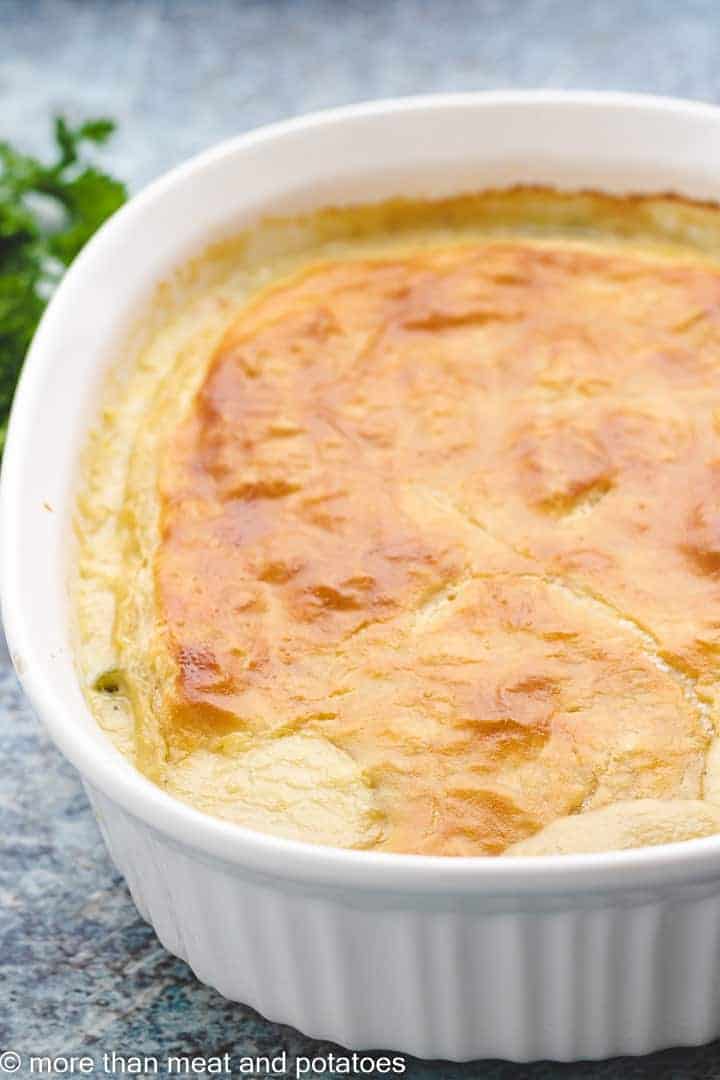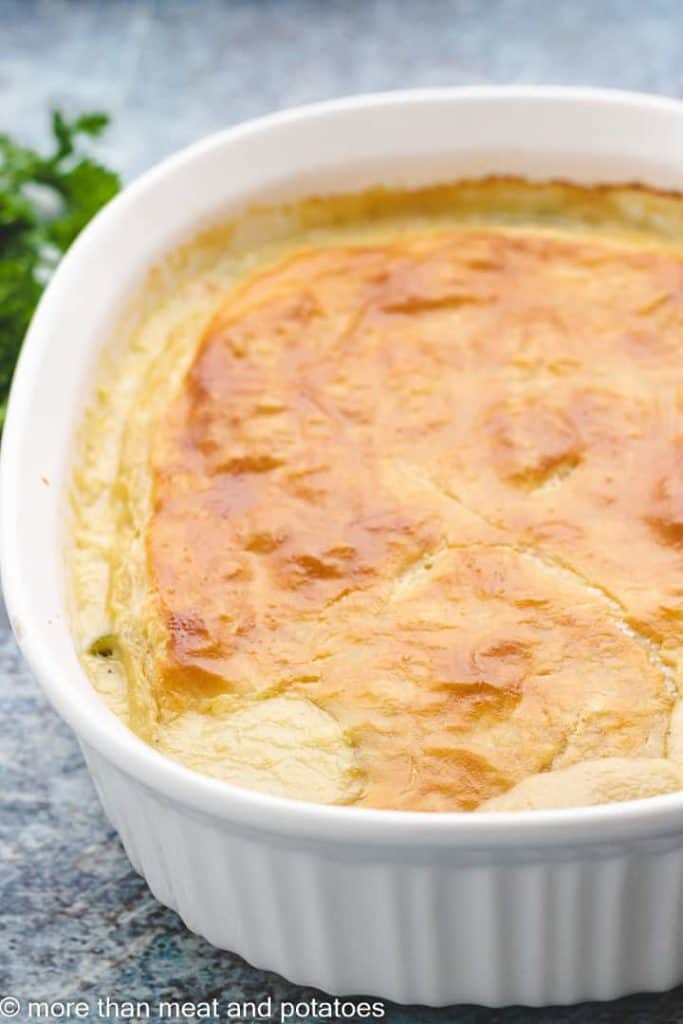 Recipe Card with Ingredient Amounts and Instructions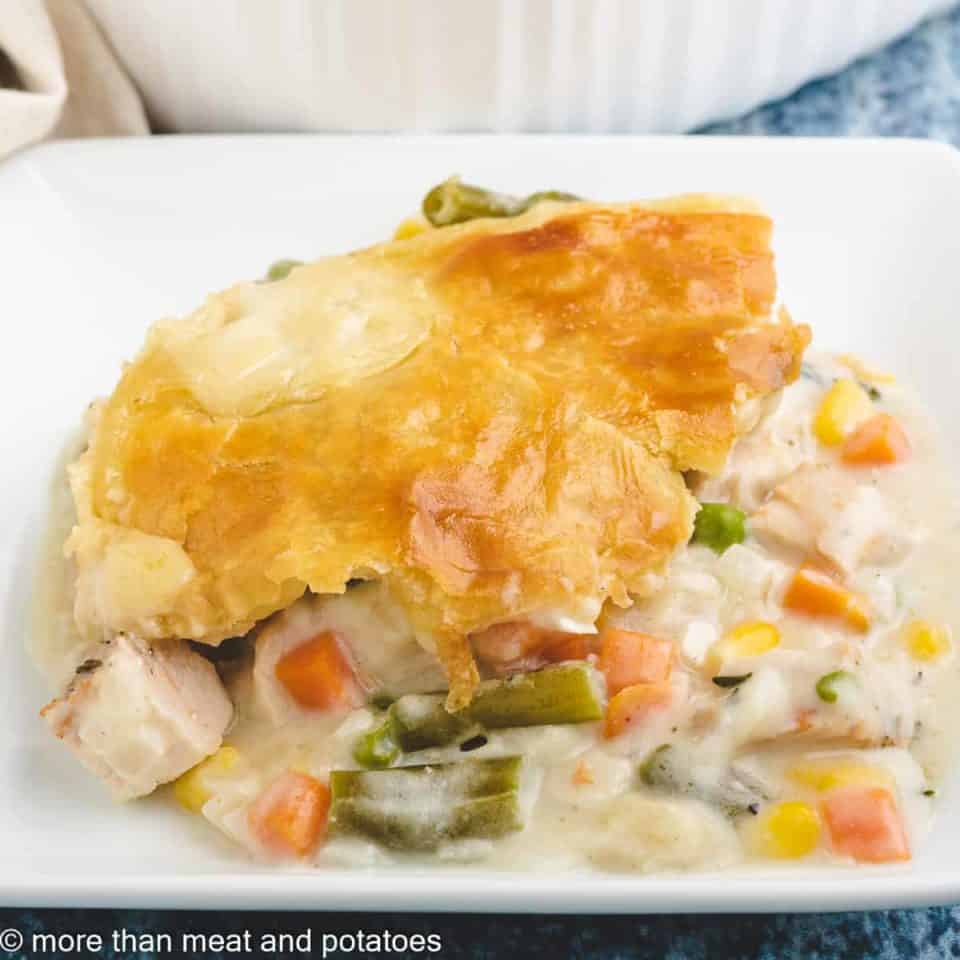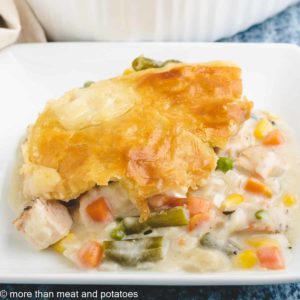 Ingredients
Pot Pie:
3

tablespoons

unsalted butter

1

cup

white onion

,

diced

3

cups

mixed vegetables

,

frozen, any variety

1

tablespoon

garlic cloves

,

minced or pressed

2

teaspoon(s)

thyme leaves

⅓

cup

all-purpose flour

1 ½

cups

chicken broth

1

cup

whole milk

Salt and pepper

,

to taste

3

cups

turkey

,

cooked, chopped (leftover turkey works great)

1

puff pastry sheet
Egg Wash:
1

large eggs

1

tablespoon

water
Instructions
Preheat the oven to 375°F, and lightly grease a 2.5-quart baking dish. Set aside. Remove the pastry sheet from the freezer, and allow to thaw slightly for easy handling.

Heat a large skillet over medium heat. Add the butter, onion, and mixed vegetables. Cook for 4 to 5 minutes until the onions begin to soften, then add the garlic and thyme. Cook for an additional 30 seconds, then add the flour.

3 tablespoons unsalted butter

1 cup white onion

3 cups mixed vegetables

1 tablespoon garlic cloves

2 teaspoon(s) thyme leaves

⅓ cup all-purpose flour

Cook the flour for an additional 2 to 3 minutes, then slowly whisk in the chicken broth and milk. Taste, and season with salt and pepper. Continue to stir until slightly thickened, then add the turkey.

1 ½ cups chicken broth

1 cup whole milk

Salt and pepper

3 cups turkey

Transfer the mixture into the prepared baking dish. Roll out the puff pastry on a lightly floured surface just enough to remove creases.

Place the puff pastry directly over the baking dish (there will be some hanging over the edges), or trim the edges and place the puff pastry just inside the dish on top of the filling.

Carefully cut 3 to 4 slits into the puff pastry, and apply the egg wash using a pastry brush.

1 large eggs

1 tablespoon water

Bake for 30 to 35 minutes or until the pastry is golden brown. Cool for 5 to 10 minutes before serving.

Store leftovers in the refrigerator for up to 3 days.
Notes
*The calories listed are an approximation based on the ingredients in the recipe card and a serving size of about 1-cup of the turkey pot pie. Actual calories will vary.
*For more information and tips, please refer to the post.
Nutrition
Serving:
1
Cup
Calories:
261
kcal
Carbohydrates:
20
g
Protein:
20
g
Fat:
11
g
Saturated Fat:
5
g
Polyunsaturated Fat:
6
g
Cholesterol:
94
mg
Sodium:
319
mg
Fiber:
4
g
Sugar:
5
g