Caprese Flatbread is an easy appetizer packed full of flavor. It's topped with basil pesto, mozzarella, cherry tomatoes, then drizzled with balsamic glaze.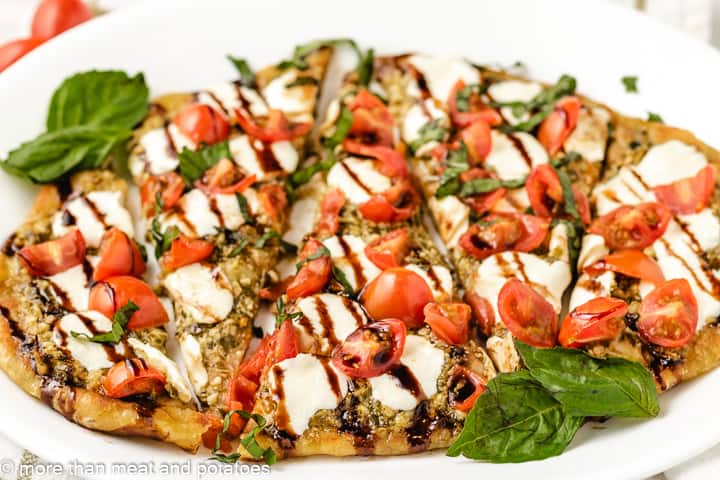 How to Make Caprese Flatbread:
This recipe is super simple to make and only takes about 10 to 15 minutes to assemble. It's even faster if you have a helper.
Place two large flatbread pieces on a baking sheet. Spread the pesto sauce evenly on between the flatbread pieces, about 3 ounces per piece.
Dot the mozzarella pieces on top of the pesto. We used mozzarella pearls and flattened them out a bit.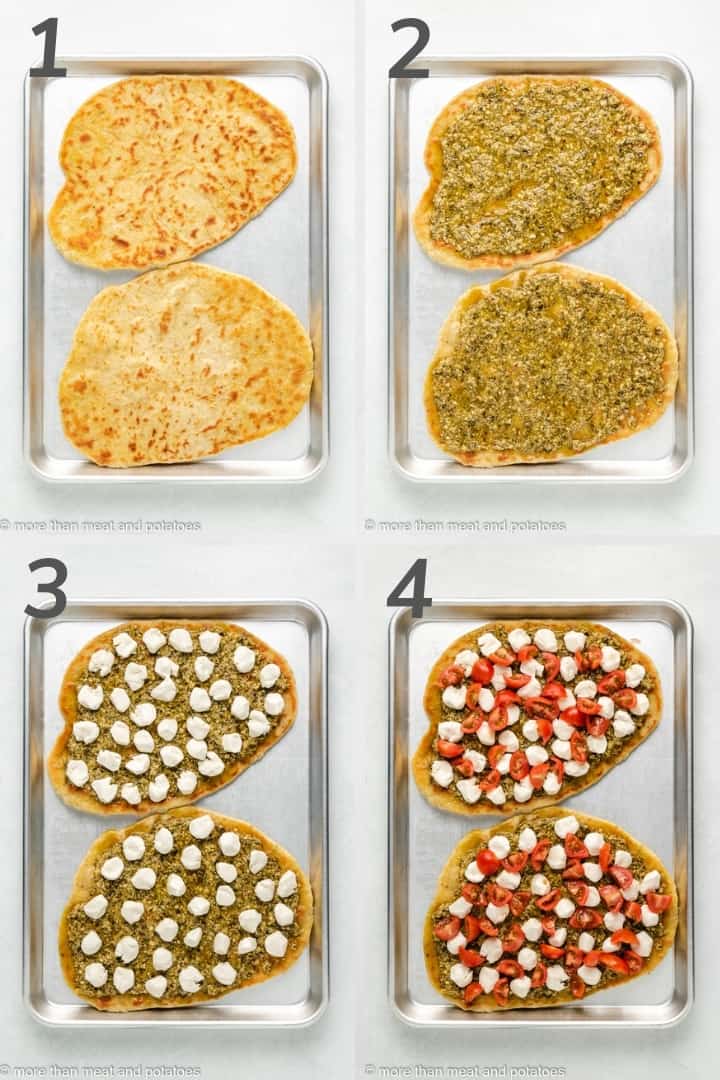 Next, spread the tomato quarters in between the mozzarella pieces. Bake the flatbread at 425°F for 10 to 15 minutes until the cheese melts.
Remove the flatbread from the oven, and top with fresh basil and a drizzle of balsamic glaze. Slice, and serve warm.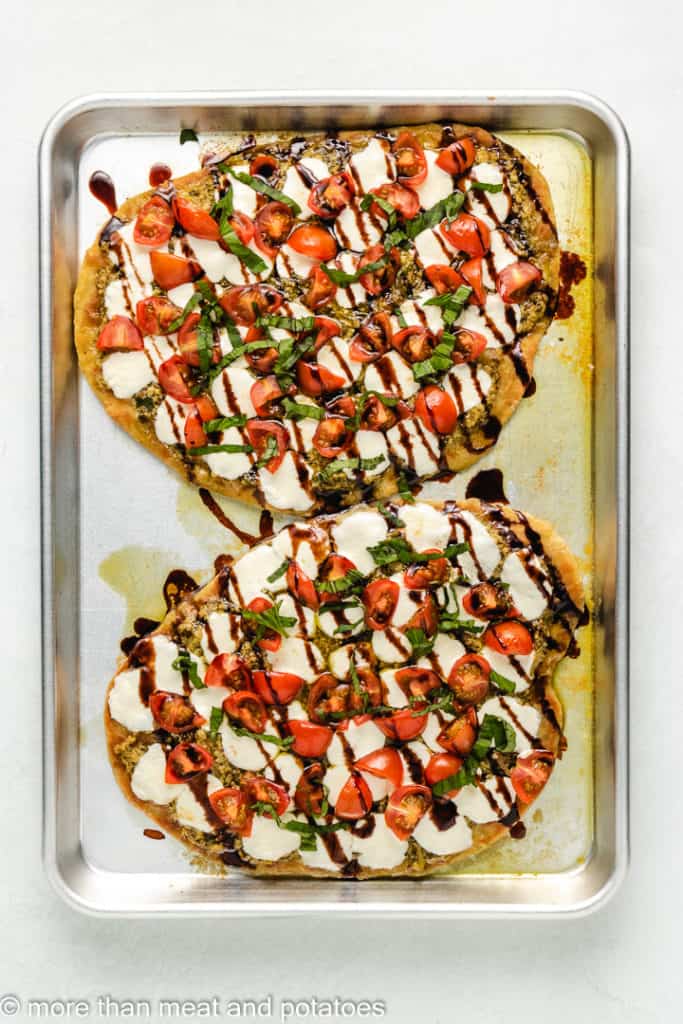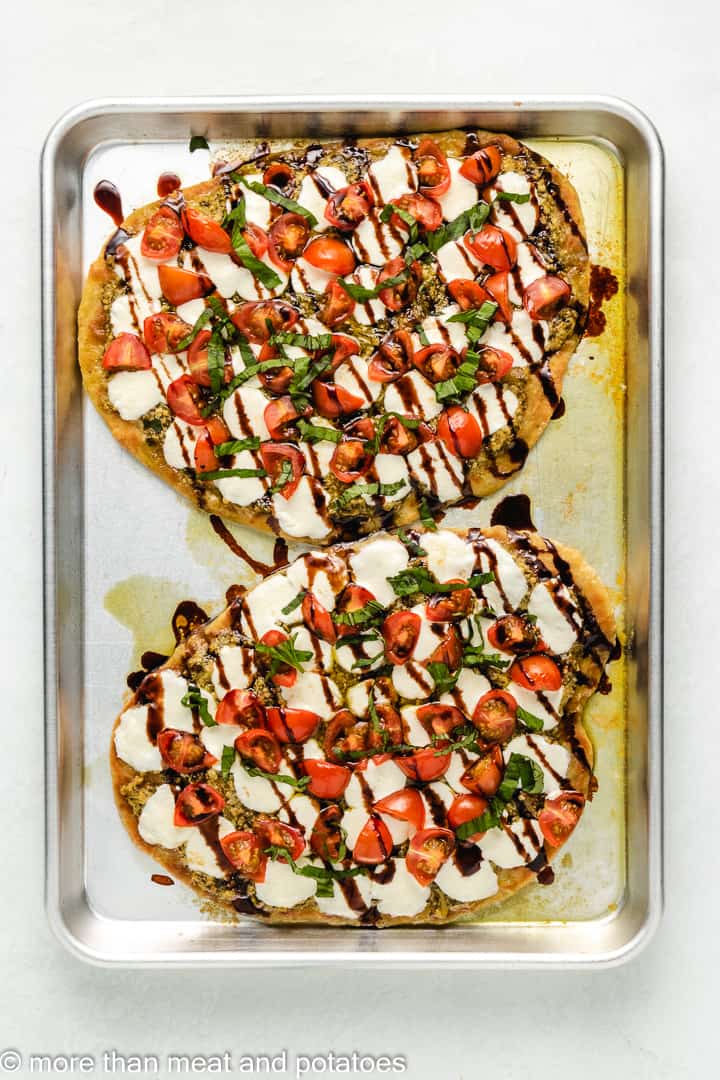 Can you use a different variety of pesto?
Yes, use your favorite type of pesto. Some other options that would work well are spinach or arugula.
Can the pesto be omitted?
Yes, but you may want to considered adding another light sauce or a light brush of olive oil in it's place.
Can you use whole tomato slices instead of cherry tomatoes?
Sure! Keep in mind that the tomatoes will release some liquid, so the thicker the tomato slice the more liquid it will release. This can cause the caprese flatbread to become soggy.
You can also use a different variety of tomato, such as heirloom. Small heirloom tomatoes add a wonderful flavor and color to this dish.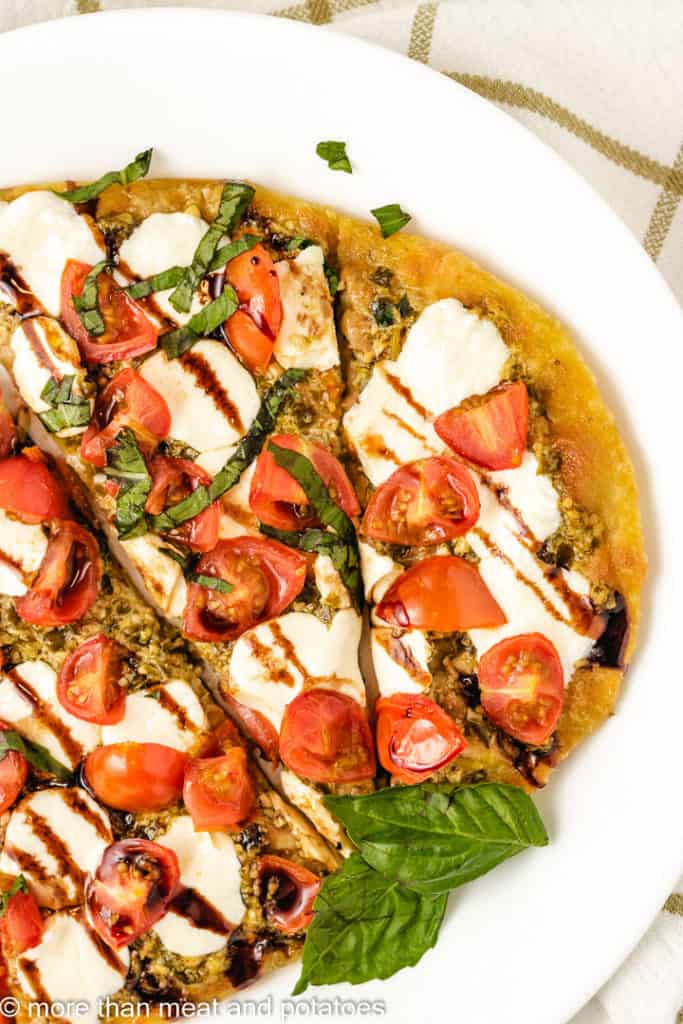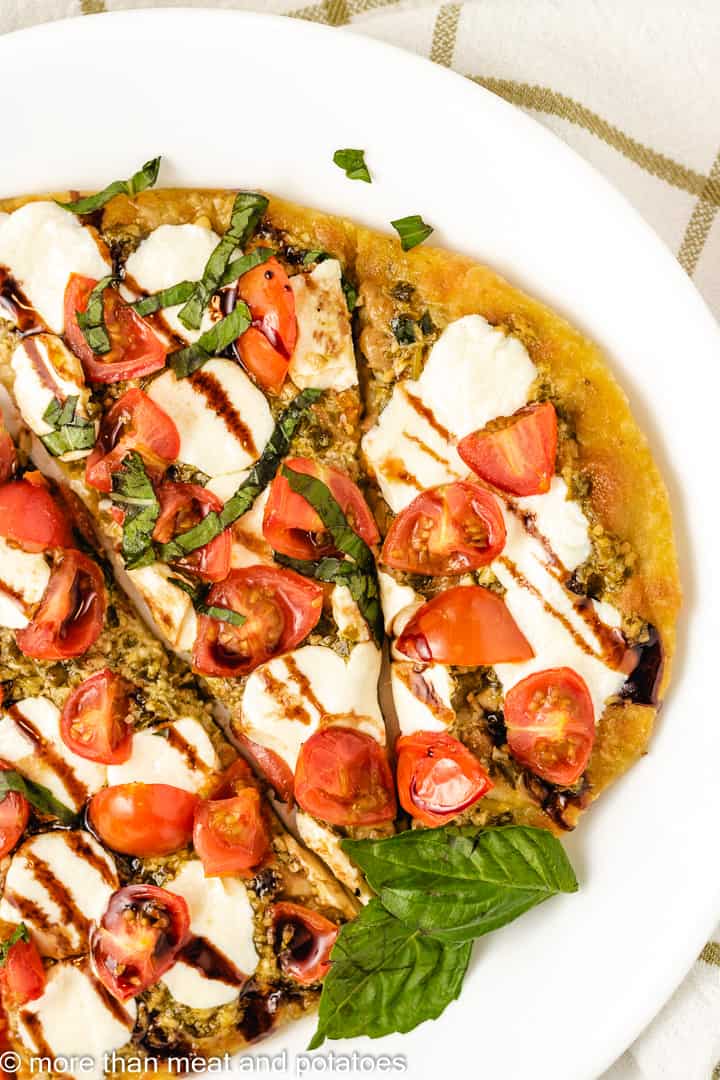 How can you reduce the sodium in caprese flatbread?
Pesto sauce and mozzarella both have the tendency to taste slightly salty in high quantities. If you're salt sensitive or on a low sodium diet, try reducing the amount of pesto sauce, mozzarella, or both to minimize the amount of sodium in the dish.
Can you use a wrap instead of flatbread?
We recommend using a naan-style flatbread for this caprese flatbread. A thin wrap or tortilla-like wrap will not hold up to the ingredients.
Why does the caprese flatbread look oily after it bakes?
If you use basil pesto and mozzarella as mentioned in the recipe, there may be some olive oil on the baking sheet after the caprese flatbread bakes. That's normal.
One of the main ingredients in pesto is olive oil. As the flatbread bakes, the pesto warms and releases some of the olive oil.
In addition, the mozzarella cheese and tomatoes will release some moisture. To limit the amount of moisture and oil, reduce the amount of ingredients used.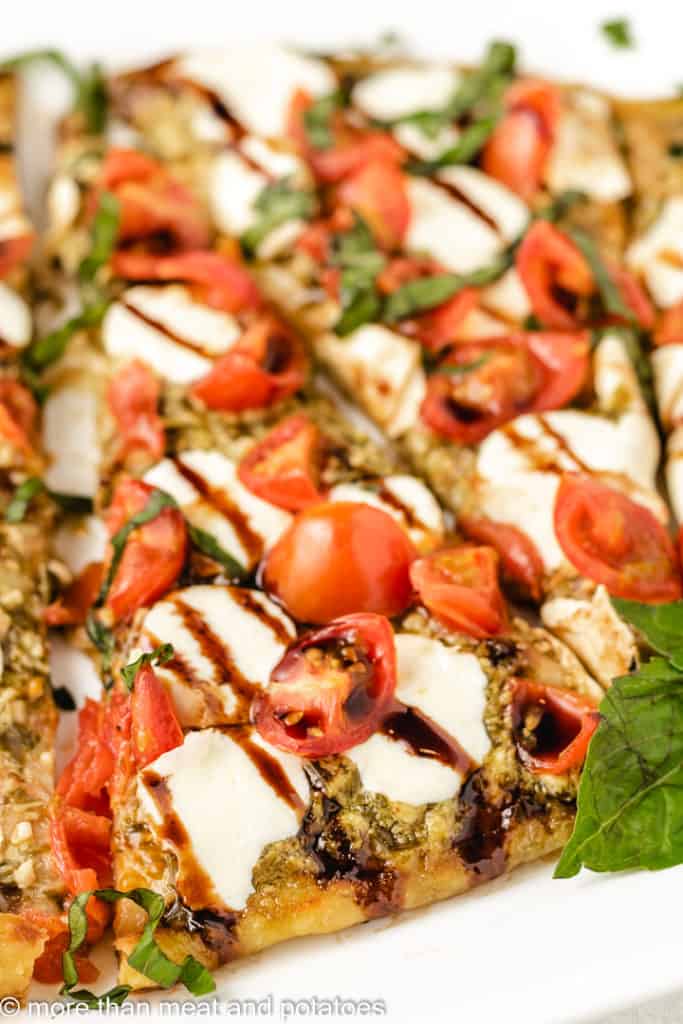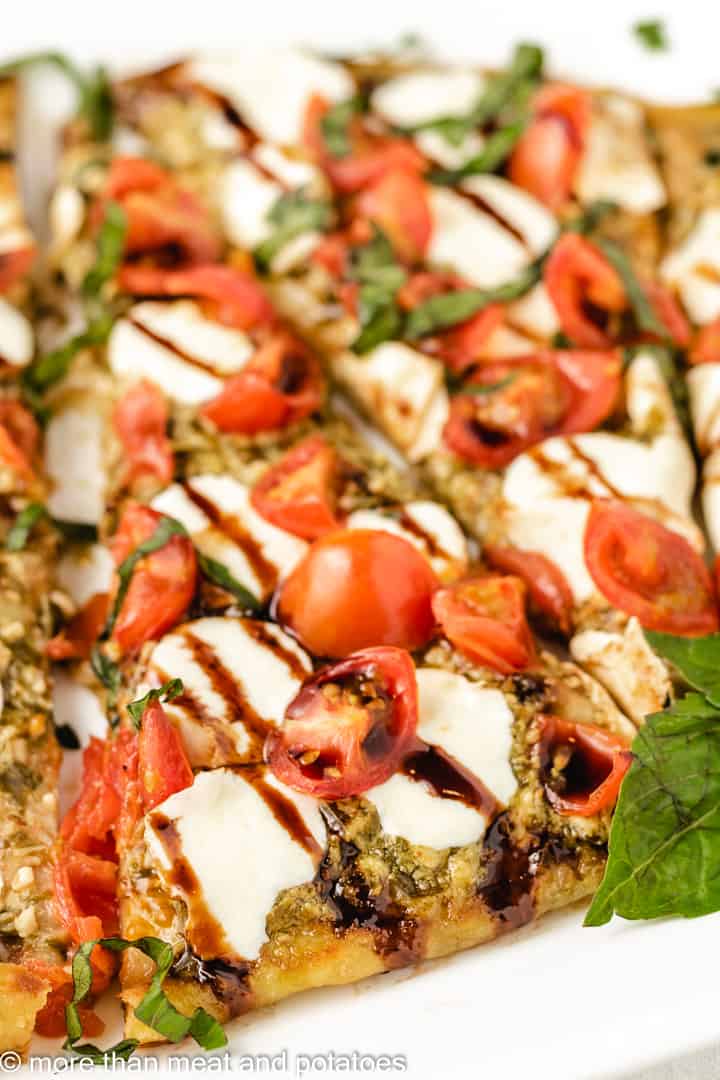 Don't forget to check out our Caprese Flatbread web story!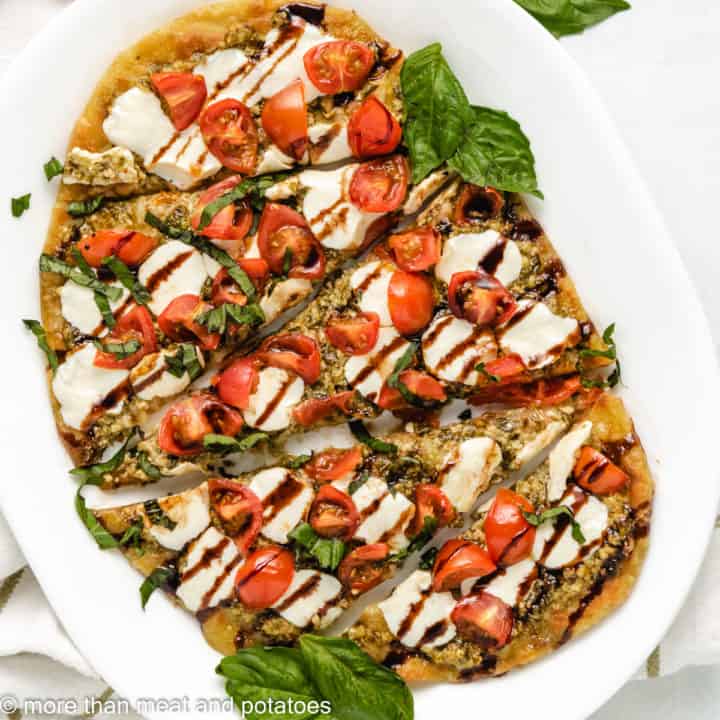 Caprese Flatbread
Caprese Flatbread is an easy appetizer packed full of flavor. It's topped with basil pesto, mozzarella, cherry tomatoes, then drizzled with balsamic glaze.
Ingredients
6 Ounces Fresh Mozzarella (We used mozzarella pearls.)
1 Cup Cherry Tomatoes, quartered
8 Basil Leaves, julienne cut (optional for garnish)
Instructions
Place flatbread on a large baking sheet, and preheat the oven to 425°F.
Divide the pesto evenly between each flatbread, and spread it into an even layer. Dot the mozzarella cheese among each flatbread, then top with tomatoes.
Bake the flatbread for 10 to 15 minutes until the cheese melts. Remove from the oven, and drizzle with balsamic glaze. Add the basil leaves and grated Parmesan cheese if desired.
Cut each flatbread into several pieces, and serve hot. Store leftovers in the refrigerator for up to 3 days.

Notes
*The nutrition and caloric information provided are to be used as a guideline, and are an estimate only.
*Please see the post for answers to frequently asked questions.
Recommended Products
As an Amazon Associate and member of other affiliate programs, we may earn a commission from qualifying purchases.
Nutrition Information:
Yield:

12
Serving Size:

2 Slices
Amount Per Serving:
Calories:

340
Total Fat:

21g
Saturated Fat:

6g
Trans Fat:

0g
Unsaturated Fat:

14g
Cholesterol:

26mg
Sodium:

459mg
Carbohydrates:

26g
Fiber:

1g
Sugar:

8g
Protein:

11g
*The calories are an estimate and are based on the ingredients and serving size listed. The calories can vary depending on the brand of product purchased.