Made with just a few simple ingredients, these easy Chickpea Fritters are crispy, hearty and the perfect bite-sized snack or party appetizer. They're tasty and ready in less than 45 minutes – so you can have them on the table in no time!
If you've never had a fritter before, you're missing out! Fritters are basically fried food you can eat with your hands. They are made by blending together meat, seafood, vegetables, or beans with breading. They then get shaped and deep-fried or pan-fried into a hearty snack.
For this recipe, we just garbanzo beans as the main binding ingredient. Once they get mashed up, they create the perfect texture that's creamy and rich and cooks well. Pair them with simple seasonings along with egg, flour, and cornstarch and fry them up in a skillet with avocado oil.
Fritters are generally served as a snack or appetizer and come with a dipping sauce, like Sriracha mayonnaise, ketchup, or homemade ranch dressing.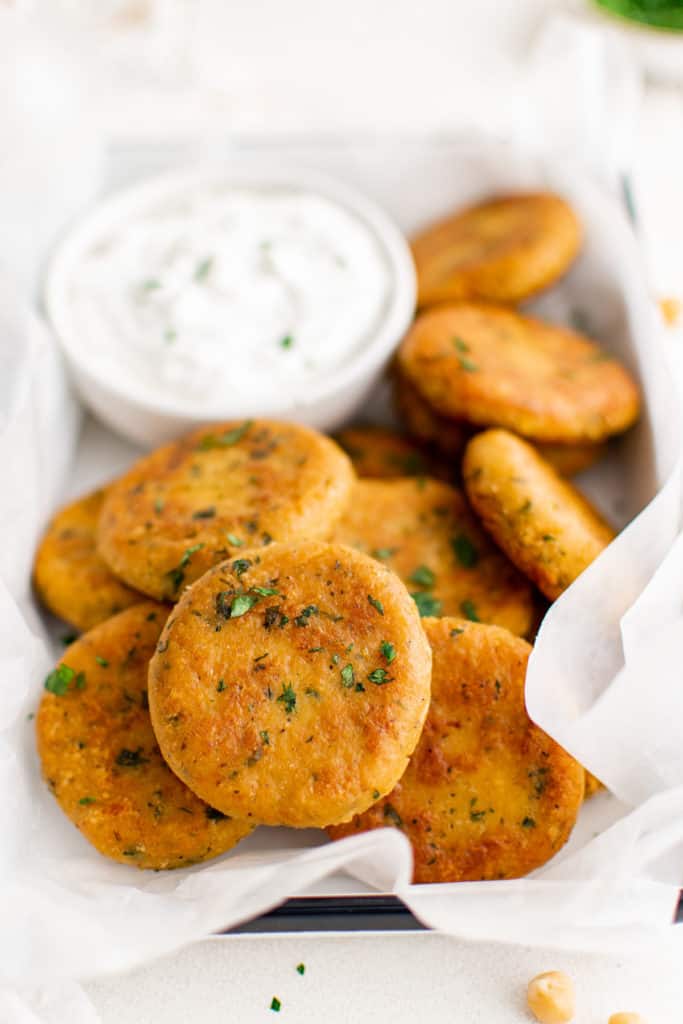 Ingredients You'll Need
Canned Chickpeas – Canned garbanzo beans make up the bulk of this recipe. They have the perfect texture for vegetarian fritters.
Egg – Helps bind all of the ingredients together to keep their patty shape while cooking.
All-Purpose Flour – This helps to make the mixture easy to form and adds texture.
Garlic Cloves – Gives these fritters a rich garlicky flavor.
Cornstarch – Adds an extra crunchy crisp to the fritter once fried up in the skillet.
Salt & Pepper – Helps balance out and add flavor to the dish.
Cayenne Pepper – Gives these fritters a light kick of spices that can be omitted if necessary.
Avocado Oil – This high smoke point oil is perfect for frying up fritters as it leaves no aftertaste.
How To Make Homemade Chickpea Fritters
Process the chickpeas: Once the canned chickpeas are drained and dried, add them to a food processor or blender and pulse until a fine grain is formed.
Assemble the fritters: To a large bowl, add the coarse chickpea mixture along with egg, flour, garlic, cornstarch, salt, pepper, and cayenne pepper. Mix everything together until fully combined.
Preheat the oil: Add the avocado oil to the skillet and turn the heat to medium.
Form the fritters: While the oil is heating, use your hands to create two-inch circle-shaped patties. You should be able to make 12-15 from one batch.
Cook the fritters: Add about 5-6 patties to the hot oil and fry on each side for 3-4 minutes. Cook in batches until all are completed.
Garnish and serve: Remove from the pan with a spatula onto a serving dish. Garnish with freshly chopped parsley and serve with your favorite dipping sauces.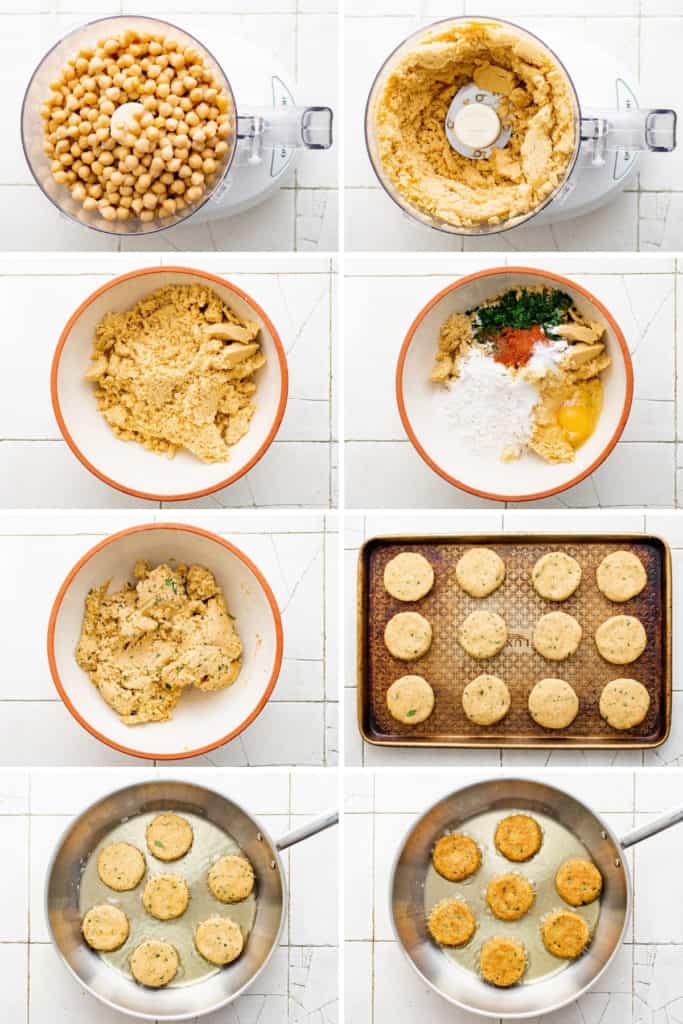 Recipe Tips
When choosing a cooking oil, it's best to use one that is tasteless and has a high smoke point such as avocado, grapeseed, or sunflower oil.
If you don't have chickpea flour on hand, all-purpose flour can be substituted.
These fritters can also be baked in the oven at 375°F for 15-20 minutes instead of pan-fried if necessary. Just make sure to brush some oil on the top and bottom.
Make sure the chickpeas are drained and rinsed thoroughly. This will help ensure that they are not too soggy.
Don't overcrowd the pan when cooking, work in batches to help prevent the fritters from sticking or steaming.
Variations
The cayenne pepper is completely optional. Leave out if you don't like spicy foods.
To make these fritters gluten-free, use a gluten-free all-purpose flour blend along with gluten-free cornstarch.
Add some vegetables to the mix such as grated carrots, diced red onion, or finely chopped kale.
Change the flavor by adding dried or fresh herbs such as rosemary, thyme, or parsley.
Try chickpea fritters in your favorite sandwich for a vegetarian chickpea burger!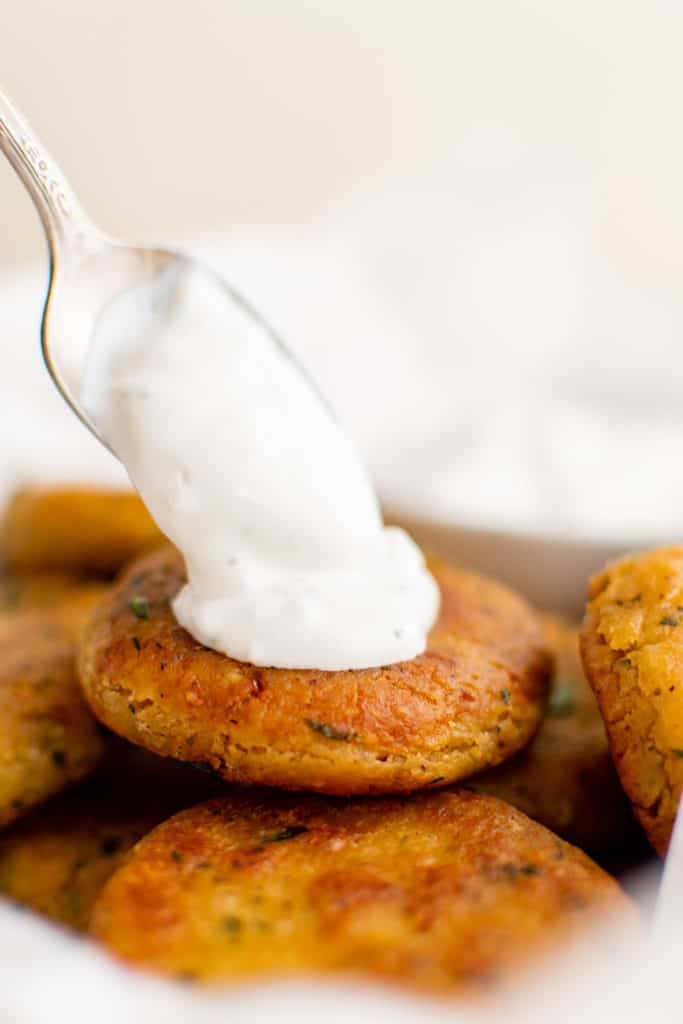 Can I use chickpea flour instead of chickpeas?
No. Chickpea flour is too dry to create the chickpea fritters in this recipe. For best results, use cooked chickpeas that have been drained and rinsed thoroughly.
Can I cook my own dried chickpeas to use in this recipe?
Yes, you can cook dried chickpeas to use for this recipe. Just make sure they are fully cooked through, rinsed, and drained.
Storing, Freezing and Reheating
Storing: To store leftovers, place them in an airtight container in the fridge for up to three days.
Freezing: If you want to freeze them, place them on a baking sheet lined with parchment paper and flash freeze. Once they are frozen solid, transfer them into a freezer-safe bag or container. They will last in the freezer for up to two months.
Reheating: To reheat, warm them in the oven at 350°F for 15-20 minutes or until they are warmed through. You can also pan-fry them in a skillet over medium-low heat until warmed through.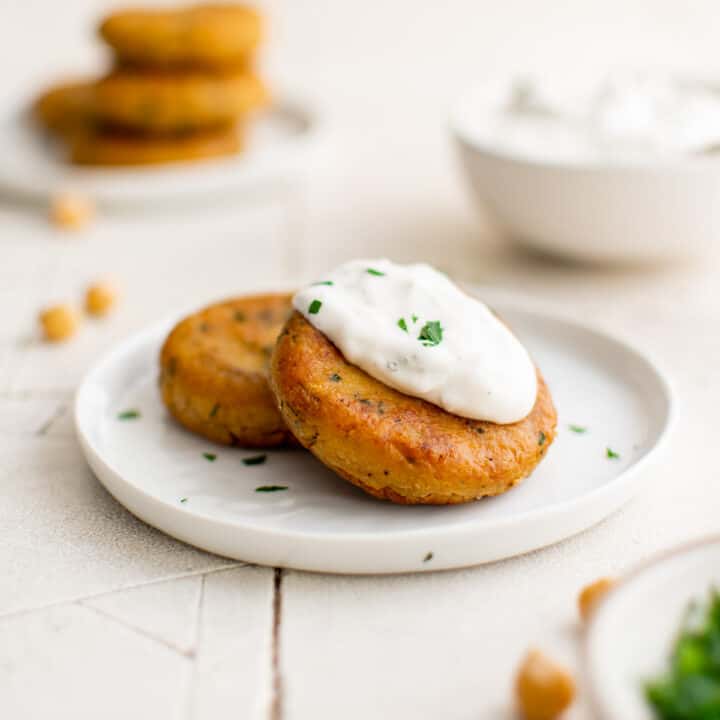 Chickpea Fritters
Made with just a few simple ingredients, these easy Chickpea Fritters are crispy, hearty and the perfect bite-sized snack or party appetizer. They're tasty and ready in less than 45 minutes.
Ingredients
2 (15.5 ounce) cans of chickpeas, drained
1 egg
2 tablespoons of all-purpose flour
3 cloves of garlic, finely minced
1 tablespoon of cornstarch
¾ teaspoon of salt
½ teaspoon of ground black pepper
½-1 teaspoon of cayenne pepper powder, add according to your taste
⅓ cup of avocado oil (may substitute with cooking oil of your choice)
Instructions
Add the chickpeas to a food processor or blender, and process until a fine grain begins to form.
Transfer the processed chickpeas into a large bowl. Then add the egg, flour, garlic, cornstarch, salt, pepper and cayenne pepper, and stir to combine.
Add the avocado oil to a large skillet over medium heat.
Form 12 to 15 2-inch patties from the mixture. Work in batches, and add 5 to 6 patties to the pan, evenly spaced, and fry for 3 to 4 minutes on each side or until light and golden.
Serve with freshly minced parsley for garnish and French onion or ranch dip if desired.
Notes
*The calories listed are an approximation based on the ingredients in the recipe card and a serving size of 2 chickpea fritters. Actual calories will vary.
*For more information, tips, and answers to frequently asked questions, please refer to the post.
*Photos courtesy of Karla Rae Photography.
Recommended Products
As an Amazon Associate and member of other affiliate programs, we may earn a commission from qualifying purchases.
Nutrition Information:
Yield:

6
Serving Size:

2 fritters
Amount Per Serving:
Calories:

182
Total Fat:

14g
Saturated Fat:

2g
Trans Fat:

0g
Unsaturated Fat:

11g
Cholesterol:

31mg
Sodium:

281mg
Carbohydrates:

12g
Fiber:

3g
Sugar:

1g
Protein:

4g
*The calories are an estimate and are based on the ingredients and serving size listed. The calories can vary depending on the brand of product purchased.