Garlic Dip is a creamy appetizer that goes from prep to table in minutes. It's full of cream cheese, mayonnaise, chives, and whole cloves of roasted garlic.
Our roasted garlic dip is a quick and easy recipe that is full of garlic flavor. It has a combination of sweet roasted garlic and garlic powder, so you get layers of flavor.
Not only is it great as an appetizer or snack, it's also wonderful on sandwiches like this turkey avocado club or as a spread on a slice of rustic sourdough bread or olive bread.
We decided to make this garlic dip without sour cream, so it only has two base ingredients, cream cheese and mayo. This makes it light and creamy and perfectly spreadable.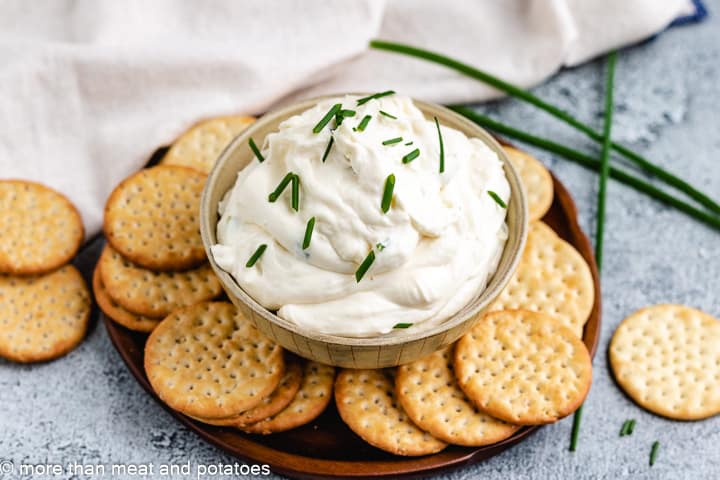 How to make garlic dip:
Start by setting out the brick-style cream cheese at least an hour ahead of time. It needs to be softened to room temperature in order to mix well with the other ingredients.
While the cream cheese softens, roast the garlic. Cut the top off an entire head of garlic horizontally to expose the cloves.
Place the head of garlic on a piece of aluminum foil, and drizzle with a tablespoon of olive oil. Wrap the garlic tightly in foil, and roast in a preheated oven on 425°F for 25 to 30 minutes.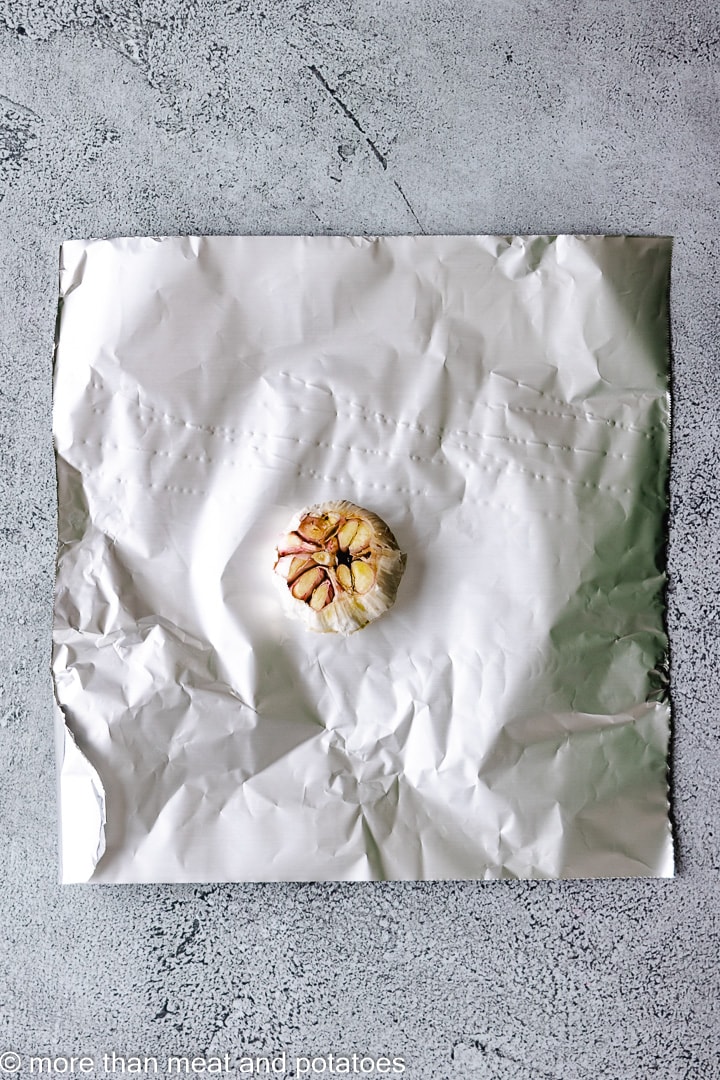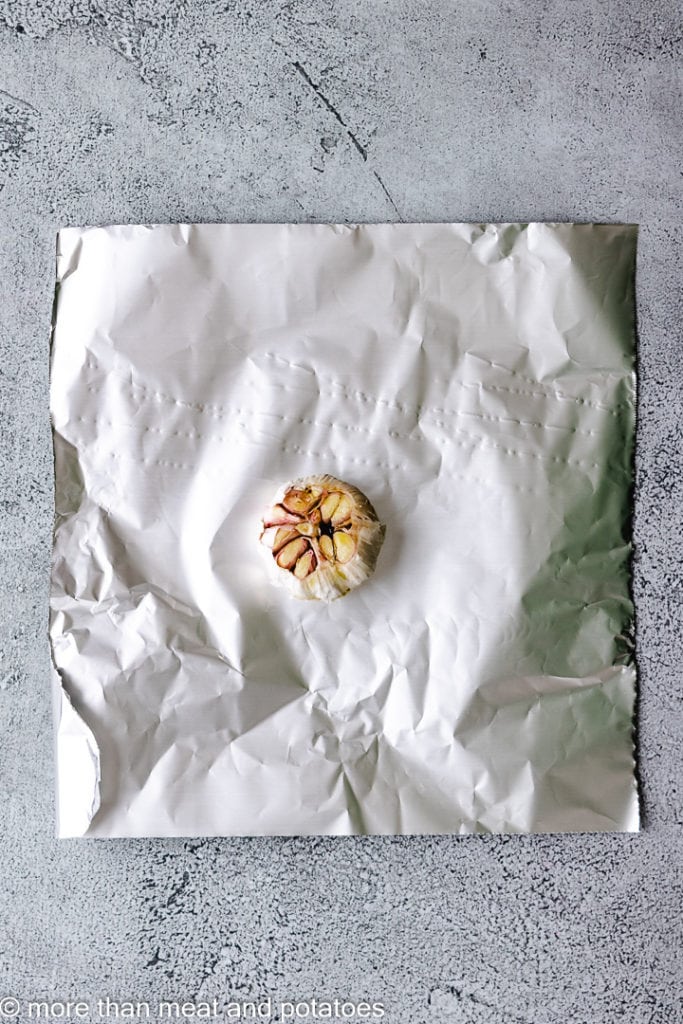 After the cream cheese softens, place it in a bowl with the mayonnaise, garlic powder and salt. Use a hand mixer on low speed to combine the ingredients.
Adjust the speed to medium to whip some air into the dip and make it light and fluffy. Carefully remove the garlic from the foil, and squeeze the cloves from the papery skins.
I like to put whole cloves right into the cream cheese mixture, but feel free to chop them up if you'd prefer smaller pieces. Go ahead and add the chopped chives, too.
Gently fold in the garlic cloves and chives, and refrigerate the roasted garlic dip until ready to serve. The flavors will intensify the longer it refrigerates.
Serve cold with your favorite crackers or vegetables.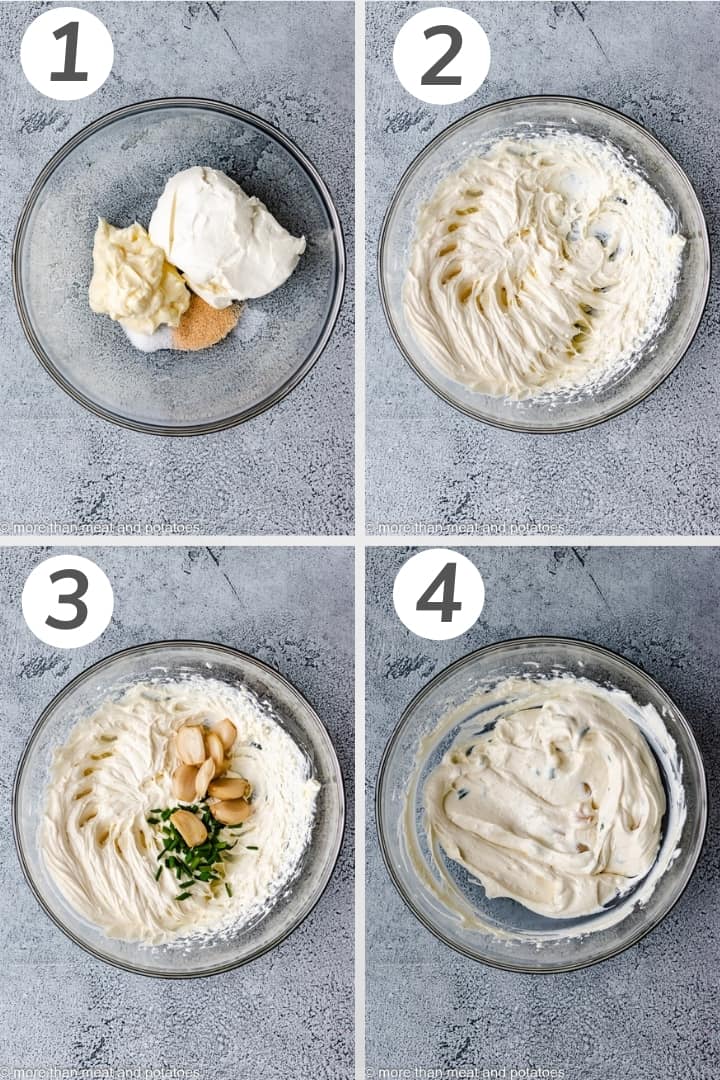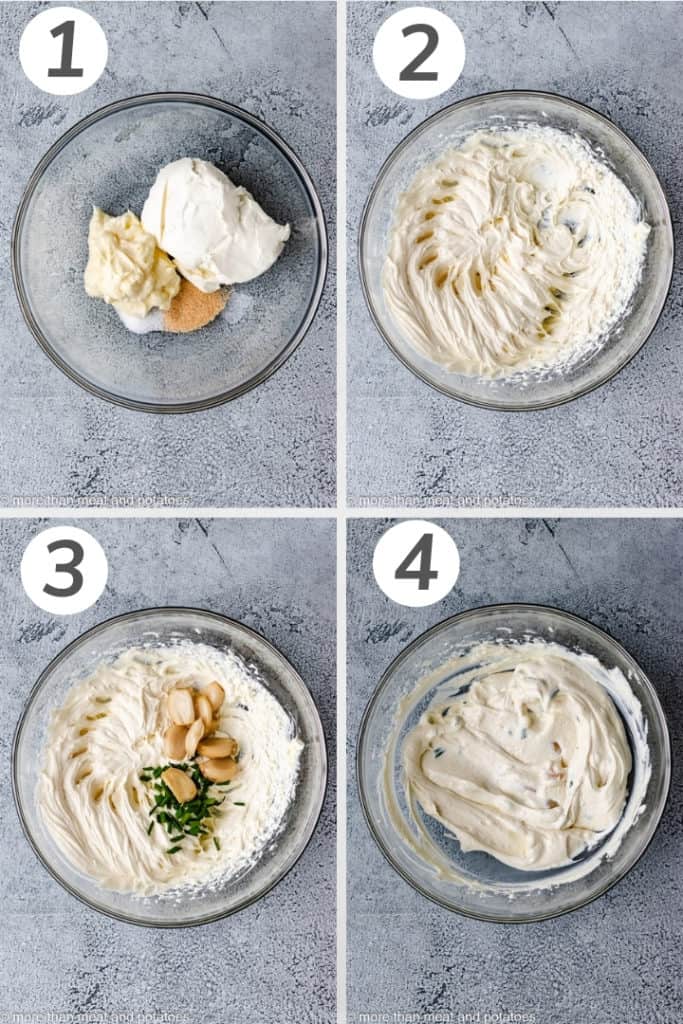 How long does garlic dip with mayo last?
Garlic dip with mayo lasts about 3 days in sealed container when stored in the refrigerator.
Do you have to use garlic powder in garlic dip?
No, it's not necessary to use garlic powder. However, roasting garlic changes its potency and flavor. There may not be enough garlic flavor with the roasted garlic alone. The garlic powder is in the recipe to enhance the garlic flavor.
Can you use sour cream in place of the mayo?
Yes, you can substitute sour cream in place of the mayo. Taste and adjust the salt and garlic powder accordingly.
Can you use jarred, minced garlic in place of roasted garlic?
You can use jarred garlic, but the result will not be the same as the intended result for this roasted garlic dip recipe. It will have more of a vinegar taste instead of a sweet, roasted taste. Additionally, jarred garlic tends to have some liquid, so it may thin out the dip a bit.
Is garlic dip the same as garlic butter?
No, garlic dip is made with a cream cheese base and used as an appetizer, snack, or spread. Garlic butter is garlic flavored butter, and is commonly used as a dipping sauce or spreadable butter for bread, pizza, breadsticks, or as a butter sauce for steaks.
Can you make garlic dip without cream cheese?
Yes, this Roasted Garlic Dip recipe uses a sour cream base, several heads of roasted garlic, and a variety of savory spices to make a creamy, dippable snack.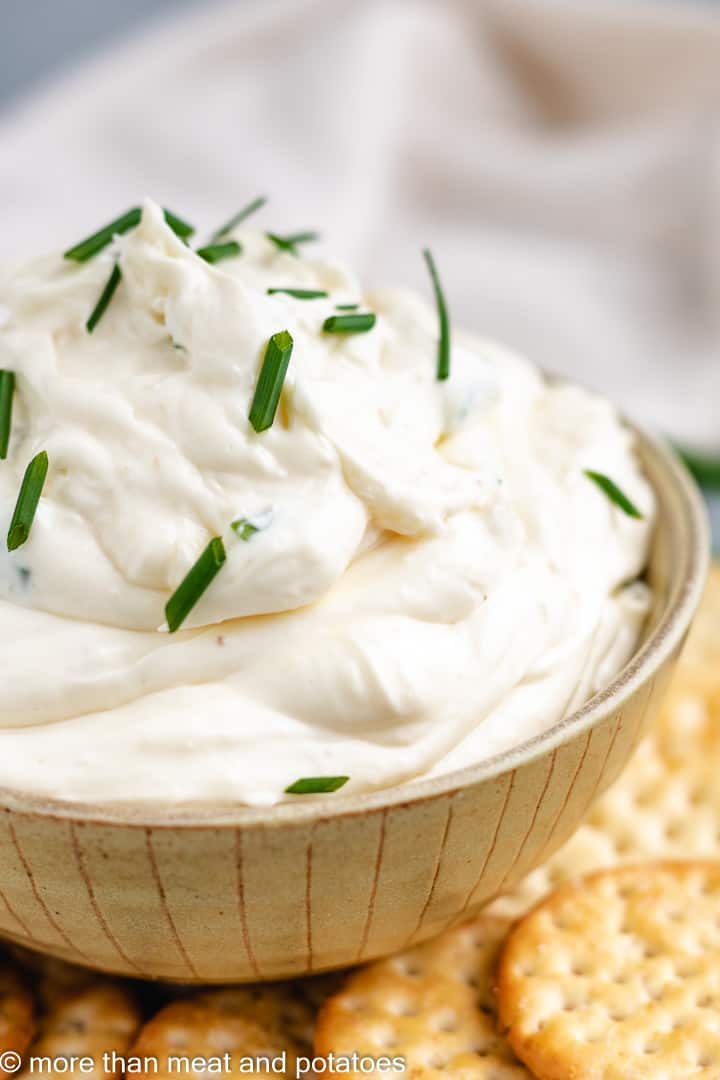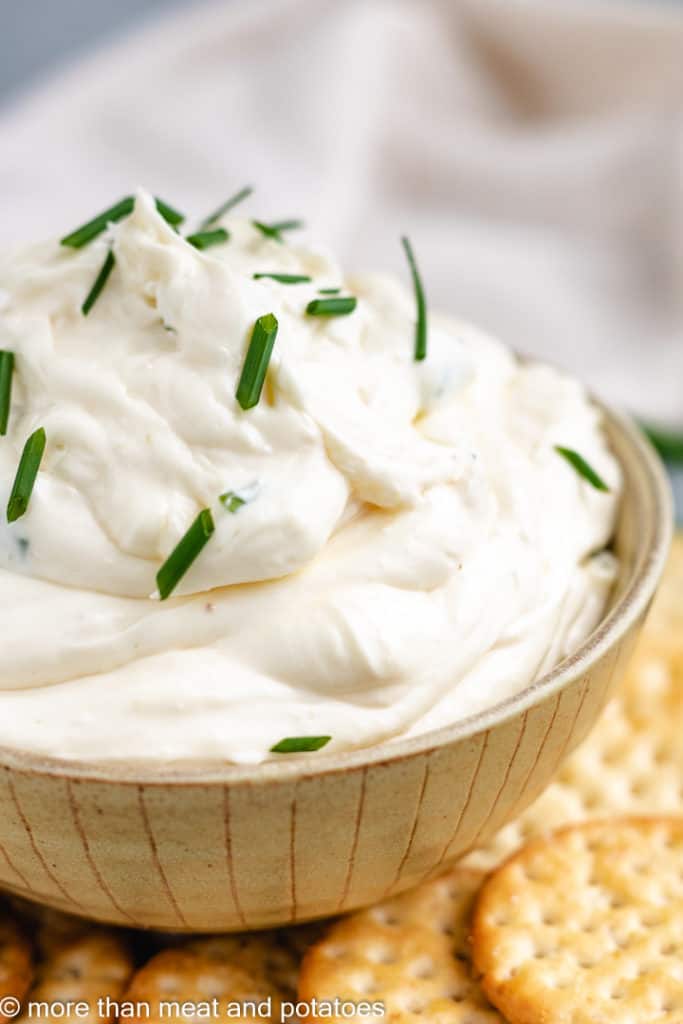 Other recipes with cream cheese you may enjoy:
[mv_video doNotAutoplayNorOptimizePlacement="false" doNotOptimizePlacement="false" jsonLd="true" key="bg9d61ayngt0aq4uv6qi" ratio="16:9" thumbnail="https://mediavine-res.cloudinary.com/v1615343401/wofcbxgo6rqz2yxckqe9.jpg" title="Garlic Dip" volume="50"]
Recipe Card with Ingredient Amounts and Instructions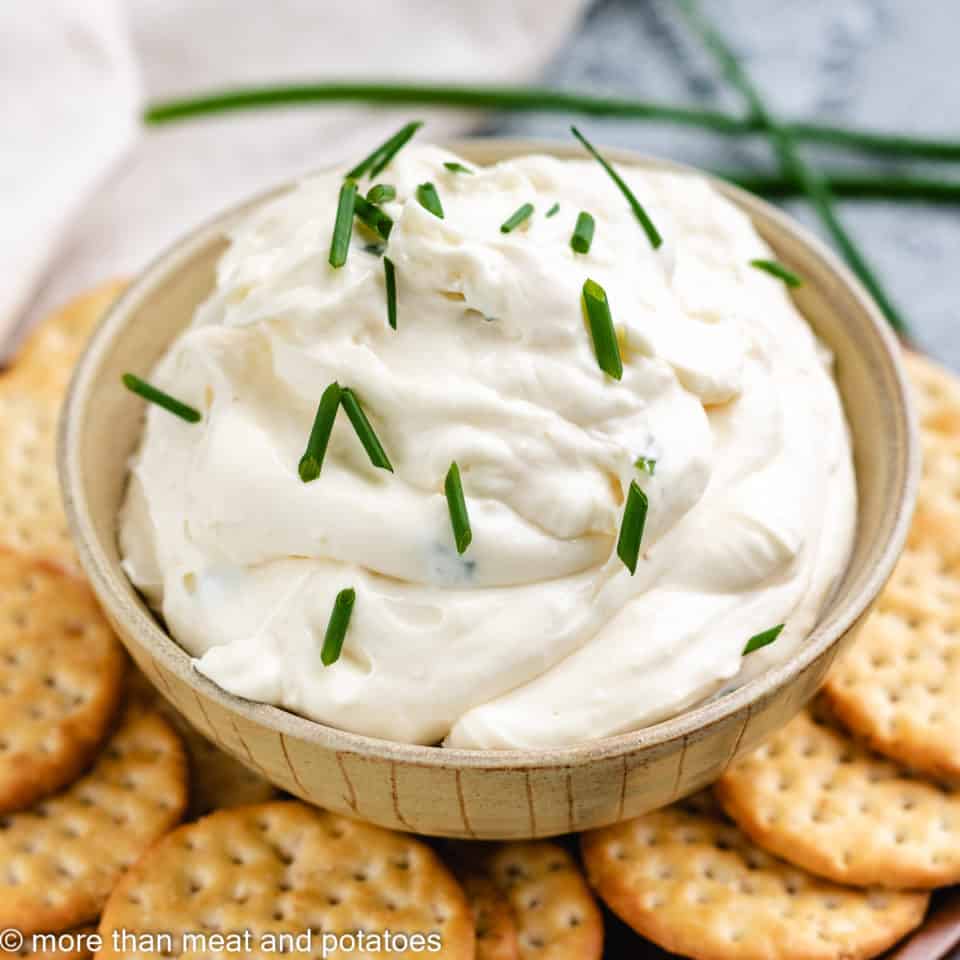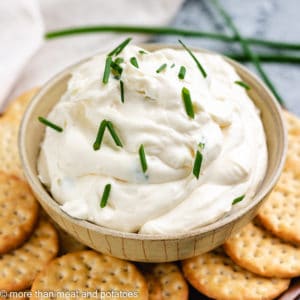 Ingredients
1

bulb of garlic

,

See Note*

8

ounces

block-style cream cheese

,

softened

½

cup

mayonnaise

½

tsp.

garlic powder

1

tablespoon(s)

chives

,

fresh, chopped

kosher salt

,

to taste
Instructions
To Roast the Garlic:
Preheat the oven to 425°F.

Cut the top off the head of garlic horizontally exposing all of the cloves. Drizzle the cloves with olive oil. Wrap the garlic tightly in aluminum foil, and place in an oven safe pan.

Roast the garlic for 25 to 30 minutes, then let the garlic cool for about 10 minutes before removing from the foil. Set aside.
To Make the Dip:
In a medium bowl, combine the cream cheese, mayonnaise, garlic powder, and salt. Gently press the bottom of the head to garlic to remove the cloves. Fold the cloves and chives into the cream cheese mixture.

8 ounces block-style cream cheese

½ cup mayonnaise

½ tsp. garlic powder

1 tablespoon(s) chives

kosher salt

Refrigerate until ready to serve. Serve cold, and store leftovers in the refrigerator for up to 3 days.
Notes
*The calories listed are an approximation based on the ingredients in the recipe card and a serving size of 1 ounce . Actual calories will vary.
*For more information, tips, and answers to frequently asked questions, please refer to the post.
*If desired, chop the roasted garlic cloves instead of using whole cloves.
Nutrition
Serving:
1
Ounce
Calories:
159
kcal
Carbohydrates:
2
g
Protein:
2
g
Fat:
16
g
Saturated Fat:
6
g
Polyunsaturated Fat:
9
g
Cholesterol:
28
mg
Sodium:
200
mg
Sugar:
1
g