This Baked Brie Recipe with Jam is the perfect simple yet indulgent appetizer. It's made with savory melted brie infused with hints of rosemary and smothered in sweet, decadent apricot preserves and nutty pecans.
Pair this mouthwatering Baked Brie with our French Bread, Italian Bread, or Rustic Sourdough Bread, lightly toasted to complete this incredible appetizer.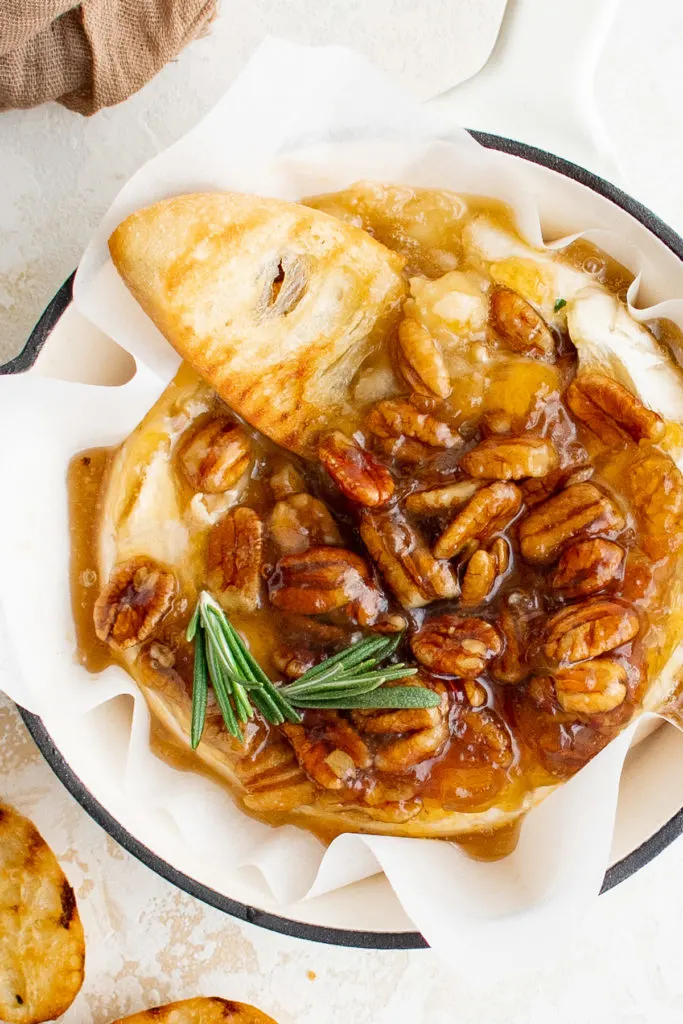 What is Baked Brie?
Baked brie is a classic appetizer that is simply a wheel of brie cheese baked until it becomes warm and gooey. Brie is a creamy, soft cheese that is mild in flavor and encased in a white, edible rind.
When baked, the cheese takes on a beautiful melted texture, perfect for spreading on bread or crackers. It can be enjoyed plain or with a variety of toppings such as nuts, fruits, honey, fresh herbs, or in our variation, sweet and tangy apricot jam.
This elegant appetizer is always a crowd pleaser and looks great on any holiday table or fall charcuterie board or cheese board.
How to Make Baked Brie with Jam
This apricot baked brie is ready in a total of 30 minutes! It's one of the easiest appetizers to prepare.
Here's a quick summary of the recipe. The full recipe with ingredients is located in the recipe card further down the page.
Line an oven-safe skillet or baking sheet with a piece of parchment paper, then place the brie into the pan. Score the top of the rind with a paring knife, then top with fresh rosemary. Bake at 350ºF for 20 minutes.
Warm the fruit spread in the microwave for 1 ½ -2 minutes, stirring every 30 seconds. Add in the pecans, and stir to combine.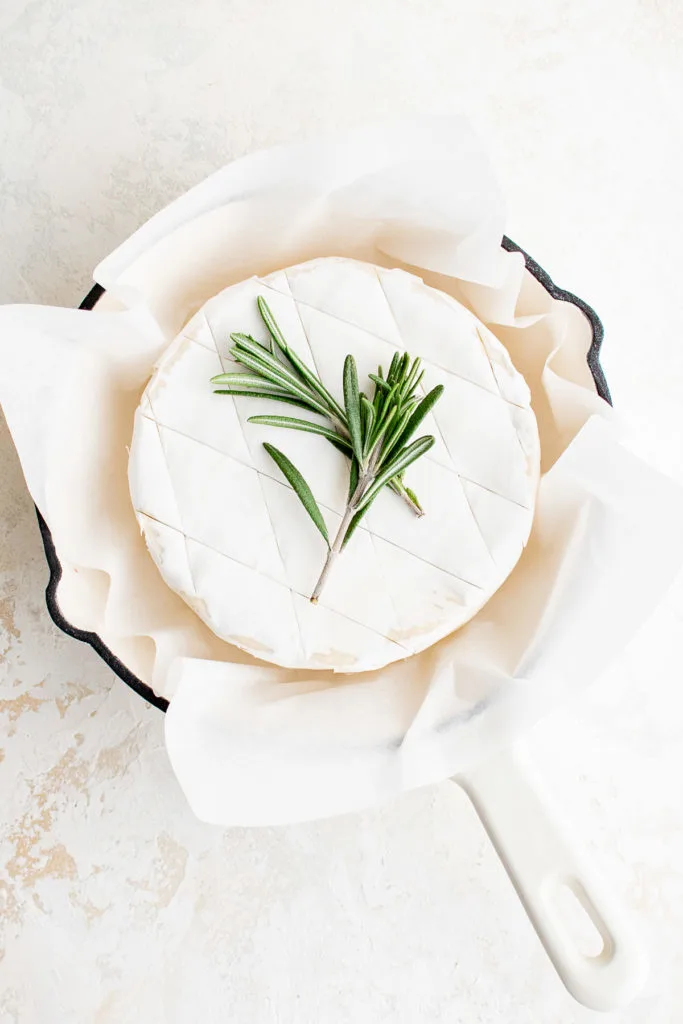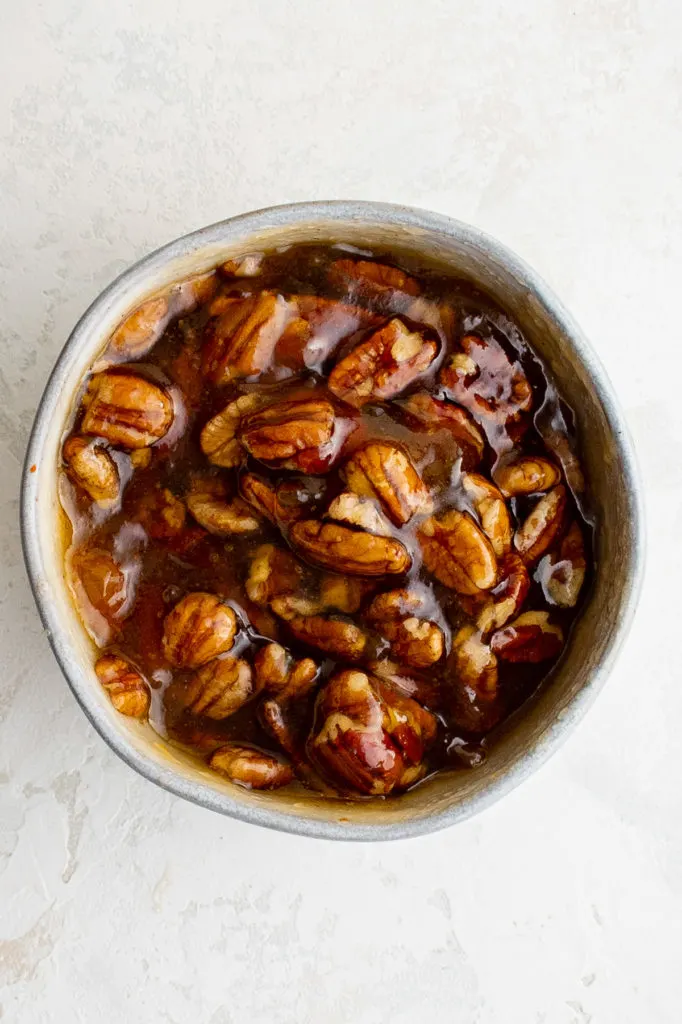 Remove the cheese from the oven, pull the rosemary off the top, then pour on the apricot and pecan mixture. Serve as desired topped with a drizzle of honey.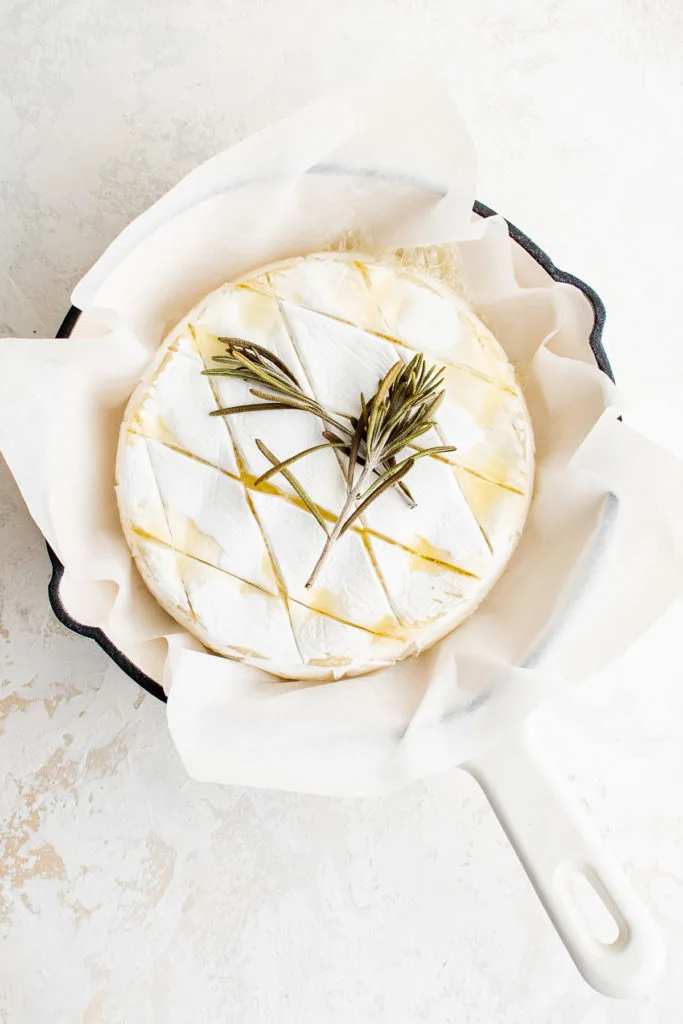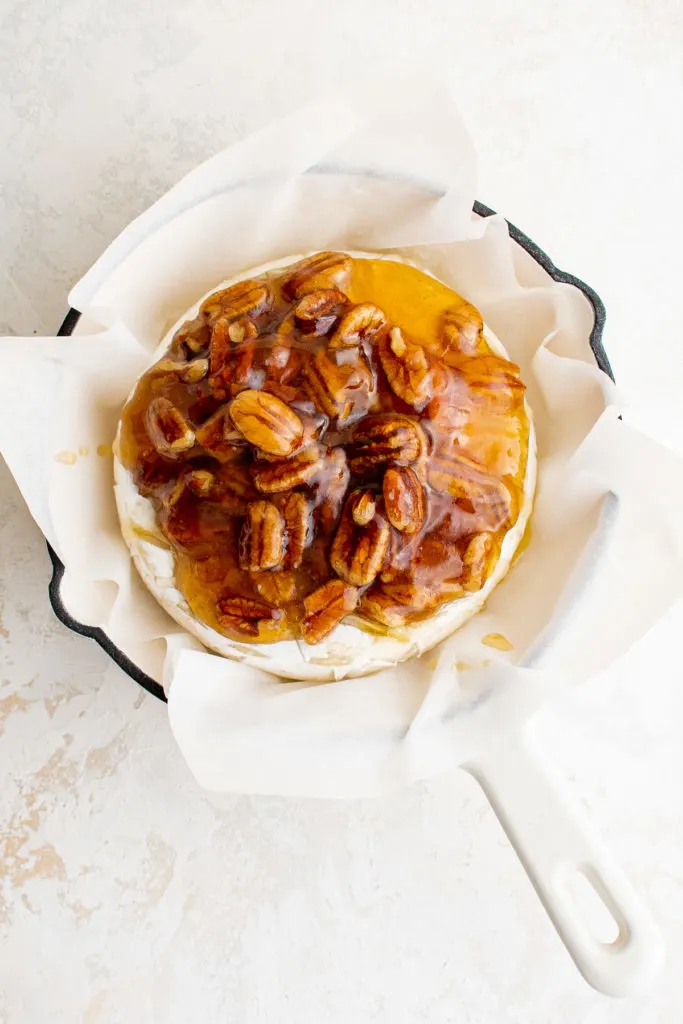 Tips and Variations
Here are a few tips and notes to keep in mind as you whip up this easy holiday appetizer!
Line the baking pan with parchment paper. This helps prevent the bottom of the cheese from sticking or burning on the pan.
Score the brie. Scoring the top of the cheese allows the heat to distribute more evenly and gives steam somewhere to escape.
Use any flavor of preserves or jam you like. Try blackberry fig, orange marmalade, raspberry preserves, or your favorite jam.
If pecans aren't your thing, swap them out for dried fruit like cranberries or raisins or use another type of nut. Crunchy walnuts, pistachios, or hazelnuts would all be great options.
Give your baked brie another layer of sweet and savory flavor with some caramelized onions.
Take your already decadent appetizer to the next level by baking the brie in a layer of puff pastry dough! To do so, wrap the brie in thawed pastry and bake at 400ºF for 35 minutes or until the pastry is golden-brown. Let cool for 5 minutes, then serve as desired.
How to Store Baked Brie:
Refrigerator: To store leftover baked brie, let the cheese cool completely, wrap it tightly in plastic wrap, and keep it in the fridge for up to 4 days.
Freezer: We definitely don't recommend freezing this dish. The texture of the cheese will not hold up when thawed.
Reheating: To reheat the brie, place it in a baking dish and bake in the oven until warmed through. You can also enjoy it cold if you want to skip the reheating!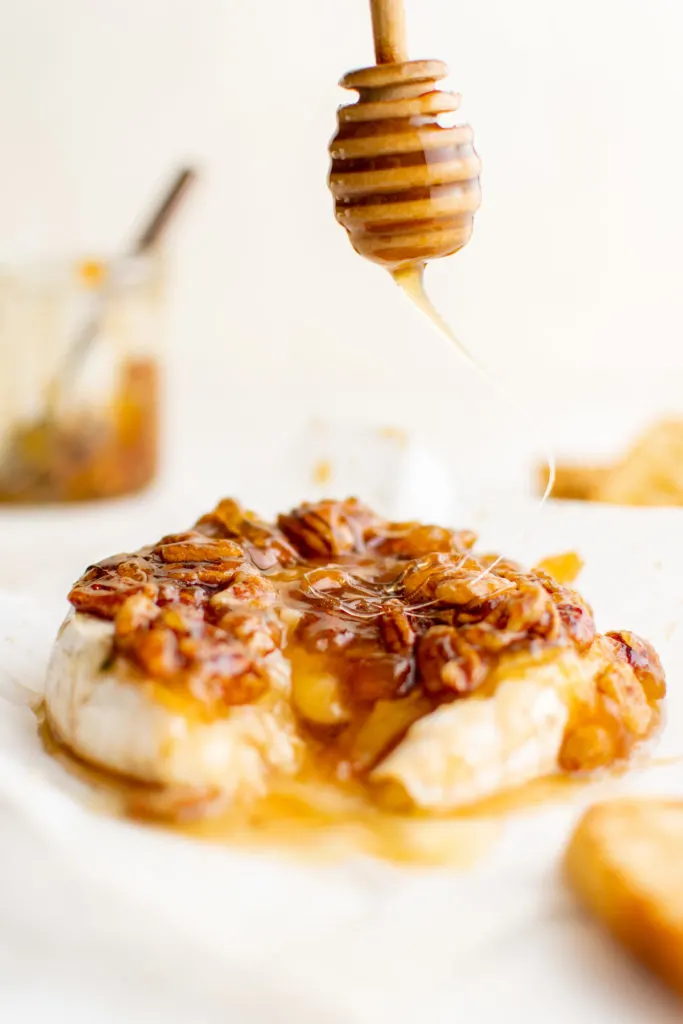 What does brie taste like?
Brie has a rich, and creamy texture that sets it apart from other cheeses. Its flavor is mild, buttery, and nutty.
The edible rind adds a slight crunch and a hint of tanginess, creating a contrast to the creamy interior.
Do you take the rind off of brie before baking?
No! You should definitely leave the rind on. It helps the cheese hold its shape as it bakes. Without the rind in place, the cheese will just melt all over the place.
Don't worry. The rind is edible! It actually adds really great flavor to the appetizer.
How long do you bake brie for?
You'll bake the brie at 350ºF for 20 minutes. This is just the right amount of time for it to get nice and soft and melty for spreading.
What tastes good with baked brie?
My favorite way to serve this baked brie with apricot jam is topped with a drizzle of honey, then spread over grilled baguette slices.
Brie pairs well with crackers or pita chips, sliced veggies, apple or pear slices, or even grapes.
More Holiday Appetizer Recipes to Try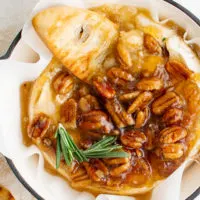 Baked Brie
Print
Pin
I earn a commission from Amazon and Instacart from qualifying purchases.
Ingredients
8

ounces

brie cheese

,

1 round of cheese

2

sprigs fresh rosemary

1

cup

apricot preserves

,

or whatever preserves or jam you prefer

½

cup

pecans

,

halved

2 to 3

tablespoons

honey
Instructions
Preheat the oven to 350°F, and line a small oven-safe skillet or baking pan with parchment paper.

Place the brie into the pan, and score the top with a knife.

Lay rosemary across the top of the brie, and bake for 20 minutes.

In the meantime, heat the preserves in a microwave safe bowl for 1 ½-2 minutes. Stir every 30 seconds or until smooth and easy to stir.

Add the pecans, and stir to combine. Once the cheese comes out of the oven, remove the rosemary and pour on the apricot and pecan mixture.

Serve with grilled baguette slices and a drizzle of honey on top.

See post for tips, FAQs, and storage options.
Notes
*The calories listed are an approximation based on the ingredients in the recipe card and a serving size of 1 ounce of cheese with apricots and pecans. Actual calories will vary.
*For more information, tips, and answers to frequently asked questions, please refer to the post.
*Photos courtesy of Karla Rae Photography.
Nutrition
Serving:
1
ounce
|
Calories:
228
kcal
|
Carbohydrates:
32.6
g
|
Protein:
6.4
g
|
Fat:
9.3
g
|
Saturated Fat:
5.1
g
|
Cholesterol:
28
mg
|
Sodium:
202
mg
|
Fiber:
0.3
g
|
Sugar:
24.1
g