*This post may contain affiliate links. As Amazon Associates we earn from qualifying purchases.
This hearty breakfast scramble is full of smoked sausage, scrambled eggs, bell peppers, mushrooms, and onions. It's a great way to start your day!
I can't think of an easier, one-pan breakfast than a breakfast scramble. It has everything you could want in a breakfast make in a single pan.
Our breakfast scramble is packed with smoked sausage pieces, scrambled eggs, bell peppers, mushrooms, and onions. Plus, it's all cooked in the same pan, so cleanup is a breeze!
Of course, there are other easy and tasty one-pan breakfasts that are just as good. It just depends on what type of meal you're looking for.
We have an awesome sausage and sweet potato hash, as well as, a hearty steel cut oats with strawberries and steel cut oats with blueberries.
How to make a breakfast scramble:
Crack eight eggs in a large bowl. Season with salt and pepper, then whisk until frothy.
Set the eggs aside, and heat a large skillet over medium heat. After the skillet gets hot, add avocado oil (or your choice of cooking oil) and the sausage pieces.
Cook the sausage until they're lightly browned on both sides. Push them to one side of the pan, and lower the heat to low-medium.
Add the diced onions and sliced mushrooms. Continue to cook over low-medium heat for 5 to 7 minutes. Occasionally, stir the sausage around to keep it from burning.
The mushrooms will begin to soften and shrink in size, and the onions will become translucent. Next, add the diced bell peppers and cherry tomatoes.
Continue to cook the vegetables over low-medium heat for another 4 to 5 minutes. The tomatoes should begin to blister and release some moisture.
You'll want to cook as much of that away before adding the eggs; otherwise, the eggs will be watery and difficult to scramble. Just before adding the eggs, stir all the ingredients together.
If necessary, briefly turn up the heat to medium to help evaporate any excess liquid.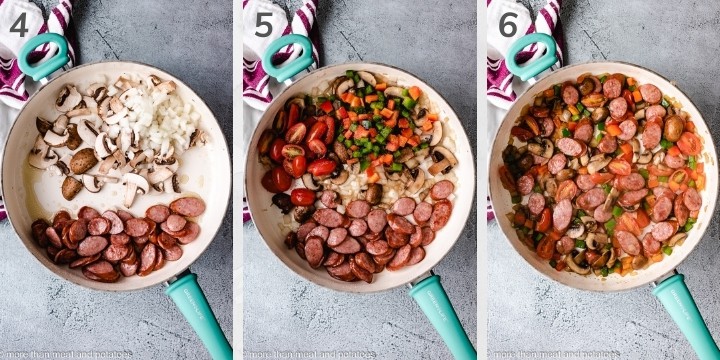 Pour in the beaten eggs, and use a spatula or wooden spoon to push them around the pan. They'll mix with the other ingredients, and pick up the flavor and any residual liquid.
The residual liquid will discolor the eggs slightly which is why the eggs in the photos are not bright yellow. If you'd prefer bright yellow eggs, push all the ingredients to one side of the pan, scramble the eggs separately, then mix the ingredients together.
After the eggs are cooked through or to your desired doneness, remove the breakfast scramble from heat, and serve immediately.
If you like our recipe, please leave us a comment and rate the recipe card. You can also find us on Facebook, Pinterest, Twitter and Instagram searching for More Than Meat and Potatoes!
Join our Facebook group for more recipes from Meat and Potatoes and our sister site, Berly's Kitchen.