Start your day with our fresh-baked pumpkin oatmeal muffins. These flavorful muffins are the perfect treat for pumpkin season!
That's right, it's pumpkin season! Are you ready for all those pumpkin recipes? I know I am.
For today, Kim and I are sharing our pumpkin oatmeal muffins. They're so good, especially when served alongside a cup of pumpkin spice coffee.
Now, we made these breakfast muffins using pumpkin puree and pumpkin pie spice. Meaning, they're going to taste similar to our pumpkin bread. However, the muffins are a little sweeter.
If you want, you can reduce the sugar amounts. Take a look at the tips section for more helpful hints and information.
If you're looking for oatmeal in a different form, try out steel cut oats with blueberries or strawberry steel cut oats.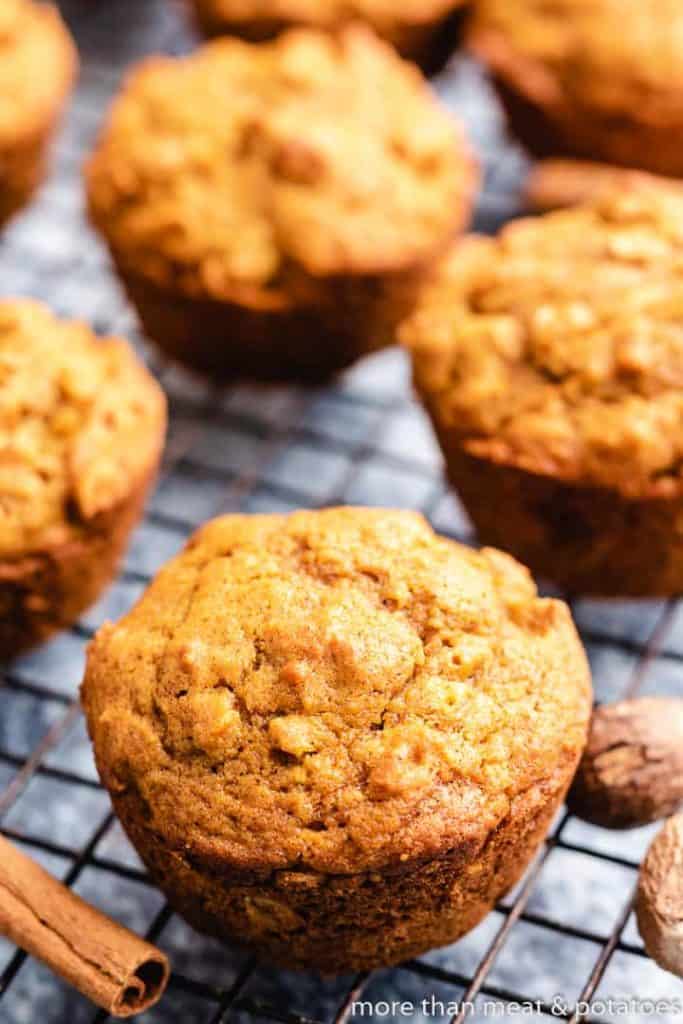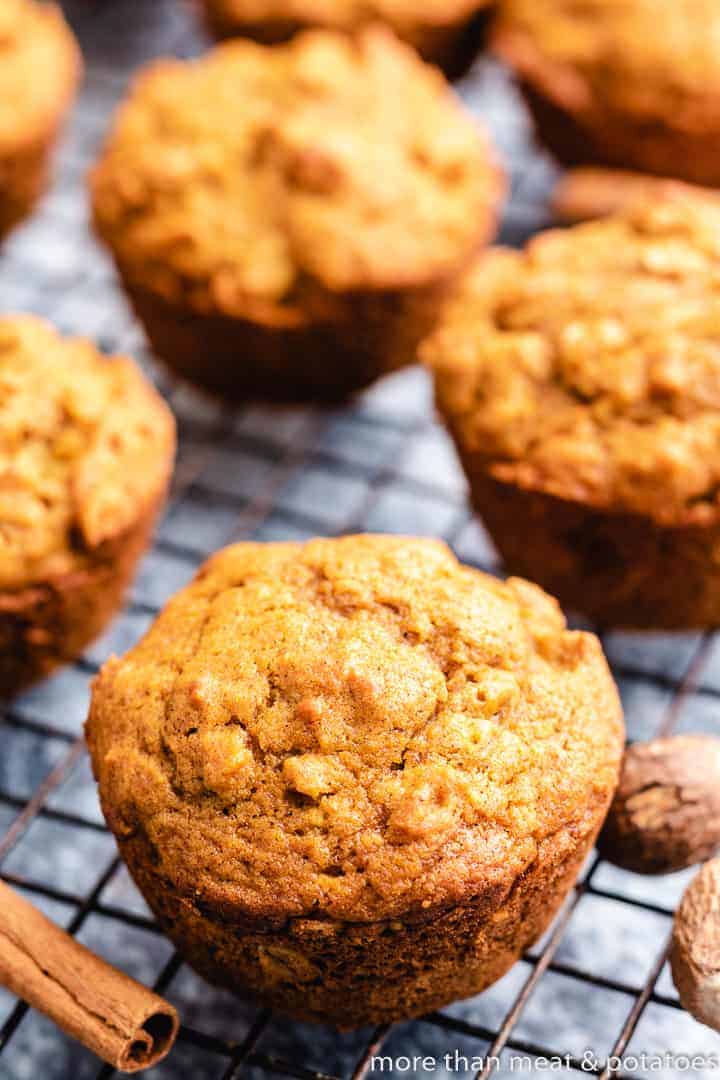 How to make pumpkin oatmeal muffins from scratch?
First, preheat your oven to 350°F, and grease a muffin tin. Alternatively, you can use muffins liners instead of non-stick cooking spray.
Next, grab a large mixing bowl and a hand mixer (or use a stand mixer).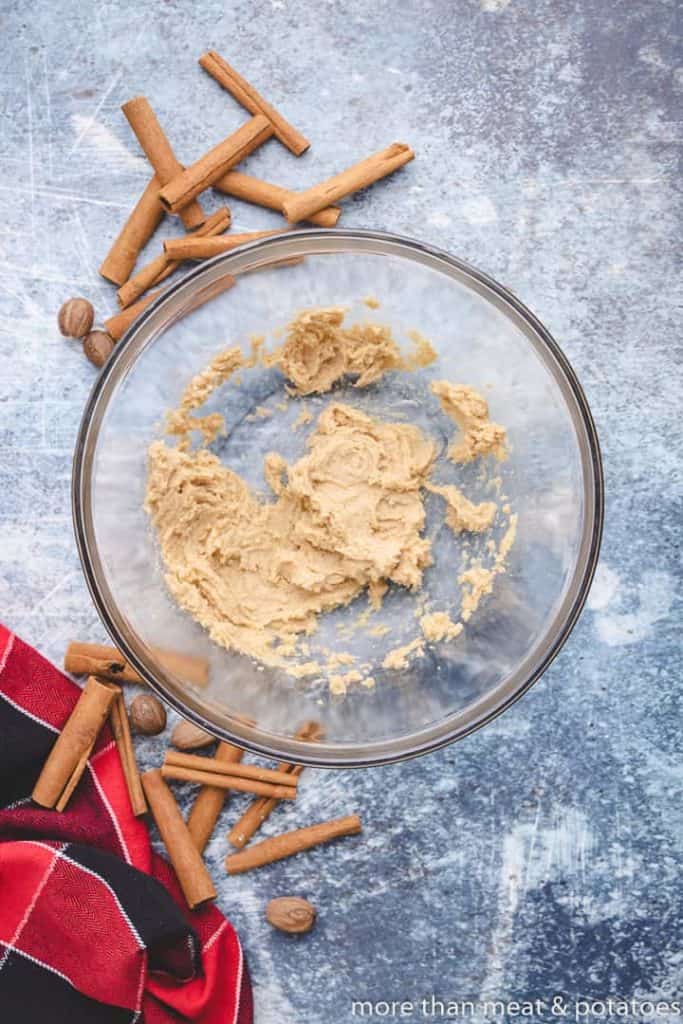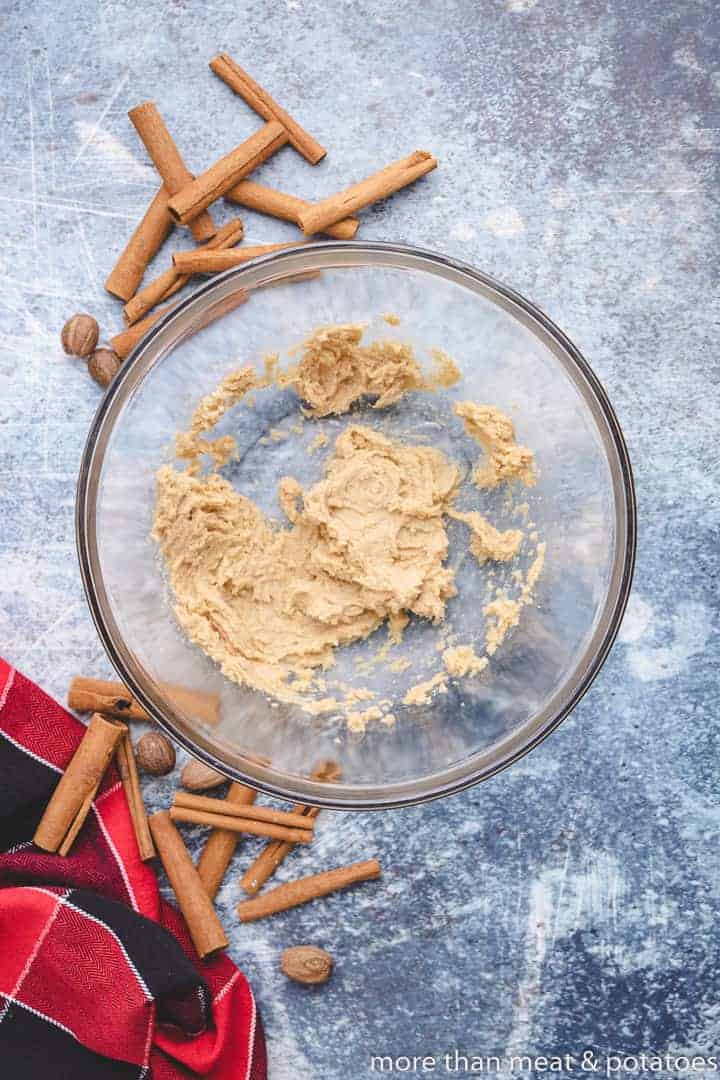 Use your mixer to beat the butter and brown sugar. You want the sugar mixture to become light and fluffy.
The process should take about 3-minutes. Afterward, add in the pumpkin puree, vanilla extract, and cracked egg.
Combine all the ingredients using the mixer (for about 1-2 minutes). Set the bowl aside for now.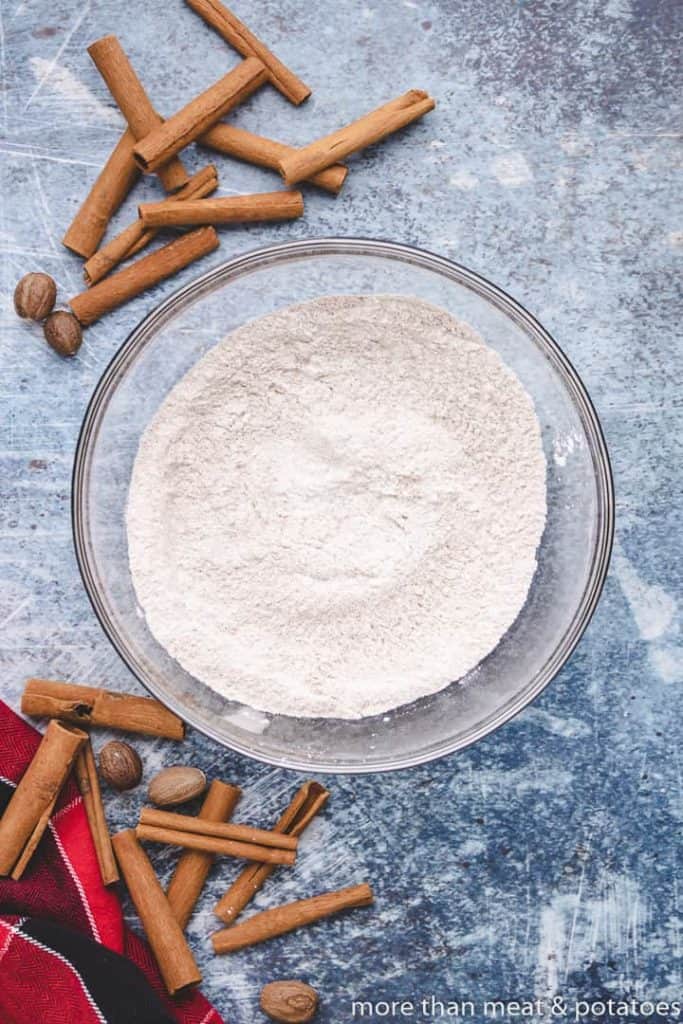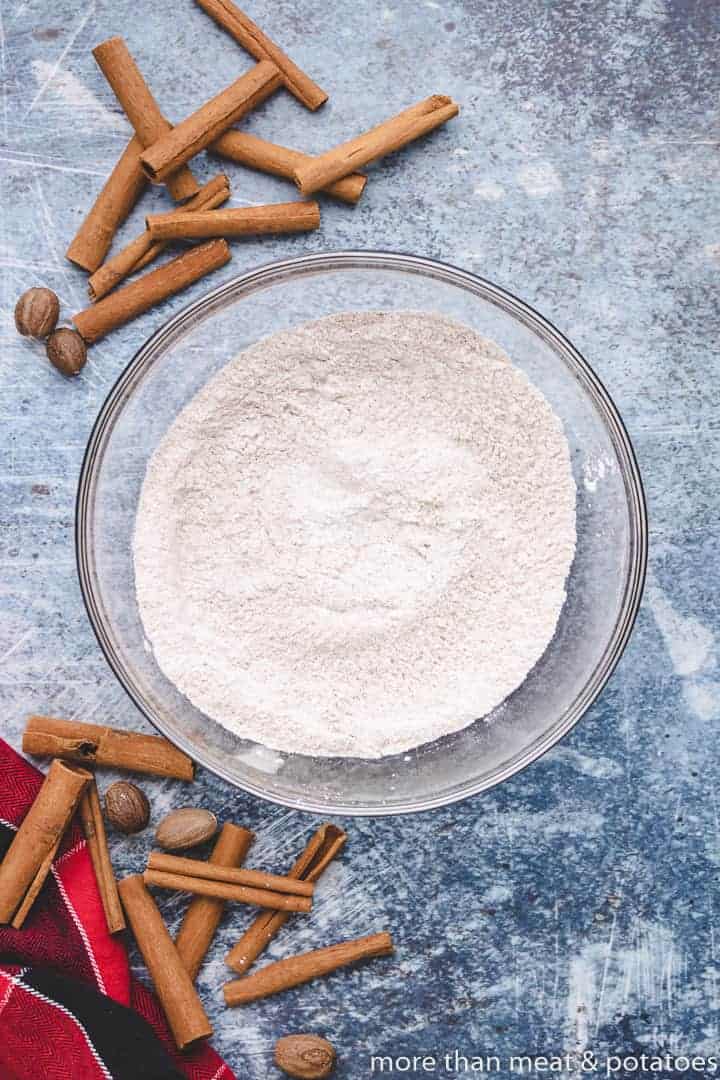 Now, grab another mixing bowl (medium to large) and whisk together the all-purpose flour, pumpkin pie spice, baking powder, baking soda, and salt.
Then, pour the dry ingredient mixture into the bowl with the wet ingredients.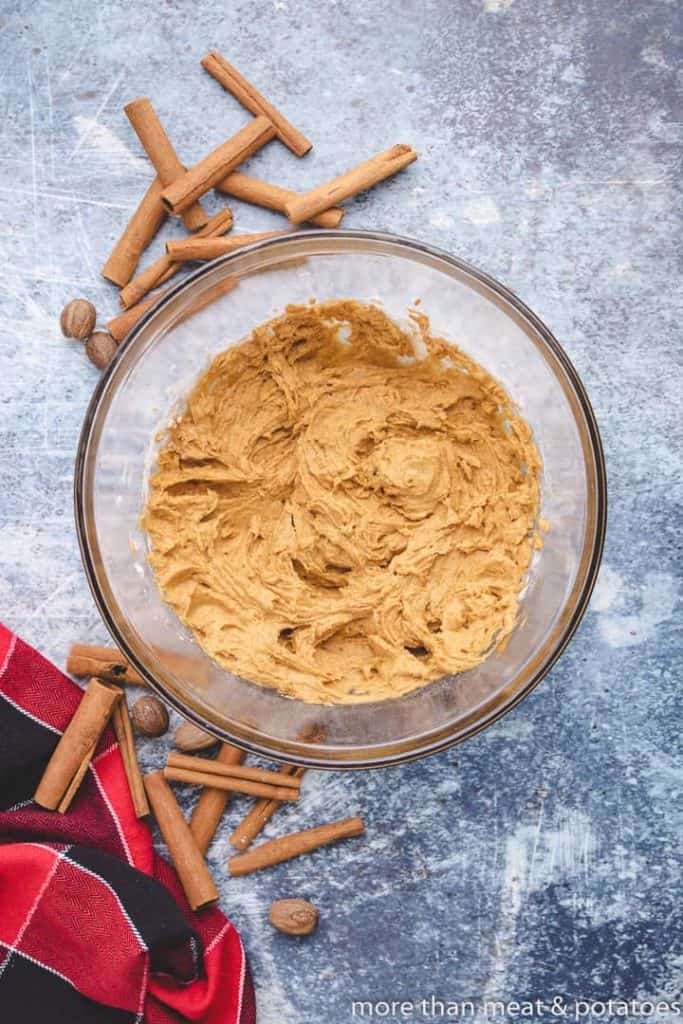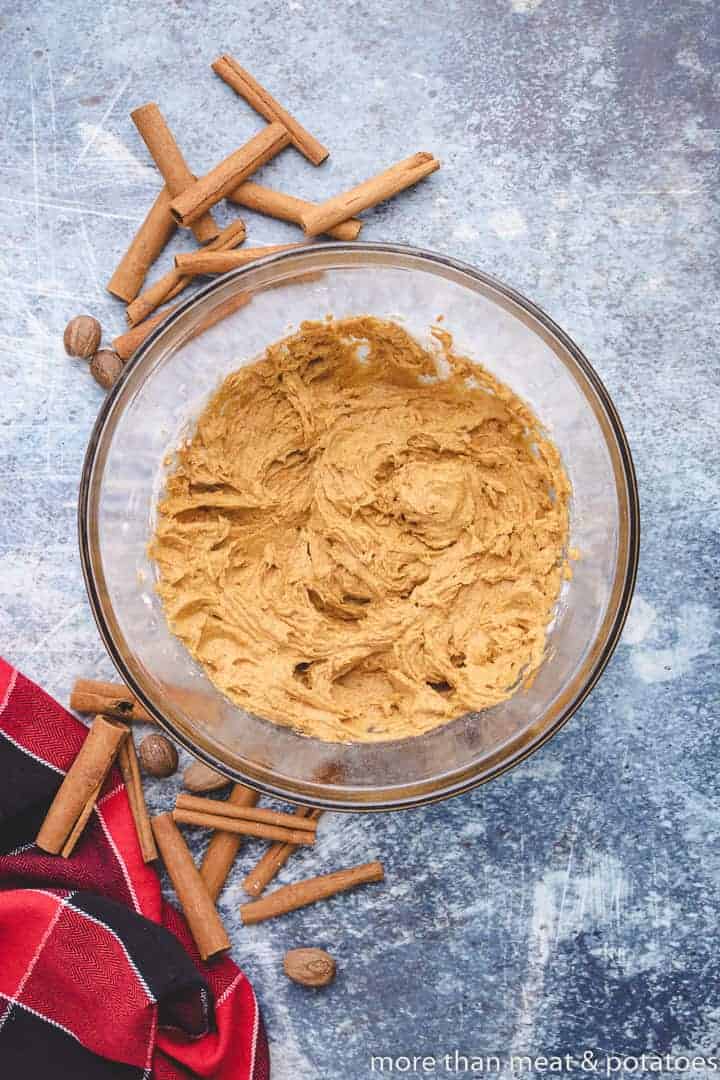 After that, use your hand mixer (on low speed) to combine everything into a muffin batter.
Once the wet and dry ingredients are mixed, use a rubber spatula to fold the rolled oats into the muffin batter.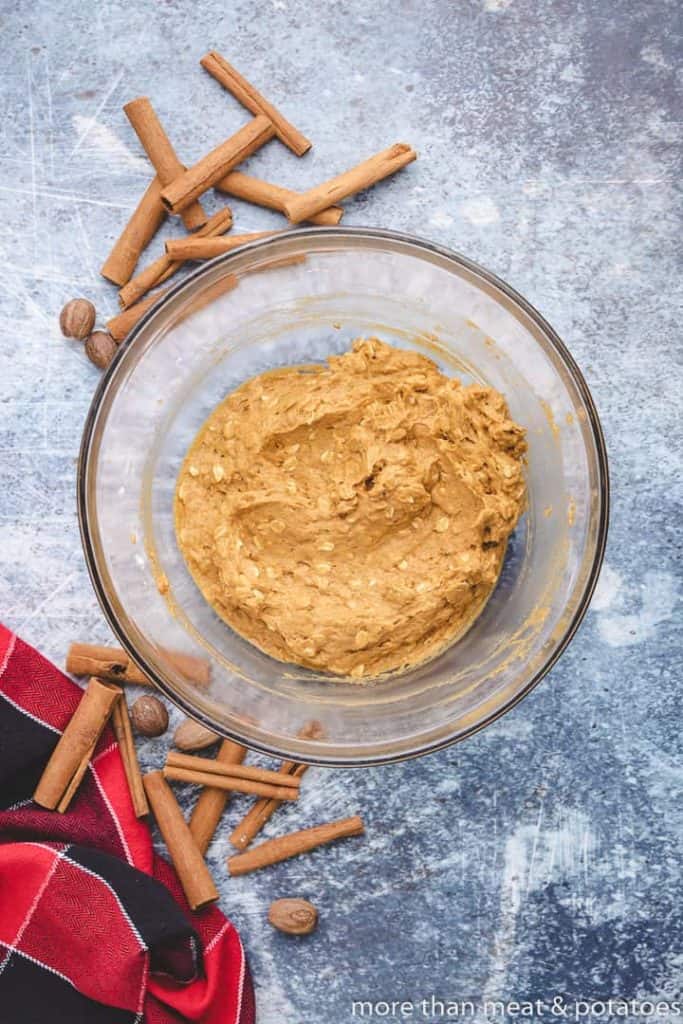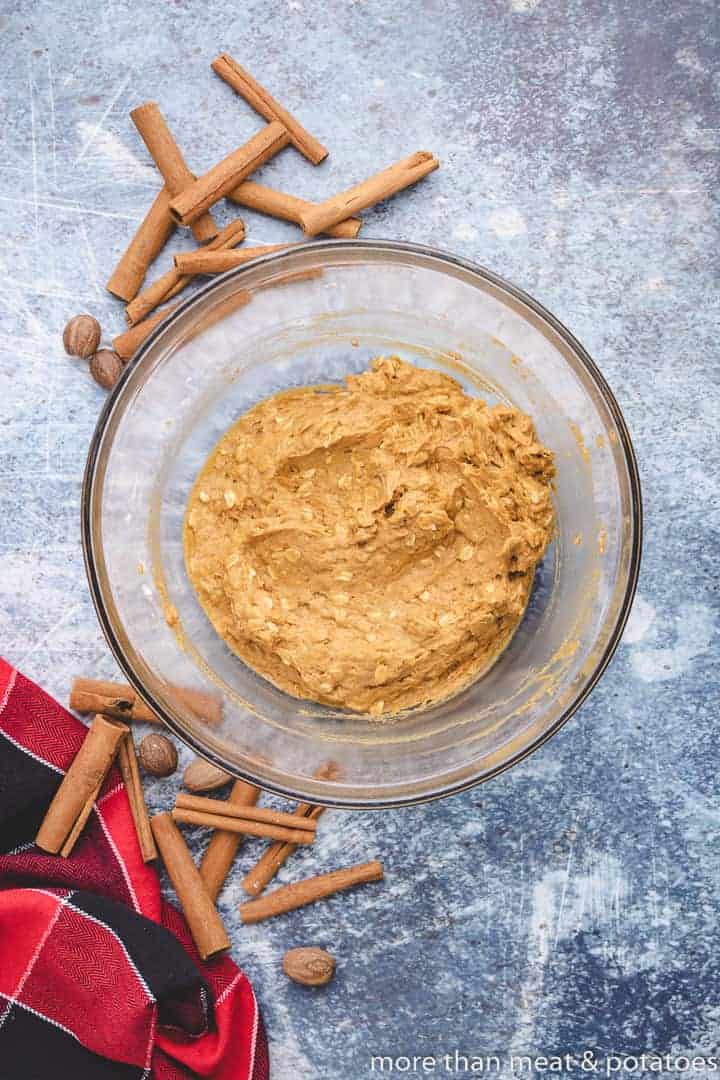 At this point, you can start filling the tin and baking the muffins.
Whether you used liners or not, only fill each spot about 1/2 to 2/3 full with batter.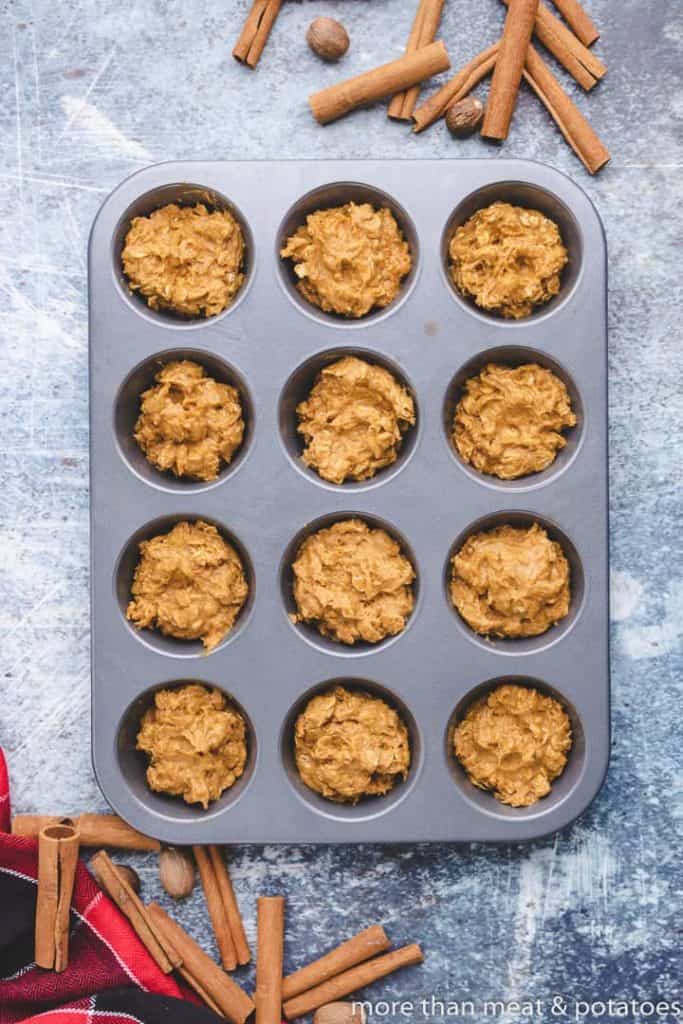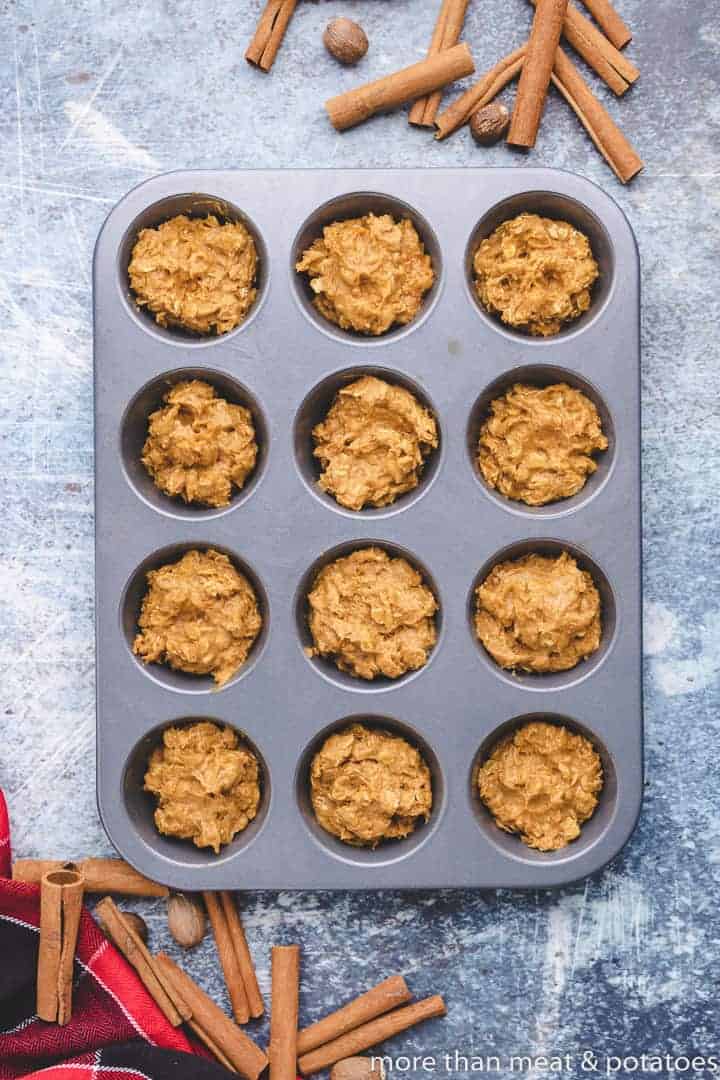 Put the pumpkin muffins into the oven to bake for 18-20 minutes or until they pass the toothpick test.
Last, remove them from the oven and let them cool for a few minutes before serving. That's it, your pumpkin oatmeal muffin recipe is done! Kim and I hope you enjoy the treat and wish you all the best 🙂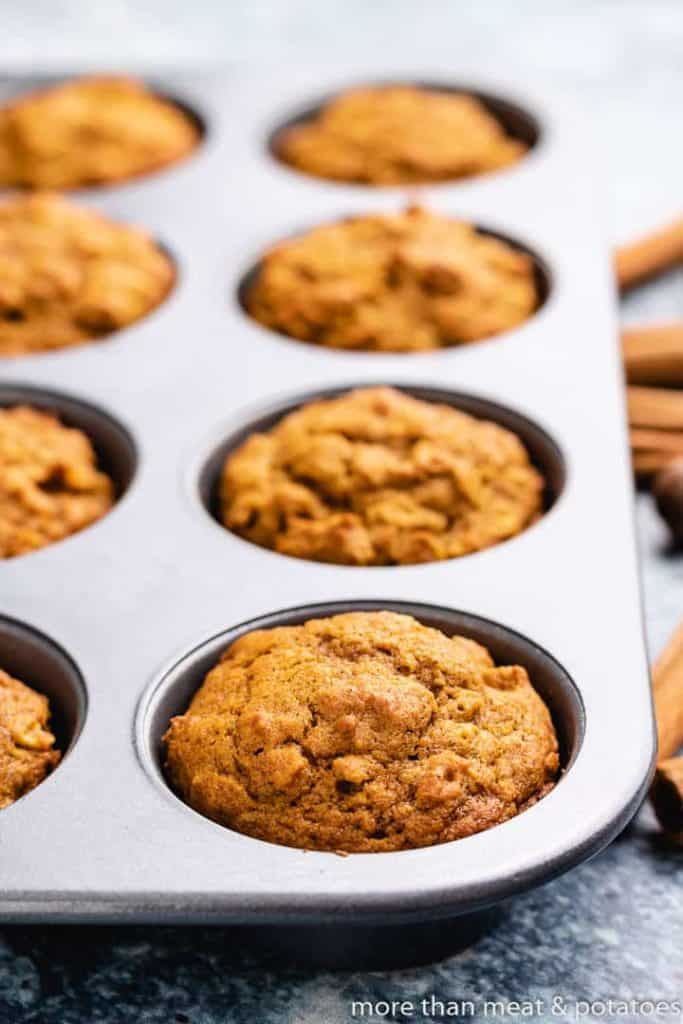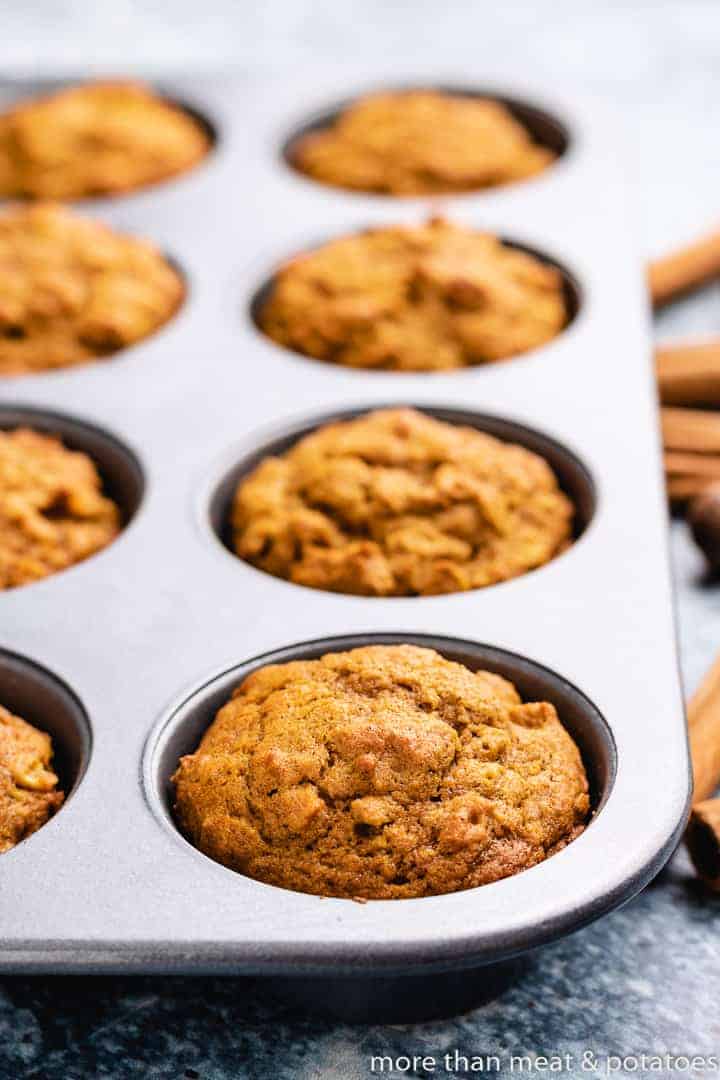 Pumpkin Oatmeal Muffins Recipe Tips:
These muffins might be a little sweet for a breakfast dish. So, feel free to decrease the sugar amounts. With that being said, taste test the batter before baking. That way, you know whether or not to add more sugar. I know, I know, eating raw batter is not a good idea. So, if you know of a better method, then use it instead of mine.
When combining the wet and dry ingredients, you only want to mix the batter until the flour streaks disappear. Over mixing breads and muffins can result in a dense, heavy final product.
Personally, I like to use a small 1/3-cup sized measuring cup to transfer the batter into the muffin tin. Simply put, it's more accurate than a spoon.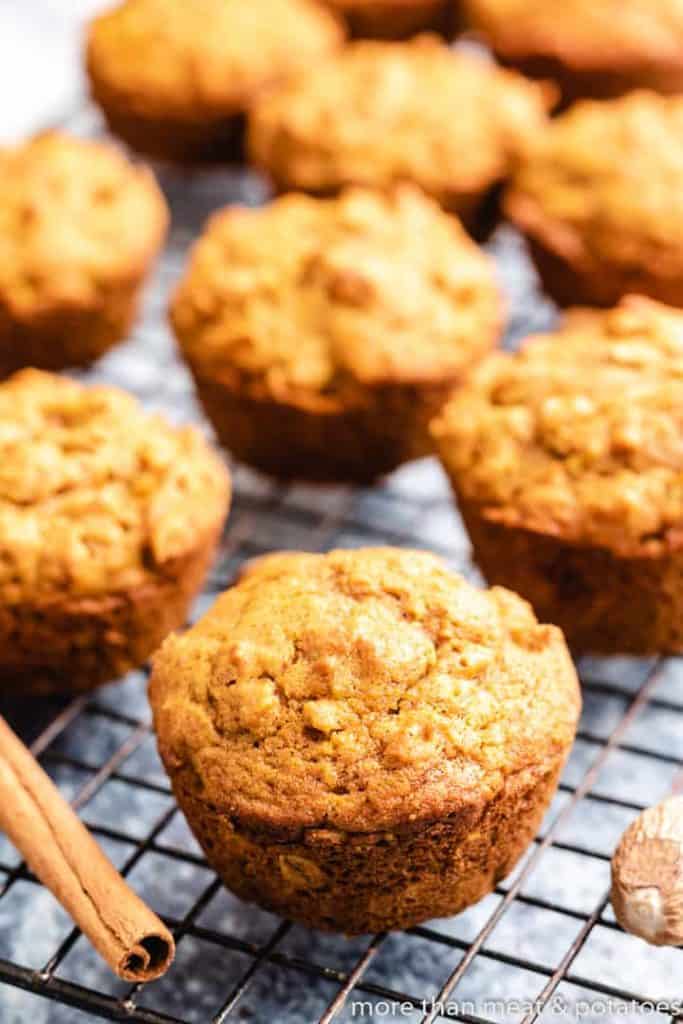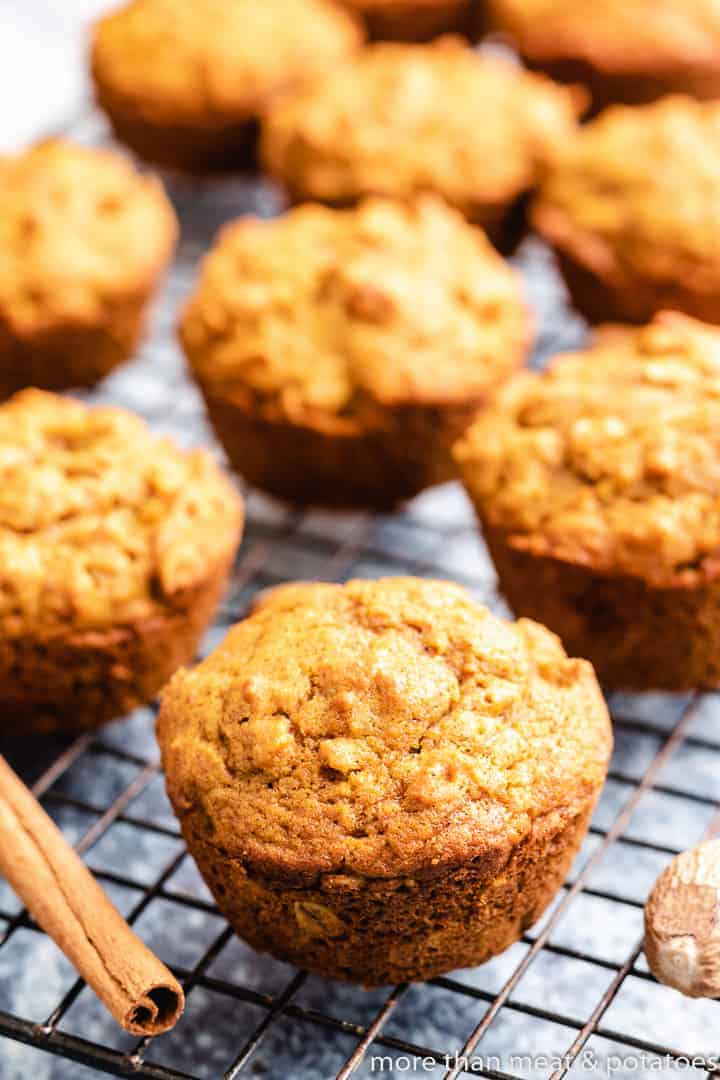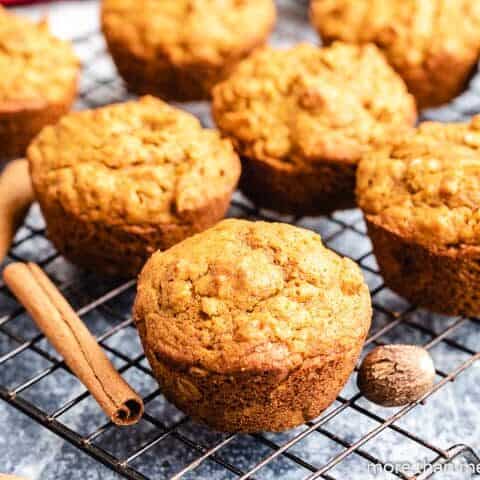 Pumpkin Oatmeal Muffins
Start your day with our fresh-baked pumpkin oatmeal muffins. These flavorful muffins are the perfect treat for pumpkin season!
Ingredients
1/2 Cup (113 g) Unsalted Butter, softened
⅔ Cup (140 g) Brown Sugar, packed
1 Cup (227 g) Pumpkin Puree
1 Large Egg
1 Teaspoon Vanilla Extract
1 Cup (120 g) All-Purpose Flour
1 Tablespoon Pumpkin Pie Spice
2 Teaspoon Baking Powder
½ Teaspoon Baking Soda
1/2 Teaspoon Salt
1 Cup (99 g) Old Fashioned Oats, (rolled oats)
Instructions
Preheat the oven to 350°F, and grease or line a muffin pan with paper liners.
In a large bowl, use a hand mixer to beat the butter and brown sugar on low speed until light and fluffy, about 3 minutes. Add the pumpkin puree, egg, and vanilla, and beat until well mixed. Set aside.
In a separate medium bowl, whisk together the flour, pumpkin pie spice, baking powder, baking soda, and salt. Add the dry ingredients to the wet ingredients, and mix on low speed just until no flour streaks remain. Gently fold in the rolled oats.
Fill each cavity of the muffin pan about ½ to ⅔ of the way full. Bake for 18 to 22 minutes or until a toothpick inserted into the center comes out clean.
Enjoy warm, and store any leftovers in an airtight container for up to 3 days.
Notes
The calories listed are an approximation based on the ingredients in the recipe card and a serving size of 1 pumpkin oatmeal muffin. Actual calories will vary. For more information and tips, please refer to the post.
Recommended Products
As an Amazon Associate and member of other affiliate programs, we may earn a commission from qualifying purchases.
Nutrition Information:
Yield:

12
Serving Size:

1 Muffin
Amount Per Serving:
Calories:

180
Total Fat:

9g
Saturated Fat:

5g
Trans Fat:

0g
Unsaturated Fat:

3g
Cholesterol:

36mg
Sodium:

234mg
Carbohydrates:

25g
Fiber:

2g
Sugar:

11g
Protein:

3g
*The calories are an estimate and are based on the ingredients and serving size listed. The calories can vary depending on the brand of product purchased.