*This post may contain affiliate links. As Amazon Associates we earn from qualifying purchases.
Have you ever wanted to make yellow rice from scratch? Well now you can with our delicious recipe. It's a simple step-by-step guide almost anyone can use!
Every time we make burrito bowls, Kim and I always make yellow rice. Whether it's flavored with turmeric or saffron, it's a must have dish.
For today's recipe we're going to teach you how to make yellow rice from scratch using a few simple ingredients.
The hardest part is the last step, when you have to let the grain rest on your stove-top.
What does yellow rice taste like?
Well, that depends on your choice of seasonings. Typically, yellow rice is made using saffron or turmeric.
So, if you used turmeric, then the rice will taste slightly bitter and earthy.
On the other hand, if you used saffron, then it will taste slightly sweet and flowery.
For even more flavor, top this rice with our homemade, fire-roasted Hatch green chile sauce.
How to make homemade yellow rice?
First, grab a medium saucepan and combine the water (or vegetable broth), garlic powder, onion powder, sea salt, turmeric, and black pepper.
Next, place the mixture over high heat and bring it to a boil. Now, stir in the rice and reduce the heat to low-medium (simmer).
Then, let the rice to cook uncovered (without stirring) for about 15-minutes. Turn off the heat, and cover the saucepan with a lid.
Last, let the rice finish absorbing the liquid for about 20-minutes. Uncover, fluff with a fork, and serve!
Recipe Tips:
Do not stir the rice while it simmers. As the liquid cooks down, pockets will open up in the rice (spots where the water boiled up). Once the water level is equal with these pockets, it's time to turn off the heat and cover the rice with a lid.
Don't care for turmeric, then make your homemade yellow rice with saffron instead.
We use this rice on Taco Tuesdays and as a side dish for our Mexican grilled chicken salad.
If you like our recipe, please leave us a comment and rate the recipe card. You can also find us on Facebook, Pinterest, Twitter and Instagram searching for More Than Meat and Potatoes!
Join our Facebook group for more recipes from Meat and Potatoes and our sister site, Berly's Kitchen.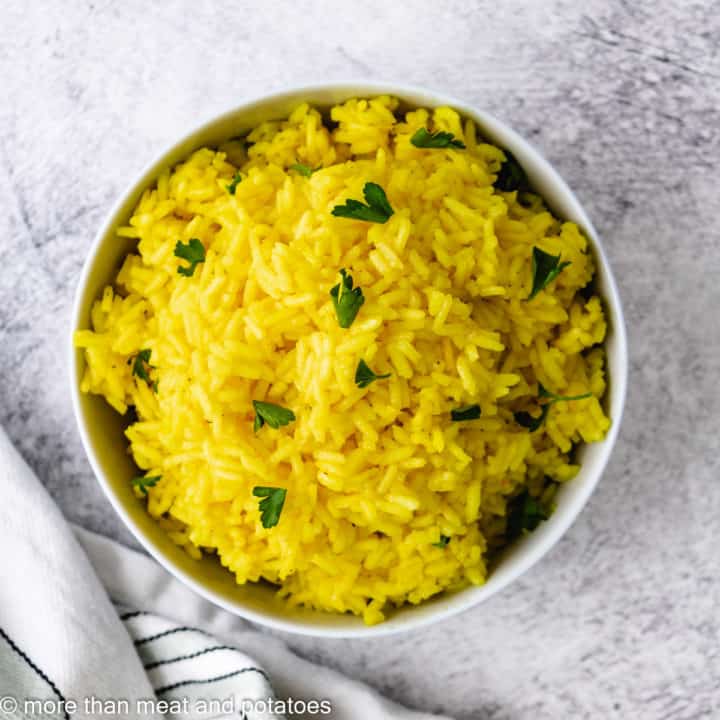 Yellow Rice Recipe
Rest Time for Rice:
20 minutes
Our Yellow Rice Recipe is an easy side dish that's lightly seasoned with garlic, onion, and turmeric. It doesn't take long to make and goes great with tons of meals.
Ingredients
2 Tablespoons Olive Oil
1 Teaspoon Garlic, finely minced
1 Teaspoon Dried Minced Onion
½ Teaspoon Turmeric
2 Cups Water or Broth
1 Cup Long Grain White Rice
Salt and Pepper, to taste
Instructions
Heat a medium saucepan over low heat. Add the olive oil, garlic, minced onion, and turmeric. Cook for about 30 seconds.
Add the broth and rice, and stir to combine. Bring the ingredients to a boil, then reduce to a simmer.
Reduce heat to a simmer, and cook uncovered for 15-17 minutes. Cook without stirring until the water is absorbed and pockets form in the rice. The water should be equal with the "pockets."
Cover, turn off the turn, and let the rest undisturbed for 20 minutes. After 20 minutes, uncover and use a fork to fluff.
Store leftovers in the refrigerator for up to 3 days.
Notes
*The calories listed are an approximation based on the ingredients in the recipe card and a serving size of ½ cup of rice. Actual calories will vary.
*For more information, tips, and answers to frequently asked questions, please refer to the post.
Recommended Products
As an Amazon Associate and member of other affiliate programs, we may earn a commission from qualifying purchases.
Nutrition Information:
Yield:

8
Serving Size:

1/2 Cup
Amount Per Serving:
Calories:

68
Total Fat:

4g
Saturated Fat:

1g
Trans Fat:

0g
Unsaturated Fat:

3g
Cholesterol:

1mg
Sodium:

83mg
Carbohydrates:

7g
Fiber:

0g
Sugar:

1g
Protein:

1g
*The calories are an estimate and are based on the ingredients and serving size listed. The calories can vary depending on the brand of product purchased.