Sourdough Doughnuts are yeast-free doughnuts made from sourdough discard then dipped in a sweet cinnamon sugar. These are perfect for a weekend breakfast.
Sourdough doughnuts are not only a wonderfully indulgent breakfast, but they're a great way to use up sourdough discard. These doughnuts are pan fried and have a texture similar to that of a cake doughnut.
We love to dip them in a cinnamon sugar mixture, but you could also make a sweet vanilla glaze for the tops. Of course, we don't make these every weekend since they are more of a sweet treat.
They're perfect for special occasions, when company visits, or a lazy weekend. They go great with dark chocolate coffee or a glass of whole milk.
If you're looking for other not-as-sweet, sourdough starter breakfast recipes, try our sourdough starter pancakes, sourdough pumpkin bread, or sourdough banana bread.
How to make sourdough doughnuts:
This recipe has a lot of steps, but it actually moves rather quickly. Get all the ingredients prepped first, and start by making the cinnamon sugar mixture.
In a small bowl, stir today the cinnamon and sugar. Set aside.
In a separate, medium bowl whisk together the flour, baking powder, baking soda and salt. Set aside.
In a large bowl, use an electric mixer to cream together the butter and sugar until it's light in color, about 2 to 3 minutes. Add the eggs and vanilla, and continue to mix on low speed until the ingredients are combined.
Scrape the bowl as needed, and pour in the sourdough starter or discard and buttermilk. The discard doesn't need to be active and bubbly.
It can be the part that is unfed and about to be poured in the trash just prior to the next feeding. Continue to mix on low speed until combined.
Switch the mixer to the dough hook attachment, then pour the flour mixture into the bowl.
Mix until just combined and no flour streaks remain. The dough will be very sticky and airy.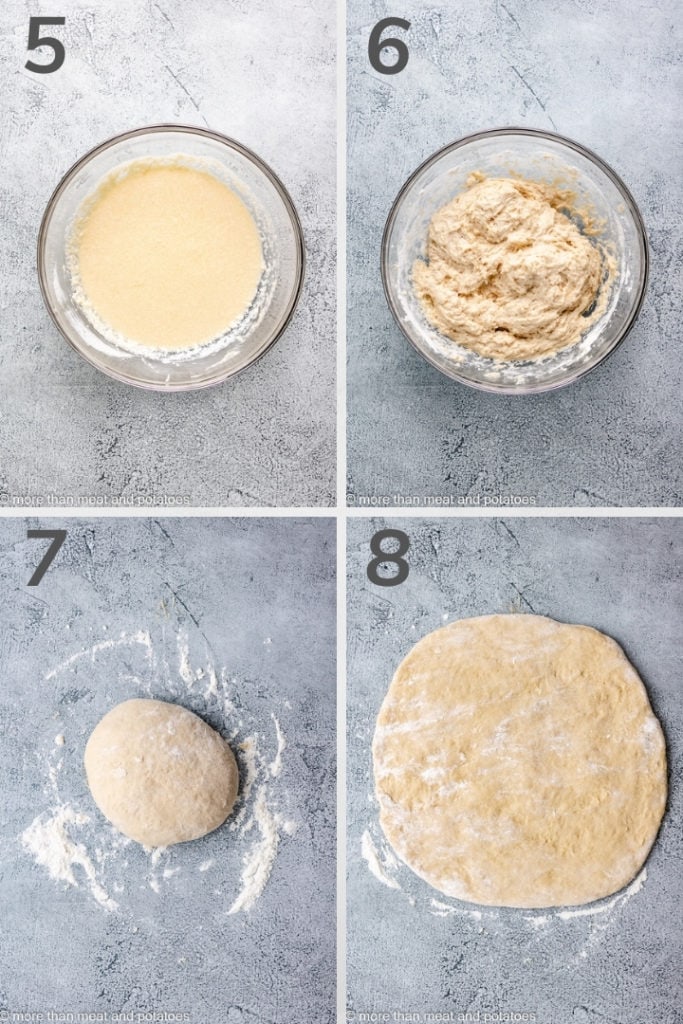 Remove the dough from the bowl, and place it on a well-floured surface. Knead it a few times until it smooths out a bit, and form it into a ball.
Pat it out into a flat circle about 1/2-inch thick. Use a doughnut cutter or another circular object about 3 1/2-inches in diameter to cut circles in the dough.
I used a metal drink shaker to cut the outer edge of the doughnuts and use the circular edge of a icing tip to cut the centers.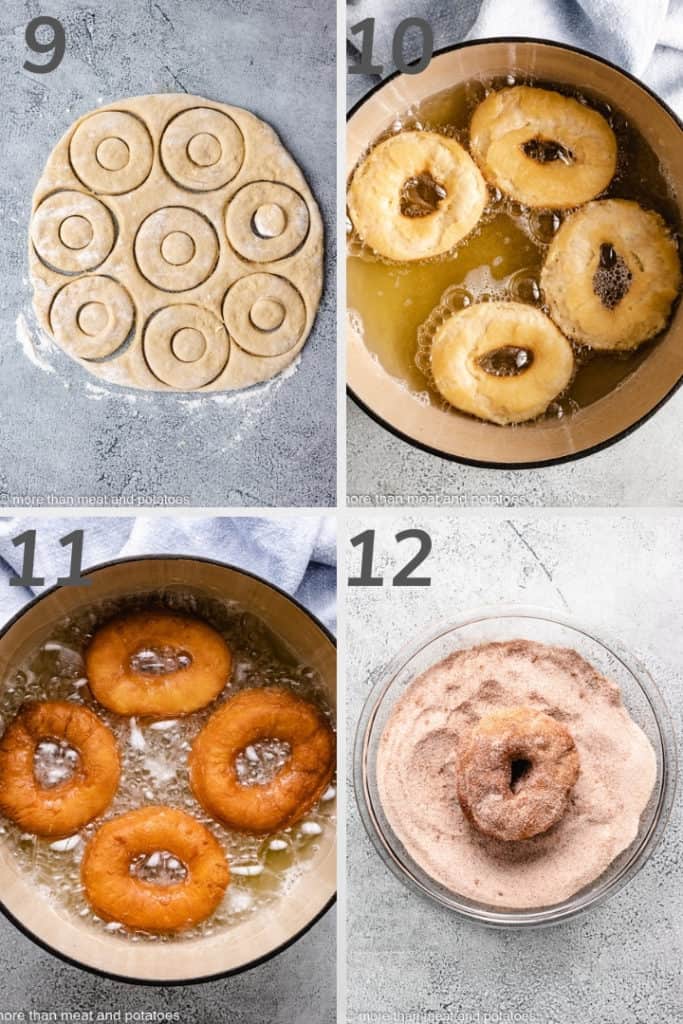 Continue to re-pat the dough into a 1/2-inch circle and cut the doughnuts until all the dough is used. I was able to get 12 doughnuts with the dough being about 1/2 inch thick.
Place the cut doughnuts onto a plate or pan line with parchment paper until you're ready to fry them. If you're able, start heating the oil while the doughnuts are being cut that way the oil is hot when you're done.
Use a pan that's deep, so the oil will have plenty of room to expand. A deep fryer, similar to a Fry Daddy brand, will also work.
You only need about 4 cups of oil, and it needs to heat to 350°-375°F before adding the first doughnut. We use an instant read thermometer to check the temperature to make sure it's hot enough.
Work in batches, and use a slotted spoon or skimmer to carefully lower the doughnuts into the hot oil. Cook on one side for 2 to 3 minutes, then flip to cook on the opposite side for another 1 to 2 minutes.
The doughnuts will brown and look crispy around the edges when they're finished frying. Remove the doughnuts from the pan, and transfer to paper towels or a wire rack over a pan to drain.
After a couple of minutes, place the warm doughnuts in the cinnamon sugar mixture and turn to coat. Enjoy the doughnuts immediately!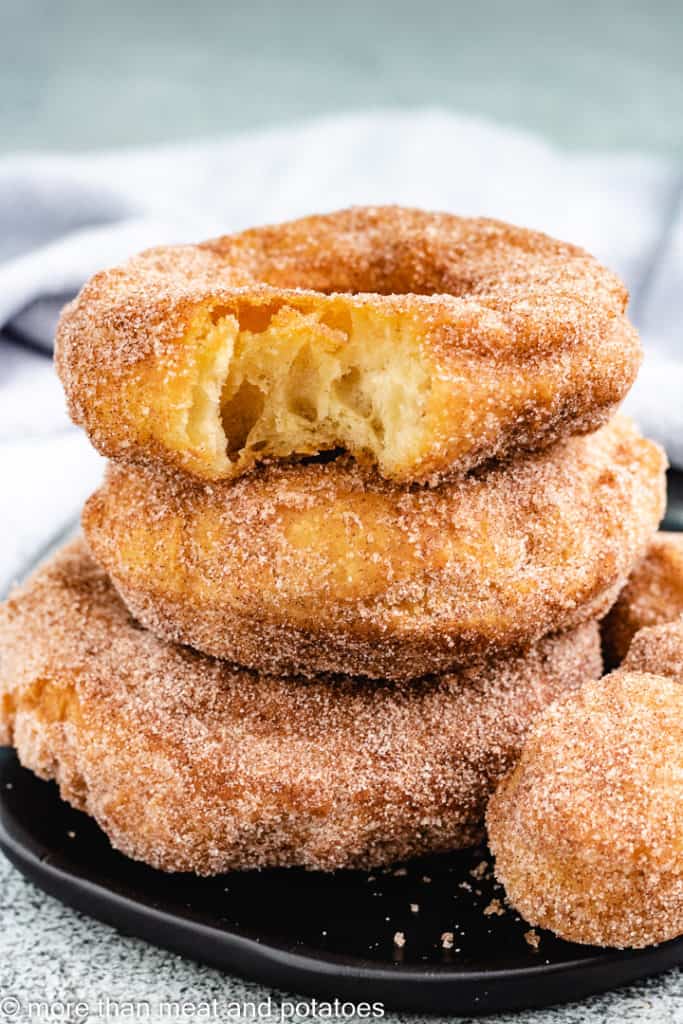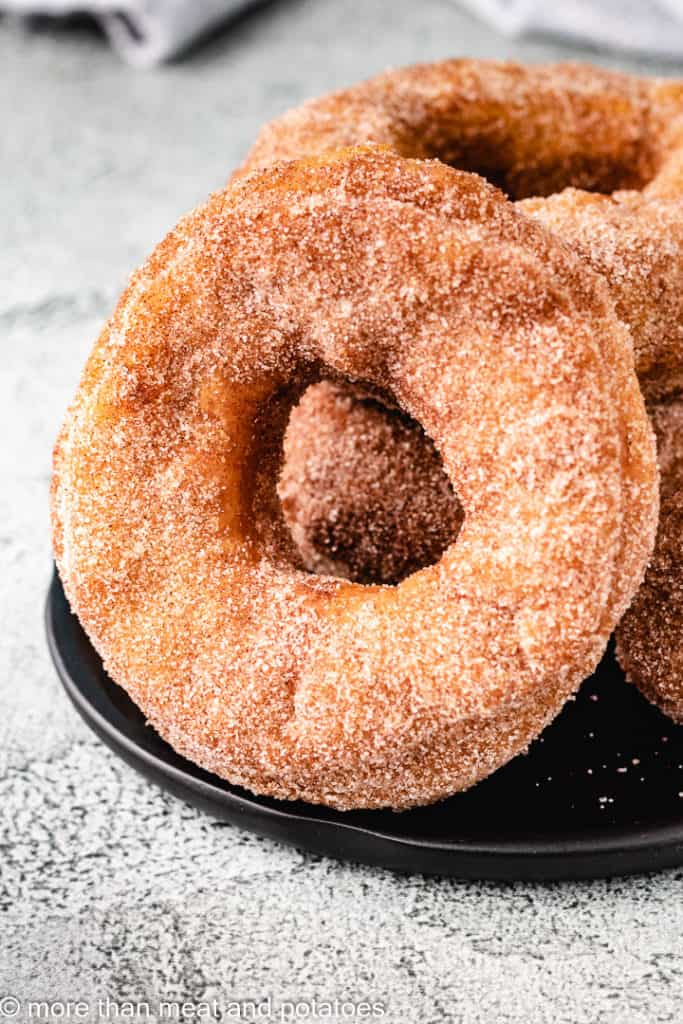 Don't forget to follow us on FACEBOOK and PINTEREST to see our newest recipes! You can also find us on Facebook, Pinterest, and Instagram searching for More Than Meat and Potatoes!