Celebrate the flavors of Fall with our homemade sourdough pumpkin bread. Sweet sourdough bread with hints of pumpkin, cinnamon, vanilla, and nutmeg!
We've always been huge fans of bread. It doesn't matter the type because Kim and I aren't picky.
From appetizers like our cheesy pesto garlic bread to dessert ones, like Kim's sourdough doughnuts and white chocolate and raspberry loaf cake.
We can't get enough of the stuff. So, today we're sharing our sourdough pumpkin bread recipe.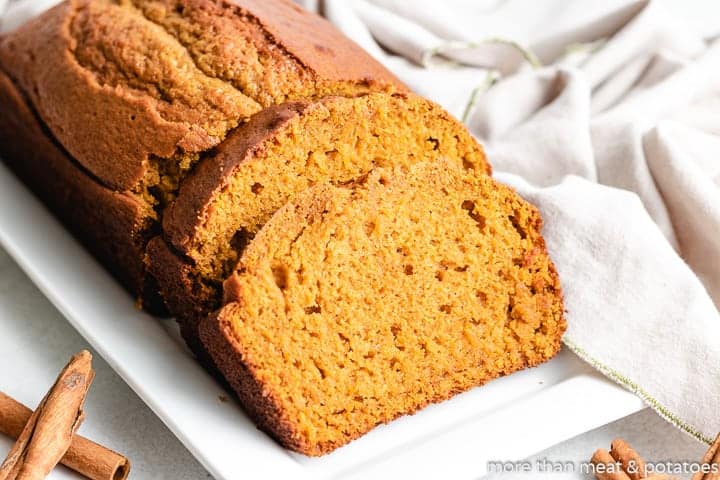 It has all the flavors of Fall with a sourdough twist. Cinnamon, pumpkin, vanilla, and nutmeg just to name a few.
Now, if you're new to sourdough baking, then I recommend you start with Kim's post titled: How to make sourdough starter.
The article contains a custom recipe and it will help get you comfortable with this style of baking.
To our veteran readers, how about we get started making some bread?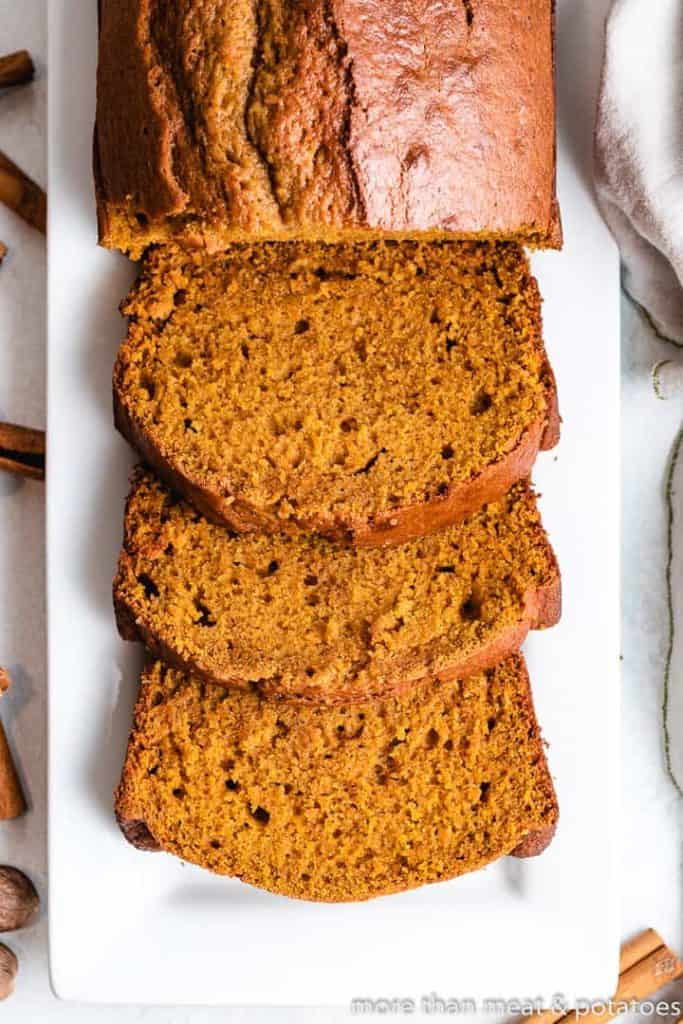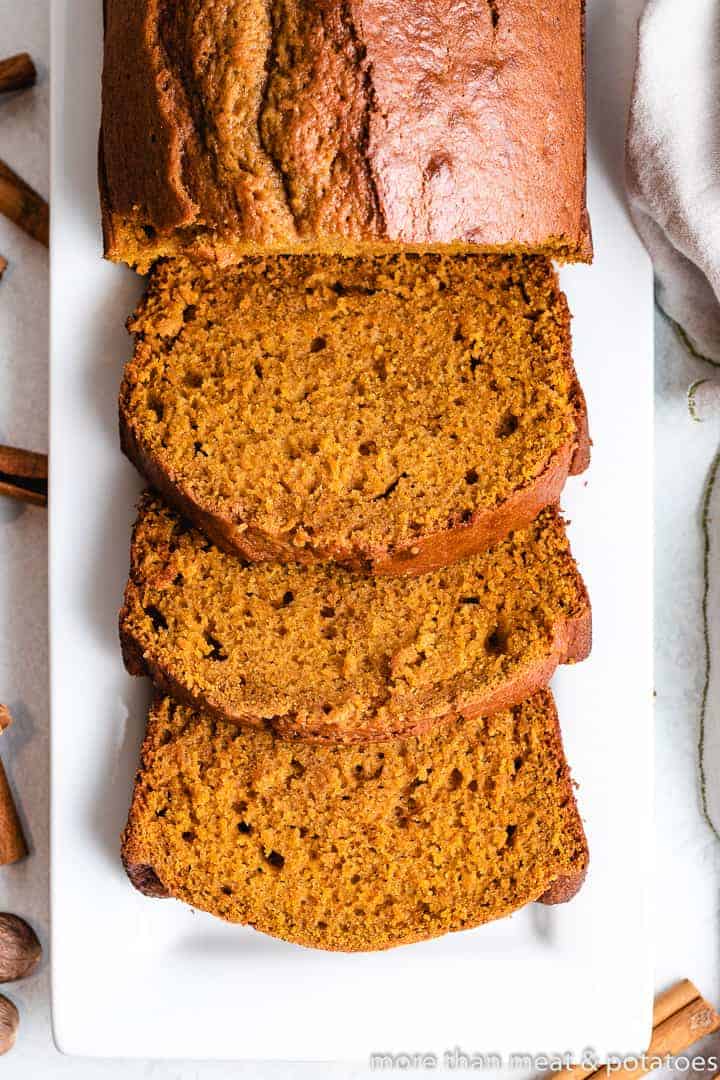 How to make sourdough pumpkin bread from scratch?
First, preheat your oven to 375 degrees F. and grease a 9×5-inch aluminum loaf pan.
After that, grab a large mixing bowl and all the ingredients. Because, this one is pretty much dump and mix.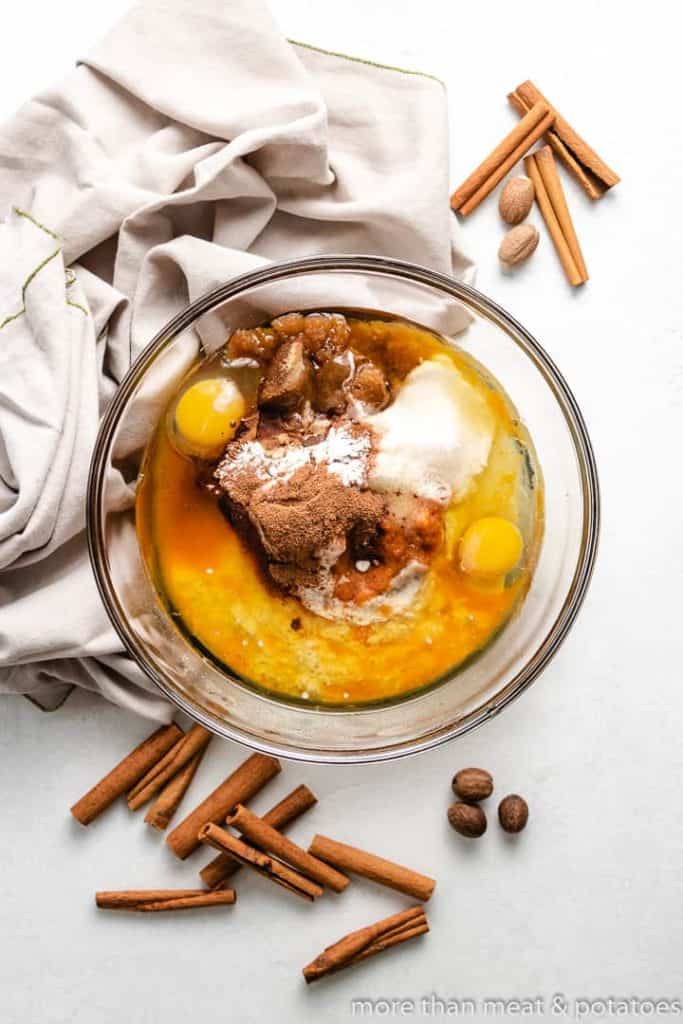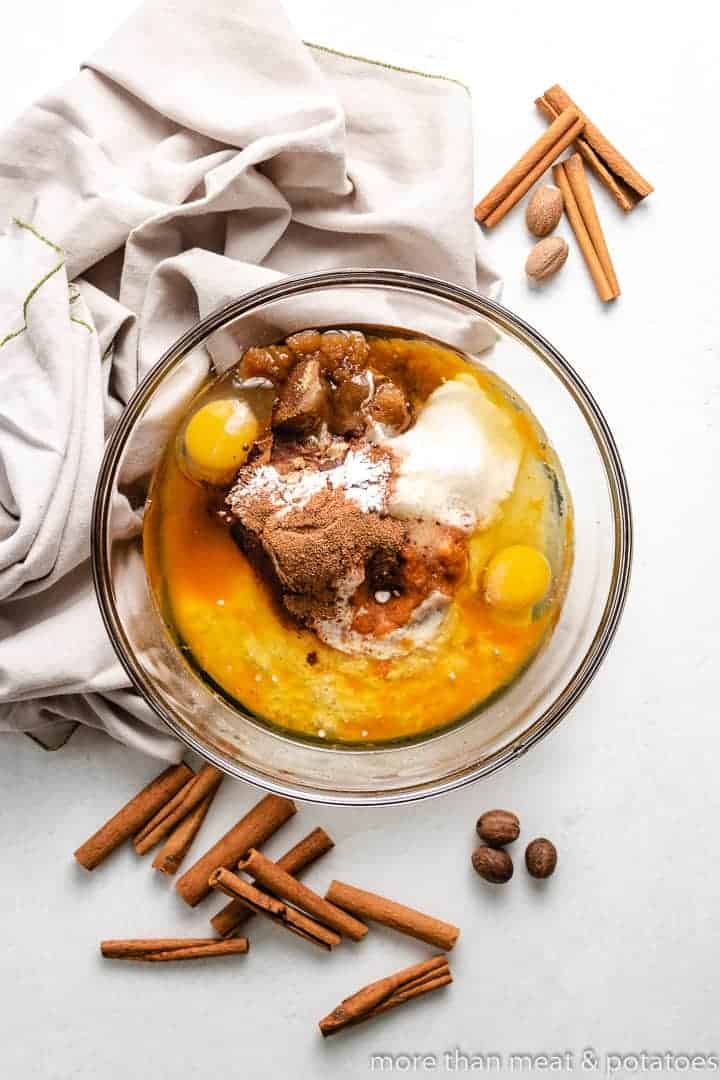 Next, combine all the ingredients in the bowl. That's right, pour it all in at once.
I recommend using a hand mixer or wire whisk to blend everything together.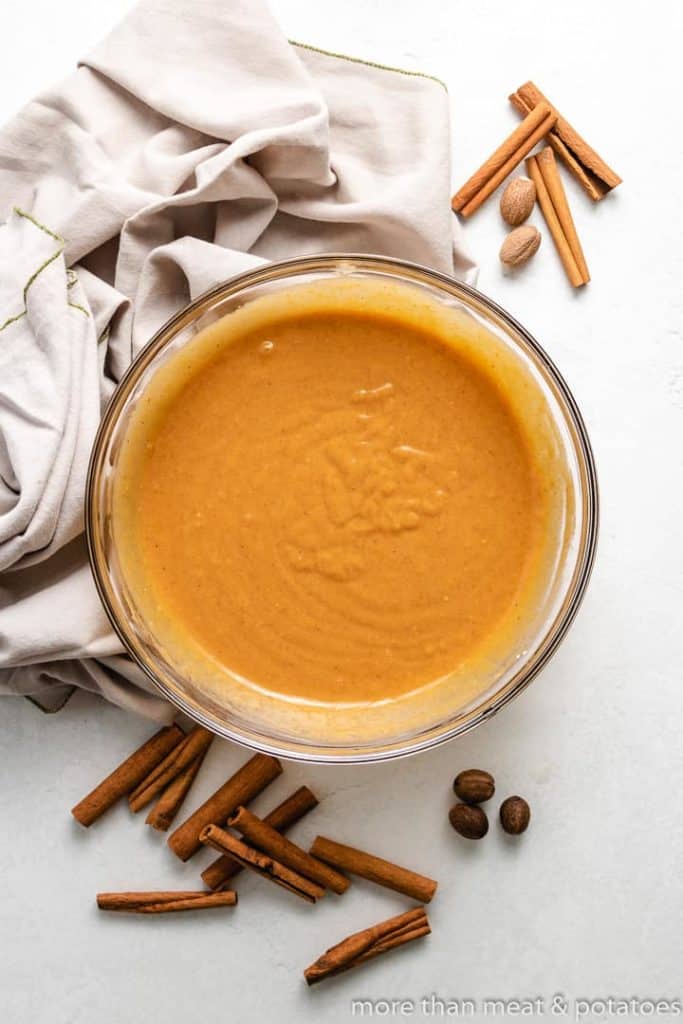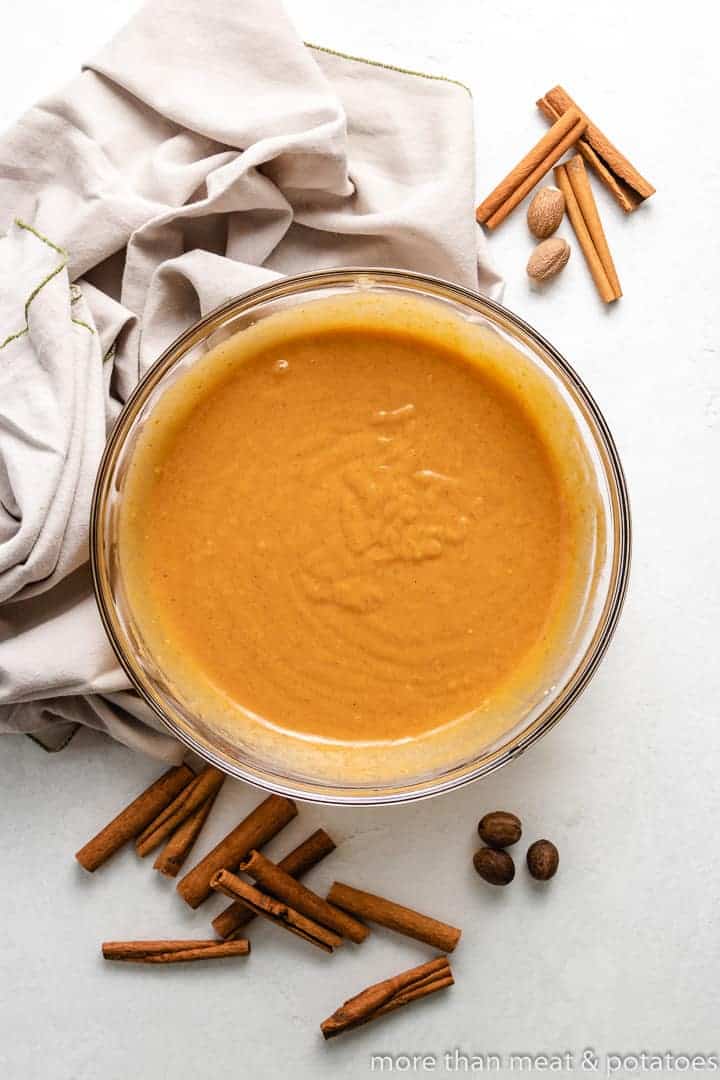 Then, transfer the bread batter to the prepared pan.
Additionally, it wouldn't hurt the place the loaf pan onto a sheet pan. Just case the batter overflows.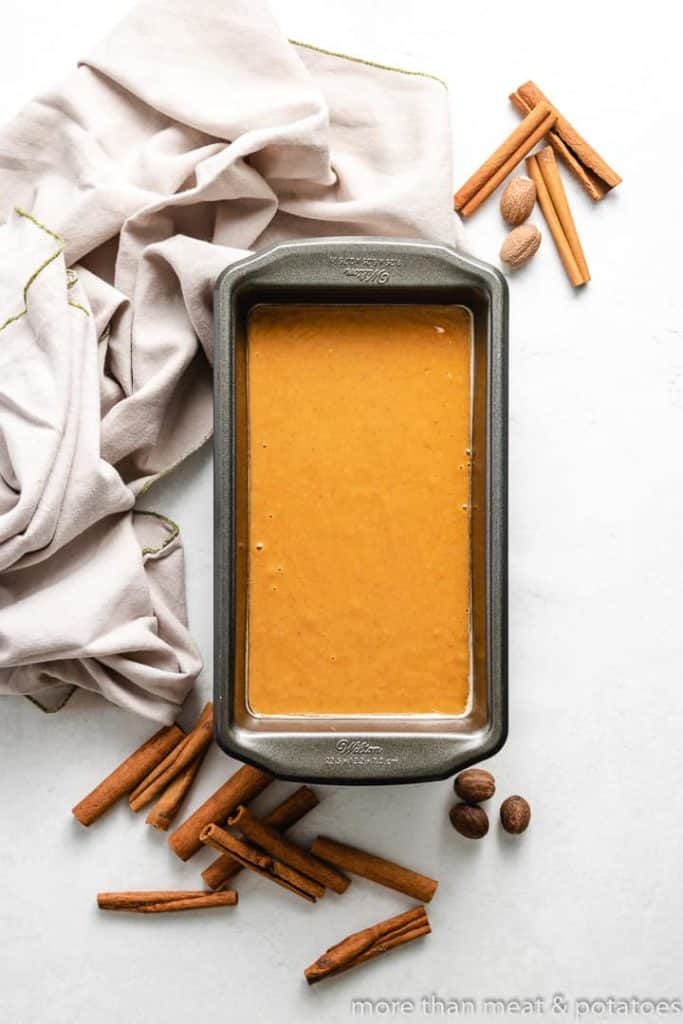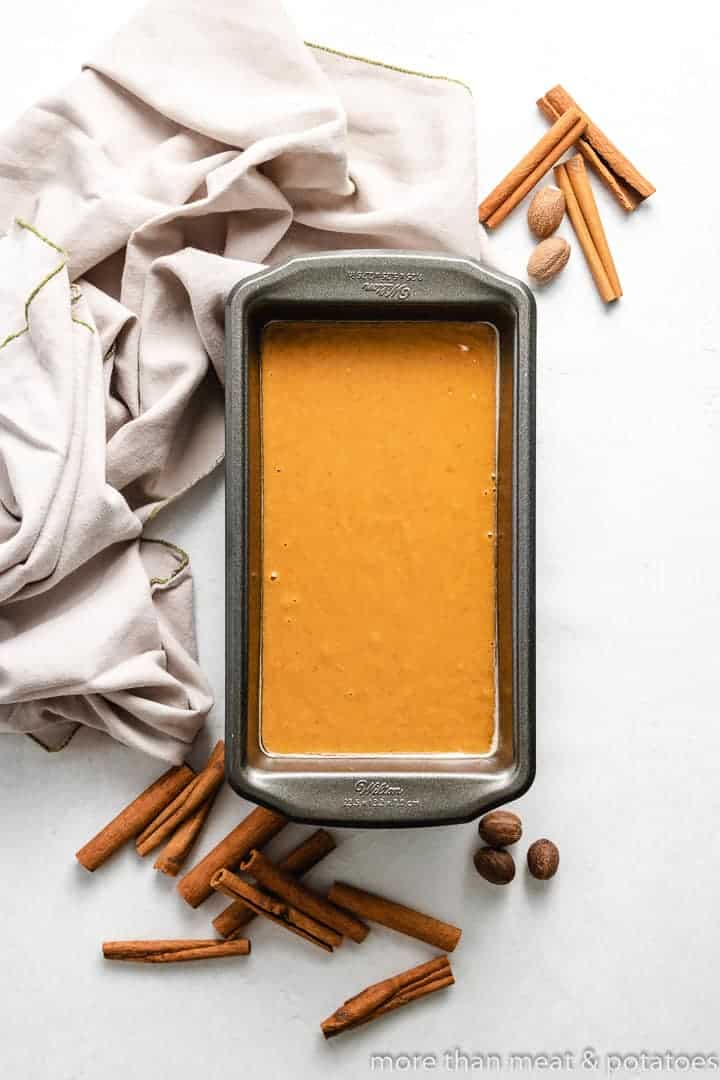 Afterward, place the bread into the oven to bake for 15-minutes. At that point, reduce the temperature to 350 degrees F.
Let the sourdough pumpkin bread bake for another 45-minutes at the reduced temperature.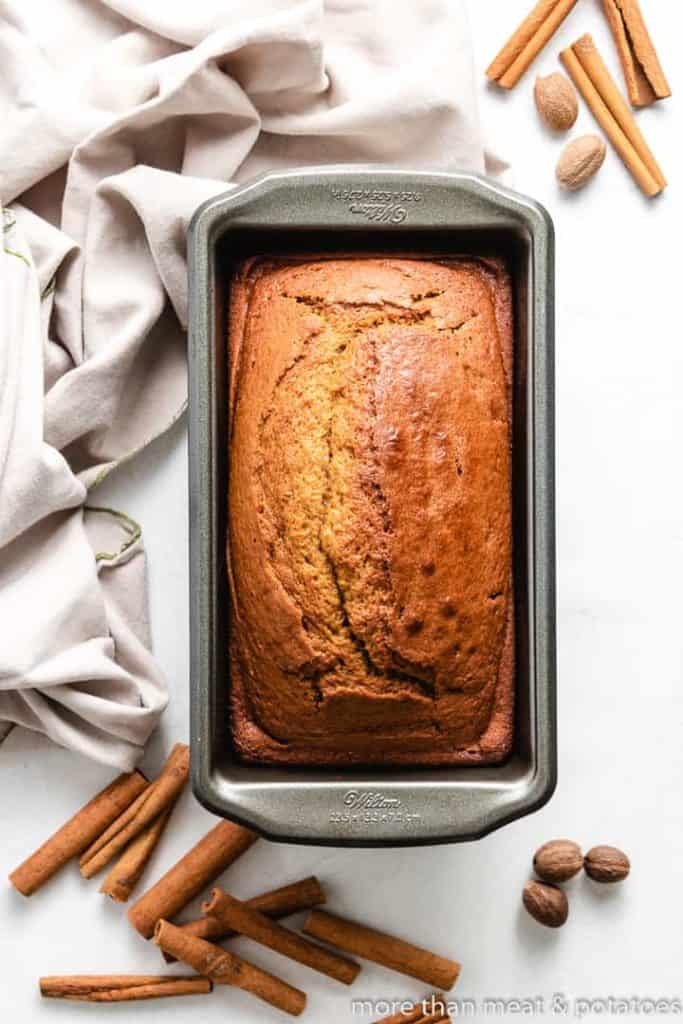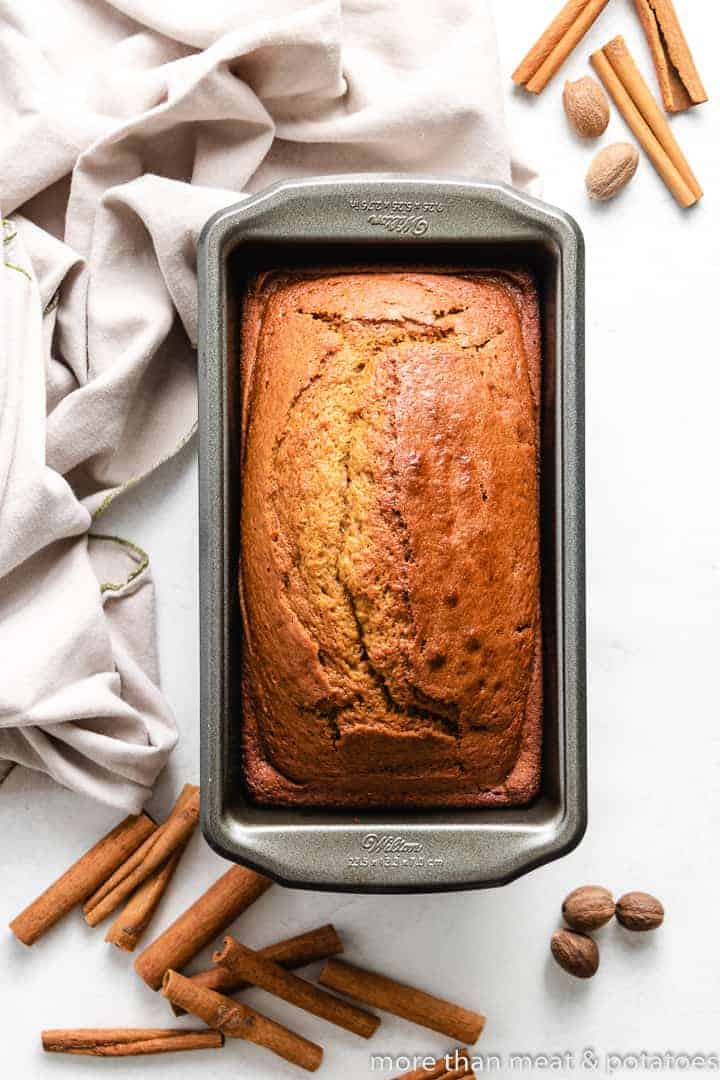 Last, when it's done, remove it from the oven and place it on your stove-top.
Let it cool for about 5-minutes before removing the loaf from the pan.
Transfer the baked bread to a cooling rack and let it cool for another for another 30-45 minutes before slicing.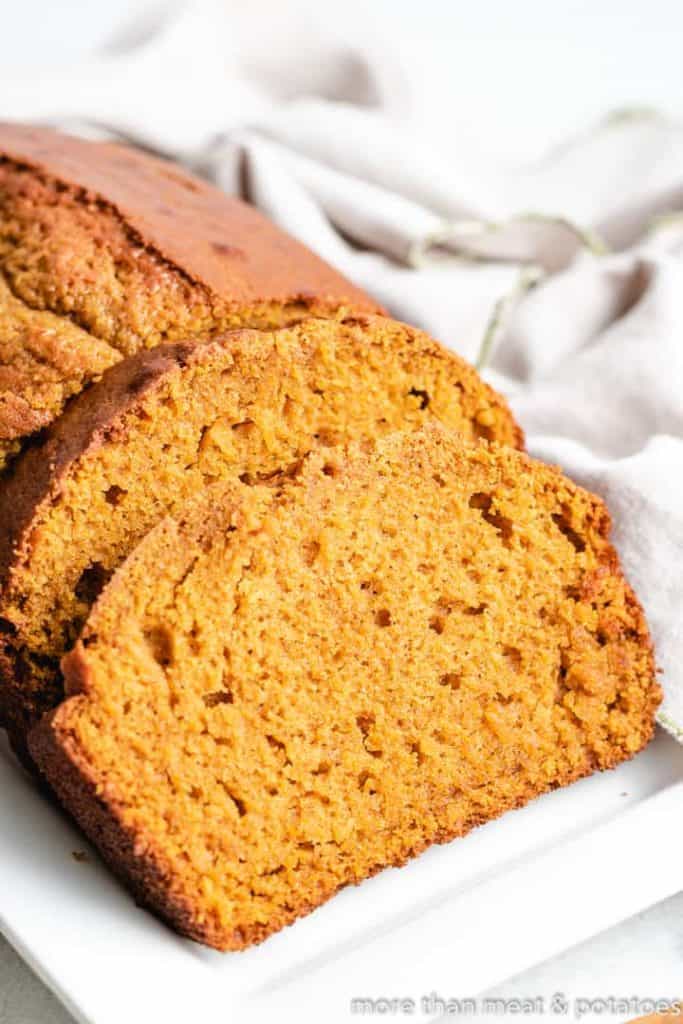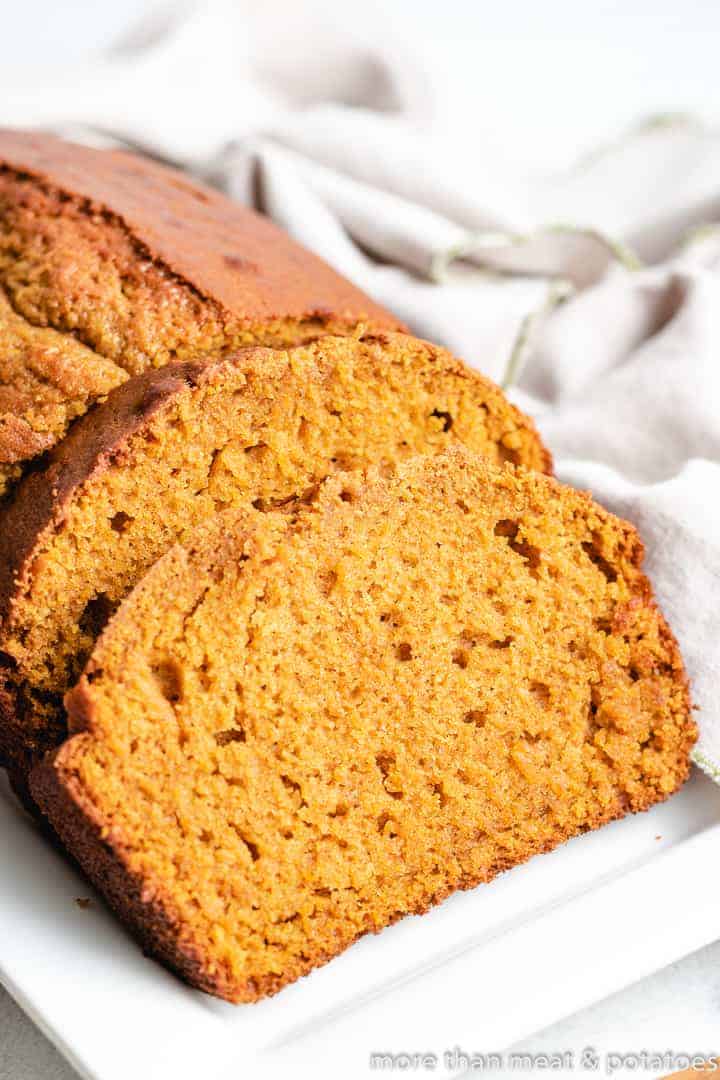 That's it, your sourdough pumpkin bread recipe is done! Kim and I hope you enjoy it 🙂
Looking for more sourdough ideas? Then check out our sourdough cinnamon rolls, sourdough starter pancakes, or our sourdough sandwich bread!
Recipe Tips:
If you use a glass loaf pan instead of a metal one, then preheat the oven to 350 degrees F. and reduce it to 325 degrees F. 15-minutes into the baking process.
Don't forget to use an aluminum foil tent over the top of the pan if your bread starts to brown too quickly.
Spices can always be adjusted to taste (reduce the cinnamon, vanilla, nutmeg, etc.). However, flours and other baking components should not be adjusted or substituted. In other words, almond flour is NOT a good substitution for all-purpose flour in this recipe.
Don't forget to check out our Pumpkin Sourdough Bread web story!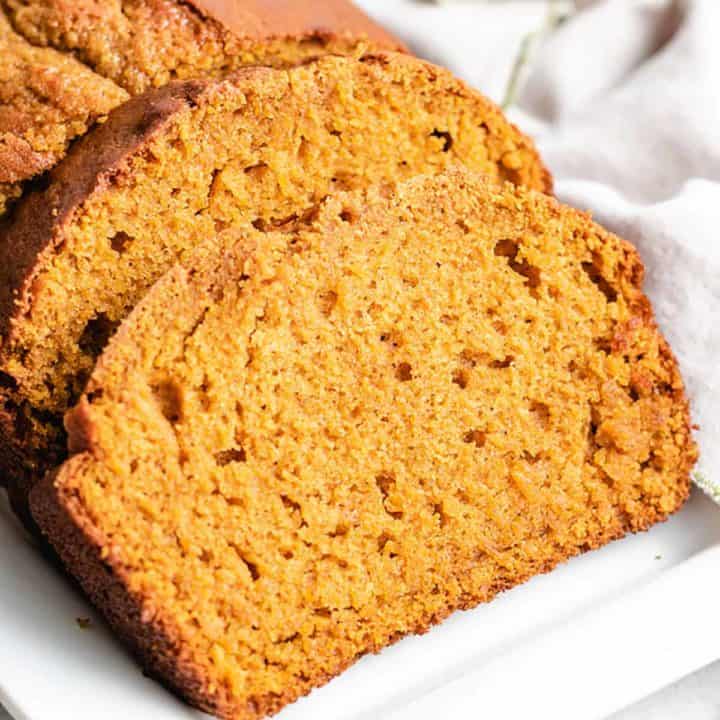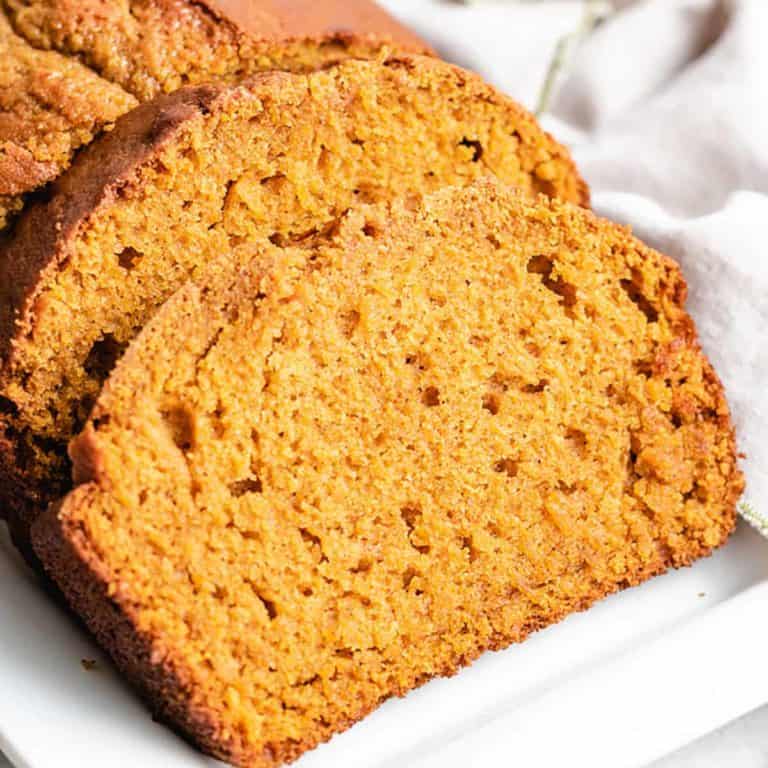 Sourdough Pumpkin Bread
Total Time:
2 hours
15 minutes
Celebrate the flavors of Fall with our homemade sourdough pumpkin bread. Sweet sourdough bread with hints of pumpkin, cinnamon, vanilla, and nutmeg!
Ingredients
1 ¾ Cups (210 g) All-Purpose Flour
1 Cup (227 g) Pumpkin Puree
¾ Cup (149 g) Granulated Sugar
¾ Cup (160 g) Brown Sugar
¾ Cup (175 g) Sourdough Starter, unfed/discard
½ Cup (99 g) Coconut or Avocado Oil
⅓ Cup (76 g) Water
2 Large (100 g) Eggs
1 Teaspoon Baking Soda
1 Teaspoon Ground Cinnamon
1 Teaspoon Vanilla Extract
½ Teaspoon Ground Nutmeg
½ Teaspoon Salt
Instructions
Preheat the oven to 375°F, and grease a 9 x 5-inch aluminum loaf pan. Set aside.
In a large bowl, whisk together all the ingredients until smooth and well combined. Pour the batter into the prepared loaf pan.
Bake for 15 minutes, then decrease the oven temperature to 350°F. Bake for an additional 40 to 45 minutes or until a toothpick inserted into the center comes out clean.
Remove the bread from the oven and allow it to cool in the pan for 5 to 10 minutes before transferring to a wire rack. Cool completely before slicing and serving.
Notes
The calories listed are an approximation based on the ingredients in the recipe card and a serving size of 1 slice of the sourdough pumpkin bread recipe. Actual calories will vary. The loaf can be stored in a sealed container on your counter-top for up to 5-days.
Recommended Products
As an Amazon Associate and member of other affiliate programs, we may earn a commission from qualifying purchases.
Nutrition Information:
Yield:

10
Serving Size:

1 Slice
Amount Per Serving:
Calories:

91
Total Fat:

1g
Saturated Fat:

0g
Trans Fat:

0g
Unsaturated Fat:

1g
Cholesterol:

0mg
Sodium:

232mg
Carbohydrates:

18g
Fiber:

1g
Sugar:

1g
Protein:

2g
*The calories are an estimate and are based on the ingredients and serving size listed. The calories can vary depending on the brand of product purchased.