Salmon Croquettes make a tasty, easy to prepare dish for any occasion. This Southern-style recipe is simple yet delicious! The golden, crispy outside with the soft and flavorful inside makes these croquettes perfect as an appetizer or side dish. Serve up some of these Salmon Croquettes at your next dinner party or picnic and you won't be disappointed!
Easy Salmon Croquettes Recipe
Salmon croquettes are a staple of Southern cuisine. Pan-fried, flaky, golden brown, and delicious, you'll find these Cajun seasoned salmon patties all around the Southern states. But did you know the original recipe actually came from a French chef?
So what exactly is a croquette?
Typically a croquette is some kind of thick filling (meat mixed with flour or potato) that's breaded, then deliciously deep-fried. The original French recipe used beef, but as the dish became more popular, other cultures customized it to their own tastes!
Salmon became a popular choice for croquettes in seafood-rich areas…and so the salmon croquette was born.
This mouthwatering dish is simple to whip up, but oh-so-satisfying. Serve it as an appetizer, side dish, or even a main course!
Ingredients You'll Need:
​Our croquette recipe is simple and requires a handful of ingredients plus seasonings.
Salmon: You'll need 3 (14 ½ ounce) cans of salmon well drained.
Mayonnaise: We use ¼ cup of mayo for moisture and to help hold these patties together.
Soy Sauce: Two tablespoons of soy sauce adds the perfect amount of salty flavor.
Lemon Juice: Two teaspoons of lemon juice gives this salmon croquettes a pop of acidity and fresh flavor.
Celery: We use ¼ cup of finely diced celery to give these croquettes flavor and crunch.
Egg: You'll need 1 large egg to use as a binder.
Seasonings: We use 1 teaspoon of garlic powder and onion powder and ½ each of Cajun seasoning, salt, and pepper to add flavor to the croquettes.
Flour: You'll need ⅔ cup of all-purpose flour to absorb moisture as the croquettes cook and to help hold them together.
Breadcrumbs: We use ½ cup of regular bread crumbs to hold these patties together.
Oil: You'll need some neutral tasting oil to pan fry the croquettes. It should be something like vegetable, canola, or even peanut oil.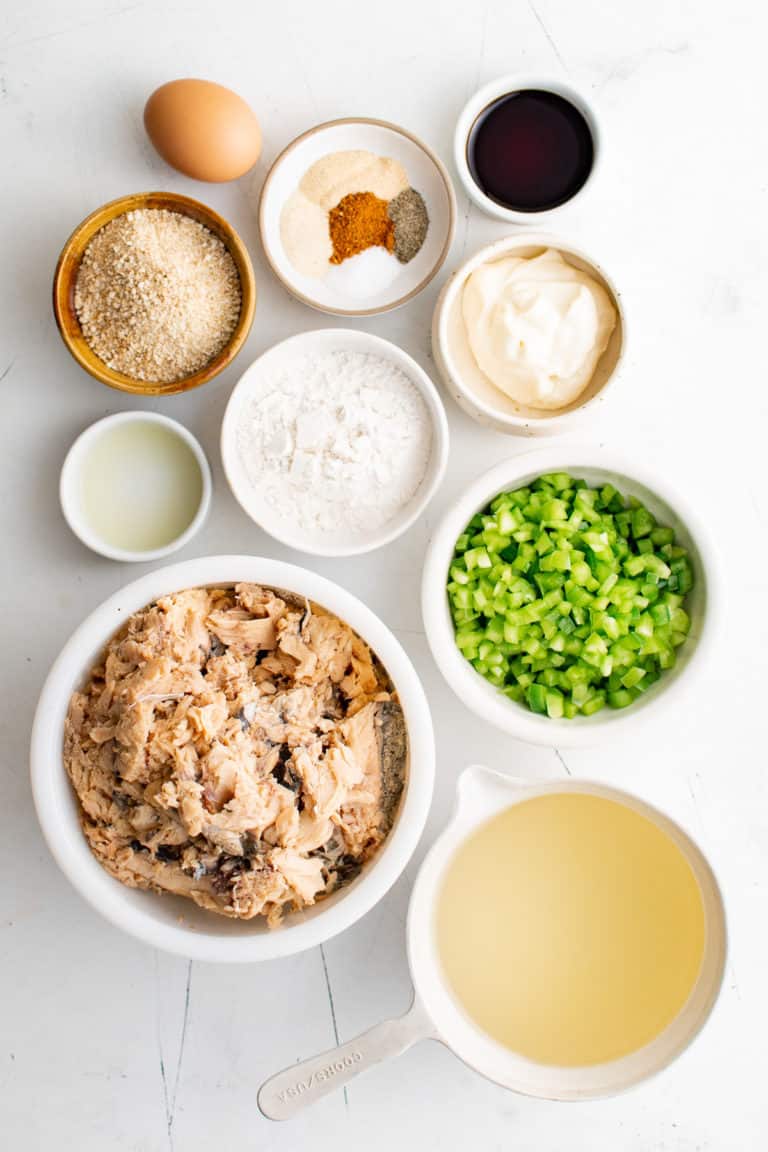 How to Make Salmon Croquettes
See the recipe card below for the ingredient amounts and full instructions.
In a large bowl, combine the salmon, mayo, soy sauce, lemon juice, celery, egg, and seasonings. Stir in the flour and breadcrumbs.
Form the salmon mixture into 3-inch balls, then flatten the balls into patties.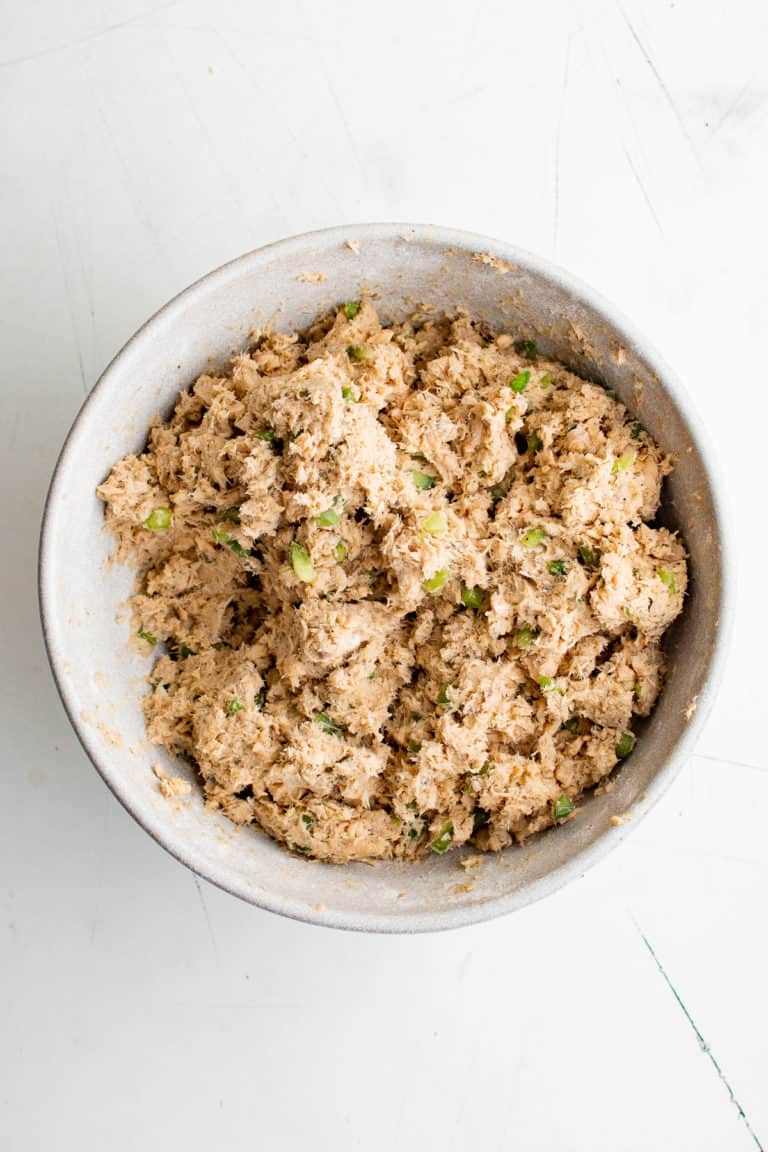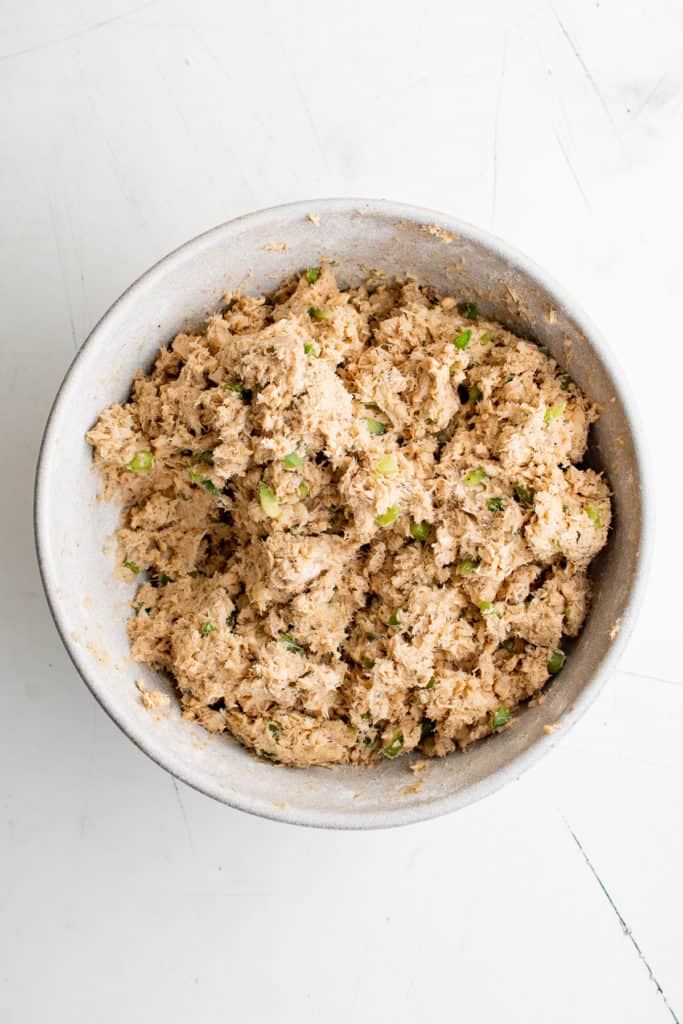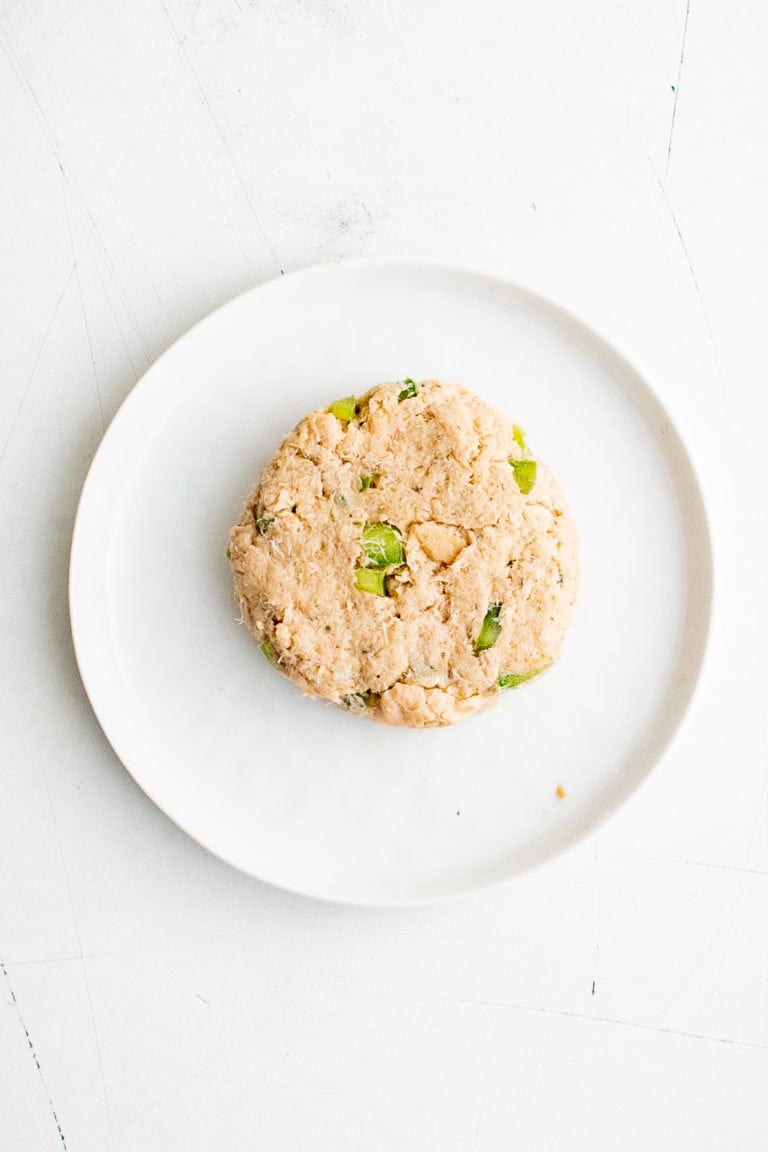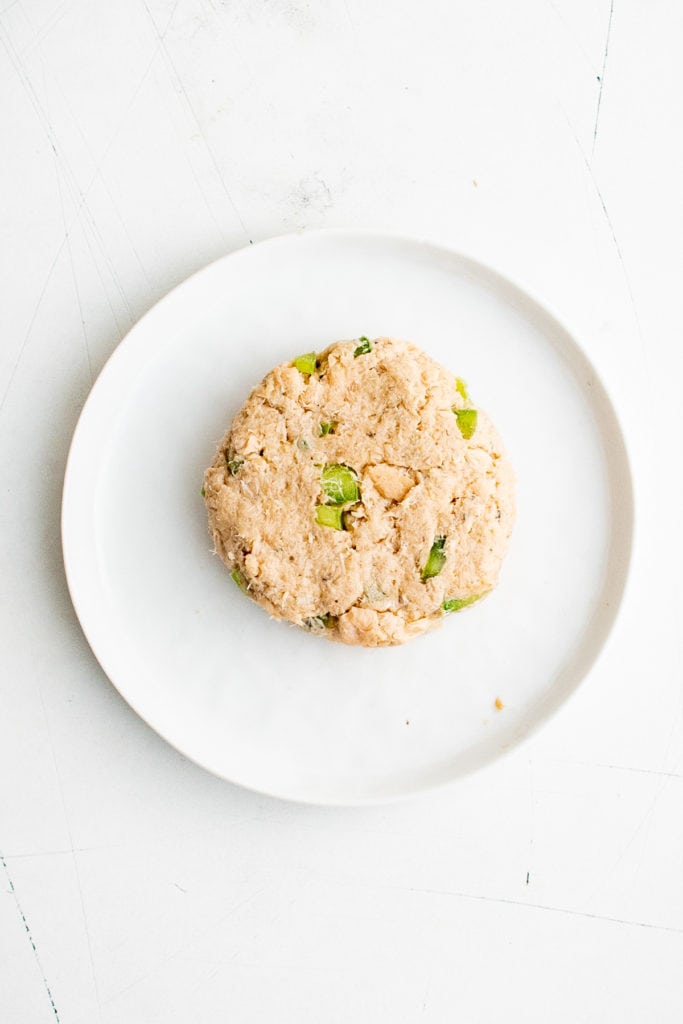 Heat the oil in a large skillet over medium heat. Once heated, add 6-7 patties into the skillet.
Cook on each side until golden-brown and crispy, adding oil as needed as you repeat with the remaining croquettes.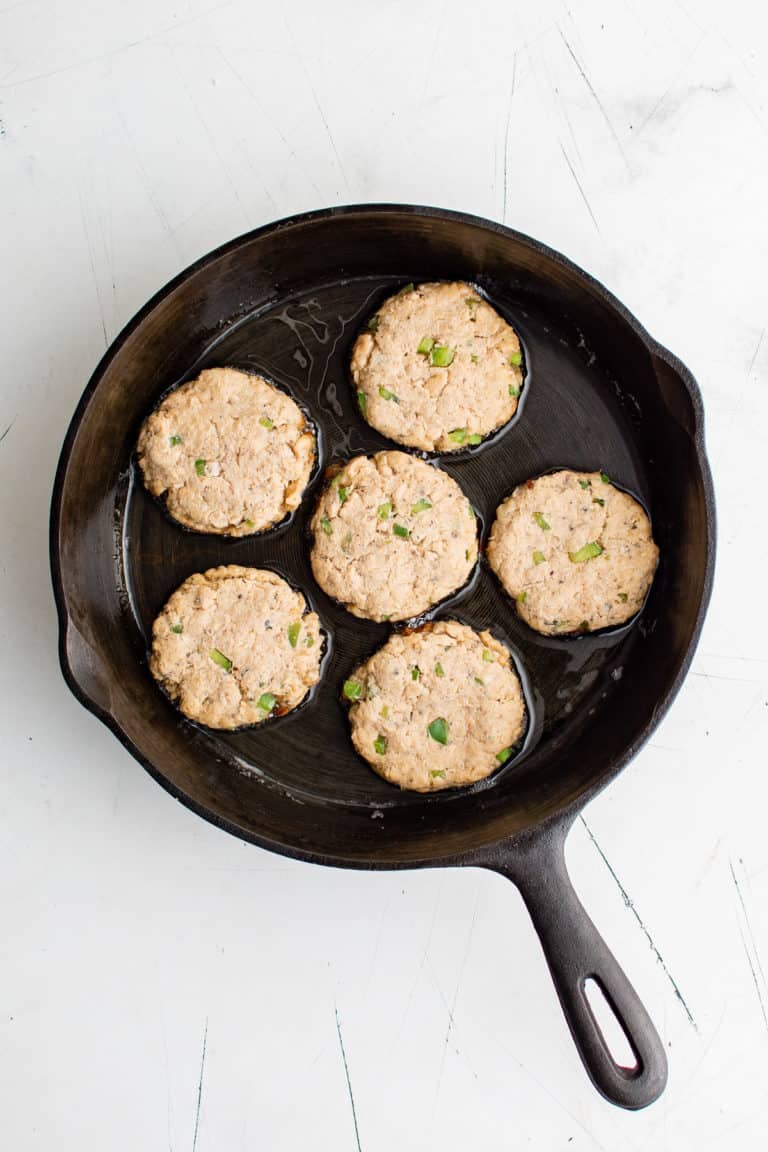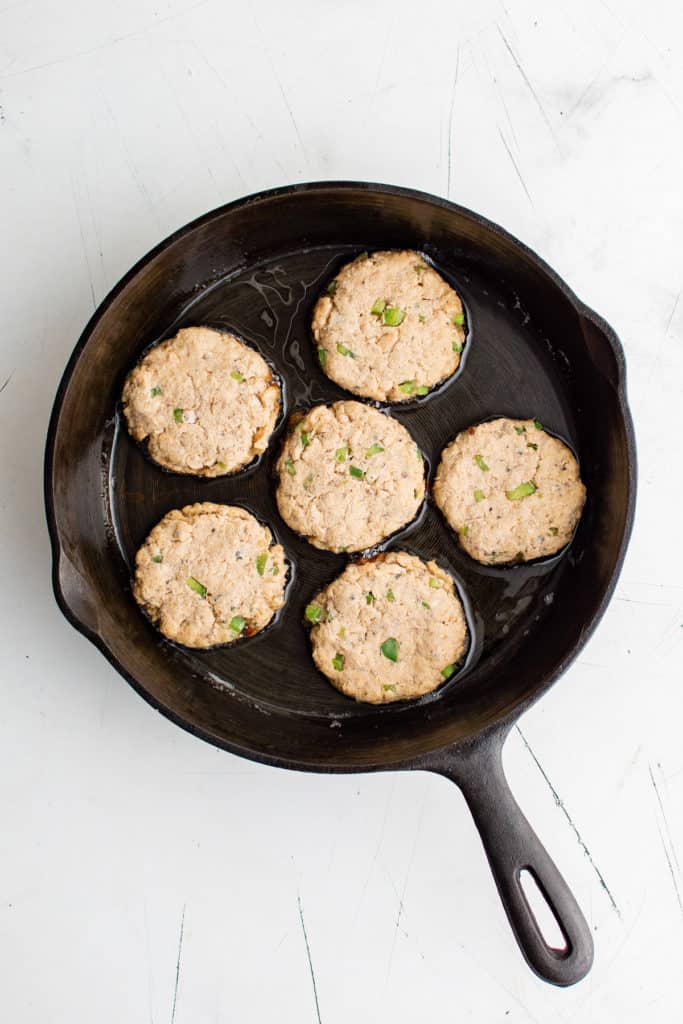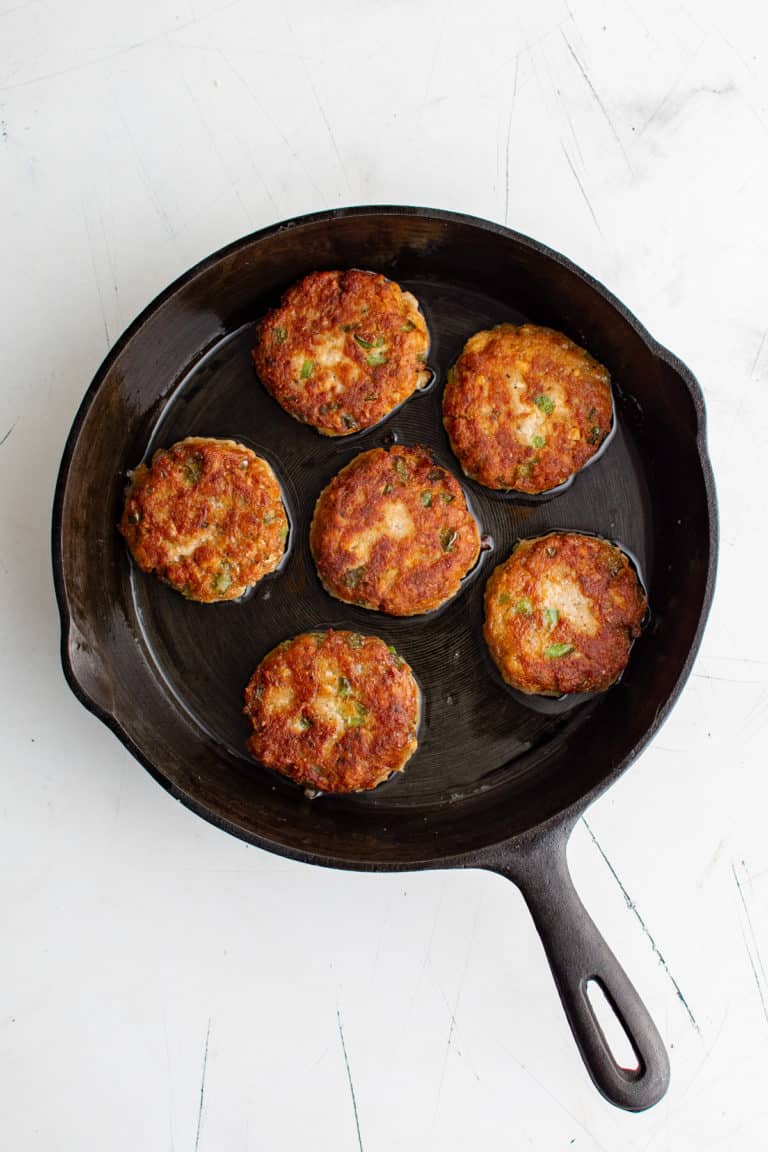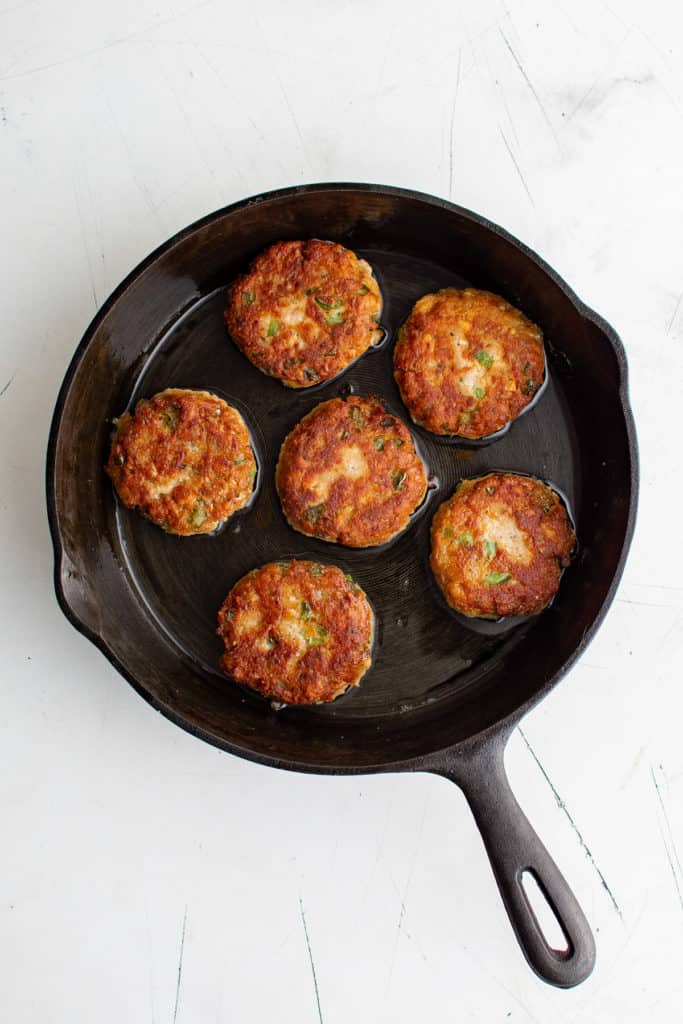 Tips and Notes
Don't press the mixture too tightly. Whether you're forming the balls or flattening them into salmon patties, make sure you're pressing them tightly enough that they hold together, but not too tight. If the salmon croquettes are too condensed, the texture will be tougher and more dry.
Don't overcrowd the pan. Too many croquettes at once will cause the temperature of the vegetable oil to drop. It needs to stay nice and hot for the perfect crispy texture!
Make them mini! Serving these as an appetizer? Instead of 3-inch balls, form 1-1½ inch balls before flattening them into patties. Be sure to adjust the cooking time for the smaller patties. Otherwise the process is the same!
Spice them up. If you like an extra kick of spice try adding in extra cajun seasoning or chili powder.
What to Serve with Salmon Croquettes
If you're serving these salmon croquettes as an appetizer, try serving them alongside dipping sauces such as tartar sauce, sour cream sauce, dill sauce, cocktail sauce, or chipotle ranch dressing.
They also make an excellent addition to a larger meal. Here are a few of our favorite pairings: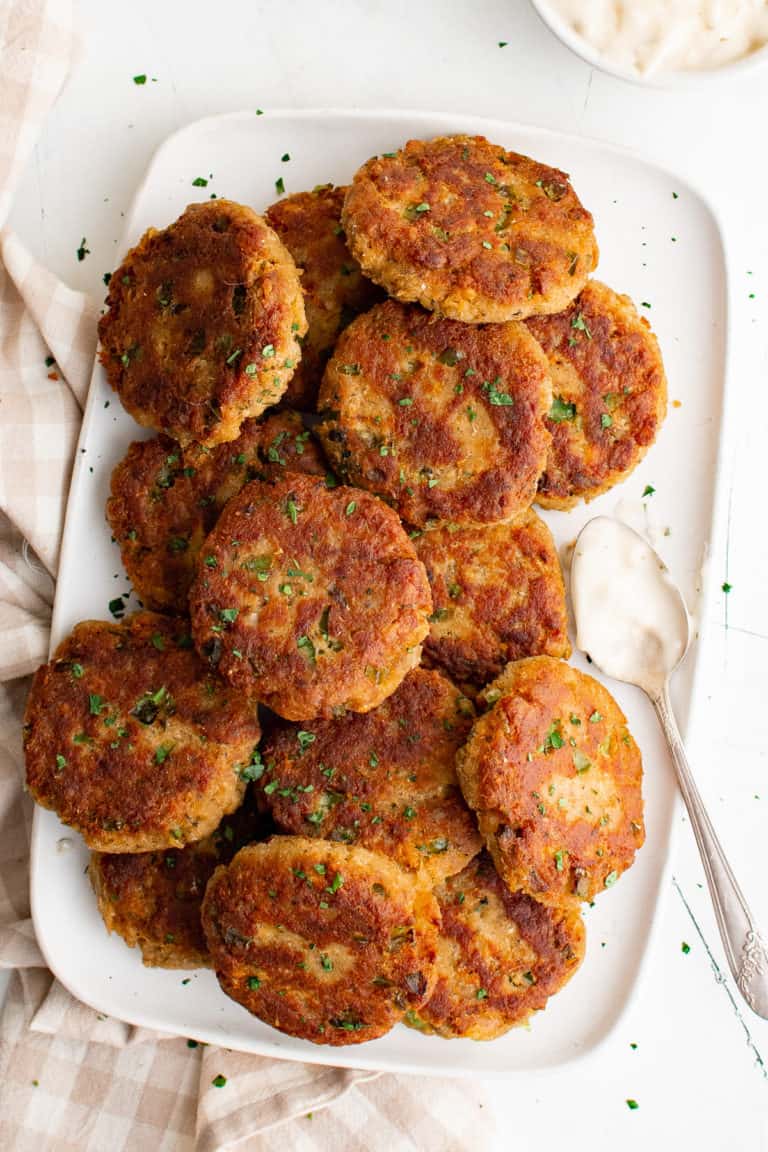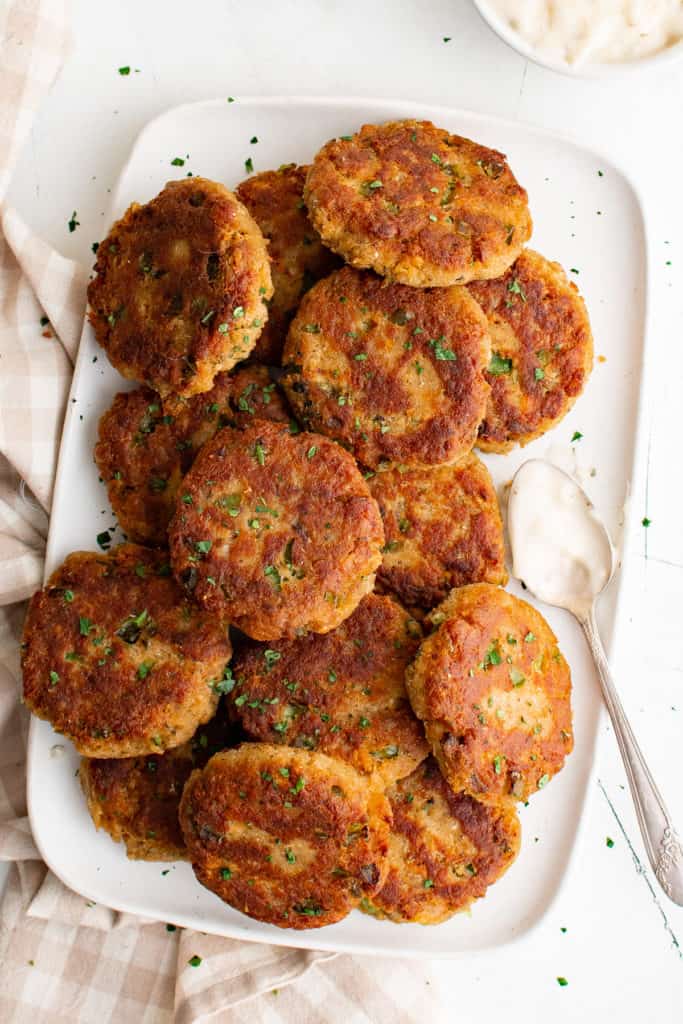 Storage
Refrigerator: Leftover salmon croquettes can be stored in an airtight container in the fridge for up to 5 days.
Reheating: To reheat, I recommend warming in a skillet on the stove until heated through. I don't recommend using the microwave.
Freezer: To freeze the salmon patties, I recommend doing so prior to cooking. Simply form the patties, line them on a baking sheet, and place them in the freezer for about an hour or until hardened.
Once the patties are fully frozen, wrap them tightly in plastic wrap and store them in a freezer-safe container in the freezer for up to 2 months. When you're ready to serve, thaw in the fridge, then fry as directed.
Can You Substitute Fresh Salmon for Canned Salmon?
Yes, you can substitute fresh salmon for canned salmon. However, using the canned variety will result in a firmer texture.
Canned salmon is also easier to mash and mix with other ingredients like breadcrumbs or eggs which helps bind the croquettes together.
It is also important to cook any raw fish before adding it into a recipe such as this one. For best results, cook the fish until it flakes easily with a fork.
Can I Bake Salmon Croquettes Instead of Frying Them?
Traditionally, salmon croquettes are deep-fried which gives them their deliciously light and crispy texture.
If you're trying to avoid the frying, you can bake these salmon croquettes in the oven instead. Simply preheat the oven to 400ºF and bake for 20 minutes, flipping halfway through.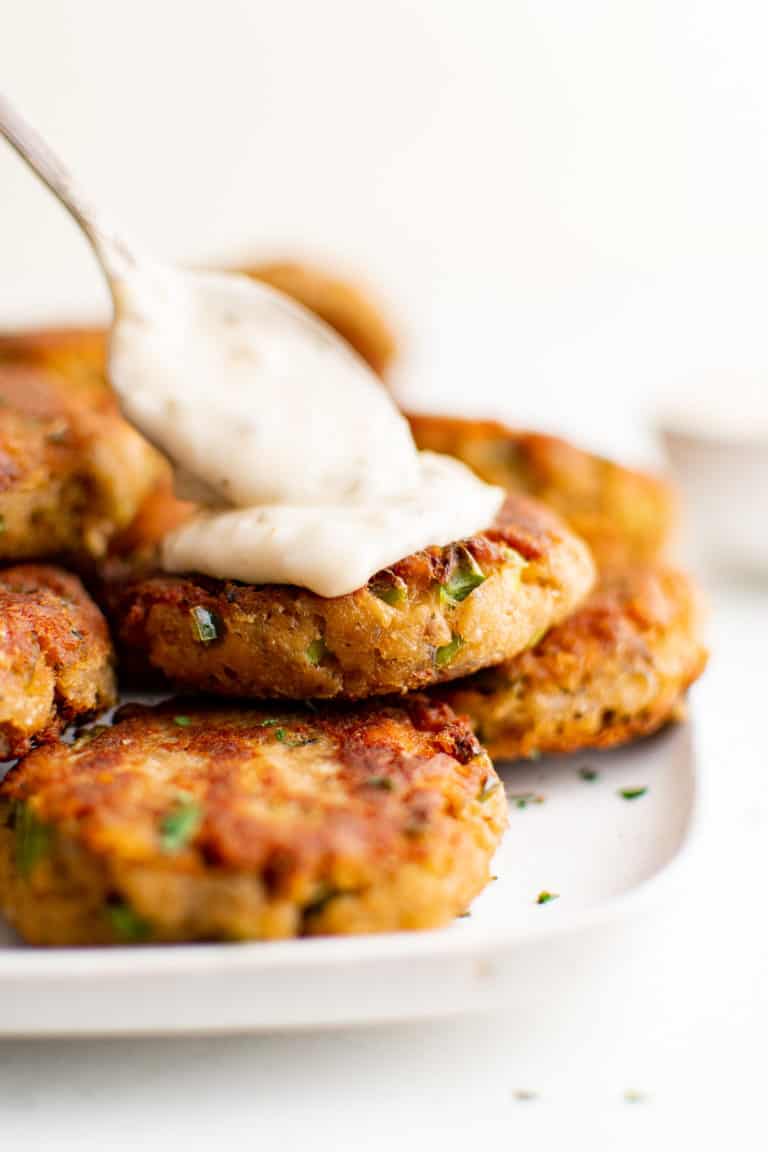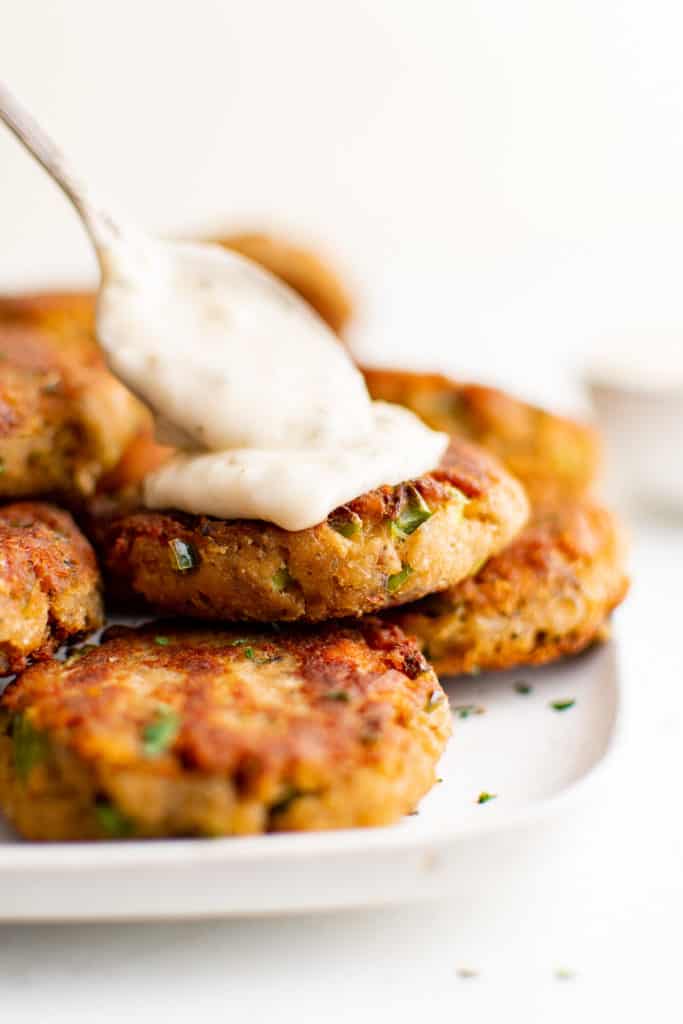 What is the Difference Between Salmon Patties and Salmon Croquettes?
The main difference between salmon patties and salmon croquettes is in the ingredients used.
Salmon patties are made from canned or fresh cooked salmon, egg, and breadcrumbs. They can be served as an entree with vegetables or a salad.
Salmon croquettes also use canned or fresh cooked salmon, but they also include mayonnaise and seasonings for extra flavor.
Both variations can be pan-fried or baked in the oven but salmon croquettes have a finer crumb than patties which gives them a crispier finish when frying.
How Do You Keep Salmon Croquettes from Falling Apart?
To keep salmon croquettes from falling apart, it is important to use a binder such as eggs or breadcrumbs. It is also beneficial to ensure that the pan you are using is well-oiled so that the croquettes won't stick.
Additionally, make sure not to overcrowd the pan when frying and turn gently once they start to brown.
Finally, let the cooked croquettes rest for at least five minutes before serving, as this will help them hold their shape better.
Other Seafood Recipes You May Love:
Recipe Card with Ingredient Amounts and Instructions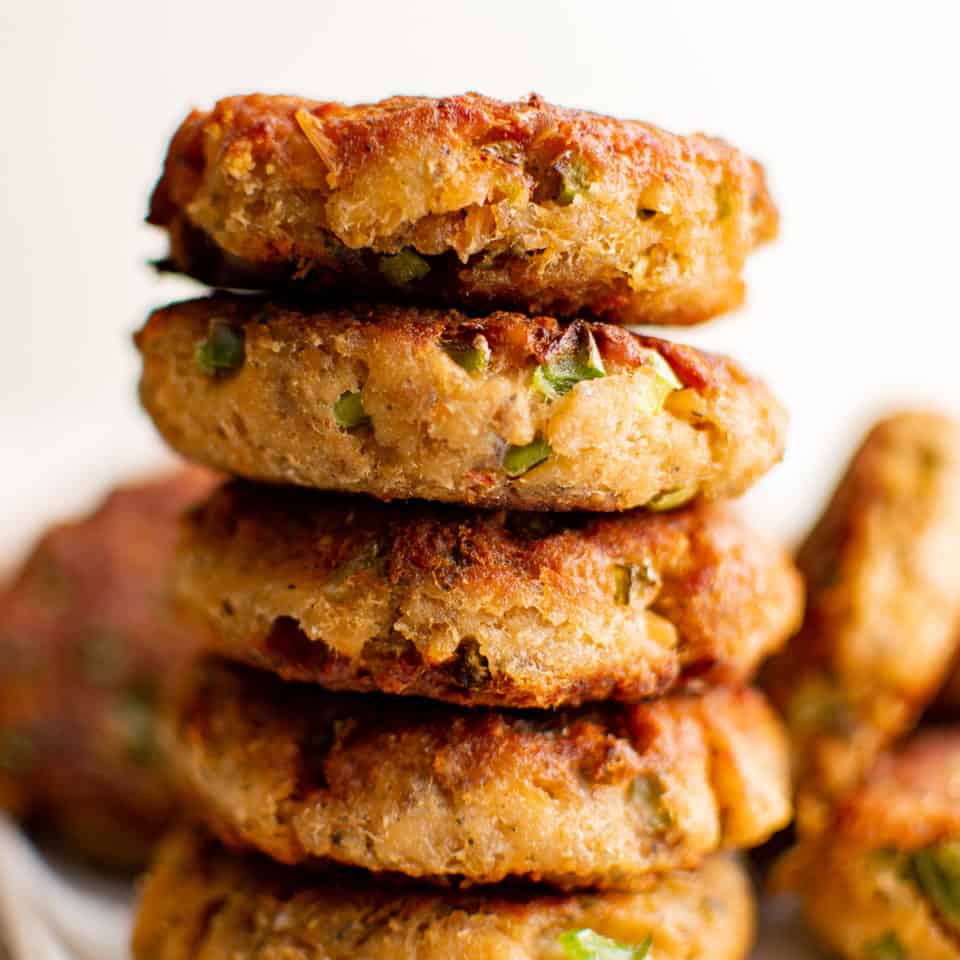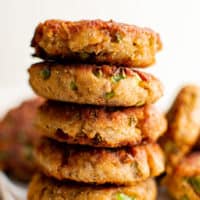 Ingredients
43.5

ounces

salmon

,

drained; 3 (14.5 ounce) cans

¼

cup

mayonnaise

¼

cup

celery

,

finely diced

2

tablespoons

soy sauce

,

low-sodium

2

teaspoon(s)

lemon juice

,

freshly squeezed

1

large egg

1

teaspoon(s)

garlic powder

1

teaspoon(s)

onion powder

½

teaspoon(s)

Cajun seasoning

½

teaspoon(s)

kosher salt

½

teaspoon(s)

ground black pepper

⅔

cup

all-purpose flour

½

cup

plain breadcrumbs

Vegetable oil

,

for frying
Instructions
Mix the salmon, mayonnaise, soy sauce, lemon juice, celery, egg, garlic powder, onion powder, Cajun seasoning, salt and pepper together in a large bowl.

43.5 ounces salmon

¼ cup mayonnaise

2 tablespoons soy sauce

2 teaspoon(s) lemon juice

¼ cup celery

1 large egg

1 teaspoon(s) garlic powder

1 teaspoon(s) onion powder

½ teaspoon(s) Cajun seasoning

½ teaspoon(s) kosher salt

½ teaspoon(s) ground black pepper

Stir in the flour and breadcrumbs then form the mixture into 3-inch balls. Flatten the balls into patties; you should have about 18-20 total.

⅔ cup all-purpose flour

½ cup plain breadcrumbs

Heat 3-4 tablespoons of oil in a large skillet over medium heat. Add 6-7 patties to the pan evenly spaced apart.

Cook for 3-4 minutes then flip and cook for another 3-4 minutes or until golden brown.

Add more oil as needed to the pan then repeat the process with the remaining croquettes.

Let the croquettes rest for 5 minutes before serving. Serve with freshly minced parsley and tartar sauce if desired.

Scroll up and see the post for tips, FAQs, and storage recommendations.
Notes
*The calories listed are an approximation based on the ingredients in the recipe card and a serving size of 2 salmon croquettes. Actual calories will vary.
*For more information, tips, and answers to frequently asked questions, please refer to the post.
*Photos courtesy of Karla Rae Photography.
Nutrition
Serving:
2
croquettes
Calories:
358
kcal
Carbohydrates:
12
g
Protein:
30
g
Fat:
20
g
Saturated Fat:
4
g
Polyunsaturated Fat:
15
g
Cholesterol:
99
mg
Sodium:
422
mg
Fiber:
1
g
Sugar:
1
g