Pineapple Sorbet is the perfect dessert to make during the summer! This easy recipe only requires 3 ingredients, fresh pineapple, water, and sugar, and the prep time only takes a few minutes.
Our pineapple sorbet recipe is an easy frozen dessert that's dairy-free and full of fresh pineapple flavor.
We love making easy frozen desserts, especially during the spring and summer. Some of our other favorites are coconut sorbet, watermelon sorbet, and lime sherbet.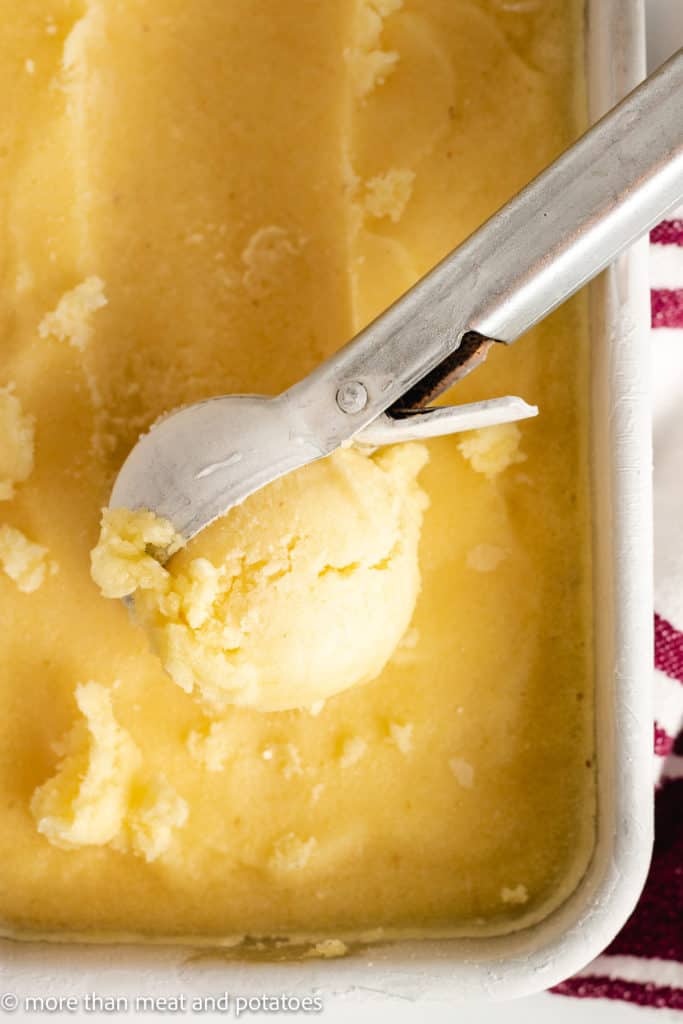 3 Ingredient Pineapple Sorbet Recipe
Pineapple sorbet is a frozen tropical dessert you'll want to make all summer long. We use fresh-cut pineapple with some simple syrup to make this fruit sorbet.
Below I've listed how you can make it without sugar, too.
This sorbet is one of my favorite easy frozen treats. There are so many different ways to change it up by adding different flavors to make it unique.
If you know someone that enjoys tropical flavors, they will absolutely love this dessert!
Ingredients You'll Need:
Sugar: Granulated sugar.
Water.
Pineapple: Fresh, ripe pineapple works best.
How to Make Pineapple Sorbet:
See the recipe card below for the ingredient amounts and full instructions.
This fruit sorbet is a great recipe for a hot day! It only uses 3 ingredients, a blender, and an ice cream machine.
Place the sugar and water in a medium saucepan over low-medium heat. Stir occasionally, and cook until the sugar dissolves.
Remove from heat, and allow the mixture to cool in the refrigerator.
Place the cool simple syrup and pineapple chunks into a high-speed blender. Process until smooth.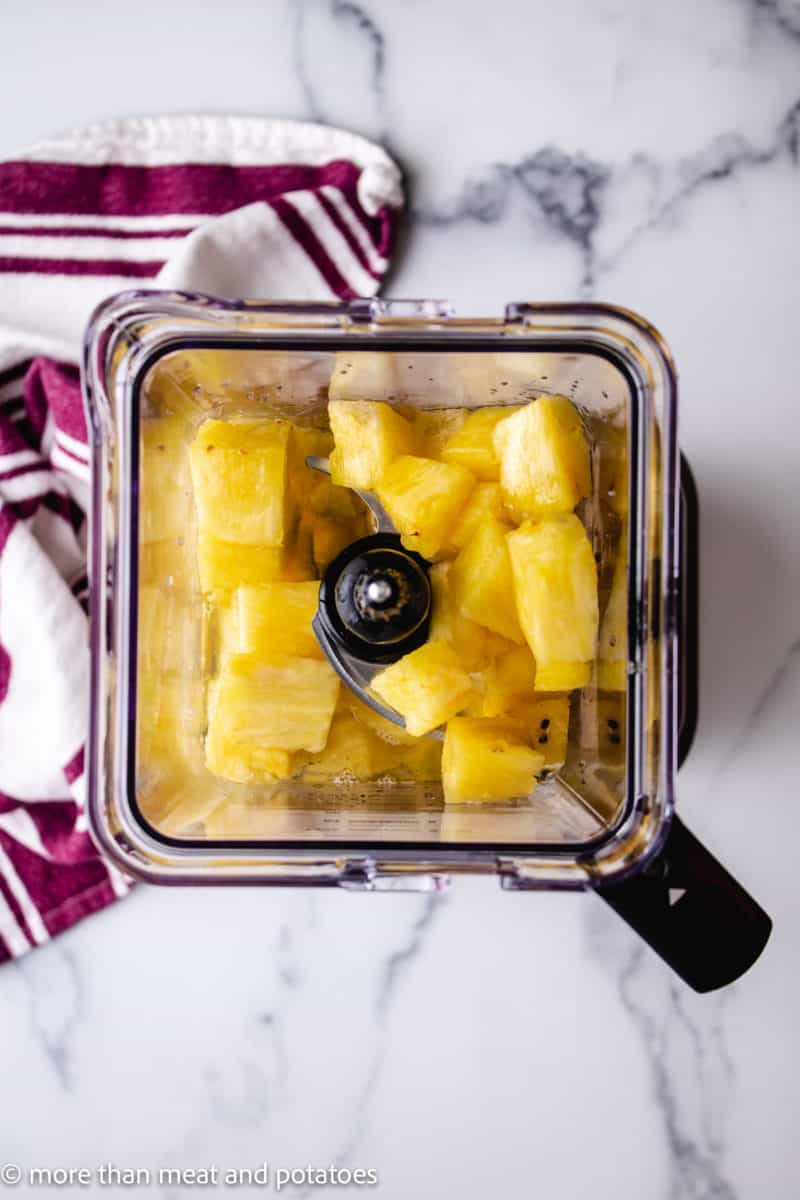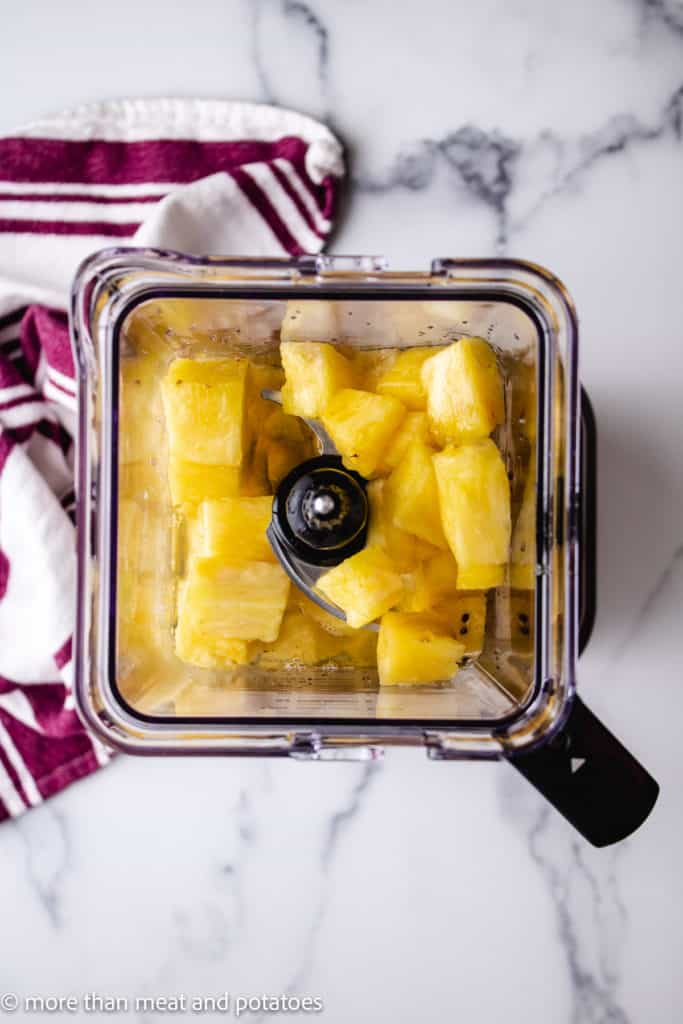 Transfer the pineapple mixture to a prepared ice cream maker. Churn until the sorbet reaches the "soft serve" stage.
Transfer to a freezer-safe container, and freeze for 6 to 8 hours or until set.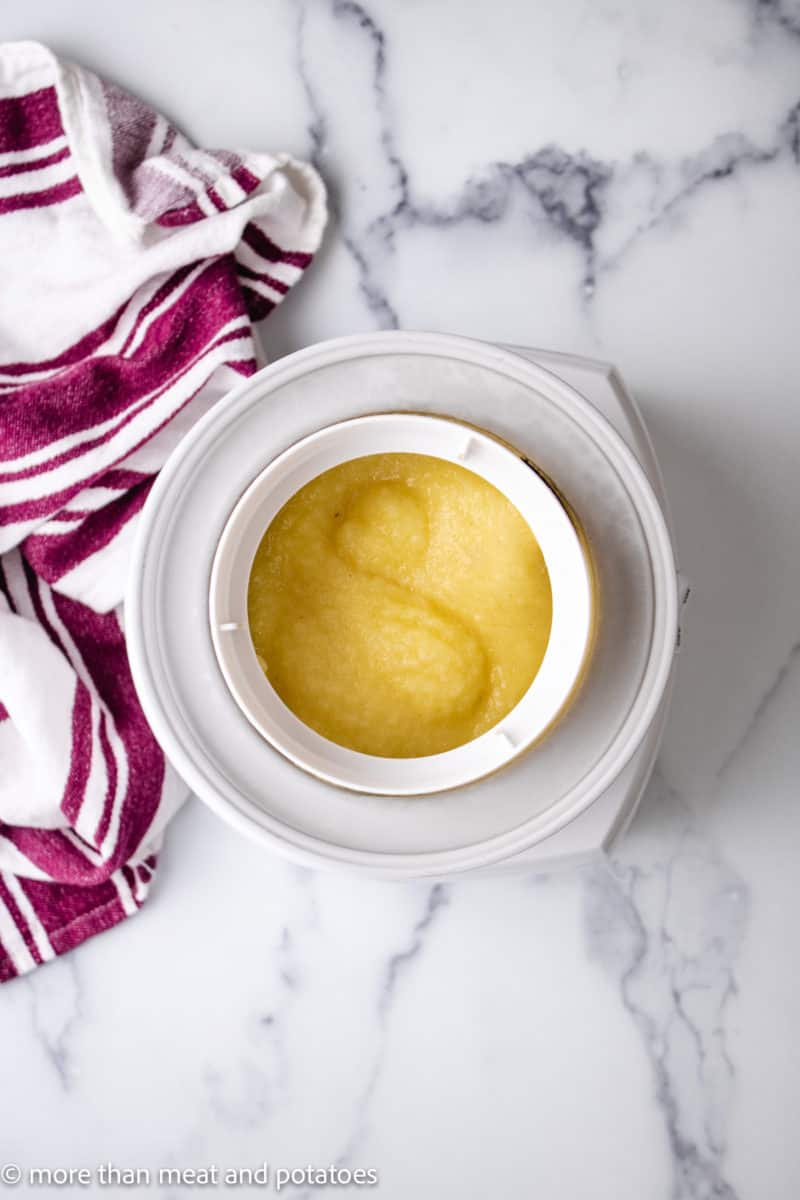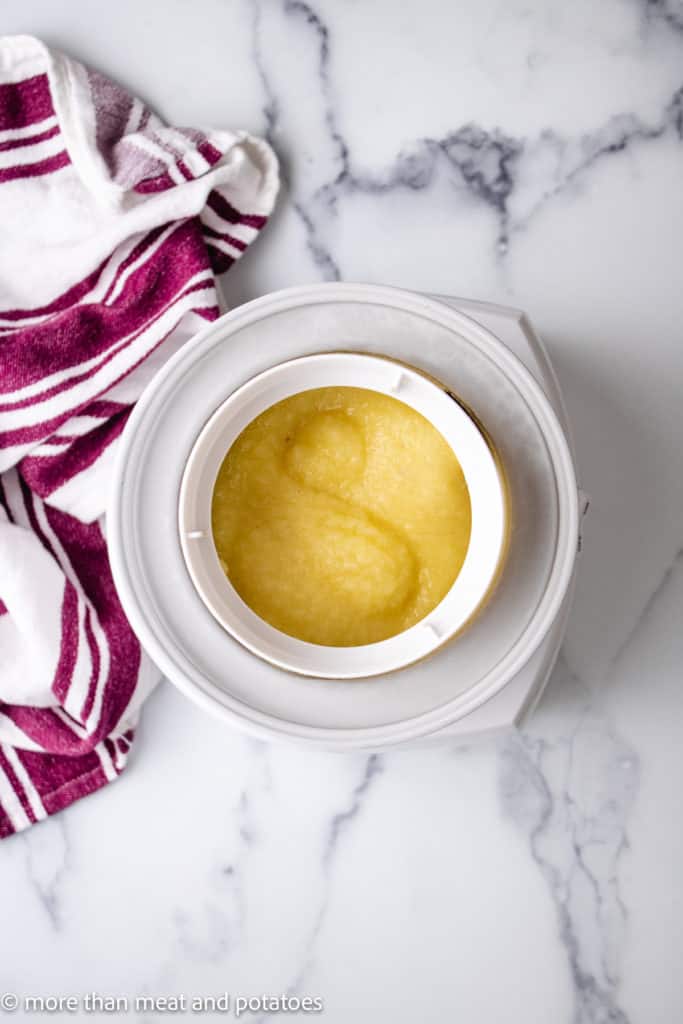 Tips and Variations:
Simple Syrup: I use simple syrup to add extra sweetness to the pineapple sorbet and to help the sorbet freeze. The sugar can always be reduced if you'd prefer less refined sugar in the recipe.
Pineapple: Fresh pineapple works best for this recipe, but canned pineapple can be used in a pinch. You'll need about 4 cups of pineapple chunks well drained.
Add-Ins: Fresh basil, lime juice, lime zest, lemon juice, shredded coconut, fresh strawberries, coconut milk, pineapple juice, or coconut cream would all be great add-in options for this recipe.
Thaw: Due to the water in the simple syrup, the pineapple sorbet freezes solid. It's best to let it set out for about 10 minutes before trying to scoop it and serve.
Make It Sugar-Free!: If you wanted to go completely refined sugar-free, you could leave out the simple syrup. I'd recommend adding some extra flavor like lime zest, lime juice, shredded coconut, pineapple juice, or a combination of add-ins. You'll need a bit of liquid to help blend down the pineapple, so something like lime juice, coconut milk, or coconut water is great for that.
Storage Recommendations:
Room Temperature: We do not recommend storing pineapple sorbet at room temperature for obvious reasons. However, it is best to let the sorbet set out at room temperature for about 10 minutes before scooping and serving.
Refrigerator: This recipe should not be stored in the refrigerator.
Freezer: Pineapple sorbet is best stored in the freezer for up to 2 months.
Is it necessary to use a high-speed blender when making this recipe?
No, it is not necessary to use a high-speed blender when making this Pineapple Sorbet recipe. You can process the ingredients with a blender or food processor.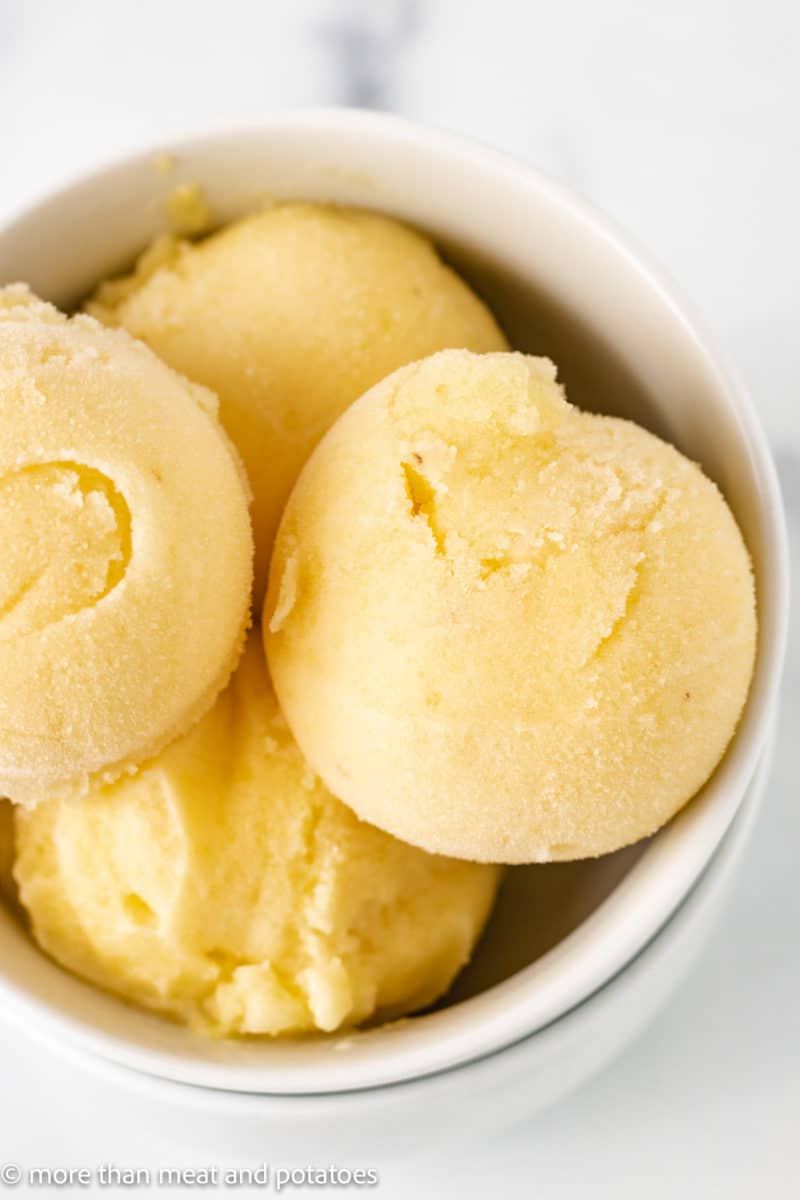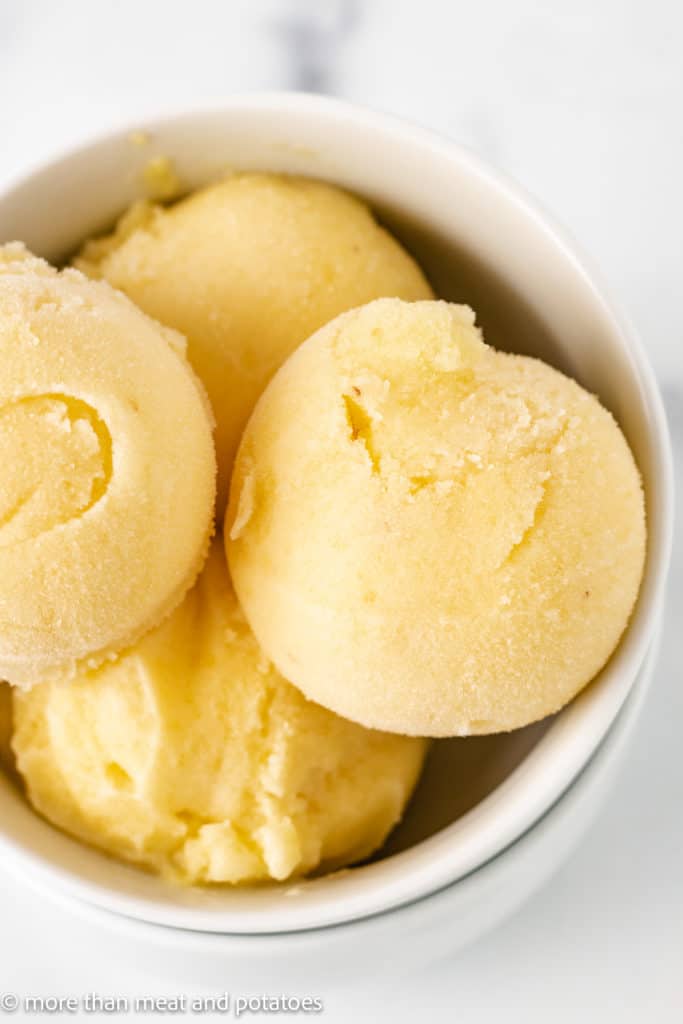 Can you use canned pineapple instead of fresh pineapple for pineapple sorbet?
Yes, you can use canned pineapple instead of fresh pineapple for pineapple sorbet. However, it's important to note that the taste and texture may be slightly different than if you were to use fresh pineapple.
Canned pineapple tends to be sweeter and less tart than its fresh counterpart, so you may want to adjust the sugar or other sweetener in your recipe accordingly.
Additionally, the texture may not be as smooth as with freshly-cut fruit. But overall, using canned pineapple is still a great option for making homemade sorbet!
Are there any other flavors that can be added to homemade pineapple sorbet?
Yes! You can add a variety of flavors to your homemade pineapple sorbet. For example, you can incorporate coconut, mango, lemon, lime, or strawberry for an added twist.
You could also add some spices such as nutmeg or ginger for more depth to the flavor profile. A dash of vanilla extract can also enhance the aroma and taste.
What kind of container is best for storing homemade ice creams and /or fruit sorbets?
The best container for storing homemade ice creams and sorbet recipes is a non-reactive, freezer-safe container.
Non-reactive containers such as silicone or stainless steel are great for avoiding cross-contamination between flavors and preventing the absorption of odors from other foods stored in the freezer.
Freezer-safe containers will help keep your treats chilled at an even temperature without getting too hard or developing ice crystals, making them perfect for enjoying all your homemade treats!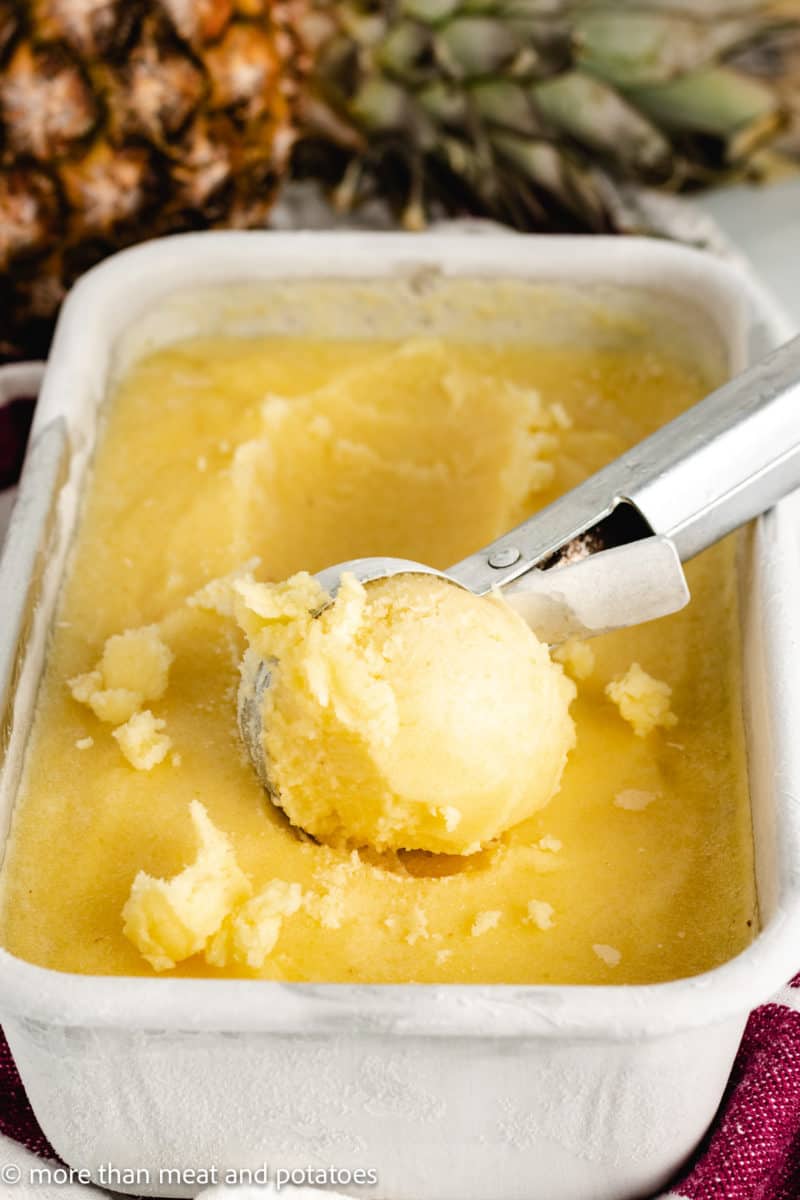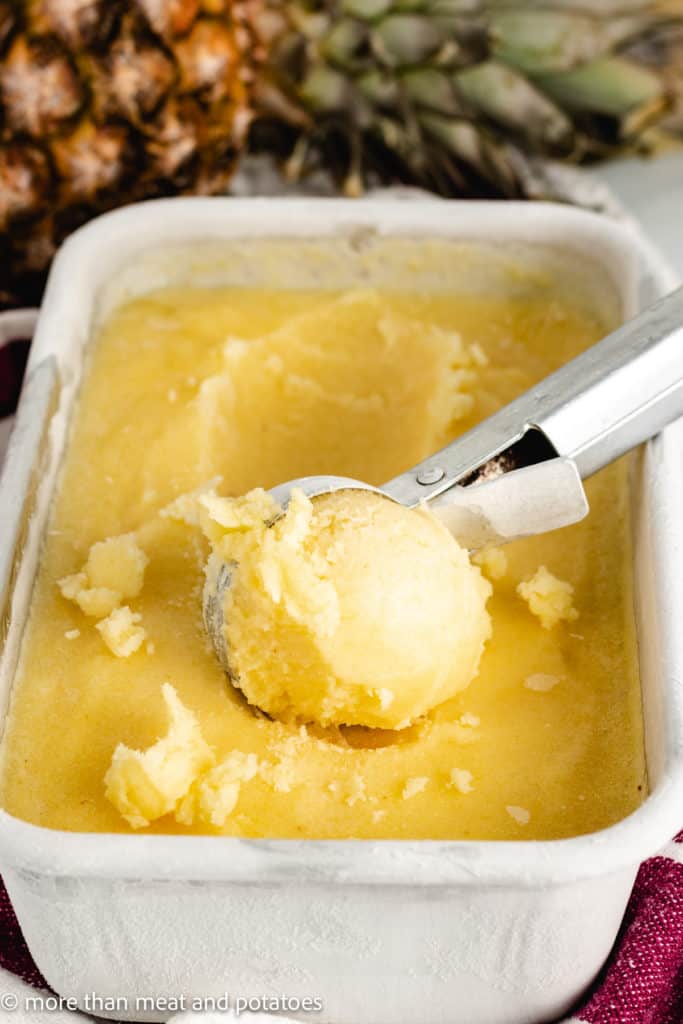 What can you use in place of granulated sugar?
Instead of granulated sugar, you can use alternative sweeteners like honey, maple syrup, agave nectar, coconut sugar, or stevia to sweeten pineapple sorbet.
You may need to adjust the amount used depending on your desired sweetness level as these are all sweeter than granulated sugar.
Other Dessert Recipes You May Love:
Recipe Card with Ingredient Amounts and Instructions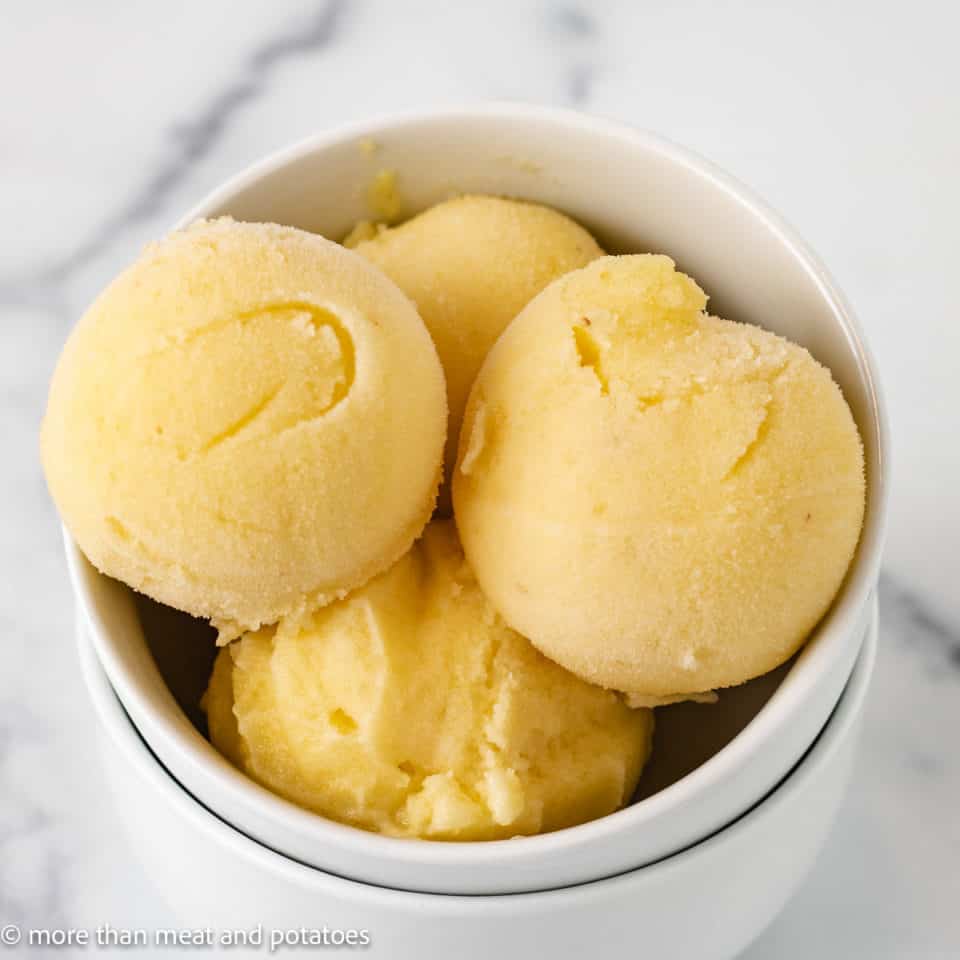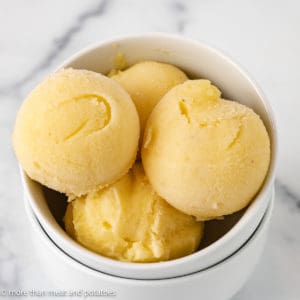 Ingredients
1

cup(s)

granulated sugar

1

cup(s)

water

4

cup(s)

pineapple

,

fresh, cut into chunks
Instructions
This recipe requires an ice cream maker. Place the core of the ice cream maker in the freezer up to 24 hours ahead of time or as recommended by the manufacturer directions.
For the Simple Syrup:
Place the sugar and water into a medium saucepan, and heat over medium heat. Cook until the sugar is completely dissolved. Remove from heat, and transfer to the refrigerator to cool completely, about 1 hour.

1 cup(s) granulated sugar

1 cup(s) water
For the Sorbet:
After the simple syrup cools, place the pineapple chunks into a blender, then pour in the simple syrup.

Process until the ingredients are smooth and well blended. Transfer to an ice cream maker, and churn according to the manufacturer directions.

Scoop the sorbet into a freezer safe container. The sorbet can be enjoyed immediately as soft serve, or frozen until set for 6 to 8 hours.

Scroll up and see the post for tips, FAQs, and storage recommendations.
Notes
*The calories listed are an approximation based on the ingredients in the recipe card and a serving size of 4 ounces of sorbet. Actual calories will vary.
*For more information, tips, and answers to frequently asked questions, please refer to the post.
Nutrition
Serving:
4
ounces
Calories:
127
kcal
Carbohydrates:
32
g
Protein:
0.3
g
Fat:
0.2
g
Saturated Fat:
0.01
g
Polyunsaturated Fat:
0.04
g
Monounsaturated Fat:
0.01
g
Sodium:
3
mg
Potassium:
123
mg
Fiber:
0.2
g
Sugar:
29
g
Vitamin A:
5
IU
Vitamin C:
9
mg
Calcium:
13
mg
Iron:
0.3
mg