Silky smooth cherry vanilla ice cream made with a rich custard base and simple ingredients like whole milk, heavy cream, and fresh or frozen cherries.
Ice cream, specifically cherry vanilla ice cream is one of our guilty pleasures.
There's just something special about a cold treat that makes all those Summer temperatures bearable. Like our strawberries and cream popsicles.
For today's recipe, we're sharing our homemade cherry ice cream using a vanilla custard base.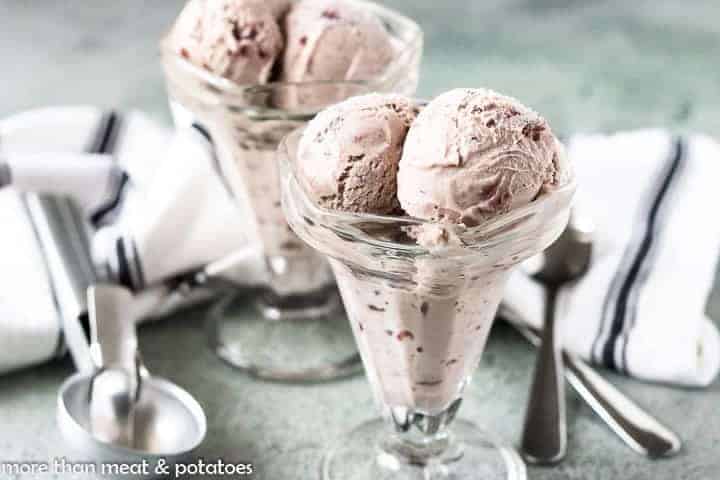 Why use a custard base for ice cream, you ask? Well, the answer has to do with ice crystallization.
Basically, without going into the chemistry, using a custard creates a smoother final product.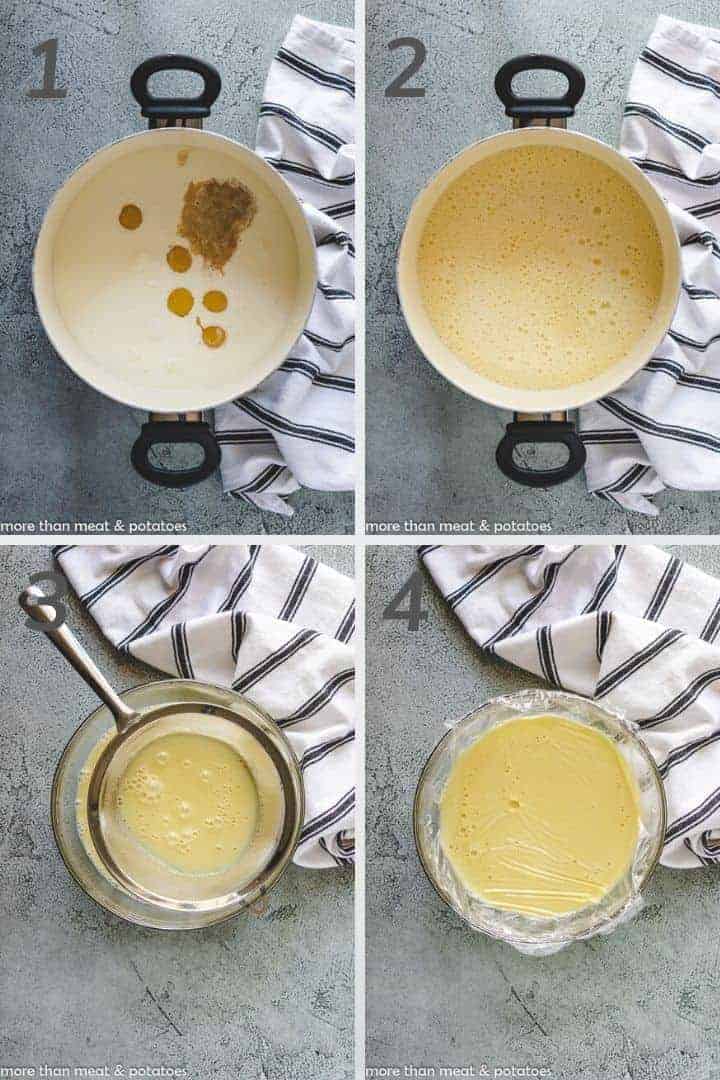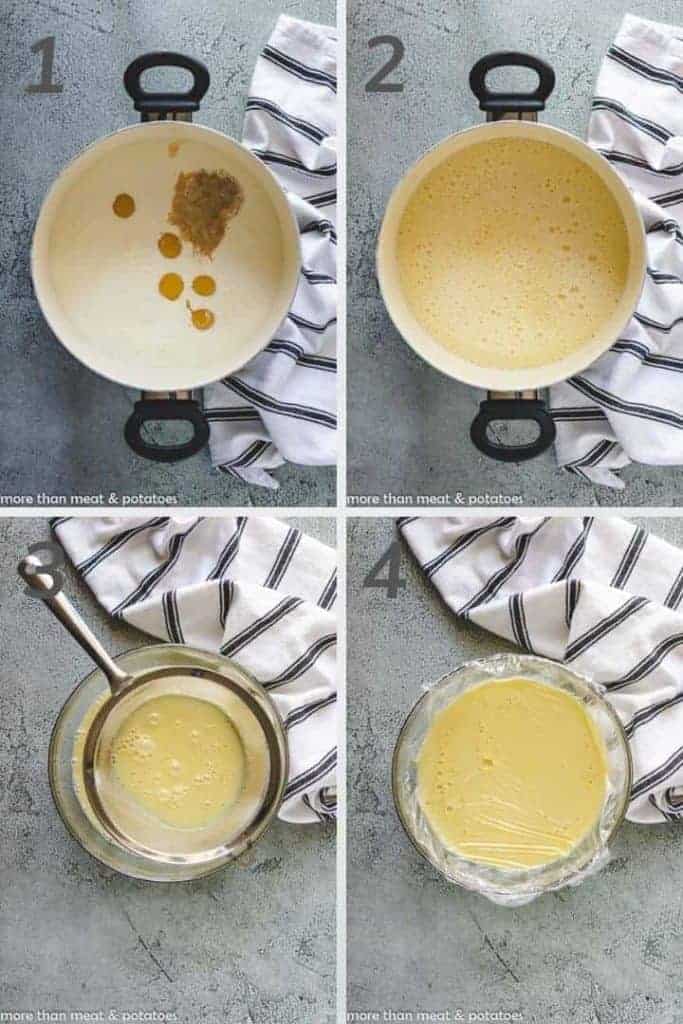 Now, I won't fool you, this isn't a, "quick," recipe. It's going to take multiple steps and at least 4-hours of freezing time.
In fact, I recommend chilling it overnight in your freezer to make sure it's firm before serving.
Also, you'll need an ice cream maker in order to use this recipe. It doesn't have to be a top-of-the-line model. Our's was only around 40.00 USD.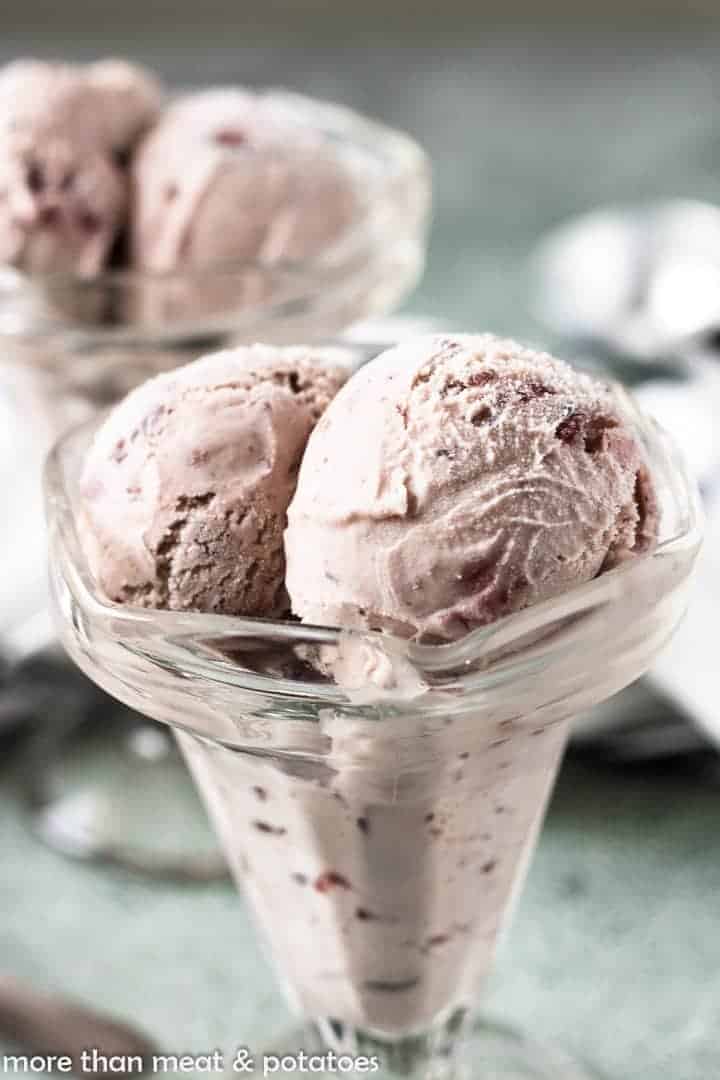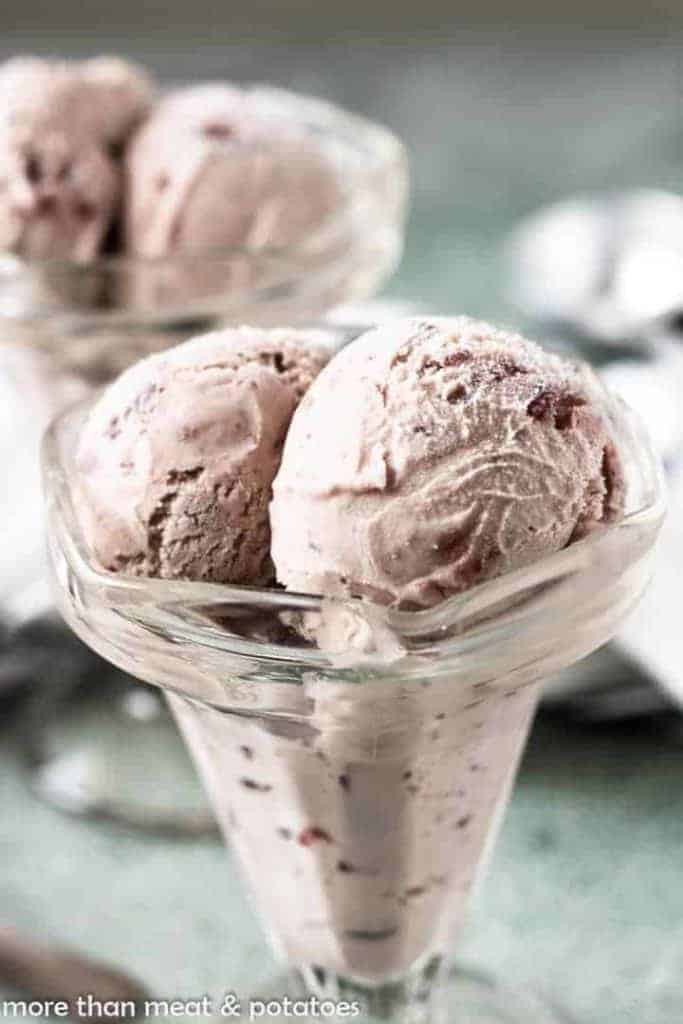 How to make cherry vanilla ice cream?
First, place the core of the ice cream maker into your fridge to chill per the manufacturer's instructions. Usually, the core needs to freeze for 24 hours.
After that, chop the cherries, divide them in half, and set them aside for now.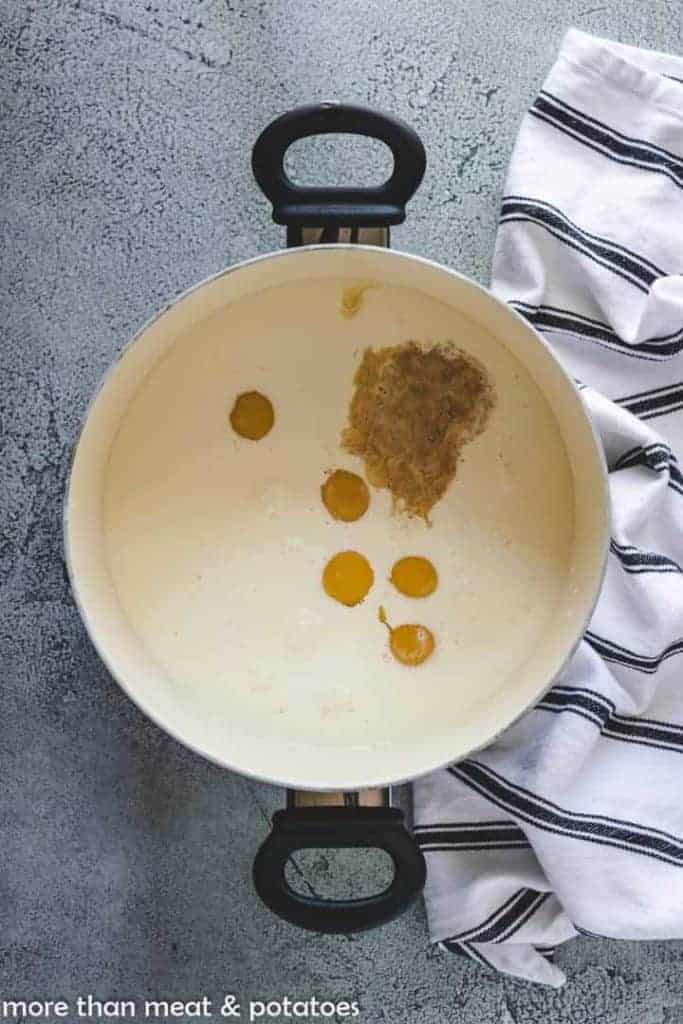 Next, grab a medium saucepan and use a whisk or wooden spoon to combine the sugar, heavy cream, milk, vanilla extract (or beans), and egg yolks.
Now, place the mixture over low-medium heat. Stir the base as it heats. Once it starts to steam, keep a close eye on it. Let it cook for about 9-minutes or until it can coat the back of a spoon.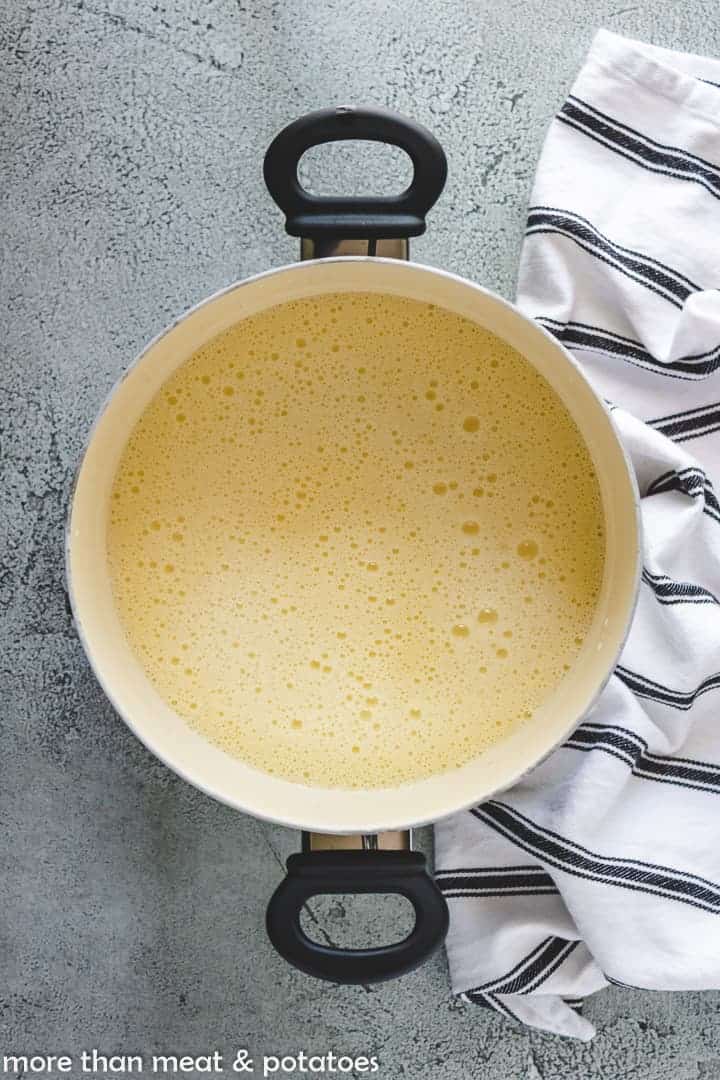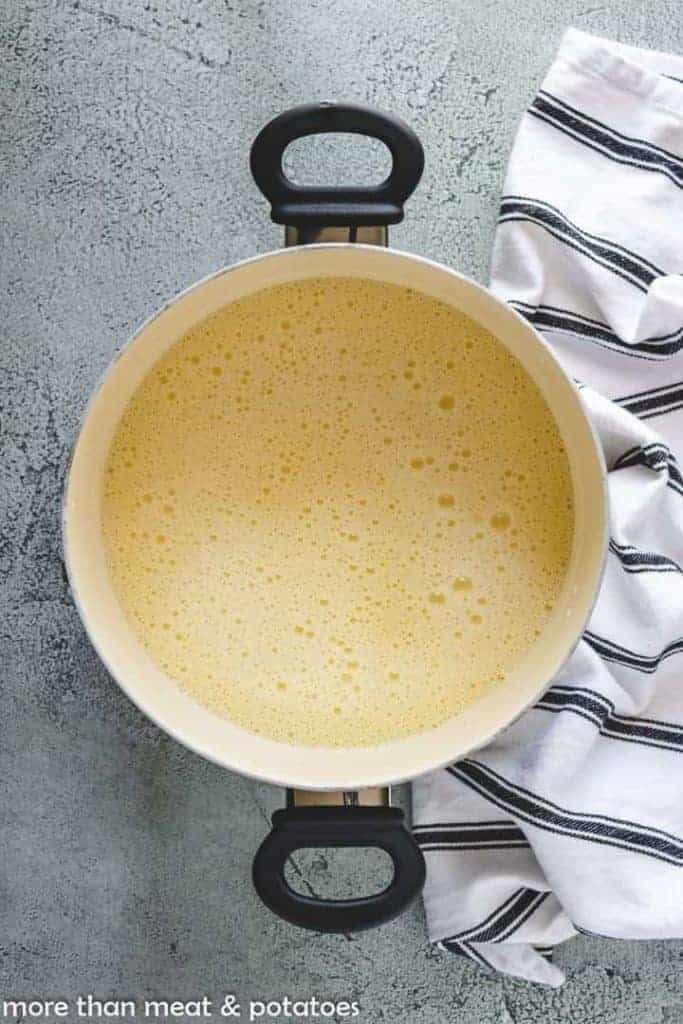 It only needs to thicken as it cooks. If it comes to a boil, start over because the custard will separate.
I recommend removing it from the heat from time to time while stirring. That might keep it from boiling.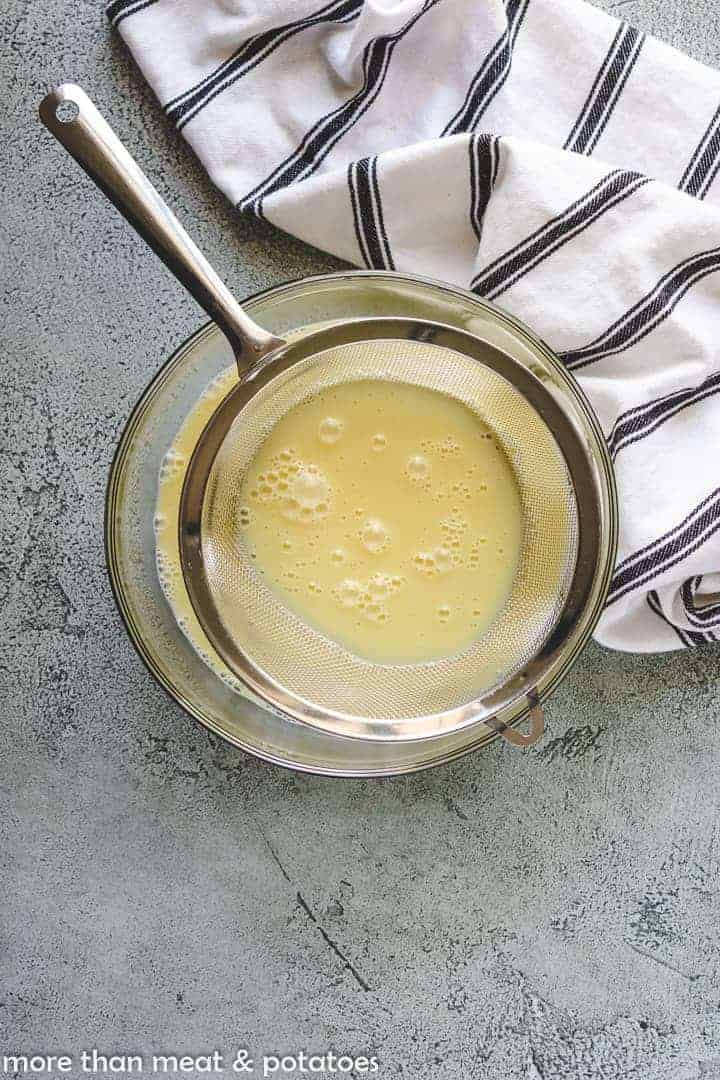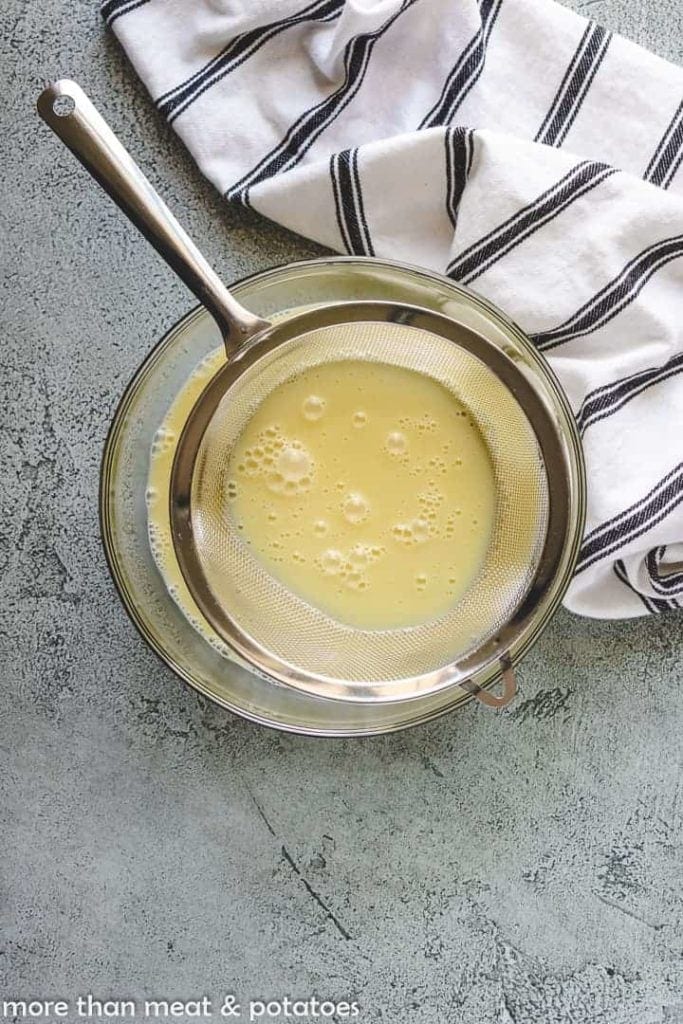 Then, once it has thickened, turn off the heat and pour the ice cream base through a mesh sieve, if needed.
Transfer the vanilla custard to a heat-safe bowl or mason jar and cover it with a lid or plastic wrap.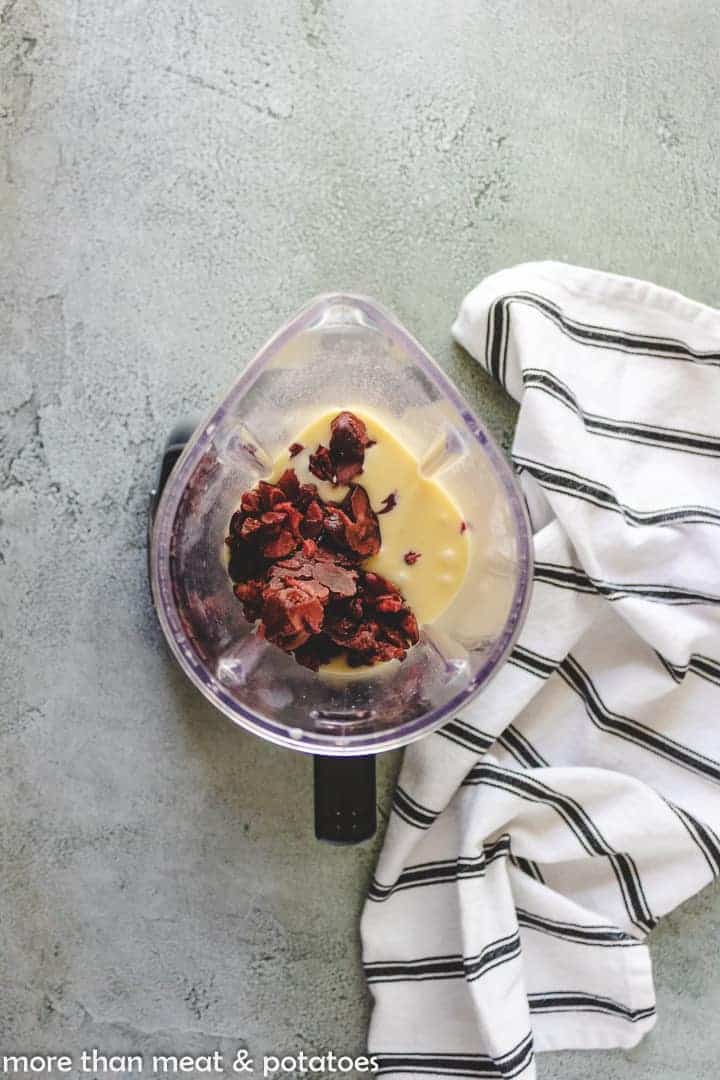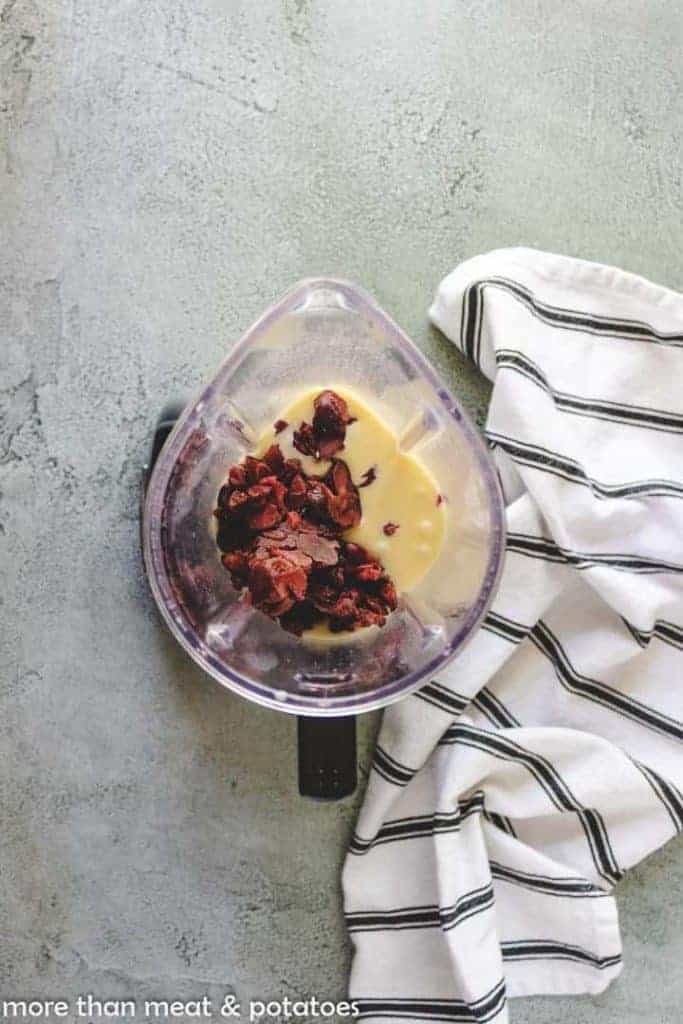 Place it into your fridge to chill for about 2-hours. Afterward, pour the mixture into a blender and add half the cherries to the liquid.
Pulse this mixture until it's smooth and no large chunks of cherry remain. At this point, you can transfer the cherry ice cream base to the frozen core.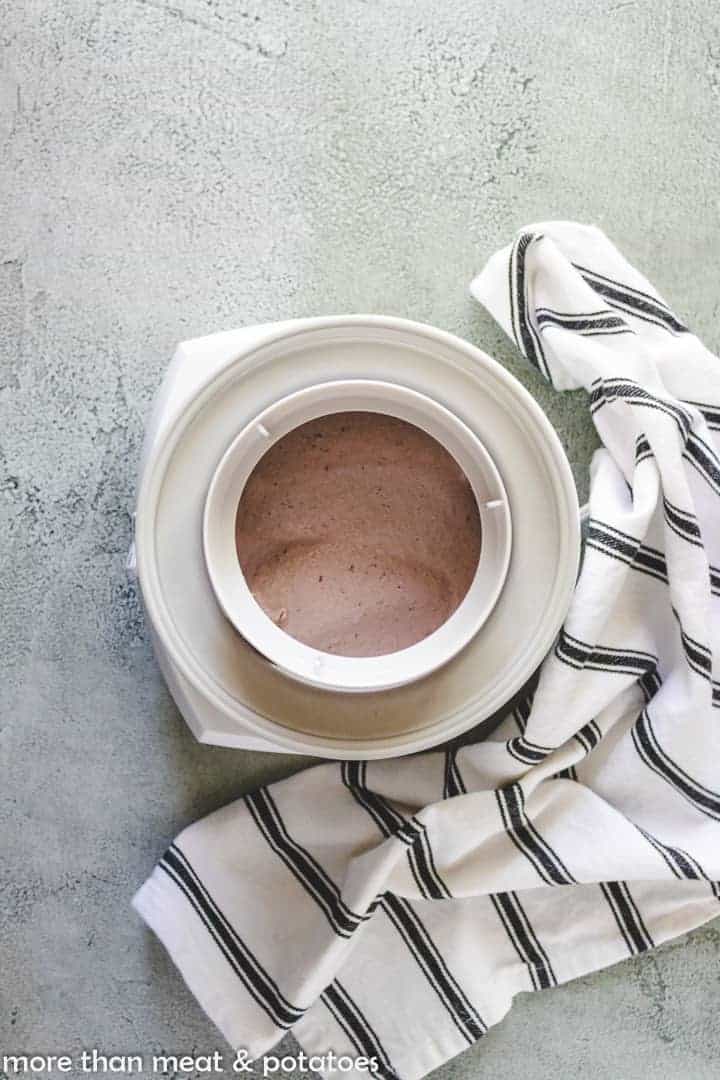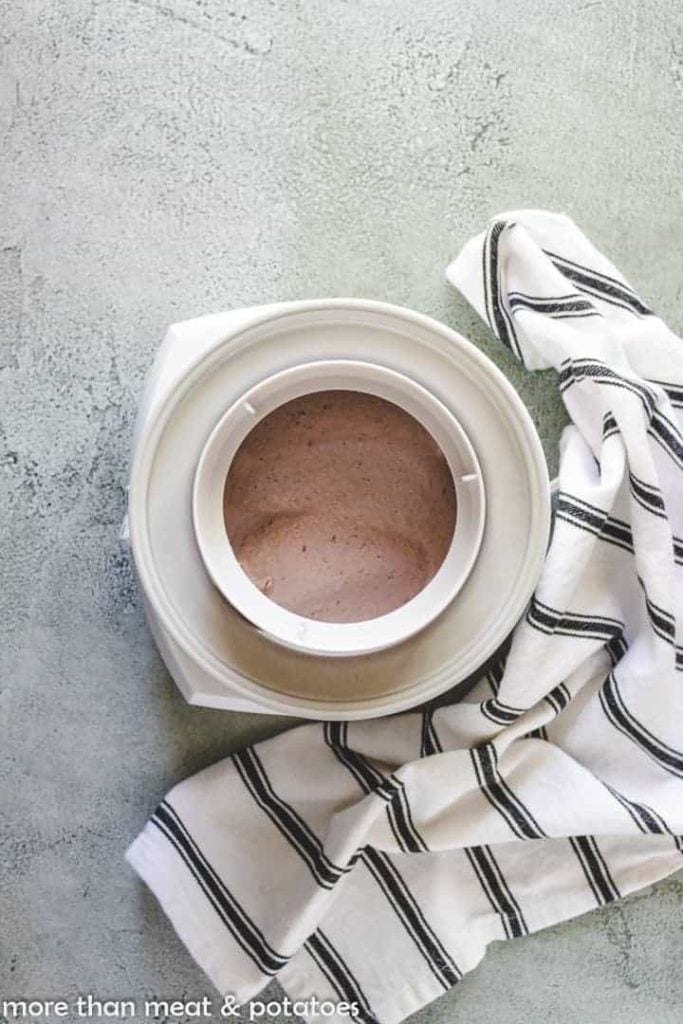 Put the core into the ice cream maker and starting churning the cherry vanilla ice cream.
When it reaches the soft-serve stage, toss in the remaining chopped cherries and continue churning per the manufacturer's directions.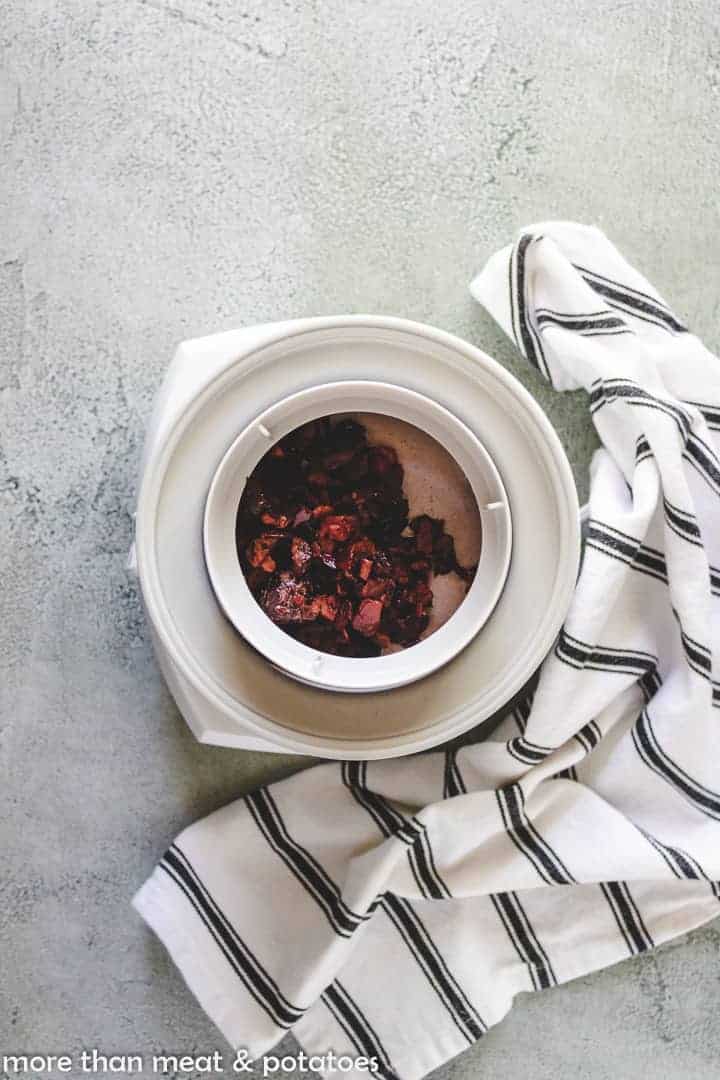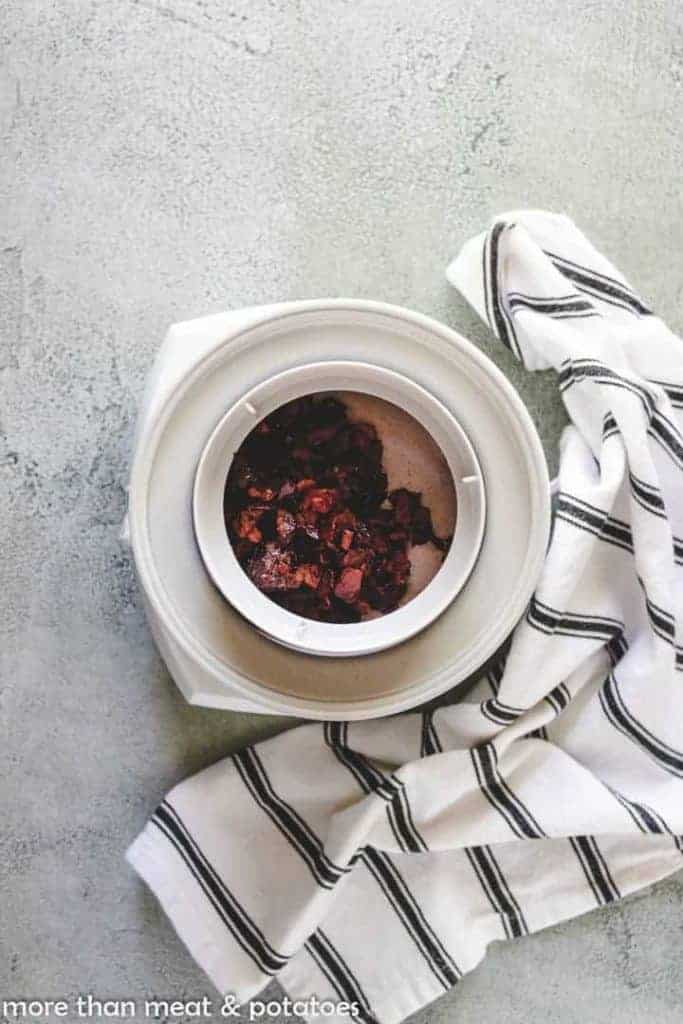 Last, transfer the churned homemade ice cream to a freezer safe container and cover it. Let it freeze for at least 4-hours before serving.
That's it, your cherry vanilla ice cream is done! Kim and I hope you enjoy this simple treat.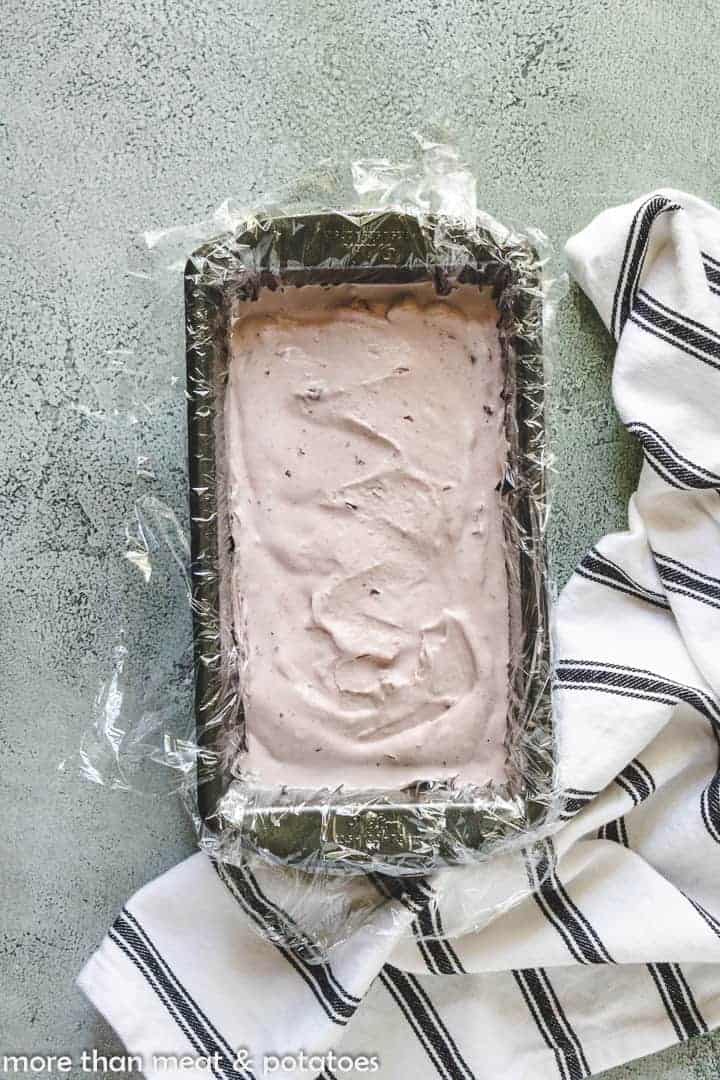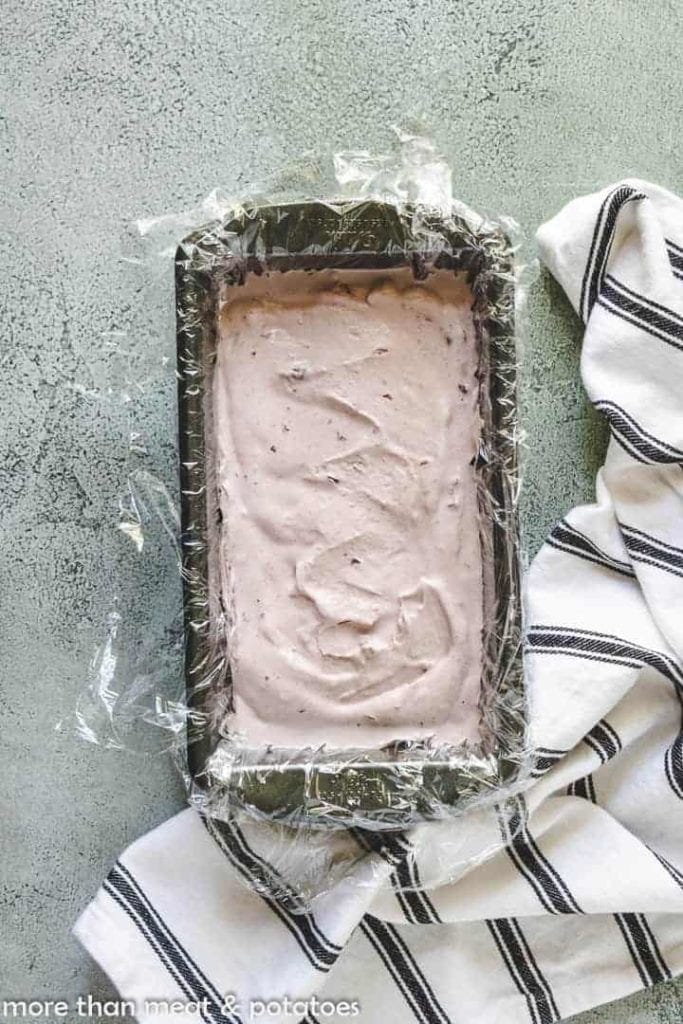 What can I put in homemade ice cream?
There's not enough room on this page to list all the goodies you can put into homemade ice cream. But, here's a small list of our favorites.
Almonds
Dark Chocolate Chunks or Chips
Chopped Pecans
Fresh or Frozen Raspberries
Fresh or Frozen Blueberries
Anything you love!
Love frozen treats? Then check out our tender coconut sorbet. It's smooth and creamy, just like ice cream!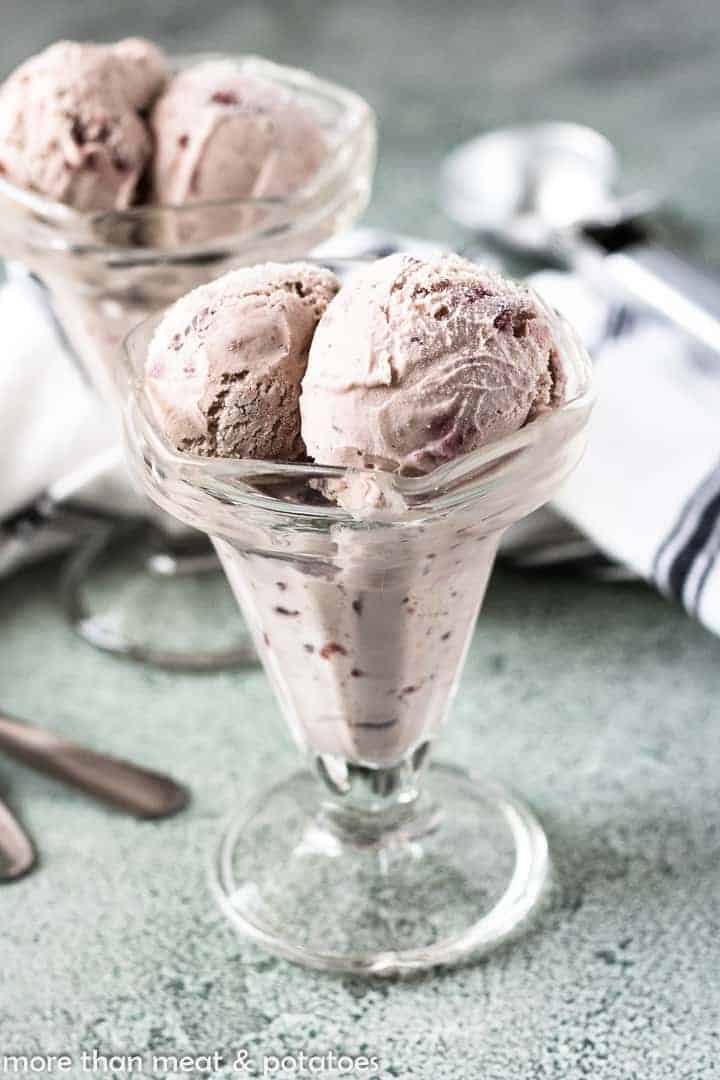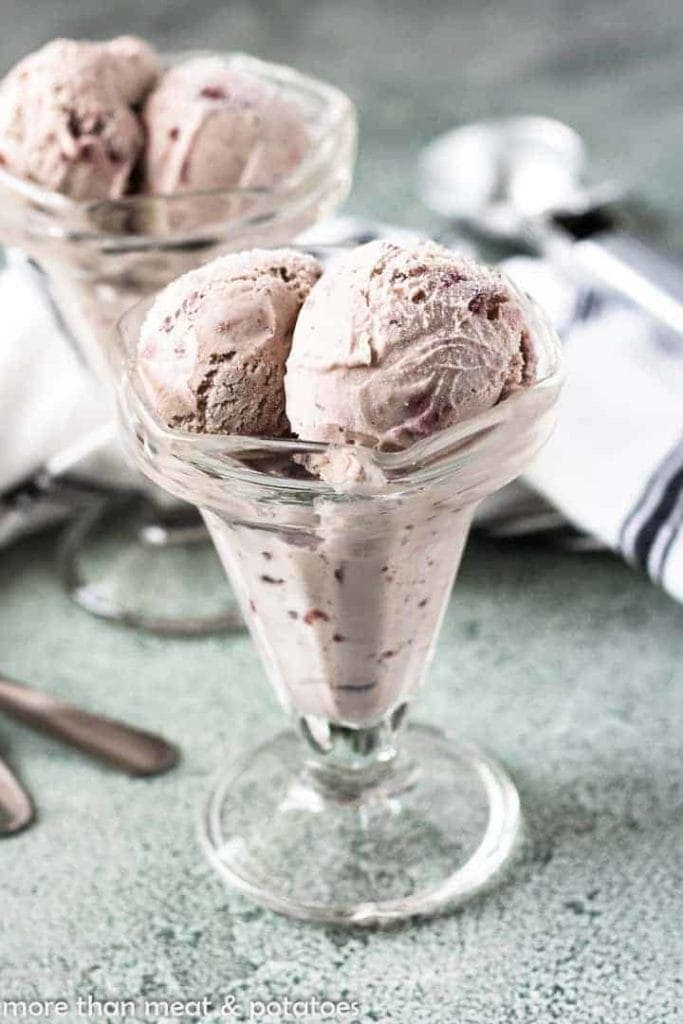 Recipe Card with Ingredient Amounts and Instructions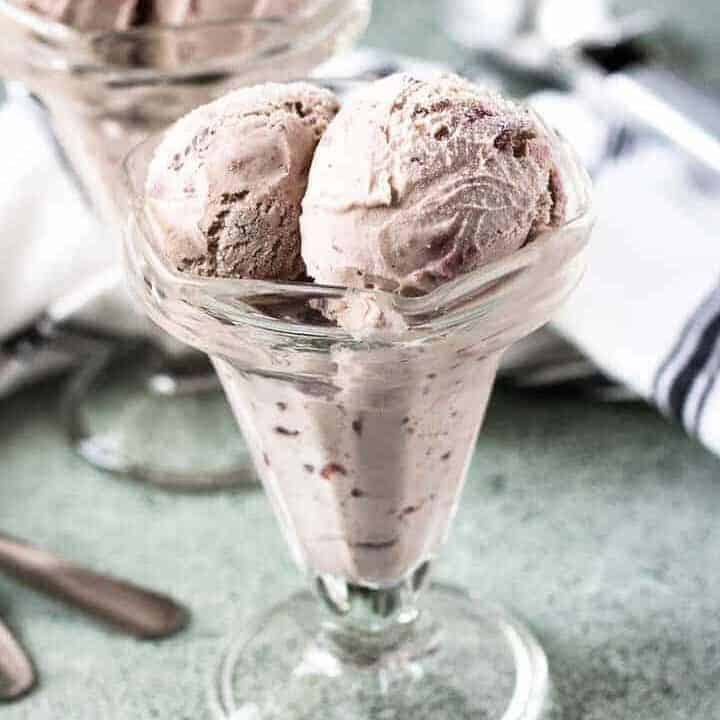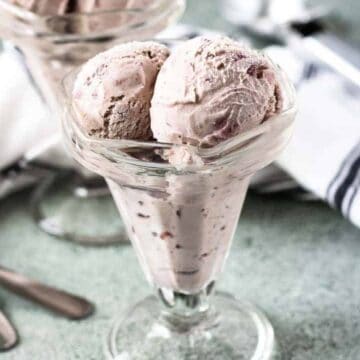 Ingredients
2

cups

cherries

,

fresh or frozen (pitted if using fresh)

2

cups

heavy cream

1

cup

whole milk

5

egg yolks

1

cup

granulated sugar

1

tablespoon(s)

pure vanilla extract
Instructions
This recipe requires an ice cream maker. Follow the manufacturer's instructions and place the core in the freezer well in advance to freeze solid. Most manufacturers require at least 24 hours.

Roughly chop the cherries, divide them in half, and set aside.

In a medium saucepan, combine the heavy cream, milk, egg yolks, sugar, and vanilla. Bring to a steep over low-medium heat. Steam should begin to rise from the liquid. Stir consistently and continue to cook over low-medium heat for approximately 8-10 minutes until the custard slightly thickens. The custard should lightly coat the back of a spoon when ready.

2 cups heavy cream

1 cup whole milk

1 cup granulated sugar

5 egg yolks

1 tablespoon(s) pure vanilla extract

Pour the custard through a mesh strainer to remove any solid pieces. Transfer the custard to a bowl to cool and cover with plastic wrap. The plastic wrap should touch the top of the custard to prevent a skin from forming. Place in the refrigerator to cool (about 2 hours).

After the custard cools, pour the custard and half of the chopped cherries into a blender and blend until smooth.

Pour the custard into the ice cream maker. Churn according to manufacturer's instructions until the ice cream reaches the soft set stage. Add the remaining chopped cherries, and continue to churn until the ice cream is well mixed and has begun to set.

Transfer the ice cream to a freezer safe container, and place in the freezer until completely firm. This will vary based on how frozen the ice cream is when it's removed from the ice cream maker. (Ours took 4 - 6 hours.) Serve cold.
Nutrition
Serving:
0.5
cup
Calories:
379
kcal
Carbohydrates:
34
g
Protein:
5
g
Fat:
26
g
Saturated Fat:
15
g
Polyunsaturated Fat:
1
g
Monounsaturated Fat:
7
g
Cholesterol:
192
mg
Sodium:
33
mg
Potassium:
194
mg
Fiber:
1
g
Sugar:
33
g
Vitamin A:
1108
IU
Vitamin C:
3
mg
Calcium:
96
mg
Iron:
1
mg