This Homemade Salsa Recipe is simple to make, packed with fresh ingredients, and full of flavor. It makes an easy appetizer, snack or condiment.
Our homemade salsa recipe is so easy to make and is great on chips, eggs, burritos, or any of your Tex-Mex favorites. It uses similar ingredients to our pico de gallo recipe but has a different preparation method.
We use a combination of fresh Roma tomatoes and canned diced tomatoes, along with onions, jalapeno pepper, garlic, cilantro, lime juice, and spices.
Then, the salsa gets cooked briefly to enhance the flavor and cook out the "canned" flavor of the tomatoes. The result is an amazing homemade salsa that's perfect for dipping!
Serve it alongside some Hatch green chile sauce, enchiladas, tostados, or your other favorite foods, and you've got a tasty meal!
How to make our homemade salsa recipe:
We keep a kitchen scale handy to weigh out ingredients, especially for recipes like this. I used the scale to weigh out 1 pound of Roma tomatoes and cut them into quarters.
If you don't have a kitchen scale, that will be about 5 or 6 tomatoes depending on size. Place the tomatoes into a food processor. Then, pour in the canned tomatoes and their juices.
Petite diced tomatoes without any seasonings work well. Next, add the white onion that's been roughly chopped.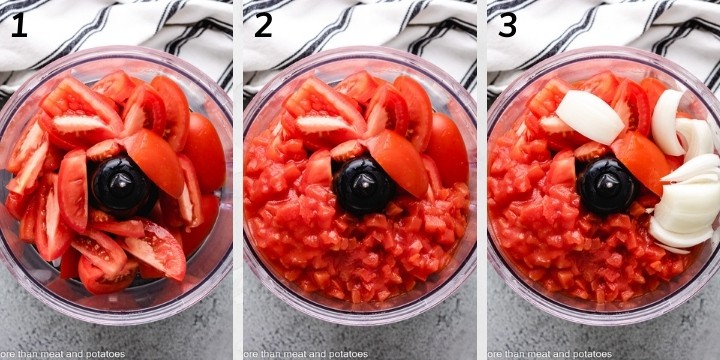 Then, add the chopped green onion and seeded jalapeno. If you want more heat, leave the seeds and membrane intact.
Last, add the garlic. I usually mince or press it just to make sure it will get incorporated well, but you could just throw in the cloves.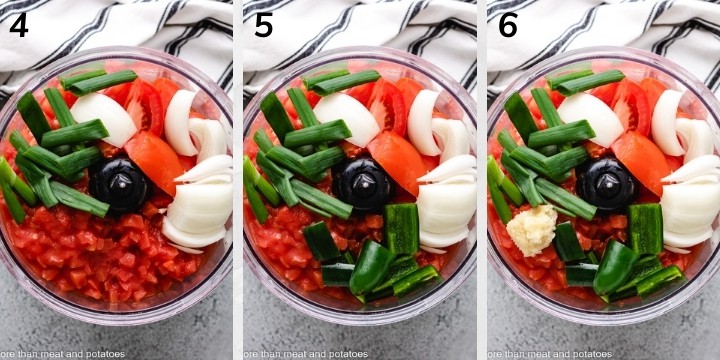 Pulse the ingredients several times until they are chunky. You don't want them completely processed down, but there will be some liquid.
Keep in mind that when the salsa cooks, more liquid will come out and you'll be adding some lime juice, too. It's best to leave the tomato mixture on the chunky side.
Pour the tomato mixture into a medium skillet, and bring to a simmer. Cook at a simmer for 2 to 3 minutes then remove from heat.
Add the chopped cilantro, freshly squeezed lime juice, chili powder, cumin, and salt. Stir to combine.
The salsa can be served immediately, although, it's quite warm. It's better to let it cool in the refrigerator for several hours, so the flavors meld together.
The homemade salsa stays fresh in the refrigerator for up to 3 days.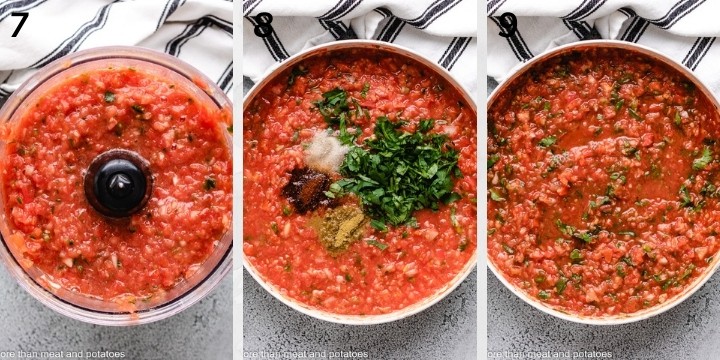 Do you have to cook homemade salsa?
No, you don't have to cook homemade salsa. We like to cook our homemade salsa recipe to enhance and elevate the flavor, but cooking isn't required.
Do you have to peel tomatoes to make salsa?
No, there's no need to peel tomatoes for salsa. Just cut the tomatoes down and place them in the food processor. Make sure you have a food processor that can easily break down the tomato skins.
How do I thicken homemade salsa?
One of the best ways to thicken homemade salsa is to remove the seedy portions of the tomatoes before adding them to the food processor. Another option is to drain the juices off the canned tomatoes.

Don't over pulse the salsa in the food processor; otherwise, it will add extra moisture to the homemade salsa recipe.
How do you add more heat to homemade salsa?
There are a couple ways to add extra heat to salsa. One way is to leave the jalapeno seeds and membranes intact or add an extra jalapeno.

Another way is to add extra chili powder. Each way will add a different type of heat and different end flavor to the salsa.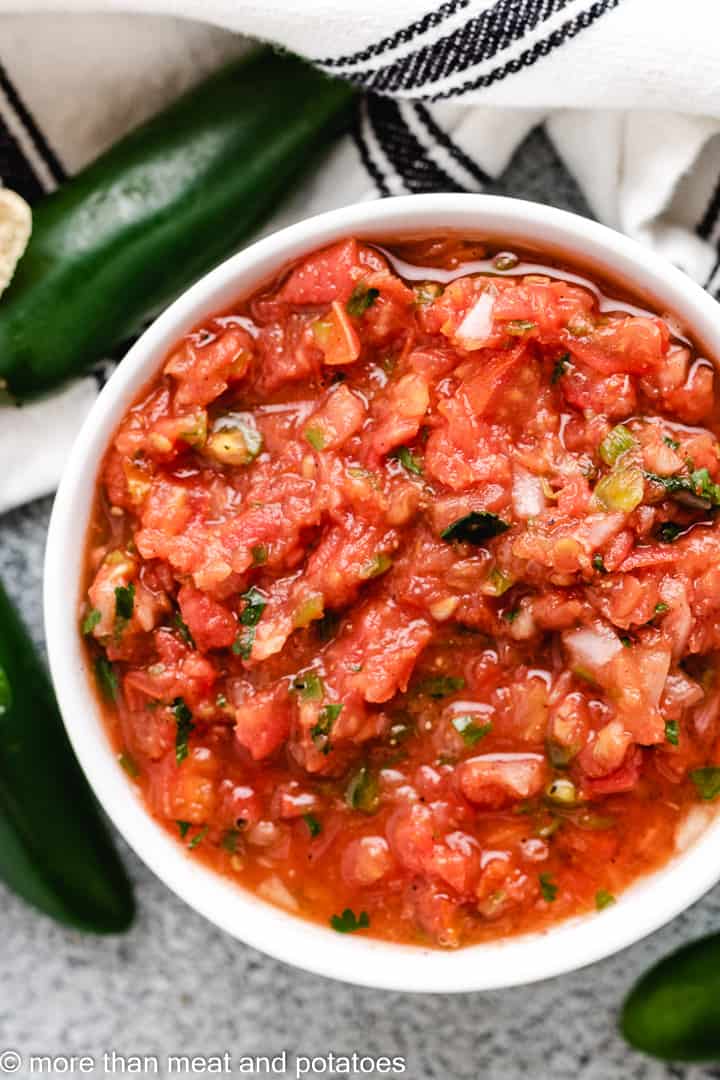 Other appetizer recipes you may love: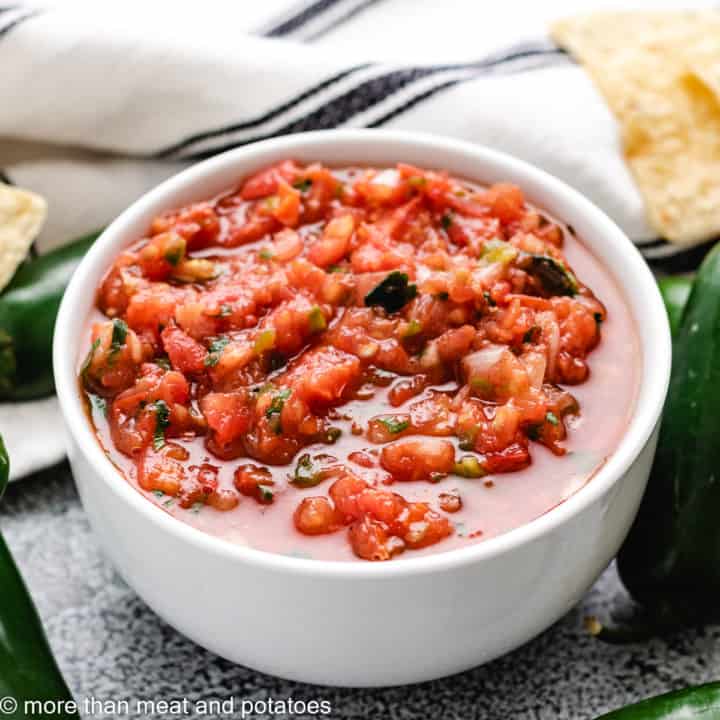 Homemade Salsa Recipe
This Homemade Salsa Recipe is simple to make, packed with fresh ingredients, and full of flavor. It makes an easy appetizer, snack or condiment.
Ingredients
1 Pound Roma Tomatoes, quartered (about 6 tomatoes)
1 (14 Ounce) Can Petite Diced Tomatoes
½ Cup White Onion, rough chopped (about 1 small onion)
3 Green Onions, ends trimmed and cut into pieces
1 Jalapeno, seeded and membranes removed
1 Tablespoon Garlic, (about 3 small cloves)
½ Cup Cilantro, finely chopped
2 Tablespoons Freshly Squeezed Lime Juice
1 Teaspoon Chili Powder
½ Teaspoon Cumin
Salt and pepper to taste
Instructions
Place the fresh and canned tomatoes, white and green onions, jalapeno, and garlic into a food processor. Pulse until the ingredients are chunky but not pureed.
Heat a medium skillet over medium heat. Pour in the tomato mixture, and bring to a simmer. Allow the mixture to simmer for 2 to 3 minutes, then remove from heat.
Stir in the cilantro, lime juice, chili powder, cumin, salt and pepper. Serve with tortilla chips or with your favorite entrée.
Notes
*The calories listed are an approximation based on the ingredients in the recipe card and a serving size of ¼ cup of salsa. Actual calories will vary.
*For more information, tips, and answers to frequently asked questions, please refer to the post.
Recommended Products
As an Amazon Associate and member of other affiliate programs, we may earn a commission from qualifying purchases.
Nutrition Information:
Yield:

12
Serving Size:

.25 Cup
Amount Per Serving:
Calories:

18
Total Fat:

0g
Saturated Fat:

0g
Trans Fat:

0g
Unsaturated Fat:

0g
Cholesterol:

0mg
Sodium:

53mg
Carbohydrates:

4g
Fiber:

1g
Sugar:

2g
Protein:

1g
*The calories are an estimate and are based on the ingredients and serving size listed. The calories can vary depending on the brand of product purchased.