Simple homemade strawberry cream popsicles featuring fresh berries, whipped cream, and natural sweeteners. Dairy and non-dairy popsicle options included!
Summer is in full effect in Northwest Arkansas. Heat indexes have been close to triple digits this weekend.
I think it's time to break out the popsicles! For today's recipe, we're sharing Kim's strawberry cream popsicles.
As the name implies, fresh Summer berries take center stage in this sweet treat.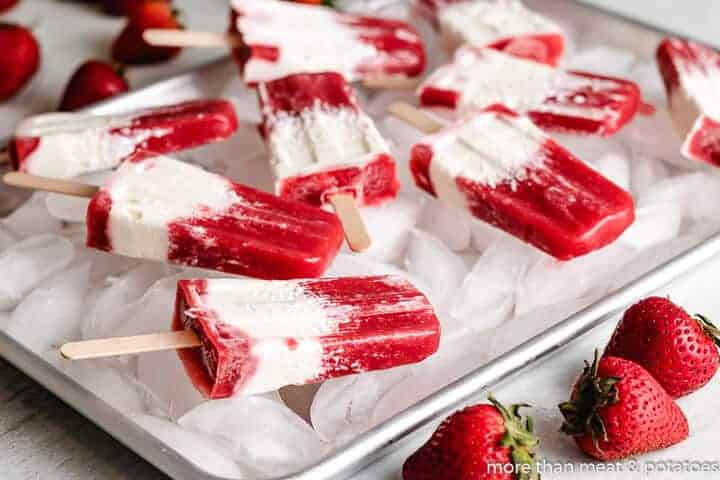 If you're wondering how to make strawberries and cream popsicles with almond milk, I've included those instructions in the tips section.
Also, I included directions for making these frozen treats with regular milk instead of heavy cream.
Looking for another cool Summer treat? Check out our tropical fruit salad with coconut milk dressing or our strawberry Greek yogurt smoothie.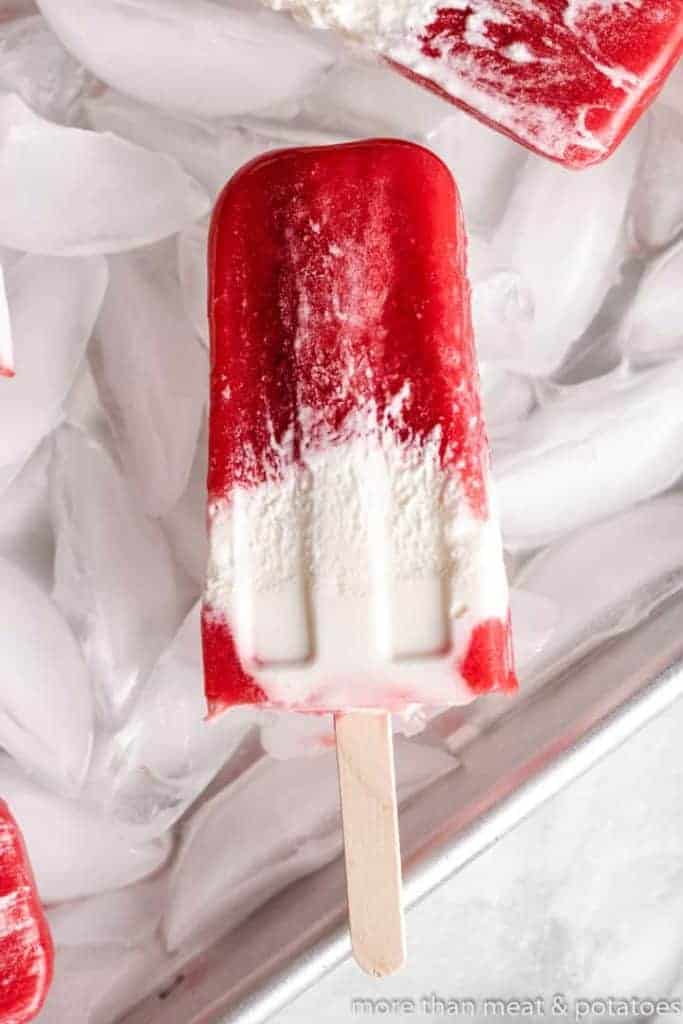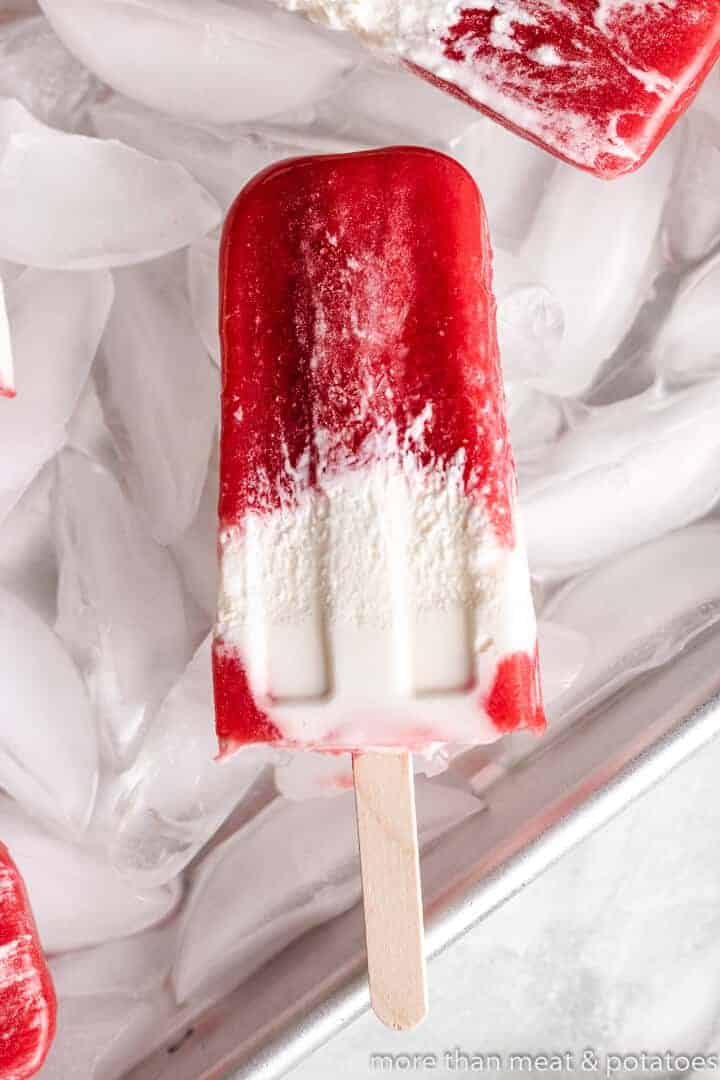 How to make strawberry cream popsicles?
First, grab a blender or food processor. After that, add in the washed strawberries, half of the honey or maple syrup, and the water.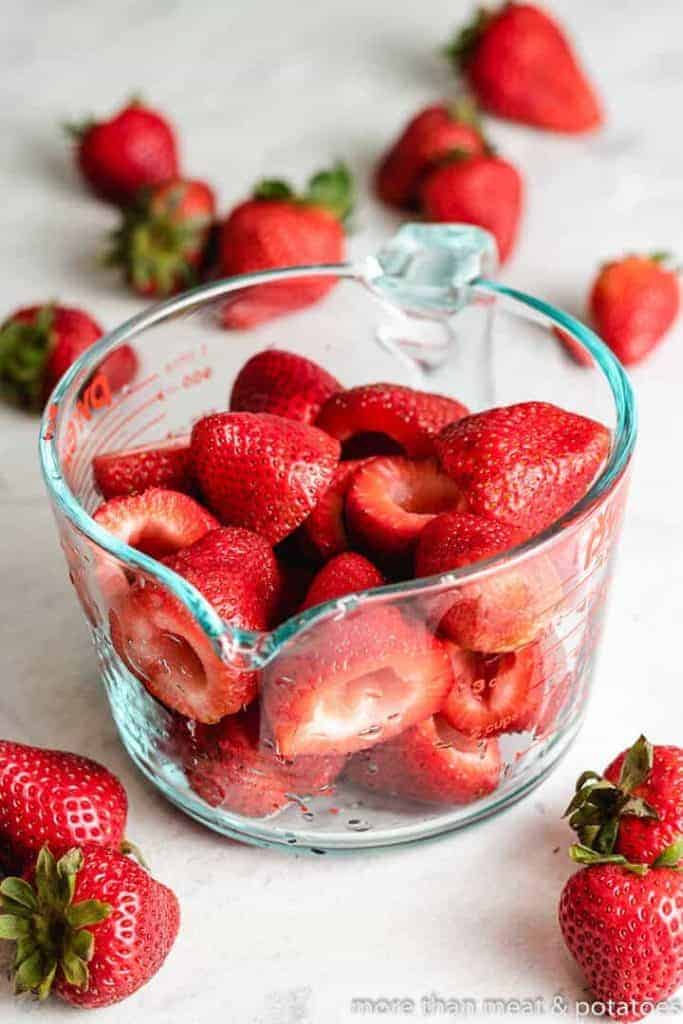 Next, blend the ingredients until you have a pretty strawberry puree. Set the fruit puree aside.
Afterward, you'll need a medium mixing bowl (with a hand mixer) or a stand mixer with whisk attachment.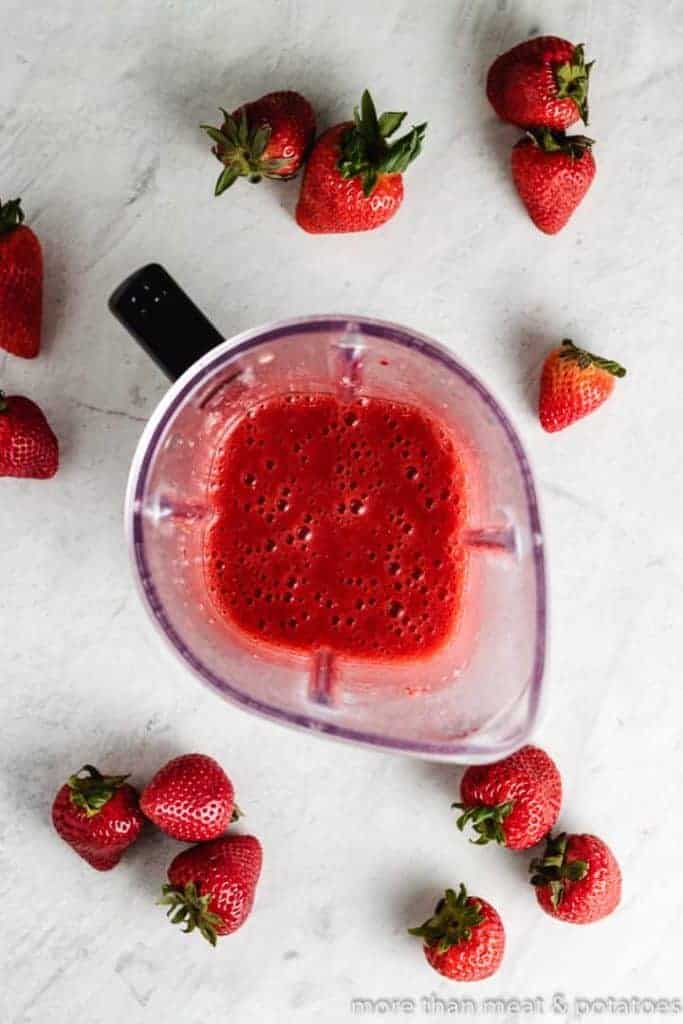 In that bowl, combine the whipping cream, the rest of the honey or maple syrup, and the vanilla extract.
Beat the mixture on low to medium speed until it forms soft peaks. This should only take about 5-minutes.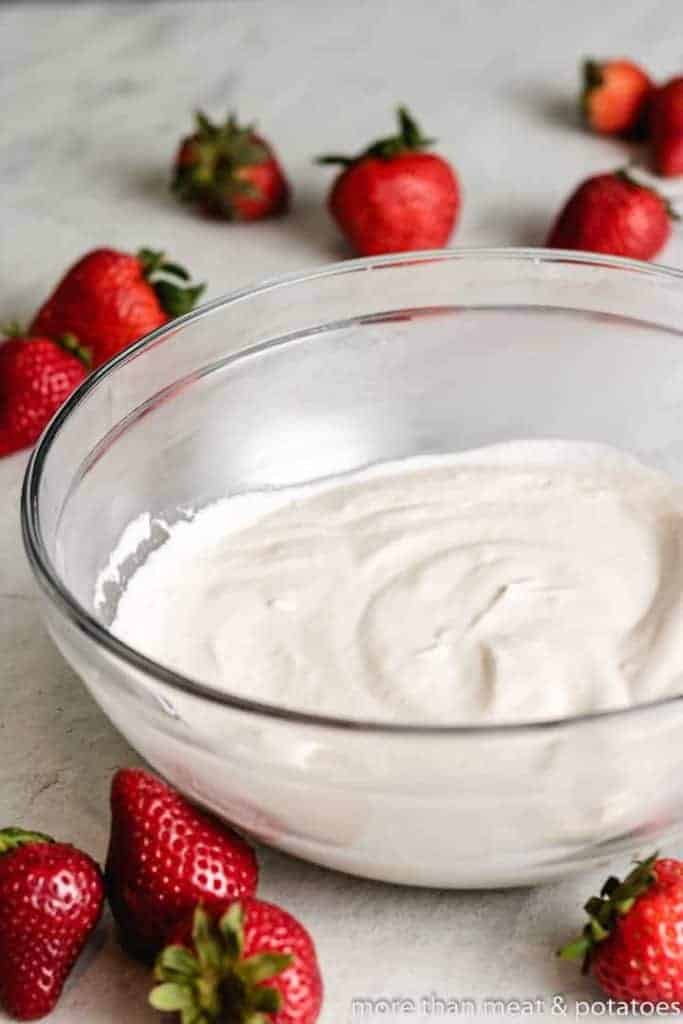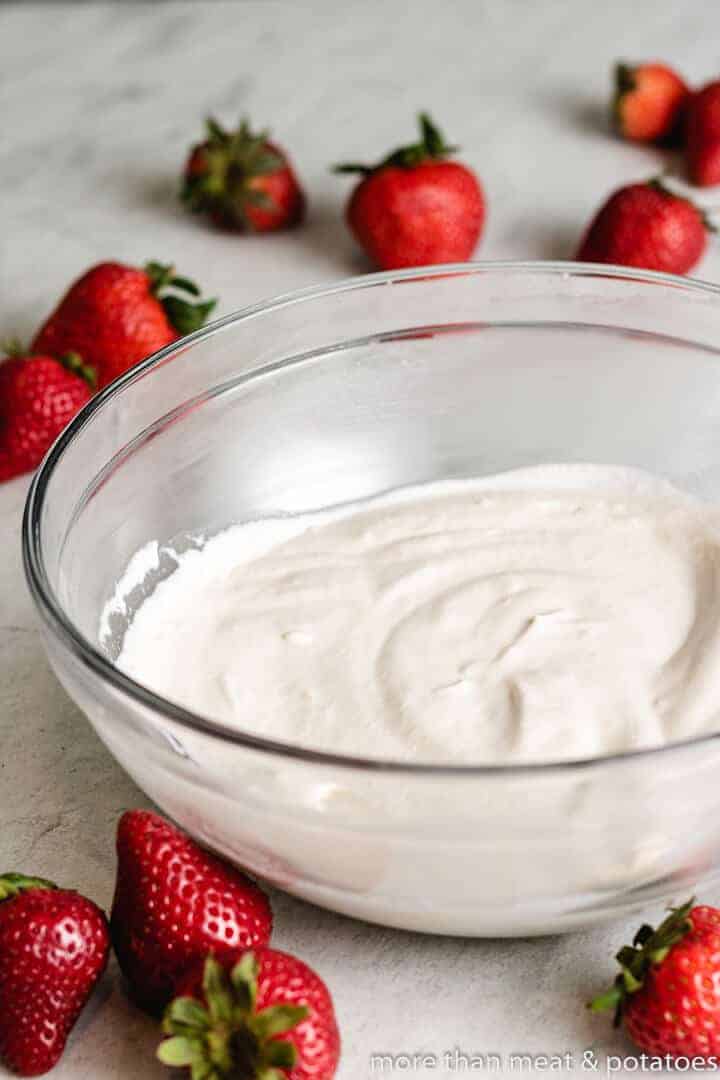 Then, using popsicle molds, pour the mixtures into the mold. Alternate pouring in the puree and cream mixtures to create layers.
Now, place the covered mold into your freezer to chill for 1-hour. At that point, you can place the wooden sticks into the popsicles.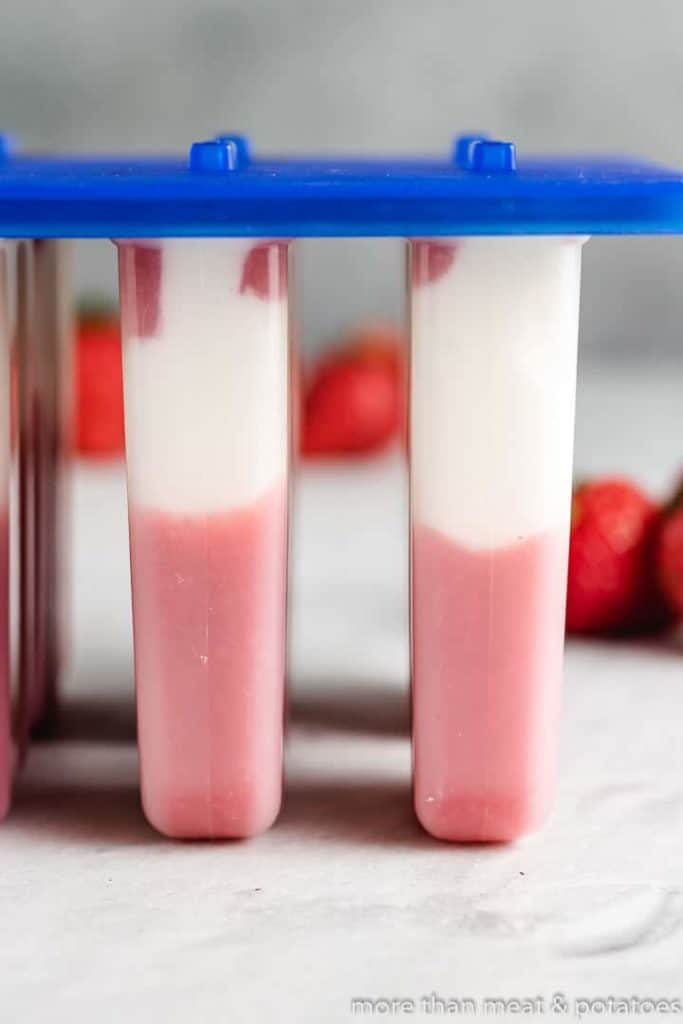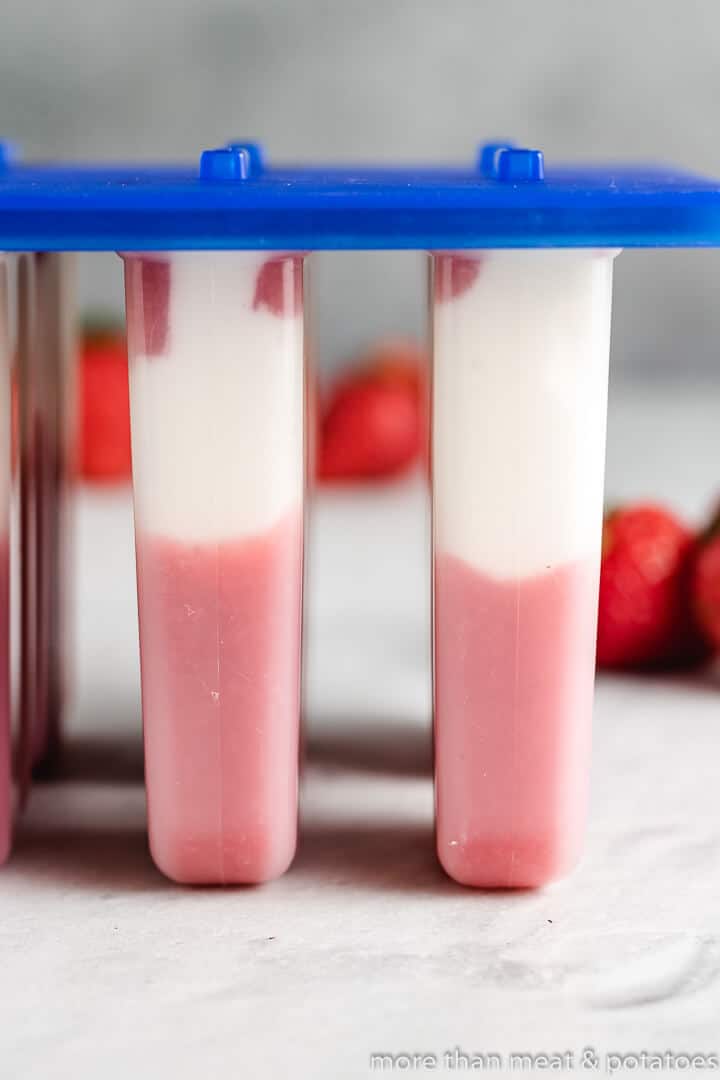 Last, allow the berries and cream popsicles to completely freeze. That will take at least 2-3 hours.
Once frozen, the recipe is done! Kim and I hope you enjoy the strawberry and cream popsicles and wish you all the best 🙂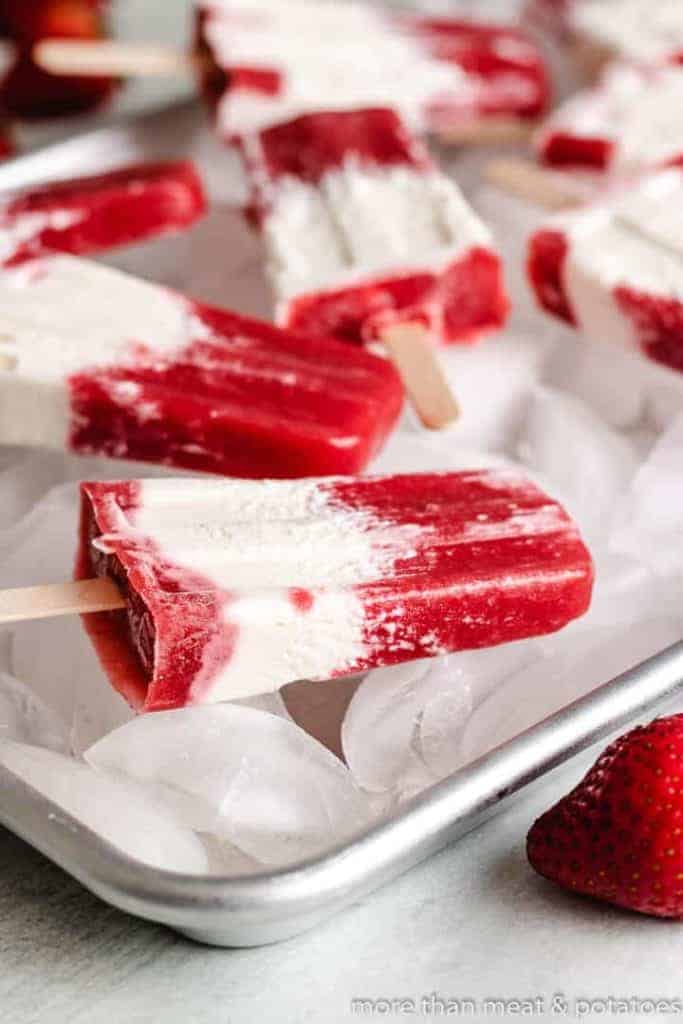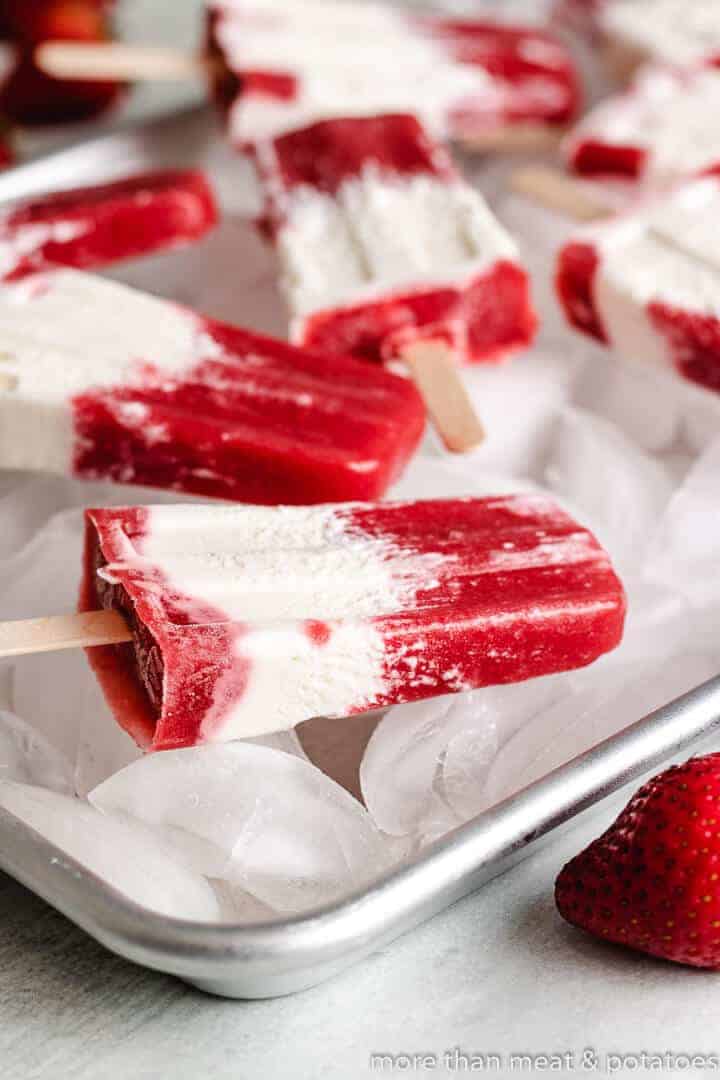 Strawberry Cream Popsicles Tips:
To make it easier to remove the treat from the mold, place the mold in a warm water bath for about 30-seconds just before serving.
Want to remove the seeds, then strain the strawberry puree before placing it into the molds.
The honey or maple syrup amounts may vary. Taste test the fresh berries beforehand and adjust the sweetener according to taste.
For strawberry and cream popsicles with almond milk (or dairy milk) simply combine the milk with other ingredients as indicated in Step 2. However, the mixture doesn't need to be whipped for 5-minutes. Everything can be mixed together for about 1-minute, then move to step 3. With that being said, the layers may blend together.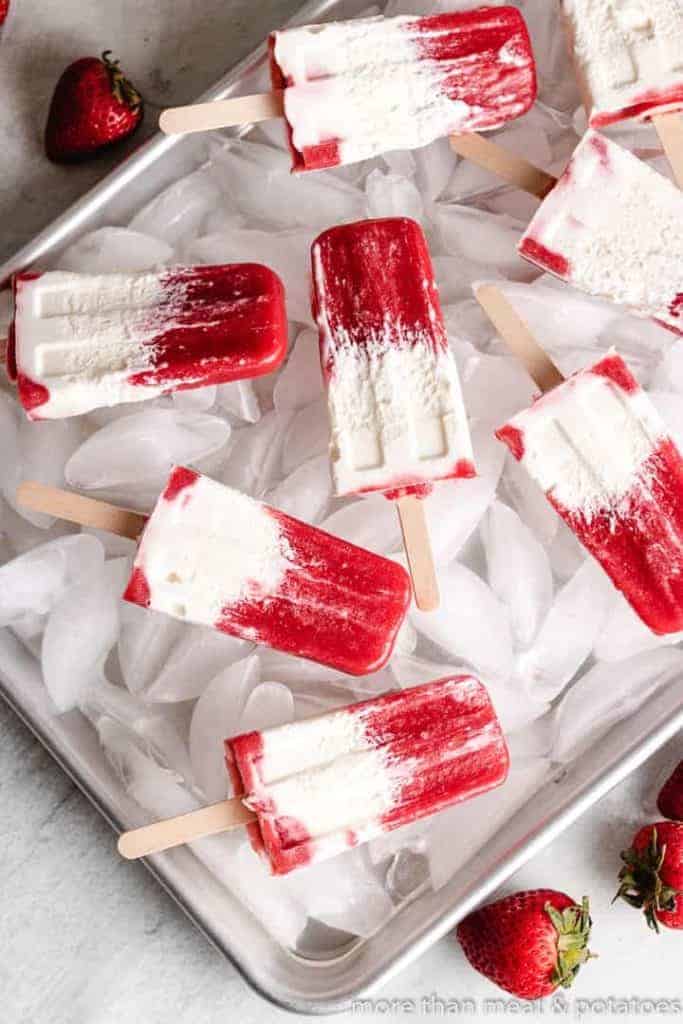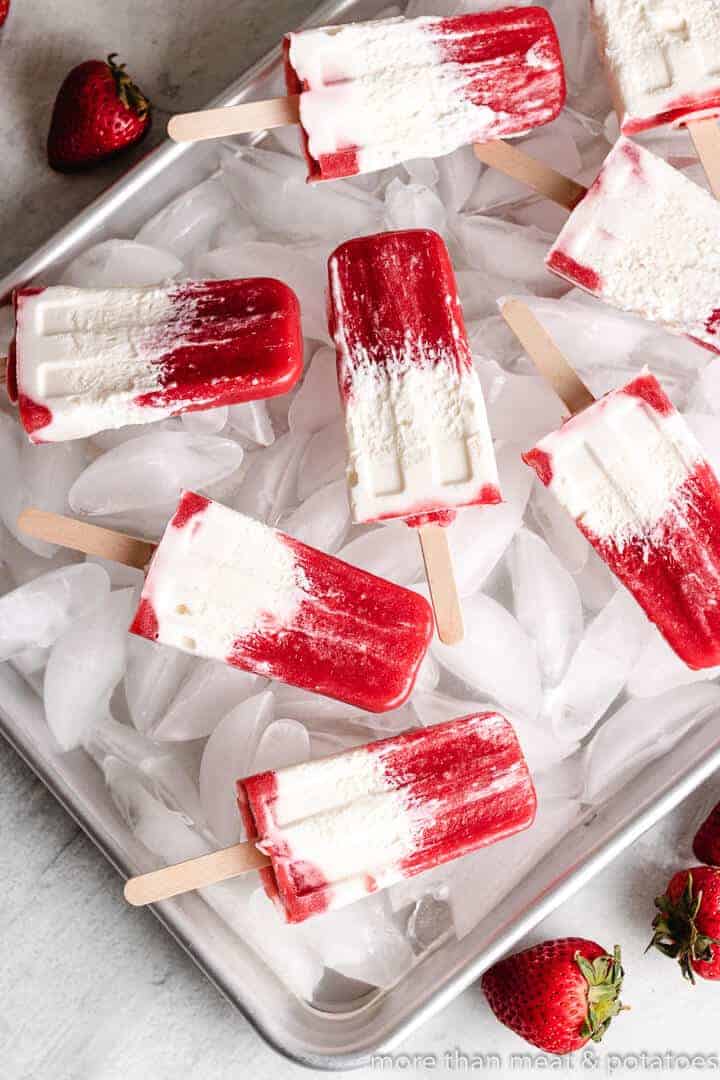 Other dessert recipes you may enjoy:
Don't forget to follow us on FACEBOOK and PINTEREST to see our newest recipes! You can also find us on Facebook, Pinterest, and Instagram searching for More Than Meat and Potatoes!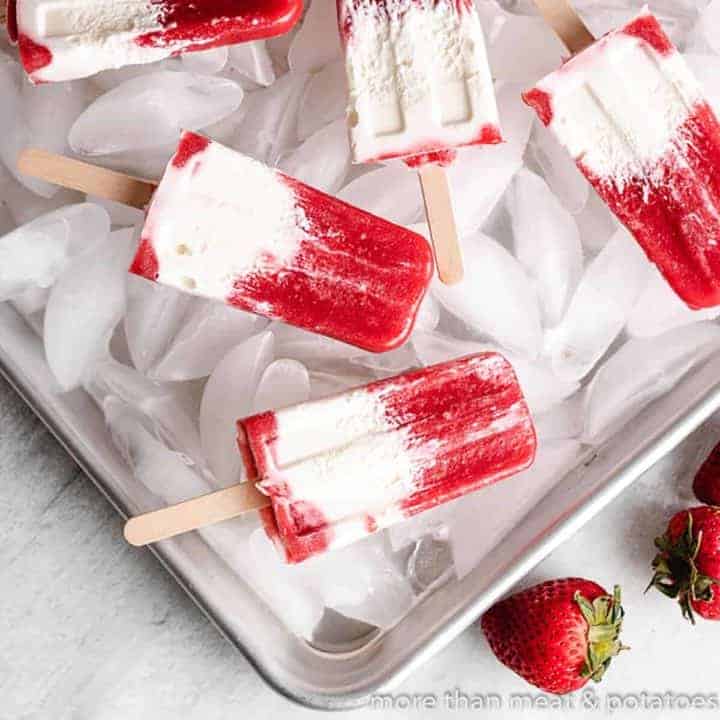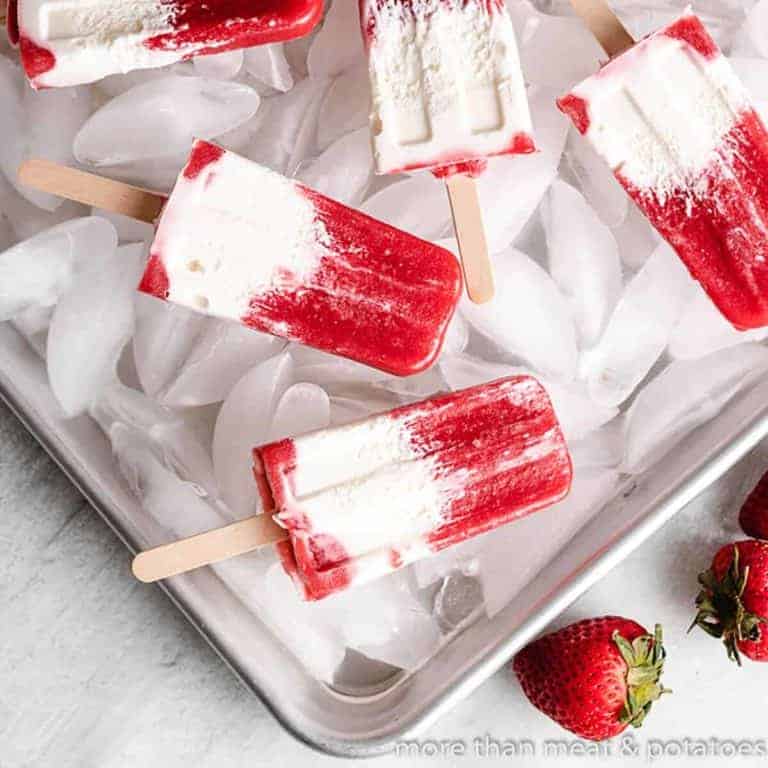 Strawberry and Cream Popsicles
Total Time:
4 hours
15 minutes
Simple homemade strawberry cream popsicles featuring fresh berries, whipped cream, and natural sweeteners. Dairy and non-dairy popsicle options included!
Ingredients
4 Cups Fresh Strawberries, washed and hulled
⅓ Cup Honey or Maple Syrup, divided
¼ Cup Water
1 Cup Heavy Whipping Cream
1 Teaspoon Vanilla
Instructions
Place the strawberries, half the honey, and water in a blender or food processor and blend until a puree forms. Set aside.
Pour the heavy whipping cream, remaining honey, and vanilla into the bowl of a stand mixer. Using the whisk attachment, beat on medium speed until soft peaks form, about 4 to 5 minutes.
Alternate pouring the strawberry mixture and the whipped cream into the cavities of popsicle molds. Cover with the plastic lid and freeze for about an hour then add the wooden sticks. Continue to freeze until fully set, another 2-3 hours.
When ready to eat, dip the mold into hot water for 20-30 seconds to loosen the popsicles.
Notes
*The frozen whipped cream has a light, airy consistency even when frozen. It doesn't freeze the same as liquid heavy whipping cream.
*For a creamier strawberry puree, strain the mixture through a mesh sieve to remove the seeds prior to pouring into molds.
*Taste the strawberries ahead of time and adjust the honey accordingly. The puree may need more or less depending on how sweetness of the strawberries.
*To use dairy milk or almond milk, simply combine the milk with remaining honey and vanilla using a whisk attachment. You don't have to beat the liquid into a soft cream stage. Just mix the ingredients and continue on with the recipe at step 3.
Nutrition Information:
Yield:

9
Serving Size:

1
Amount Per Serving:
Calories:

160
Total Fat:

10g
Saturated Fat:

6g
Trans Fat:

0g
Unsaturated Fat:

3g
Cholesterol:

30mg
Sodium:

9mg
Carbohydrates:

18g
Fiber:

2g
Sugar:

16g
Protein:

1g
The calories listed are an approximation based on the ingredients and a serving size of 1-popsicle.