Learn how to make stovetop rice pudding without eggs using our simple to follow recipe. Delicious rice pudding made with pantry staples!
Rice pudding has to be one of my favorite childhood desserts. Now, it wasn't something we made at home. Usually, I ate it when we went to eat at chain cafeteria restaurants. That's right, chain cafeteria restaurants.
Places like Luby's and Wyatt's were popular when I was kid and we ate there from time to time.
Now, is this rice pudding as good as I remembered? I would say it's even better! I adore this sweetened rice because it's flavored with vanilla (one of my favorite spices).
Best of all, it's made without eggs. Kim used Arborio rice to create this treat, so you know it's creamy. It's the same rice we use for our Mushroom risotto and Parmesan risotto. Shall we get started?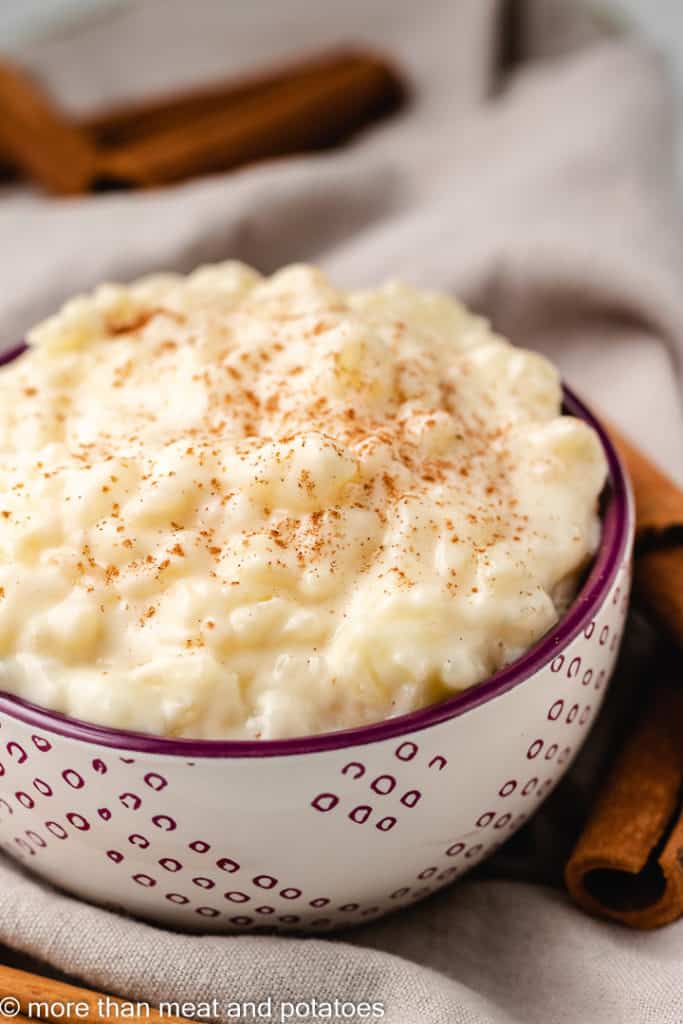 How to make stove top rice pudding without eggs?
First, place a large saucepan over medium heat. Pour in 4.5 cups of milk along with the heavy cream and sugar.
While stirring, heat the mixture until it begins to steam and the sugar has dissolved.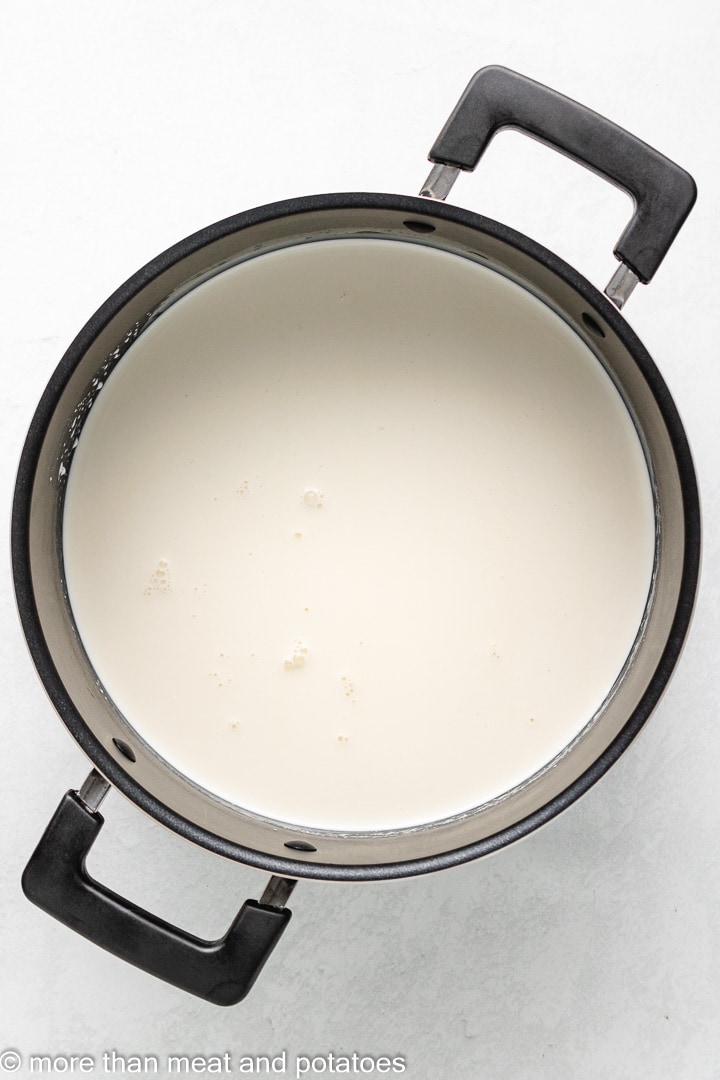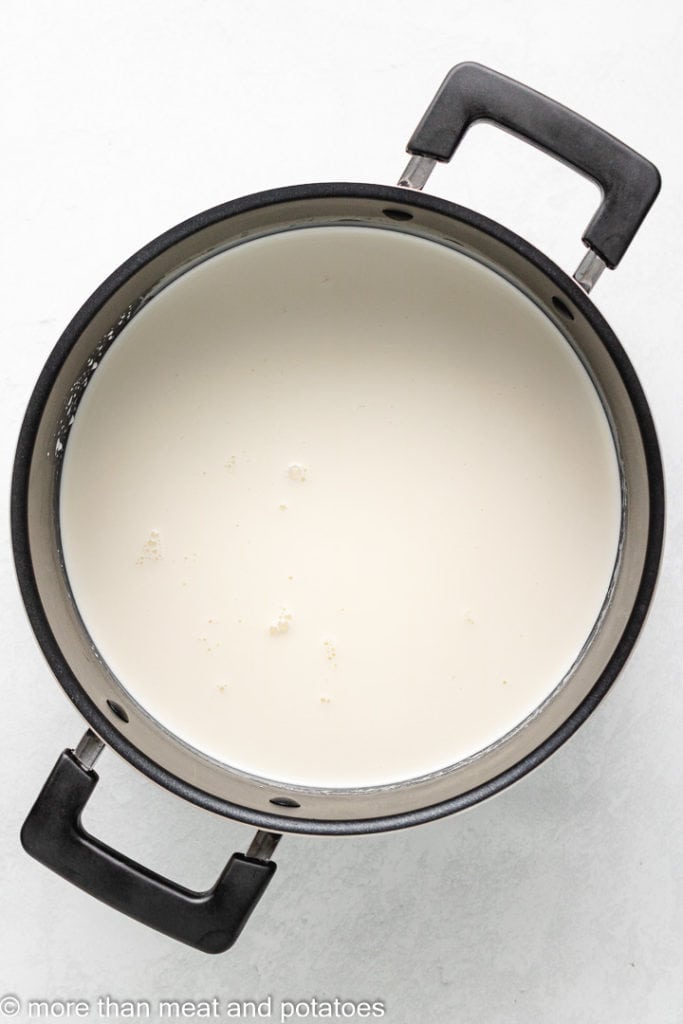 Next, stir in the rice and reduce the heat to low. Let the rice cook for about 60-minutes. However, you'll need to stir the rice every 5-minutes or so to keep it from sticking.
Then, once the rice is tender and creamy, remove the pudding from the heat and stir in the vanilla extract.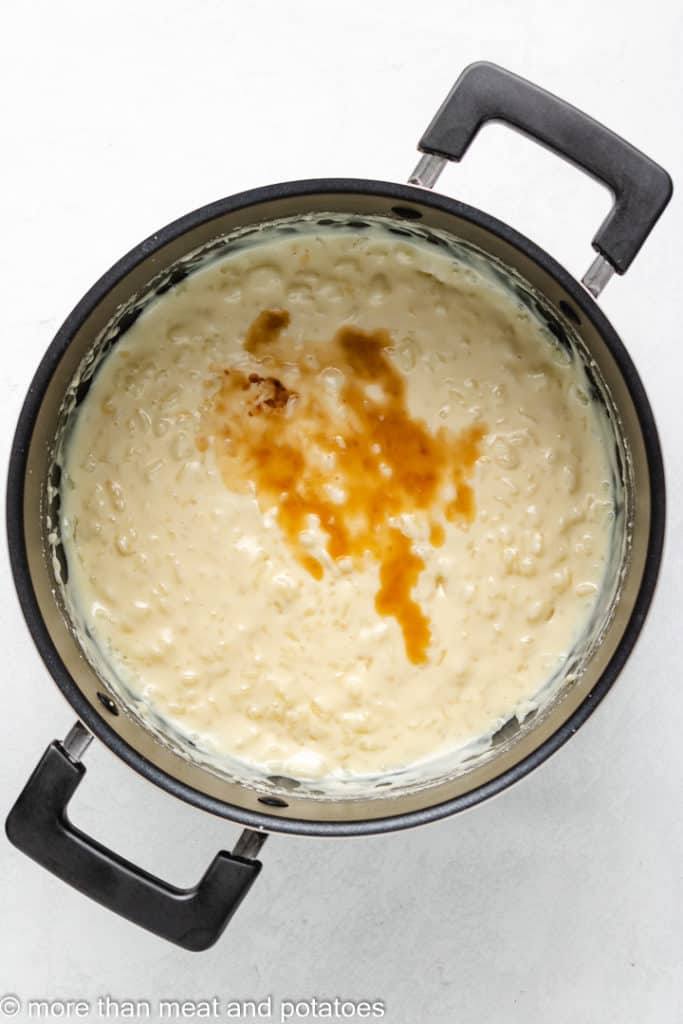 Last, just before serving, stir the remaining ½-cup of milk. Garnish with fresh ground cinnamon and serve.
That's it, your stovetop rice pudding without eggs is done! Kim and I hope you enjoy it and wish you all the best 🙂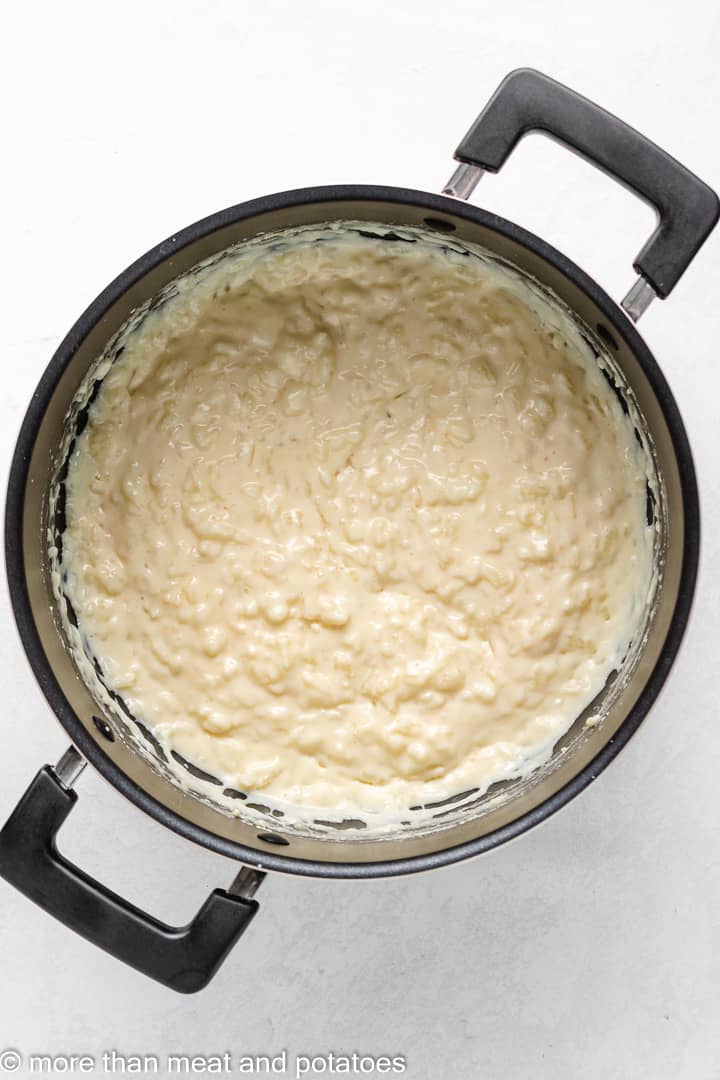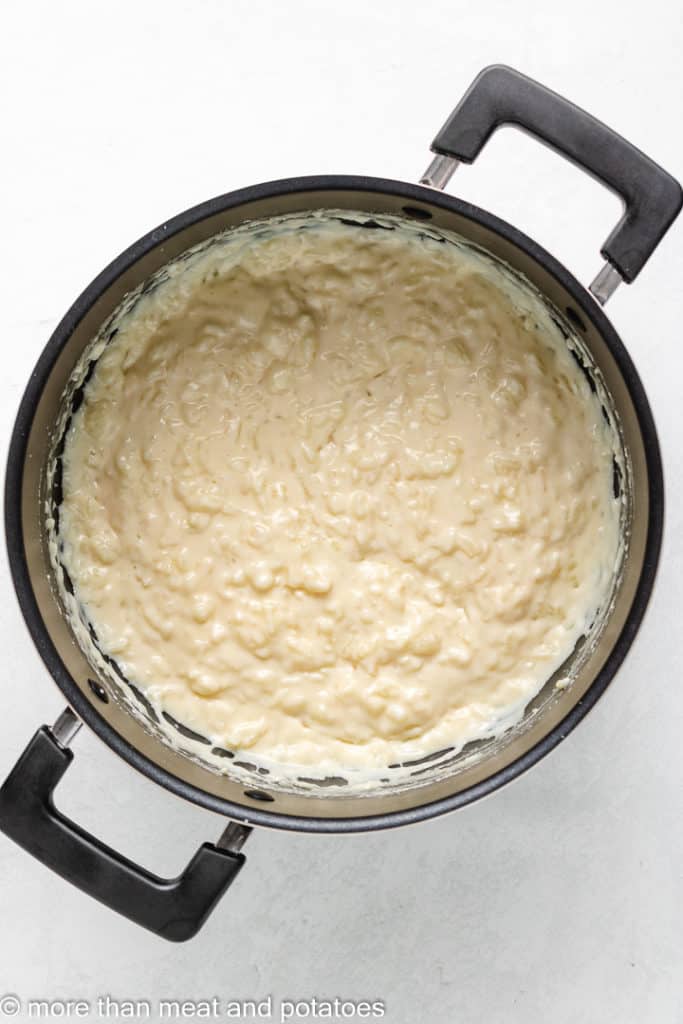 Recipe Tips
Do NOT bring the cream and milk mixture to a boil or it will separate.
For people interested in making no milk, no egg rice pudding, consider using cream of coconut in place of the heavy cream and coconut milk in place of the dairy milk.
Keep an eye on the dessert as it cooks. Similar to working with risotto, you don't want to leave this dish unattended. Otherwise, it could stick and burn.
The use of raisins in this recipe is optional. If you want them plump and softened, then I recommend adding them at the beginning to give the fruit time to rehydrate.
How do you thicken rice pudding without eggs?
You have two options. The first option is to use a cornstarch slurry. However, I don't care for this process.

Option number two is use Arborio rice from the start and omit the eggs. This variety of rice is used in risottos and it's great for absorbing liquids. Additionally, has a natural creaminess that standard white rice just can't copy.
How long does rice pudding last?
When properly stored, in a sealed container, in your fridge it should hold for about 3 days.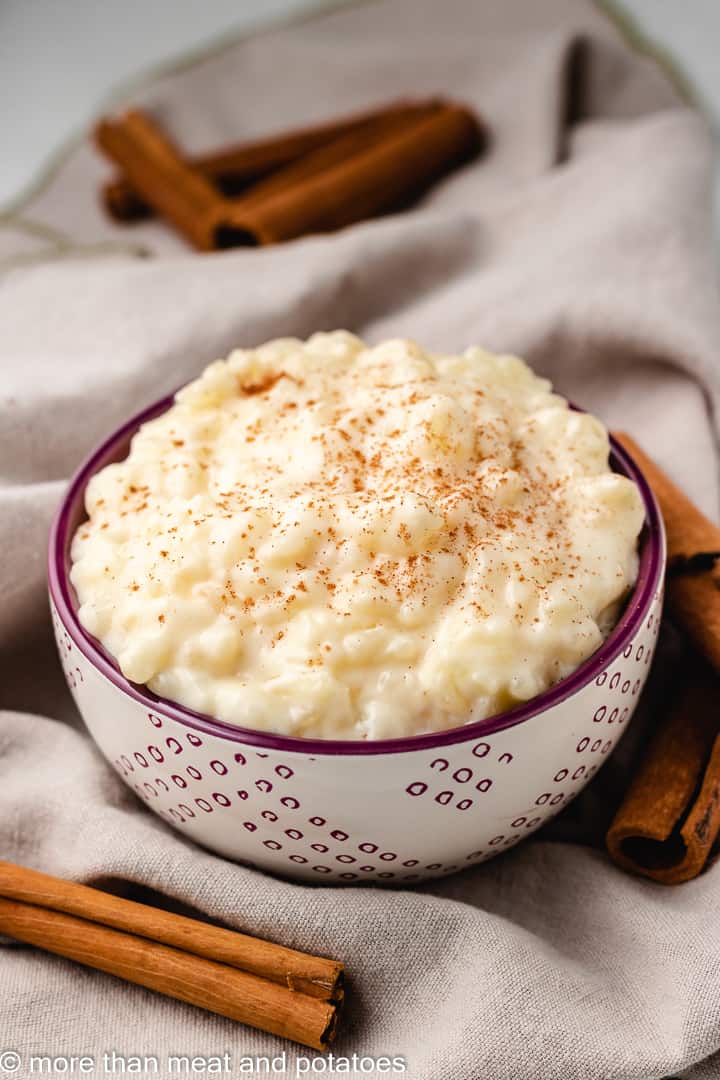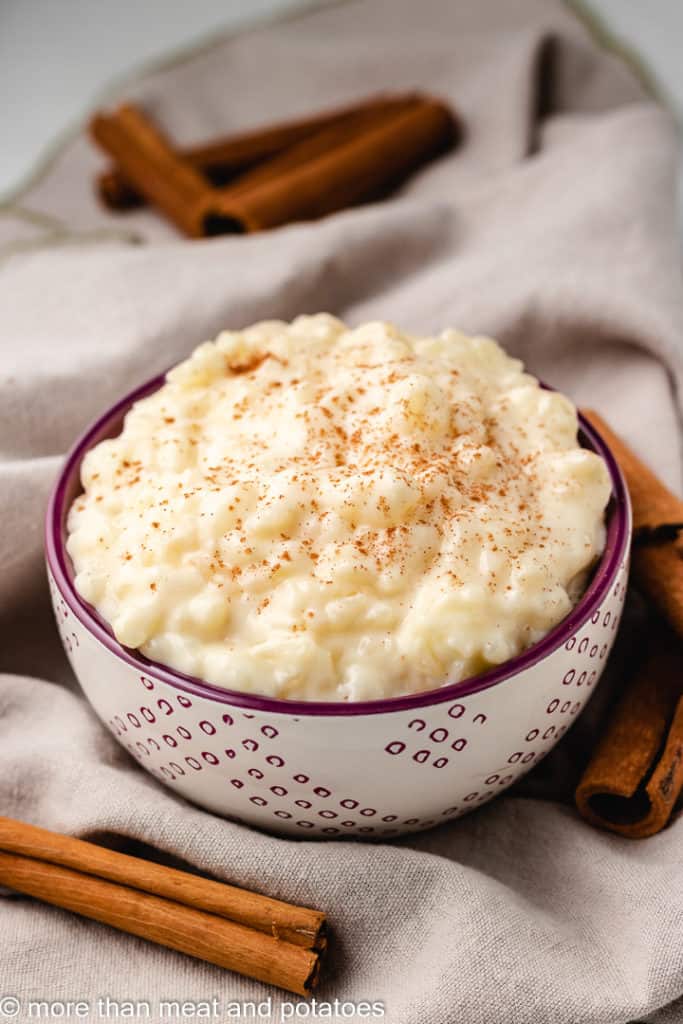 Recipe Card with Ingredient Amounts and Instructions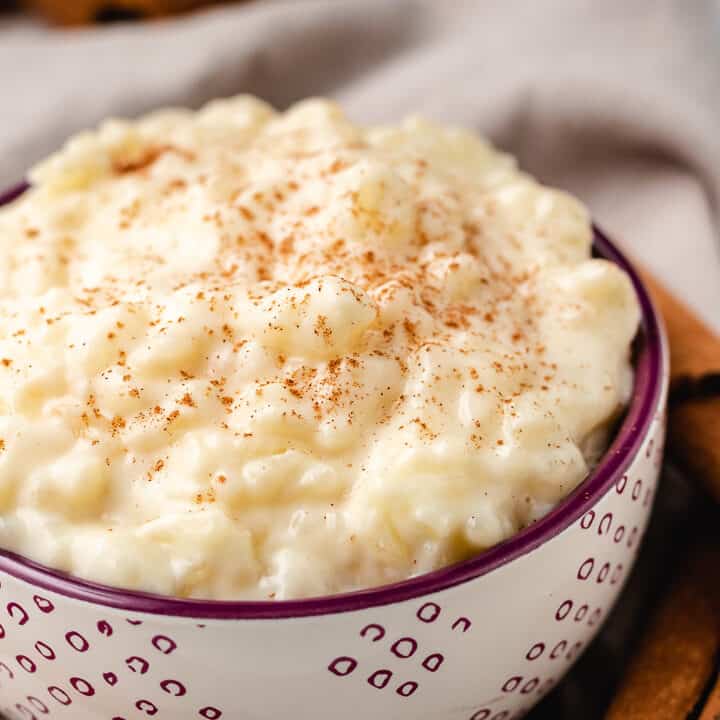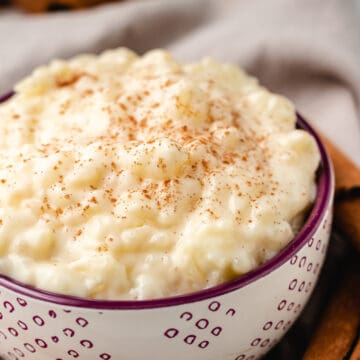 Ingredients
5

cups

whole milk

,

divided

1

cup

heavy cream

½

cup

granulated sugar

½

teaspoon(s)

kosher salt

½

cup

arborio rice

2 ½

teaspoon(s)

pure vanilla extract

Ground cinnamon

,

for garnish

Raisins

,

optional
Instructions
In a large saucepan, combine 4 ½ cups of milk, heavy cream, sugar, and salt. Bring to a steep over medium heat, and stir until the sugar dissolves.

1 cup heavy cream

½ cup granulated sugar

½ teaspoon(s) kosher salt

Add the rice, and stir to combine. Reduce the heat to low, and cook the rice at a simmer. Stir every 5 to 7 minutes, or more often if necessary, to ensure the rice isn't sticking or cooking too quickly.

Cook for 55 to 65 minutes until the rice thickens and is tender. Remove from the heat, and add the vanilla. Stir in the remaining ½ cup of milk just before serving. Garnish with ground cinnamon and raisins, if using

2 ½ teaspoon(s) pure vanilla extract

Serve warm or cold. Store leftovers in the refrigerator for up to 3 days.
Notes
*The calories listed are an approximation based on the ingredients in the recipe card and a serving size of ½-cup of the rice pudding. Actual calories will vary.
*For more information and tips, please refer to the post.
Nutrition
Serving:
0.5
cup
Calories:
278
kcal
Carbohydrates:
29
g
Protein:
6
g
Fat:
16
g
Saturated Fat:
10
g
Polyunsaturated Fat:
5
g
Cholesterol:
49
mg
Sodium:
207
mg
Sugar:
24
g