This Pink Drink Copycat Recipe is my version of a Starbucks favorite! It's perfectly sweet, full of berry flavor, and topped with creamy coconut milk. Just 5 ingredients and 5 minutes to make!
Our Pink Drink recipe is a cold, refreshing drink that is the perfect blend of berry and coconut flavors. You'll want to add this copycat drink to your Summer drink menu.
We love to rotate it out with our peach tea, basil lemonade, and strawberry basil lemonade.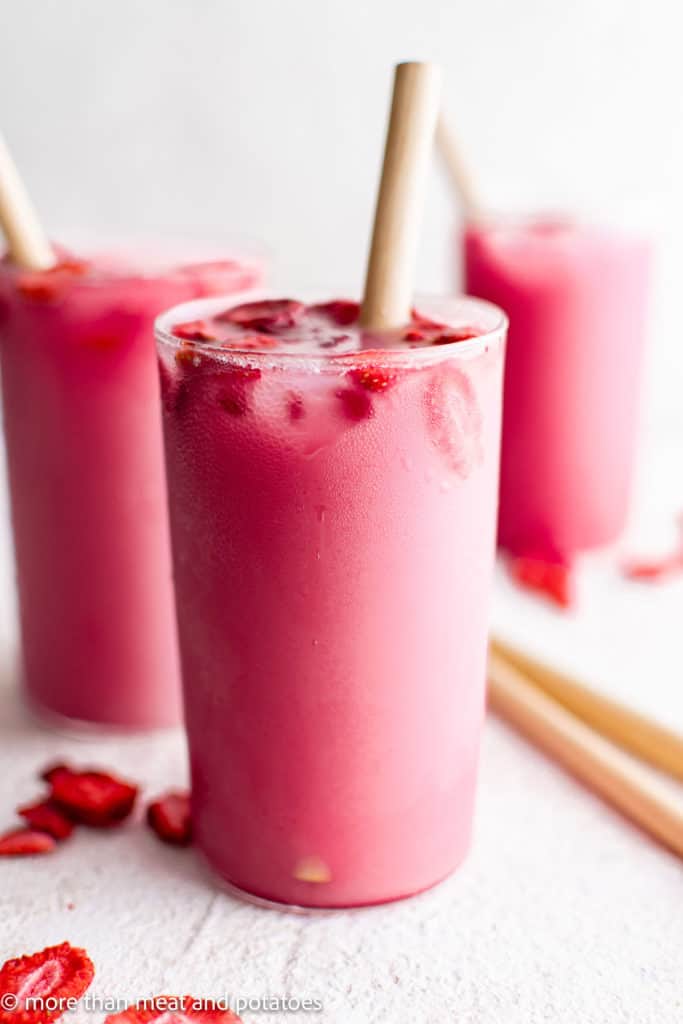 Easy Copycat Starbucks Pink Drink Recipe
I love anything coconut and berry flavored…and this Pink Drink Recipe is the perfect balance of the two. It's cold, sweet, refreshing, and so tasty.
Not to mention the fact that it is soooo pretty! I mean, look at that gorgeous pink color! You'll definitely want to add this copycat Starbucks drink to your summer drink menu.
And bonus: it saves you money too! Making a pink drink at home is a whole lot cheaper than getting it at Starbucks! Win win!
Starbucks Pink Drink Ingredients
This homemade pink drink is an easy recipe that anyone can make. You'll find the exact amounts of each ingredient and the instructions further down the page.
Passion Tea: You'll need Passion Herbal Tea plus 8 ounces of water to brew the tea. Each serving is in an individual tea bag making it simple to make. It's a passion fruit and hibiscus tea that adds the perfect amount of flavor to this delicious drink.
Freeze-Dried Strawberries: Freeze-dried strawberries are a classic addition to a pink drink. They rehydrate when added to the tea and make the drink look extra pretty!
Simple Syrup: Simple syrup is a 1:1 ratio of granulated sugar and water. Simply simmer on the stove until the sugar is dissolved. You don't need much sweetener for this recipe, so I recommend making about ¼ cup total.
Coconut Milk: I recommend sweetened coconut milk from a carton. If you prefer an unsweetened or lightly sweetened drink, grab unsweetened coconut milk instead.
Optional Ingredients: Ocean Spray White Cran-Strawberry Juice or White Grape Juice make great additions to this drink. Both add additional sweetness. If you decide to add one, taste before using the simple syrup.
How to Make a Pink Drink
Scroll to the recipe card below for full instructions and ingredient amounts!
This refreshing drink takes just a few minutes to come together!
Brew the tea then pour over the freeze-dried strawberries to rehydrate. Add the simple syrup and stir again.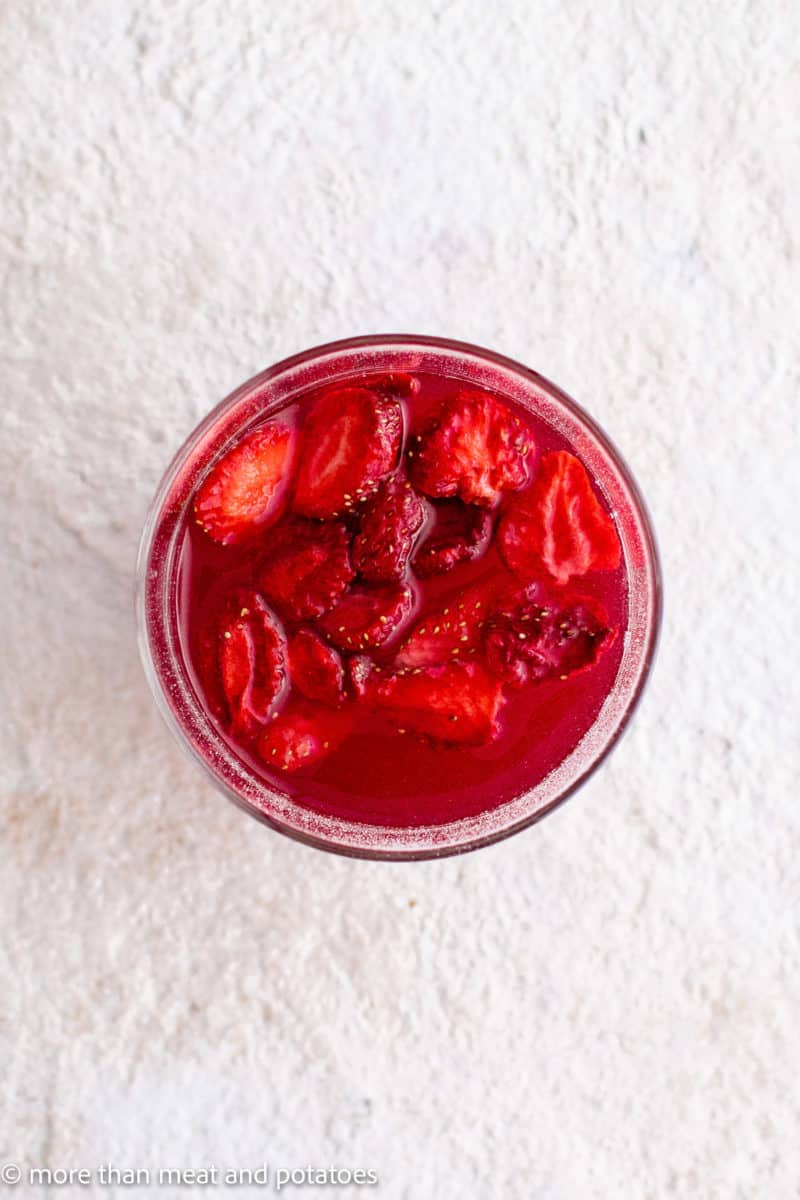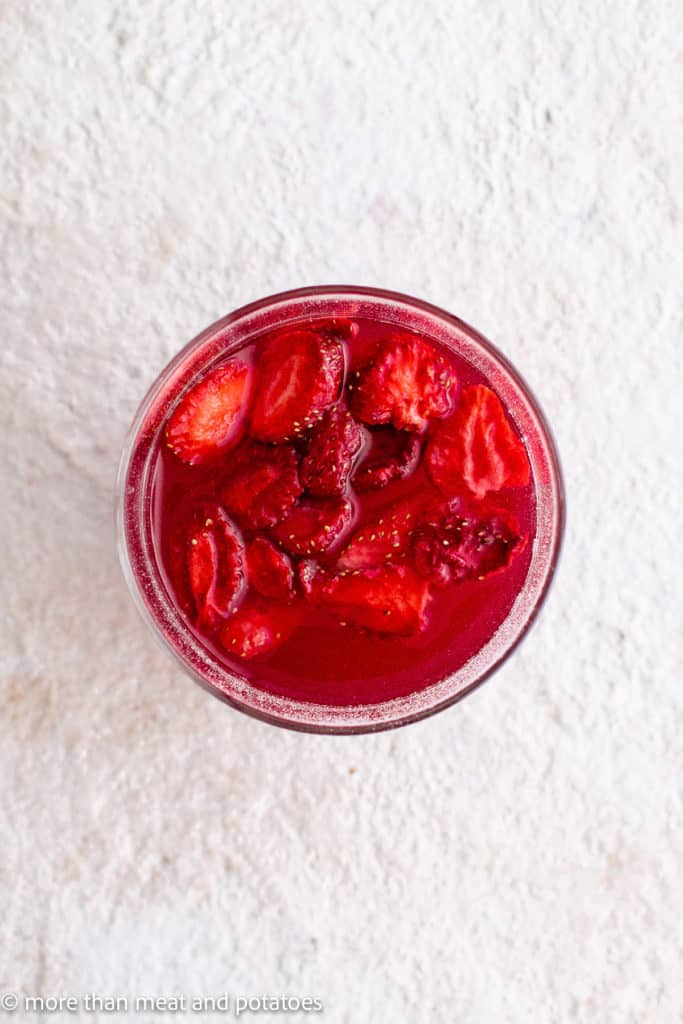 Add ¼ cup of coconut milk, or more to taste, then serve over ice!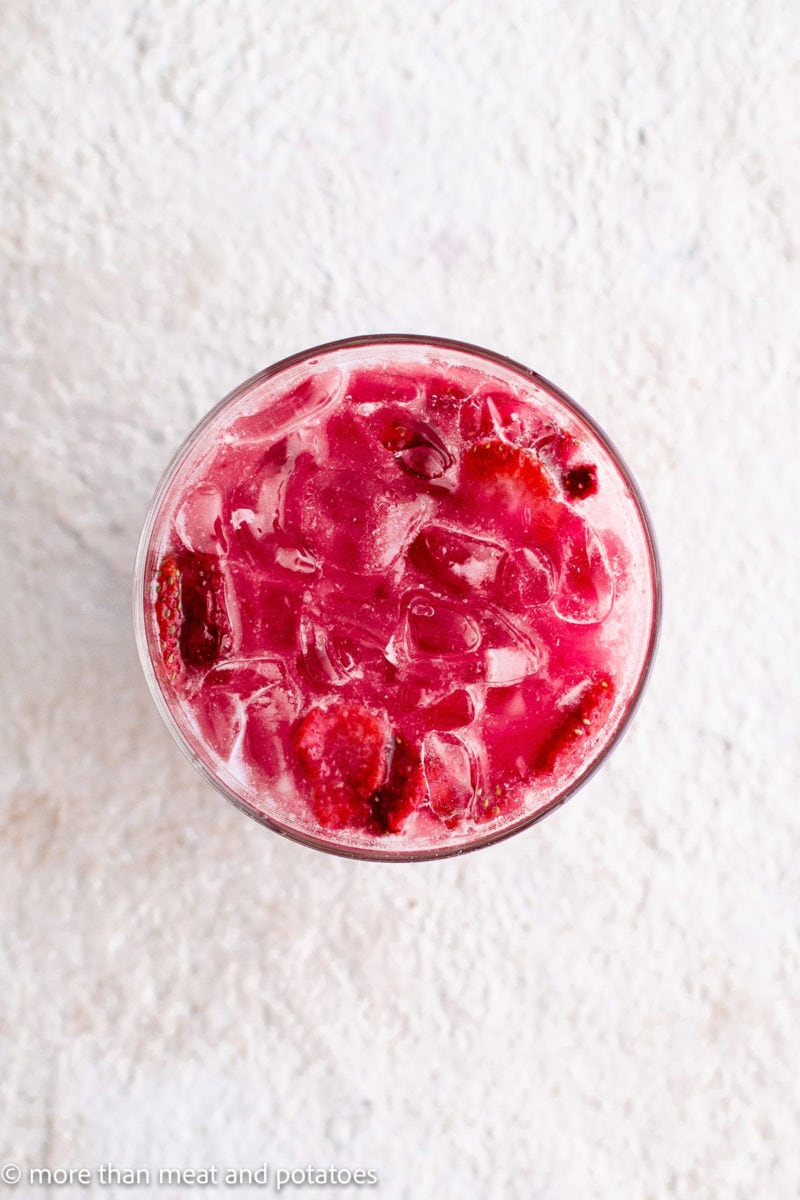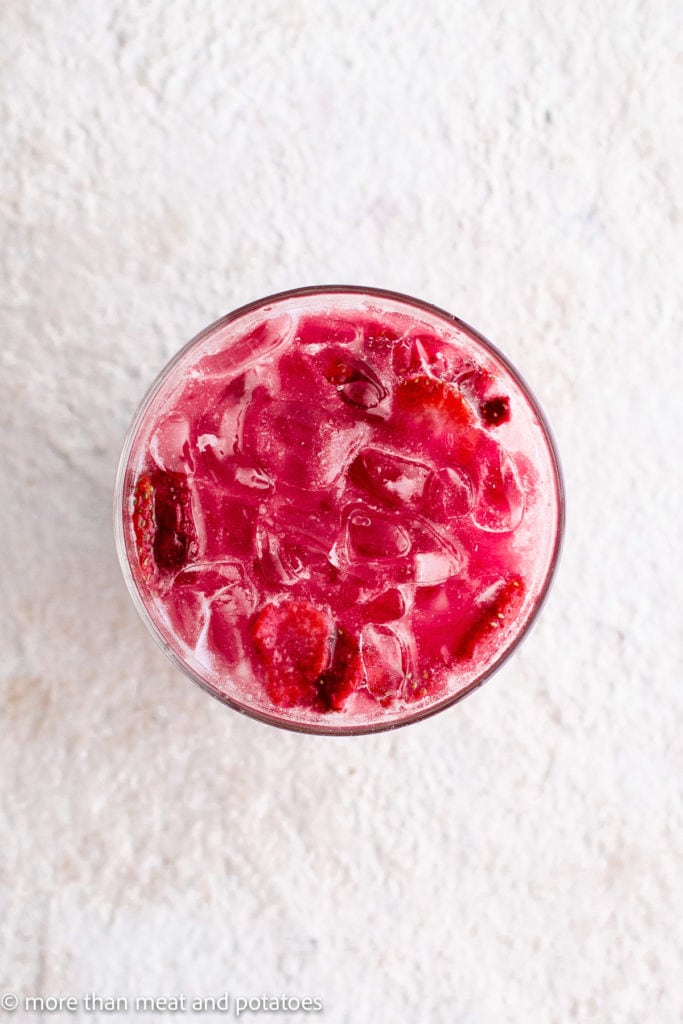 Tips and Notes
Don't go overboard on the coconut milk. I recommend starting with ¼ cup or so, then adding more only as needed. If you go over ½ cup, the bright pink color will start to turn more purple.
Customize the flavor. Feel free to play around with ingredient amounts depending on your flavor preferences. Add more or less sweetener, milk, an extra bag of passion tea…just make it your own!
Making it for a crowd? Try doubling, tripling, or quadrupling the recipe. Simply mix everything up in a pitcher, then pour it over ice when you're ready to serve!
Prefer fresh strawberries? The dehydrated/freeze-dried strawberries work great for this recipe, but fresh will work too! Make sure to remove the stems, hull the berries, then cut or slice them into small pieces before adding them to the drink.
Storage
I don't recommend storing this drink. It's best served immediately after it's prepared!
If you do want to prep it a little bit ahead of time, you can mix all of the ingredients together without the ice. Store the drink in the fridge, then pour it over ice when you're ready to enjoy!
What is the Pink Liquid from Starbucks?
A classic Starbucks' pink drink is made with a strawberry acai base, coconut milk, and freeze-dried strawberries.
This recipe veers slightly off the traditional Starbucks recipe. Our recipe uses Tazo brand Passion Herbal Tea bags. But don't worry, it's just as tasty and looks just as pretty!
What Milk is a Pink Drink Made Of?
The Starbucks pink drink is traditionally made using coconut milk, which is what I usually prefer to use!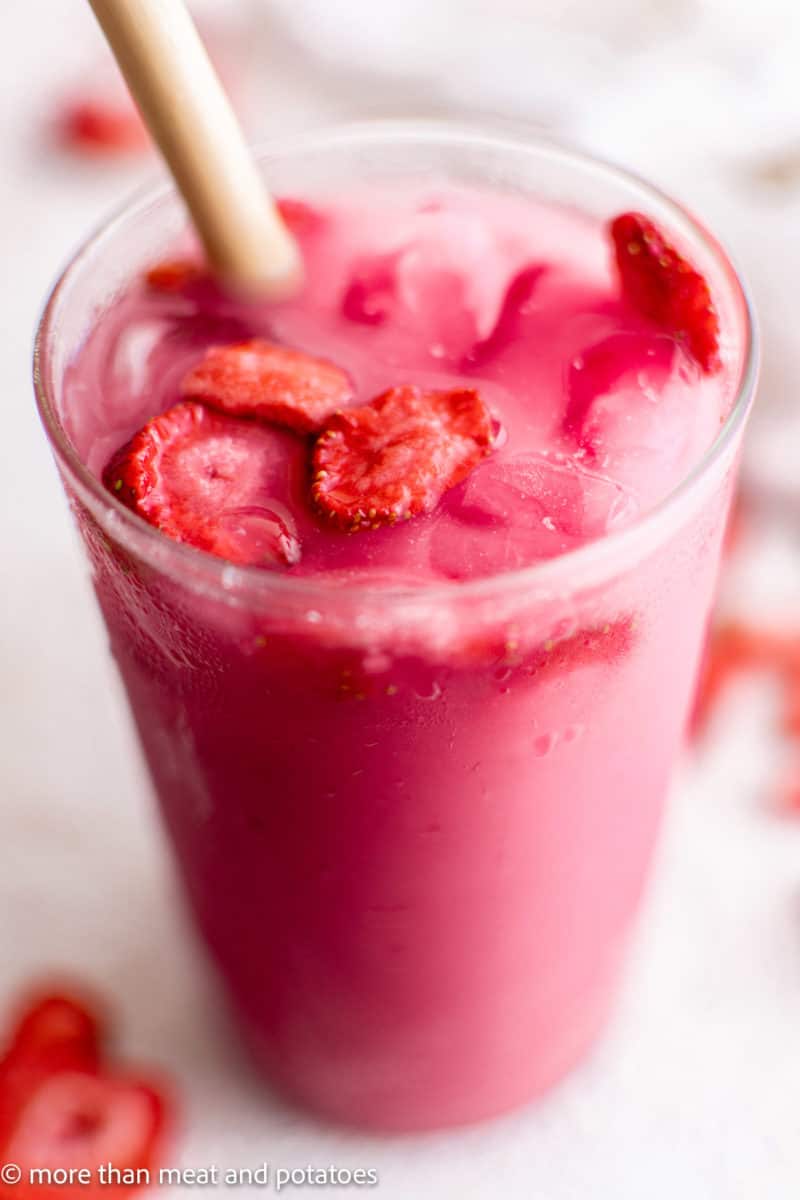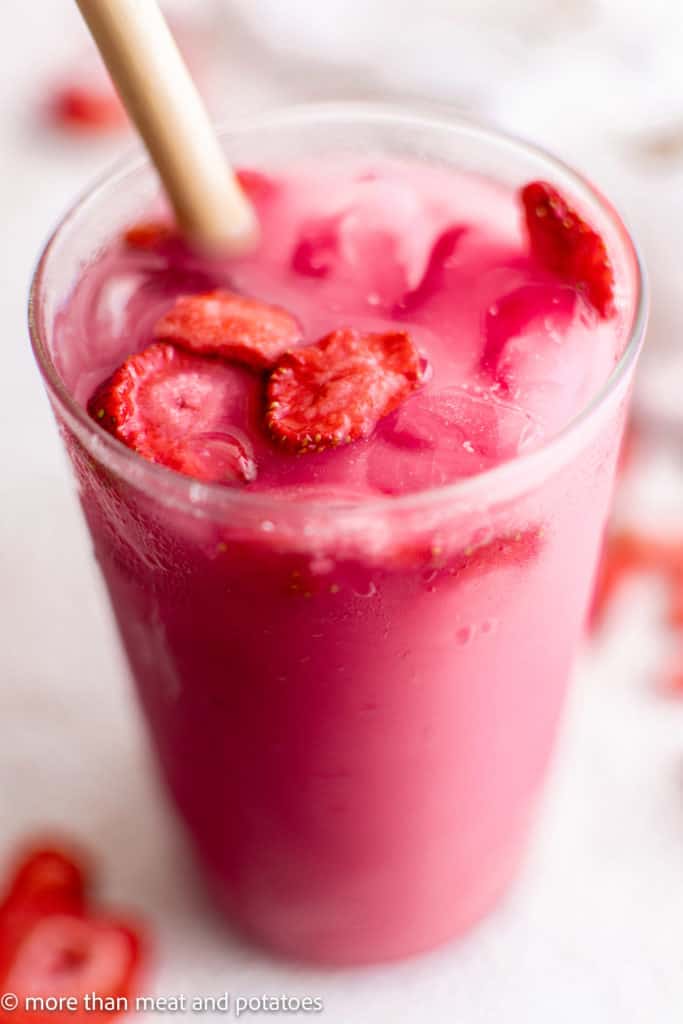 Can You Use a Different Kind of Milk Other Than Coconut Milk?
Yes, you can use a different kind of milk, although the taste and texture will vary somewhat from the original. The key is to choose a milk that you enjoy and that aligns with your dietary needs or preferences.
Milk alternatives like almond milk, oat milk, or soy milk can work well. Each will impart a slightly different flavor and texture, so it might be worth experimenting to find what you like best.
Bear in mind that dairy milk may not provide the same light, fruity flavor profile as plant-based milks.
And, if you're trying to replicate the look of the pink drink as well as the taste, remember that some milks might not give the same distinctive pink color when mixed with the freeze-dried strawberries and passion tea.
Is There a Way to Reduce the Sugar Content in a Pink Drink Copycat Recipe?
Yes, the best ways to reduce the sugar are to use unsweetened coconut milk and/or reduce or omit the simple syrup.
On the other hand, if you'd like a sweeter drink, add extra simple syrup.
Can You Use Fresh Strawberries Instead of Freeze-dried Strawberries?
Yes, you can use fresh strawberries instead of freeze-dried strawberries. Fresh strawberries will provide a bright, fresh flavor and could potentially add more natural sweetness to the drink.
To use fresh strawberries, you can slice them and add them directly to the drink, or muddle them at the bottom of the glass before adding the other ingredients to create a more infused strawberry flavor.
Another method is to puree the strawberries and strain the mixture to create a juice that can be added to the drink.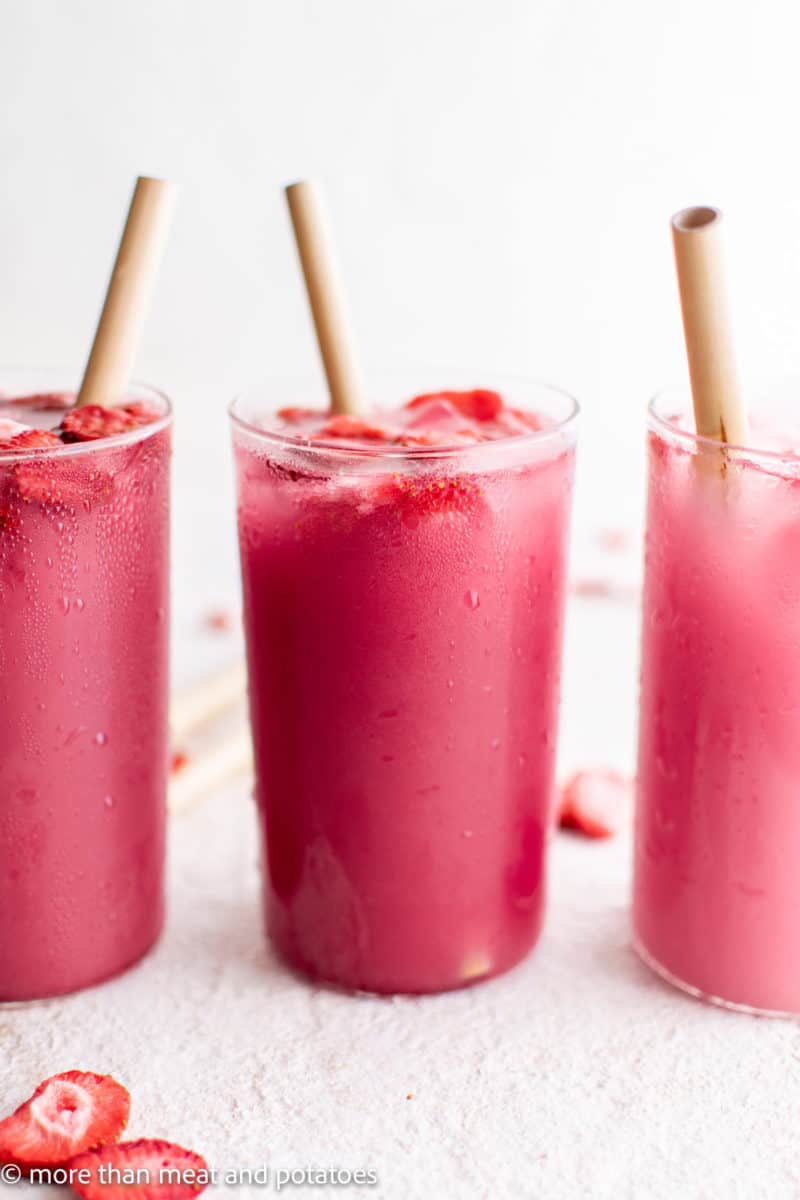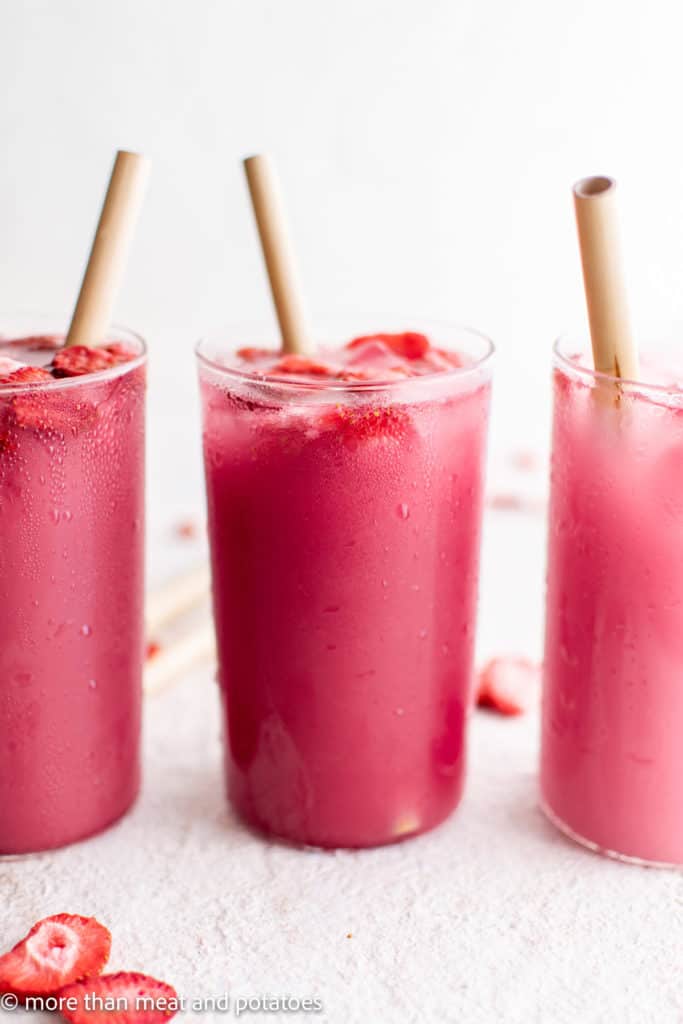 Is the Pink Drink Vegan?
Yes, it's considered to be vegan.
The drink is made with Strawberry Acai Refreshers base, which is a mix that includes green coffee extract, sugar, and natural flavors. This is combined with water, coconut milk (a plant-based milk), and freeze-dried strawberries.
Our version, made as written, is also vegan.
Does the Pink Drink Have Coffee?
No, it does not contain coffee or espresso. This popular drink gets its caffeine content from the green coffee extract found in the Strawberry Acai Refreshers base.
Green coffee extract is derived from unroasted coffee beans, but it does not taste like traditional, roasted coffee.
More Drink Recipes to Try
Recipe Card with Ingredient Amounts and Instructions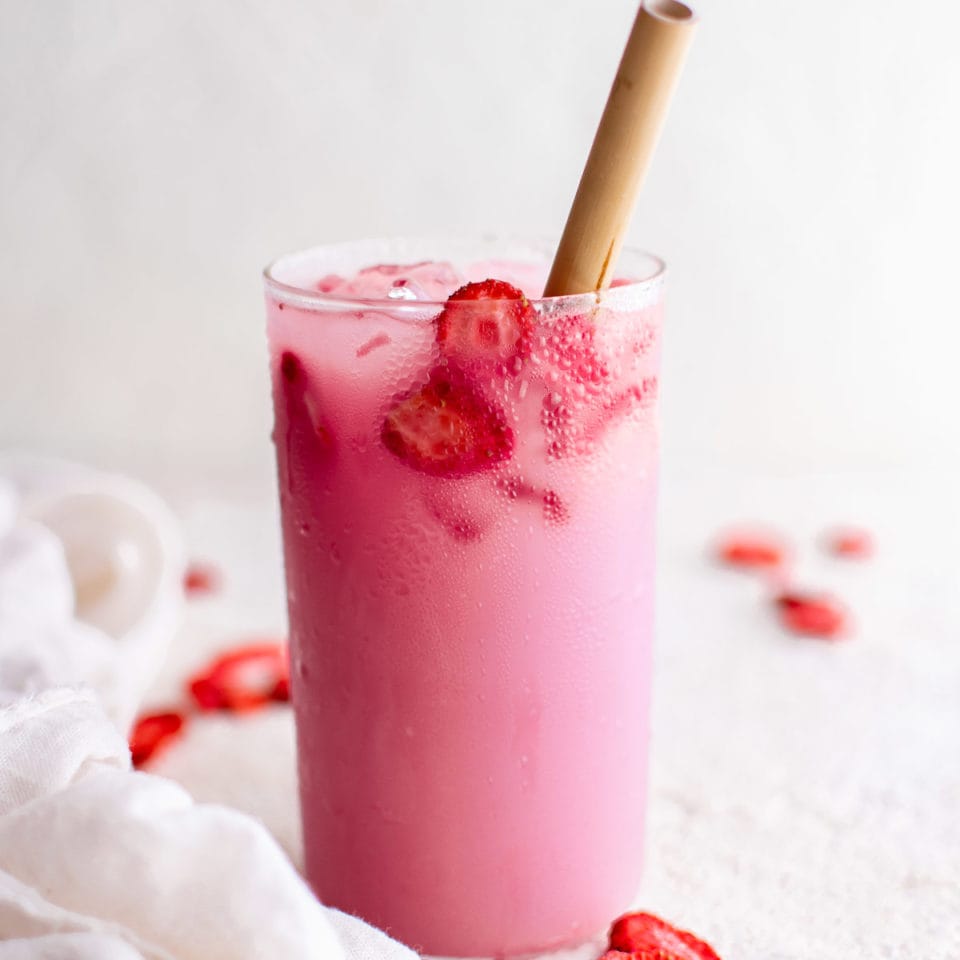 Ingredients
1

Passion Herbal Tea Bag,

plus enough water to brew the tea (*See Note)

8

ounces

water

,

for brewing the tea

¼

cup

freeze-dried strawberries

,

or freshly sliced strawberries

2

teaspoon(s)

simple syrup

,

homemade or store bought

¼ to ½

cup

sweetened coconut milk

Ice

,

for serving the drink
Instructions
Brew the tea then pour over the freeze-dried strawberries to rehydrate. Add the simple syrup and stir again.

1 Passion Herbal Tea Bag

¼ cup freeze-dried strawberries

2 teaspoon(s) simple syrup

8 ounces water

Add ¼ cup of coconut milk, or more to taste, then serve over ice!

¼ to ½ cup sweetened coconut milk

Scroll up and see the post for FAQs, tips, and storage information.
Notes
*The calories listed are an approximation based on the ingredients in the recipe card and a serving size of approximately 1 (10-12 ounce) drink. Actual calories will vary.
*For more information, tips, and answers to frequently asked questions, please refer to the post.
*Please note, we've updated this recipe as of 5/18/23. We are no longer able to locate Starbucks VIA Instant Refreshers™ Very Berry Hibiscus tea packets. Instead, we now use Tazo PASSION® tea bags.
*Photos courtesy of Karla Rae Photography.
Nutrition
Serving:
12
ounces
Calories:
379
kcal
Carbohydrates:
64
g
Protein:
1
g
Fat:
12
g
Saturated Fat:
11
g
Polyunsaturated Fat:
0.1
g
Monounsaturated Fat:
1
g
Sodium:
15
mg
Potassium:
922
mg
Fiber:
7
g
Sugar:
50
g
Vitamin C:
723
mg
Calcium:
25
mg
Iron:
15
mg