Oven roasted carrots flavored with fresh dill and other spices to create a savory side dish with a slight touch of natural sweetness from the carrots.
Nothing completes a pork loin or grilled chicken breast like a roasted vegetable. Pairing a naturally sweet side dish with pork or poultry is always a good idea.
For today's recipe we're sharing our oven roasted carrots (not to be confused with oven baked carrots).
Kim and I are going to show you how to roast carrots with a blend of seasonings to create the perfect side dish.
If you'd like to make another side to serve with this one, then consider making roasted Brussels sprouts. As we all know, oven roasted potatoes and carrots make a wonderful combination.
Recipe Notes:
Before we get started, there are few things I want to go over. First, carrots cooked in the oven will always shrink in size.
So, if you need a lot, then consider doubling the recipe. Secondly, if see a spice you don't like, sub it out or omit it.
It's the same advice I gave for your boneless skinless chicken breast recipe. See a seasoning you don't like, get rid of it.
That's part of the cooking experience. Any person familiar with meal preparation will tell you, substitutions are a natural thing.
Don't be afraid to experiment and find new flavor combinations. No recipe is original and all them have been adapted to fit someone's personal tastes.
Now, let's get cooking!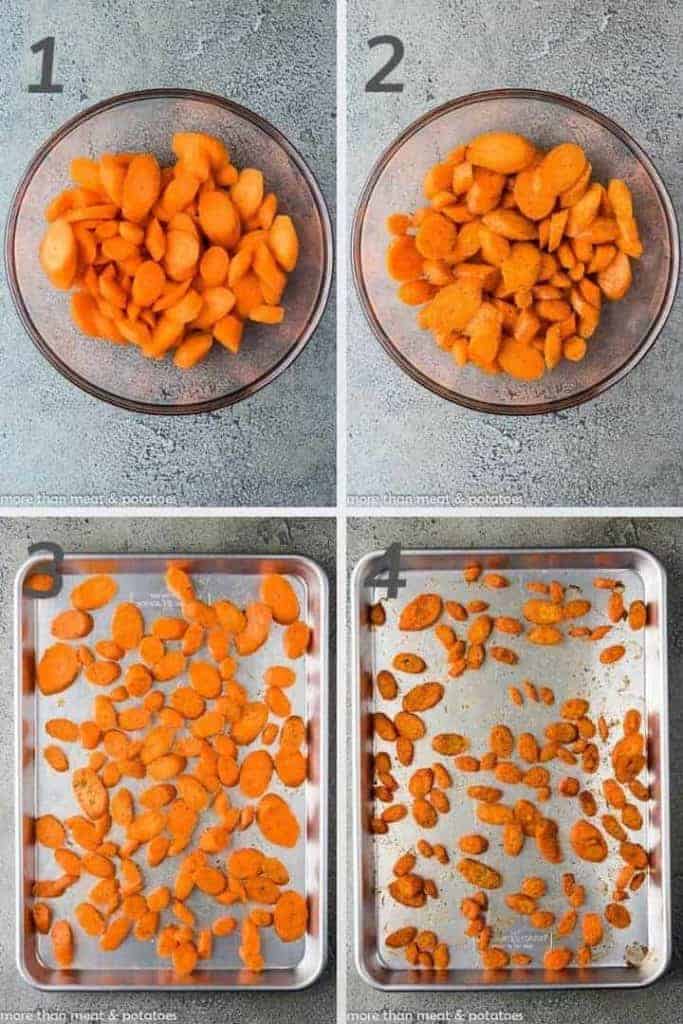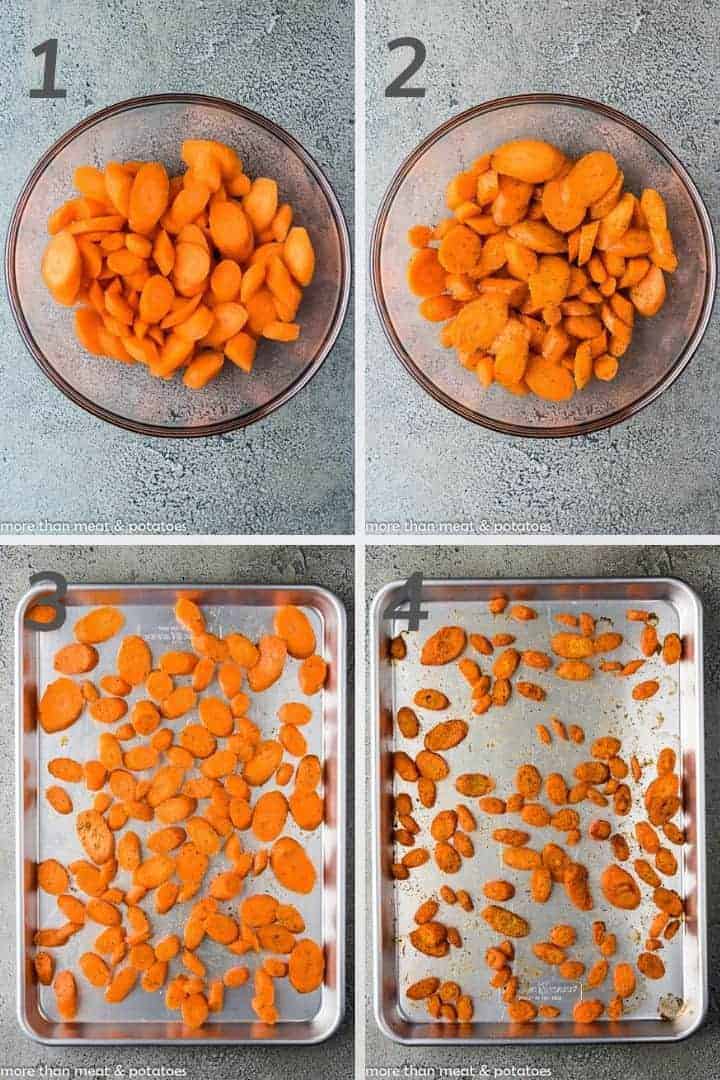 How to roast carrots?
As you can see from the collage above, they're only a few steps to making carrots in your oven.
First, start by washing, drying, and peeling the carrots. We use a potato peeler to remove the skin.
Next, slice the root vegetable diagonally into circles that are about an inch thick. If you're using fresh dill, go ahead and chop it.
Slicing the carrots any thicker will prevent them from properly roasting, any thinner and they'll be over cooked.
After that, place the slices into a bowl and toss them with the olive oil, salt, fresh dill, garlic powder, and pepper.
Then, move the carrots to a large sheet pan and spread them out into an even layer. See the photo below.
Try not to bunch them up. You want the heat to circulate around each slice for proper roasting.
Let the carrots roast in the oven for about ten minutes. Now, use a spatula to flip them and place them back into the oven for another twelve minutes.
Last, remove them from the oven and transfer them to a serving dish. You're recipe is ready to serve!
We hope you enjoy this roasted carrots recipe and if you have any questions or concerns, use our Contact Us page 🙂
Do you peel carrots before roasting?
We usually do because, when roasting root vegetables, you want those natural sugars to come to the surface of the veggie.
The skin can prevent this from happening and keep the carrots (or any other vegetable) from properly cooking. Even when roasting whole carrots, you should peel them.
How do you cut carrots for roasting?
Once peeled, cut them diagonally to create circular pieces. When roasting, you want to cook as much surface area as you can. Cutting them in this fashion allows for most of the root veggie to be exposed to the high heat.
Oven Roasted Carrots Recipe
Oven roasted carrots flavored with fresh dill and other spices to create a savory side dish with a slight touch of natural sweetness from the carrots.
Ingredients
1 Pound Carrots
1/4 Teaspoon Salt
¼ Teaspoon Garlic Powder
1/8 Teaspoon Pepper
Instructions
Preheat the oven to 425 degrees F.
Peel the carrots and cut off the ends. Cut the carrots into 1-inch slices on a diagonal then place them into a medium sized bowl. If using fresh dill, chop it now.
Drizzle the carrots with olive oil. Add the salt, dill, garlic powder, and pepper. Toss to combine.
Transfer the carrots to a baking sheet and arrange in an even layer. Bake for 10 minutes then flip. Bake for an additional 10 to 15 minutes or until the carrots reach desired doneness.
Serve warm.
Notes
The carrots will shrink in size considerably while roasting. Consider doubling the recipe if you need a large amount.
Recommended Products
As an Amazon Associate and member of other affiliate programs, we may earn a commission from qualifying purchases.
Nutrition Information:
Yield:

4
Serving Size:

1/2 Cup
Amount Per Serving:
Calories:

70
Total Fat:

4g
Saturated Fat:

1g
Trans Fat:

0g
Unsaturated Fat:

3g
Cholesterol:

0mg
Sodium:

198mg
Carbohydrates:

10g
Fiber:

3g
Sugar:

4g
Protein:

1g
The calories listed are an approximation based on the ingredients and a servings size of 1/2 a cup of roasted carrots. Actual calories will vary.