Our gingerbread cookies without molasses recipe features spiced gingerbread cookies topped with a simple homemade icing!
At More Than Meat and Potatoes, desserts aren't really my specialty. For those, you'd need to visit Berly's Kitchen. However, we do realize it's the holidays and seasonal desserts are the norm. For example, we've made a cranberry cheesecake, hot chocolate cupcakes, and a gingerbread Bundt cake.
We usually make a small red velvet cake for Valentine's Day, too. Today, Kim decided to prepare a simple gingerbread cookies recipe made without molasses. This recipe is perfect for people who either cannot eat or don't care for molasses
It creates a slightly sweetened cookie without an overwhelming flavor. Best of all, the texture remains soft and chewy. This is true even after they've been stored for a few days.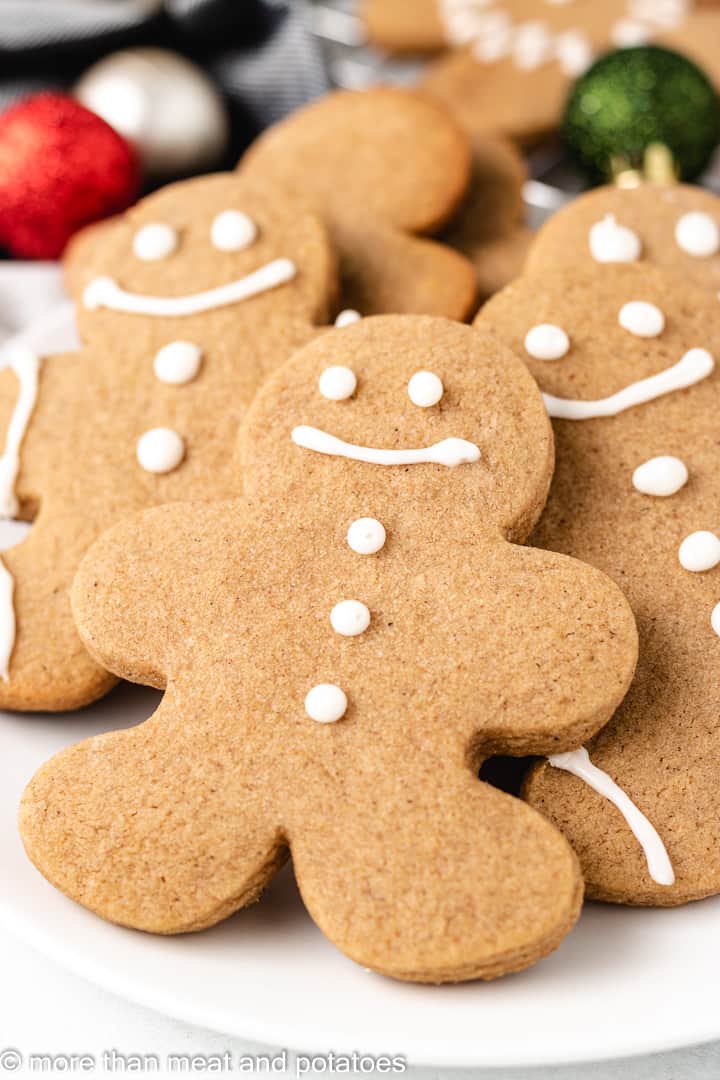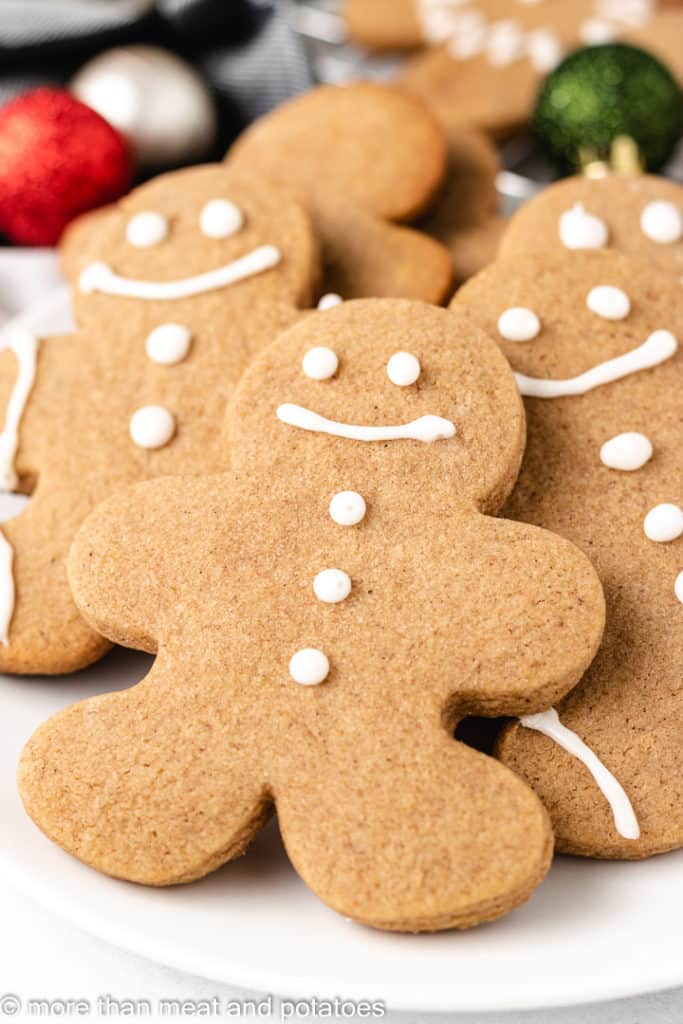 How to make gingerbread cookies without molasses:
First, remove the unsalted butter from your fridge well in advance (at least 1-hour).
Afterward, line two large baking sheets with parchment paper.
Next, in a large mixing bowl, whisk together the following ingredients:

all-purpose flour
ginger powder
nutmeg
ground clove
allspice
salt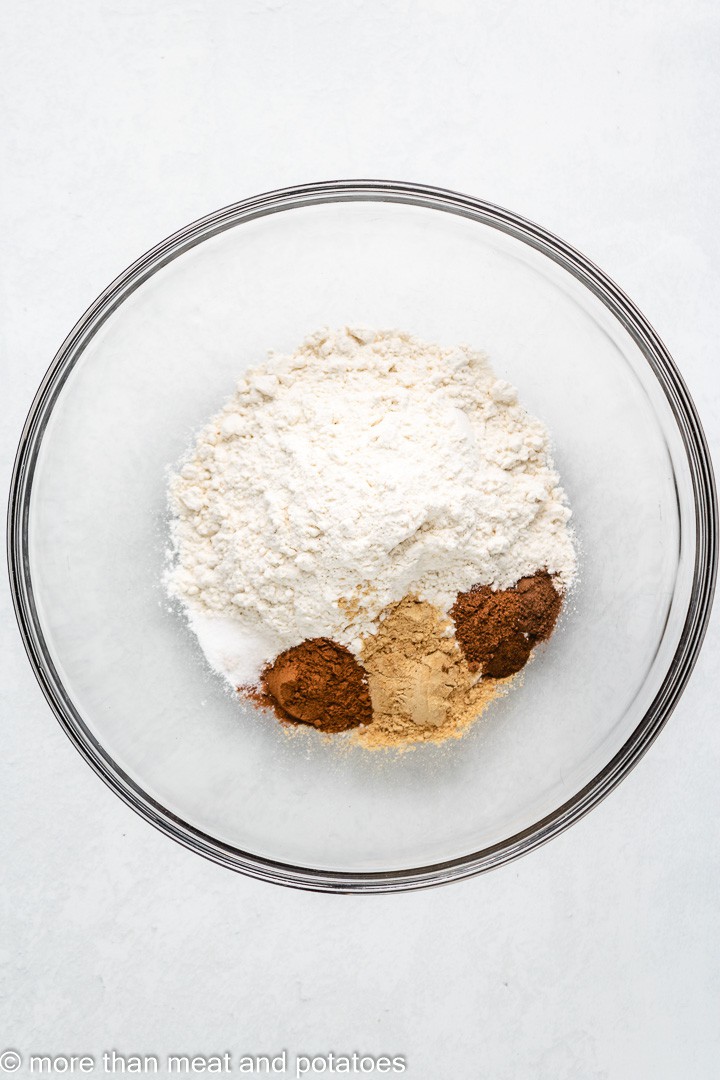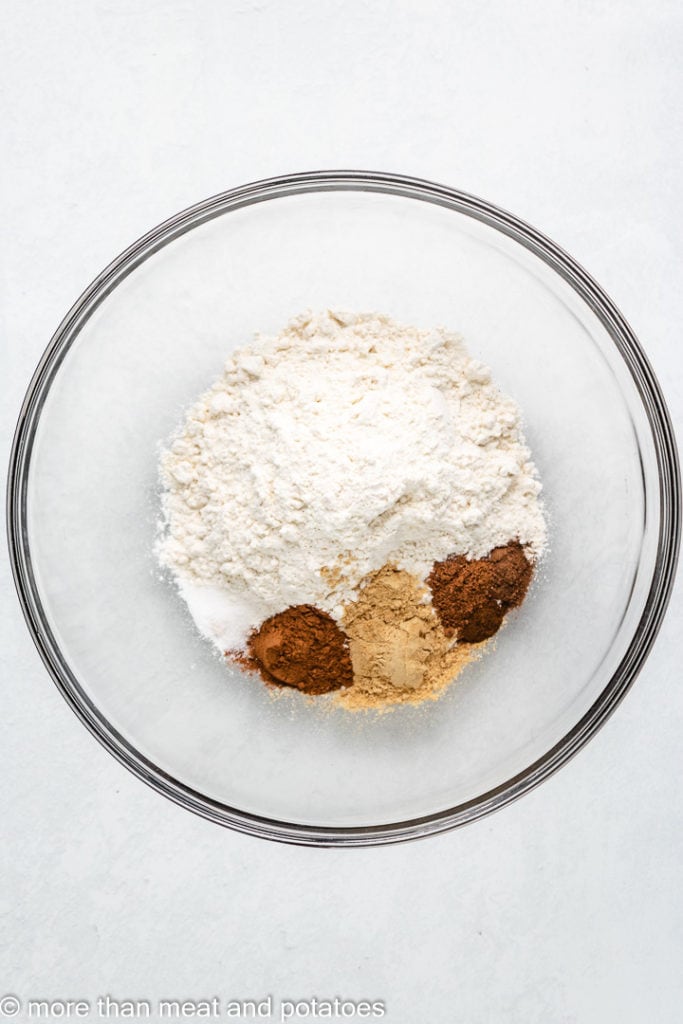 Set the bowl aside and grab your stand mixer and attach the paddle attachment to the appliance.
Alternatively, you can use a second large mixing bowl and a hand mixer.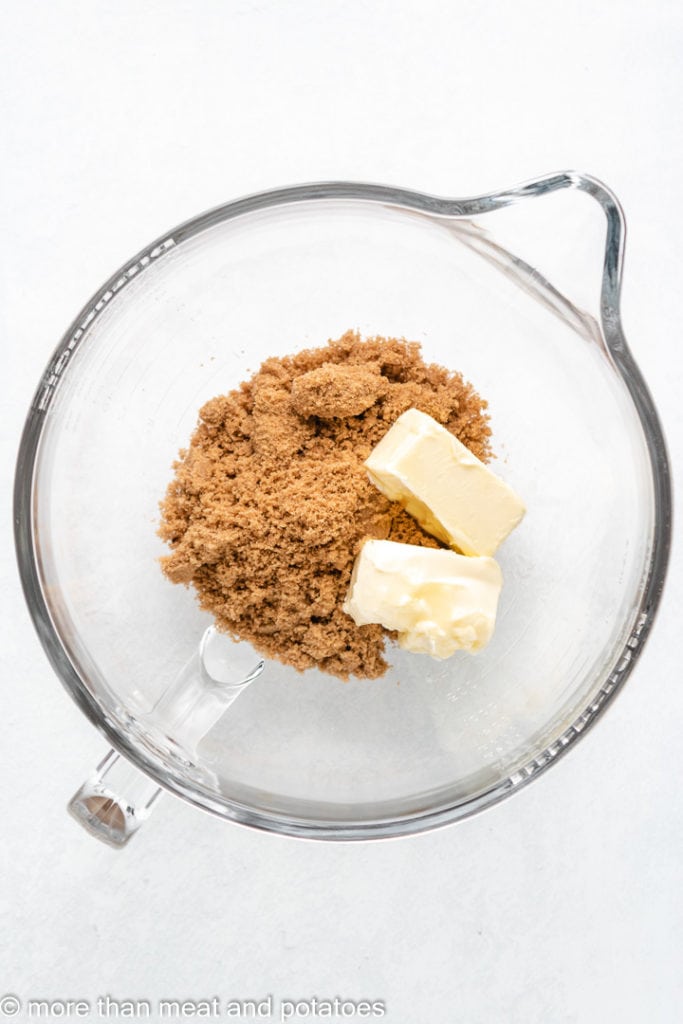 In that bowl, beat together the brown sugar and softened butter for about 3-minutes.
The butter mixture should be light and fluffy. After that, add the cracked egg and continue mixing until everything is combined.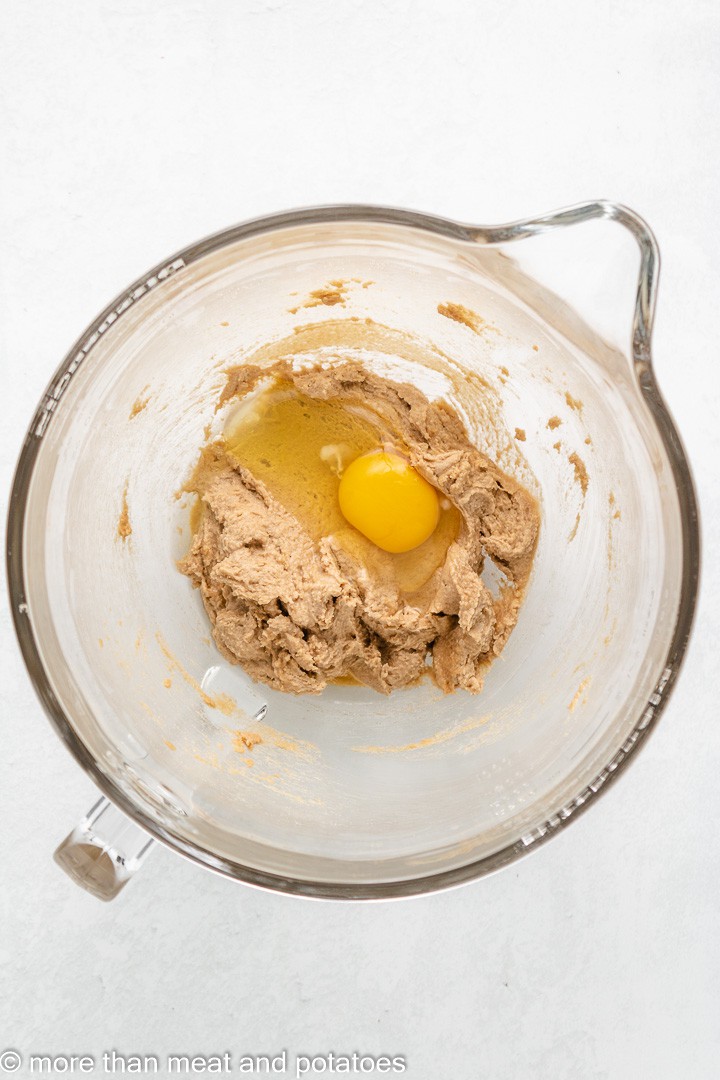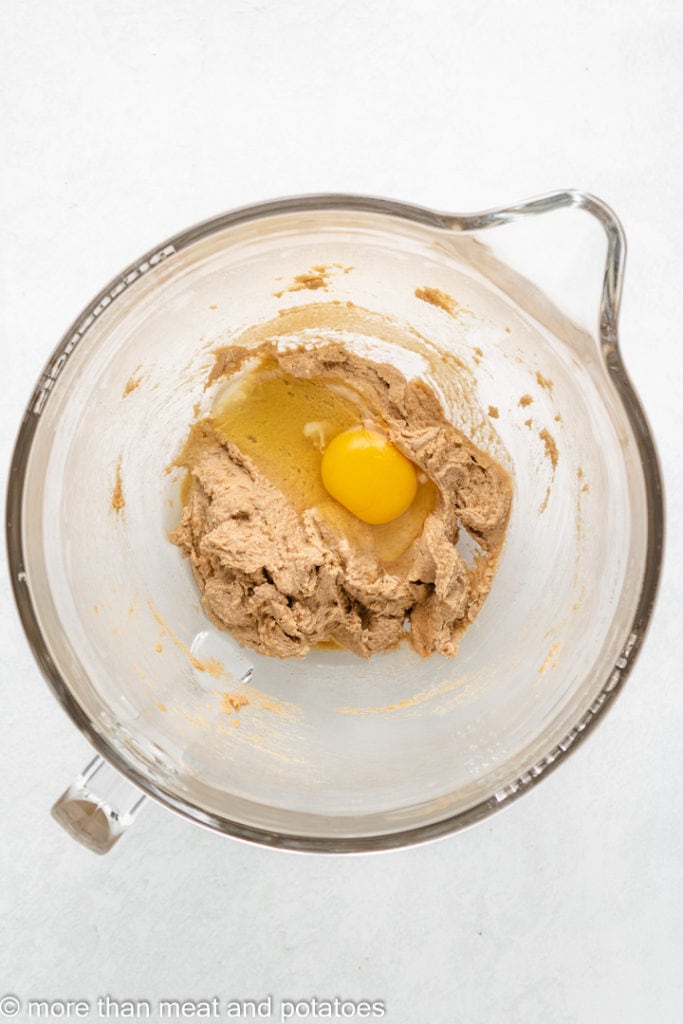 Now, add the dry ingredients to the butter mixture. Mix on low until a dough forms.
Also, be sure that no clumps of flour are present in the gingerbread dough.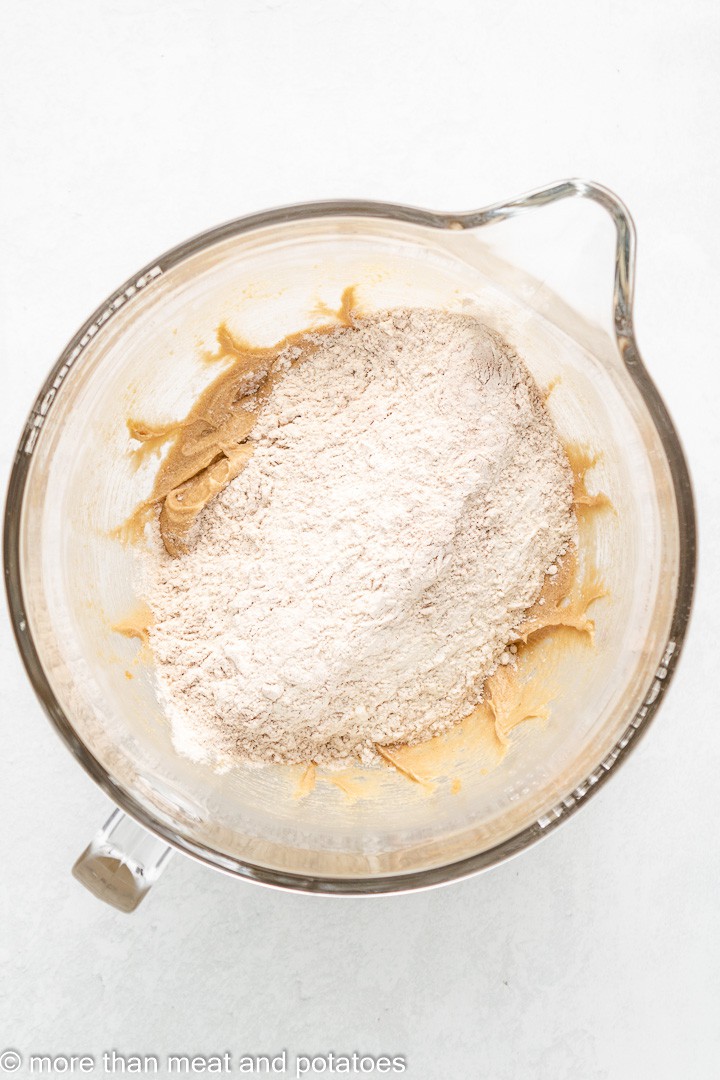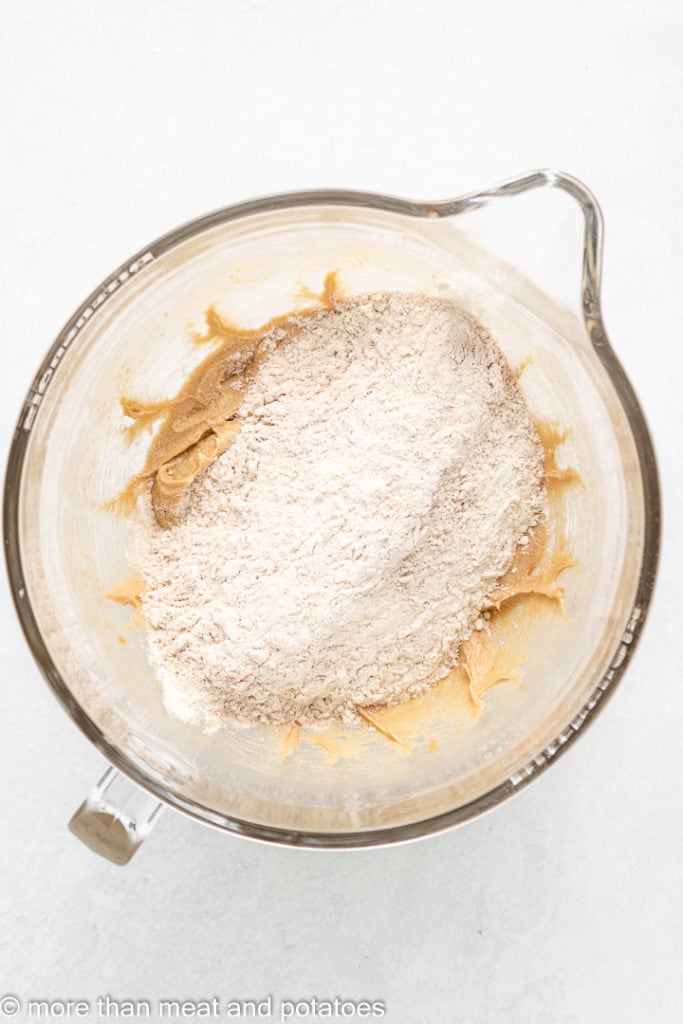 Then, shape the dough into a ball and wrap it plastic wrap. Transfer it to your fridge to chill for at least 1-hour.
Meanwhile, go ahead and preheat your oven to 350 degrees F. Once the dough has chilled remove it from the fridge.
Unwrap it and place it on a lightly floured surface. Using a rolling pin, roll the dough out until it reaches ¼-1/2 inch thickness.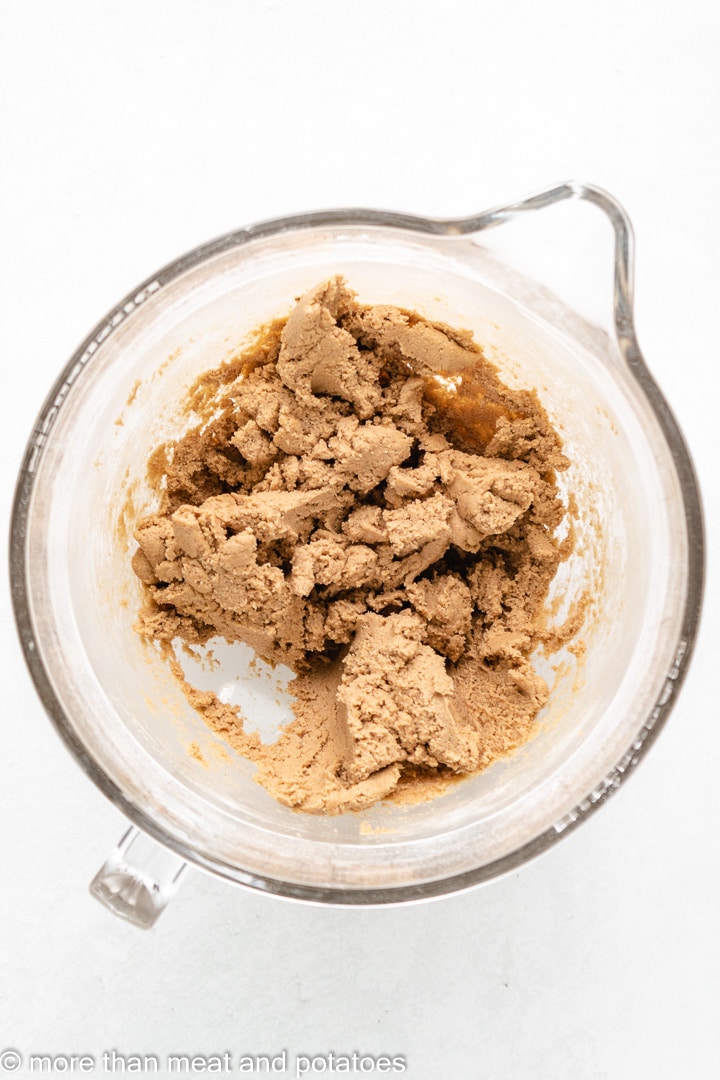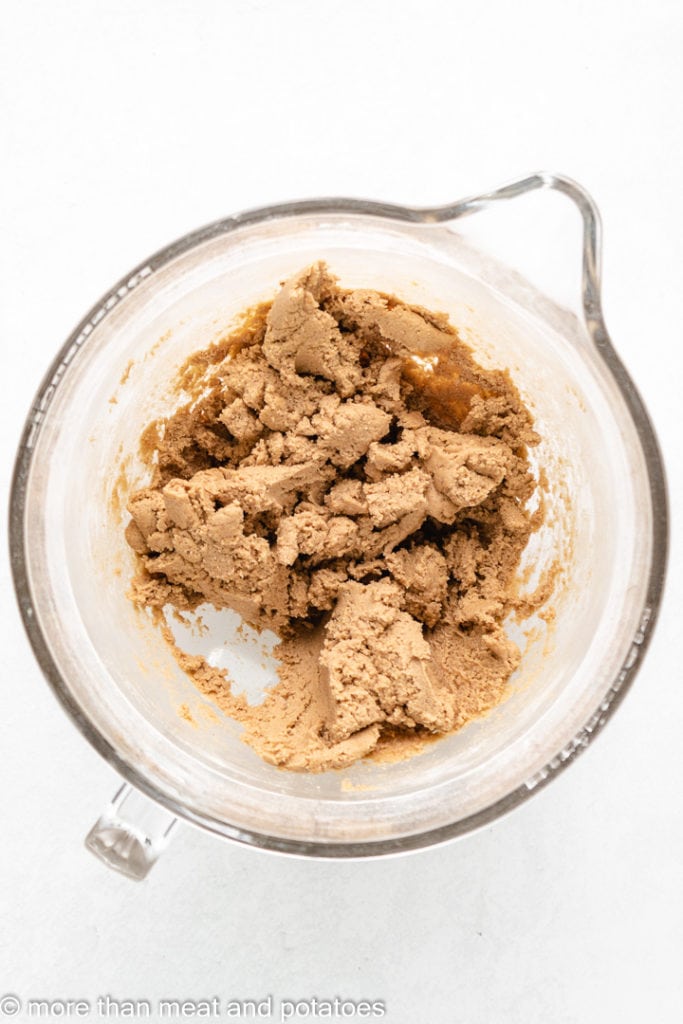 Cut the cookies (using a cookie cutter or biscuit cutter for circular cookies) and place them on the lined baking sheet.
Repeat the rolling and cutting steps until all the dough has been used. Place the cookies into the oven to bake for 10-12 minutes.
Remove them from the oven and place them on a cooling rack to come to room temperature.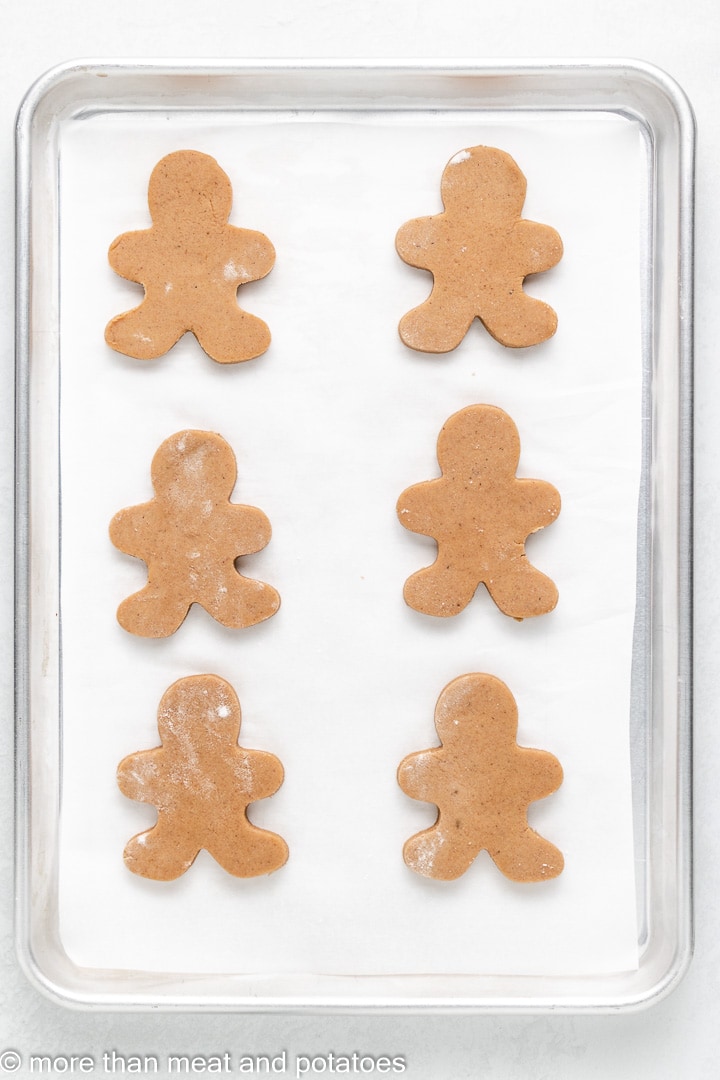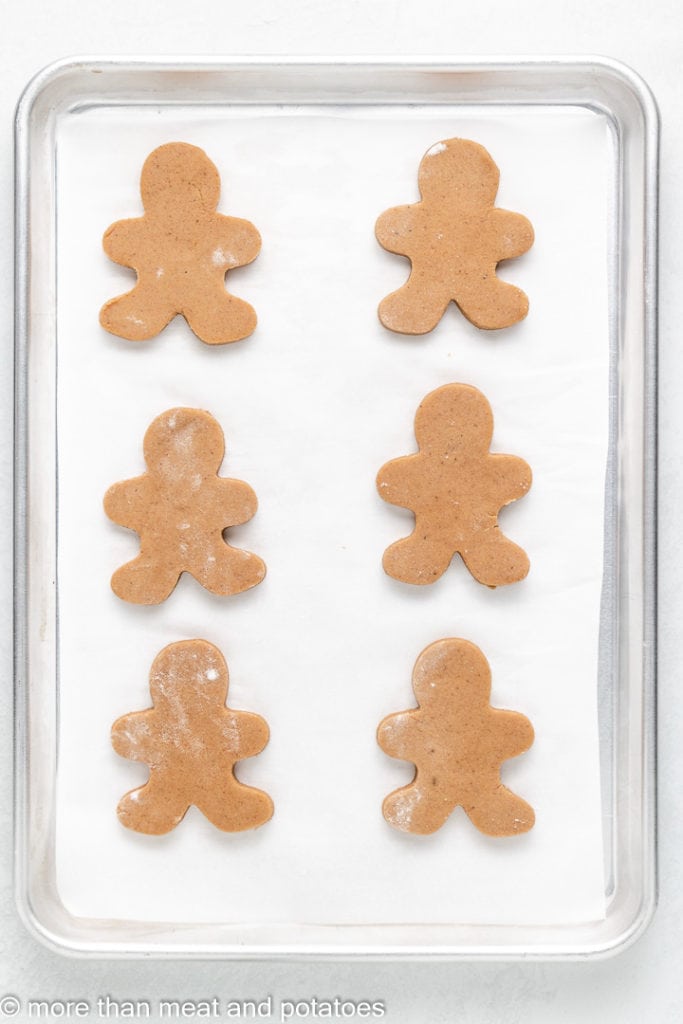 How to make vanilla icing for cookies:
Using a whisk, combine powdered sugar, milk, and vanilla in a small mixing bowl.
After that, fill a piping bag with icing and use it to decorate the cookies.
That's it, your gingerbread cookies without molasses are done! Kim and I hope you enjoy them and wish you all the best 🙂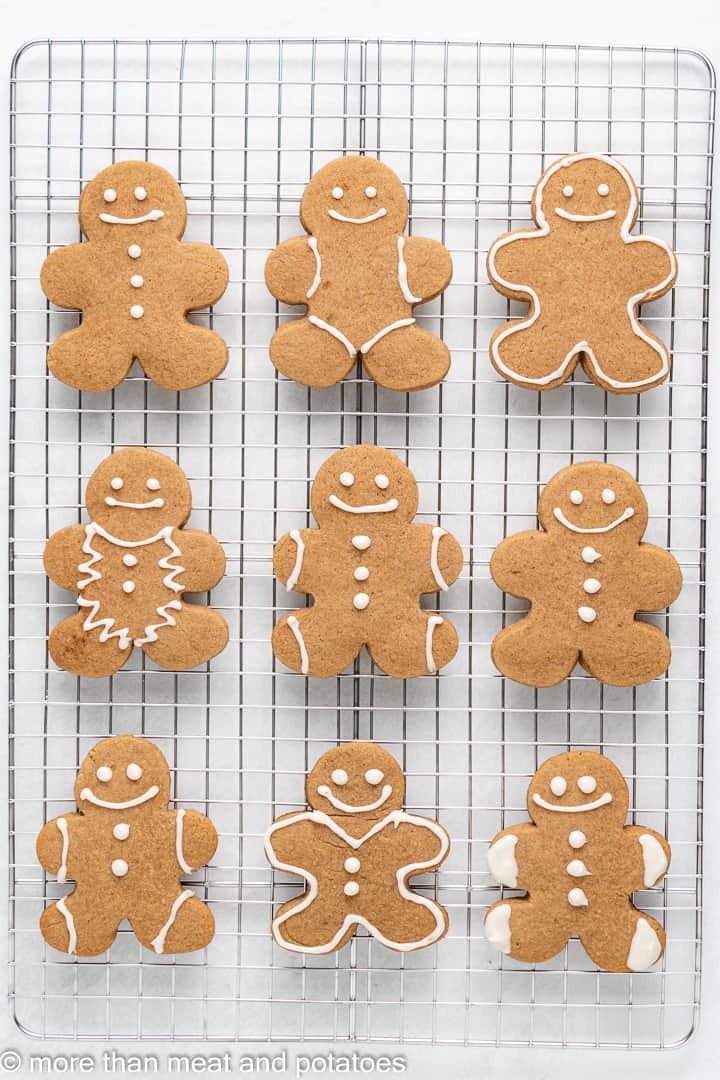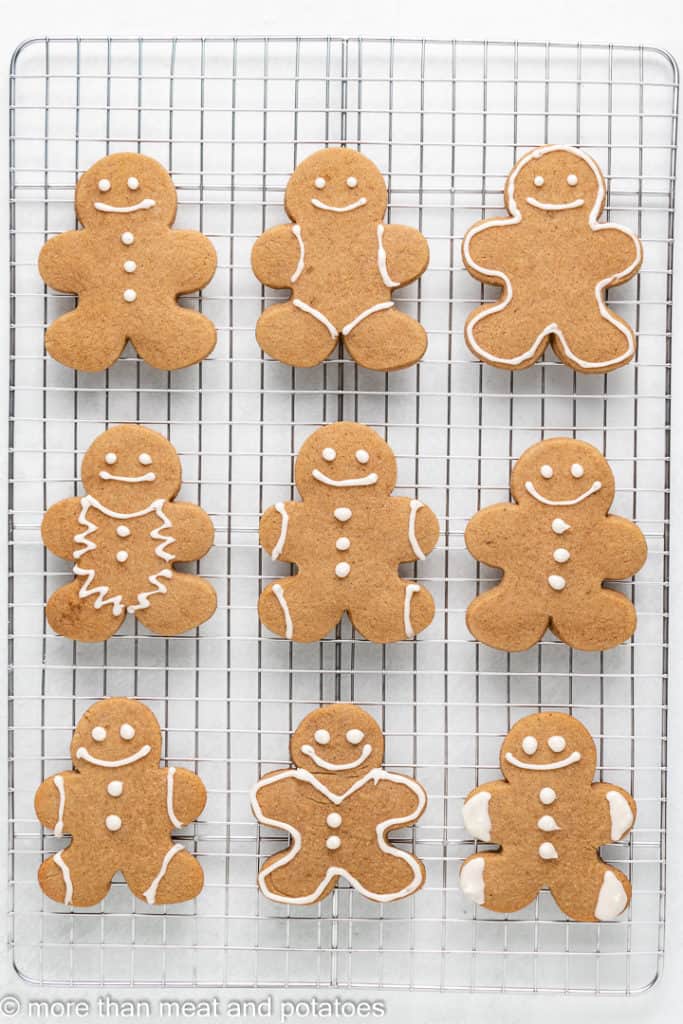 Recipe Tips:
If you don't have parchment paper, you can grease your pans with non-stick cooking spray or use silicone mats.
These cookies are spiced, so keep that in mind. I recommend going light on the spices for your first attempt.
Don't make the icing too far in advance; otherwise, it will harden and become unusable.
Why do my gingerbread cookies spread?
Your gingerbread cookies spread while baking because the butter is too warm. The dough needs to be refrigerated for at least 1-hour before rolling, cutting, and baking. For the best results, refrigerate the dough overnight and finish the recipe the following day.
Do you decorate gingerbread cookies before baking?
If you're referring to the icing, then no, wait until they've baked and cooled. In regards to decorative candies (for the eyes, mouth, etc.), then that depends on the candy itself. Some decorations can be baked, while others will not remain intact in high heat situations. Personally, I recommend reading and follow the decorating instructions on the products.
Recipe Card with Ingredient Amounts and Instructions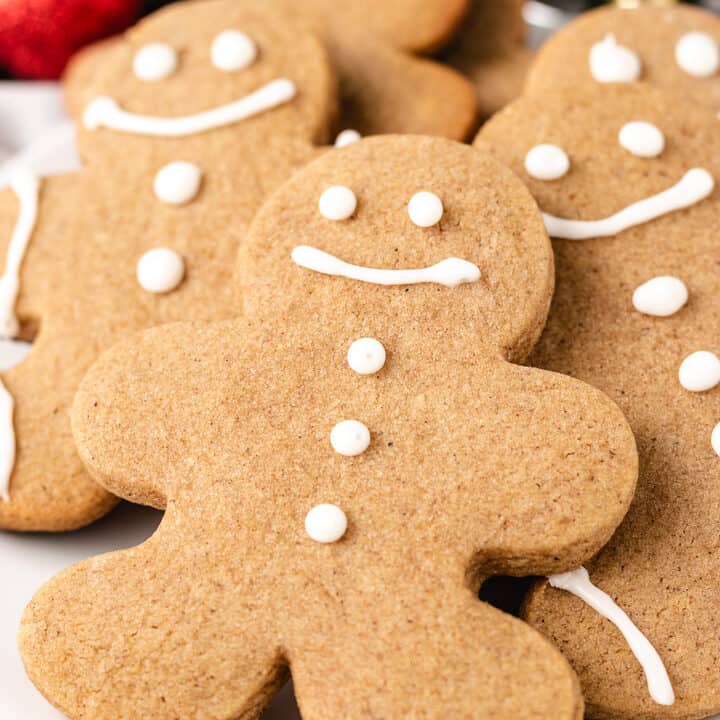 Ingredients
Gingerbread Cookie Dough:
2

cups

(240 g) all-purpose flour

2

teaspoon(s)

ground ginger

1

teaspoon(s)

ground cinnamon

¼

teaspoon(s)

ground nutmeg

¼

teaspoon(s)

ground cloves

¼

teaspoon(s)

allspice

¼

teaspoon(s)

kosher salt

1 ¼

cups

(226 g) light brown sugar

½

cup

(113 g) unsalted butter

,

softened (name brand butter recommended)

1

(50 g) egg
Icing (optional):
1

cup

(113 g) powdered sugar

2 to 3

tablespoons

whole milk

1

teaspoon(s)

pure vanilla extract
Instructions
Line a baking sheet with parchment paper. Set aside.

Place the flour, ginger, cinnamon, nutmeg, clove, allspice, and salt in a large mixing bowl. Whisk to combine.

2 cups (240 g) all-purpose flour

2 teaspoon(s) ground ginger

1 teaspoon(s) ground cinnamon

¼ teaspoon(s) ground nutmeg

¼ teaspoon(s) ground cloves

¼ teaspoon(s) allspice

¼ teaspoon(s) kosher salt

In the bowl of a stand mixer fitted with the paddle attachment, cream the butter brown sugar and butter until light and fluffy, about 3 minutes. Add the egg, and mix until combined.

1 ¼ cups (226 g) light brown sugar

½ cup (113 g) unsalted butter

1 (50 g) egg

Pour in the flour mixture, and beat on low speed until just combined and no flour streaks remain. Form the dough into a disc shape, and transfer it to a piece of plastic wrap. Place the dough in the refrigerator for at least an hour. Just before removing the dough from the refrigerator, preheat the oven to 350°F.

Lightly flour a work surface and a rolling pin. Remove the dough from the refrigerator, and roll it out to ¼ inch - ½ inch thickness. Thinner cookies will be crispier, and thicker cookies will be softer. Dip a cookie cutter into flour and press out the cookies. Roll any remaining dough out again and repeat until all the dough has been used.

Place the cookies on the prepared baking sheet, and bake for 10 to 12 minutes until the edges are very lightly browned and the center is set and no longer looks shiny.

Remove the cookies from the oven and transfer to a wire rack to cool completely. Store cookies in an airtight container for up to 4 days.
Icing (Optional)
Whisk together the powdered, milk, and vanilla until the desired consistency is reached. Decorate the cookies as desired.

1 cup (113 g) powdered sugar

2 to 3 tablespoons whole milk

1 teaspoon(s) pure vanilla extract
Notes
*The calories listed are an approximation based on the ingredients in the recipe card and a serving size of 1 cookie decorated with icing. Actual calories will vary.
*For more information and tips, please refer to the post.
Nutrition
Serving:
1
Cookie
Calories:
235
kcal
Carbohydrates:
49
g
Protein:
2
g
Fat:
8
g
Saturated Fat:
5
g
Polyunsaturated Fat:
0.4
g
Monounsaturated Fat:
2
g
Trans Fat:
0.3
g
Cholesterol:
21
mg
Sodium:
58
mg
Potassium:
66
mg
Fiber:
1
g
Sugar:
22
g
Vitamin A:
242
IU
Vitamin C:
0.03
mg
Calcium:
30
mg
Iron:
1
mg