This Chocolate Filled Pastry is a chocolate lover's dream. It's filled with chocolate and buttery goodness that will melt in your mouth. The best part? You can make it at home from scratch! We'll show you the steps to making pain au chocolat, using puff pastry and chocolate!
Pain au chocolat (Chocolate Filled Pastry) is a French favorite. Pain au chocolat is the most common name used for this chocolate dessert – pain means bread in french and au chocolate refers to the chocolate that's added into it.
It's often called a chocolate croissant because of its crescent shape, chocolate chip is a more American term, and chocolate pastry is used in Australia. In the U.S., it's common to see pain au chocolate on bakery menus as a chocolate croissant or chocolate-filled pastry.
Our recipe doesn't have a crescent shape, but it is made with store-bought puff pastry, chocolate, egg, water, and powdered sugar. These pantry staples are easy to locate in any supermarket so anyone can enjoy this decadent, sweet treat.
Making chocolate filled pastry is quick and easy. Assemble them and bake for a treat that's perfect for a weekend breakfast or dessert when served with Dark Chocolate Coffee, Chai Latte, or a Gingerbread Latte! The chocolate and buttery goodness is a great combination that will leave you wanting more!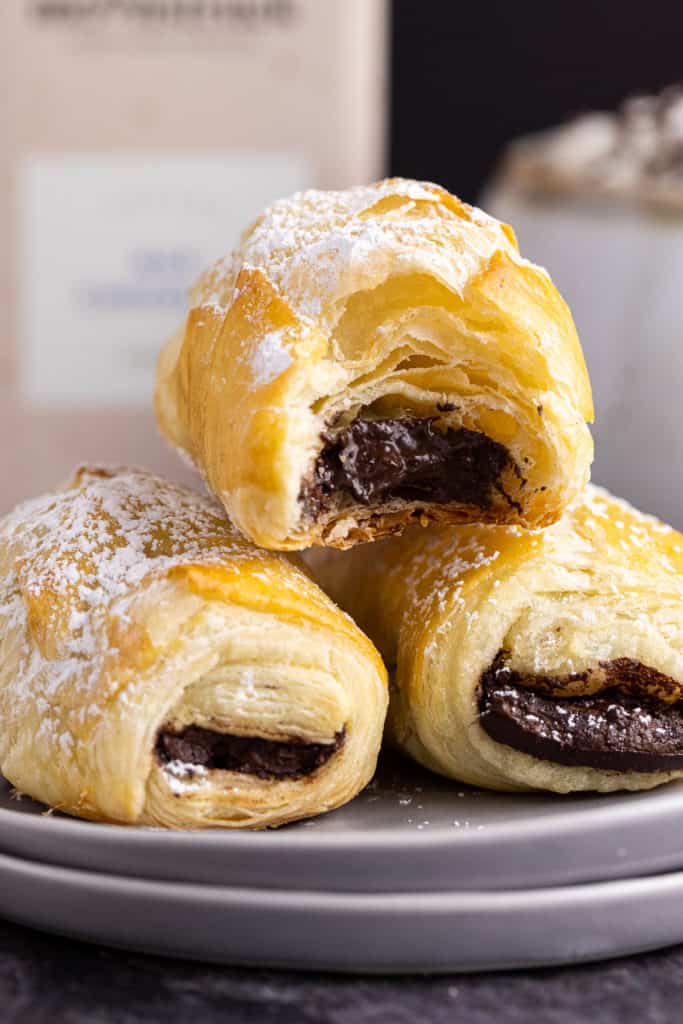 Ingredients You'll Need to Make a Chocolate Filled Pastry
Puff Pastry Sheets – Puff pastry is a light and airy dough that's made with flour, water, salt, and butter. The butter is mixed into the dough and then it's rolled out and folded multiple times. This creates layers in the dough that puff up when baked – giving it its name. Making puff pastry at home can be very time-consuming. We use store bought puff pastry in this recipe.
Dark Chocolate Candy Bars – These bars have a rich and intense chocolate flavor that goes well with the sweet pastry. Use a candy bar that can be cut into small sections to fit the pastry.
Egg – Used to brush on top of the pastry to add a golden brown color.
Water – Mixed with the egg to create an egg wash that is perfect for baking.
Powdered Sugar – Gets added on top to create a flaky white aesthetic that also adds a hint of sweetness.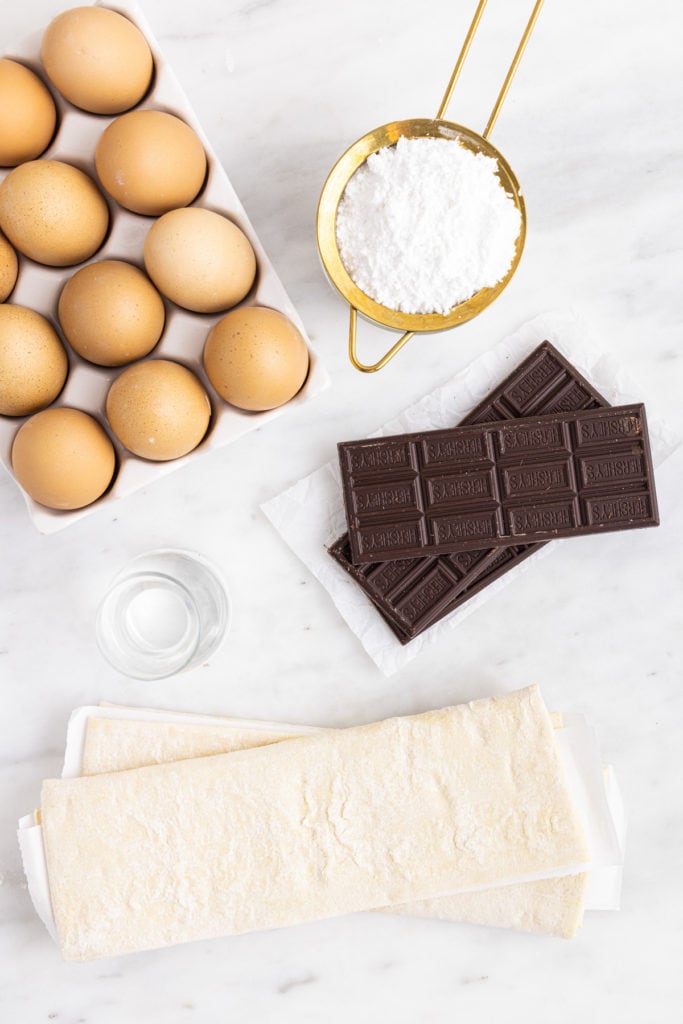 How To Make a Chocolate Filled Pastry
Prepare for baking: Preheat the oven to 400°F, and line a baking sheet with parchment paper or a silicone baking sheet, and set aside.
Thaw the puff pastry: The puff pastry needs to thaw out to room temperature before baking. Pull it out of the freezer and let it rest on the counter.
Make the egg wash: In a small bowl, whisk one egg together along with the water to create an egg wash. Set aside.
Cut the pastry dough: After the pastry dough has thawed, place it on a floured surface, then cut it into 8 even pieces.
Prepare the chocolate: Unwrap the chocolate and break the bars into sections. Place the chocolate in the center of each puff pastry segment.
Fold the pastry: Fold the side of the pastry over the chocolate bar. The top piece will be wrapped over the side and then pressed into the bottom of the dough to help it seal. Using a pastry brush or your finger, add some egg wash to seal the dough together. Repeat with the remaining pastry dough and chocolate.
Bake the chocolate filled pastry: Place the sealed pastries on the prepared baking sheet, then brush the tops with egg wash. Bake for 14-15 minutes or until the pastry starts to turn golden brown.
Garnish and serve: Dust the tops of the pastry with powdered sugar and serve warm or chilled.
Recipe Tips
Change the size: Make these any size you'd like by cutting the puff pastry larger or smaller and adjusting the amount of chocolate.
Using sectioned chocolate: Dark or milk chocolate will work for these. Hershey's brand works well. Hershey's bars are easy to use because they are already sectioned off. Just snap into four equal sections. Some brands have a tendency to melt too much and will leak out and burn.
Sealing the dough: Sealing the wrapped dough onto the underside of the pastry helps these to maintain a symmetrical shape when cooking.
Using egg wash: The egg wash will help the pastry dough stick to itself when sealing. It also gives a nice golden sheen to the baked pastry.
How to serve: Pastries are best served warm just out of the oven but can also be enjoyed chilled.
Variations
Change up the chocolate: Swap out the chocolate bars for chocolate chunks. You can also use white chocolate instead of milk or dark chocolate.
Brighten up the flavor: Add in some cinnamon, ginger, or orange zest into the dough before baking it.
Nutella or peanut butter chocolate pastry: Add a bit of Nutella or peanut butter on top of the chocolate before folding it into the puff pastry.
Savory chocolate pastry: Make them savory by adding in some cheese, herbs, and garlic in place of the chocolate before baking.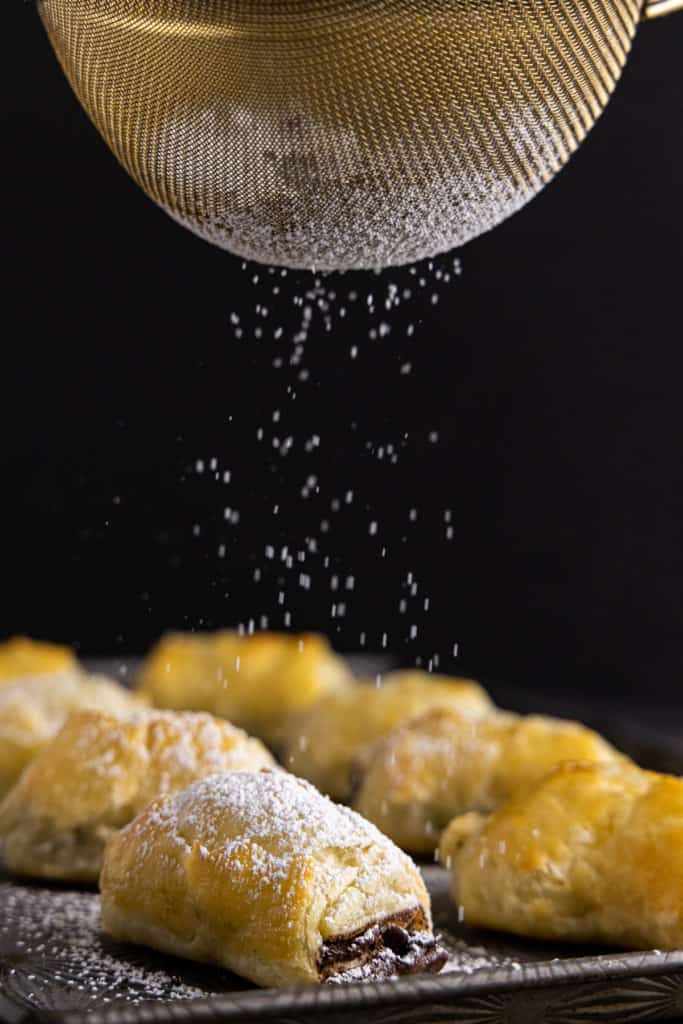 What's the difference between chocolate croissant and pain au chocolat?
The difference between chocolate croissants and pain au chocolat is that chocolate croissants are filled with chocolate, while pain au chocolat has a piece or two of chocolate folded into the pastry.

Croissants are formed by folding and refolding dough to create multiple flaky layers of dough then filling it with chocolate if desired. Pain au chocolat or chocolate filled pastry is a puff pastry style dough that is folded with pieces of chocolate added to the center.
How can I bake the chocolate filled pastry from frozen?
Place frozen chocolate pastries on a baking sheet lined with parchment paper. Bake at 375°F for 16-20 minutes or until golden brown. Let cool before serving.
Storing and Freezing
Storing: You can store chocolate croissants in an airtight container at room temperature. They should last 1-2 days while staying fresh. Storing them in the fridge will help them last longer, but the texture will change.
Freezing: Place cooled pain au chocolat on a large piece of plastic wrap or wax paper. Carefully roll up the pastries and place in a freezer bag. Seal tightly, and store chocolate-filled pastries for three months in the freezer.
Chocolate Filled Pastry (Pain au Chocolat)
Yield:
16 Mini Chocolate Filled Pastries
This Chocolate Filled Pastry is a chocolate lover's dream. It's filled with chocolate and buttery goodness that will melt in your mouth.
Ingredients
1 (17.3 ounce) package puff pastry sheets
4 (1.55 ounce packages) dark chocolate candy bars (We used Hershey's brand.)
1 egg
1 tablespoon water
Powdered sugar for dusting
Instructions
Preheat the oven to 400°F, and line a baking sheet with parchment paper and set aside.
Remove the puff pastry sheets from the freezer, and allow to thaw for at least 15 minutes before using. While the puff pastry warms, prepare the egg wash by whisking together 1 egg and 1 tablespoon of water. Set aside.
After the puff pastry has warmed a bit, unfold one sheet and place on a lightly floured surface. Cut it into 8 equal pieces.
Break the candy bars into sections - there should be four sections in each candy bar. Place the chocolate in the center of each puff pastry section.
Fold the sides of the pastry over the chocolate bar, and wrap the top piece over the side and press into the bottom of the packet to seal. Use a pastry brush or your finger to add a bit of egg wash between the pastry where you are sealing it to help hold it together.
Place the folded pastries on the prepared baking sheet and brush the tops and sides with egg wash.
Bake for 14-15 minutes, until the puff pastry is golden brown. Repeat with the second sheet of puff pastry dough, remaining chocolate, and egg wash.
Dust the chocolate filled pastries with powdered sugar and serve. Enjoy warm or chilled!
See post for storage options.
Notes
*The calories listed are an approximation based on the ingredients in the recipe card and a serving size of 2 chocolate filled pastries. Actual calories will vary.
*For more information, tips, and answers to frequently asked questions, please refer to the post.
*Photos courtesy of Andrea and Stef from Family Dinners Photography.
Recommended Products
As an Amazon Associate and member of other affiliate programs, we may earn a commission from qualifying purchases.
Nutrition Information:
Yield:

8
Serving Size:

2 pastries
Amount Per Serving:
Calories:

439
Total Fat:

26g
Saturated Fat:

5g
Trans Fat:

0g
Unsaturated Fat:

20g
Cholesterol:

25mg
Sodium:

169mg
Carbohydrates:

46g
Fiber:

1g
Sugar:

18g
Protein:

6g
*The calories are an estimate and are based on the ingredients and serving size listed. The calories can vary depending on the brand of product purchased.