Gingerbread Bundt Cake is a moist, flavorful cake traditionally served around the holidays. It's full of warm spices, molasses, and drizzled with a sweet maple glaze.
Gingerbread Bundt cake is one of those classic desserts that's made during the late Fall and early Winter months around the holidays. It's wonderfully spiced with ginger, cloves, cinnamon, nutmeg, allspice, and of course, the distinct flavor of molasses.
The great thing about gingerbread is that it comes in all forms from gingerbread cookies and houses to gingerbread loaves, hot chocolate, and syrup.
This year, we decided to make a gingerbread Bundt cake instead of flat, square cake. We added a maple glaze and sugared cranberries and rosemary for some color.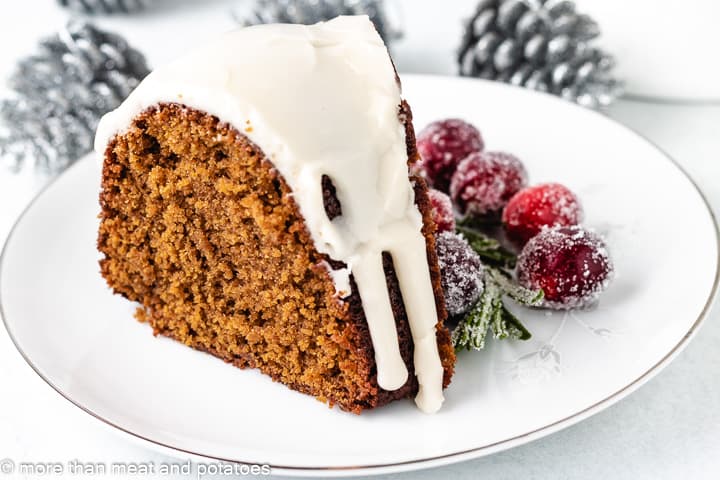 How to make a Gingerbread Bundt Cake:
This cake comes together really quickly. It takes about as long to mix everything as it does to prep the pan and the ingredients.
I'd recommend getting all the ingredients for the cake prepped first, and make sure the butter is softened to room temperature.
Grease a 10 or 12 cup Bundt pan, and set aside. I used a little melted shortening and a pastry brush, but do whatever works best for you especially if you've made a lot of Bundt cakes in the past. You'll know what works best in your pan.
In a large mixing bowl, whisk together the flour, all the spices, baking powder, salt, and baking soda. Set aside.
In the bowl of a stand mixer, beat the butter and brown sugar until fluffy. Add the eggs, and continue to mix until combined.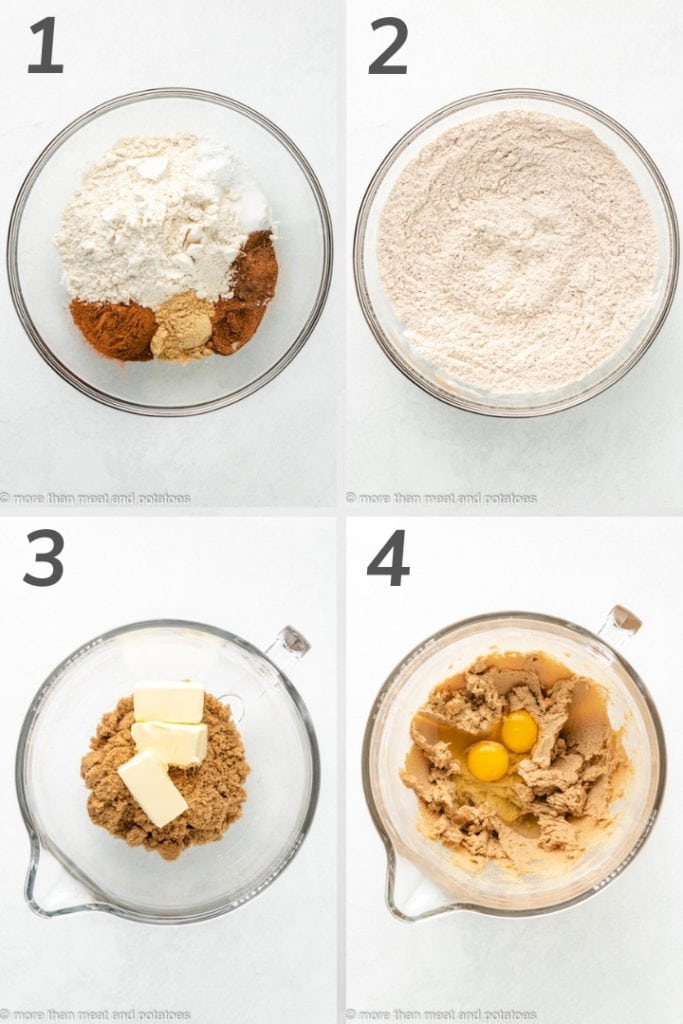 Pour in the molasses, and beat until just combined. After the molasses is mixed, alternate adding the flour mixture and milk making sure to stir between additions.
Use a spatula to scrape down the bowl often to ensure all the ingredients are properly combined.
Pour the batter into the prepared pan, and bake at 350°F for 50 to 60 minutes or until a toothpick inserted into the thickest part of the cake comes out clean.
After the cake bakes, allow it to cool in the pan for about 10 minutes before inverting it to a cooling rack to release. Let it cool completely before drizzling with glaze.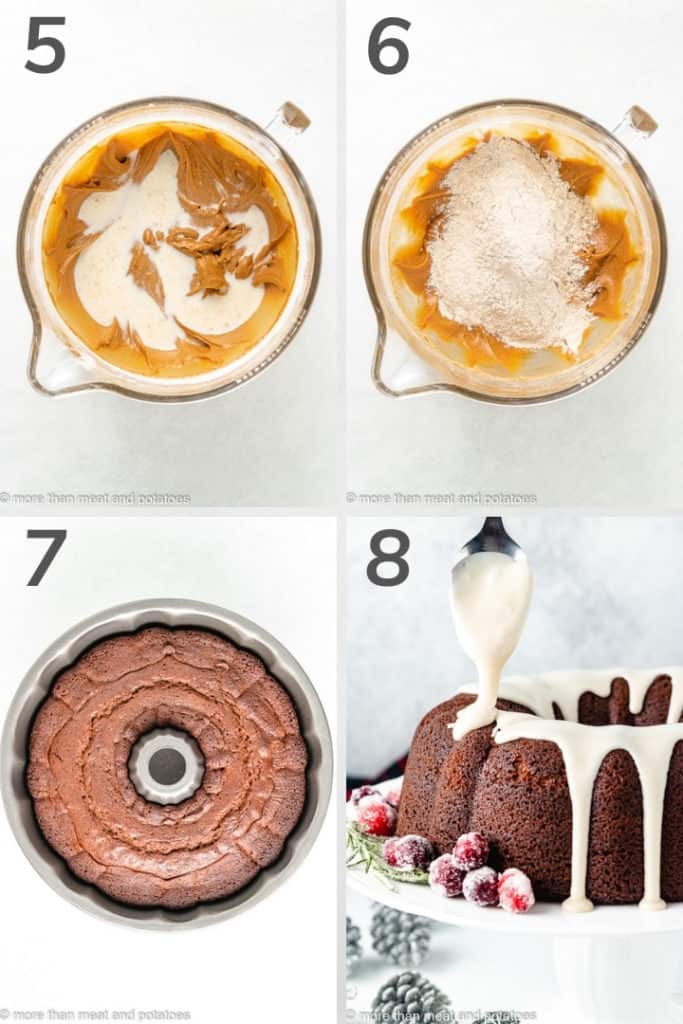 Can you use a rum glaze instead of maple glaze?
Yes, absolutely! Changing or omitting the glaze won't make or break the recipe. The addition of the maple glaze is preference.
If there's a different type of icing or glaze you'd rather use, go for it! A rum glaze would taste amazing on this cake.
Do you have to use all the spices listed?
No, you don't have to use every spice listed in the ingredients. We totally understand that you or someone in your household may not like a certain spice or may have an allergy to a spice.
It's ok to omit one of the spice ingredients (cinnamon, nutmeg, allspice, etc.). Just keep in mind that removing spices will change the flavor of the cake.
The more spices that are removed, the more the flavor will change.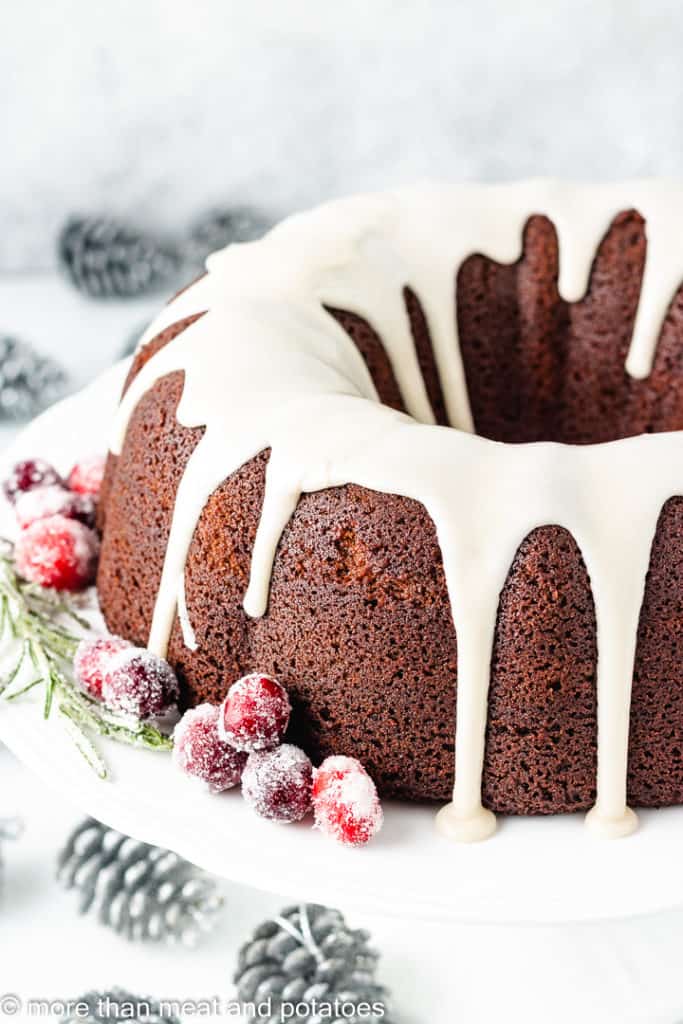 Can you adjust the amount of spices in the recipe?
Yes, for sure! We tend to like foods that are heavily spiced, so I amped up the spice in this cake a bit.
If it looks like it may be too much for your tastes, reduce the amounts by 1/4, 1/2, or even 1 teaspoon depending on the spice.
What's the best way to store gingerbread Bundt cake?
Gingerbread cake stays fresh longer if it's stored in an airtight container in the refrigerator, then reheated slightly before consuming. It's best eaten in about a week.
It can also be stored at room temperature in an airtight container for about 3 to 4 days.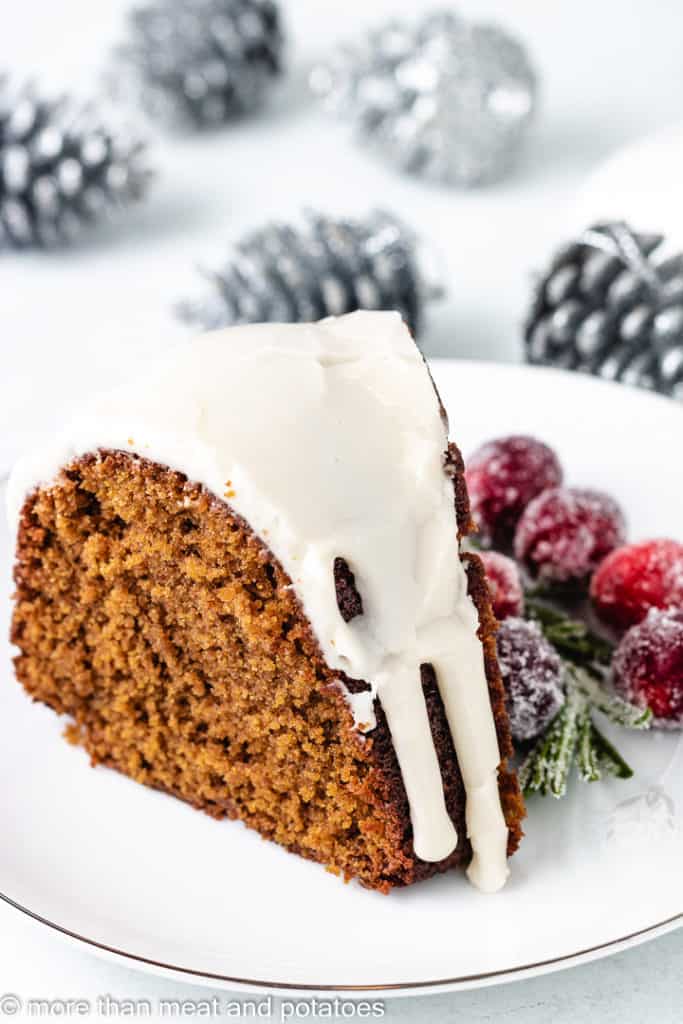 Can gingerbread cake be frozen?
Yes, if wrapped properly, gingerbread cake can be frozen for up to 2 months.
What's the best way to prevent the cake from sticking to the Bundt pan?
If you already have a Bundt pan that works well, use it!
If it's going to take a while to mix all the ingredients and get the batter into the pan, wait until just before you're ready to pour the batter to grease the pan. That way the "grease" doesn't slide to the bottom.
Don't use a pan that's scratched or losing it non-stick coating. The cake is more likely to stick to those areas.
Try a layer of melted shortening instead butter or butter/flour.
Check out this post, "How to Prevent Bundt Cakes from Sticking," from King Arthur Flour. It has a ton of helpful tips.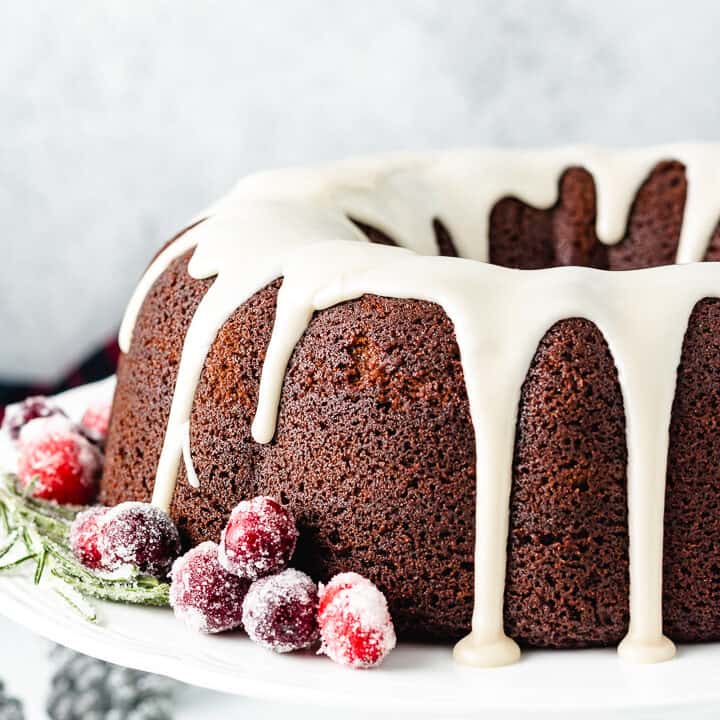 Gingerbread Bundt Cake
Total Time:
2 hours
10 minutes
Gingerbread Bundt Cake is a moist, flavorful cake traditionally served around the holidays. It's full of warm spices, molasses, and drizzled with a sweet maple glaze.
Ingredients
Cake:
2 ½ cups (300 g) All-Purpose Flour
2 ½ Teaspoons Ginger
2 Teaspoons Cinnamon
1 Teaspoon Nutmeg
1 Teaspoon Baking Powder
1 Teaspoon Salt
½ Teaspoon Cloves
½ Teaspoon Allspice
½ Teaspoon Baking Soda
12 Tablespoons (170 g) Unsalted Butter, softened
1 ½ Cups (320 g) Brown Sugar
2 (100 g) Eggs
½ Cup (170g) Molasses
1 Cup (227g) Milk
Glaze:
1 Cup (114 g) Powdered Sugar
1 - 2 Tablespoons Milk, adjusted to achieve desired consistency
1 Tablespoon Maple Sugar
Instructions
To Make the Cake:
Preheat the oven to 350°F, and grease a 10 to 12 cup Bundt pan. Set aside.
In a large bowl, whisk together the flour, ginger, cinnamon, nutmeg, baking powder, salt, cloves, allspice, and baking soda.
In a separate bowl, use an electric mixer, and beat the butter and sugar until fluffy, about 3 minutes. Add the eggs, and beat until combined, then mix in the molasses.
Add the flour mixture and milk, alternating between additions, and stirring until just combined. Transfer the batter to the prepared Bundt pan, and bake for 50 to 60 minutes or until a toothpick inserted in the center comes out clean.
Remove the cake from the oven, and allow it to cool for 10 minutes before inverting it to a cooking rack. Cool completely before adding the glaze.
To Make The Glaze:
In a small bowl, stir together the powdered sugar, milk, and maple syrup. Start with less milk, and add more to reach the desired consistency.
After the cake cools completely, drizzle the glaze over the top, slice, and serve.
Store leftovers in the refrigerator for up to 3 days. Serve slightly warm.
Notes
*The nutrition and caloric information provided are to be used as a guideline, and are an estimate only.
*Recipe adapted from King Arthur Flour's Gingerbread Bundt Cake recipe.
*Please see the post for answers to frequently asked questions.
Recommended Products
As an Amazon Associate and member of other affiliate programs, we may earn a commission from qualifying purchases.
Nutrition Information:
Yield:

14
Serving Size:

1 Slice
Amount Per Serving:
Calories:

177
Total Fat:

10g
Saturated Fat:

6g
Trans Fat:

0g
Unsaturated Fat:

3g
Cholesterol:

26mg
Sodium:

311mg
Carbohydrates:

19g
Fiber:

1g
Sugar:

1g
Protein:

3g
*The calories are an estimate and are based on the ingredients and serving size listed. The calories can vary depending on the brand of product purchased.