Our sugared cranberries and rosemary recipe features plump, tart cranberries and fresh rosemary coated in simple syrup and granulated sugar.
When people start making candied cranberries, then you know the holiday season is in full force.
Today, we're sharing Kim's sugared cranberries and rosemary. These frosted cranberries are so tasty, and they make the perfect garnish for desserts like cranberry cheesecake and gingerbread Bundt cake.
The simple syrup offsets the tartness of the cranberries and adds a touch of sweetness to the rosemary. What I adore about them the most is their appearance. The sugar looks like fresh snow.
Furthermore, I love the contrast between red, green, and white. It definitely has all the colors of the season. But, enough about all that. You came here to learn how to make the recipe, not read my opinions.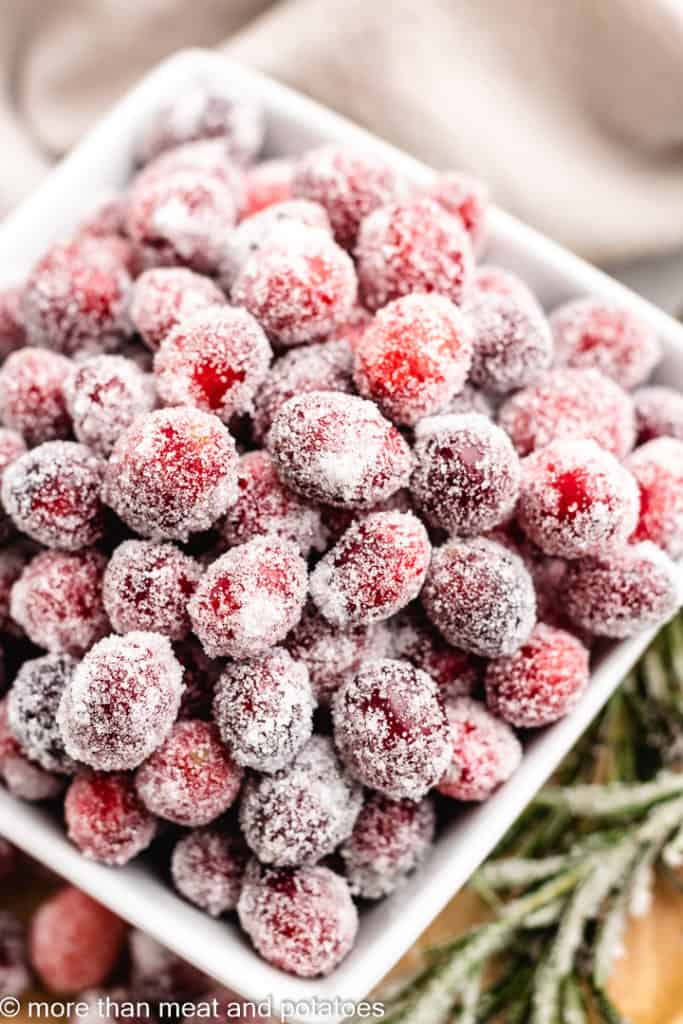 How to make sugared cranberries:
First, you'll need to line a large baking sheet or your counter-top with parchment paper or aluminum foil. After that, place a cooling rack into the pan (over the parchment paper). Doing so, will make a clean-up a lot easier.
Next, grab a large saucepan and place it over medium-high heat. Pour in the water and 1/2-cup of the sugar. Stir the ingredients as the liquid heats. Once the sugar has dissolved, remove the pan from the heat.
Now, working in batches, place the cranberries into the syrup. Make sure to coat them on all sides. Afterward, use a slotted spoon to remove the berries from the syrup. Transfer them to the cooling rack.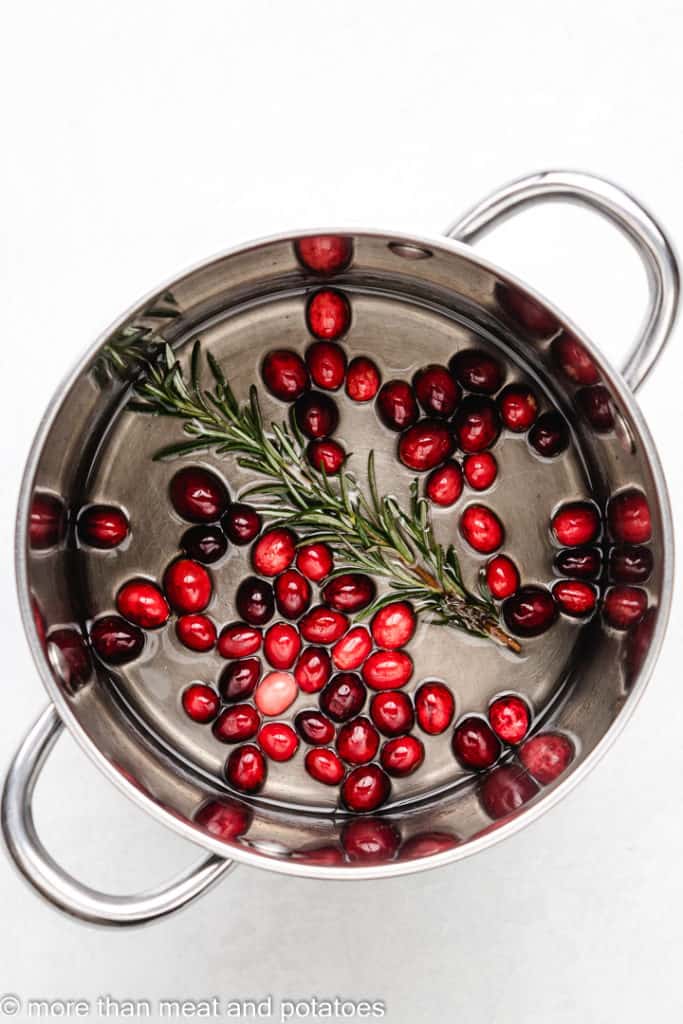 When you've coated all the cranberries, move on to the rosemary.
Use your fingers to spread out the sprigs of rosemary; otherwise they'll contract when drying.
Similar to the cranberries, coat the fresh herbs in simple syrup and transfer them to the cooling rack.
Then, let the cranberries and rosemary dry for about 60-minutes. Don't touch them during the drying phase.
Meanwhile, grab a shallow baking dish and add the remaining sugar (1-cup) to the dish.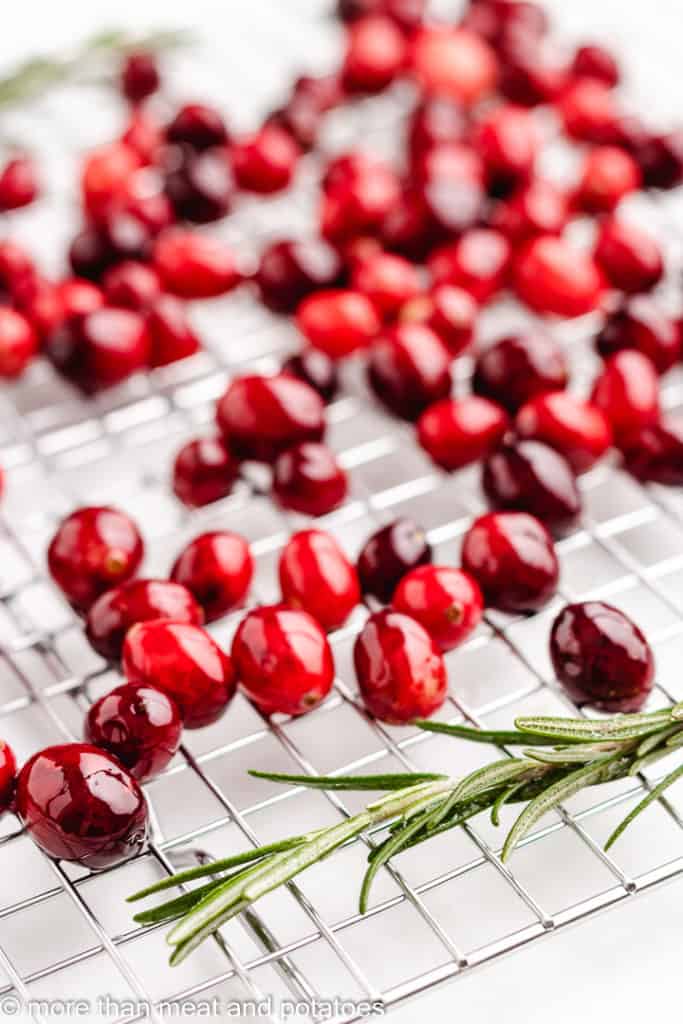 Once the berries and herbs have dried for an hour, transfer them to the baking dish.
Coat them generously in the sugar and place them back on the rack.
Last, let the candied cranberries and rosemary dry for another hour. Store them in a sealed container in your fridge for up to 7-days.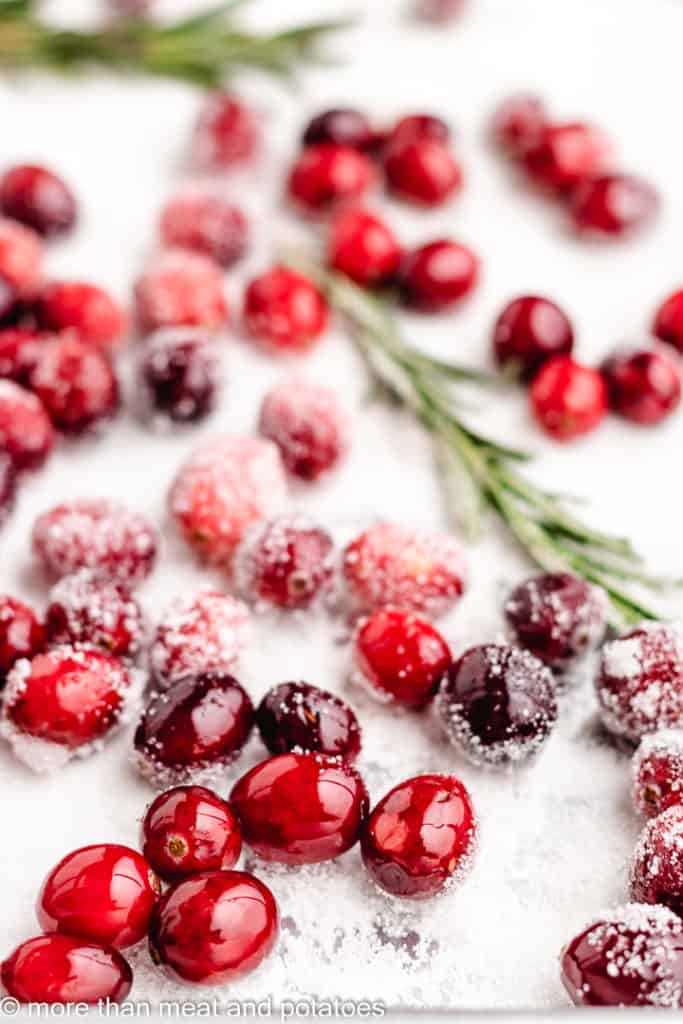 You can snack on them as-is or use them on cheesecakes, cakes, cupcakes, or other baked desserts.
That's it, your sugared cranberries and rosemary recipe is done! Kim and I hope you enjoy it and wish you all the best 🙂
Recipe Tips & FAQ's:
Placing a cooling rack over a lined sheet pan makes clean-up much easier. Otherwise, you'll be scraping hardened sugar off a sheet pan or other hard surface.
Candied cranberries have numerous uses. For example, they can used as garnishes for your favorite holiday desserts, toppings for baked goods, or cocktails.
If you don't care for rosemary, then don't use it. The sugared cranberries are fine without any fresh herbs.
Can you freeze candied cranberries?
Yes, you can freeze them. However, I don't recommend it. Because, once they begin to thaw, all that extra moisture could turn them into a gummy, syrupy mess.
Can I use powdered sugar for sugared cranberries?
You can use powdered sugar on cranberries. With that being said, they may need to dry out for more than 1-hour. If they're too wet when you add them to the powdered sugar, the delicate sugar will simply dissolve instead of coating the berries as intended.
Don't forget to check out our Sugared Cranberries web story!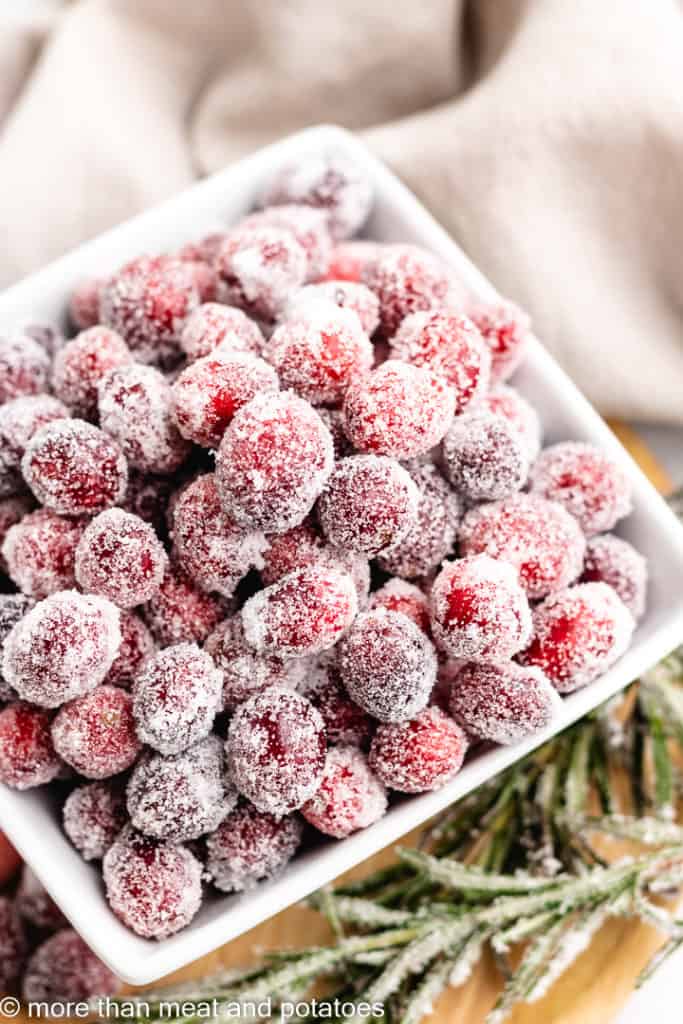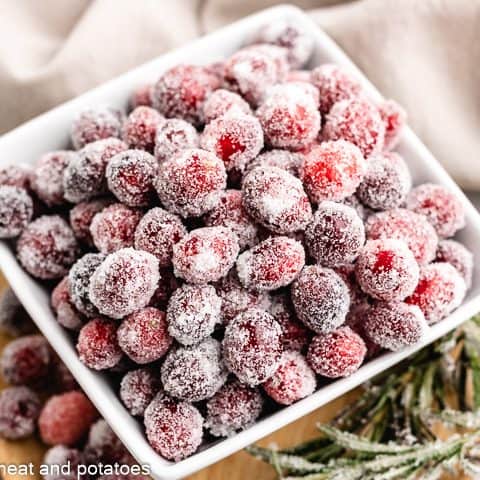 Sugared Cranberries and Rosemary
Total Time:
2 hours
15 minutes
Our sugared cranberries and rosemary recipe features plump, tart cranberries and fresh rosemary coated in simple syrup and granulated sugar.
Ingredients
1 ½ Cups Granulated Sugar, divided
½ Cup Water
12 Ounces Fresh Cranberries, washed
2 to 4 Fresh Rosemary Sprigs, washed
Instructions
Line a large baking sheet with parchment paper or foil, then top with a wire cooling rack.
In a large, heavy-bottomed saucepan heat ½ cup of sugar and all the water over medium - high heat until the sugar has dissolved, about 3 to 5 minutes. Remove from heat.
Work in batches, and add the cranberries. Stir gently to coat all sides of the berries with the simple syrup. Use a slotted spoon to remove the berries, and transfer to the wire rack.
Next, use your hands to open sprigs of rosemary (they'll close as they get wet). Place them in the simple syrup, and turn to coat. Use the slotted spoon to transfer the cooling rack. Allow the cranberries and rosemary to dry for 1 hour without touching them.
Pour the remaining 1 cup of sugar into a shallow baking dish or large plate. Place the cranberries and rosemary into the dish, and use a spoon to turn them over several times in the sugar. After they're well coated, use the spoon to transfer them back to the wire rack to dry for 1 hour.
Use the sugared cranberries for garnish on desserts like cakes, cheesecakes, and cupcakes. Store extra cranberries in the refrigerator for up to a week.
Notes
The calories listed are an approximation based on the ingredients in the recipe card and a serving size of 1-ounce of the sugared cranberries with rosemary. Actual calories will vary. For more information and tips, please refer to the post.
Recommended Products
As an Amazon Associate and member of other affiliate programs, we may earn a commission from qualifying purchases.
Nutrition Information:
Yield:

12
Serving Size:

1 Ounce
Amount Per Serving:
Calories:

110
Total Fat:

0g
Saturated Fat:

0g
Trans Fat:

0g
Unsaturated Fat:

0g
Cholesterol:

0mg
Sodium:

1mg
Carbohydrates:

28g
Fiber:

1g
Sugar:

26g
Protein:

0g
*The calories are an estimate and are based on the ingredients and serving size listed. The calories can vary depending on the brand of product purchased.