An Eggnog Latte is quintessential to getting into the holiday spirit! Better than what you can get at a crowded coffee shop, this cozy coffee recipe uses brown sugar, warm vanilla, a touch of nutmeg for the perfect spice, and of course your favorite eggnog. Plus, no fancy espresso maker needed!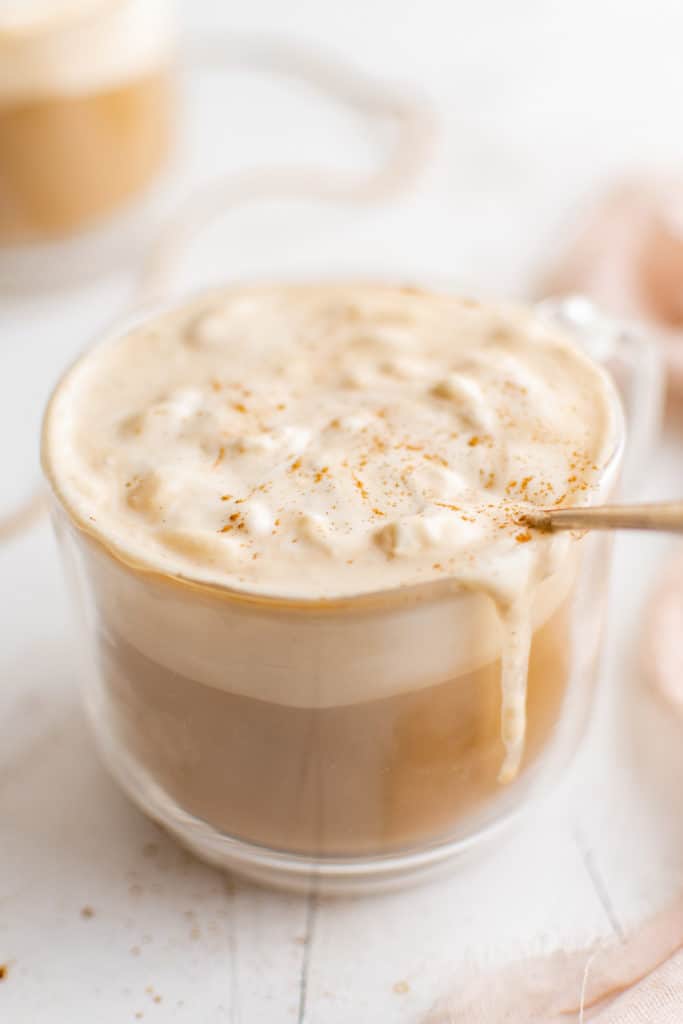 Our eggnog latte recipe is a seasonal coffee drink that combines creamy eggnog with the bold flavors of strong coffee or espresso. This homemade latte is one of my favorite things during the holiday season.
It's warm, cozy, and a great way to enjoy your morning coffee. The process only requires a few simple ingredients and no special equipment.
It's a perfect addition to your holiday menu, and guaranteed to become a family favorite.
Tips and Variations
If you have the option, go ahead and use espresso instead of coffee for a more authentic taste.
Make sure to pick a strong coffee if you aren't able to use espresso. Think about using a dark roast. Ethiopian and Peruvian beans are great options!
If you decide to use homemade instead of store bought eggnog, it's highly important you don't get your eggnog too hot when warming it on the stove! Eggnog has eggs in it and if you get the custard drink too hot the eggs will start to cook and you'll end up with a mess. You want it warm, not hot.
Storage and Reheating
This homemade Eggnog Latte is best enjoyed right after preparation.
If you happen to have any leftovers, store them in an airtight container in the fridge for up to two days. Remember to stir while reheating on the stovetop or in the microwave, being careful not to let it boil.
Do you need an espresso machine to make this latte?
No, you don't need an espresso machine to make a homemade eggnog latte! While espresso does give the drink a more authentic coffee house flavor, it's not a must-have.
You can use a strong brewed coffee as a substitute. The key is to select a robust blend that can stand up to the rich flavors of the eggnog and other ingredients.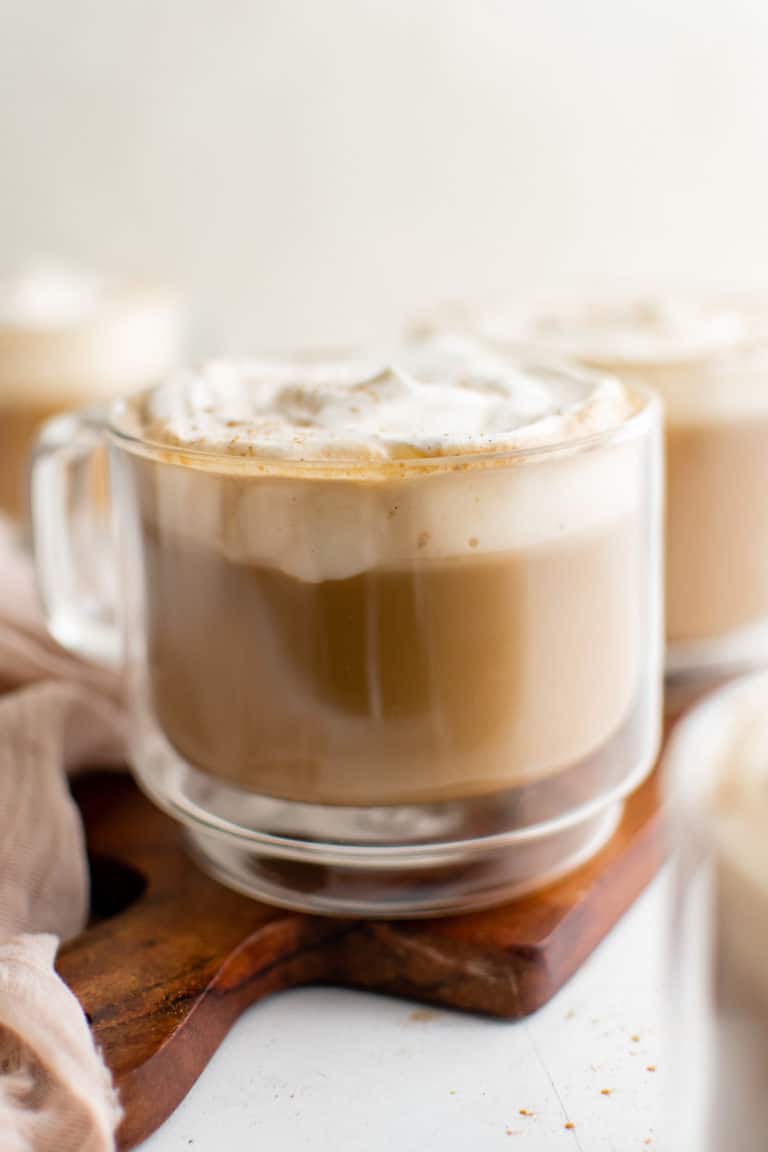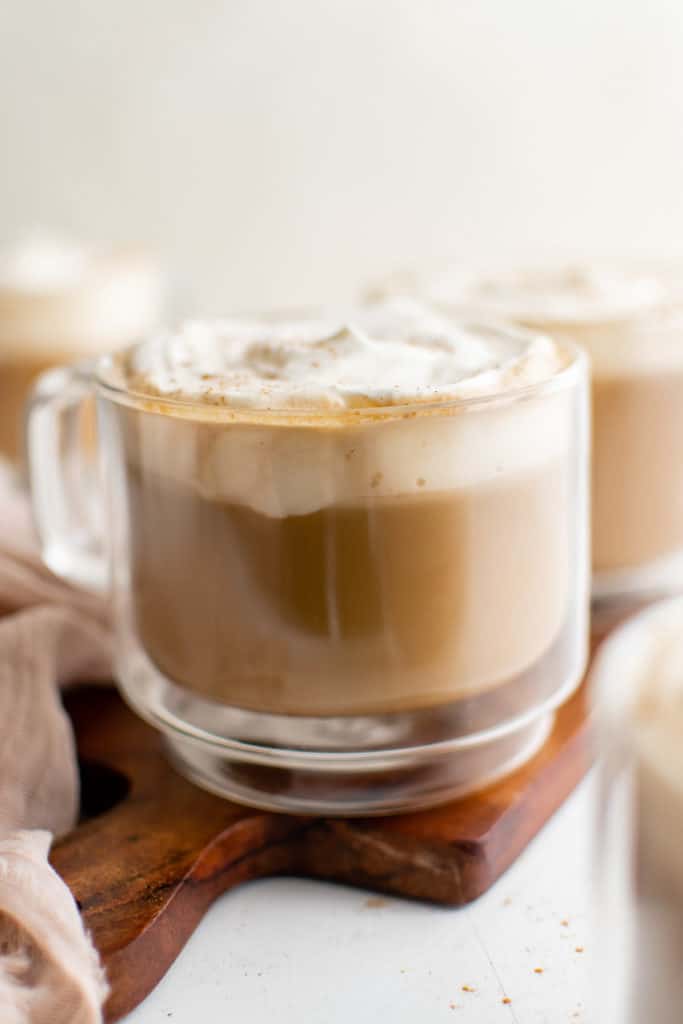 Can you use instant espresso in place of fresh brewed espresso?
Absolutely, you can use instant espresso or espresso powder in place of fresh brewed espresso in your homemade eggnog latte! Instant espresso powder is a convenient alternative that can give your latte a coffee flavor.
Simply dissolve it in a small amount of hot water before adding it to the eggnog mixture. However, remember that like with any ingredient substitution, it may slightly alter the taste compared to the original recipe.
If you're a coffee lover and hold flavor paramount, fresh brewed espresso is your best bet. But for a quick, easy, and still delicious alternative, instant espresso works wonders.
Is there another way to froth the milk mixture without a frothing wand?
Yes, there is another way to froth the milk mixture for your eggnog latte! This method involves using a mason jar.
Pour the steamed milk into a mason jar, but ensure it's no more than halfway full to allow for the froth. Secure the lid tightly and shake vigorously for about a minute until the milk becomes frothy.
Keep in mind, the jar may become hot so use a towel for safety. Open the jar, and microwave for 30 seconds to stabilize the froth.
Can you use homemade eggnog?
Absolutely, you can use homemade eggnog! In fact, some may argue that it makes the latte even more delicious and rich.
If you have the time and ingredients, creating your own eggnog allows you to control the sweetness and spice levels to suit your personal preferences. It's a wonderful way to add another homemade touch to your lattes and to enjoy them any time of year.
Can you add alcohol to the an eggnog latte?
While it's completely optional, adding a splash of alcohol to your latte can enhance the experience based on your personal preferences. For instance, a touch of bourbon can elevate your eggnog latte into a delightful and festive treat.
To do so, simply incorporate the bourbon into the eggnog mixture before heating. The eggnog combined with the sweetness of the brown sugar complements the bourbon, resulting in a delicious bourbon eggnog latte that's perfect for those chilly winter months.
More Festive Drink Recipes:
Recipe Card with Ingredient Amounts and Instructions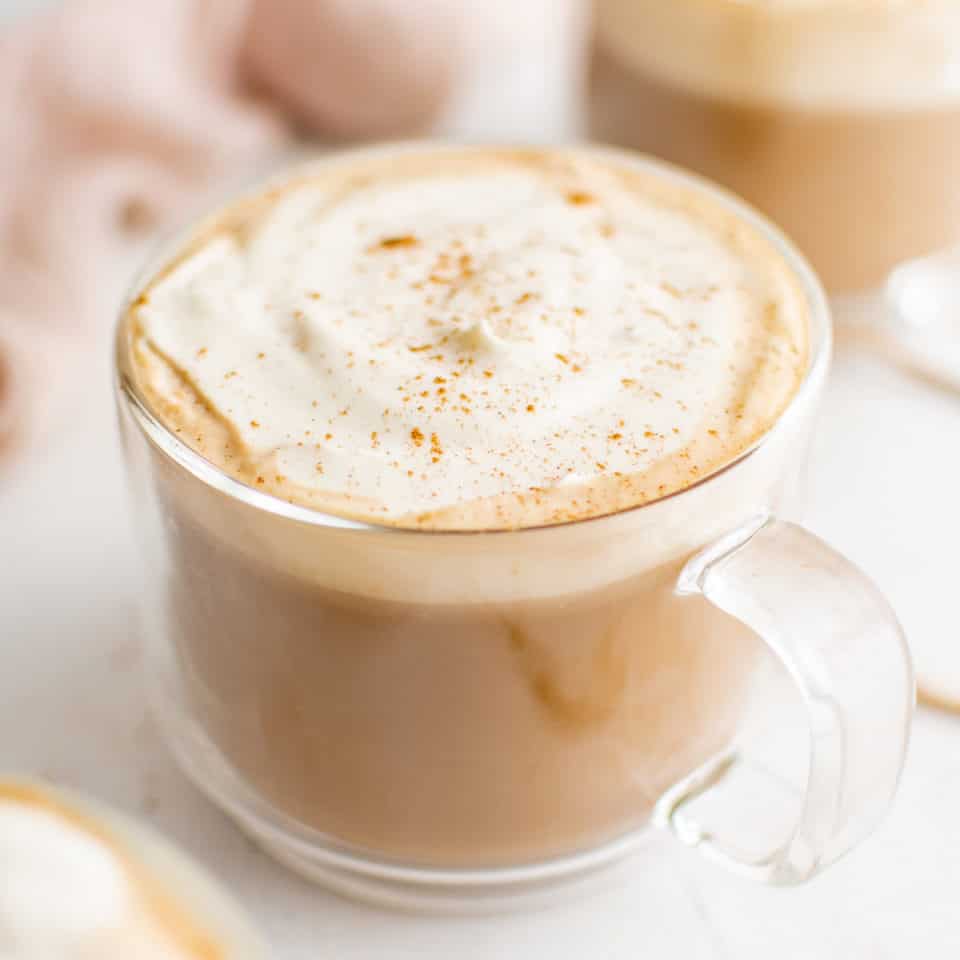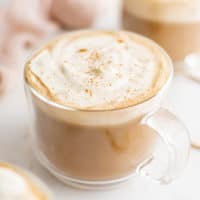 Ingredients
1

cup

coffee

,

strong, freshly brewed (or 1-2 shots of espresso to taste)

1 to 2

tablespoons

light brown sugar

,

adjust to taste

½

teaspoons

pure vanilla extract

½

cup

eggnog

½

cup

milk

⅛

teaspoon

ground nutmeg
Instructions
Stir the coffee, brown sugar and vanilla together in a coffee mug.

1 cup coffee

1 to 2 tablespoons light brown sugar

½ teaspoons pure vanilla extract

Add the eggnog, milk and nutmeg to a small saucepan and warm over medium heat until it starts to lightly simmer.

½ cup eggnog

½ cup milk

⅛ teaspoon ground nutmeg

Turn the heat off and use a milk frother or an immersion blender to froth the milk until bubbles start to form.

Pour it over the coffee and stir to combine.

Optional: dollop on some whipped cream and sprinkle on some cinnamon or nutmeg for garnish.

See post for tips, FAQs, and storage options.
Notes
*The calories listed are an approximation based on the ingredients in the recipe card and a serving size of 1 (16 ounce) drink. Actual calories will vary.
*For more information, tips, and answers to frequently asked questions, please refer to the post.
*Photos courtesy of Karla Rae Photography.
Nutrition
Serving:
1
drink
Calories:
240
kcal
Carbohydrates:
28
g
Protein:
10
g
Fat:
9
g
Saturated Fat:
6
g
Polyunsaturated Fat:
0.4
g
Monounsaturated Fat:
3
g
Cholesterol:
90
mg
Sodium:
123
mg
Potassium:
528
mg
Fiber:
0.1
g
Sugar:
28
g
Vitamin A:
460
IU
Vitamin C:
2
mg
Calcium:
331
mg
Iron:
0.4
mg