This easy recipe for Homemade Apple Cider is the perfect naturally sweet treat for fall made from scratch. Serve it hot on a cool crisp day or use it in your favorite baked holiday desserts!
To us, Fall means plenty of pumpkin and apple flavored foods and drinks, and we love it! In fact, there's nothing like sipping on a hot mug of apple cider and some baked apples while sitting outside and enjoying the changing leaves.
Even better is when that apple cider is made completely from scratch! Making homemade apple cider is quite easy, and we're happy to share this simple method so you can enjoy fresh apple cider using your favorite mix of Fall apples.
Apples are cored and peeled then put in a pot with some fresh oranges and warming spices. Everything gets simmered in filtered water using your stovetop or slow cooker until the apples are fall-apart tender. The liquid gets strained out leaving you with a flavorful liquid that is perfectly sweet and balanced making it an amazing signature Fall drink!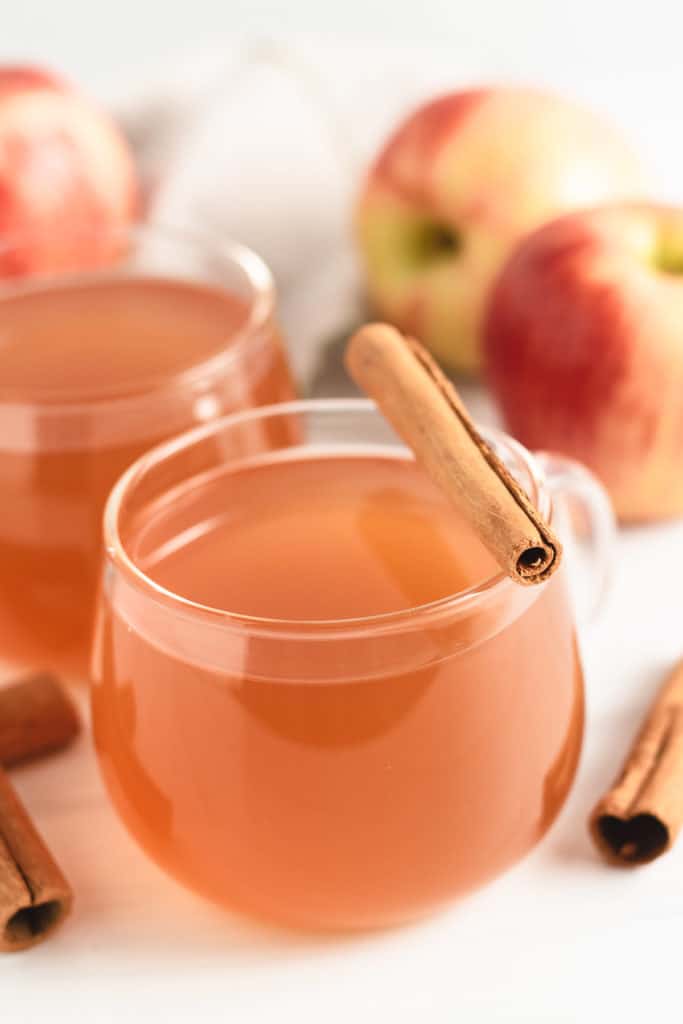 Why You'll Love This Recipe
You can customize the spices and sweetness to your liking.
It's a great way to use the abundance of apples in the Fall months.
Serve it for Thanksgiving in a punch bowl to drink hot or cold.
Make apple cider using a pot on the stove or by using your slow cooker.
You can use it to make cocktails or even use it in your fall desserts.
Both kids and adults love the flavor of fresh apple cider.
Ingredients and Equipment
Cinnamon Sticks – Adds the warming naturally sweet flavor of cinnamon to the apple cider.
Nutmeg – Gives the apple cider a bold, woody layer of flavor.
Whole Cloves – Adds an astringent spicy note to the cider that compliments the other spices.
Fresh Ginger – Adds a naturally spicy and zesty layer of flavor that is optional.
Apples – You can choose any apples you enjoy to make cider. A mix of apples is best!
Navel Oranges – Gives the cider a sweet citrus flavor that helps balances the spices.
Water – Needed to simmer the fruit and spices to make a pourable cider.
Brown Sugar – A touch of brown sugar can help sweeten the apple cider if needed.
Equipment
Cheese Cloth
Kitchen Twine
Metal Strainer
Potato Masher
Large Heat Safe Container
7-quart Pot or Slow Cooker
How To Make Apple Cider
Bundle the spices together: Cut off a thin piece of cheesecloth. Make a pouch and add the cinnamon sticks, nutmeg, cloves, and ginger. Tie off with kitchen twine and set aside.
Prepare the fruit: Wash, core, and peel your apples. Then peel your oranges and separate them into segments.
Simmer the cider: Place the prepared fruit into a pot or slow cooker with 1 gallon of water. Add in the cheesecloth full of spices and make sure it is fully coated with water so it doesn't float on top. Heat up the water to a low simmer on the stovetop and cook for 2-3 hours. If using a slow cooker, cook on low for 6-7 hours or high for 3-4 hours.
Mash the fruit: Using a potato masher, gently mash the apples and oranges to release their flavors. Continue to cook for another 30 minutes up to 1 hour.
Strain the cider: Add a mesh strainer over a large heat-safe container, then carefully pour the cider and fruit through. Use a potato masher to remove as much liquid from the fruit as possible. Discard the fruit solids and spices.
Serve: Serve the cider warm, or let it cool and pour into a large jar or airtight container and store in the fridge to serve later.
Recipe Tips
Before making the cider, be sure you have a large enough cooking vessel to hold 7-8 quarts worth of liquid and fruit. This will help ensure everything cooks evenly and does not boil over.
This recipe can be made on the stovetop or in a slow cooker. If using the stovetop, make sure you are home for 8 hours to properly steep the apple cider safely.
If you don't have cheesecloth, you can put in the spices without them. The cheesecloth just makes it easier to remove and discard.
The brown sugar in this recipe is completely optional. Most apples are sweet enough on their own and may not need the added sugar.
Fresh ginger is optional. While ginger adds a bold zesty spice that compliments the flavors well, it is not necessary to make homemade apple cider.
Use fresh filtered water for the best taste.
If your cider has too much pulp, you may need to strain it twice.
How To Use Homemade Apple Cider
Apple cider is a fall staple and can be used in so many different ways. Try using your homemade apple cider with these fun ideas:
Serve it hot in a mug with a cinnamon stick to sip on a cool crisp day.
Add a pinch of cayenne pepper to wake up the senses in the morning in place of coffee.
Use it to make Thanksgiving cocktails.
Use it in a sweet and zesty Apple Cider Vinegar Dressing.
Make apple cider donuts or pancakes for breakfast.
Use it in an apple cider donut cake.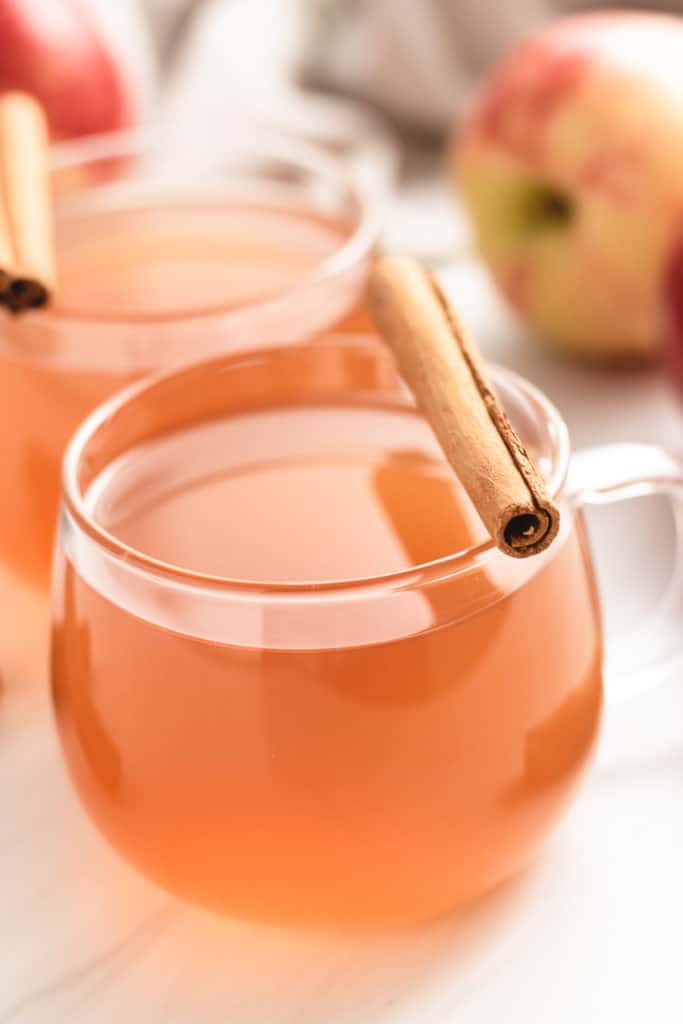 What are the best apples to use for apple cider?
Any apple you enjoy can be used to make apple cider. We recommend a mix of green apples and red apples for the perfect balance of tart and sweet.
Do you need to put an orange in apple cider?
While it's not 100% necessary to add orange into apple cider, the citrus flavor does help cut through the sweet taste of the apples making it more balanced and enjoyable to drink.
Can I use dried spices instead?
You can use dried spices instead of whole, however, they will end up in your cider which may cause a lot of spice build-up on the bottom. If you use dried spices, make sure to give the cider a good shake or stir before serving.
Storing and Freezing
Storing: Store this drink in the fridge in an airtight container for up to 2 weeks. Give it a good shake or stir before warming and serving.
Freezing: Leftover cider can be frozen in an airtight container or freezer-safe bag that has at least 2 inches of room for the apple cider to expand while freezing. Freeze for up to 3 months before thawing in the fridge overnight.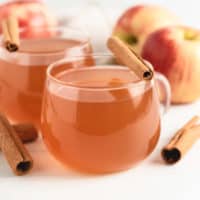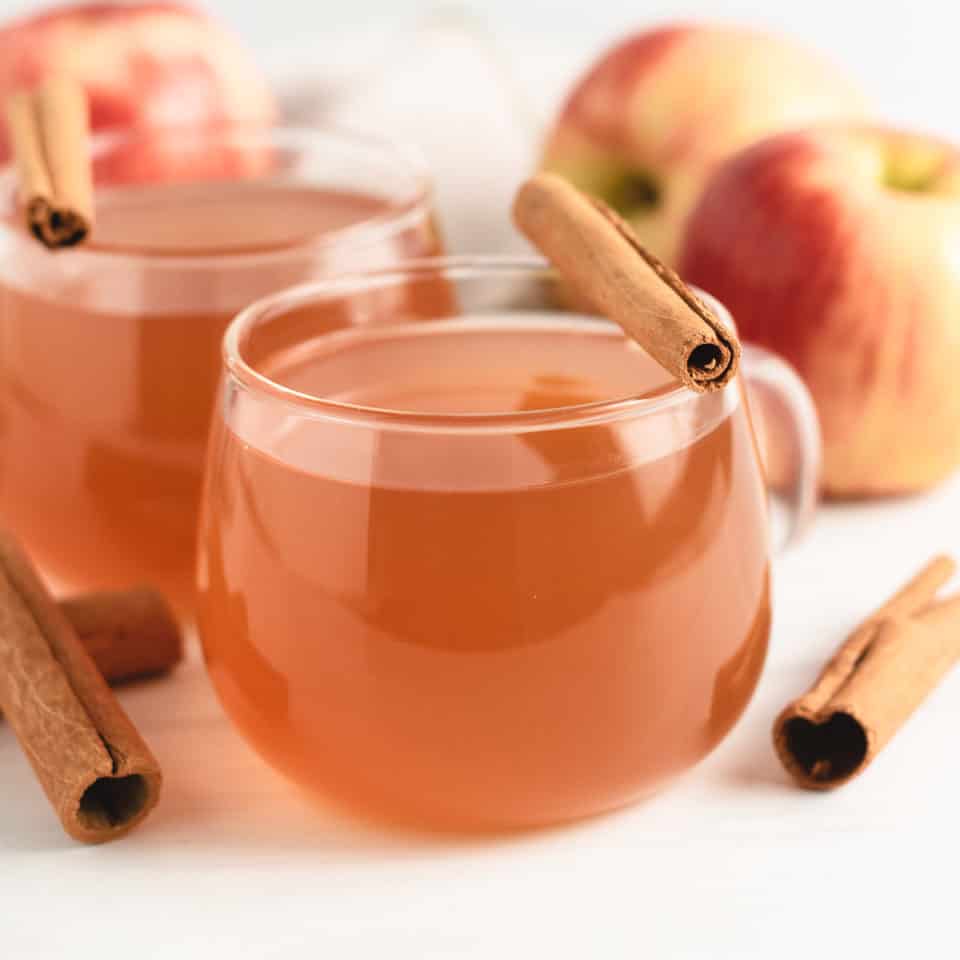 Apple Cider
Print
Pin
Save
Saved!
I earn a commission from Amazon and Instacart from qualifying purchases.
Ingredients
3-4

cinnamon sticks

1

whole nutmeg

1

tablespoon

whole cloves

½

inch

fresh ginger

optional

10-12

apples

cored and quartered (choose an assortment)

2

navel oranges

peeled and sectioned

1

gallon

water

Brown sugar

to taste (optional)
Instructions
Place the cinnamon sticks, nutmeg, whole cloves, and ginger in a piece of cheesecloth, and tie off with a kitchen twine. Set aside.

3-4 cinnamon sticks

1 whole nutmeg

1 tablespoon whole cloves

½ inch fresh ginger

Place the apples and oranges into a 7-quart (or larger) slow cooker. Add the cheesecloth with spices, and pour in the water.

10-12 apples

2 navel oranges

1 gallon water

Cook on low for 6-7 hours or high for 3-4 hours. Use a potato masher to carefully mash the fruits, then cook for an additional 30 minutes to an hour.

Pour the cider through a mesh strainer into a heat-safe container. Double strain if desired. Discard the solid pieces and spices.

Serve warm.

See post for storage recommendations.
Notes
*The calories listed are an approximation based on the ingredients in the recipe card and a serving size of 1 cup of cider. Actual calories will vary.
*For more information, tips, and answers to frequently asked questions, please refer to the post.
Nutrition
Serving:
1
cup
|
Calories:
71
kcal
|
Carbohydrates:
19
g
|
Protein:
1
g
|
Fat:
0.3
g
|
Saturated Fat:
0.1
g
|
Polyunsaturated Fat:
0.1
g
|
Monounsaturated Fat:
0.02
g
|
Sodium:
13
mg
|
Potassium:
157
mg
|
Fiber:
4
g
|
Sugar:
13
g
|
Vitamin A:
107
IU
|
Vitamin C:
16
mg
|
Calcium:
29
mg
|
Iron:
0.2
mg