These homemade Date Caramels are the perfect sweet treat for those who want to eat cleaner but don't want to give up treats altogether. Made with dates, chocolate chips, and nut butter, these chewy and delicious treats are perfect for sweet cravings!
Date caramels are a great way to enjoy a sweet and delicious dessert that's on the lighter side. Dates soft and naturally sweet. And when combined with chocolate chips and nut butter, they create a caramel-like texture that is irresistible!
For this easy dessert recipe, dates are mixed with nut butter and seasonings. Almond flour is added to create a smooth caramel-like texture. Once they are frozen and cut into squares, they are dipped in semi-sweet chocolate for a decadent caramel made with natural ingredients!
Date caramels are perfect for those with a sweet tooth that want to eat better but still enjoy candy every now and then. They can be served as is or enjoyed dipped in chocolate and sprinkled with toppings like nuts, coconut flakes, and dried fruit.
Date caramels are a great addition to any party or gathering as a healthier dessert option, added as a cute addition along with some Chocolate Truffles to a Christmas Charcuterie Board, or be wrapped up in wax paper and given to friends and family as a delicious homemade gift for the holidays or any occasion!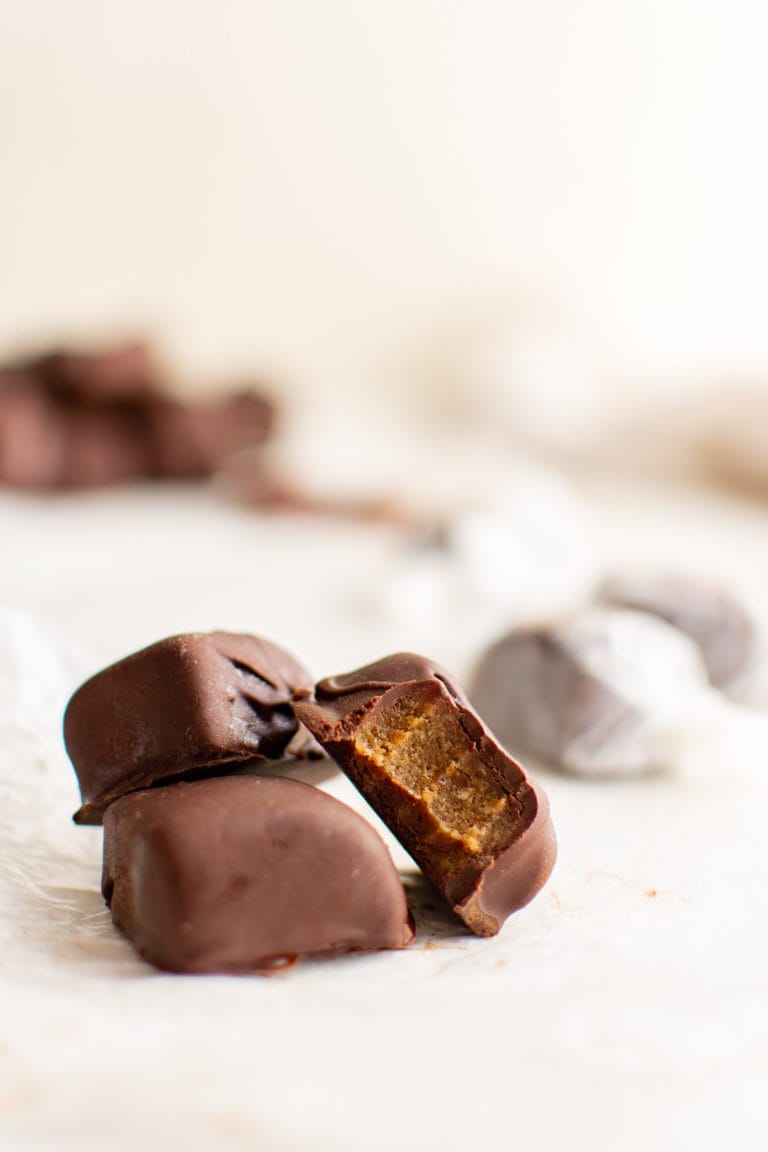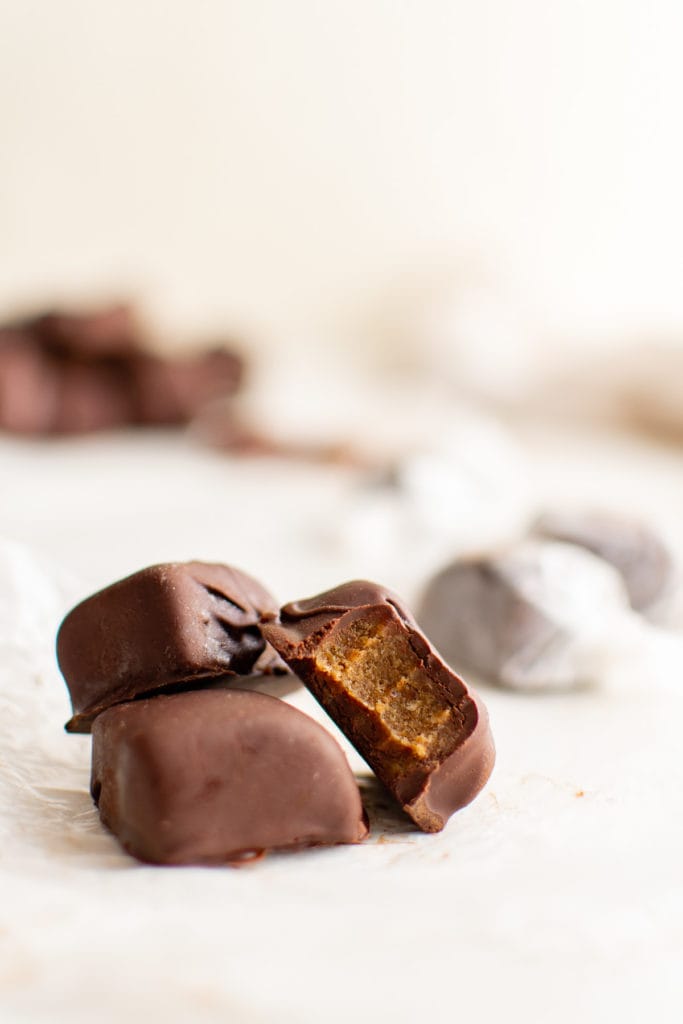 Ingredients Needed for Date Caramels:
Medjool Dates - Dates are naturally sweet and used as the base in many lighter, healthier recipes. They make the perfect main ingredient for these chocolate covered caramels.
Nut Butter - You can use tahini, almond butter, or any nut butter you enjoy to add a rich taste and dense texture to the date caramels along with a nutty flavor.
Vanilla Extract - A small amount of vanilla extract goes a long way in adding a light comforting vanilla flavor to these caramels.
Ground Cinnamon - Cinnamon gives a light warming spice flavor to the caramels.
Salt - Helps to balance out the sweetness in the caramels by adding a contrasting flavor that enhances the caramels.
Almond Flour - Almond flour helps to thicken the date mixture and gives a nutty flavor as well.
Chocolate Chips - Chocolate chips are added to give these caramels an indulgent option by coating the top with a rich chocolate flavor.
Coconut Oil - The coconut oil helps to temper the chocolate allowing it to cover the date caramels smoothly.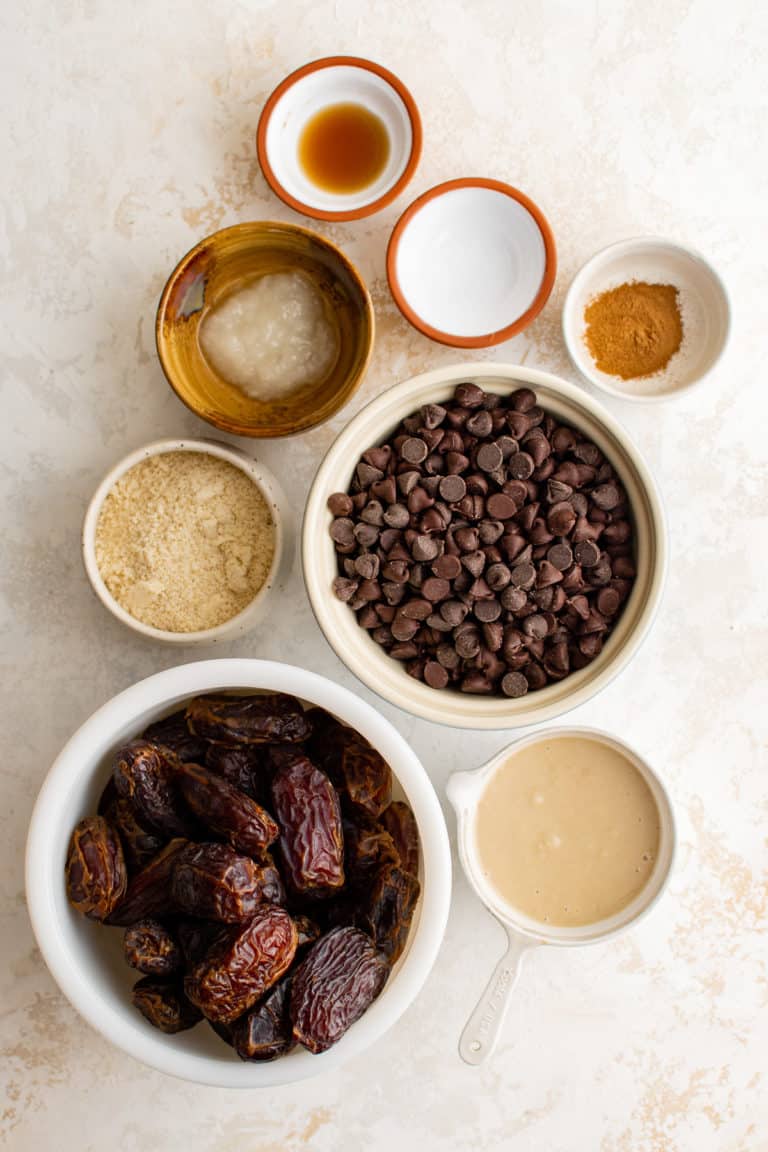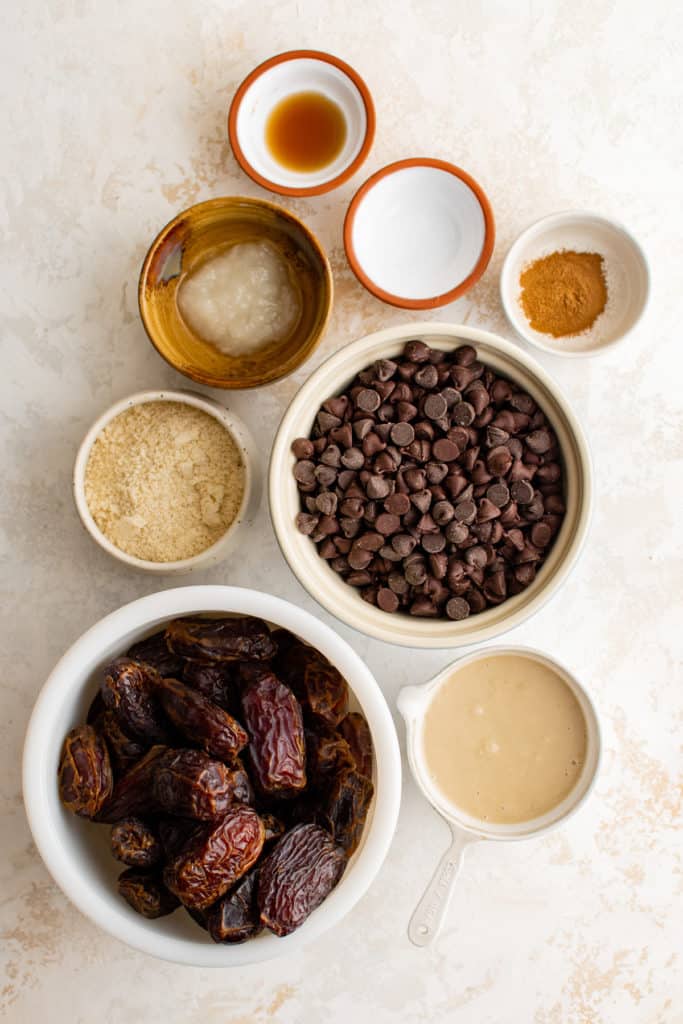 How To Make Date Caramels
Prepare the equipment: Line a 11x7-inch baking pan and a second large baking sheet with parchment paper, and set them aside for later.
Assemble the date mixture: To a large food processor, add the dates, tahini, vanilla, cinnamon, and salt. Pulse to break up the mixture, then blend until smooth and sticky ball forms on the inside. Then, add the almond flour to absorb some of the sticky texture and pulse until the mixture is completely smooth.
Prepare the date caramels: Press the mixture into the prepared baking pan in an even layer. Use a rubber spatula to spread, or press down with the bottom of a heavy pan or mason jar. Transfer the baking sheet to the freezer for 2 hours to firm.
Cut into caramels: Remove the date mixture from the freezer, move the date mixture to a cutting board, and peel off the parchment paper. Slice into 1-2 inch even pieces, then add them to the second parchment-lined baking sheet and add them back into the freezer to firm once again.
Melt the chocolate: Add the chocolate chips to a microwave-safe bowl and microwave for 1-2 minutes in 15-second intervals being sure to stir each time. Once the chocolate is fully melted, add the coconut oil in and stir until it's smooth.
Assemble the date caramels: Remove the sliced caramels from the freezer. Use a fork to dip the caramel in the melted chocolate until it's completely coated. Add to the baking sheet and repeat with the remaining caramels.
Let set and serve: Allow the chocolate completely set and harden. Serve in wax paper or store in an airtight container.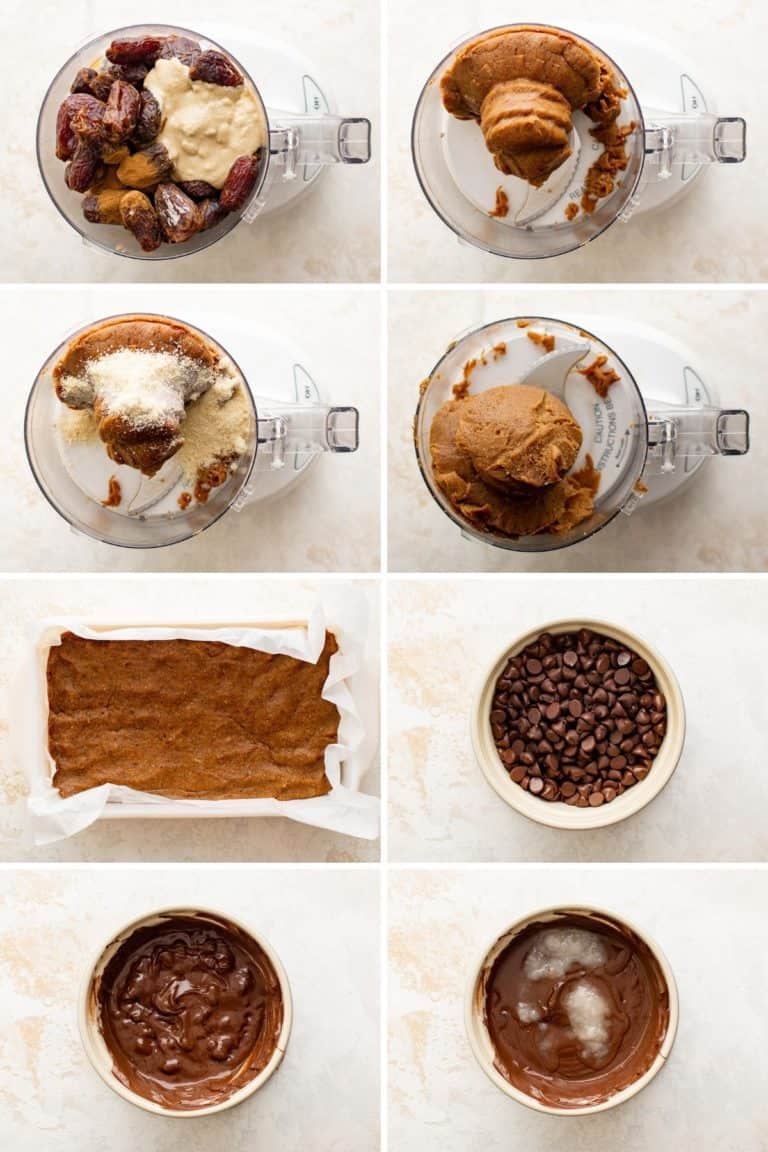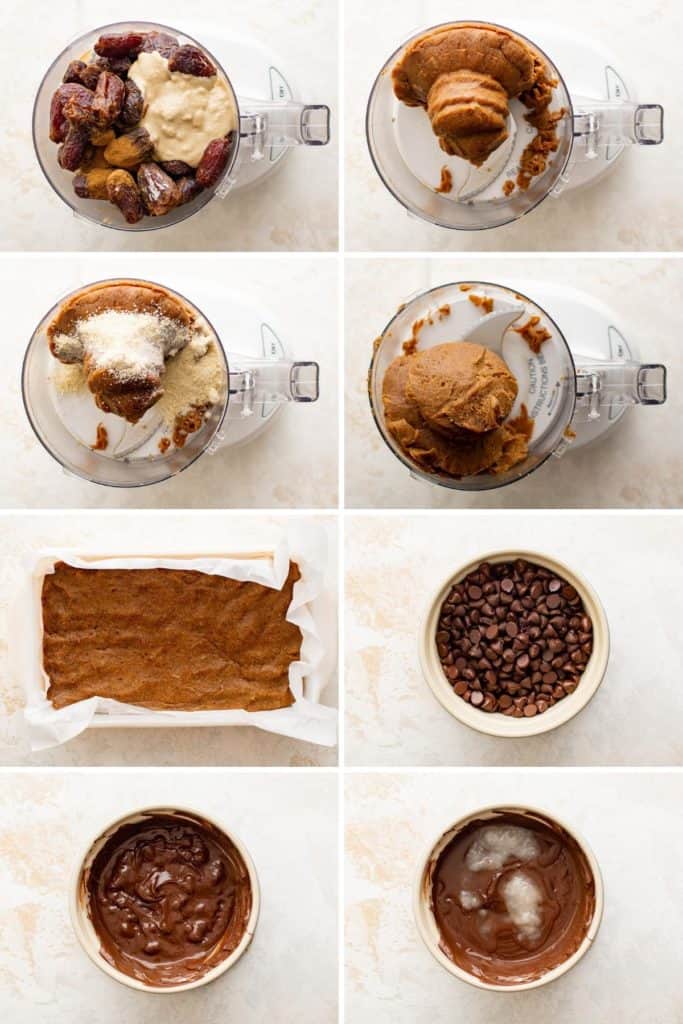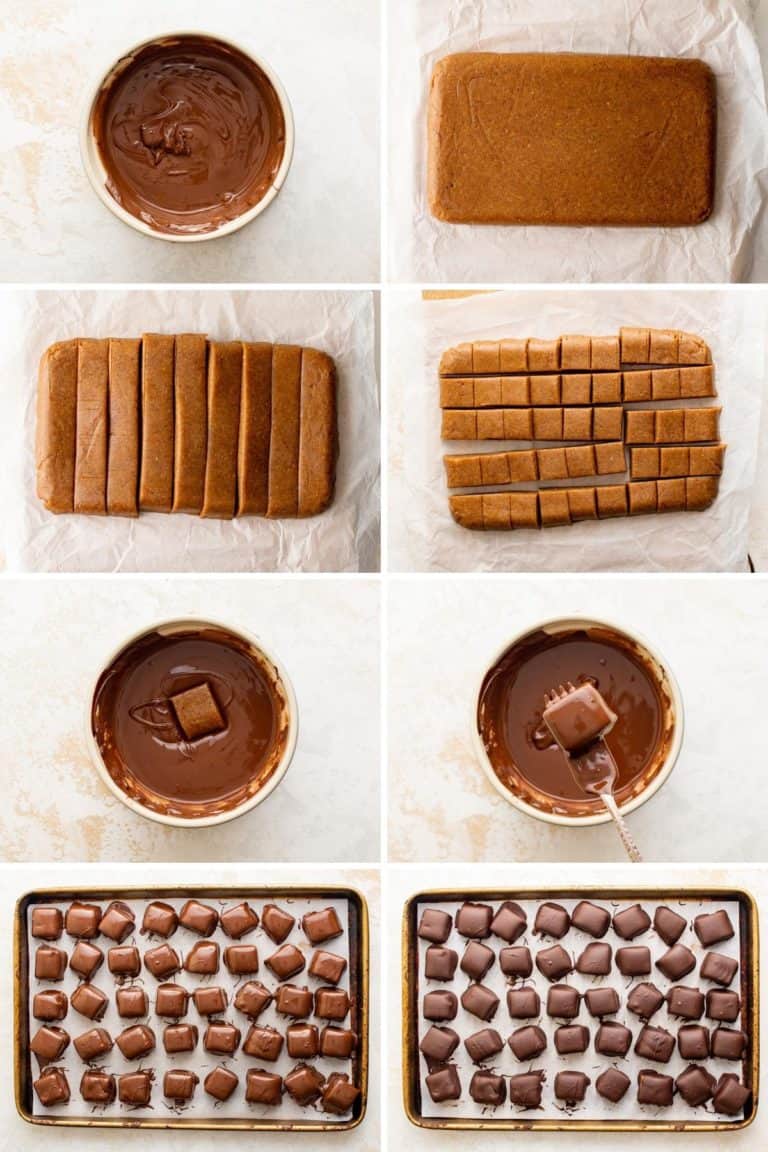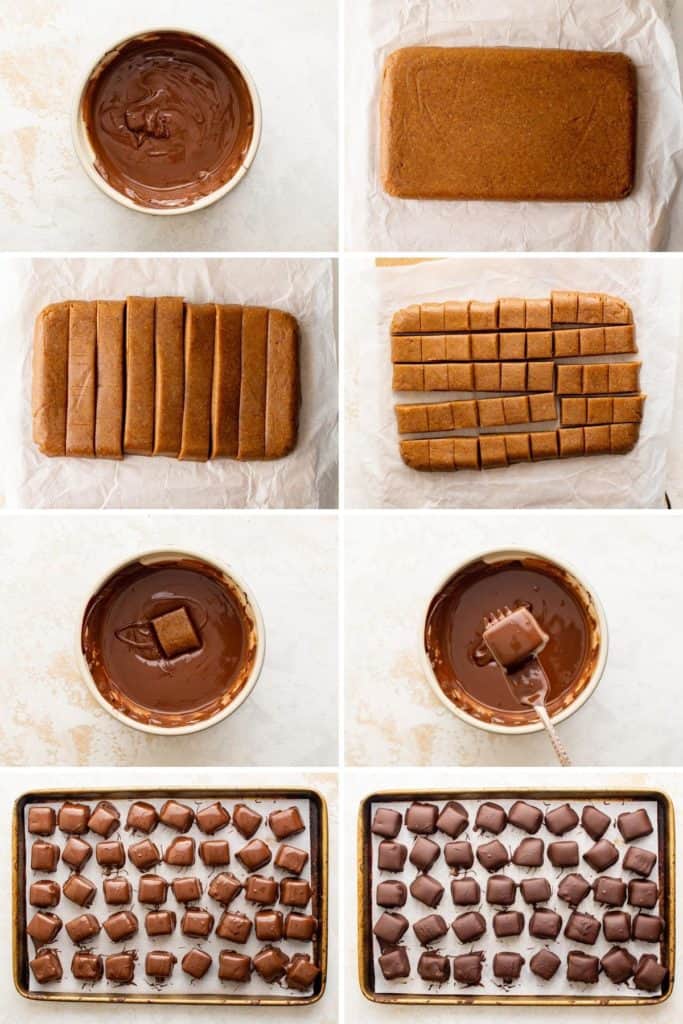 Recipe Tips
Because date caramels are made with natural ingredients they won't be as sturdy or firm as traditional caramels which is why it's important to cover them in chocolate. This will help to give them a more traditional caramel texture and flavor.
You may need more or less almond flour depending on the texture of the mixture. Slowly add until the date mixture is a smooth caramel texture.
If you want to add some nuts or seeds on top of the date caramels, I recommend doing so before adding the chocolate coating. This will help them stick better and not fall off when eating. Press the add-ins in place before freezing and use a sharp knife to cut through the extra ingredients.
When not being enjoyed, store in a cool, dry place to keep them from melting.
They can be cut into bars or different shapes using a small cookie cutter.
Variations
For a nut-free version, omit the almond flour and use cassava flour instead.
Add a pinch of cayenne pepper to the top of the chocolate for a spicy kick.
Try rolling them in coconut flakes, cacao nibs, or chopped nuts before coating in chocolate for different flavors.
Use maple, almond, or coconut extract instead of vanilla to change up the base flavor of the caramel.
Add a pinch of flaked sea salt on top of the chocolate for a sweet and salty combination of flavors.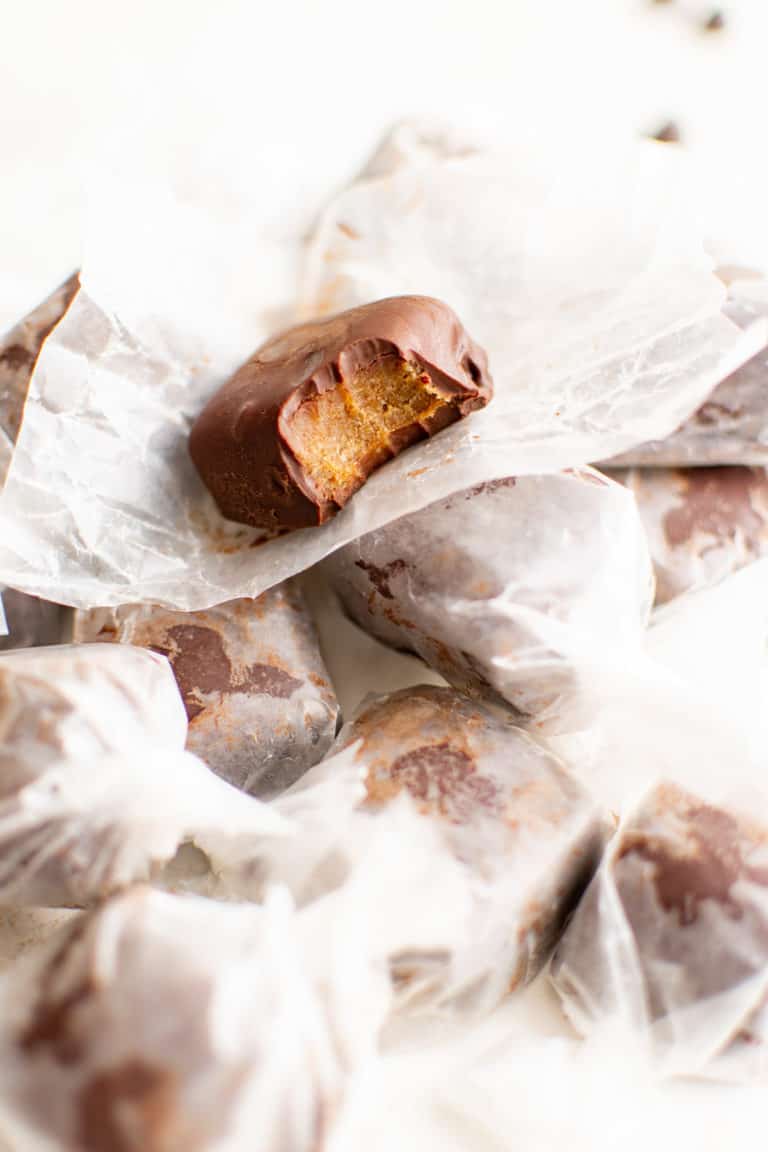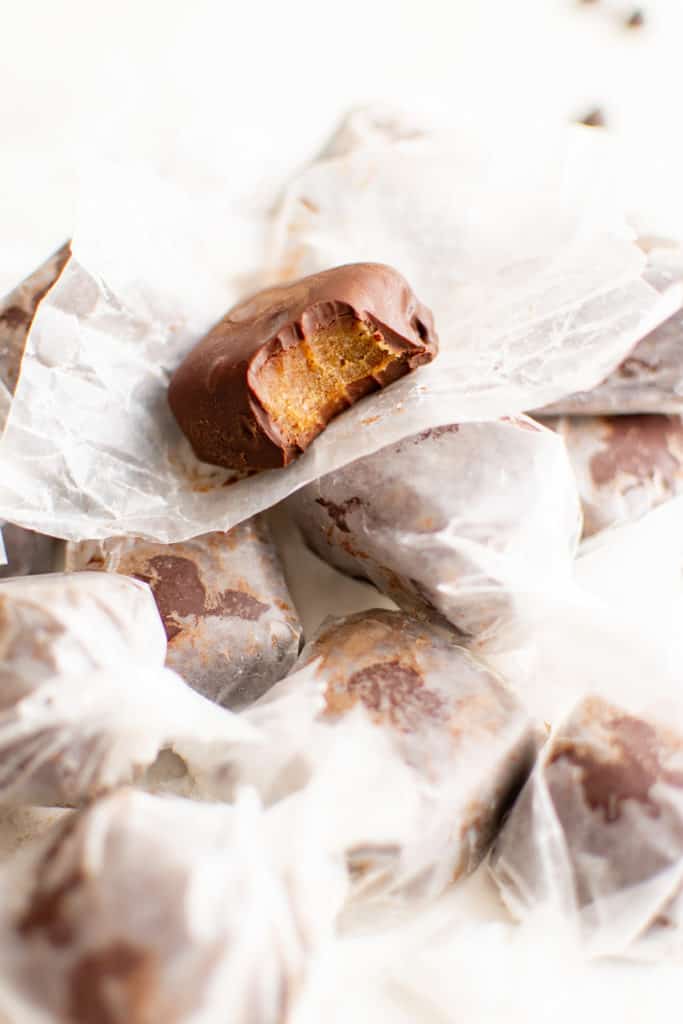 Storing and Freezing
Storing: Date caramels will last for about four days when stored in an airtight container in a cool and dry place. Be sure to add wax paper to the container to prevent them from sticking to each other or to the container.
Freezing: Date caramels can also be frozen for up to one month. Just make sure they are properly wrapped in an airtight container or freezer-safe bag before freezing. When ready to eat, let them thaw at room temperature.
More Dessert Recipes to Try:
Recipe Card with Ingredient Amounts and Instructions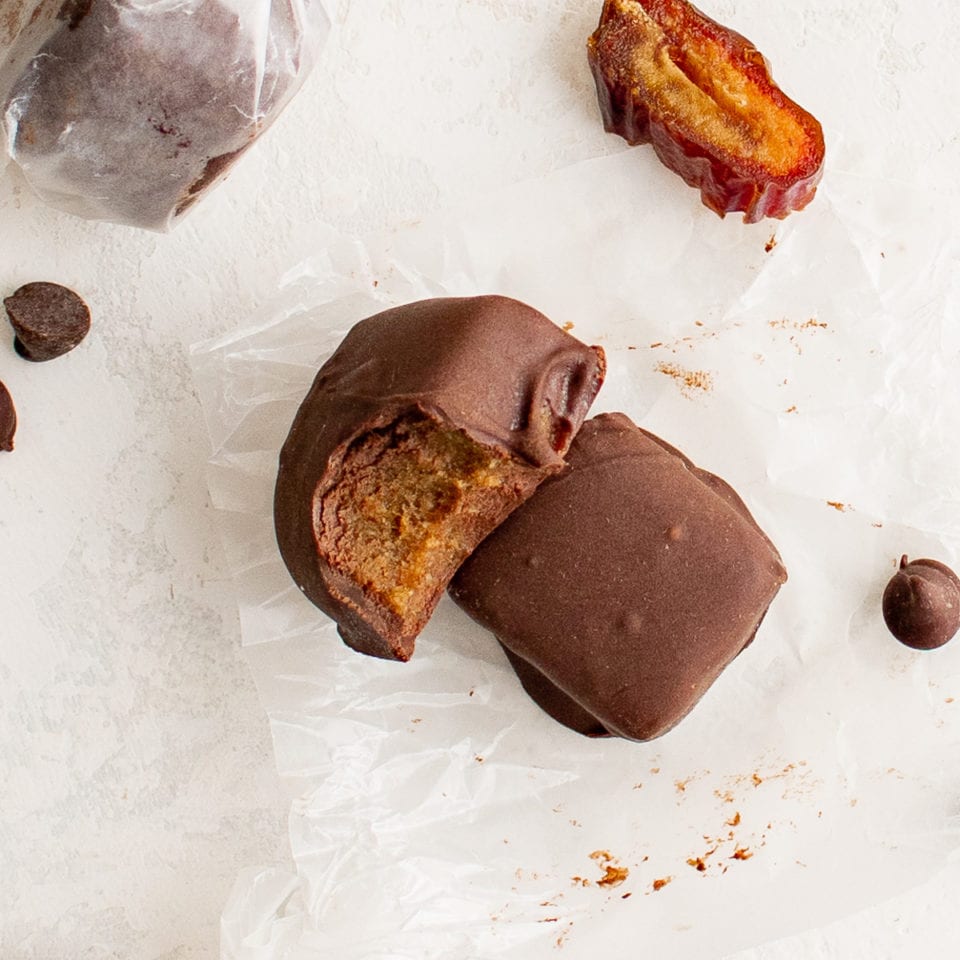 Ingredients
3

cups

medjool dates

,

pitted

⅓

cup

tahini

1

tsp.

pure vanilla extract

½

tsp.

ground cinnamon

¼

tsp.

kosher salt

⅓

cup

almond flour

3

cups

semi-sweet chocolate chips

1

tablespoon(s)

coconut oil
Instructions
Line an 11x7-inch baking pan and a second large baking sheet with parchment paper. Set aside.

Add the dates, tahini, vanilla, cinnamon and salt to a large food processor, and pulse until the ingredients begin to form a sticky ball.

3 cups medjool dates

⅓ cup tahini

1 tsp. pure vanilla extract

½ tsp. ground cinnamon

¼ tsp. kosher salt

Add the almond flour, and pulse until completely smooth.

Press the date caramel mixture into the prepared baking pan in an even layer.

Freeze for 2 hours then remove the mixture from the pan along with the parchment paper. Set the date caramel mixture on top of the parchment paper, and carefully slice the caramel into 1 to 2-inch evenly cut pieces. Return them to the pan, and transfer the pan back to the freezer.

Slice the caramel into 1 to 2-inch evenly cut pieces. Return them to the pan, and transfer the pan back to the freezer.

Meanwhile, in a microwave safe bowl, melt the chocolate chips in the microwave for 1 ½ to 2 minutes, stirring every 15 seconds then stir in the coconut oil until smooth.

3 cups semi-sweet chocolate chips

1 tablespoon(s) coconut oil

Use a fork to dip the caramels into the chocolate one at a time. Allow the excess chocolate to drip back into the bowl. Then place the date caramel onto the prepared baking sheet. Repeat with the remaining caramels.

Allow the chocolate to harden then serve or package in some wax paper if desired.

See post for storage options.
Notes
*The calories listed are an approximation based on the ingredients in the recipe card and a serving size of 2 date caramels. Actual calories will vary.
*For more information, tips, and answers to frequently asked questions, please refer to the post.
*Photos courtesy of Karla Rae Photography.
Nutrition
Serving:
2
caramels
Calories:
307
kcal
Carbohydrates:
36
g
Protein:
4
g
Fat:
17
g
Saturated Fat:
9
g
Polyunsaturated Fat:
1
g
Monounsaturated Fat:
5
g
Trans Fat:
0.03
g
Cholesterol:
2
mg
Sodium:
34
mg
Potassium:
374
mg
Fiber:
5
g
Sugar:
28
g
Vitamin A:
53
IU
Vitamin C:
0.2
mg
Calcium:
46
mg
Iron:
3
mg