Teriyaki Pork Tenderloin is a delicious and easy-to-make dish that will impress your friends and family. The pork is marinated in a homemade teriyaki sauce, then baked until juicy and tender.
The combination of pork and teriyaki sauce is a match made in heaven. The pork is tender and juicy, while the teriyaki sauce provides a flavorful and slightly sweet coating with a hint of umami flavor.
For this recipe, you'll make an easy homemade teriyaki sauce from scratch that includes simple ingredients like garlic, ginger, soy sauce, rice vinegar, and brown sugar. Half of the mixture is used as a marinade while the other half is turned into a beautiful glaze to be drizzled on top.
Serve this pork tenderloin as the main protein with your favorite side dishes. Or use it for a stir fry, tacos, or sandwiches. It also tastes great on a bed of rice or noodles.
If you're looking for an easy way to add some Asian flair to your dinner table, then teriyaki pork tenderloin is the perfect recipe for you!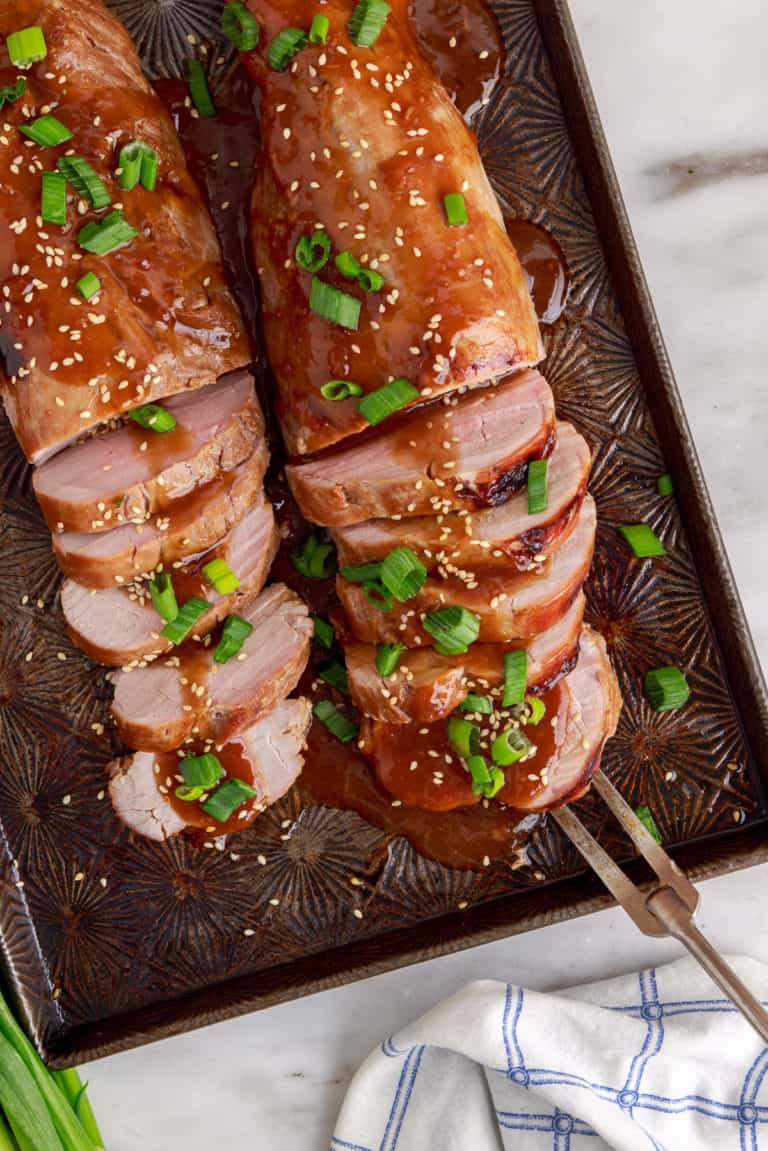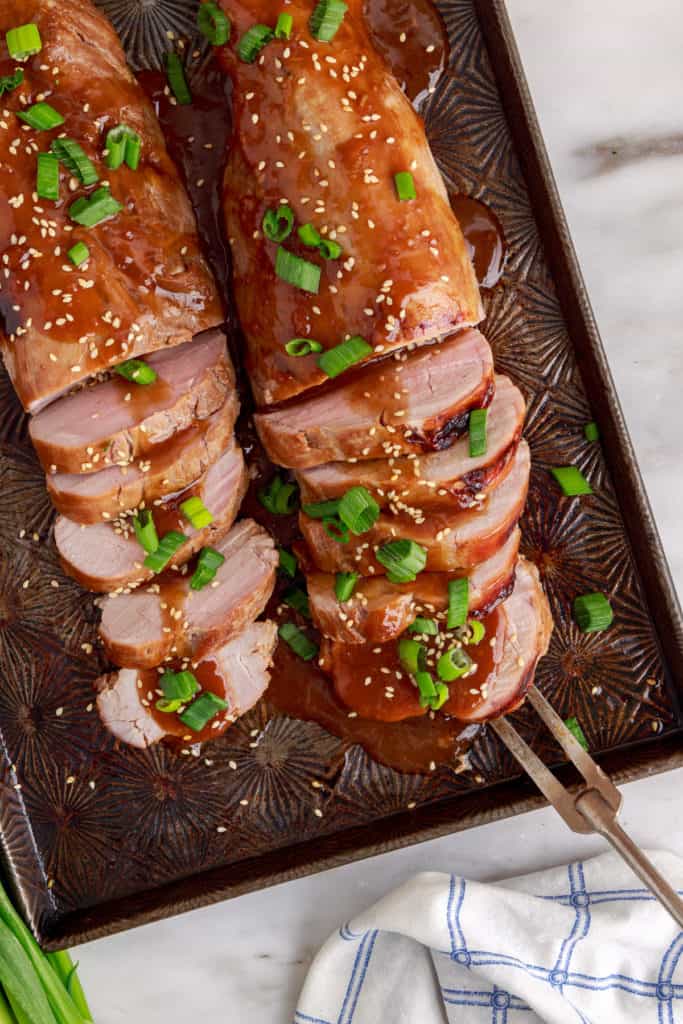 Teriyaki Pork Tenderloin Ingredients:
Pork Tenderloin - The main protein for the dish, pork tenderloin is lean and is great at taking on any flavors it's marinated in.
Soy Sauce - Adds saltiness and umami flavor to the teriyaki sauce.
Rice Vinegar - A mild vinegar that adds a touch of acidity to the sauce.
Brown Sugar - Adds sweetness to the teriyaki sauce.
Garlic & Ginger Paste - Adds fresh garlic and ginger flavor to the pork while the paste mixes well into the rest of the ingredients.
Cornstarch - Mixed with water to create a slurry that helps thicken the finishing sauce.
Garnish - A mix of toasted sesame seeds and sliced green onions make a great garnish for this Asian-inspired protein.
How To Make Teriyaki Pork Tenderloin
Whisk the teriyaki sauce ingredients: To a small bowl, add the soy sauce, rice vinegar, brown sugar, garlic paste, and ginger paste, and whisk to combine. Remove half of the mixture and set aside.
Prepare the pork tenderloin: Pat the pork tenderloin dry with a paper towel, then add it to a sealable container or bag. Pour half the marinade over the top and marinate in the fridge for at least 30 minutes or up to 24 hours.
Prepare for baking: Remove the pork from the fridge and let it sit for 10-15 minutes while the oven preheats to 400°F. Line a baking dish with aluminum foil and coat with non-stick cooking spray.
Bake the tenderloin: Add the marinated tenderloin to the prepared baking sheet and discard any excess marinade in the container. Bake for 25-30 minutes or until the internal temperature reaches 145°F. Remove from oven and let it rest for 10 minutes before slicing.
Assemble the glaze: Add the remaining marinade to a saucepan and bring to a simmer. Whisk the cornstarch and water together to make a slurry. Add it to the marinade and cook for 1-2 minutes or until the sauce has thickened slightly.
Garnish and serve: Add the pork to a serving dish, then drizzle the teriyaki glaze over top. Garnish with green onions and toasted sesame seeds.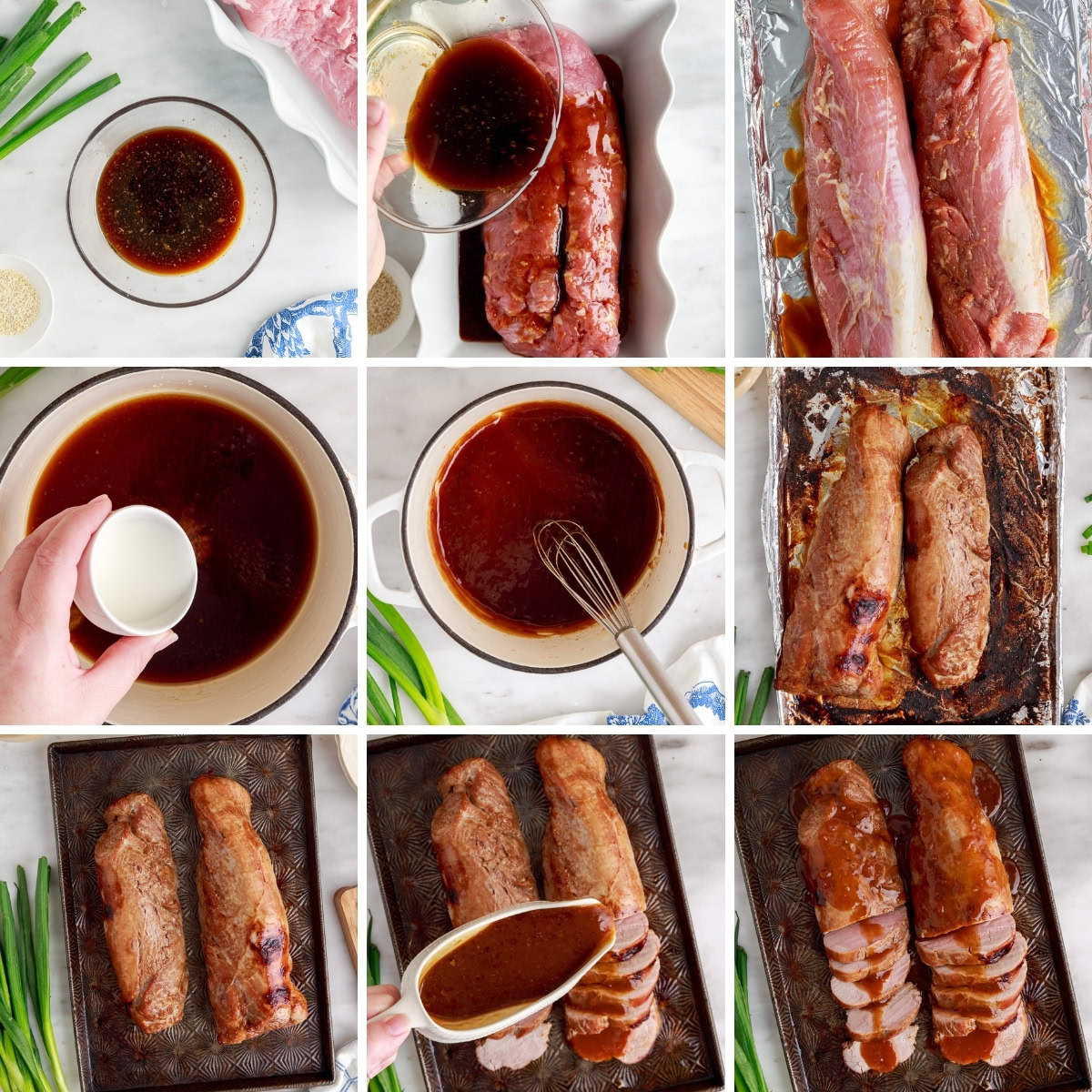 Recipe Tips
The safe internal temperature of pork is 145°F. To be sure your pork is cooked correctly, insert a meat thermometer into the center of the pork tenderloin.
Pork tenderloins are typically packaged in twos. The cut of meat is thicker at one end and usually tapers down into a thinner end. Two tenderloins are bundled together facing opposite directions so that the overall thickness is balanced and the pork cooks evenly. If the two tenderloins are pretty evenly shaped (the same thickness throughout), you can separate them and cook them side by side, as we have here. Whether bundled together or set side by side, determine the doneness using a digital/meat thermometer and remove when the meat registers precisely 145°F as it can dry out quickly.
The minimum time needed to marinate pork tenderloin is 30 minutes. For the best flavor, try to marinate the pork overnight.
Make sure the pork is fully submerged in the marinade for an even flavor. If it's not, be sure to turn it in occasionally.
We used garlic and ginger pastes here because they are so easy to use and mix well into a marinade or sauce. You can use fresh garlic and ginger in place of the pastes. Mince finely and whisk into the marinade to ensure even distribution.
Variations
Don't enjoy pork? Try making this recipe using chicken breast or chicken thighs.
Add some vegetables to the dish by stirring in chopped broccoli, snap peas, or red peppers into the teriyaki sauce before baking.
Make it spicy by adding a few teaspoons of Sriracha sauce to the teriyaki sauce.
Replace the brown sugar with honey for a sweeter flavor and a slightly thicker sauce.
Make it vegetarian by marinating tofu or tempeh in the teriyaki sauce then baking until crispy.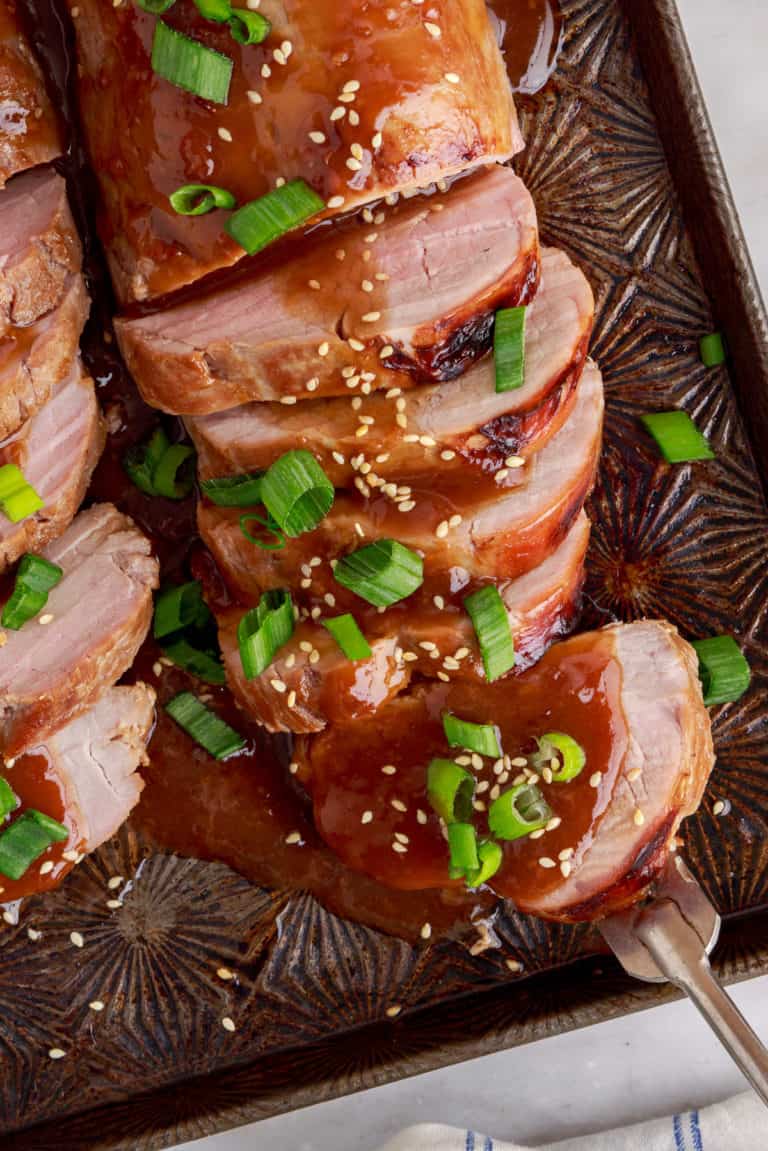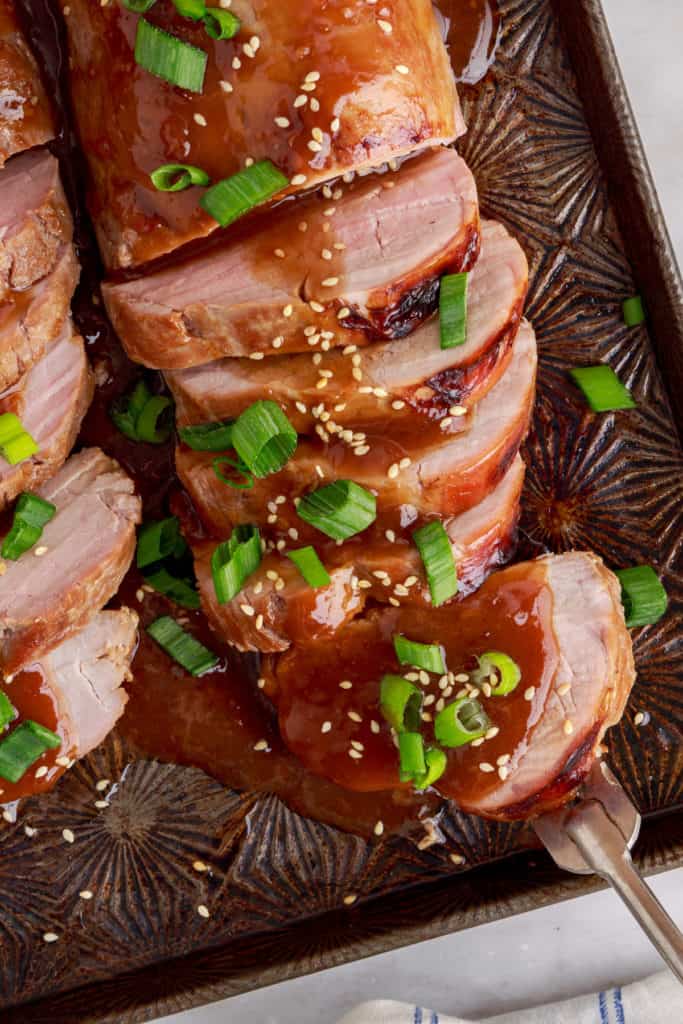 Storing and Freezing
Storing: To store leftovers, let the pork cool completely then store in an airtight container in the fridge for up to four days. Reheat in the microwave or in a skillet on the stove.
Freezing: You can also freeze cooked pork tenderloin. Wrap tightly in plastic wrap then place in a freezer-safe container or bag. Freeze for up to three months. Thaw overnight in the fridge before reheating.
Recipe Card with Ingredient Amounts and Instructions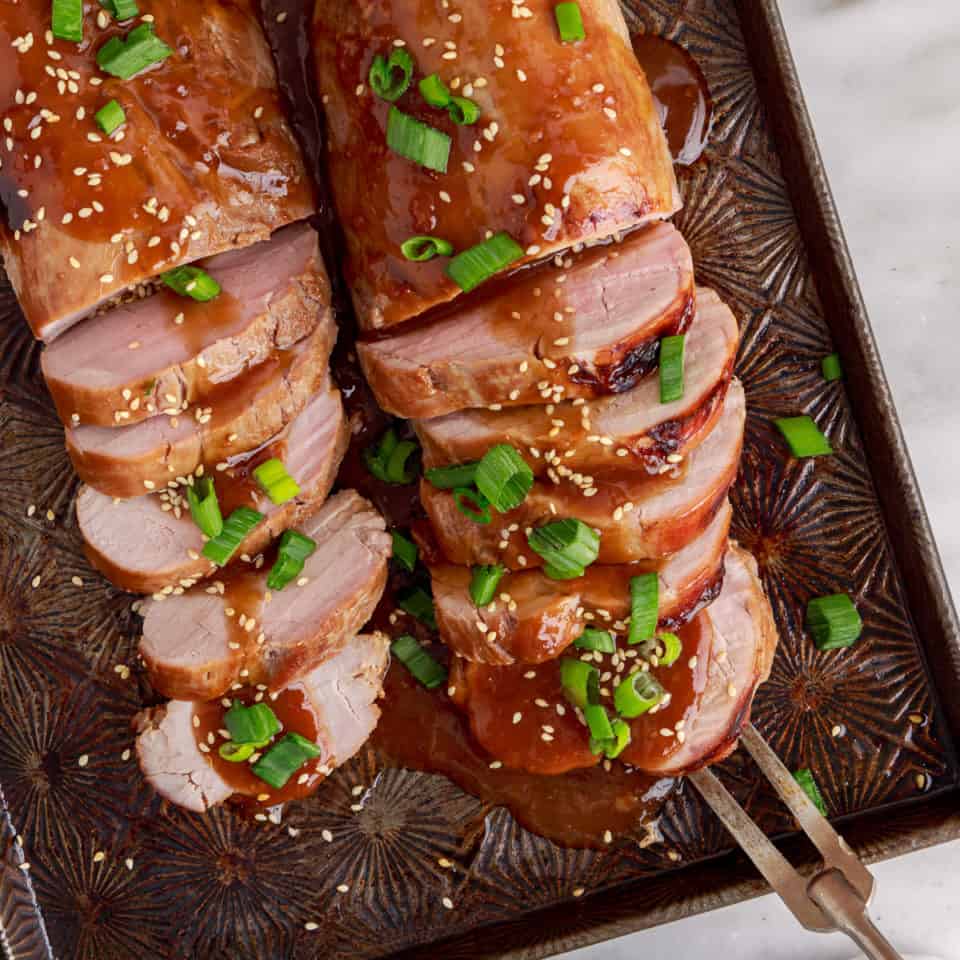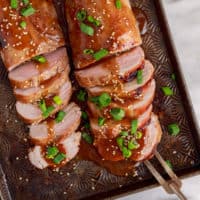 Ingredients
½

cup

soy sauce

2

tablespoon(s)

rice vinegar

¼

cup

light brown sugar

1

tsp.

garlic paste

1

tsp.

ginger paste

2-3

pounds

pork tenderloin

1

tablespoon(s)

cornstarch

1

tablespoon(s)

water

,

cold

Toasted sesame seeds for garnish

Sliced green onions

,

for garnish
Instructions
In a small bowl, whisk together soy sauce, rice vinegar, brown sugar, garlic paste and ginger paste. Set aside half of the mixture to be used as a glaze for serving with the pork. The remaining will be used as a marinade.

½ cup soy sauce

2 tablespoon(s) rice vinegar

¼ cup light brown sugar

1 tsp. garlic paste

1 tsp. ginger paste

Place the tenderloin in a large sealable container or plastic bag. Pour the marinade over the tenderloin, refrigerate, and marinate for at least 30 minutes or up to overnight. If the entire tenderloin is not submerged in the marinade, turn it occasionally.

2-3 pounds pork tenderloin

When you're ready to cook the tenderloin, and preheat the oven to 400°F. Line a large baking sheet or baking dish with aluminum foil, and spray with cooking spray.

Place the tenderloin on the prepared baking sheet, and discard the marinade.

Bake for 25-35 minutes, or until the pork reaches an internal temperature of 145°F. Allow the pork to rest for 5-10 before slicing and serving.

While the meat is cooking, transfer the reserved soy sauce mixture to a saucepan. Bring to a simmer, and combine the cornstarch and water together to make a cornstarch "slurry."

1 tablespoon(s) cornstarch

1 tablespoon(s) water

Whisk the slurry into the simmering soy sauce mixture, and cook 1-2 minutes longer, until the sauce has thickened slightly.

Drizzle sauce over the pork tenderloin and serve. Garnish with sliced green onions and sesame seeds if desired.

Toasted sesame seeds for garnish

Sliced green onions

See post for storage options.
Notes
*The calories listed are an approximation based on the ingredients in the recipe card and a serving size of ½ pound of pork tenderloin. Actual calories will vary.
*For more information, tips, and answers to frequently asked questions, please refer to the post.
*Photos courtesy of Family Dinner Photography.
Nutrition
Serving:
8
ounces
Calories:
302
kcal
Carbohydrates:
12
g
Protein:
50
g
Fat:
5
g
Saturated Fat:
2
g
Polyunsaturated Fat:
1
g
Monounsaturated Fat:
2
g
Trans Fat:
0.05
g
Cholesterol:
147
mg
Sodium:
1203
mg
Potassium:
964
mg
Fiber:
0.2
g
Sugar:
9
g
Vitamin A:
14
IU
Vitamin C:
0.5
mg
Calcium:
25
mg
Iron:
3
mg