A perfectly baked loaf of homemade Sourdough banana bread created in your own kitchen using simple ingredients like bananas, cinnamon, and flour.
Before we get started, I want to make you aware that you will need sourdough starter or starter discard to make this recipe. If you don't have that ingredient, then check out our how to make sourdough starter, for step-by-step instructions. Adding sour cream or Greek yogurt to a banana bread recipe does not make it a sourdough banana bread.
You have to use a starter or it's discard to make an authentic sourdough baked good. Now that we've gotten that out of the way, let's get started making some bread!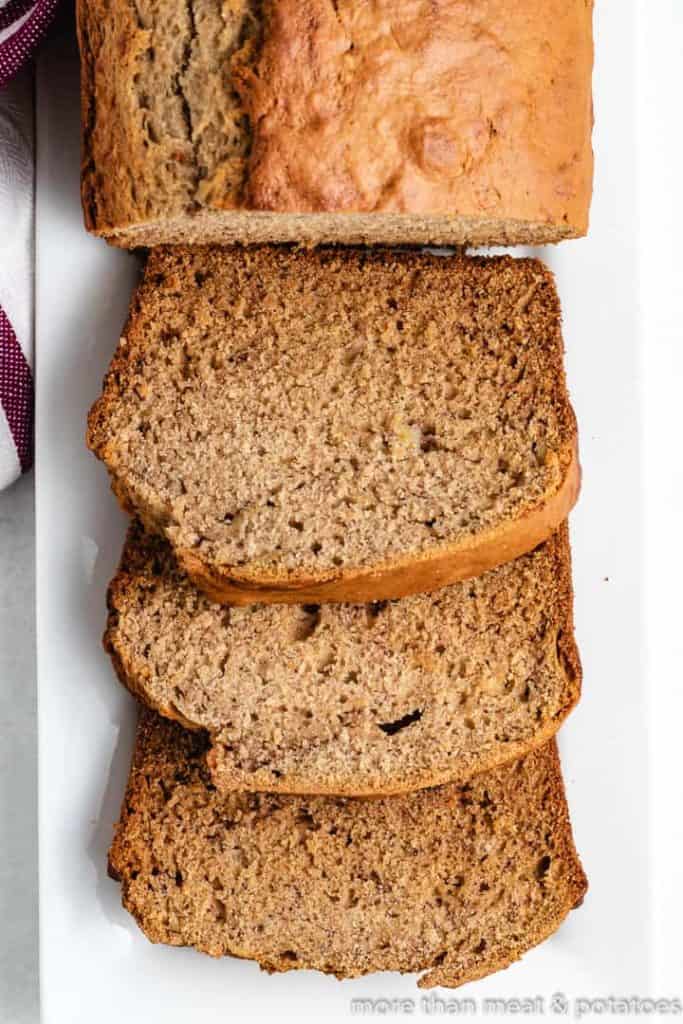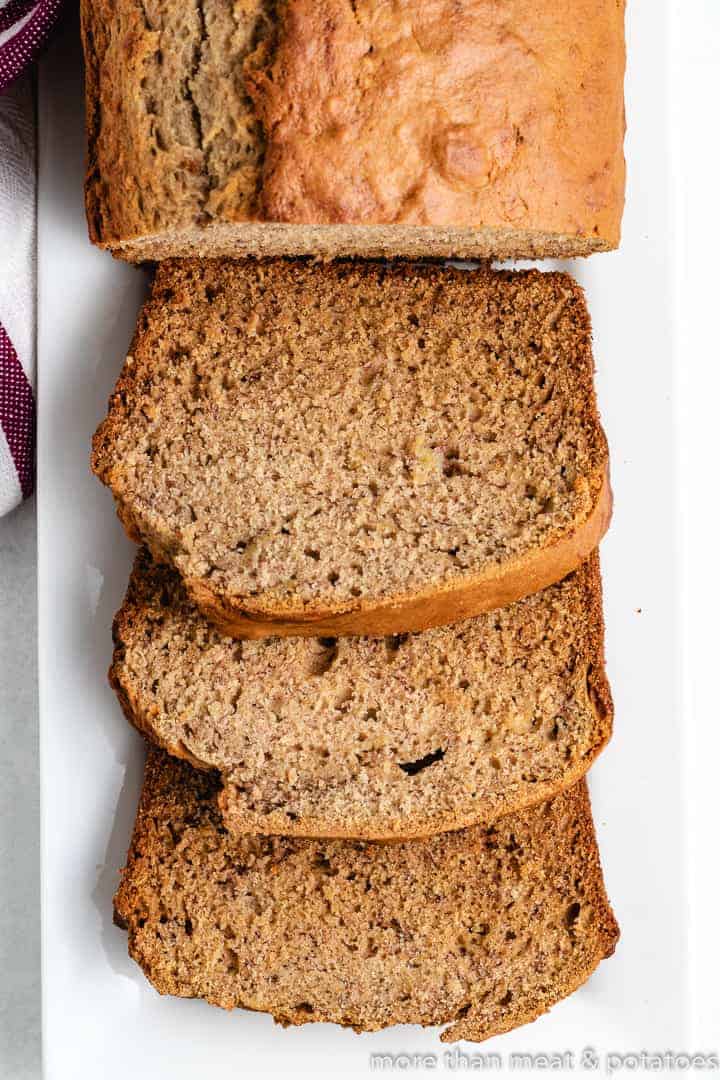 How to make sourdough banana bread?
First, start by preheating your oven to 375 degrees F. and greasing a 9-inch loaf pan.
Next, using a stand mixer (or a large mixing bowl and hand mixer), cream together butter, granulated sugar, and brown sugar.
Use the low speed setting to mix everything until the butter is light and fluffy.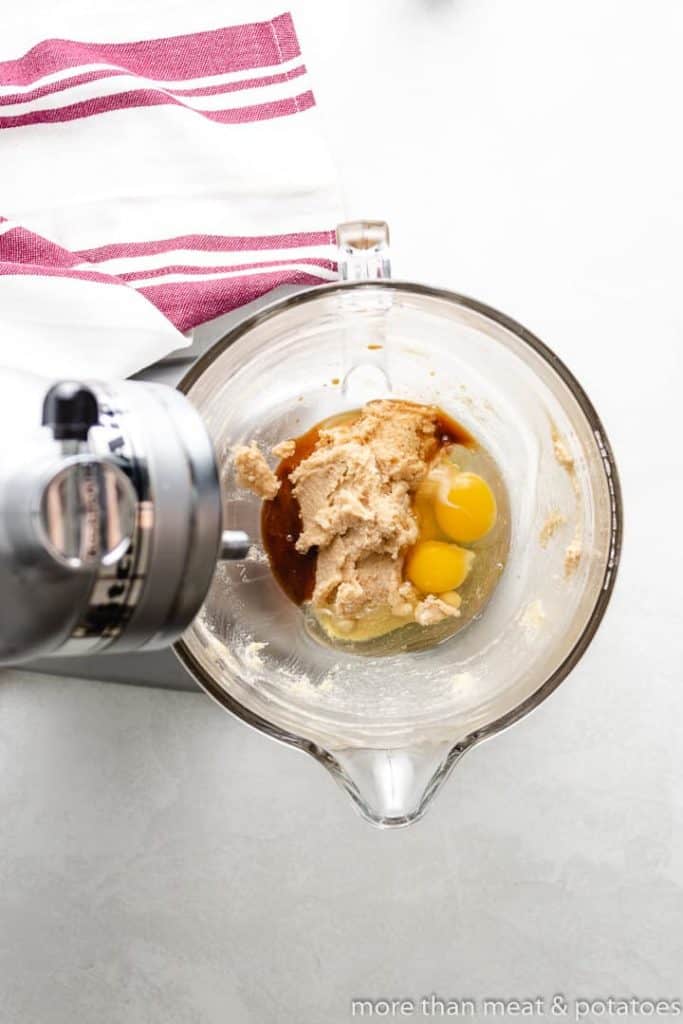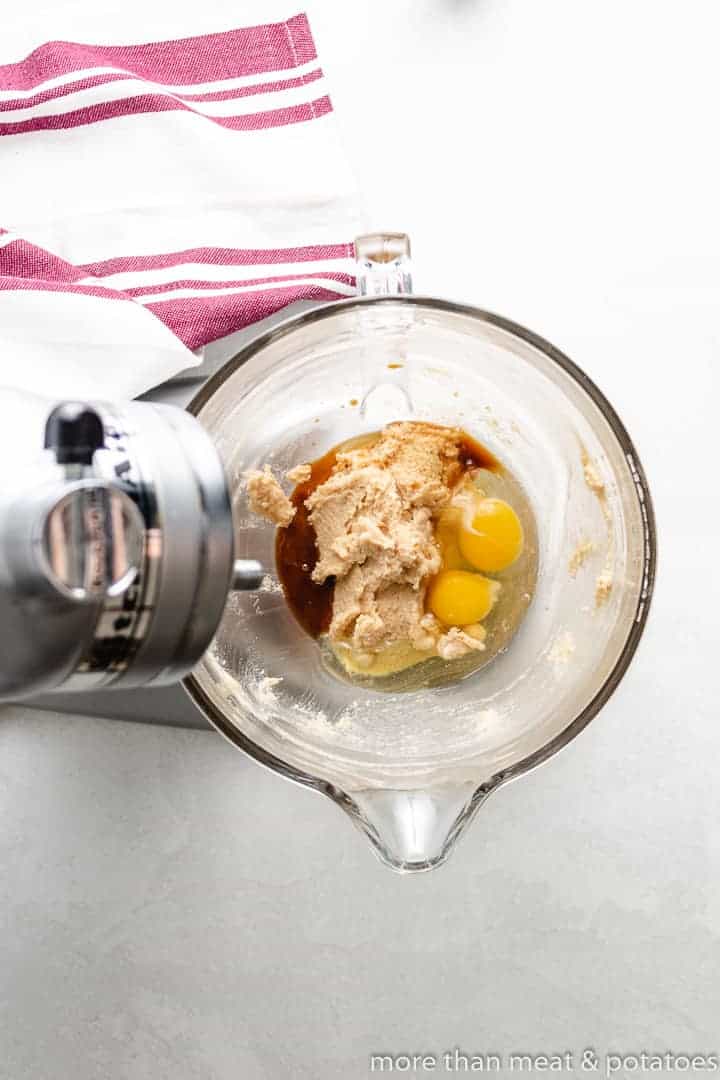 Afterward, add in the eggs and vanilla extract. Again, use the low speed setting to combine the ingredients.
Now, toss in the over-ripe bananas. Increase the speed to medium and beat the batter until the fruit is incorporated.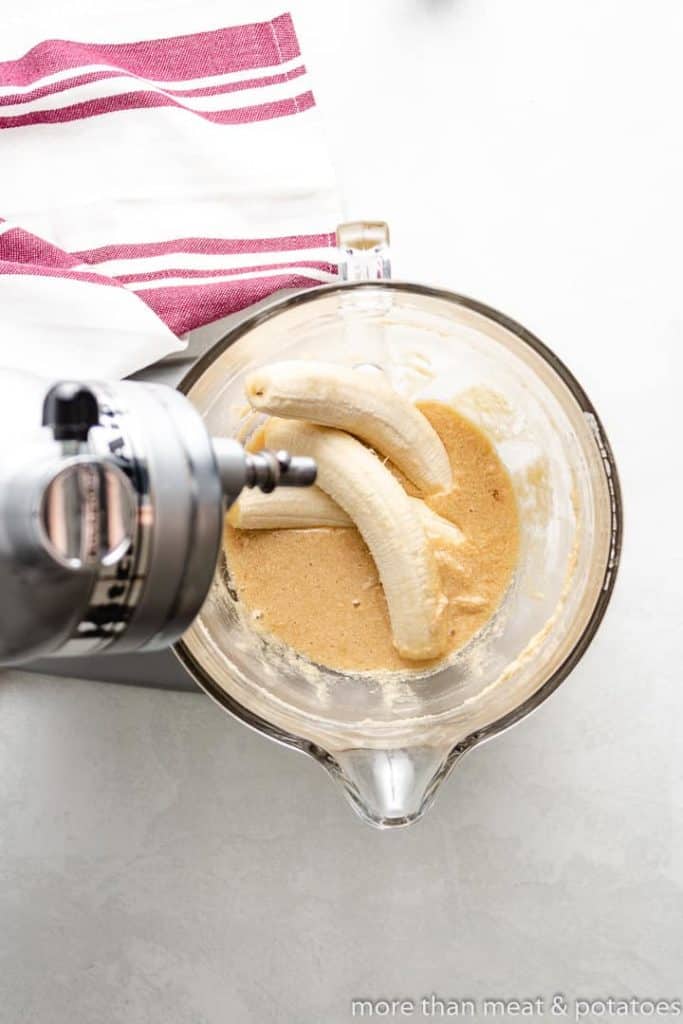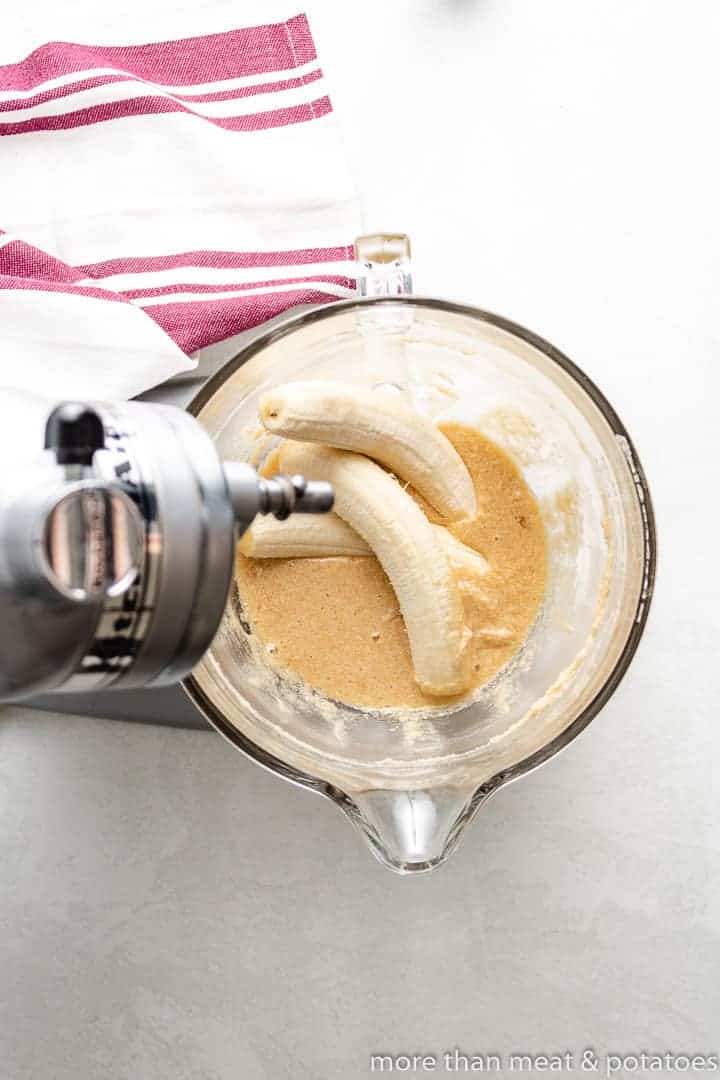 At this point, pour in the starter (or discard) and use the low setting to mix it into the batter.
Then, add baking soda, cinnamon, salt, and flour. It's important to only mix everything (on low) until no flour streaks remain.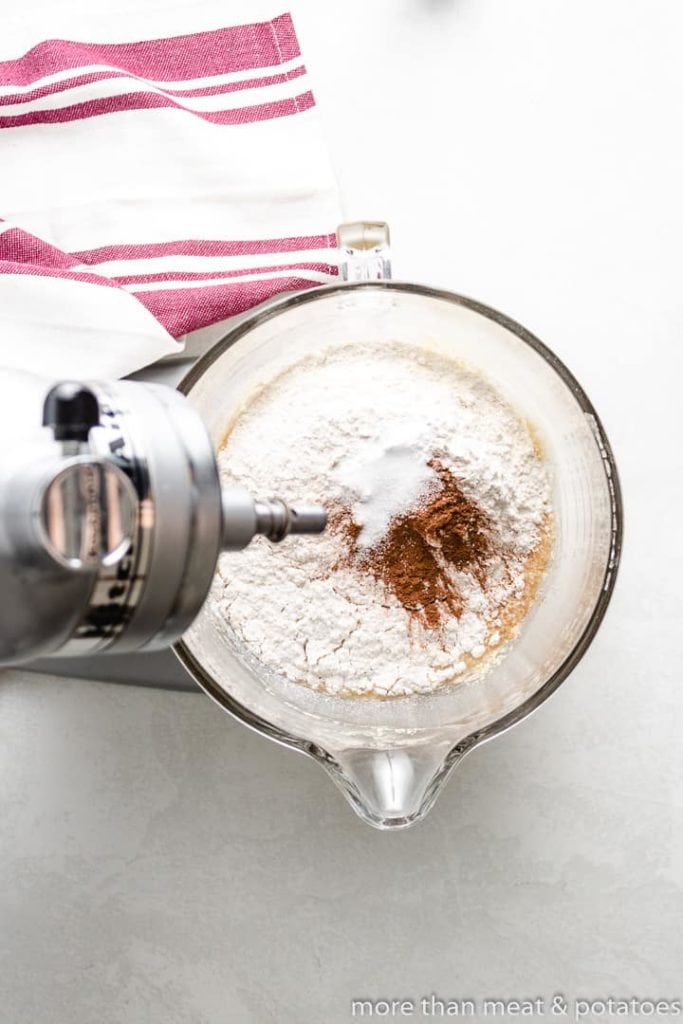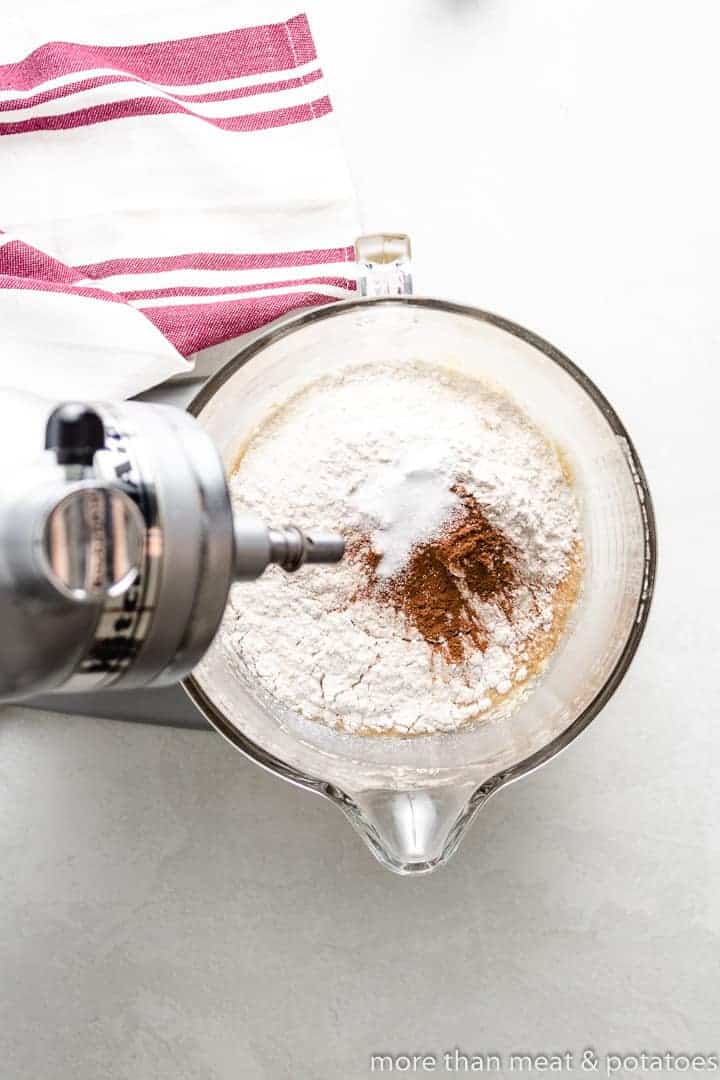 Using a rubber spatula, scrape the sides of the bowl to ensure the dry and wet ingredients combine. Just don't over mix the batter.
The photo below provides a good example of a properly mixed sourdough banana bread batter.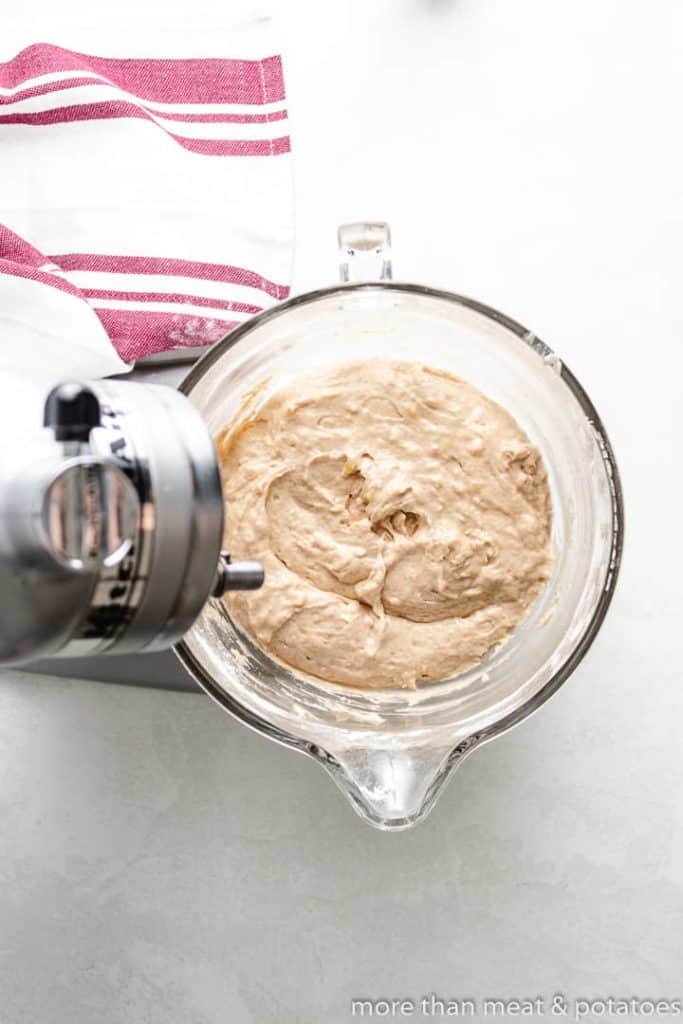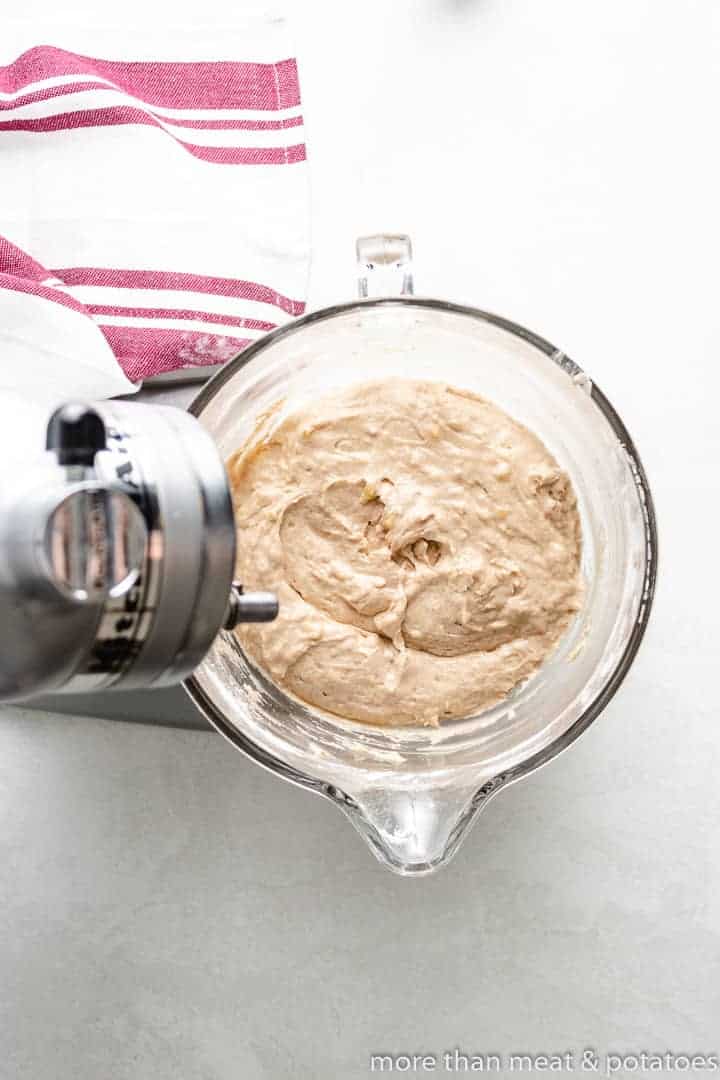 Okay, now transfer the mixture to the prepared loaf pan and place the pan into the oven.
Let it bake for 15-minutes, then reduce the heat to 350 degrees F. and continue baking for 40-45 minutes.
The finished loaf should be slightly brown on top and a knife should come out clean when pressed into the center of the loaf.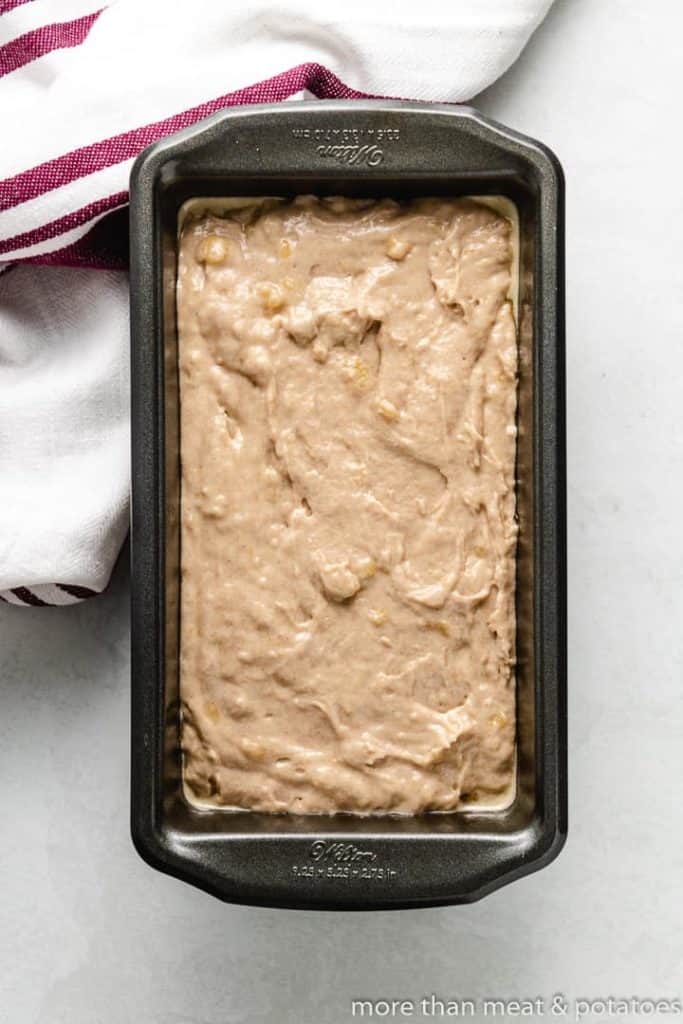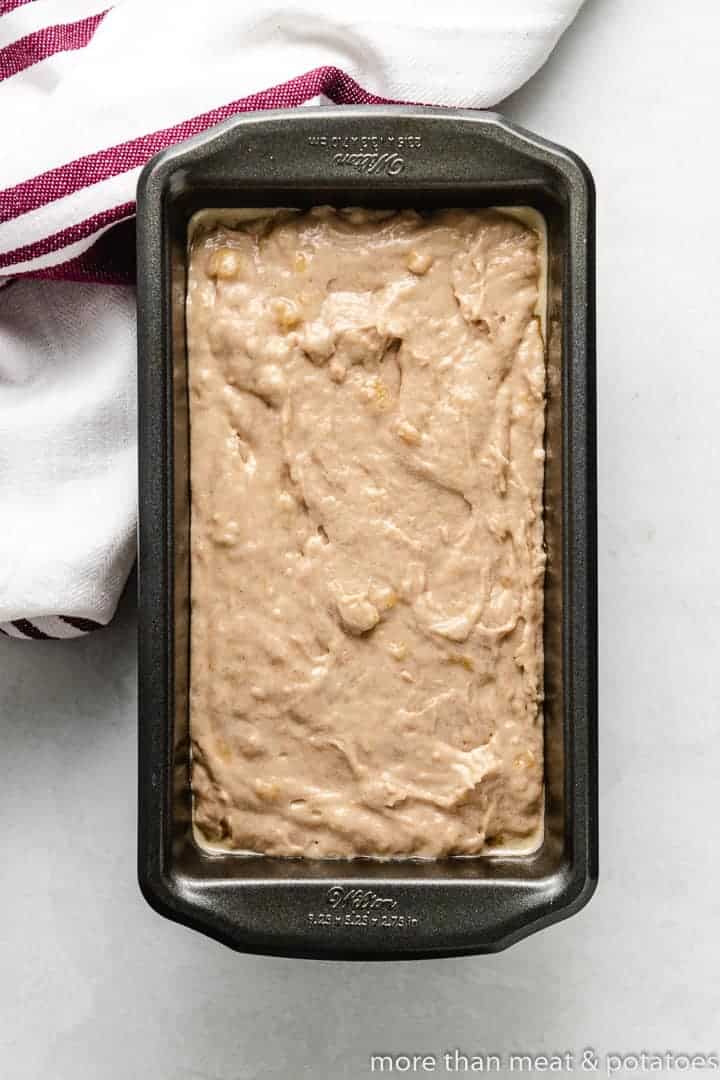 Last, remove the pan from the oven and let the bread cool for about 10-minutes before removing from the loaf from the dish.
Place the loaf on a cooling rack for about 50-minutes to come to room temperature before slicing.
That's it, your sourdough banana bread recipe is done! Kim and I hope you enjoy it 🙂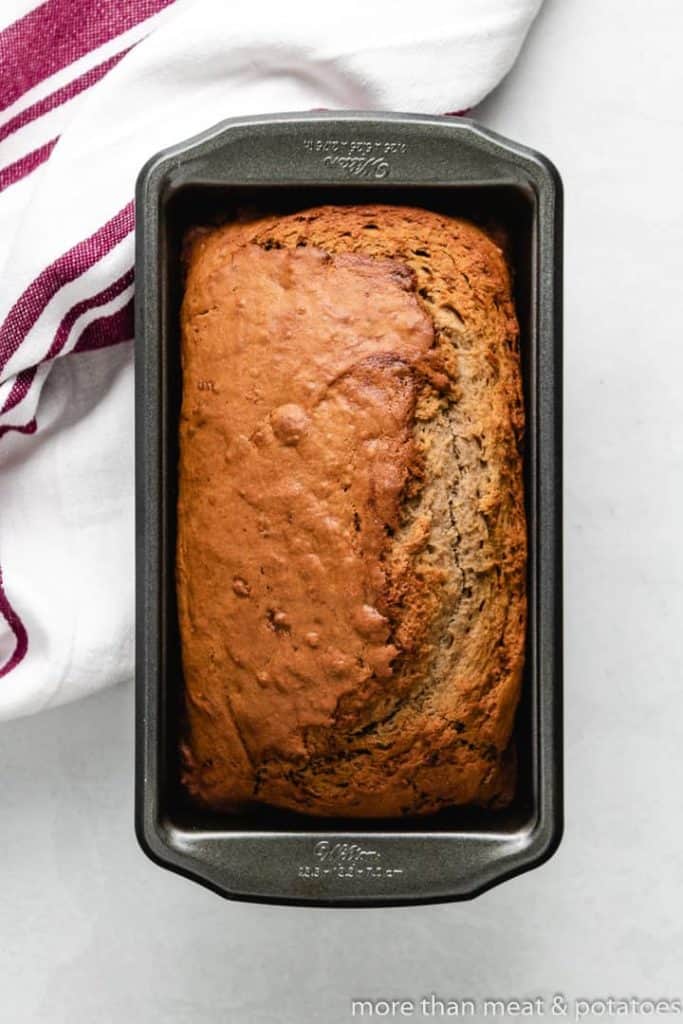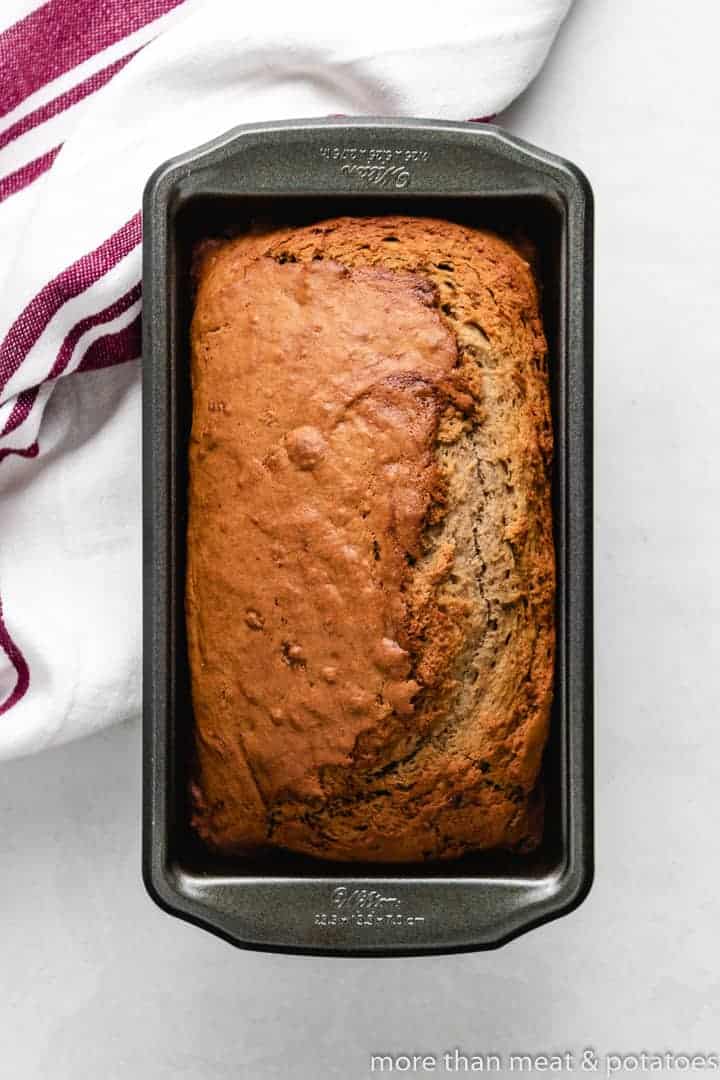 Recipe Tips:
Be sure to let your butter soften before using it. Otherwise, it will not properly cream together with the sugar(s).
Adding the bananas to batter can make it appear, "separated," but don't panic. It will all come together once you add the dry ingredients.
If your bread is browning too quickly when baking, place a foil tent on top of the loaf pan to keep the top from turning too dark.
Make sure your bananas over overly ripened, or they won't breakdown well enough in the batter.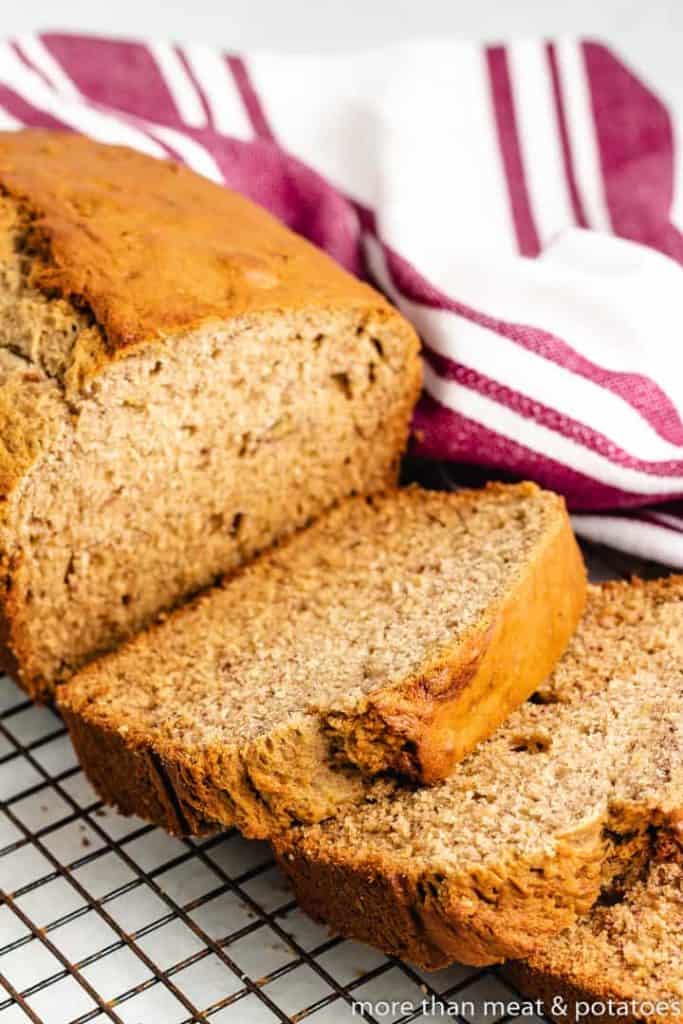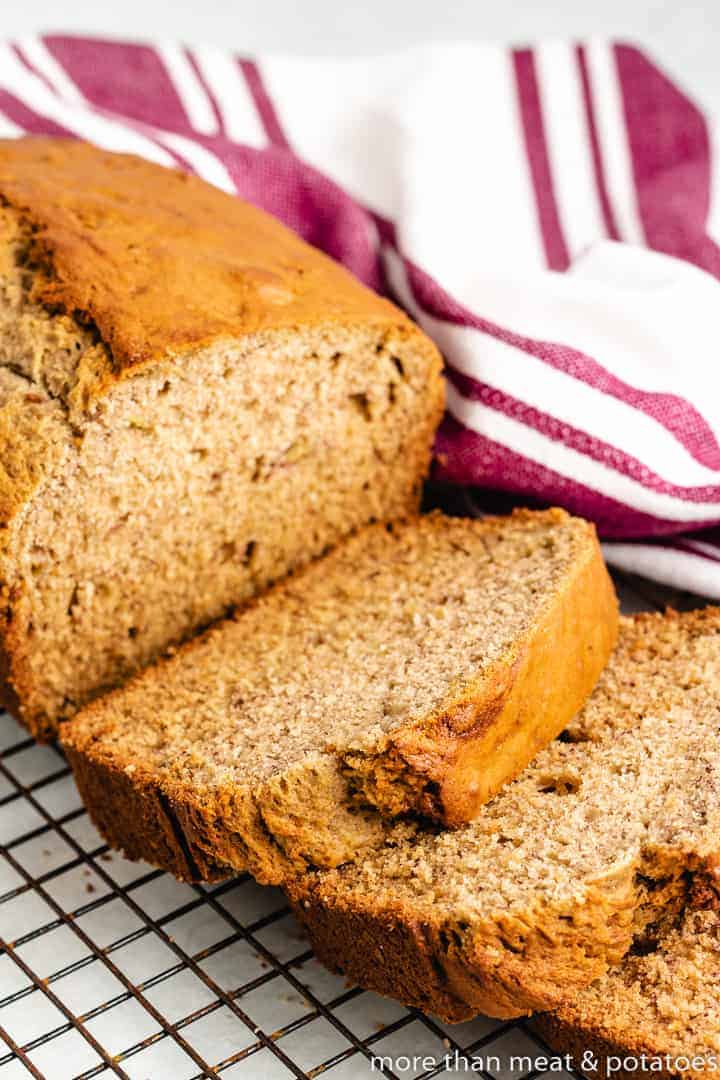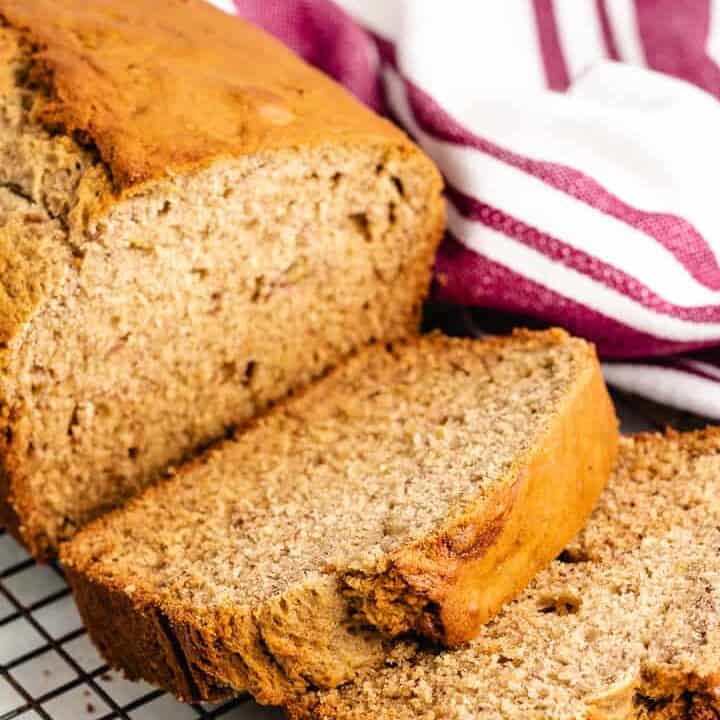 Sourdough Banana Bread
Total Time:
2 hours
15 minutes
A perfectly baked loaf of homemade Sourdough banana bread created in your own kitchen using simple ingredients like bananas, cinnamon, and flour.
Ingredients
½ Cup (113 g) Unsalted Butter, softened
½ Cup (99 g) Granulated Sugar
½ Cup (107 g) Brown Sugar
2 Large Eggs (100 g)
2 Teaspoons Vanilla
3 Large Overripe Bananas (approx. 470 g before removing the peel)
¾ Cup (175 g) Unfed Sourdough Starter/Discard
1 Teaspoon Baking Soda
1 Teaspoon Cinnamon
½ Teaspoon Salt
2 Cups (240 g) All-Purpose Flour
Instructions
Preheat the oven to 375°F, and lightly grease a 9 x 5-inch loaf pan. Set aside.
In the bowl of a stand mixer, cream together the butter, granulated sugar, and brown sugar on low speed until light and fluffy, about 3 minutes. Add the eggs and vanilla. Continue beating on low speed until the ingredients are well combined. Next, add the bananas. Beat until the bananas are very well mixed and no large chunks remain. The mixture will appear "separated," but it will come back together as the remaining ingredients are added.
Pour in the sourdough starter, and mix on low speed just until combined. Then add the baking soda, cinnamon, salt, and flour. Mix just until no dry flour streaks remain. Make sure to scrape the sides and bottom of the bowl to ensure all ingredients are incorporated.
Pour the batter into the prepared loaf pan and bake for 15 minutes. Reduce the heat to 350°F, and continue to bake for an additional 40 to 45 minutes or until a knife inserted in the center comes out clean. If the bread begins to brown quickly, make a foil tent and drape loosely over the top.
Remove the pan from the oven, and allow the bread to cool inside the pan for 5 to 10 minutes before transferring to a wire rack. Cool completely before slicing before slicing.
Notes
*Place the loaf pan on a metal baking sheet to prevent the bottom of the bread from over browning.
*This bread is more dense and slightly less sweet than conventional yeast banana bread. It's very hearty, and makes a great option for French toast.
*Even though many sourdough recipes don't use any additional leavening agents, we use a touch of baking soda in this recipe. This ensures that the bread rises properly since the sourdough starter is not active. Some starters may be strong enough to give the bread lift, but just in case we use the baking soda. The sourdough also blends nicely with the brown sugar and bananas, and gives the bread a slight caramel flavor.
*The calories listed are an approximation based on the ingredients in the recipe card and a serving size of 1-slice of sourdough banana bread when it has been cut into 10-equal sized slices.
Recommended Products
As an Amazon Associate and member of other affiliate programs, we may earn a commission from qualifying purchases.
Nutrition Information:
Yield:

10
Serving Size:

1
Amount Per Serving:
Calories:

184
Total Fat:

2g
Saturated Fat:

1g
Trans Fat:

0g
Unsaturated Fat:

1g
Cholesterol:

39mg
Sodium:

252mg
Carbohydrates:

36g
Fiber:

2g
Sugar:

6g
Protein:

5g
*The calories are an estimate and are based on the ingredients and serving size listed. The calories can vary depending on the brand of product purchased.