This easy recipe for Homemade Cranberry Sauce shows you exactly how to make this popular holiday condiment from scratch using simple ingredients. Ditch the store bought stuff and make a fresh batch quickly and easily for your holiday feast!
Cranberry sauce is a condiment made from cranberries, sugar, and sometimes orange juice. It is often used as a Thanksgiving dish to go alongside turkey. It can also be served as a dipping sauce or a sauce for ice cream or cake.
Although you can buy storebought cranberry sauce at many grocery stores during the holiday season, we've opted to make our own. Not only does it contain simple ingredients and no preservatives, but it's super easy to make!
Simple syrup is made by dissolving sugar in water along with orange juice and zest for a bright flavor. Fresh cranberries get added in and slowly cooked until they break down releasing their natural flavor and pectin. The dish then gets cooled in the fridge where it thickens and sets and is ready to serve!
Cranberry sauce is the perfect condiment to any poultry dish because the tart and sweet flavor help cut through any gamey flavor the bird may have. It has become a very popular traditional dish to make for the holidays and we hope you'll love this easy recipe.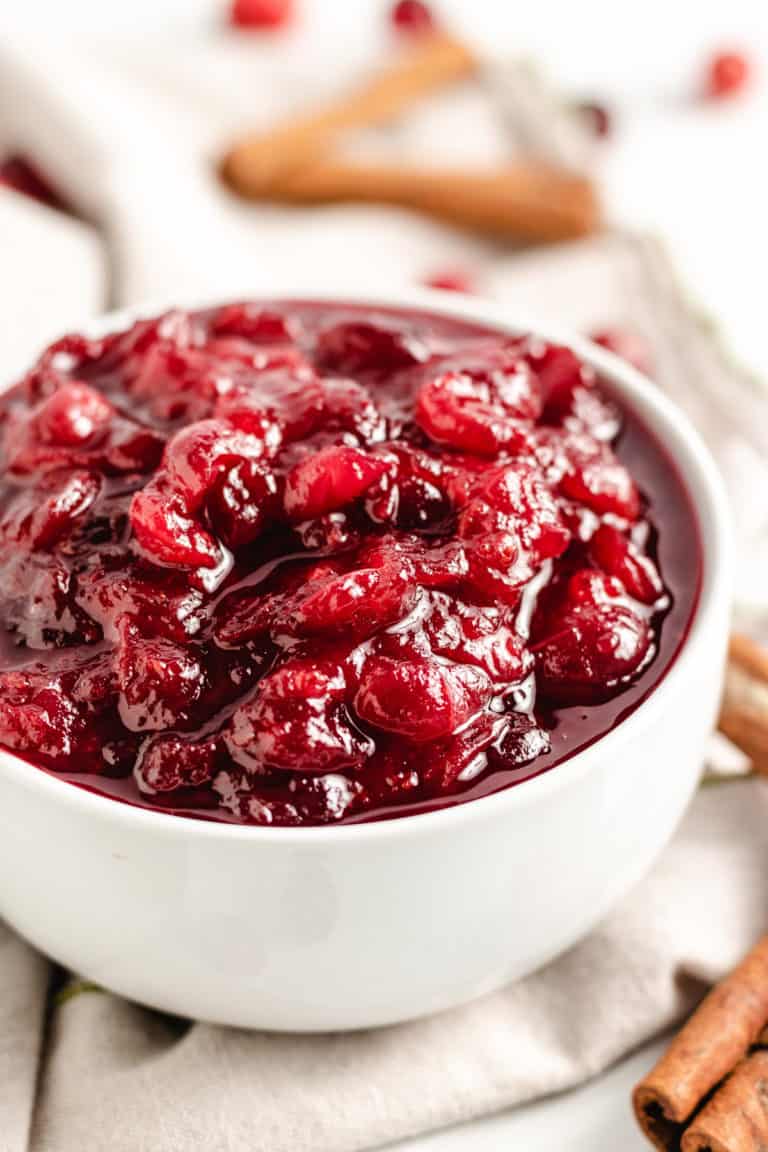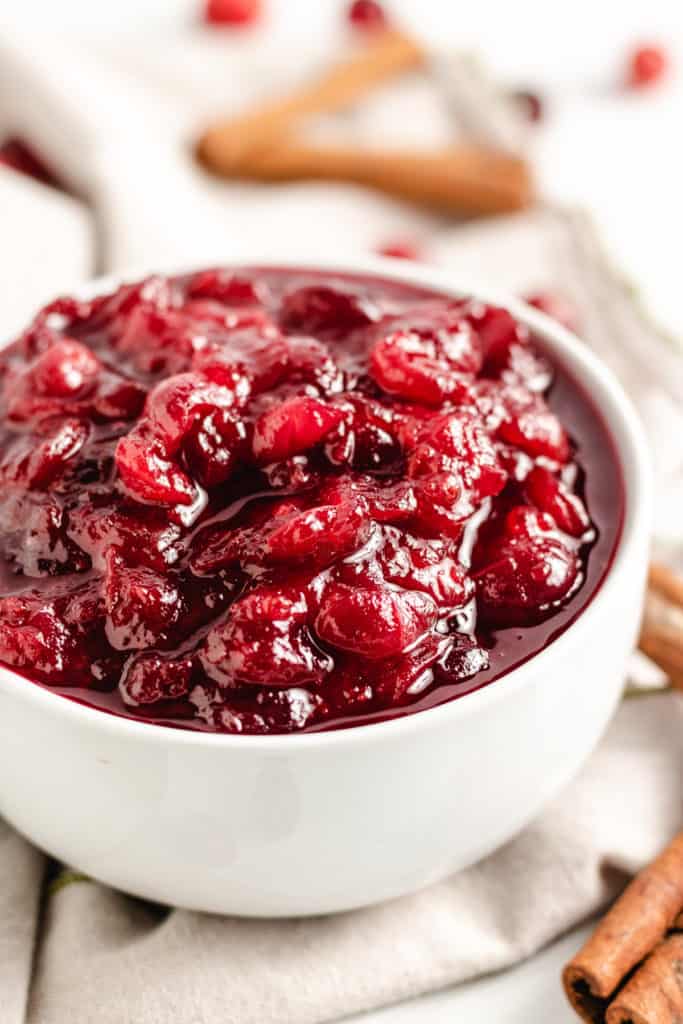 Why You'll Love This Recipe
This classic condiment pairs well with orange turkey, chicken, or duck making it perfect for the holidays.
The ingredients are simple and use no preservatives or chemicals that you may find in store bought brands.
It comes together in just a few easy steps making it perfect for beginners.
The flavor can be adjusted to make it sweeter or more tart depending on your preferences.
Ingredients You'll Need
Fresh Cranberries - The main component of this dish, fresh cranberries are tart and sweet and give the sauce a stunning naturally red color that is packed with nutrients.
White & Brown Sugar - A mix of these two sugars helps sweeten up the sauce and combat the natural tart flavor of the cranberries.
Orange Juice - Helps thin out the sauce while adding a sweet orange citrus flavor.
Orange Zest - The zest of the orange adds natural orange essential oil that brightens up the cranberry sauce balancing out its flavors.
Water - Used to help dissolve the sugar and turn the mixture into a sauce consistency.
Cinnamon Stick - Fresh cinnamon gives cranberry sauce a note of warm and comforting flavor.
How To Make Homemade Cranberry Sauce
Dissolve the sugar: In a medium saucepan, add the sugars, orange juice, water, orange zest, and the cinnamon stick. Turn the heat to low and mix until the sugar is completely dissolved into the water.
Add the cranberries: To the simple syrup mixture, add the fresh cranberries and turn the heat to medium-low. This will slowly cook the cranberries. It will take about 15-20 minutes for the cranberries to pop and break down. Continue to stir until the sauce thickens.
Thicken and cool: Once the cranberries are broken down and the sauce has thickened, remove it from the heat and discard the cinnamon stick. Let it cool for at least 30 minutes on the countertop before transferring it to a heat-safe bowl and letting it set in the fridge for at least 2 hours before serving.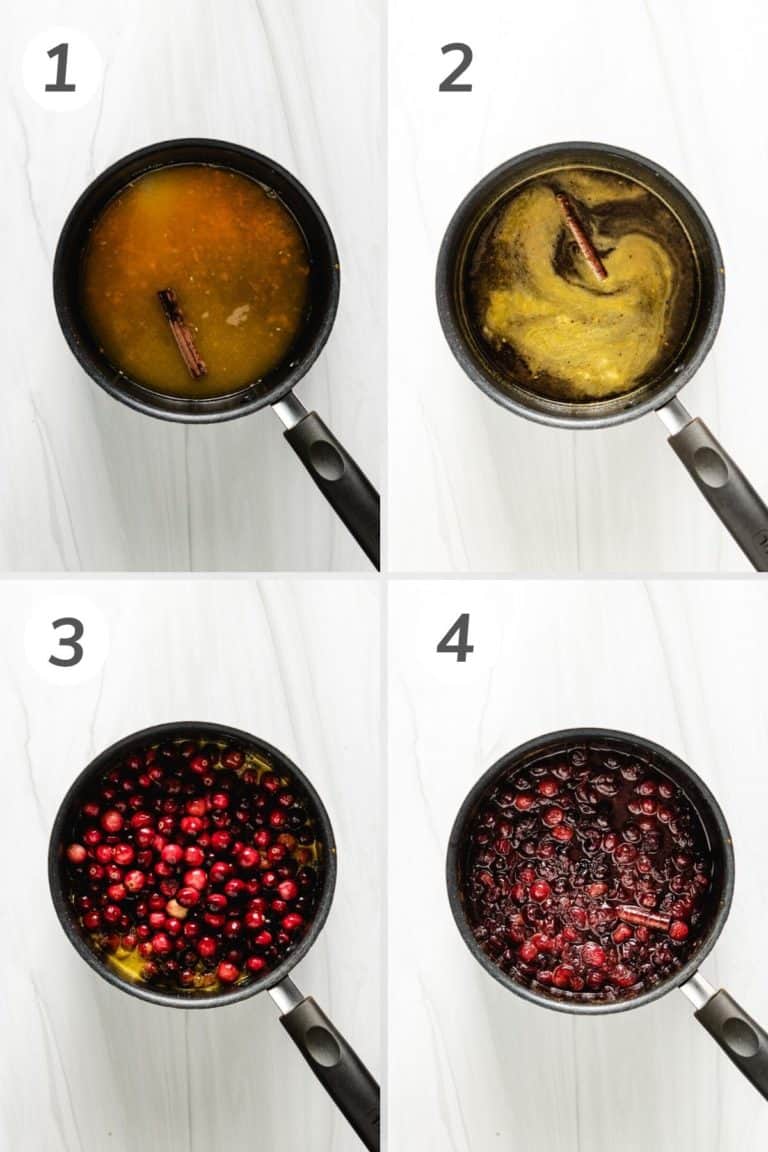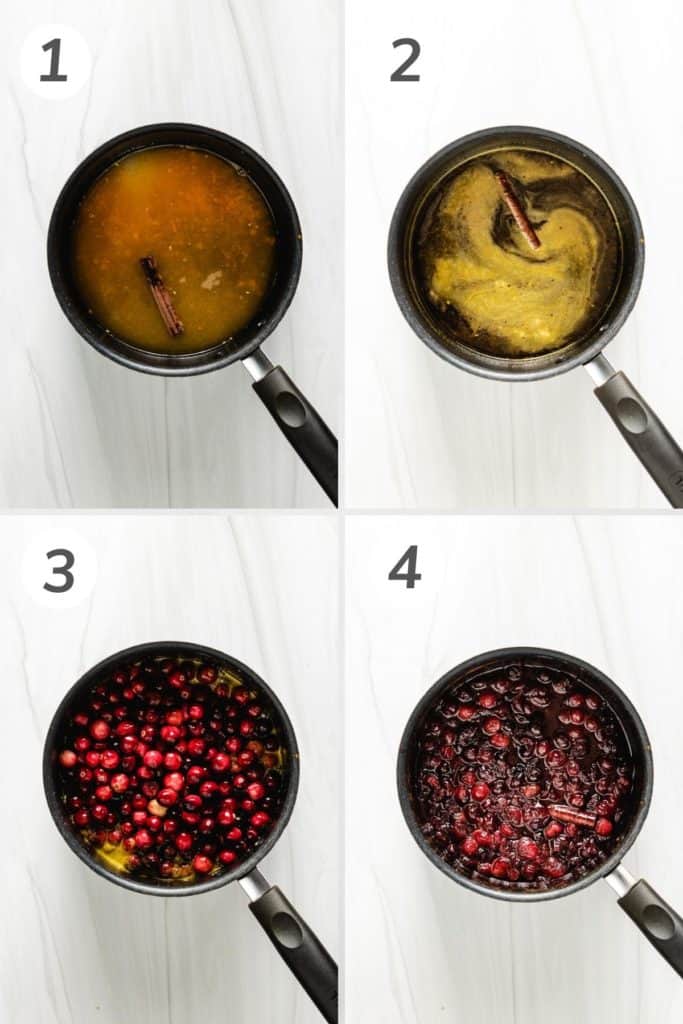 Recipe Tips
Can't find a cinnamon stick? Try using ¼ teaspoon of ground cinnamon instead.
Using medium-low heat is best to cook the cranberries as high heat could cause the sugars to burn and become bitter in the dish.
When making this dish, be careful when the cranberries pop as they could splatter hot juice that can cause serious burns.
When choosing cranberries, make sure they look freshly vibrant and red without any visible bruising or browning.
Once the sauce comes off the heat, it may look a bit watery, this is because the natural pectin needs to be set. The sauce will naturally thicken as it cools.
When using orange juice, fresh is best! Use fresh oranges for their juice and natural zest for a bright and fresh flavor.
Variations
Orange zest is the perfect pairing with cranberries, but feel free to use lemon, lime, or even grapefruit juice and zest to change up the citrus flavor.
Crunchy pecans or almonds can be added to the mix for texture and nutty flavor.
You can add some dried raisins, golden berries, or currants for an extra layer of natural sweetness and texture.
Try adding a slice of fresh ginger to the sauce to add a spicy zesty flavor note that gives this homemade cranberry sauce a warming flavor.
If you like a more intense cranberry flavor, simply cut the amount of sugar in half when making the simple syrup.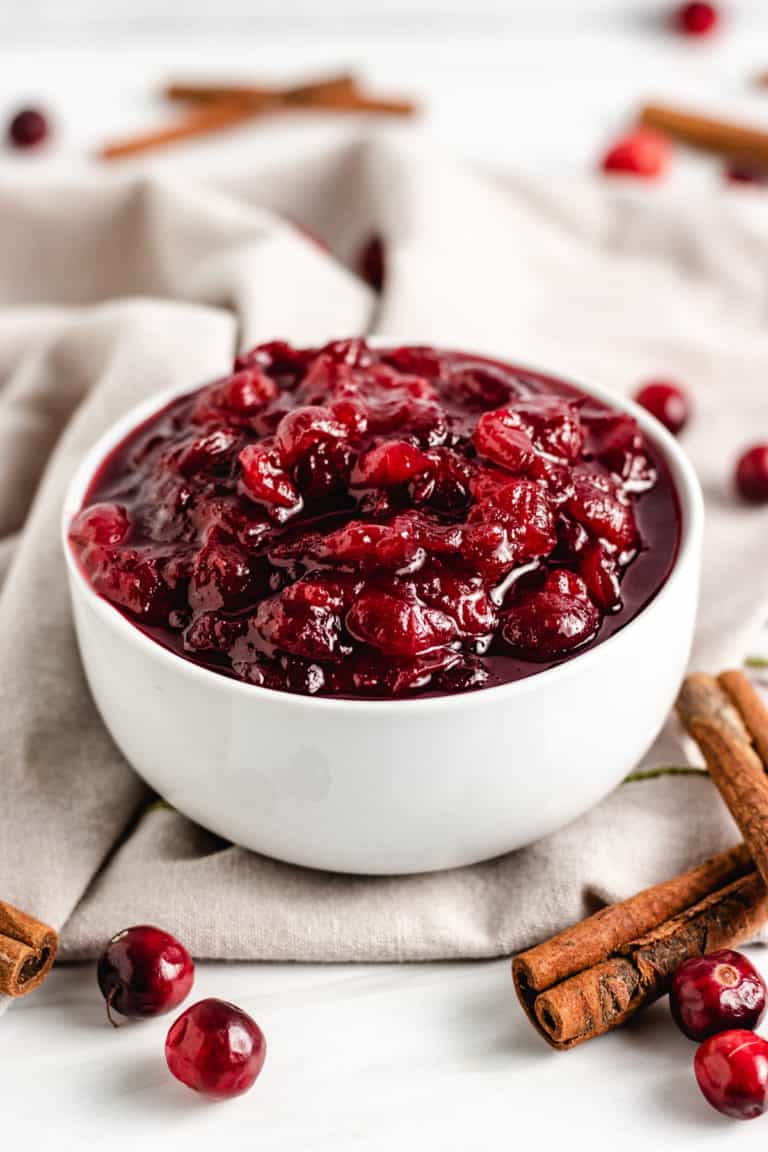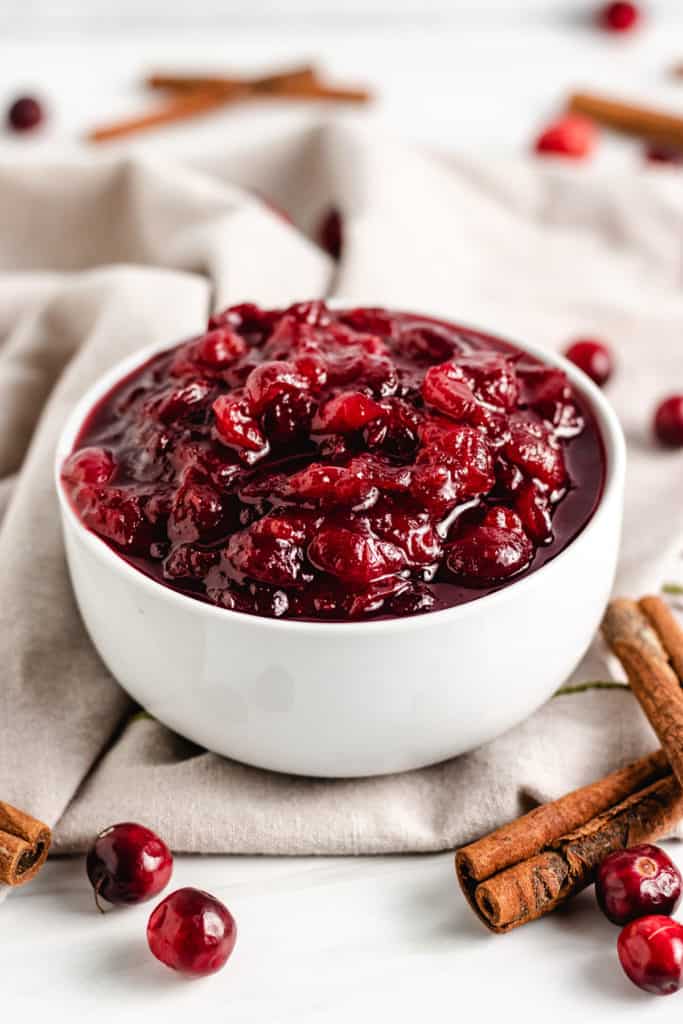 Storing and Freezing
Storing: Homemade cranberry sauce can be stored in an airtight container or sealed jar with a lid for 2-3 weeks in the fridge.
Freezing: Because this dish only contains natural pectin and is not the jellied variety, the cranberries may not hold up well when frozen and then thawed which makes them watery. Therefore, freezing is not recommended.
Recipe Card with Ingredient Amounts and Instructions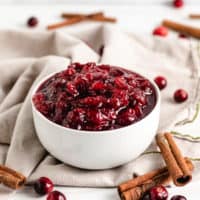 Ingredients
½

cup

granulated sugar

½

cup

light brown sugar

⅔

cup

orange juice

⅓

cup

water

1

tablespoon(s)

orange zest

1

cinnamon stick

12

ounces

cranberries

,

fresh
Instructions
Place the granulated sugar, brown sugar, orange juice, water, orange zest, and cinnamon stick in a medium saucepan. Heat over low heat until the sugars dissolve.

½ cup granulated sugar

½ cup light brown sugar

⅔ cup orange juice

⅓ cup water

1 tablespoon(s) orange zest

1 cinnamon stick

Add the fresh cranberries, and adjust the heat to low-medium. Stir occasionally, and continue to cook for 15 to 20 minutes until the cranberries pop and the mixture begins to thicken.

Once the sauce has thickened, remove from heat, discard the cinnamon stick, and allow the sauce to cool for at least 30 minutes. Transfer the cranberry sauce to a heat-safe bowl, and place in the refrigerator for at least 2 hours before serving.

See post for storage options.
Notes
*The calories listed are an approximation based on the ingredients in the recipe card and a serving size of 2 ounces of cranberry sauce. Actual calories will vary.
*For more information, tips, and answers to frequently asked questions, please refer to the post.
Nutrition
Serving:
2
ounces
Calories:
105
kcal
Carbohydrates:
27
g
Protein:
1
g
Fat:
0.1
g
Saturated Fat:
0.01
g
Polyunsaturated Fat:
0.03
g
Monounsaturated Fat:
0.01
g
Sodium:
5
mg
Potassium:
137
mg
Fiber:
1
g
Sugar:
23
g
Vitamin A:
80
IU
Vitamin C:
28
mg
Calcium:
20
mg
Iron:
0.2
mg