This Chai Latte is made with simple warming spices and your favorite milk. Serve this tea latte hot or iced for a sweet pick-me-up any time of the day!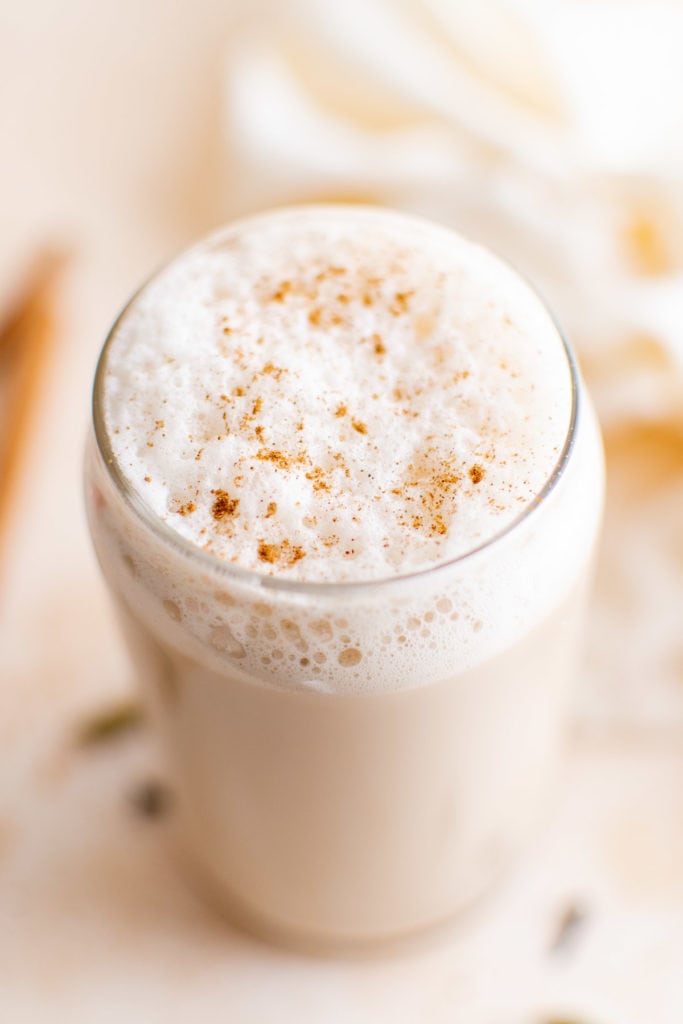 Easy Chai Latte Recipe
As much as I love a good coffee drink, sometimes I want to switch things up. That's where this Iced Chai Latte comes in.
This simple, made-from-scratch beverage is made with black tea and spices steeped in boiling water, mixed with frothed milk and a little sugar, then poured over ice. It's the perfect addition to your morning routine or when you need a midday pick-me-up
Keep this recipe as-is and serve your latte cold or switch it up and serve it as a hot chai latte. It's delicious either way!
What is a Chai Latte?
A chai latte is a milky beverage made with classic chai spices, black tea, and frothed milk. Here's what you'll need for this chai latte recipe:
Spices: We're adding those classic chai flavors with fresh ginger, cardamom seeds, whole cloves, and a cinnamon stick.
Black Tea: The traditional base of chai tea. Brings everything together and gives a boost of energy from the caffeine.
Water: Used to steep the black tea and seasonings.
Milk: Added at the end to turn the drink into a latte.
Granulated Sugar: Added to taste to give the tea latte just the right sweetness.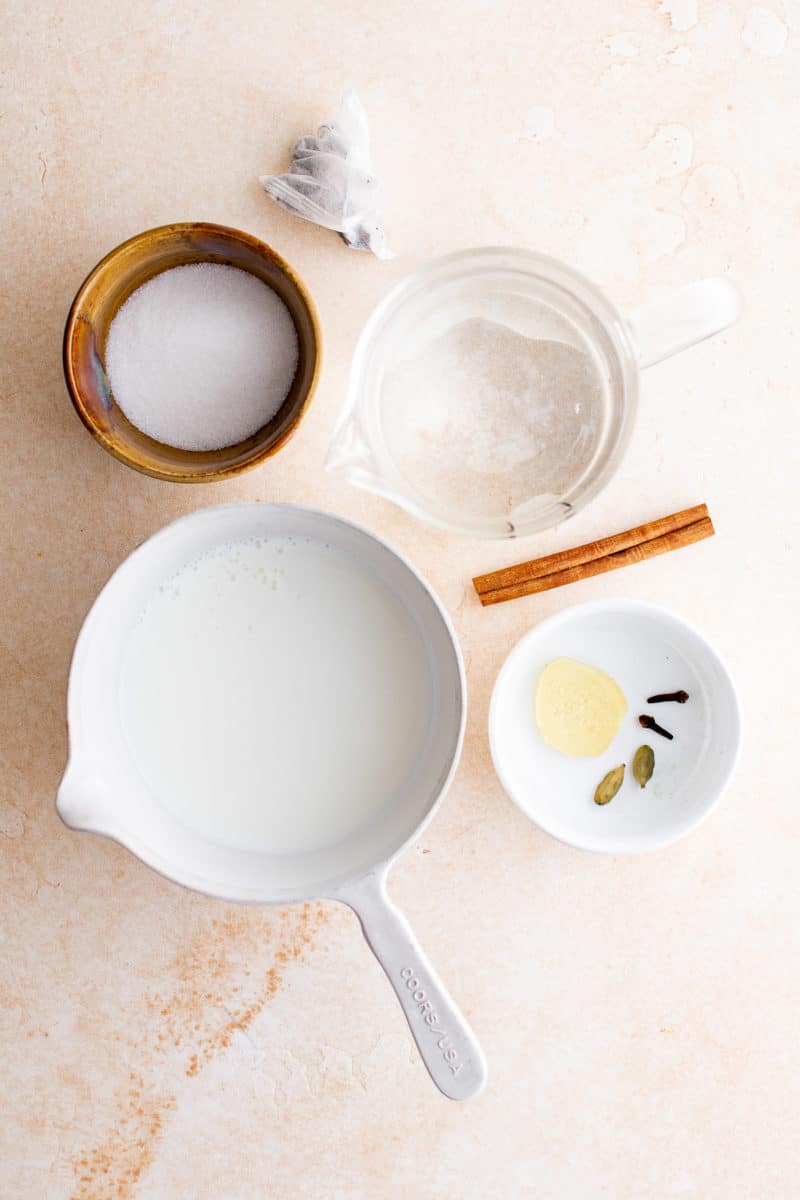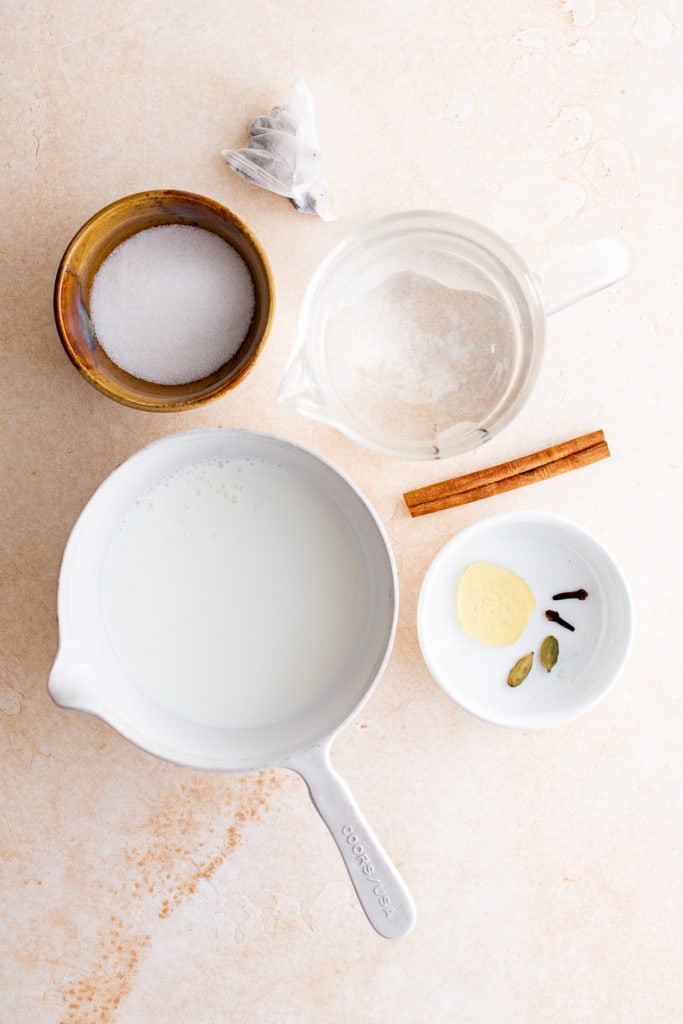 How to Make an Iced Chai Latte
Turns out, you can make the best chai latte right at home in just 5 minutes! Here's how:
Add ginger, cardamom, and cloves to a tea ball or filter bag. Bring two cups of water to a boil, then add in the tea ball, cinnamon stick, and black tea bag. Steep for 5 minutes.
Remove the tea ball, cinnamon stick, and tea bag, then stir in the milk and sugar.
Use an immersion blender to froth the milk, then serve as-is or pour over ice.
Tips for Your Chai Tea Latte
Use good quality black tea. It's the base of the drink. Make sure it's a good kind for the best flavor.
Make sure your spices are fresh. Older spices won't be as potent and the flavor won't shine through in the chai as much.
Don't steep too long. The black tea can start to give off a bitter taste if it sits too long in the hot water. I recommend 5 minutes for the best flavor.
Use filtered water. The better the quality of the water, the better the latte.
If you don't have an immersion blender, try adding the tea and the milk to a mason jar with a lid, then shaking until frothy. Make sure it cools a bit first and be careful when you open the lid.
Let it cool slightly before adding ice. If it's still boiling hot, the liquid will just melt the ice and your chai latte will be watery. Let it cool slightly for the best results.
Sweeten to taste. Feel free to add as much or as little sugar as you like. You can also just leave the sugar out entirely for a sugar-free drink.
Swap the sweetener. This recipe works great with honey, maple syrup, agave, light brown sugar, or even coconut sugar or lavender simple syrup. Just use your favorite.
Variations
Dirty: Give your latte an extra dose of caffeine with a shot or two of espresso.
Hot: I love this latte iced, but you can totally skip the cooling/icing step and just serve it hot.
Decaf: You can easily make this recipe caffeine-free with decaf black tea bags. That way you can enjoy it any time of the day!
Spicy: If you enjoy a bit of spice, try adding a touch of black pepper or cayenne pepper.
Storage and Reheating
Once your latte is assembled, it's best served immediately.
You can, however, prepare your tea concentrate ahead of time. Simply steep the spices and tea in hot water as instructed, but don't add the milk or sweetener. Instead, let the mixture cool and store it in the fridge for up to 5 days.
When you're ready to serve, finish the latte as directed, then sip away!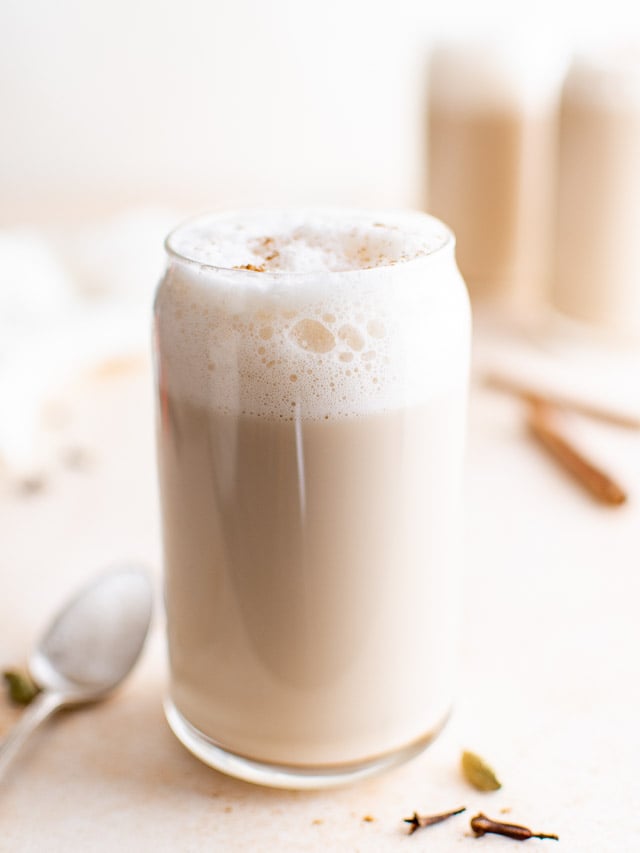 What is the Difference Between Chai Tea and Chai Latte?
The difference is in the milk…or lack thereof. Chai tea is a blend of spices steeped with black tea. A chai latte is just that except it's also made with milk to make a creamier beverage.
Is Iced Chai Tea Sweet?
It's as sweet as you want it to be! That's the bonus of making your chai tea latte at home. You can make it as sweet or not sweet as you like.
Recipe Card with Ingredient Amounts and Instructions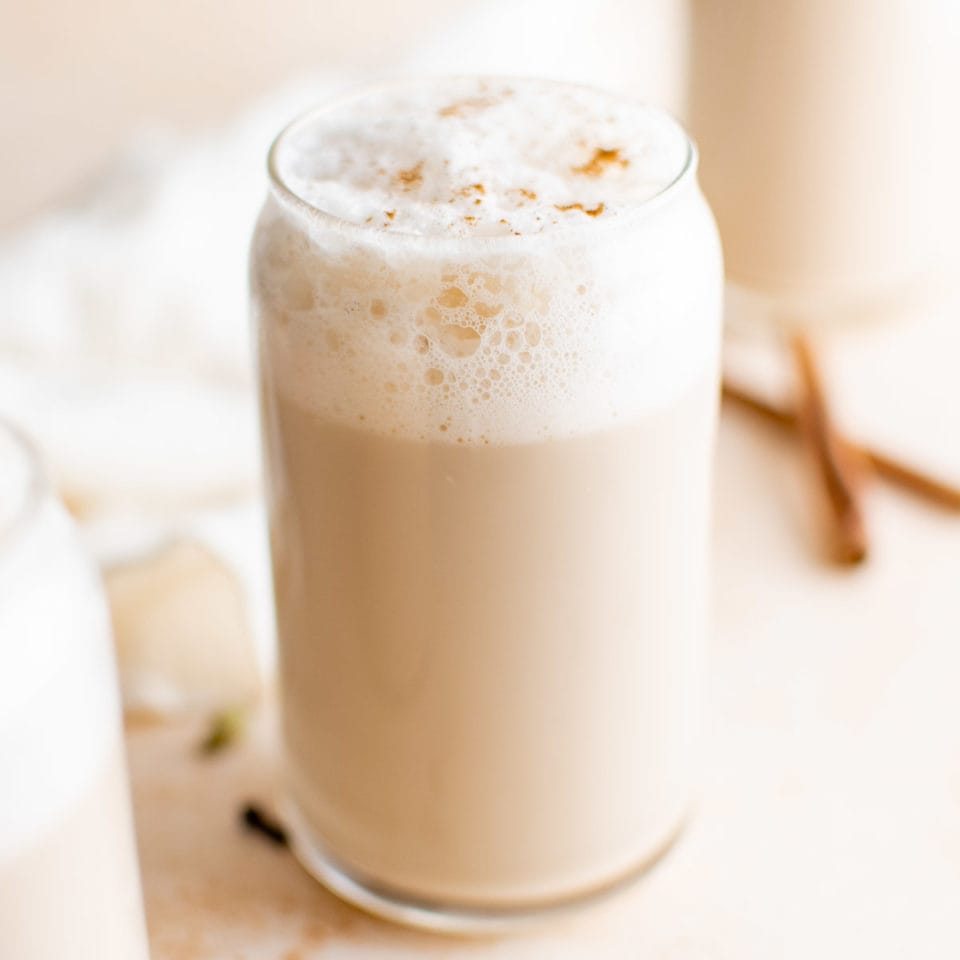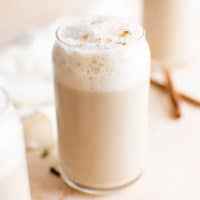 Ingredients
1

slice

fresh ginger

2

cardamom pods

,

two fresh, green

2

whole cloves

2

cup(s)

water

1

cinnamon stick

1

black tea bag

,

single serving

1

cup(s)

milk

2

tablespoon(s)

granulated sugar

,

or more to taste
Instructions
Add the ginger, cardamom, and cloves to a metal tea ball or a tea filter bag and set aside.

1 slice fresh ginger

2 cardamom pods

2 whole cloves

Boil two cups of water in a medium saucepan over high heat. Remove from heat.

Add the metal tea ball or tea filter bag, cinnamon stick and black tea bag to the pan. Stir, then let it steep, about 5 minutes.

1 cinnamon stick

1 black tea bag

Remove the tea ball, cinnamon stick and tea bag from the tea. Stir in the milk and sugar, then use an immersion blender to froth the milk while it's still hot.

1 cup(s) milk

2 tablespoon(s) granulated sugar

Serve as is or pour over ice, and garnish with a sprinkle of ground cinnamon if desired.

See post for storage options.
Notes
*The calories listed are an approximation based on the ingredients in the recipe card and a serving size of 1 (12-ounce) drink. Actual calories will vary.
*For more information, tips, and answers to frequently asked questions, please refer to the post.
*Photos courtesy of Karla Rae photography.
Nutrition
Serving:
12
ounces
Calories:
135
kcal
Carbohydrates:
21
g
Protein:
4
g
Fat:
4
g
Saturated Fat:
2
g
Polyunsaturated Fat:
0.1
g
Monounsaturated Fat:
1
g
Cholesterol:
15
mg
Sodium:
59
mg
Potassium:
225
mg
Fiber:
2
g
Sugar:
18
g
Vitamin A:
203
IU
Vitamin C:
1
mg
Calcium:
188
mg
Iron:
0.5
mg