This easy recipe for Chai Latte is made with simple warming spices and your favorite milk. Serve this comforting tea latte hot or iced for a pick-me-up any time of the day!
As much as we love coffee drinks, like a good pumpkin spice latte, gingerbread latte, or eggnog latte, sometimes we need to switch it up a bit and chai tea offers the right amount of change. Originating in India, Chai tea is a black tea that's steeped with some aromatic herbs and spices. These spices have a bit of a kick from ginger as well as warming flavors from cardamom and cloves.
Chai tea makes a great latte when mixed with milk and sweetened with a bit of sugar! To make this drink, you'll boil some water, then steep the spices with black tea. Milk is then added to make it creamy along with a bit of sweet sugar. Stir it up for a mug full of comfort.
Chai tea latte is the perfect addition to your morning routine or great for when you need a mid-day beverage that's creamy, flavorful, and easy to make!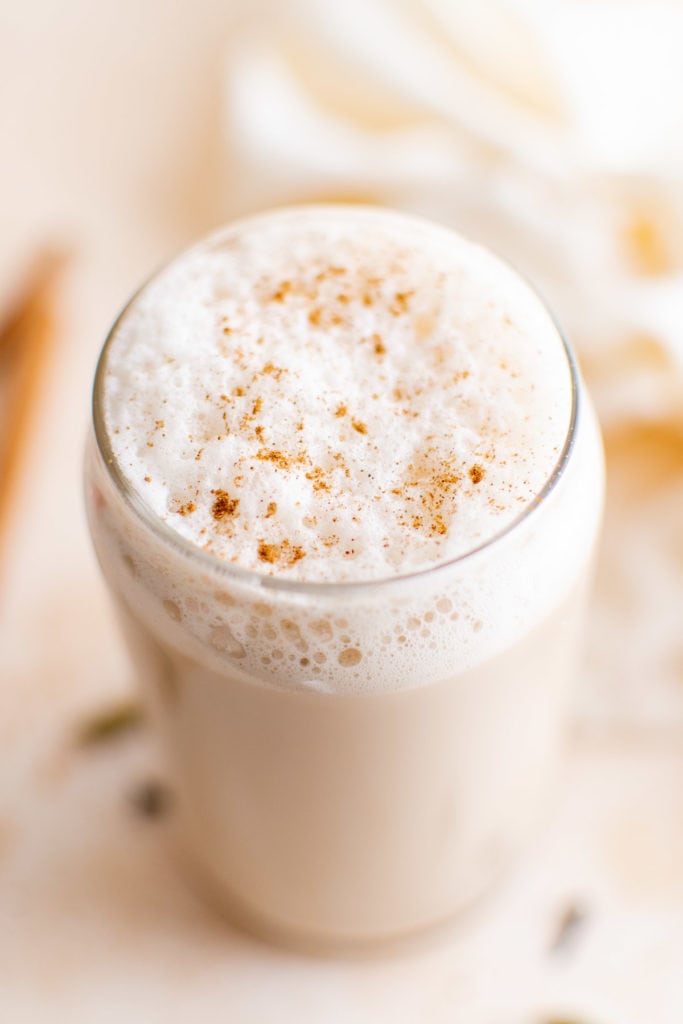 Why You'll Love This Recipe
This chai latte is made with simple spices you can find in any grocery store.
You can serve it hot or iced depending on your mood.
It can easily be made dairy-free or vegan depending on what type of milk you use.
Make a large batch to use up during the week to save time.
Ingredients You'll Need
Fresh Ginger – Gives the chai tea a natural spicy kick that will awaken you.
Cardamom Seeds – Adds a level of bold spice.
Whole Cloves – This spice is slightly spicy and bitter and pairs well with the other ingredients.
Cinnamon Stick – Adds a sweet and warm cinnamon flavor to the tea.
Black Tea – Brings all the flavors together with classic black tea flavor and a bit of caffeine.
Water – Used to steep the black tea and seasonings.
Milk – Added to the finished tea to turn it into a latte.
Granulated Sugar – Sweetens up the tea. Use as little or as much as you like.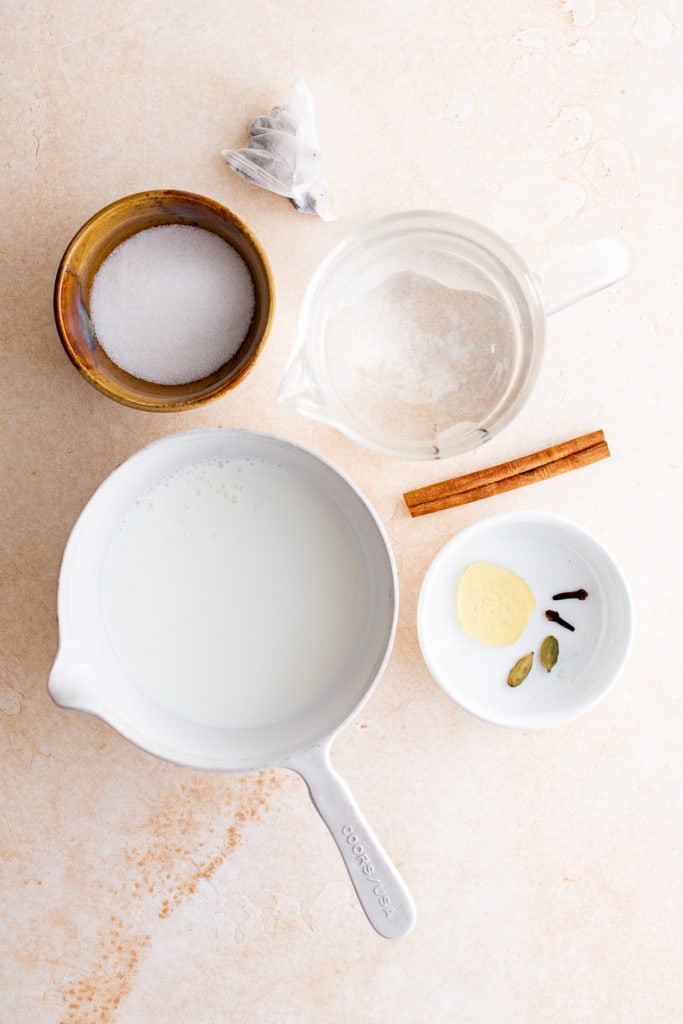 How To Make A Chai Latte From Scratch
This comforting tea is very simple to make right at home. Simply steep the black tea with spices and cinnamon. Once cooled, pour in your favorite milk and a touch of sugar for sweetness.
Contain the spices: In a metal tea ball or a tea filter bag, add the fresh ginger, cardamom, and cloves. This will help keep them together when steeping.
Boil the water: In a small saucepan, bring 2 cups of water to a boil using high heat. Once it's boiling, remove it from the heat.
Steep the ingredients: To the hot water, add the black tea bag, cinnamon stick, and the ginger, cardamom, and cloves in the teabag. Stir together and let it steep for 5 minutes.
Assemble the chai latte: After the tea is steeped, remove the ingredients and stir in the milk. You can also use an immersion blender or stick blender to froth the milk while it's hot. Serve hot or over ice with a dash of ground cinnamon.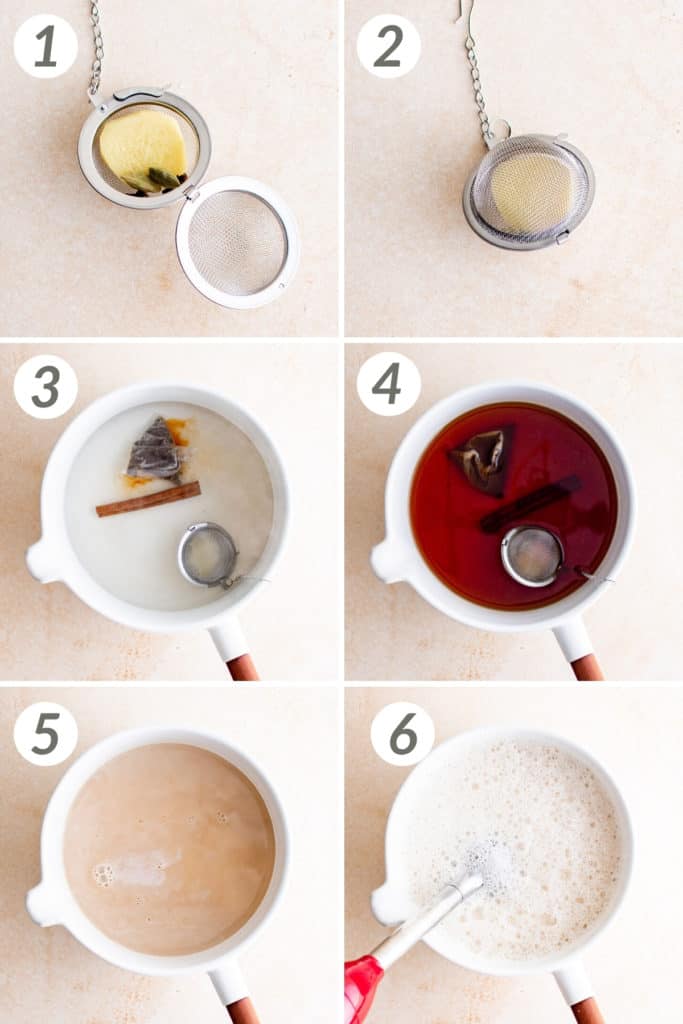 Chai Latte Recipe Tips
Using a quality black tea for this recipe is key to making the best flavor of chai.
Make sure your spices are fresh as older spices may not be as potent and will not shine through in the chai tea.
Always use filtered water when making tea drinks to make sure the taste is clean and pure.
Do not steep the ingredients too long as the black tea can give off a bitter taste.
The amount of sweetness is completely up to you. Feel free to use as little or as much sugar as you like or omit it completely for a sugar-free chai latte.
If you don't have an immersion blender, try adding the tea and milk to a mason jar with a lid and shake it up until the milk is frothy. Make sure it cools a bit first and be careful opening the lid.
Variations
Dirty Chai Latte: Add a shot of espresso to make a dirty chai latte for an extra dose of caffeine.
Low Carb Chai Latte: Use milk that is low in carbs and a sweetener such as monk fruit, stevia, or erythritol.
Vegan Chai Latte: Make sure you are using creamy plant-based milk to make a vegan chai latte.
Decaf Chai Latte: If you are looking to make a chai latte that's caffeine-free, try using decaf black tea bags.
If you enjoy a bit of spice, try adding in a touch of black pepper or cayenne pepper to the tea.
This chai latte can be sweetened with maple syrup, agave, light brown sugar, or coconut sugar.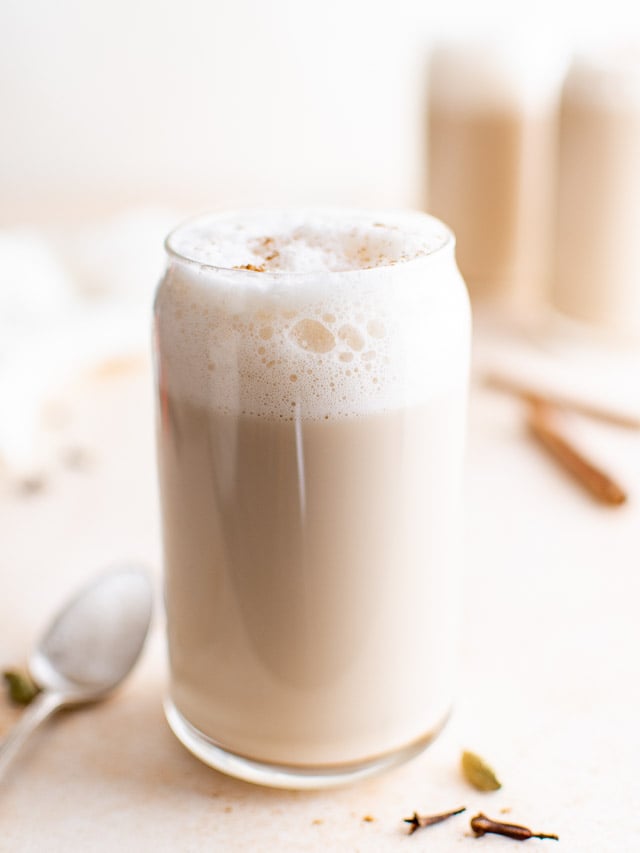 Storing and Freezing
Storing: Prepared chai latte can be stored in the fridge in a jar or pitcher with a lid for 3-4 days. Make sure you give it a shake or stir before serving over ice or reheating.
Freezing: If you have any extra chai latte leftover, add it to some ice cube trays and use it to cool off a glass of milk or to blend into a smoothie. You can also use it as the ice for more iced chai latte.
How much caffeine is in a chai latte?
An 8 ounce cup of chai latte has roughly 55 grams of caffeine. This highly depends on what tea you use to steep with the seasonings.
Is there coffee in a chai latte?
Nope! Traditionally, chai latte is made with just black tea. Over the years, people have been adding coffee or a shot of espresso to bump up the caffeine which is often called a dirty chai latte.
Is chai tea healthier than coffee?
This can depend on what your goals are. Chai tea has less caffeine and the spices and seasonings have healing benefits. Because you are in control of how much milk and sugar this drink has, how healthy it is will be completely up to you!
What's the difference between a latte and a chai latte?
A latte is simply coffee or tea made with steamed milk. A chai latte is chai tea that is made with steamed or frothed milk.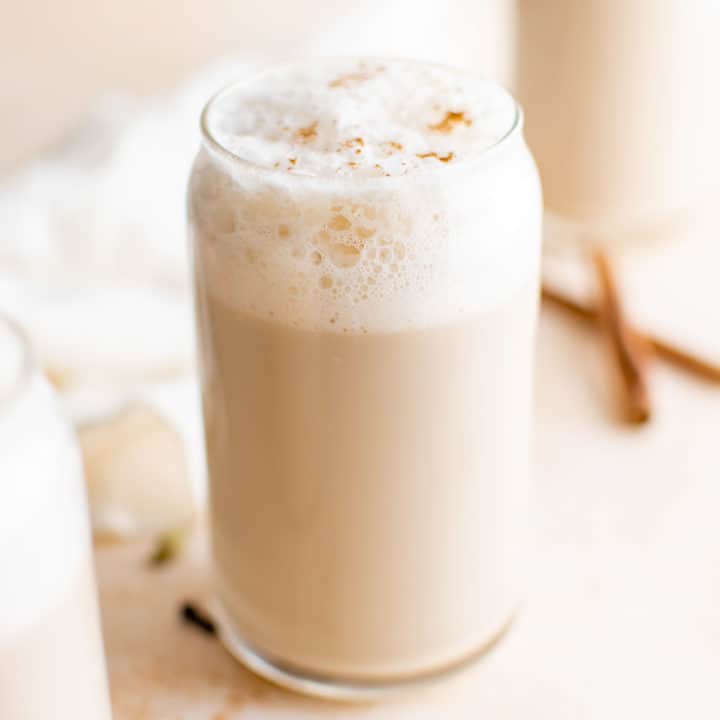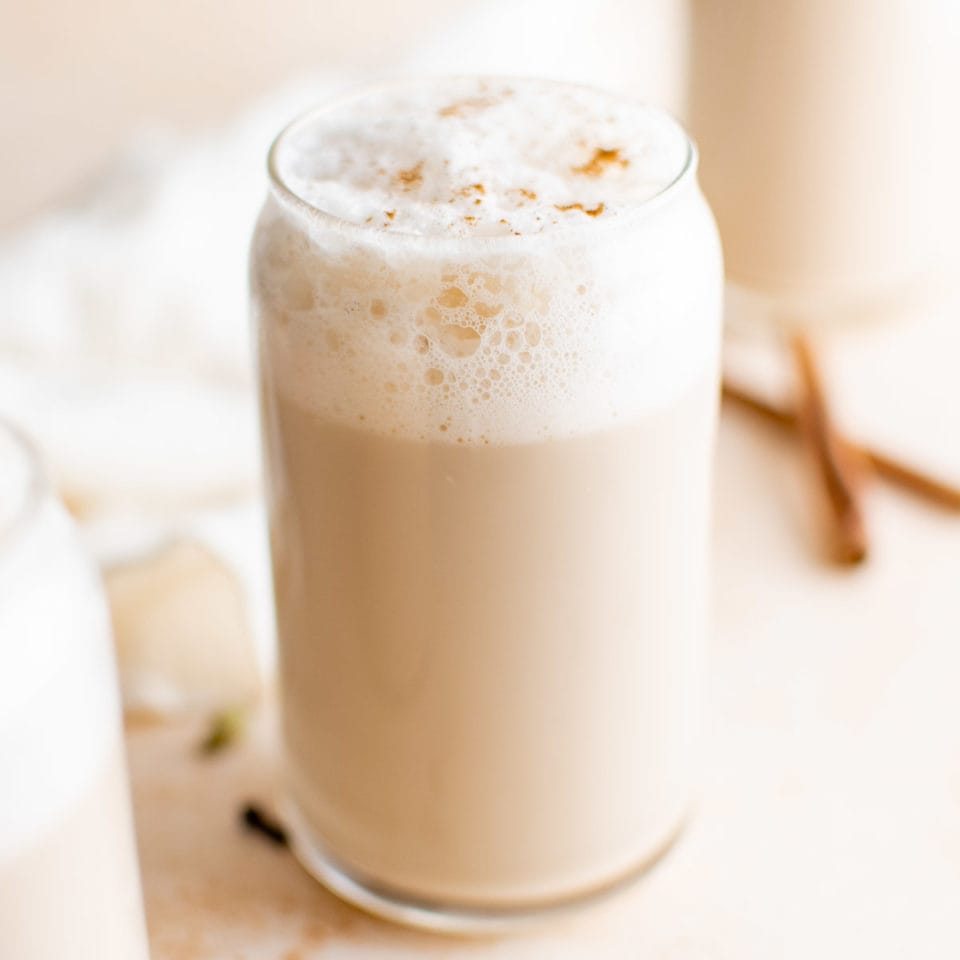 Chai Latte
This easy recipe for Chai Latte is made with simple warming spices and your favorite milk. Serve this comforting tea latte hot or iced for a pick-me-up any time of the day!
Ingredients
1 slice fresh ginger
2 two fresh green cardamom seeds
2 whole cloves
2 cups water
1 cinnamon stick
1 black tea bag
1 cup milk
2 tablespoons granulated sugar, or more to taste
Instructions
Add the ginger, cardamom, and cloves to a metal tea ball or a tea filter bag and set aside.
Boil two cups of water in a medium saucepan over high heat. Remove from heat.
Add the metal tea ball or tea filter bag, cinnamon stick and black tea bag to the pan. Stir, then let it steep, about 5 minutes.
Remove the tea ball, cinnamon stick and tea bag from the tea. Stir in the milk and sugar, then use an immersion blender to froth the milk while it's still hot.
Serve as is or pour over ice, and garnish with a sprinkle of ground cinnamon if desired.
See post for storage options.
Notes
*The calories listed are an approximation based on the ingredients in the recipe card and a serving size of 1 (12-ounce) drink. Actual calories will vary.
*For more information, tips, and answers to frequently asked questions, please refer to the post.
*Photos courtesy of Karla Rae photography.
Recommended Products
As an Amazon Associate and member of other affiliate programs, we may earn a commission from qualifying purchases.
Nutrition Information:
Yield:

2
Serving Size:

12 ounces
Amount Per Serving:
Calories:

115
Total Fat:

2g
Saturated Fat:

1g
Trans Fat:

0g
Unsaturated Fat:

1g
Cholesterol:

10mg
Sodium:

74mg
Carbohydrates:

20g
Fiber:

0g
Sugar:

13g
Protein:

4g
*The calories are an estimate and are based on the ingredients and serving size listed. The calories can vary depending on the brand of product purchased.