Blueberry Curd is sweet, tart, tangy, and smooth all rolled into one. It's an easy fruit spread that's bursting with fresh fruit flavors and only takes a few minutes to make.
Fresh fruit spreads, like this blueberry curd, are something that we love to make for homemade bread, bagels, and English muffins. It's perfect when you want something sweet but don't want something as sweet as jelly or jam.
We have other favorites, too, like this honey walnut cream cheese, garlic and herb cream cheese, and cinnamon butter.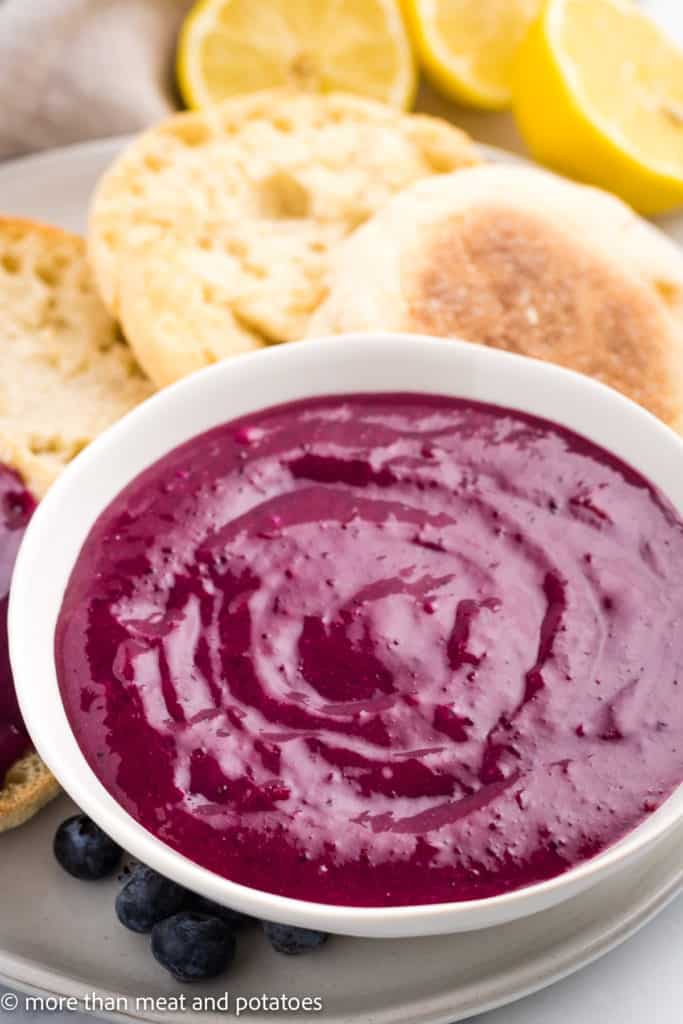 Blueberry Curd Recipe:
John makes the BEST sauces and spreads. He has this knack for opening the cabinets and using random ingredients to make the most incredible recipes. Many of the sauces and dressings on both of the sites are his creations. I've slowly started to pick up on that skill.
For this blueberry curd, I used our lemon pastry filling from our sister site as a base. I did change the recipe a bit, but the lemon flavor is there. Then, I added a good helping of fresh blueberry sauce. The curd tastes light, bright, and fresh with lemon and blueberry flavor.
We love to serve it on a slice of toasted sourdough sandwich bread. It's also great on pancakes, waffles, pound cake, and angel food cake. If you have blueberry lovers in your family, they will love this blueberry curd. It may look complicated, but it's really simple and takes no time at all.
How to Make Blueberry Curd:
Place the blueberries and water in a small pan over low heat. Cook for several minutes until the berries reduce down into a sauce. Remove from heat.
Pour the blueberry mixture through a mesh sieve, and allow the sauce to cool slightly.
Meanwhile, place a couple inches of water in a double boiler. Add egg yolks, whole egg, granulated sugar, lemon zest, and lemon juice, into the top pot of the double boiler.
Whisk continuously for about 10 minutes until the mixture thickens and resembles Hollandaise sauce.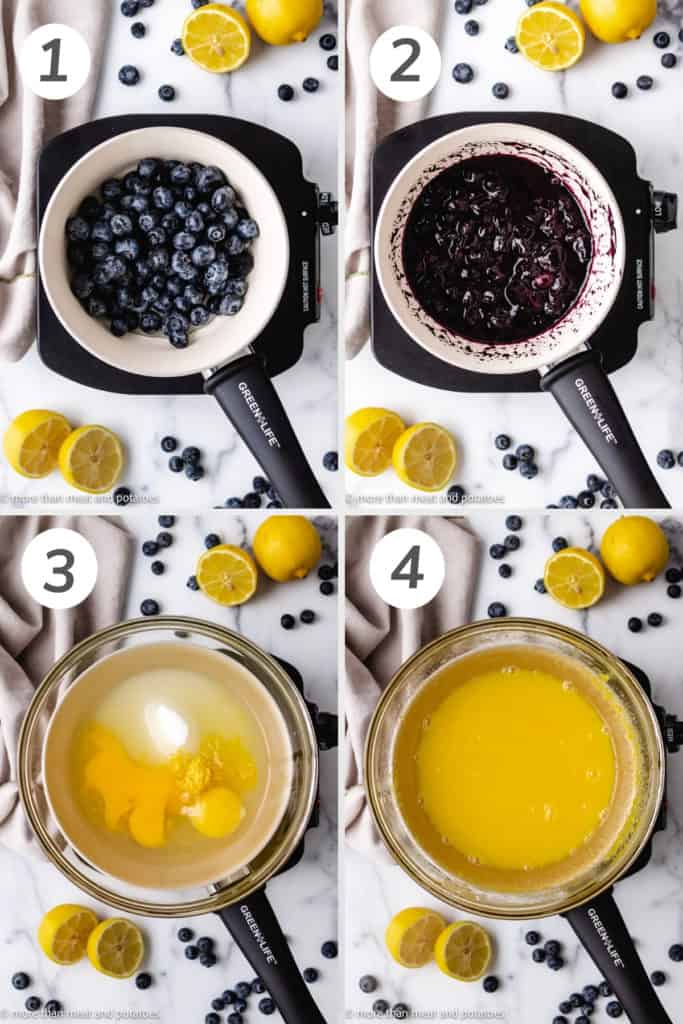 Remove from heat, and add the cubed butter.
Whisk to combine, then pour in the blueberry sauce.
Stir to combine. Cover with plastic wrap, so the wrap is touching the blueberry curd. Transfer to the refrigerator to cool.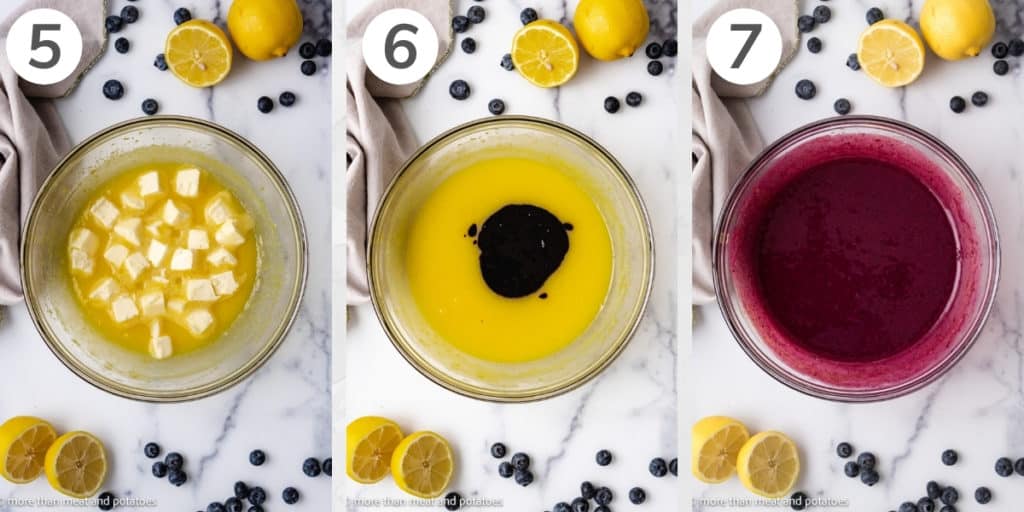 Blueberry Curd Tips and Variations:
Patience is Key!: Go low and slow when cooking the egg mixture over the double boiler. There's really no good way to speed up this process, and trying to do so will result in scrambled egg pieces in the blueberry curd.
Too Much Water: Don't place too much water in the double boiler. There only needs to be an inch or two to create steam. If the water touches the other pan or bowl, it may be too hot and scramble the eggs.
Use a heat-safe bowl and pan: Make a double boiler by placing a heat-safe bowl over a pan. Make sure it fits snuggly into place, so the steam doesn't escape.
Blueberries: Fresh or frozen blueberries will work for this recipe. If you use fresh blueberries, taste them before starting the recipe. The amount of sugar may need to be adjust depending on how sweet the blueberries taste.
Thickness: The curd will thicken as it cools, but if you'd like to thicken it while it cooks add another egg yolk.
Less Lemon Flavor: For less lemon flavor, reduce or omit the lemon zest.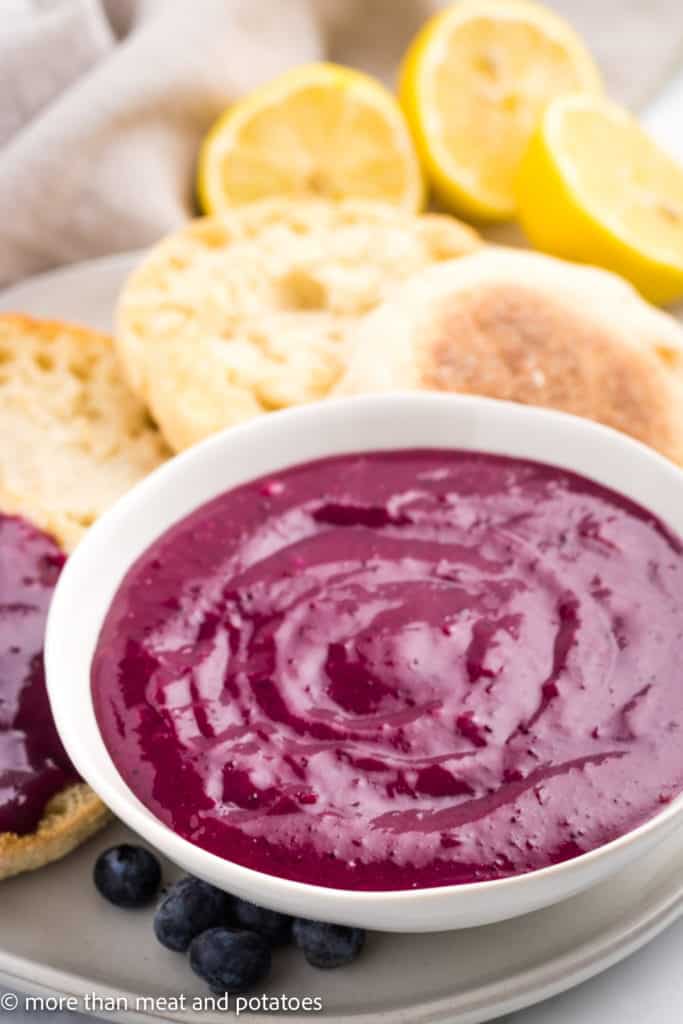 Storage Recommendations:
Room Temperature: Blueberry curd should not be stored at room temperature.
Refrigerator: Curd is good for about 1 week when stored in an airtight container in the refrigerator.
Freeze: Blueberry curd can be frozen for about 2 months. Make sure to chill it in the refrigerator first, then transfer it to a freezer-safe container.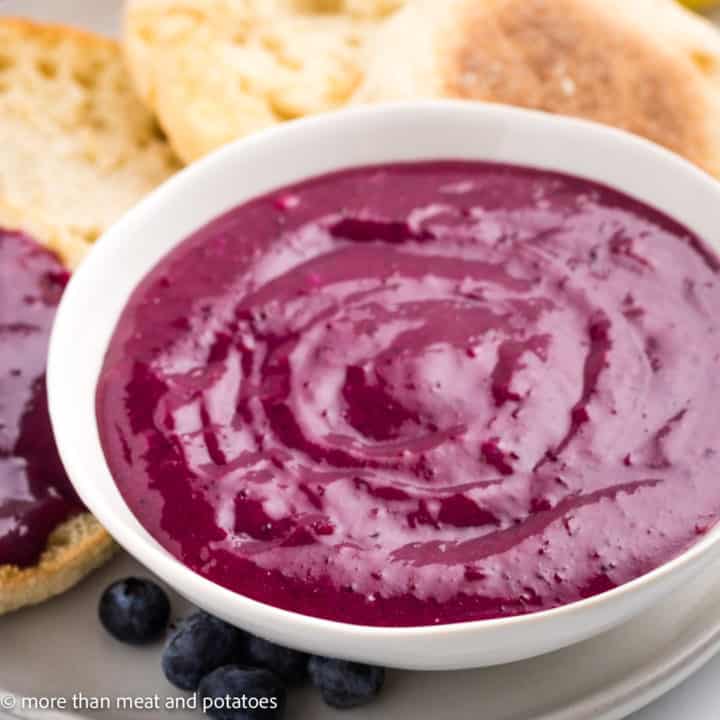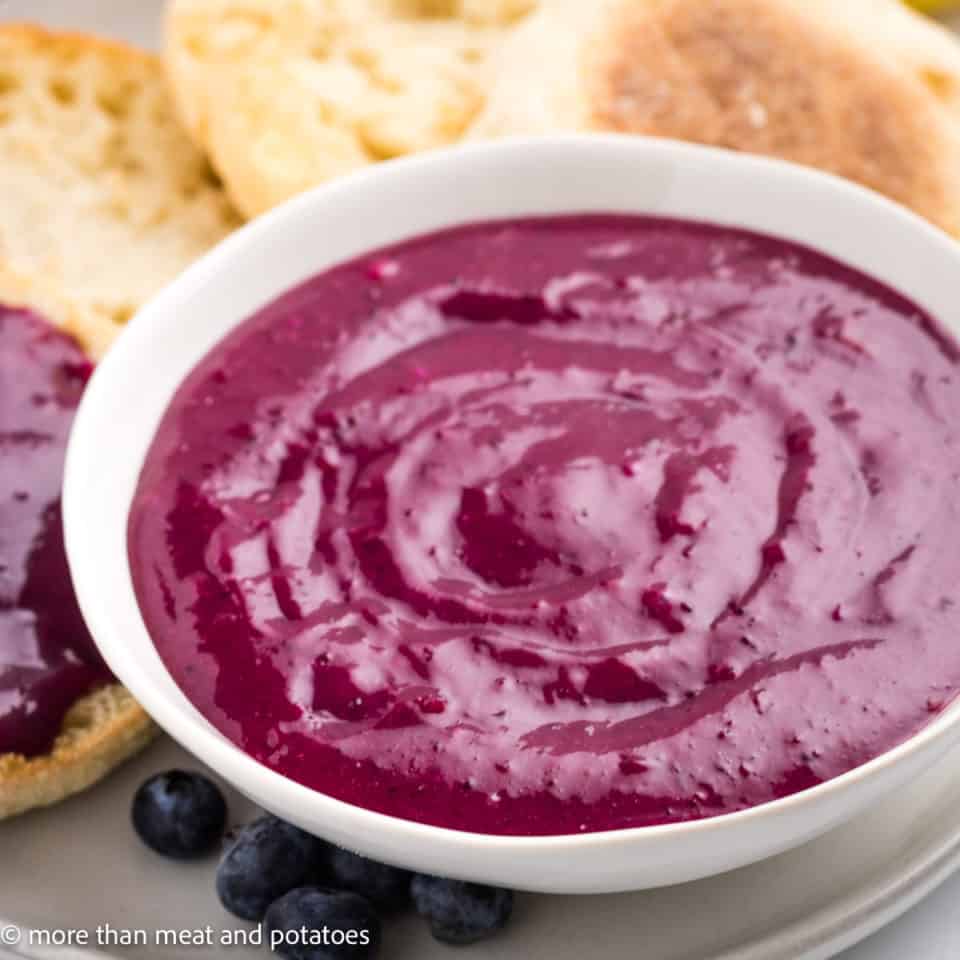 Blueberry Curd
Total Time:
3 hours
30 minutes
Blueberry Curd is sweet, tart, tangy, and smooth all rolled into one. It's an easy fruit spread that's bursting with fresh fruit flavors and only takes a few minutes to make.
Ingredients
1 Cups Fresh Blueberries
1 Tablespoon Water
2 Egg Yolks
1 Large Egg
½ Cup Granulated Sugar
¼ Cup Freshly Squeezed Lemon Juice
1 Tablespoon Lemon Zest
6 Tablespoons Unsalted Butter, cut into small pieces
Instructions
Place the blueberries and water in a small saucepan over low to medium heat. Cook until the mixture begins to simmer and the blueberries begin to pop. Remove from heat, and strain through a mesh sieve. Allow the mixture to cool to slightly.
Place 1 to 2 inches of water into a double boiler, or make a double boiler out of a saucepan and a heat-safe bowl. Bring the water to a boil, then reduce to a simmer.
Place egg yolks, whole egg, granulated sugar, lemon zest, and lemon juice, into the top pot of the double boiler or bowl over the pan.
Whisk constantly while the curd cooks to ensure the eggs don't scramble. The mixture will begin to thicken. After about 10 minutes, the mixture should resemble the texture of hollandaise sauce. Remove from heat, and whisk in the butter.
After the butter melts, stir in the blueberry mixture. Pour the mixture into a sealable container, and cover with plastic wrap making sure that the plastic wrap touches the curd.
Refrigerate for 2 to 3 hours until completely chilled. Serve on toast, pancakes, English muffins, pound cake, Angel food cake, or your other favorite desserts. Store leftovers in the refrigerator for up to 7 days.
Notes
*The calories listed are an approximation based on the ingredients in the recipe card and a serving size of 1 ounce of blueberry curd. Actual calories will vary.
*For more information, tips, and answers to frequently asked questions, please refer to the post.
Recommended Products
As an Amazon Associate and member of other affiliate programs, we may earn a commission from qualifying purchases.
Nutrition Information:
Yield:

10
Serving Size:

1 ounce
Amount Per Serving:
Calories:

128
Total Fat:

8g
Saturated Fat:

5g
Trans Fat:

0g
Unsaturated Fat:

3g
Cholesterol:

74mg
Sodium:

11mg
Carbohydrates:

13g
Fiber:

0g
Sugar:

12g
Protein:

1g
*The calories are an estimate and are based on the ingredients and serving size listed. The calories can vary depending on the brand of product purchased.