This Blueberry Curd is sweet, tart, and tangy all combined into one mouth watering fruit spread. This berry curd recipe is so simple to make and bursting with fresh blueberry and lemon flavors.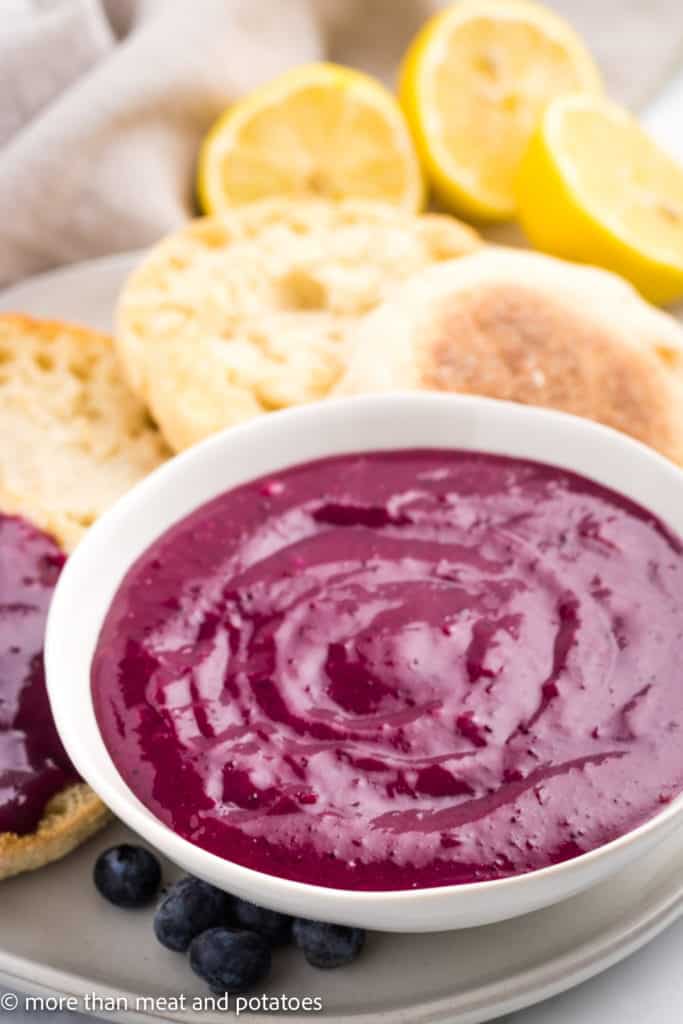 Easy Lemon Blueberry Curd Recipe
Skip the store-bought jam, jelly, and curd. This delicious blueberry curd is so simple and perfect for spreading on bread or pancakes, mixing into oatmeal, or layering onto your favorite dessert.
This recipe is made with just a few simple ingredients, is so versatile, and is perfect for when you want something sweet, but not quite as sweet as jelly or jam.
What is Fruit Curd Made Of?
While there are plenty of curd flavors involving different kinds of fruit, here's a breakdown of what you'll need for this blueberry curd recipe:
Blueberries: I usually use fresh blueberries, but frozen will work in a pinch.
Water: Cooking the blueberries in a little bit of water softens them up just enough so they pop and can be strained.
Eggs: You'll need 1 whole egg and 2 additional yolks. The extra egg yolks are necessary to create a smooth, velvety, almost custard-like texture.
Granulated Sugar: To sweeten! Before making your curd, I recommend tasting the blueberries to see how sweet they are. That way you can adjust the amount of sugar you add accordingly.
Lemon Juice and Zest: The bright flavors of citrus offset the sweet blueberry perfectly.
Unsalted Butter: Butter adds warm flavor depth and richness to the curd.
How to Make Blueberry Curd
This simple berry curd recipe takes a quick 10 minutes to prep!
See the recipe card below for the ingredient amounts and full instructions.
In a small saucepan over medium heat, combine blueberries and water. Cook until the mixture is simmering and the blueberries start to pop, then remove from the heat.
Strain the mixture through a mesh sieve, then cool slightly.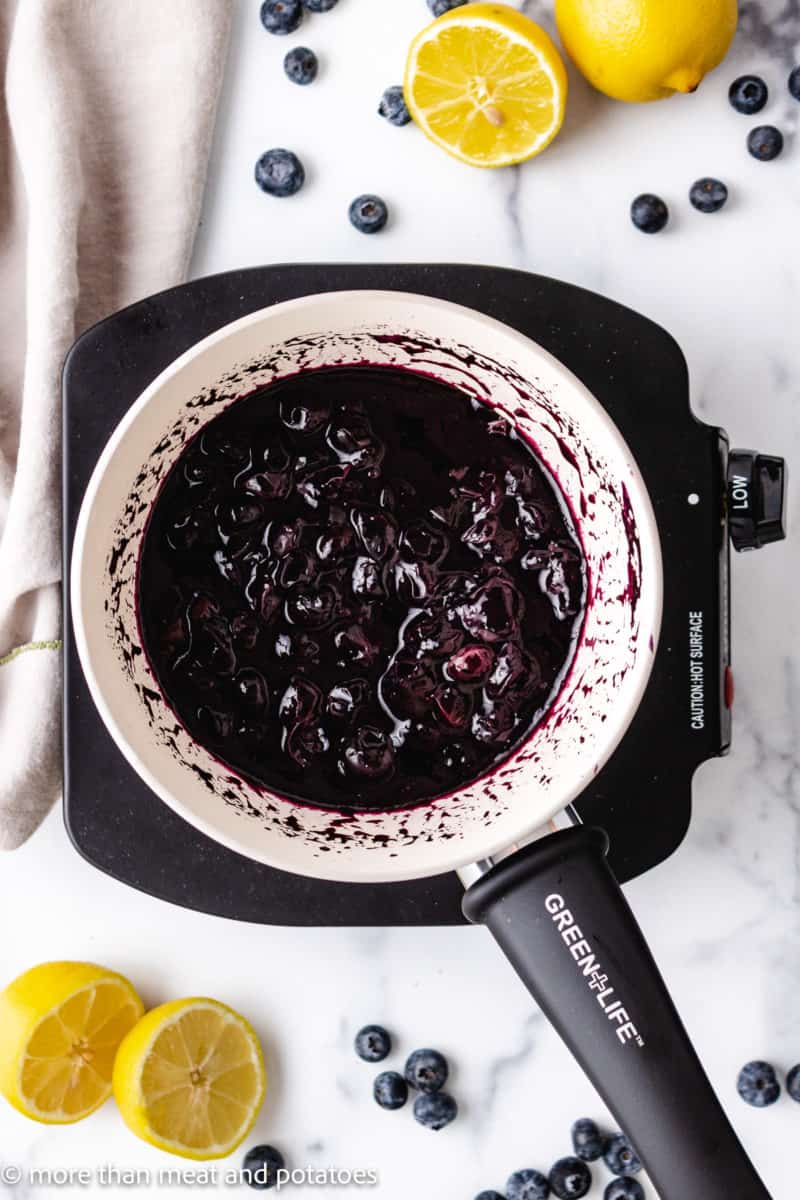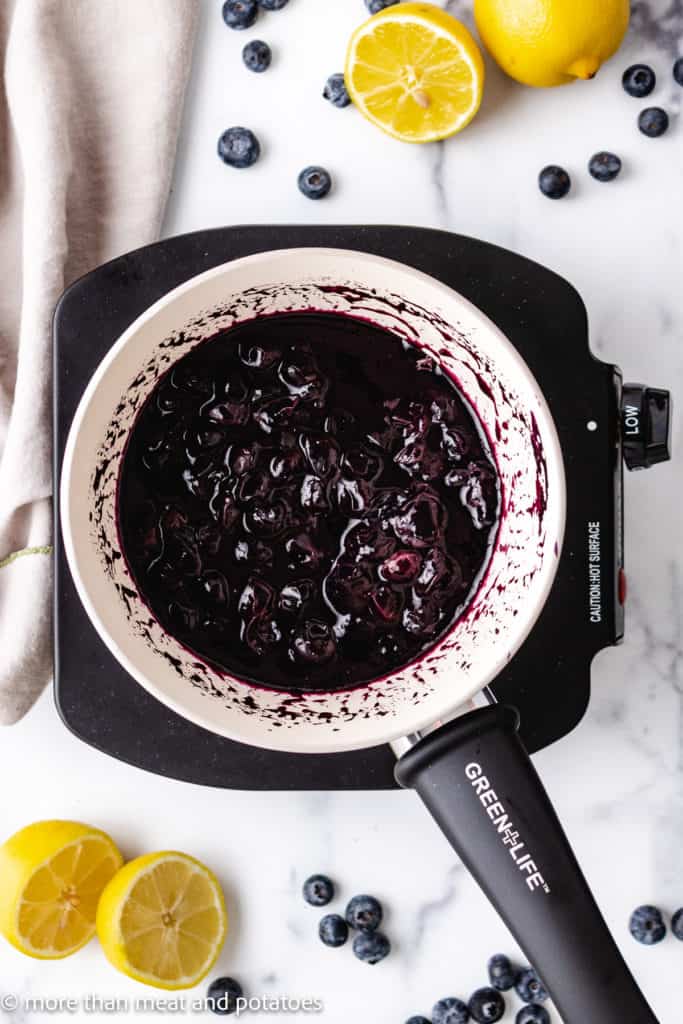 Place 1-2 inches of water in a double boiler, then bring the water to a boil and reduce to a simmer. In the top of the double boiler, combine egg yolks, egg, sugar, lemon zest, and lemon juice.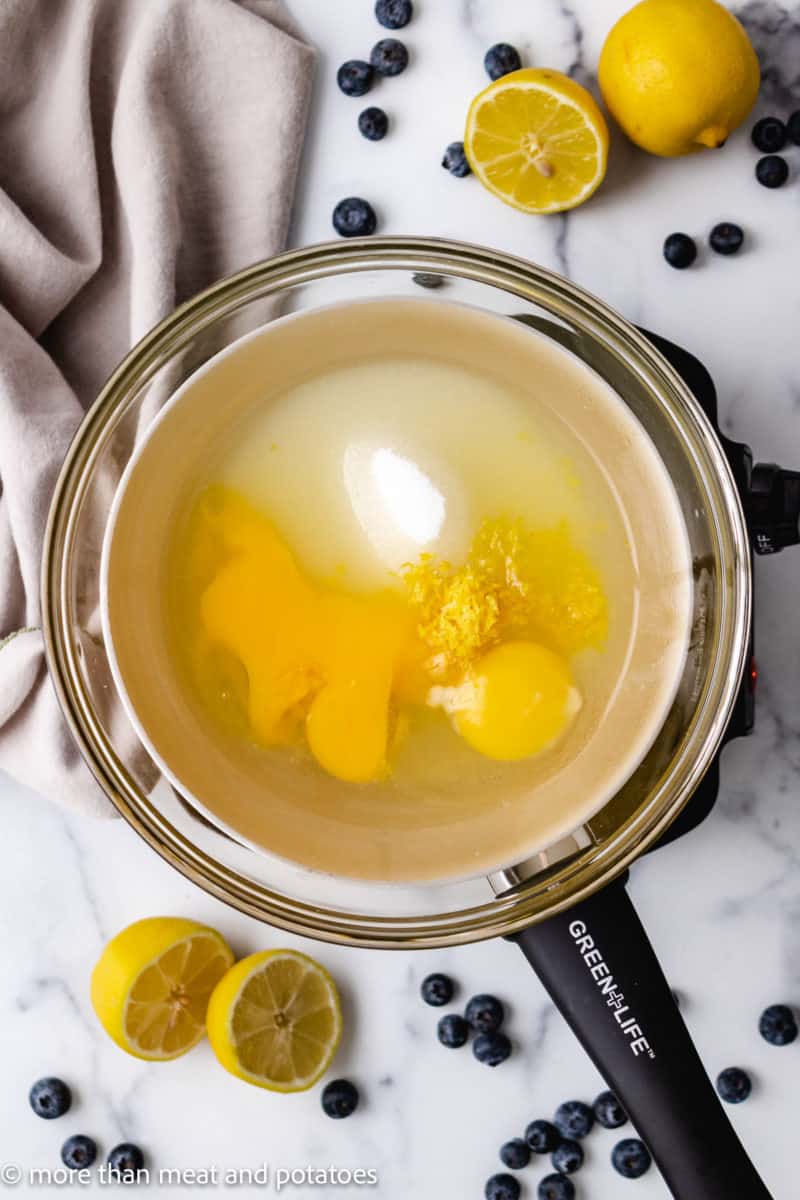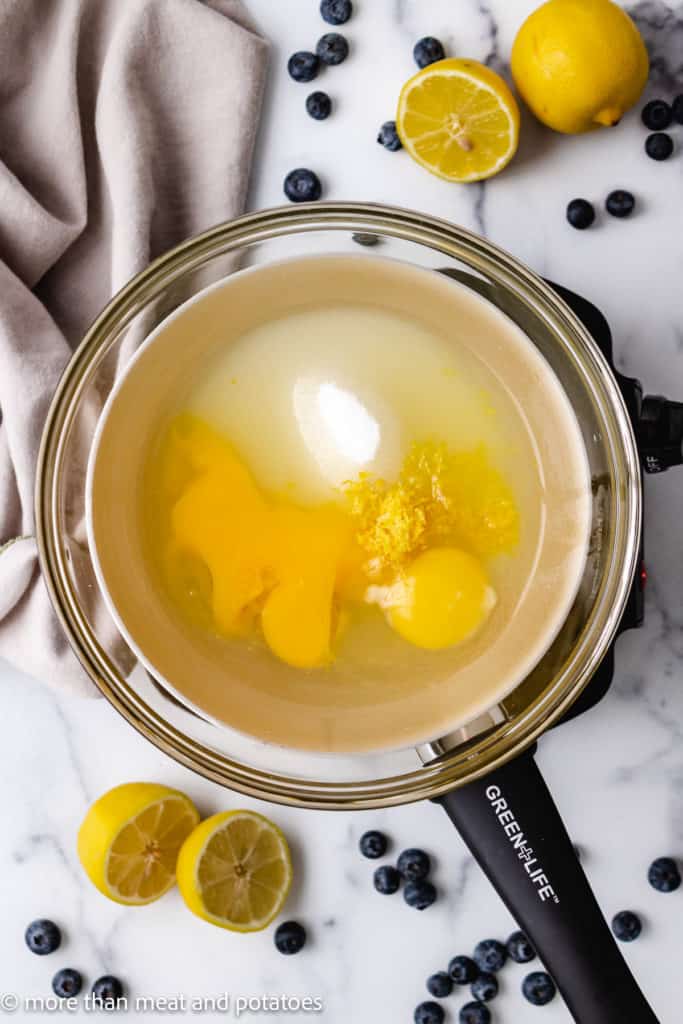 Whisk constantly as the mixture cooks until thickened, then remove from the heat and whisk in butter.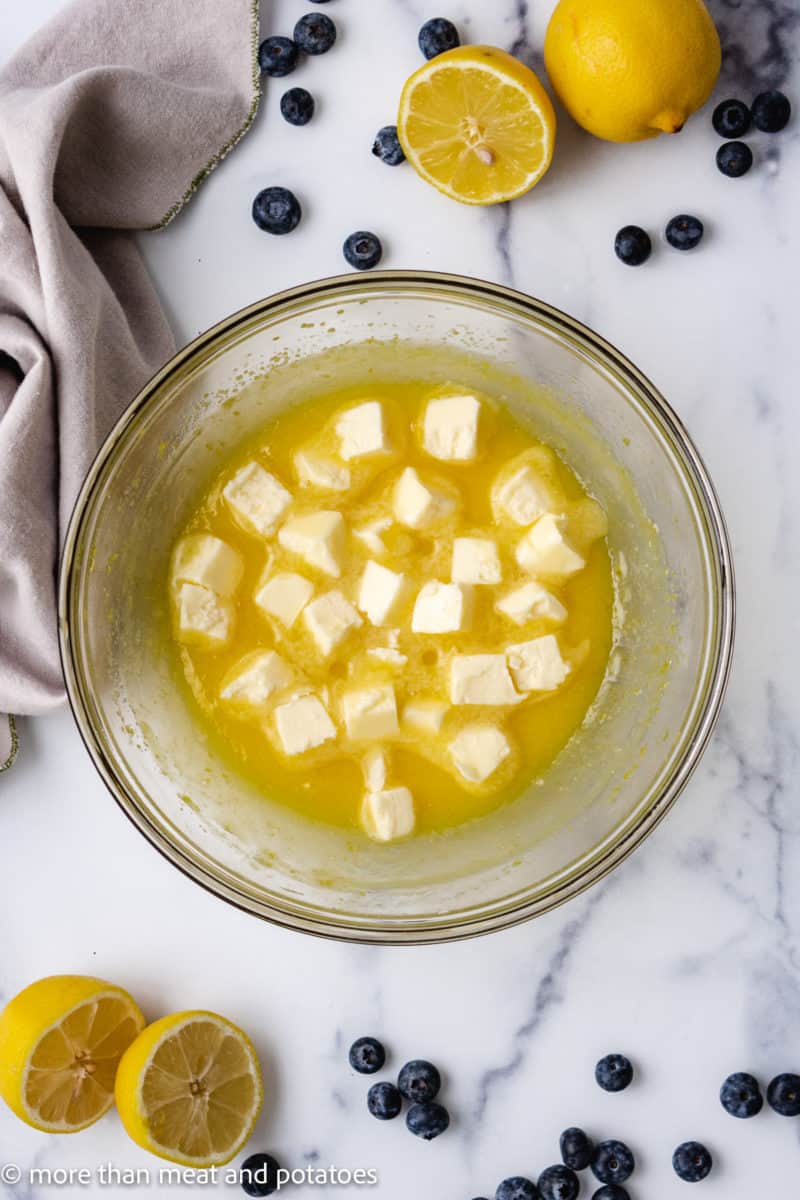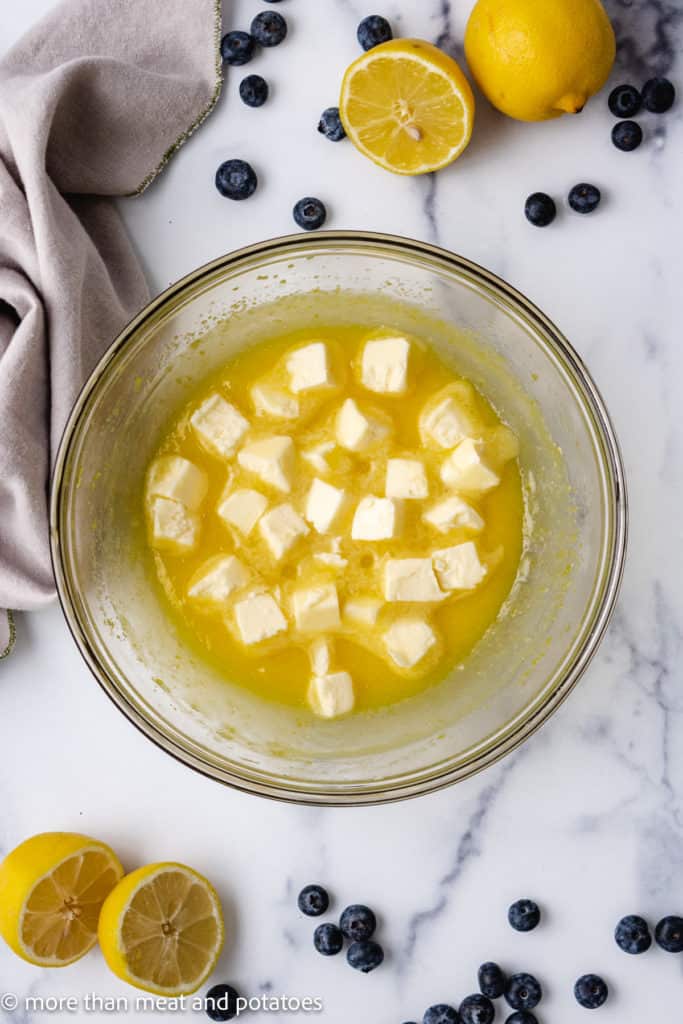 Stir the blueberry mixture into the egg mixture, then cover with plastic wrap so that the plastic wrap touches the top of the curd. Chill in the fridge for 2-3 hours, then serve as desired.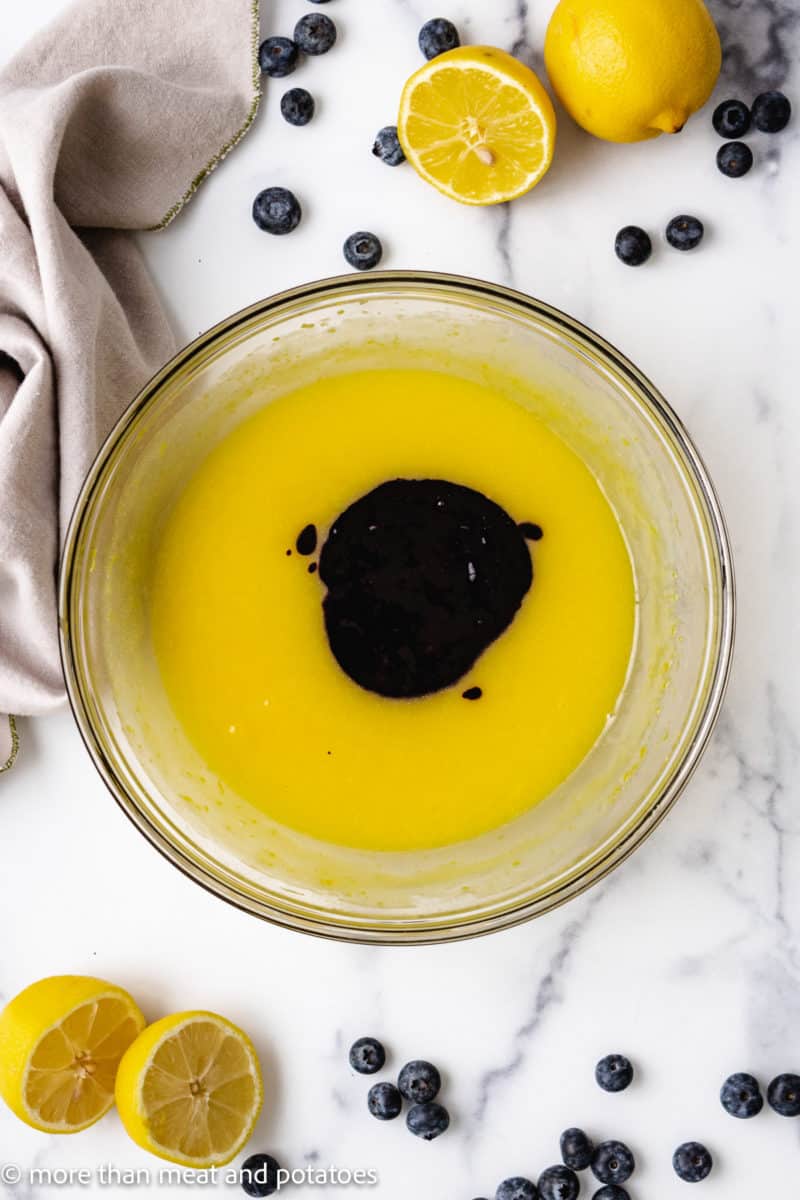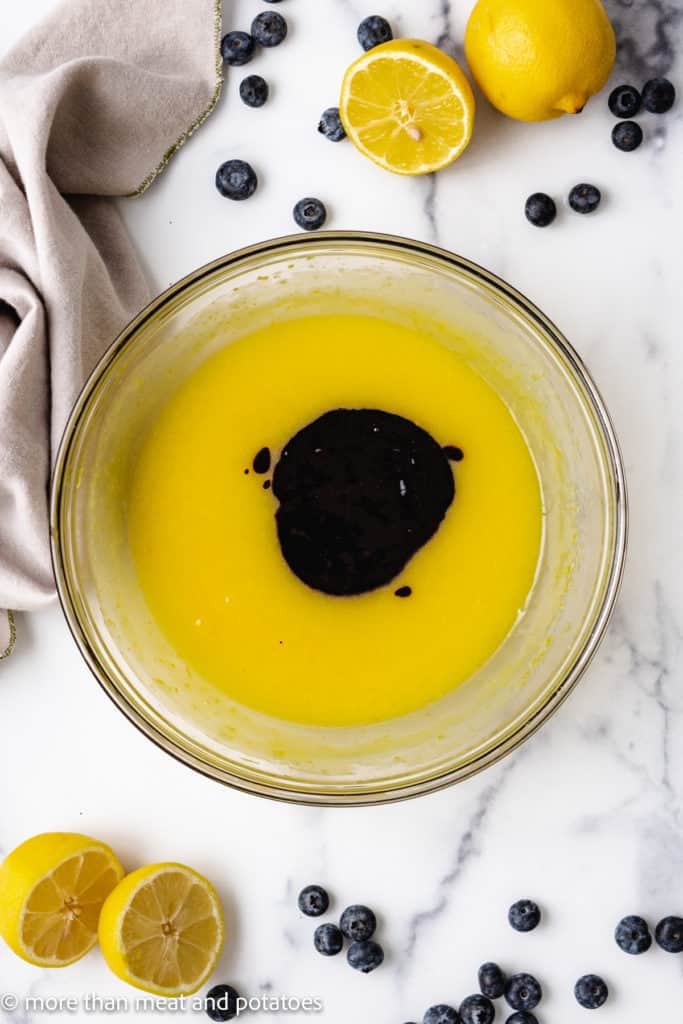 Tips and Notes
Fresh vs frozen blueberries: I usually prefer to use fresh blueberries, but frozen totally works too if that's what you have on hand.
If you use fresh blueberries, taste them before you start! The sweeter they are, the less sugar you will need. Adjust using your best judgment!
Use a double boiler. Or, if you don't have a double boiler, place a heat-safe bowl over a pan with a little bit of water. Make sure it fits snuggly so that the steam doesn't escape.
Go low and slow over the double boiler. There really is not a good way to speed the process up. If you crank the heat up, you may end up scrambling the eggs.
Less water is more. You will need just an inch or two to create steam in the pan. If the water touches the other pan, it will be too hot and the eggs may cook.
Not thick enough? Try adding an extra egg yolk to your mixture. Keep in mind that the curd will thicken up slightly as it cools.
Want it a little less lemony? Reduce or omit the lemon zest.
How to Serve Blueberry Curd
If you're not downing this blueberry curd with a spoon all on its own, there are plenty of other ways you can serve it! Here are just a few ideas: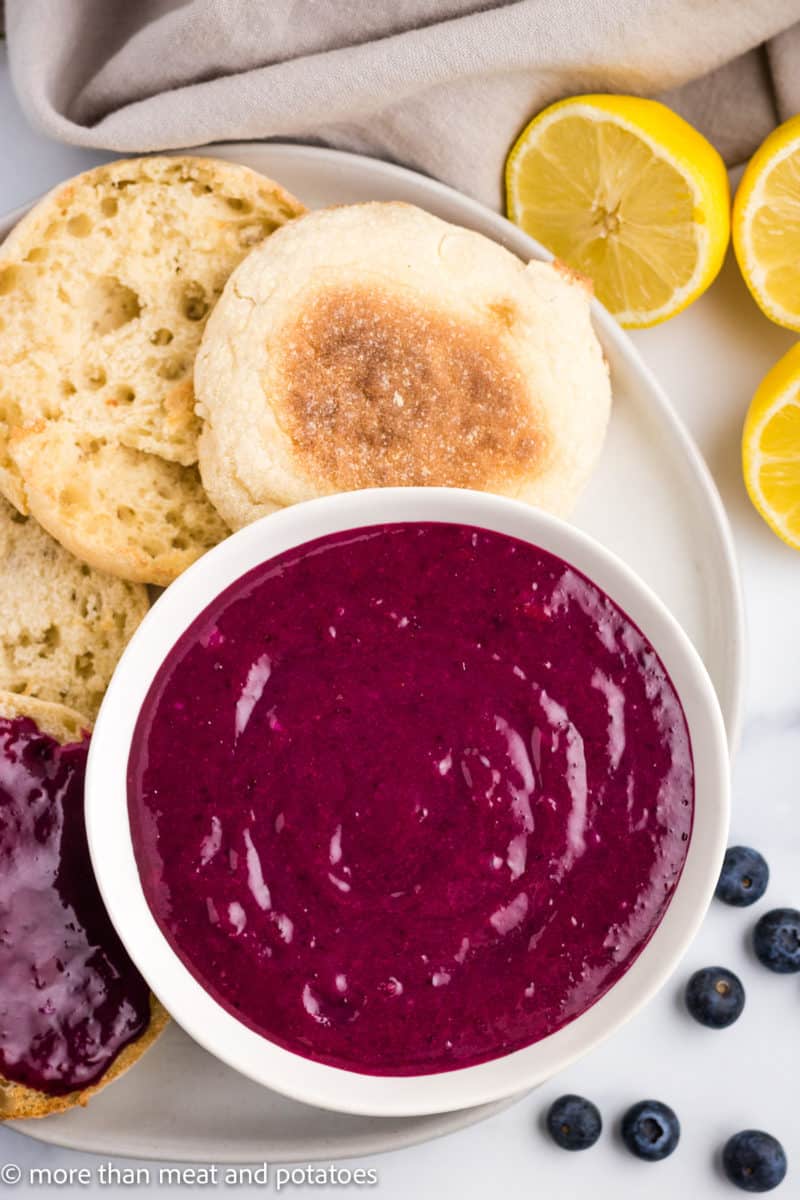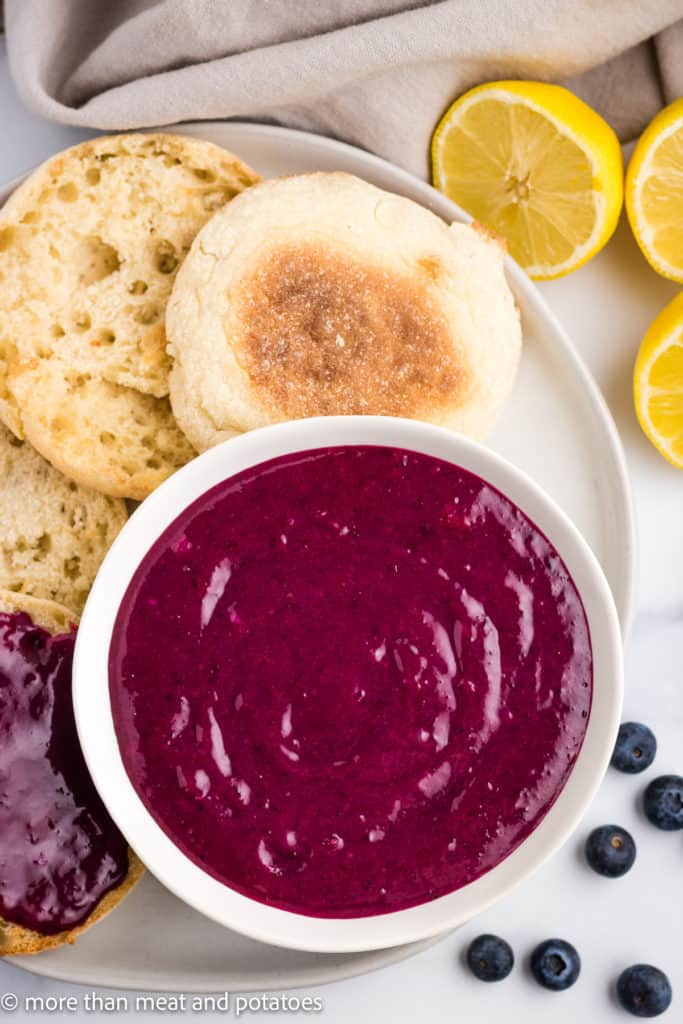 How Long Will Fruit Curd Last?
Refrigerator: Berry curd will last in an airtight container in the fridge for up to 1 week.
Freezer: To freeze your curd, let it cool completely, allow it to chill first in the fridge, then store it in an airtight container in the freezer for up to 2 months. When you're ready to serve, simply let it thaw in the fridge first.
Can I Make Curd From Any Fruit?
Pretty much! Blueberry is just one variety of fruit curd, but you can use many different types of fruit to make curd.
Some other classic curds include lemon, cranberry, rhubarb, blackberry, raspberry, strawberry, you name it!
Recipe Card with Ingredient Amounts and Instructions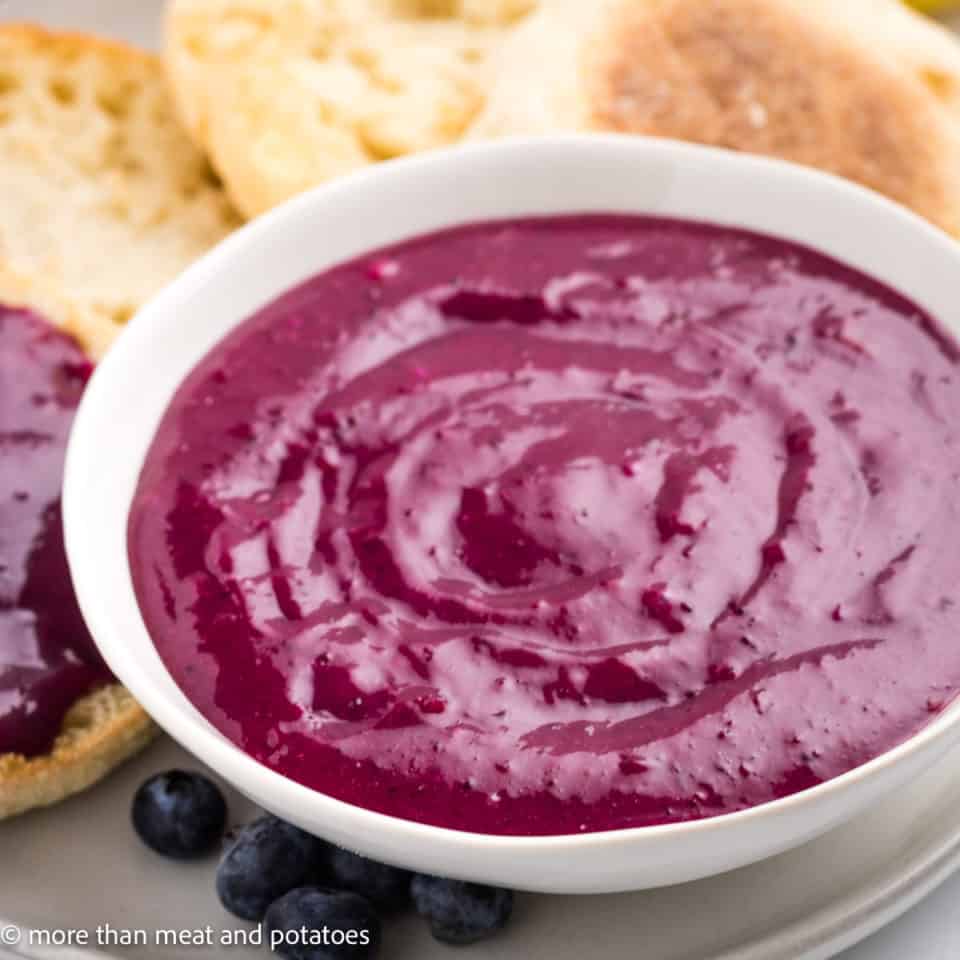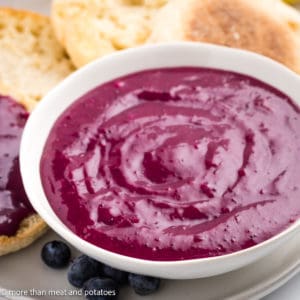 Ingredients
1

cup

blueberries

,

fresh

1

tablespoon(s)

water

2

egg yolks

1

large egg

½

cup

granulated sugar

¼

cup

lemon juice

,

freshly squeezed

1

tablespoon(s)

lemon zest

6

tablespoon(s)

unsalted butter

,

cut into small pieces
Instructions
Place the blueberries and water in a small saucepan over low to medium heat. Cook until the mixture begins to simmer and the blueberries begin to pop. Remove from heat, and strain through a mesh sieve. Allow the mixture to cool to slightly.

1 cup blueberries

1 tablespoon(s) water

Place 1 to 2 inches of water into a double boiler, or make a double boiler out of a saucepan and a heat-safe bowl. Bring the water to a boil, then reduce to a simmer.

Place egg yolks, whole egg, granulated sugar, lemon zest, and lemon juice, into the top pot of the double boiler or bowl over the pan.

2 egg yolks

1 large egg

½ cup granulated sugar

¼ cup lemon juice

1 tablespoon(s) lemon zest

Whisk constantly while the curd cooks to ensure the eggs don't scramble. The mixture will begin to thicken. After about 10 minutes, the mixture should resemble the texture of hollandaise sauce. Remove from heat, and whisk in the butter.

6 tablespoon(s) unsalted butter

After the butter melts, stir in the blueberry mixture. Pour the mixture into a sealable container, and cover with plastic wrap making sure that the plastic wrap touches the curd.

Refrigerate for 2 to 3 hours until completely chilled. Serve on toast, pancakes, English muffins, pound cake, Angel food cake, or your other favorite desserts. Store leftovers in the refrigerator for up to 7 days.
Notes
*The calories listed are an approximation based on the ingredients in the recipe card and a serving size of 1 ounce of blueberry curd. Actual calories will vary.
*For more information, tips, and answers to frequently asked questions, please refer to the post.
Nutrition
Serving:
1
ounce
Calories:
127
kcal
Carbohydrates:
13
g
Protein:
1
g
Fat:
8
g
Saturated Fat:
5
g
Polyunsaturated Fat:
1
g
Monounsaturated Fat:
2
g
Trans Fat:
0.3
g
Cholesterol:
73
mg
Sodium:
9
mg
Potassium:
31
mg
Fiber:
0.4
g
Sugar:
12
g
Vitamin A:
294
IU
Vitamin C:
5
mg
Calcium:
11
mg
Iron:
0.2
mg